1. Two Charts to Watch…..CART and ARM IPOs this Week Giving Back Gains Fast
Instacart Highs were Over $40
ARM High was Over $65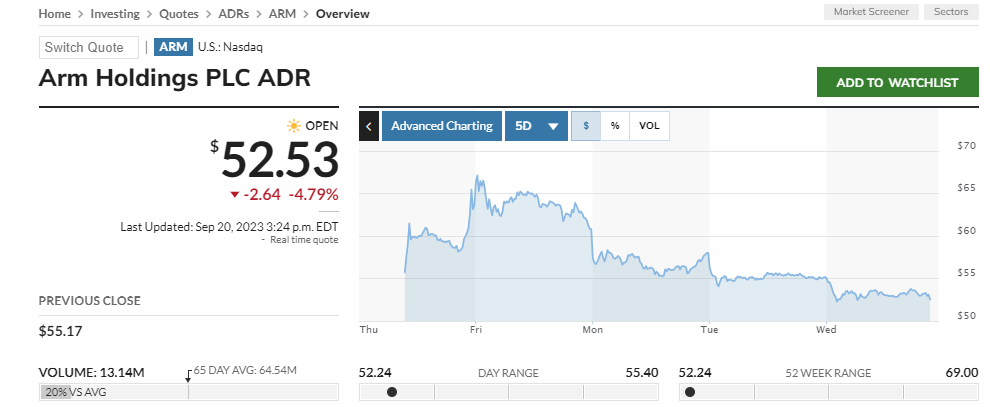 ---
2. SMH-Semiconductor ETF Clear Support Line at $140 Level
Blue trendline in danger of being penetrated on a $140 print.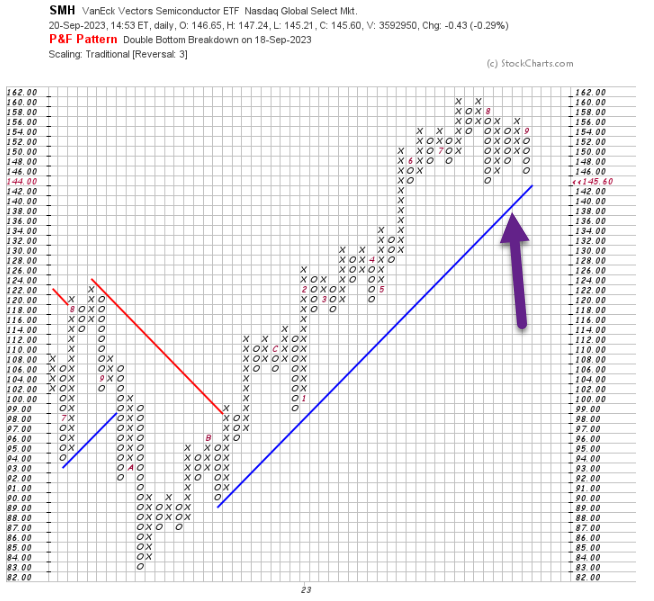 ---
3. NVDA -16% Correction Off Highs….Trades Back Down to Summer Support Levels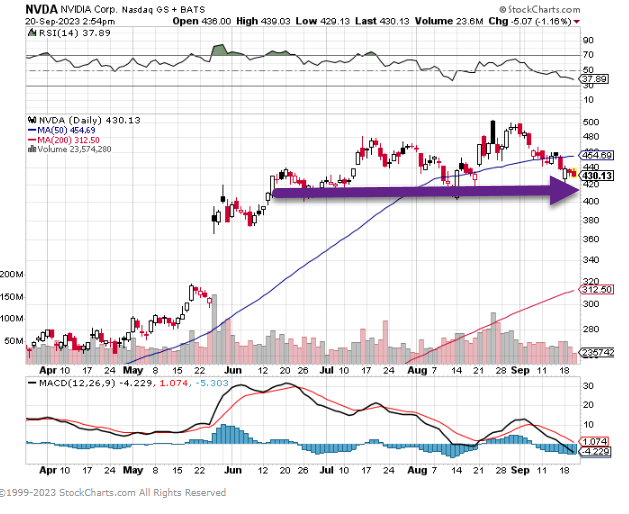 ---
4. Commodities Charts Holding Up in Long-Term Trend Charts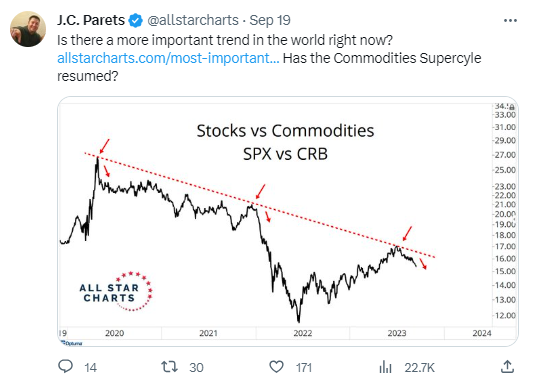 ---
5. Rising Rates Make Big Companies Even Richer
The amount companies earn from cash in the bank is going up even as interest costs fixed during the pandemic stand still WSJ By James Mackintosh The winners from higher rates were high-quality borrowers, who locked in low interest rates around the pandemic with bonds maturing further in the future than any time this century. Higher rates have little immediate impact on their borrowing costs—only affecting bonds when they are refinanced—while they earn more on their cash piles straight away.
https://www.wsj.com/economy/rising-rates-make-big-companies-even-richer-718eafce?mod=itp_wsj
---
6. Higher Rates Not Slowing Apollo Private Lending Arm
Bloomberg Apollo to Raise About $2.5 Billion to Lend in Private MarketsThe fund will add more cash to Apollo's $50 billion of assets under management in direct lending. AOP II will have similar targets as the first generation of the fund, which focused on large corporate borrowers — firms that generate in excess of $100 million EBITDA — primarily in North America and Western Europe, according to an August press release.
https://www.bloomberg.com/news/articles/2023-09-20/apollo-to-raise-about-2-5-billion-to-lend-in-private-markets?srnd=premium&sref=GGda9y2L
APO chart 46% YTD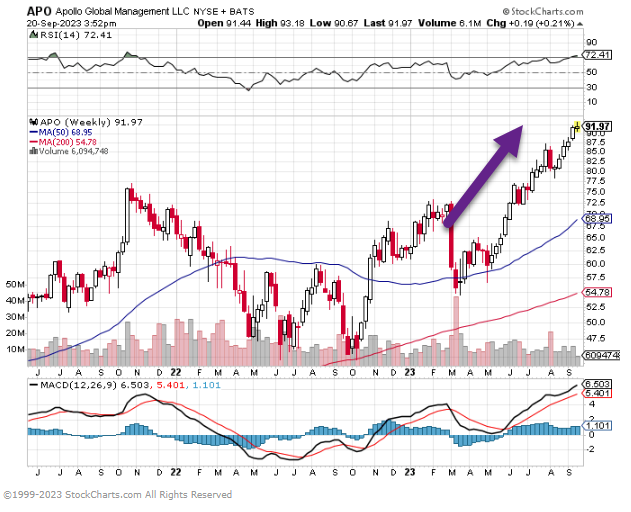 ---
7. Quantum Tech Venture Investment Summary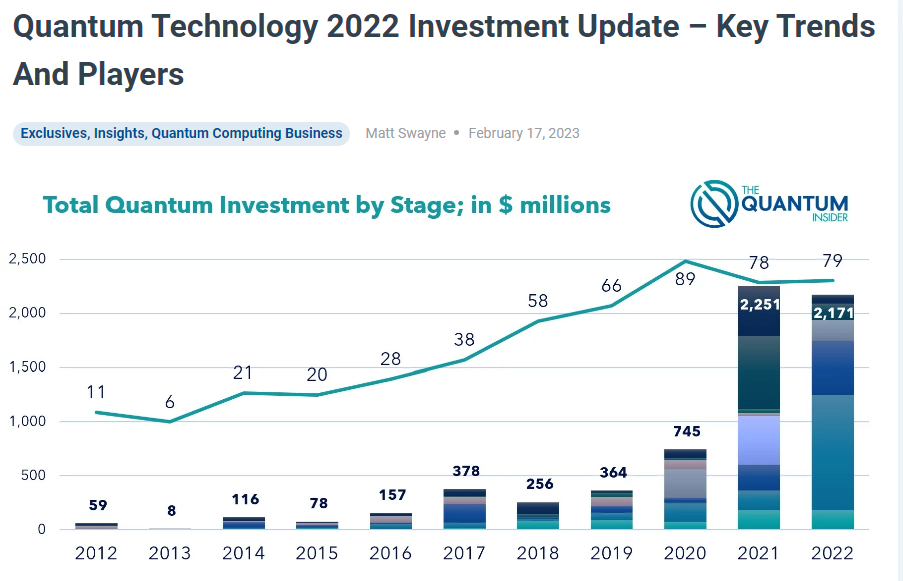 https://thequantuminsider.com/2023/02/17/quantum-technology-2022-investment-update-key-trends-and-players/
---
8. China Debt Ratio
Vanguard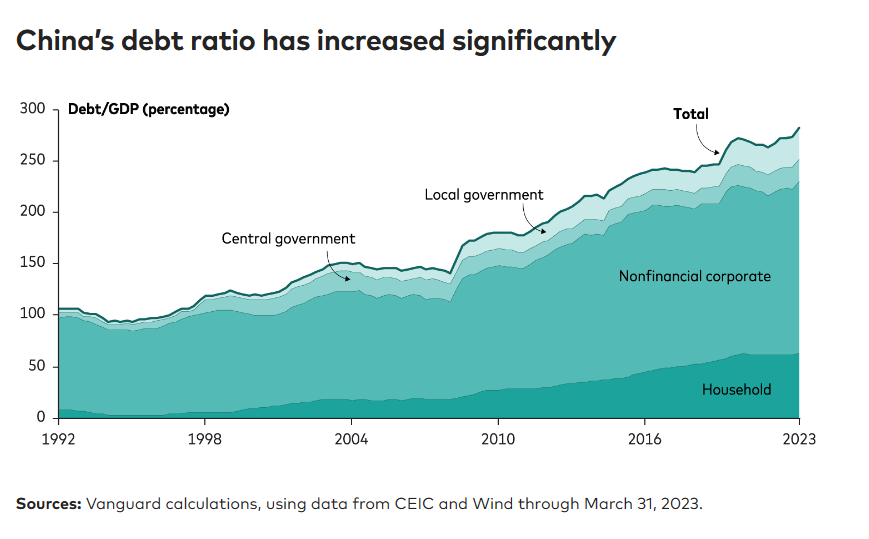 Vanguard's perspective on China's challenging economy
---
9. Single-Home Rent Prices Still Rising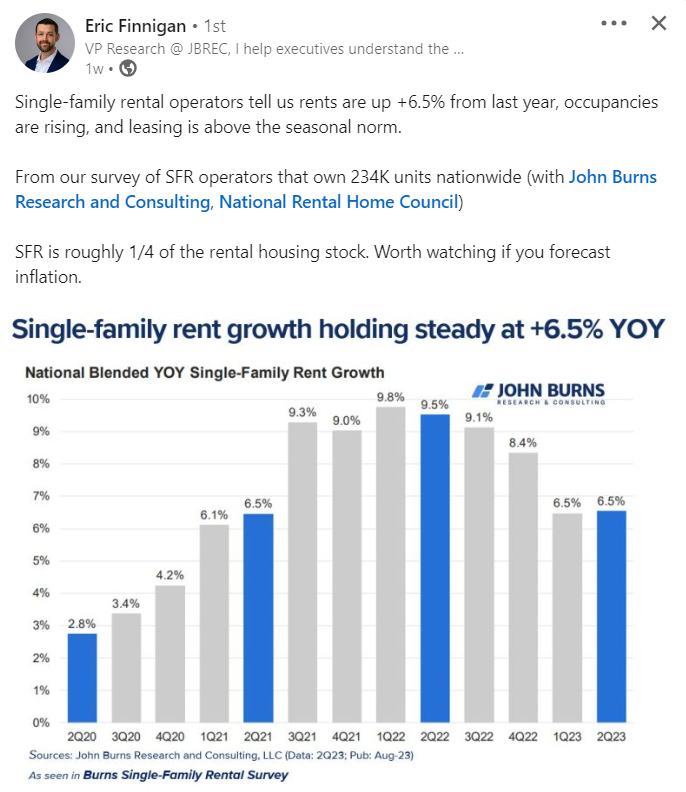 ---
Deion Sanders and the Colorado Buffaloes believe–and it's leading them to accomplish some amazing things.
BY JUSTIN BARISO, AUTHOR, EQ APPLIED@JUSTINJBARISO
Colorado Buffaloes head coach Deion Sanders in Fort Worth. Photo: Getty Images
They believe.
That's what Colorado head coach Deion Sanders said about his team after the Buffaloes won a nail-biting, double-overtime thriller against in-state rivals Colorado State. Sanders had called the game "personal," after Colorado State coach Jay Norvell took a dig last week at Sanders's penchant for wearing a hat and sunglasses during interviews.
The phrase "we believe" has quickly become the Buffaloes' rallying cry.
A couple of weeks ago, after the Buffaloes upset a highly respected TCU team in their season-opening win, Sanders confronted a reporter he claimed had written a disparaging report about the Buffaloes.
"You believe now?" Sanders asked, with a huge smile on his face.
And earlier this week, in an appearance on the popular ESPN talk show First Take, Sanders invoked the word over and over again in the course of 30 seconds:
"We believe."
"We just believe … "
"We truly believe … "
"We just truly believe."
Before you dismiss Sanders's use of the phrase as pure hype, consider that there's actually a firm foundation for using this type of speech to motivate others, and it's rooted in the science of emotional intelligence.
Here's a breakdown of the power of belief, and how you can use it to help you run your business and your life. (If you find value in this lesson, you might be interested in my free course, which teaches you how to build emotional intelligence in yourself and your team.)
Want to get the most out of others? Make them believe
For decades, research has indicated that teachers, mentors, and coaches who focus on nurturing students and highlighting their potential get better results.
"Today, we have compelling evidence that interest precedes the development of talent," writes psychology professor Adam Grant in his best-selling book Give and Take. "It turns out that motivation is the reason that people develop talent in the first place."
To illustrate, Grant cites a classic study led by Harvard psychologist Robert Rosenthal.
Rosenthal teamed up with Lenore Jacobson, an elementary school principal. Students from 18 classrooms, ranging from kindergarten through fifth grade, were all given a "Harvard cognitive ability test." The test measured verbal and reasoning skills deemed critical to learning and problem-solving.
Afterward, Rosenthal and Jacobson shared the test results with teachers: About 20 percent of the students had shown potential for making "unusual intellectual gains" in the next year. Armed with the knowledge that their students had such high potential, teachers set high expectations for their success.
In turn, the students also believed they had high potential, and they delivered: When those students took the test a year later, they had improved more than fellow students–their IQ points rose at greater rates, and they were still outgaining classmates two years later.
But there's one very interesting detail to this story: The students labeled as high potential didn't really score higher on the test. Rosenthal chose them at random.
"The study was designed to find out what happened to students when teachers believed they had high potential," writes Grant. "Rosenthal randomly selected 20 percent of the students in each classroom to be labeled as bloomers, and the other 80 percent were a control group. The bloomers weren't any smarter than their peers–the difference 'was in the mind of the teacher.'"
In other words, the teachers' expectations helped create self-fulfilling prophecies.
Sanders, who is also known as Coach Prime (a nod to the nickname "Primetime" from his NFL playing days), seems to be doing the same at Colorado. Yes, the kids he coaches have talent. But so do the players at the opposing schools Colorado has faced so far this season.
Yet Colorado is undefeated so far, despite playing higher-ranked opponents the first two games and falling far behind in their third game. Much of the Buffaloes' success could be attributed to the sky-high confidence their coach has infused them with.
So, how can you apply this principle to your business, or even your personal life?
Many of the people under your care won't possess the inherent belief that they're "good" at something. Many lack self-confidence. They've been scarred by the way they've been trained to see their own performance, or by perceived failures at work or in life.
You can help change that.
When you focus on your people's strengths, you motivate them. When you nurture their potential, you help them become the best version of themselves.
Train yourself to see the good in others by asking yourself the following questions:
What are they good at?
How can I praise them for what they're good at, sincerely and specifically?
How can I help them leverage those strengths further?
How can I help them improve their weaknesses through constructive feedback?
Remember, as a leader, you are in a unique position to inspire and motivate those you work with. If you believe, they will too.
Because whether or not you like Coach Prime or his team, you have to admit:
The Colorado Buffaloes believe. And that belief has them doing some extraordinary things.
Colorado Coach Deion Sanders Keeps Repeating the Same Word Over and Over. It's a Lesson in Emotional Intelligence | Inc.com