1. XLK-Tech ETF -Arrows Show Two Lower Highs.
$162 print breaks double bottom.
---
2. Semiconductor ETF Breaks Thru Support Line.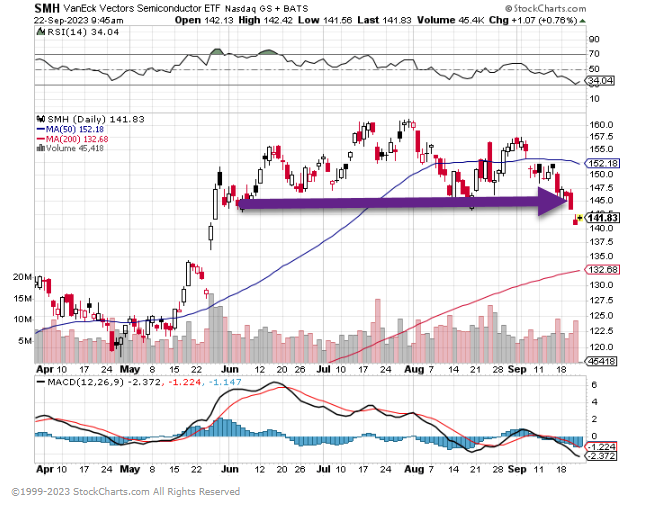 ---
3. 10 Year Yields Just Getting Back to Long-Term Trend.
Jim Reid Deutsche Bank Overnight a major milestone was reached. 10yr US government yields hit their long-term average yield (since 1790) of 4.5% for the first time since 2007.  In some ways this could be seen as a concern, since we're "only" now at normal historical levels, despite the fact inflation is still elevated and record peacetime deficits are predicted for the rest of your careers however old you are. The good news is that at least value has returned. It's going to be much more difficult for longer-term investors to lose money in Treasuries now than it was for most of the last decade in both nominal, and to a lesser degree, real terms.So a challenging set up for Treasuries in the years ahead but the price is at least now reasonable if history is your guide.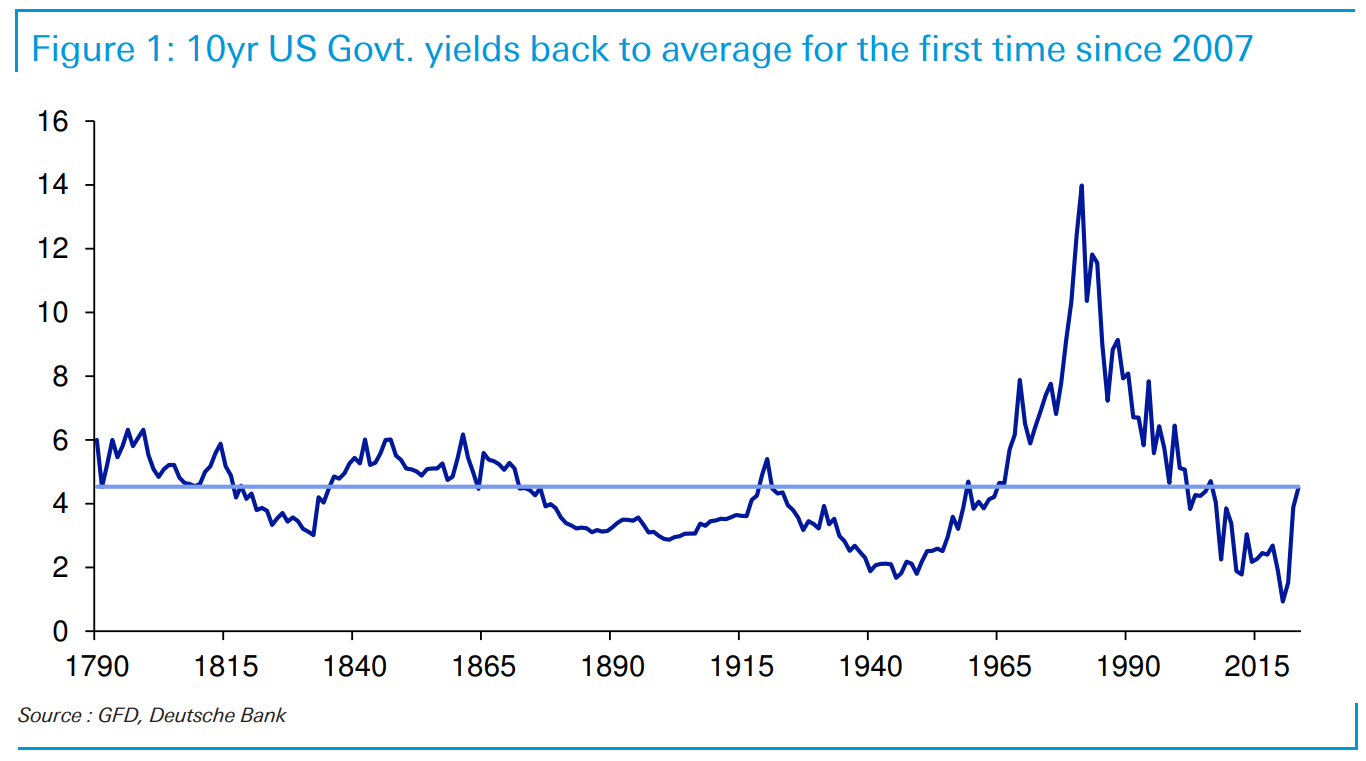 ---
4. Timing Impact of Higher Rates.
The Daily Shot Brief The United States: According to Oxford Economics, the maximum impact of the Fed's tightening will be felt over the next couple of quarters
---
5. Mutual Fund Flows for 2023…Money Markets Dominate.
Irrelevant Investor Blog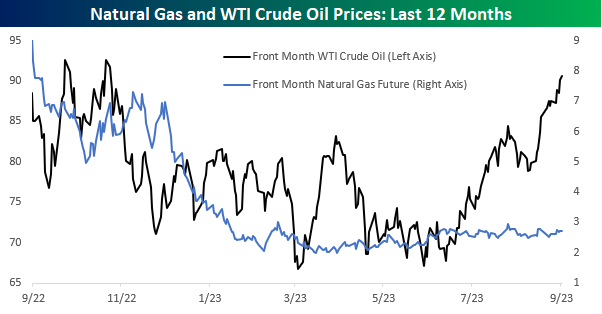 https://theirrelevantinvestor.com/2023/09/20/animal-spirits-americans-love-borrowing-money/
---
6. Zero Coupon 25 Year Bond -60%.
---
7. REIT ETF Turns Back-Down.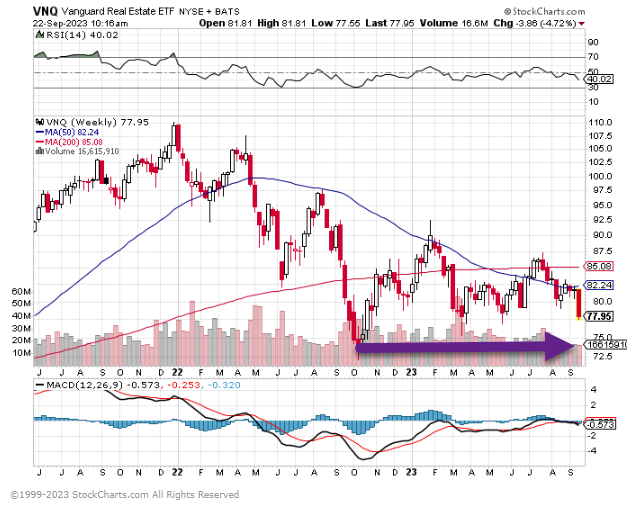 ---
8. Personal Income and Profits.
Jack Ablin Cresset The cumulative growth in incomes and profits underscores that trend. Between 1983 and 2002, the cumulative growth in profits and personal income moved in lockstep. Though the financial crisis crushed profits, since 2009 corporate profit growth has run substantially ahead of personal income. Artificially low interest rates were partially to blame, but a significant portion of the profit advantage was the result of a greater share of productivity gains gravitating to the bottom line. Over the last 20 years, cumulative wage growth among unionized, goods-producing workers expanded 60 per cent. Adjusted for inflation, however, their wages contracted three per cent in the interim. Adjusted for inflation and productivity, their compensation plunged 30 per cent.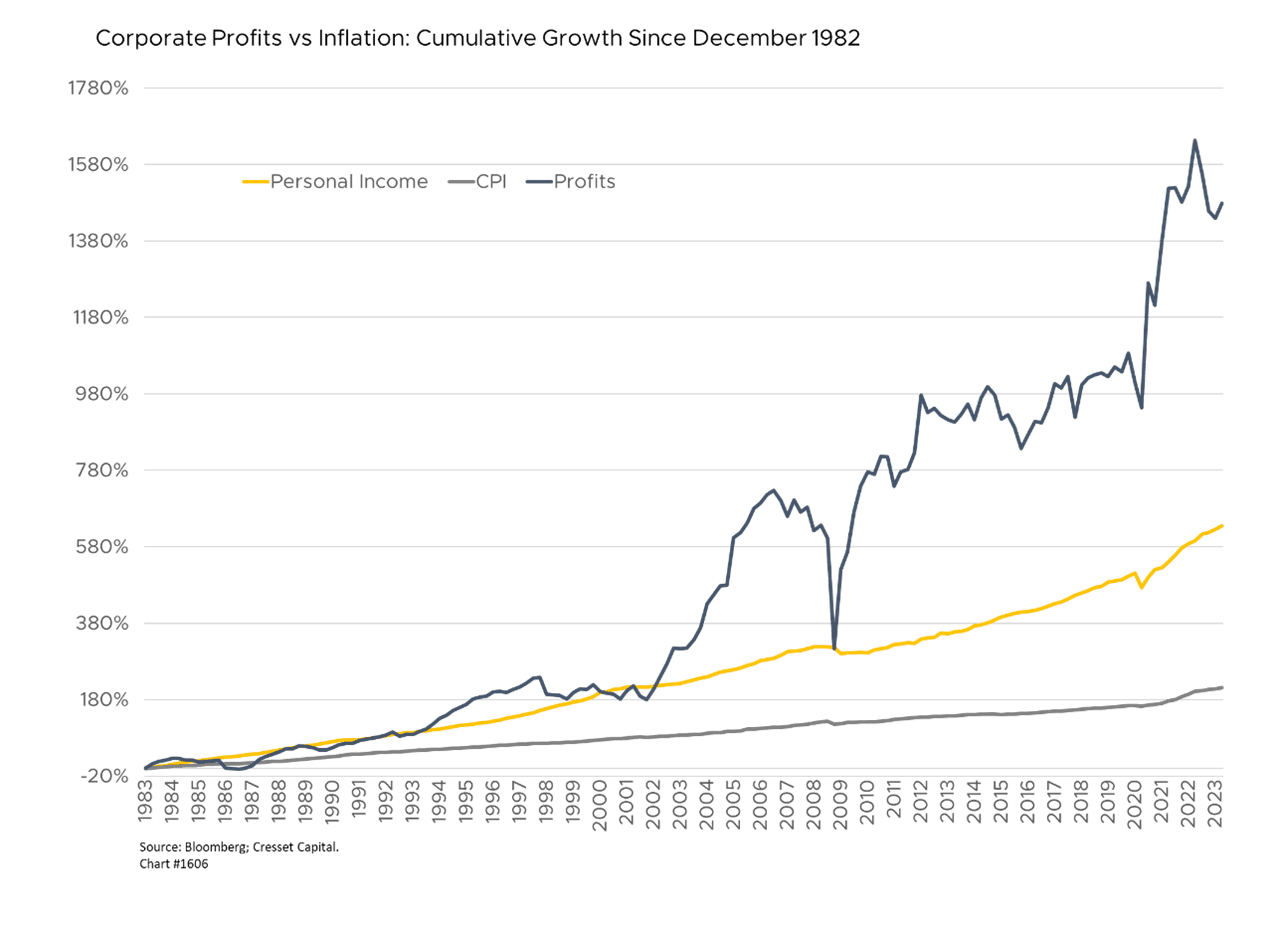 ---
9. US finalizes rules to prevent China from benefiting from $52 billion in chips funding.
Flags of China and U.S. are displayed on a printed circuit board with semiconductor chips, in this illustration picture taken February 17, 2023. REUTERS/Florence Lo/Illustration/File Photo Acquire Licensing Rights
WASHINGTON, Sept 22 (Reuters) – The U.S. Commerce Department on Friday is issuing final rules to prevent semiconductor manufacturing subsidies from being used by China and other countries deemed to pose American national security concerns.
The regulation is the final hurdle before the Biden administration can begin awarding $39 billion in subsidies for semiconductor production. The landmark "Chips and Science" law provides $52.7 billion for U.S. semiconductor production, research and workforce development.
The regulation, first proposed in March, sets "guardrails" by limiting recipients of U.S. funding from investing in expanding semiconductor manufacturing in foreign countries of concern like China and Russia, and limits recipients of incentive funds from engaging in joint research or technology licensing efforts with foreign entities of concern 
https://www.reuters.com/technology/us-finalizes-rules-prevent-china-benefiting-52-bln-chips-funding-2023-09-22/
---
10. The top teacher burnout statistics of 2023.
K-12 teachers are the #1 most burnt-out profession in The United States
44% of teachers in K-12 school report often or always feeling burnout
90% of teachers claim that feeling burnt out is a serious problem
Over half of teachers say they will leave teaching sooner than originally planned
There are 500,000+ fewer educators in the American public school systems post-pandemic
44% of public schools posted teaching vacancies in early 2022
43% of educator job postings are going unfilled
30% of teachers were found to be chronically absent
Compensation is the #1 reason educators plan to quit their jobs
https://www.devlinpeck.com/content/teacher-burnout-statistics