1. Total Retail Sales Thru Financial Crisis and Covid……..Versus Total Department Store Sales.
Wolf Street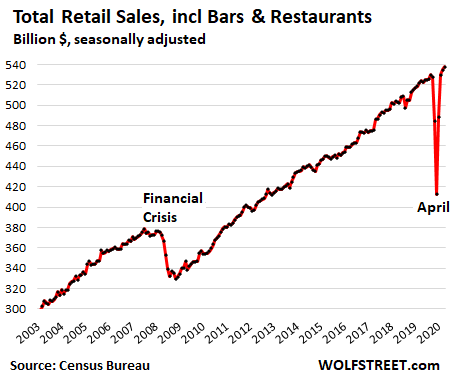 Sales at brick-and-mortar department stores fell 2.3% in August from July, to $9.4 billion, down 16.9% year-over-year, after having declined relentlessly for 20 years. The Pandemic accelerated that process, with numerous chains filing for bankruptcy, and some being liquidated. Even the survivors shed countless stores, abandoning mall after mall because Americans have abandoned department stores. Some department stores, such as Macy's, have vibrant online sites, but those sales are not included here. This is just brick-and-mortar, a sad sight, having long been obviated by events: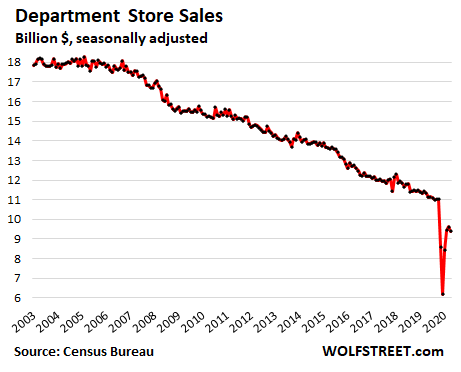 How Life Changed During the Pandemic: Still Loaded with Stimulus Cash, Americans Went Shopping. But Where?=By Wolf Richter for WOLF STREET.
2. Russell 1000 Value Best Month vs. Growth Since 2001.
It's going to take a lot of months like this to close the value/growth gap.
3. Goldman Sachs Index of Most Shorted Stocks Hits All-Time Highs as Shorts Get Nutted on RALLY.
this an index of the most shorted stocks. It's at a record. RIP shorts
https://twitter.com/SarahPonczek/status/1306274010754355202/photo/1
4. Factor Returns 2020–State Street
Factor returns at high dispersion but low breadth
We often examine dispersion and breadth when trying to characterize a given return environment. In 2020, factor dispersion is elevated relative to history (19% versus long-term median of 8%, based on rolling six-month periods)1. Factor dispersion, however, is still low relative to sector dispersion (53% versus long-term median of 27% for rolling six-month returns).2 This is a reason why we favor sector rotation over styles/factors .
While dispersion is elevated, factor return breadth is low. Using the same rolling six-month return periods, the average number of factors underperforming the broader market in 2020 is 3.2, compared to a historical annual average of 2.2, as shown below. In fact, the 3.2 reading is the highest ever for a year. Such low breadth is one of the reasons why 91% of US-listed large-cap multifactor ETFs have underperformed the broad market in 2020, lagging by an average of 4.2%.3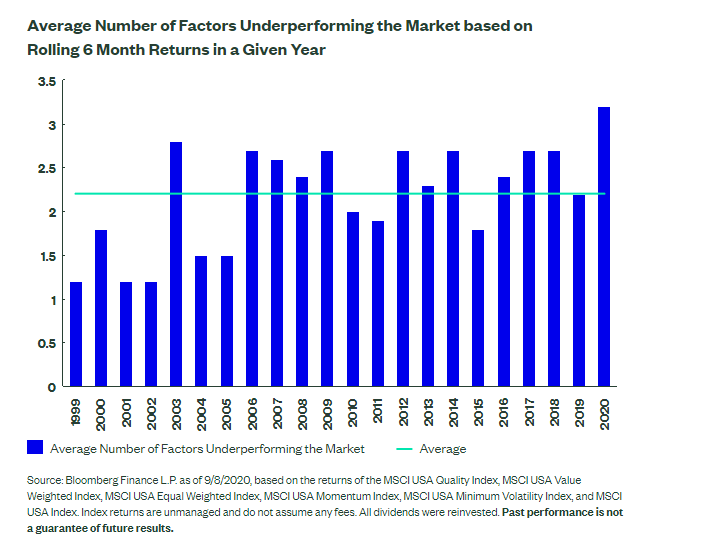 https://www.ssga.com/us/en/intermediary/etfs/insights/charting-the-market-examining-2020-not-so-fun-factor-experience?WT.mc_id=social_gen_chartpack-bau_us_lkdin_text_n_n_chartpack_sep20
5. SnowFlake Biggest Software IPO Ever.
Data warehouse company Snowflake is set to start trading on the public markets on Wednesday in the largest software IPO ever, according to Renaissance Capital.
On Tuesday afternoon, the company priced its shares at $120 apiece —well above its previous IPO ranges — valuing it at $33.2 billion, according to the Wall Street Journal. Though it's not necessarily a household name (it happens when you're B2B software), Snowflake is a fast-growing, well-capitalized company that's drawn big-name investors.
We'll be keeping an eye on the market when San Mateo-based Snowflake starts trading on the New York Stock Exchange on Wednesday, but until then, here's what you need to know about the buzzy software company.
What It Does
In short, Snowflake is a cloud data platform. Customers can store data, exchange it, use it for data applications, and data engineering, among other things.
In Snowflake's own words, from its S-1 filing:
"Our platform solves the decades-old problem of data silos and data governance. Leveraging the elasticity and performance of the public cloud, our platform enables customers to unify and query data to support a wide variety of use cases. It also provides frictionless and governed data access so users can securely share data inside and outside of their organizations, generally without copying or moving the underlying data. As a result, customers can blend existing data with new data for broader context, augment data science efforts, or create new monetization streams. Delivered as a service, our platform requires near-zero maintenance, enabling customers to focus on deriving value from their data rather than managing infrastructure."
Venture Capital Investment In Snowflake
As a private company, Snowflake has raised at least $1.4 billion in funding from investors including Sequoia Capital and Sutter Hill Ventures. The company last raised funding with a $479 million Series G round led by Dragoneer Investment Group. That round basically tripled the company's valuation, bringing it to $12.4 billion.
Take a look back at the company's funding and valuation history here:
Here's What You Need To Know About Snowflake And Its Giant IPO
Sophia Kunthara https://news.crunchbase.com/news/snowflake-ipo-what-you-need-to-know/
Found at Abnormal Returns Blog. www.abnormalreturns.com
6.Performance in Election Year Sept, Oct, Nov.
LPL BLOG
7. 43% of retail investors are trading with leverage: survey
It's no secret retail investors have been a force in the current bull market, shoveling money into stocks and reaping the benefits of a strong market.
Six months into the pandemic, the bullishness has continued. Investors are trading more and even getting into options and margin — two forms of leverage that can magnify wins, but also losses.
According to a Yahoo Finance-Harris poll published on Sept. 9, 33% of people holding stock indicated they've been trading more since the pandemic began and a similar number said they're trading individual stocks more, as opposed to ETFs and mutual funds. The poll surveyed more than 1,000 Americans, from Sept. 4 to Sept. 6.
On a similarly bullish note, 36% indicated they've increased the amount of stock exposure in their portfolio. At the same time, just 16% and 17% own less stock and trade less stock, respectively.
Interestingly, respondents with household income less than $50,000 said they traded more frequently since the pandemic and had more stock exposure, even more than the $100,000 or more group. The middle tier of earners, with income between $50,000 and $100,000, were more conservative.
So: Trading is up, single stock action is up, and overall market exposure is up.
Interestingly, the bullishness has pushed some retail investors into the world of leverage: 43% of retail investors said they are using options, margin, or both. Twenty-three percent of respondents are just using options and 10% are just using margin, which is borrowing money to trade — either borrowing to buy or borrowing to sell a stock short. These strategies amplify gains, but they also magnify losses, which exposes an investor to significant downside risk.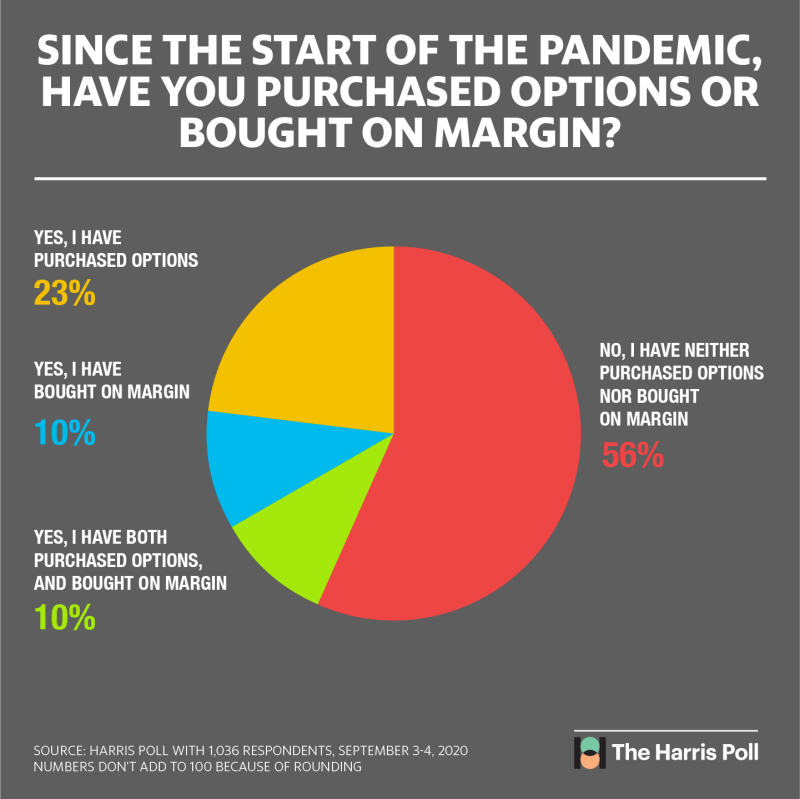 Options trading is easy on platforms like Robinhood and is a very useful financial instrument to hedge risk, but many retail market observers like Chris Larkin, managing director of trading and investment product at E*Trade, are concerned they're used too much for speculation.
The survey's high options numbers echoed other evidence that we're in an options boom. In 2020 so far, there has been an average of 28 million options contracts per day, up 45% from last year, according to the Options Clearing Corp. The increased options use has been accompanied by stories of riches, but also of heartbreak
Senior Writer
https://finance.yahoo.com/news/43-of-retail-investors-are-trading-with-leverage-survey-172744302.html
8.Space Travel Yes…Day Trading No……Billionaire Drops $41m Trying Out Day Trading.
'Deep regrets' — Billionaire admits he lost $41 million daytrading stocks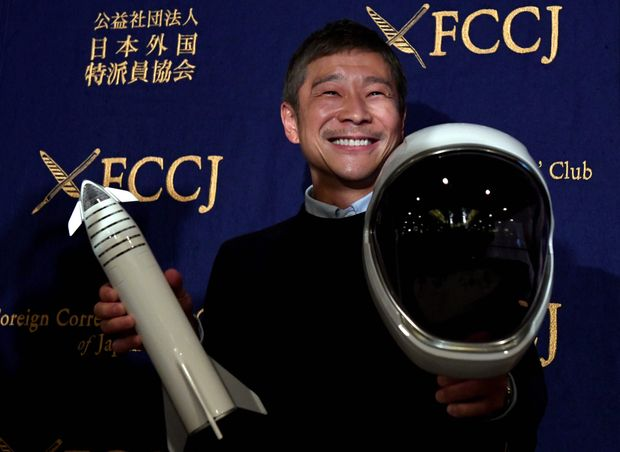 Yusaku Maezawa
GETTY
From giving away free money to searching for a female space-travel partner, Japanese billionaire Yusaku Maezawa has proven rather savvy when it comes to drawing attention on the internet.
When it comes to playing the stock market, not so much.
Maezawa, who sold his online fashion business Zozo to SoftBank SFTBY, +4.33% for $900 million in November, took to Twitter TWTR, +1.30% over the weekend to share his "deep regrets" on his ill-fated foray into daytrading with his 10.2 million followers.
"I was blinded by the virus-driven market swings and lost 4.4 billion yen through repeated short-term trading of stocks, something I haven't familiarized myself with," he said, according to a translation of this tweet by Bloomberg News. "With 4.4 billion yen, how many people could the money have been given out to and saved? There's no end to this regret":
So, he lost some $41 million. Not a huge blow for a guy with a reported net worth of $2.2 billion, but still, for Maezawa, who's probably accustomed to winning, this one clearly left a mark.
Meanwhile, any trader buying up stocks lately can surely relate to the feeling, considering how the market, especially the technology sector, has performed in recent sessions.
The Dow Jones Industrial Average DJIA, +0.13% closed Tuesday's session down 632 points, while the S&P 500 SPX, -0.46% and the tech-heavy Nasdaq Composite COMP, -1.25% were hit even harder on a percentage basis.
9. U.S. health officials say CDC is developing new coronavirus testing guidance for screening at schools, businesses
PUBLISHED WED, SEP 16 20205:23 PM EDT
KEY POINTS
· Testing has so far been used in the United States mostly for diagnostic purposes, which is when a test is used to determine or confirm what the problem is in people with symptoms.
· Whereas diagnostic testing is typically meant for patients with symptoms or a reason to believe they might have a disease, screening is meant for seemingly healthy individuals to look for signs of illness.
· Many public health specialists have repeatedly called on the CDC and health officials throughout the federal government to endorse and more aggressively pursue the strategies of surveillance testing and screening.
CDC Director Dr. Robert Redfield testifies during a Senate Health, Education, Labor and Pensions (HELP) Committee hearing on Capitol Hill in Washington, D.C.
Kevin Dietsch | Reuters
The Centers for Disease Control and Prevention is developing new guidance on how to deploy coronavirus tests for screening purposes that could help reopen schools, businesses and entertainment venues, Director Dr. Robert Redfield said Wednesday.
Testing has so far been used in the United States mostly to diagnose people who are sick or have been exposed to someone with a confirmed Covid-19 case. Screening would test virtually everyone in a given community, looking for potentially infectious people.
"Screening can be very powerful for maybe non-public health reasons, maybe getting us back to life, and screening in schools, K-12 screening and university screening," he said at a Senate appropriations subcommittee hearing. "We'll be coming out with some guidance around screening."
Redfield said the CDC would make it clear that testing asymptomatic and presymptomatic people, Covid-19 patients who either never develop symptoms or who are in the early stage of the infection before symptoms start, is important. The agency will have that guidance out within the week, he said. It's also working on new guidance around surveillance testing "where you can actually systematically begin to look at random individuals to get an idea is this outbreak starting to pop into the community," he said.
Redfield said the agency will eventually roll out guidance for how states and local health officials can best deploy resources to implement all three testing strategies.
Many public health specialists have repeatedly called on the CDC and health officials throughout the federal government to endorse and more aggressively use surveillance testing and screening. Redfield said Wednesday that the technology didn't allow for that kind of widespread testing before.
"It really wasn't possible to really have a lot of that guidance when there was no test," he said, adding that due to recent advances in Covid-19 testing technology, the nation is approaching a point where such methods can be used. "We're going to try to give guidance to screening, particularly in K-12s and universities, but it's also going to have a role in businesses, and also entertainment activity, like sports."
The new guidance will clarify the CDC's position on testing asymptomatic people, he said. Last month, the CDC revised its testing guidance to say that people who don't have symptoms "do not necessarily need a test."
Redfield said Wednesday that many people "misinterpreted" that wording and that the CDC was not suggesting people without symptoms should not be tested. He said the agency will continue to clarify its stance that more testing across the country will help detect the coronavirus and ultimately contain it.
Adm. Brett Giroir, an assistant secretary for health at the Department of Health and Human Services, said he agreed with Redfield's sentiment on the importance of screening and surveillance testing. He specifically mentioned Abbott Labs' BinaxNOW test, which is an antigen test that's cheap and can provide results in minutes. It was authorize by the Food and Drug Administration last month and the U.S. government secured essentially all available tests through the end of the year.
Giroir, who is in charge of the Trump administration's testing efforts, added that more cheap and rapid tests could be coming to market in the weeks and months ahead. Such tests, he said, could be "layered on top" of the BinaxNOW test.
"Our goal is to provide as many tools as possible in the right domain. So we can implement this type of guidance," he said. "In March, it didn't make sense to talk about random screening of children going to school, because you didn't have that available."
He added that now the U.S. has a "very robust ecosystem" of testing and it "is the exact right time" to be considering screening and surveillance testing. Giroir previously said the federal government is distributing the 150 million BinaxNOW tests secured by the U.S. to states for them to determine how best to deploy them. However, Giroir added that he strongly encourages governors and state health officials to use the tests to protect their most vulnerable residents in nursing homes and then to help reopen schools.
"Within a couple of weeks, they're going out to states to support school reopening and other infrastructure, according to their priorities," he said of the tests. "We are at that point. We are at that inflection."
https://www.cnbc.com/2020/09/16/cdc-is-developing-new-coronavirus-testing-guidance-for-screening-at-schools-businesses.html
10. Low-Stress Management of Stress
3 simple, highly-effective stress management tactics for busy schedules.
Ironically, people in helping professions tend to be the first to neglect their own well-being. How many readers know physicians that don't exercise? How many therapists can't say no to helping "just one more" person in distress?
We say to spent caregivers, "How can you optimally help (insert person cared for) if you're not feeling well yourself?" We ask this as we chip away at our own wellness, sacrificing one more hour a week to help Betty deal with caring for her ill mother-in-law. Then Bob, then Jane. Eventually, we may hit a pace where burnout is inevitable, but shrug it off with the idea of vacation salvation.
All of a sudden, your half-hour of daily morning meditation is only a few days a week; then 10 minutes when able, then gone. Working later and thus getting to bed later, rising at 6 AM for the gym doesn't sound so good anymore. "Working out" becomes the walk to the take-out joint that replaced the healthy lunches you once so carefully prepared. Vacation? "I'll fit in a 3-day conference to finish my CEU's. I just haven't had time."
Sound familiar?
The Stress of Stress Management
The funny thing about stress management is that it can be stressful. People complain, "I hate feeling stressed, but where am I going to find the time to sit on a mountain top in the clouds with a meditation guru (or find a mountain top in the clouds, for that matter)!?"
I press the matter of self-care with new practitioners from the start. What better time to learn to work wellness into a busy routine? School, job, internship, family. It's not far off from what they'll be experiencing in their pending professional life. Being one for metaphors, I like to offer, "Just like on a flight where you're instructed to tend to your own safety first, as therapists, we have to care for ourselves first if we're going to save anyone else."
In response, some roll their eyes with attitude: "It's another thing I have to do!"
Don't Fret!
Pop culture tends to push the idea that stress management revolves around mindfulness meditation in idyllic settings (judging from magazine covers at the check-out aisle). However, there are so many easily-integrated, no-guru-required stress management approaches it could be hard to decide on which to try. Lucky for readers, I once provided "no stress, stress management" talks, and handpicked a few perennial favorites for you…
One, two, three
1) Plants: Did you ever notice that doctor offices and hospitals tend to have plants or pictures of trees and gardens, and that many surgery recovery rooms have a great outside view? Well, it's more than just bucolic scenery. A cursory look at research (e.g. Park & Mattson, 2009; van de Berg, 2015;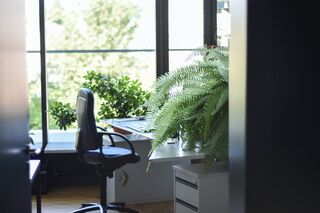 Source: Uknown Wong/Unsplash
Toyoda et al. 2020) tells us plants, and even pictures of them, are popular because they induce calming effects. Shoppers report less stress waiting in check out aisles where there are plants. University of Exeter (2014) researchers noticed that employees feel better and are more productive when they have a plant. Students have even been known to perform better on tests when plants are part of the testing environment (Lee et al., 2015).
If you feel you're a black thumb and will kill anything with leaves, hang a couple of pictures of plants/trees in your work area. van de Berg (2015) discovered this alone is enough to elicit a downshift in stress. The bottom line: put plants everywhere, even desktop backgrounds.
2) Tea: Another easily-integrated stress buster is green, oolong and black teas. Green tea especially is high in L-theanine, a substance that enhances calming neurotransmitters. But be careful! It may be best to go with the decaffeinated version (Keiko et. al, 2017). 3-5 cups with the caffeine could nix the calming benefits.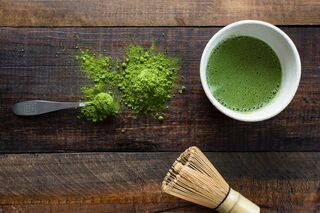 Source: Matcha & CO/Unsplash
Teas also provide epigallocatechins, which can clean our bodies of free radicals that cause cellular damage and inflammation. Psychologically, inflammation is correlated to poor cognition and depression. Interested readers may enjoy The Inflamed Mind by British psychiatrist Edward Bullmore.
The catch with tea is that you'll have to stock up at the wholesale club. Most experts indicate you likely need 3-5 cups a day to optimize mental rewards. Of course, check with your physician about what may be optimal for you. If it is OK for you, perhaps make a couple of gallons at home on Sunday and have them in your office for easy access during the week. Just pour and sip; no dashing to the microwave down the hall and making it a chore.
3) Exercise: You're probably thinking, "Here it comes. I'm supposed to work out at lunch instead of catch up on documentation." I'd never suggest such a thing! This is about fitting easy stress busters into the day's routine, remember? Lucky for busy professionals, a rather wide body of research (e.g., Hansen et al., 2001; Chase & Hutchinson, 2015; Crush et al., 2018), has shown us that a half hour or less of moderate-intensity aerobic or resistance exercise is enough for mental benefit.
You can easily sneak in a 20-30 minutes daily, because the kicker is, it doesn't have to be a solid 20-30 minutes! Many researchers tell us that 10-minute bursts of moderate-intensity physical activity immediately boosts cognitive ability, decreases fatigue, and improves mood. If you're prone to working yourself silly, you may as well do it with energy, thinking clearly and with pep!
How easy is sneaking in 10 minutes of moderate intensity exercise?:
· Take the dogs on a 15-minute brisk walk before and after work.
· Speed walk to and from the take-out place instead of drive or get delivery. If it's around the corner, take the scenic route around another block.
· Have resistance bands in the office and take advantage of canceled appointments, or make a rule that you use them for 10 minutes before seeing your first client and before eating lunch. Considering the average person spends over an hour a day on social media, that's at least six, ten-minute opportunities to trade for something more salubrious.
· In a tall building? No excuses for not walking in the winter or super-hot weather! A couple of trips bottom to top will get you what you need.
· Make a queue of brief YouTube yogalates or power yoga tutorials and try a new one each day.
There you have it! No long drives to the mountains for the benefits of nature. No sticking to fancy, de-stress diets. No 6 AM awakenings for an hour in the gym.
No more stressing about stress management. No excuses. Easy as 1,2,3!
https://www.psychologytoday.com/us/blog/and-running/202009/low-stress-management-stress
Disclosure
Lansing Street Advisors is a registered investment adviser with the State of Pennsylvania..
To the extent that content includes references to securities, those references do not constitute an offer or solicitation to buy, sell or hold such security as information is provided for educational purposes only. Articles should not be considered investment advice and the information contain within should not be relied upon in assessing whether or not to invest in any securities or asset classes mentioned. Articles have been prepared without regard to the individual financial circumstances and objectives of persons who receive it. Securities discussed may not be suitable for all investors. Please keep in mind that a company's past financial performance, including the performance of its share price, does not guarantee future results.
Material compiled by Lansing Street Advisors is based on publicly available data at the time of compilation. Lansing Street Advisors makes no warranties or representation of any kind relating to the accuracy, completeness or timeliness of the data and shall not have liability for any damages of any kind relating to the use such data.
Material for market review represents an assessment of the market environment at a specific point in time and is not intended to be a forecast of future events, or a guarantee of future results.
Indices that may be included herein are unmanaged indices and one cannot directly invest in an index. Index returns do not reflect the impact of any management fees, transaction costs or expenses. The index information included herein is for illustrative purposes only.