1. Margin Debt as a Percentage of Market Value Coming Down.
Amazing how high this chart has stayed since 2005 due to super low-rate environment.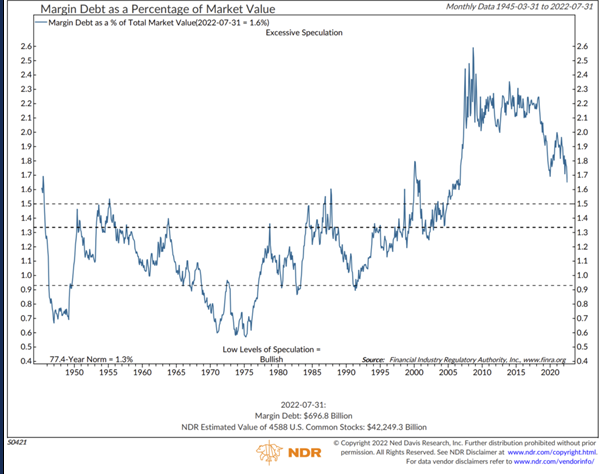 From Steve Blumenthal On My Radar CMG Wealth  https://www.cmgwealth.com/ri-category/on-my-radar/
---
2. No Earnings Recession in America Yet
Irrelevant Investor blog-As earnings season wraps up, we're still not seeing much deterioration in corporate America. S&P 500 earnings grew 6.3% for the second quarter, with 75% of companies beating bottom-line expectations. S&P 500 earnings grew 6.3% for the second quarter, with 75% of companies beating bottom-line expectations. This looks nothing like a recession, where the average decline in earnings is 21.3%.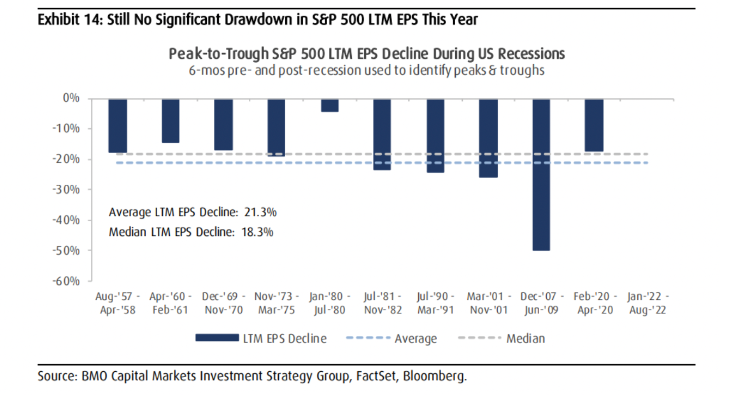 https://theirrelevantinvestor.com/2022/09/09/the-bullish-case/
---
3. Contra Indicator….Retail Investors Fleeing Equities
BofA Survey Shows Investors Fleeing Equities en Masse on Fear of Recession
Record 52% of respondents underweight stocks, cash levels jump
Hartnett sees short-term stock rally before declines resume
By
Investors are fleeing equities en masse amid the specter of a recession, with allocations to stocks at record lows and cash exposure at all-time highs, a Bank of America Corp. survey showed.
A historically high 52% of respondents said they are underweight equities, while 62% are overweight cash, according to the bank's global fund manager survey, which included 212 participants with $616 billion under management in the week through Sept. 8.
As concerns over the economy escalate, the number of investors expecting a recession has reached the highest since May 2020, strategists led by Michael Hartnett wrote in a note on Tuesday. Sentiment is "super bearish," with the energy crisis further weighing on risk appetite, they said. A net 42% of global investors are underweight European equities, the largest such position on record.
Global stocks have had a roller-coaster ride in the past few months. Declines have been driven by fears that central banks will remain hawkish for longer and tip the economy into a recession, while rallies have been fueled by low investor positioning and optimism around peaking US inflation.
Strategists at top banks including Deutsche Bank AG and JPMorgan Chase & Co. say bleak investor sentiment — often a contrarian indicator for a stock rally — is likely to drive equities higher into the year-end.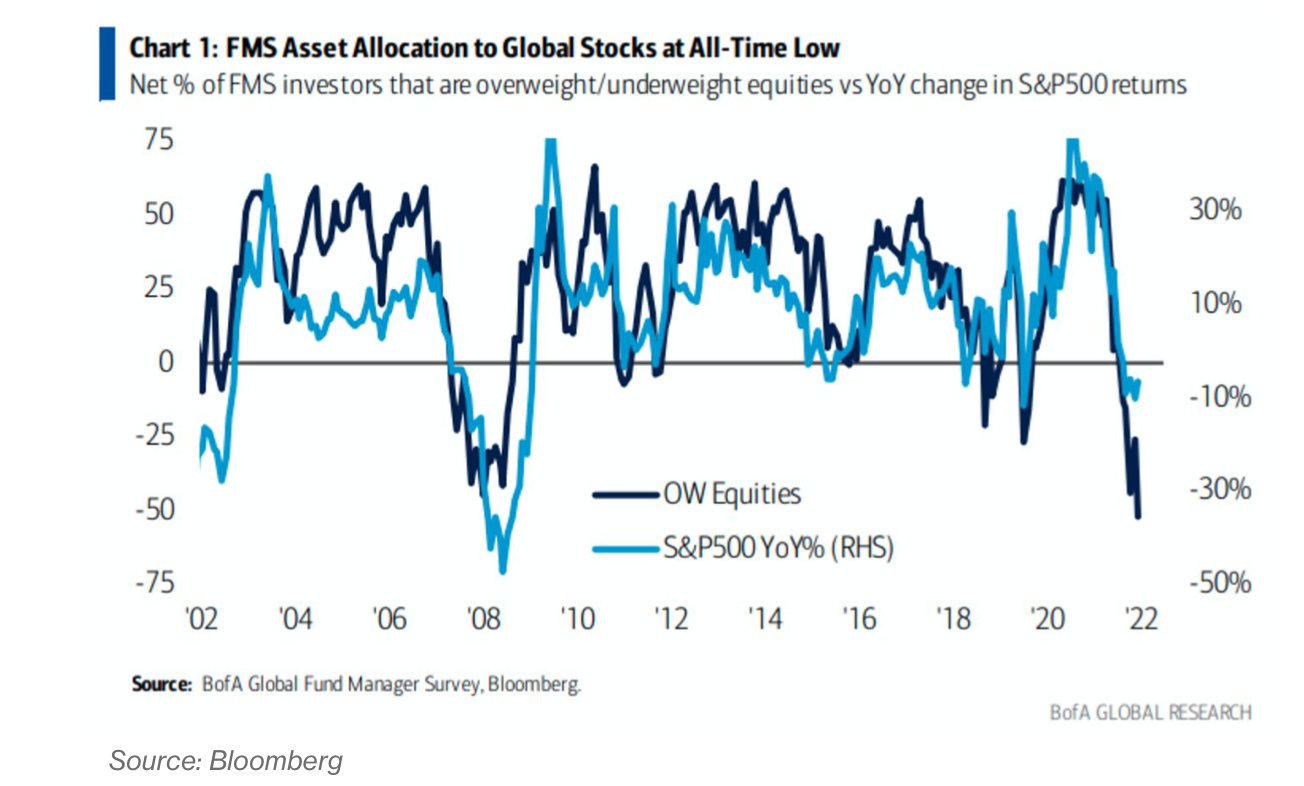 https://www.bloomberg.com/news/articles/2022-09-13/bofa-survey-shows-nadir-in-stock-allocations-amid-recession-fear?srnd=premium&sref=GGda9y2L
---
4. 30 Year Treasury Yield Breaks Out to New Highs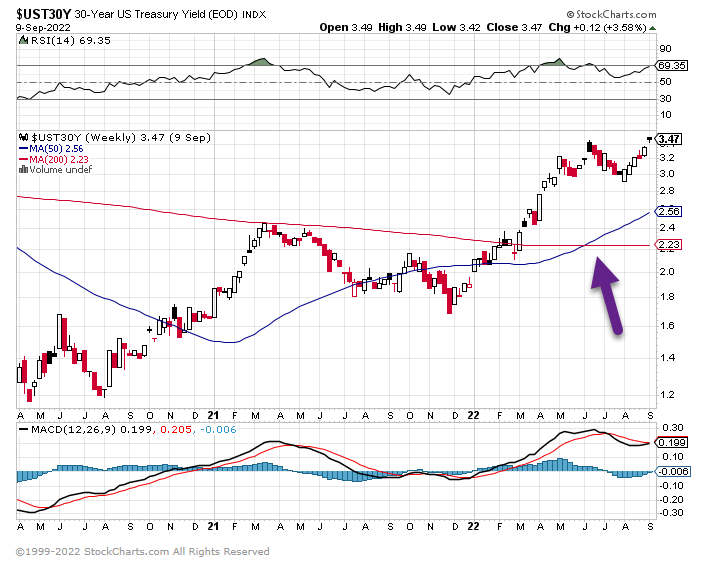 Still Below 10-Year Highs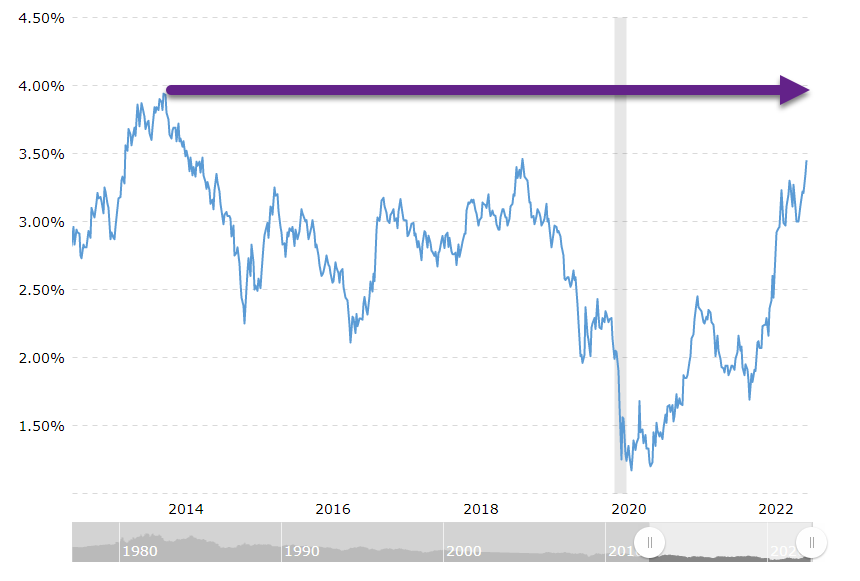 https://www.macrotrends.net/2521/30-year-treasury-bond-rate-yield-chart
---
5. One-Year Implied Inflation Falling in Unison with Crude Oil Prices.
JP Morgan Private Bank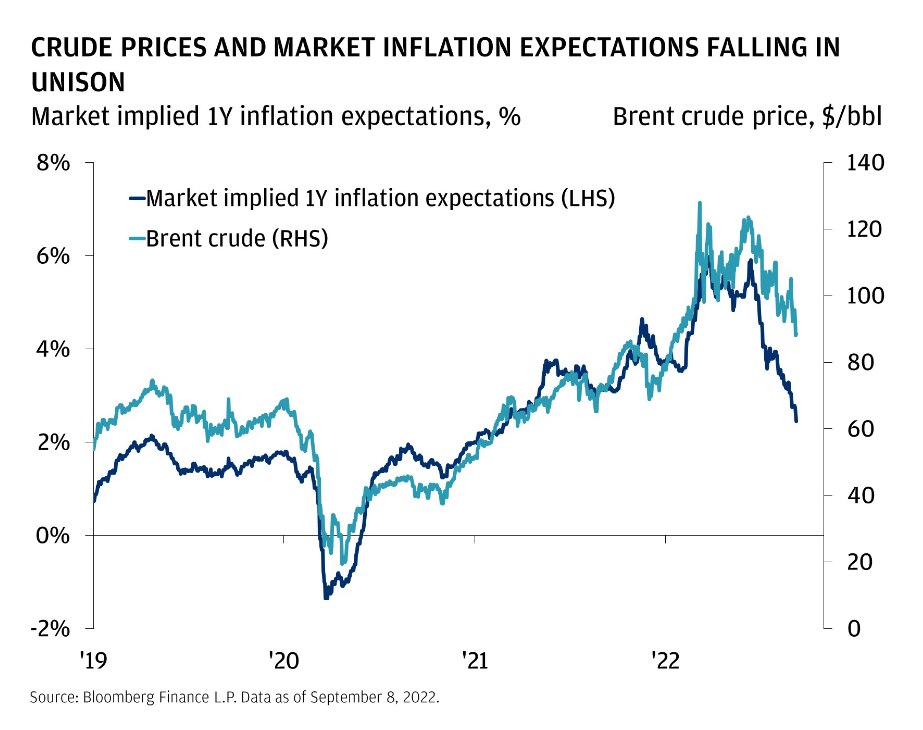 https://privatebank.jpmorgan.com/gl/en/home
---
6. Natural Gas Futures in Europe Plunge 44% from Peak
by Wolf Richter  Storage above target, floating LNG import terminals going into service.
The prices of natural gas futures in Europe, after increasing 20-fold since March 2021, have plunged amid falling demand, above-target gas-storage increases, a growing list of floating LNG import terminals, and surging imports of LNG from the US and other parts of the world.
The front-month October TTF contract in the Netherlands – a benchmark for northwest Europe – plunged by 8% on Monday from Friday, and by 44% from the peak on August 26, to €191.02 per megawatt-hour (MWh) at the close today (data via Investing.com).
The spike in futures prices was driven by speculation following Russia's threats to cut, and then by its actual cuts, of gas deliveries to Europe. But those sky-high prices caused large shifts, not only lowering demand but also lining up new supply. And with this type of huge spike, and then plunge, there may well be some big energy speculators and assorted hedge funds that ended up on the wrong side with massively leveraged positions.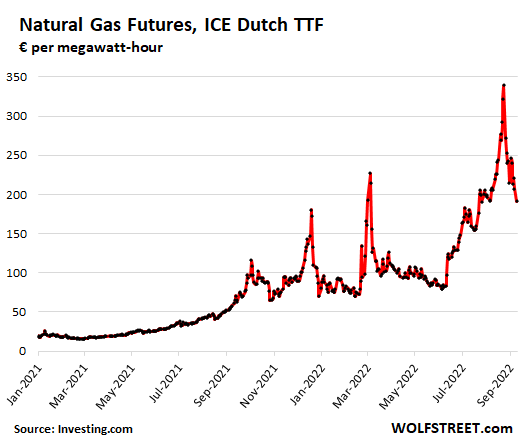 https://wolfstreet.com/2022/09/12/natural-gas-futures-plunge-44-from-peak-in-europe/
---
7. U.S. Gasoline Down 89 Consecutive Days…Longest Streak Since 2015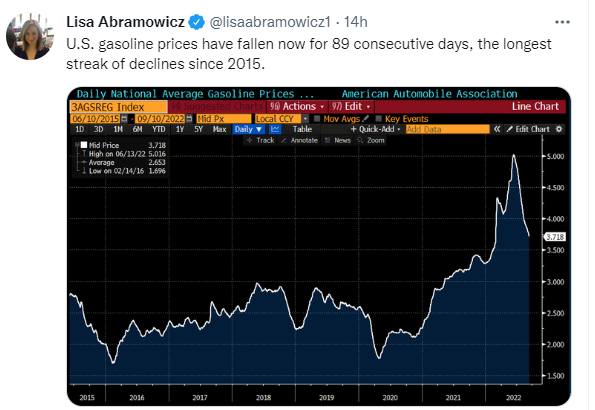 ---
8. One-Third of Workers Would Quit Before Returning 5 Days a Week
Bloomberg-About one-third of US workers would quit or start looking for another job if told to return to the workplace five days a week, higher than the global average. The rate was highest in the UK.  By
Katia Dmitrieva and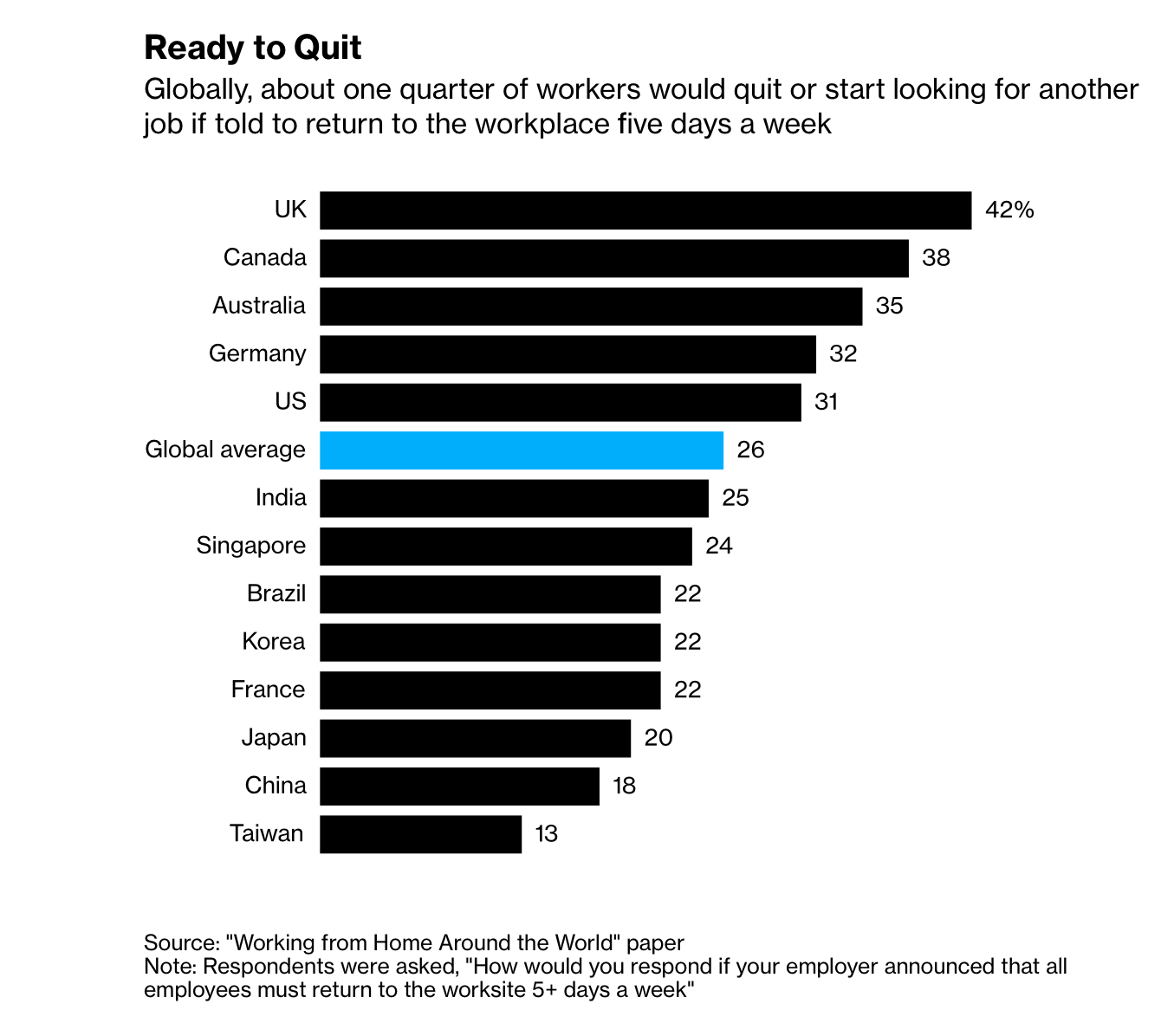 https://www.bloomberg.com/news/articles/2022-09-08/work-from-home-is-loved-worldwide-even-if-wall-street-hates-it?srnd=premium&sref=GGda9y2L
---
9. The Top Ranked Colleges List That No One Likes
EDUCATION -Morning Brew
The list that no one likes is out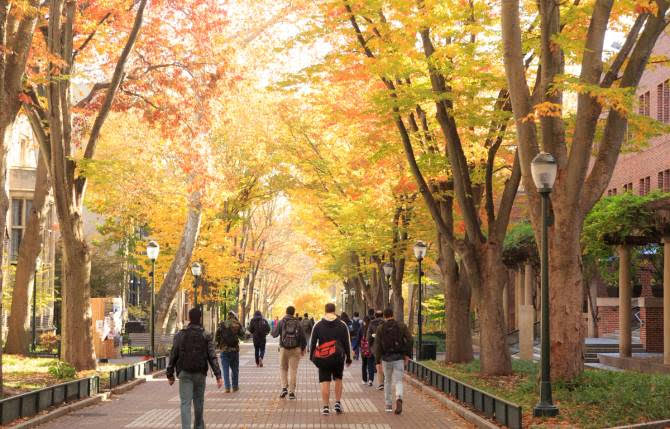 Jon Lovette/Getty Images
US News & World Report released its yearly ranking of the best colleges in the country yesterday. But this year's list comes amid a growing number of complaints about how the scores that mean a lot to wide-eyed future loan borrowers (and the administrators who will eventually ask them for money) are calculated.

Besides controversial criteria like incoming students' SAT scores and the level of alumni donations, one of the main problems critics have with the list is that it attributes 20% of its ranking formula to what amounts to basically a popularity contest. US News sends a yearly survey to college admins asking them to rate other schools' "academic quality."

Even Education Secretary Miguel Cardona, although not referring to the US News list directly, said last month that college rankings that value reputation above things like economic mobility are "a joke."

There's even more drama this year…Columbia University dropped from No. 2 to No. 18 because it didn't submit any data while it investigated a math professor's claims that the school might be fudging some numbers. On Friday, the university admitted to the fudging.

Final fun fact: 19 of the top 20 schools on this year's list cost $55,000+ per year to attend.—MM
https://www.morningbrew.com/daily
---
10. Walking and Alzheimer's
People who do this one thing every day have HALF the dementia risk than the rest of us
The things to remember about dementia are that it is absolutely horrible for you and everyone around you; it's a high probability; and when it comes to fighting it or avoiding it you are pretty much on your own.
Alzheimer's disease and related dementias are currently killing 6.5 million people in the United States and devastating the lives of many times that when you count the patients' friends and family. The National Institutes of Health reckons this number is likely to double in the next four decades.
The last study found that people in their 70s had nearly a one in three chance of getting this horrific brain disease before they died, and that was a study of the people born in the 1920s. Those born later, who are likely to live longer, face an even higher risk.
Meanwhile the amount that the federal government spends each year on research to fight this disease is less than 0.1% of the amount it spent during two years fighting Covid. Or, to put it another way, at current rates, Uncle Sam will take more than 1,000 years to spend as much on Alzheimer's research as he spent fighting COVID-19. Meanwhile, a new scandal has raised questions about how much research into dementia over the past 15 years was based on faulty data.
So I'll take the good news where I can get it, and some very heartening new data has just been published in JAMA (Journal of the American Medical Association) Neurology.
In a nutshell: Just walking a lot more could do a lot to cut our risks of developing dementia. It could actually cut our risk in half.
And, remarkably, the ideal target is about 9.800 steps a day: In other words, just shy of the magic 10,000 steps a day figure — a number that was apparently plucked out of the blue by the marketing department of a Japanese clock company several decades ago.
Weird, but true.
The latest findings were based on a study of nearly 80,000 people in the U.K. over several years. They involved comparing actual data from step counters, such as Fitbits, worn by subjects with follow-ups 7 years later.
"In this cohort study, a higher number of steps was associated
with lower risk of all-cause dementia," report the authors. "The findings suggest that a dose of just under 10,000 steps per day may be optimally associated with a lower risk of dementia. Steps performed at higher intensity resulted in stronger associations."
Those who walked 3,800 steps a day had a 25% lower risk of developing dementia in the study. Those who walked 9,800 had a 50% lower risk. Those who walked at least 6,000 steps and who walked reasonably quickly for about half an hour a day had 62% lower likelihood of developing dementia.
Naturally in the real world there are all sorts of caveats. How far are we looking at correlation or causation? Will other studies find similar things? If the follow-ups were just 7 years later, what would longer term numbers show?
We'll have to stay tuned for more research, as usual. Meanwhile, I will take what I can get. I bought a $25 step counter for my wrist from Amazon a couple of years ago. It's rapidly turning into my best healthcare investment.
There are three key takeaways from the research.
The first is that the benefits of walking really seem to kick in if you average at least 3,800 steps a day.
The second is that the optimum average is about 9,800.
And the third is that just casually wandering around doesn't get you the full benefit. For maximum advantage, we should try to walk "purposefully," at a rate of "112 steps a minute," for at least half an hour a day.
Human beings, of course, spent most of the last million years walking lots every day, eating unprocessed foods, and fasting a lot when there was no food around. It is probably no coincidence that despite all the gazillions spent on advanced medical techniques, we are slowly rediscovering that our bodies really want to walk a lot, eat unprocessed foods, and fast a lot.
Who knew?
https://www.marketwatch.com/story/people-who-do-this-one-thing-every-day-have-half-the-dementia-risk-than-the-rest-of-us-11662994041?mod=home-page