1. Dow Transports Break Below Summer Lows
Transports break below July lows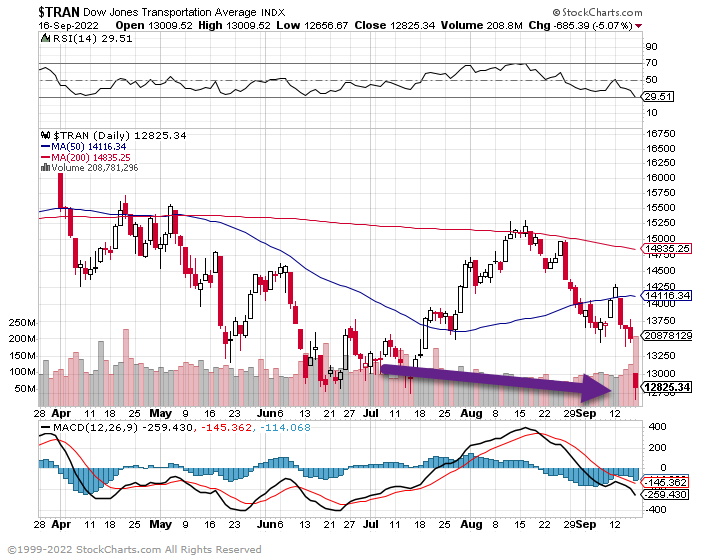 Transports approaching 200 week moving average on long-term chart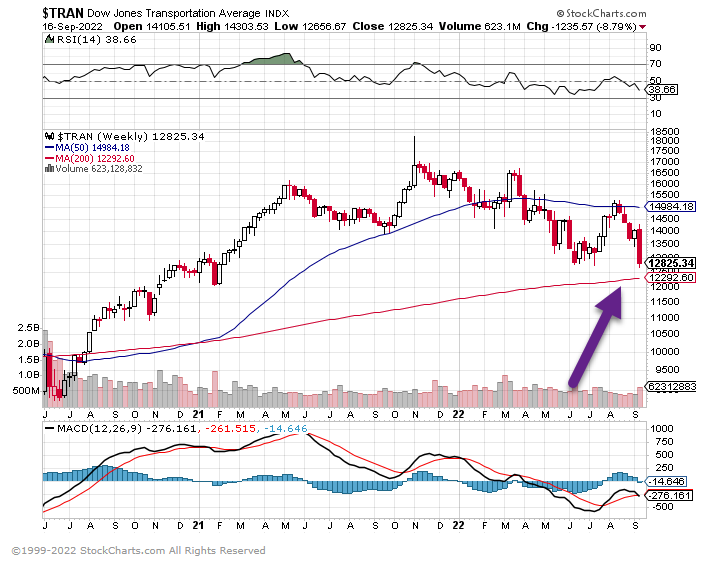 ---
2. EFA Developed International Markets Trades Back to 2020 Levels
Developed International trading below 200 week moving average erases 2 years of gains ….Europe just getting started raising rates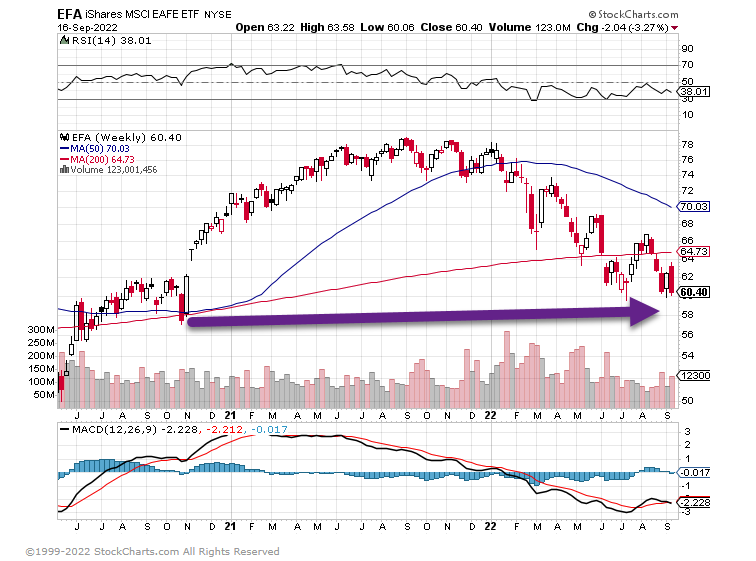 ---
3. Record Low Allocation to Eurozone Markets
Callum Thomas Chart Storm Exiting the Eurozone:  Allocations to Eurozone equities dropped to a record low in the latest BofA fund manager survey. Europe is basically the epicenter of the 2022 macro meltdown, so we should expect this – maybe we can call it rational fear (but at some point it becomes irrational (and a source of opportunity)).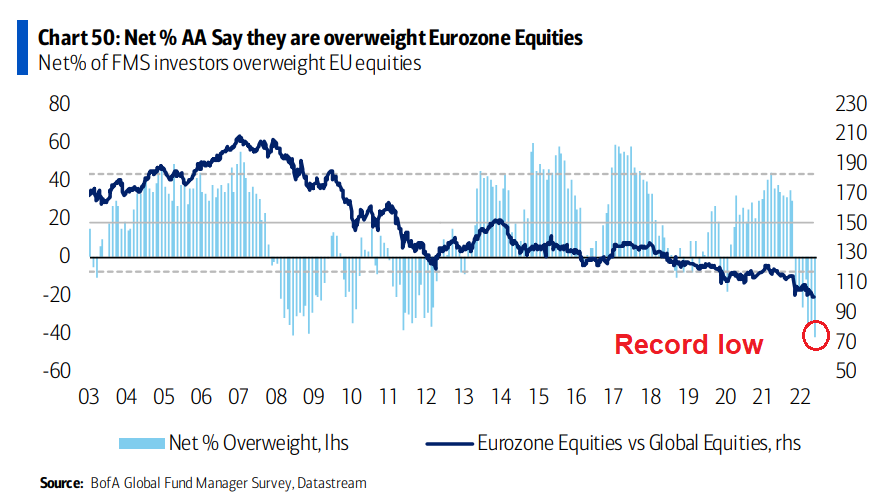 Source:  @HumbleStudent
https://chartstorm.substack.com/p/weekly-s-and-p500-chartstorm-18-september
---
4. Emerging Markets Similar Chart….Back to 2020 Levels.
EEM-Emerging markets …watch for 50week moving average (blue) to cross below 200 week average (red)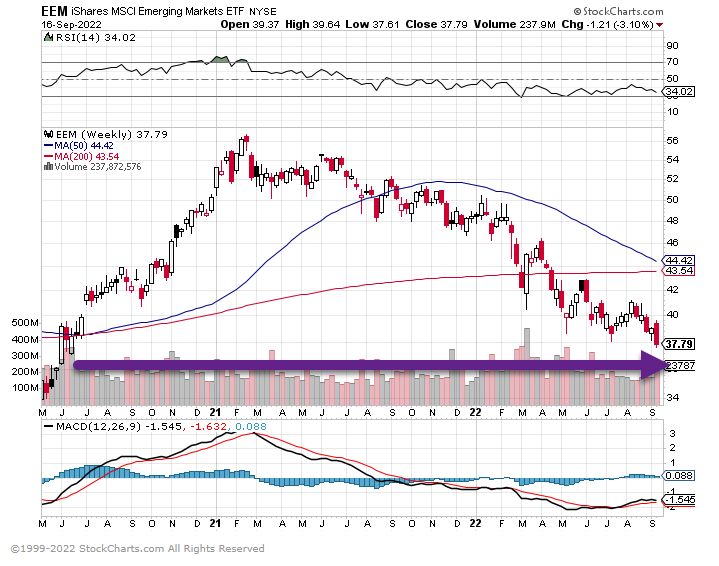 www.stockcharts.com
---
5. TWLO another Covid Favorite Announces Layoffs
$425 to $73…clear 50 week thru 200 week to downside.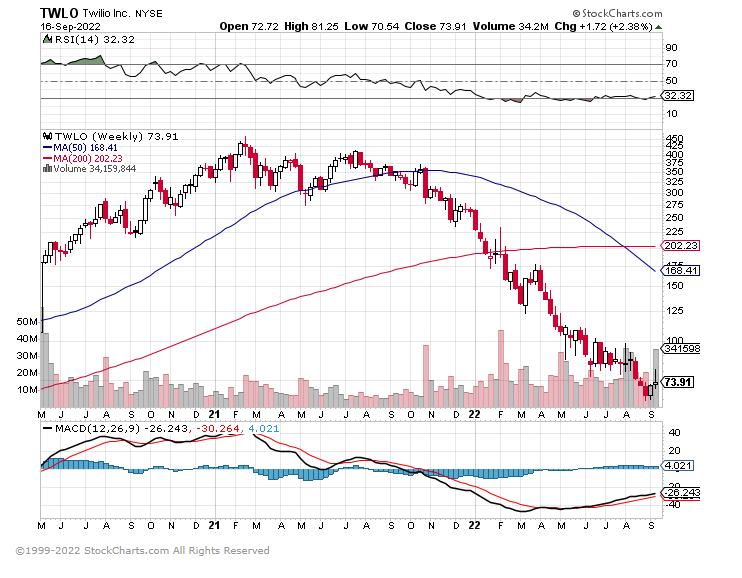 ---
6. Blackrock 60/40 Chart Re-Testing 200 Week Moving Average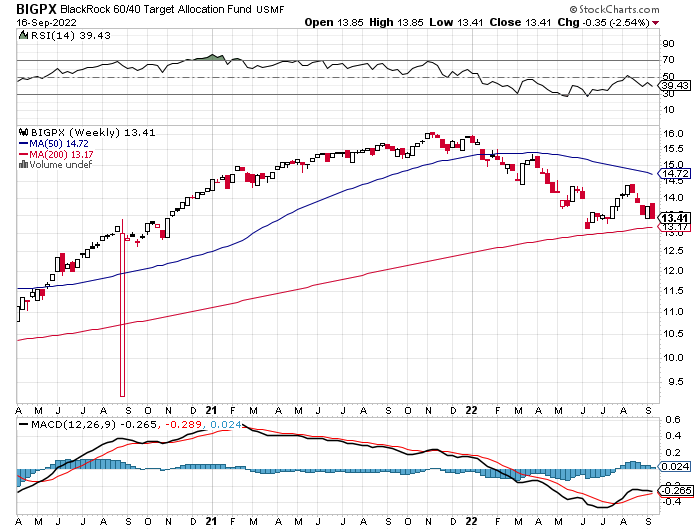 ---
7. U.S. Household Wealth Fell by Record in Second Quarter….$6.1 Trillion…Stocks, Bonds, Real Estate All Down Together
Sept 9 (Reuters) – U.S. household wealth fell by a record $6.1 trillion in the second quarter to its lowest in a year as a bear market in stocks far outweighed further gains in real estate values, a Federal Reserve report showed on Friday.
Household net worth tumbled to $143.8 trillion at the end of June from $149.9 trillion at the end of March, its second consecutive quarterly decline, the Fed's quarterly snapshot of the national balance sheet showed. Through June, Americans' collective wealth had fallen by more than $6.2 trillion from a record $150 trillion at the end of 2021.
The net drop in wealth in the second quarter was about $30 billion larger than the previous record decline notched two years earlier, as the onset of the COVID-19 pandemic upended financial markets. That decline – in the second quarter of 2020 – still stands as the largest on a percentage basis at 5.2% versus 4.1% in the most recent report.
The latest fall was led by a $7.7 trillion decline in stock market values as equities slid into a bear market in the first half of the year on worries about surging inflation and the Fed's aggressive response with interest rate increases. The equity market drop outstripped a $1.4 trillion gain in real estate values.
Total nonfinancial debt rose at a 6.5% annualized rate after rising at an 8.3% rate in the first quarter, the Fed data showed. Household debt growth also slowed to a 7.4% annual rate from 8.3% in the first three months of the year, while business, federal, state and local government debt levels all rose.
Reporting by Dan Burns; Editing by Paul Simao and Bill Berkrot
https://www.reuters.com/markets/us/us-household-wealth-falls-again-second-quarter-fed-says-2022-09-09/
---
8. Lowest World Population Growth Since 1950
From Advisors Perspective Blog-The world's population continues to grow, but the pace of growth has slowed to a rate of under one percent, a pace not seen since 1950. The populations of 61 nations are projected to decrease by 1% or more between now and 2050.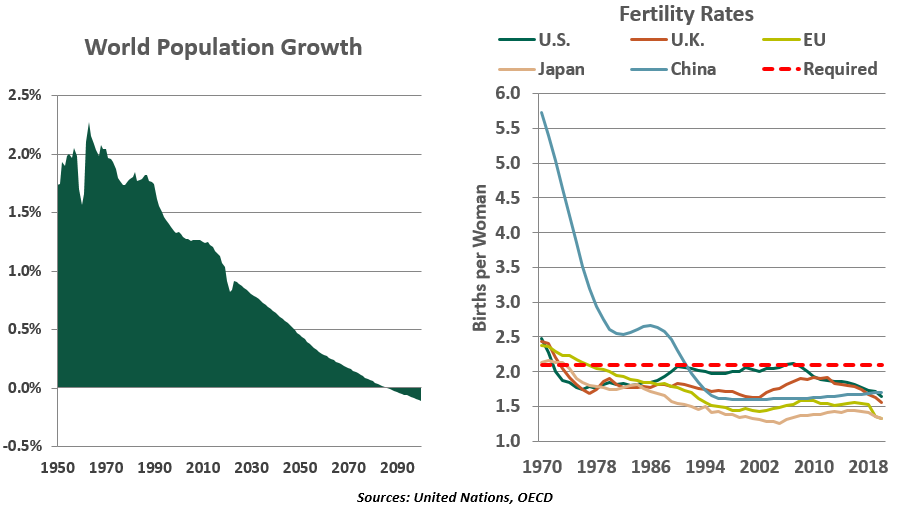 The Decline of Demographicsby Vaibhav Tandon, Ryan James Boyle of Northern Trust,
https://www.advisorperspectives.com/commentaries/2022/09/16/the-decline-of-demographics
---
9. Inflation Causing Hardship Across Working and Middle Class
https://www.statista.com/chart/26334/effect-of-price-increases-on-the-financial-situation-of-households/
---
10. Getting Through Any Obstacle in Life
An agile mind will help you push forward.
The world can feel like an uncertain place. Unless we can learn to live with not being sure, it's very easy for us to become overwhelmed. What my research in psychology and neuroscience has taught me is that getting used to the intrinsic uncertainty of the world is essential for success: the people who thrive are those with the ability to accept and adapt to constant change and uncertainty.
The good news is that we can improve our ability to adapt. It takes practice and we often need to push ourselves outside our comfort zone. I managed to overcome my reluctance to speak in public and adapted over time to the demands of being an academic psychologist.
Harnessing the benefits of an agile mind can be transformative. It's important to remember that we are active stewards of our own well-being, rather than passive victims of change and so we must actively manage our approach to life. Our natural skills of agility are necessary to help us navigate a complex and unpredictable world. I have seen time and again how developing an agile mindset—the capacity to flex our thoughts, feelings, and actions—can transform our lives and bolster our resilience. 
Maintaining a flexible mind allows us to thrive amid change. The first step is to accept that change and uncertainty are an inescapable part of life. Our lives will change, many times, sometimes for the better, sometimes for the worse. It is how we navigate those shifts that shape our present and our future happiness. If you are reluctant to change, or wary of trying out new things, this is something you need to work on.
Whether it is coping with a difficult boss, managing a complex team, dealing with hyperactive children, resolving a dispute with a friend, or boosting your energy, you need an internal compass that helps you choose the right strategy for the moment. If this compass is off even slightly, you can veer a long way from your course. Here are four important ideas that will point you in the right direction as you navigate your way through life.
Mental agility: The capacity to be agile and nimble in how you think, act, and feel so that you can navigate your way through all sorts of terrain, the rough as well as the smooth, and adapt well to changing circumstances. The science shows that agility is made up of four distinct components—what I call the "ABCD of agility," adaptability, balancing our life, changing or challenging our perspective, and developing our mental competence.

Self-awareness: An ability to look inside yourself so that you can gain a deep self-understanding and appreciation of your core values. This will help you become more aware of your hopes, dreams, and abilities.
Emotional awareness: Part of self-awareness, but so important in our lives that it becomes a pillar of its own. Learning to accept and nurture all your emotions, those that feel bad as well as those that feel good, is vital. As is the ability to regulate your emotions and harness them in service of your values and goals rather than letting them boss you around.
Situational awareness: This feeds off two of the other pillars, self-awareness, and emotional awareness, but also incorporates the capacity to understand your immediate surroundings—to look outside—so that you gain a deep intuitive awareness of the context as well as your own"gut feelings." This mix of inner and outer awareness informs you as to how well you can operate in that environment.
These four vital psychological talents are a potent mental weapon to help you make the decision to stick or to switch to another approach, and to get that decision right more times than you get it wrong. Ultimately, that will help you to operate at the top of your game.
https://www.psychologytoday.com/us/blog/the-nature-human-emotions/202209/getting-through-any-obstacle-in-life