1. Remove Top 10 Stocks from S&P….Remaining Group 14.6x P/E
JP Morgan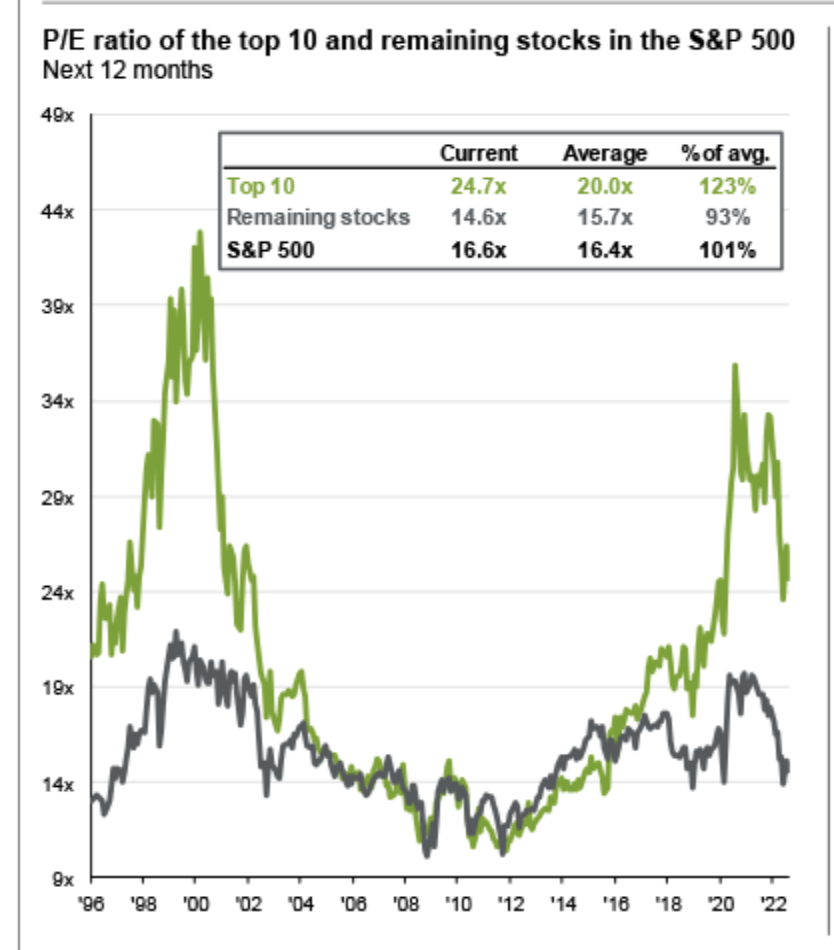 https://am.jpmorgan.com/us/en/asset-management/adv/insights/market-insights/guide-to-the-markets/
---
2. Bond Bear Market-AGG Bond Index -21% in 20 Months….Down More than S&P in 12 Months.
Bearish chart…50 week moving average thru 200 week to downside…trading below 200 week moving average and approaching new lows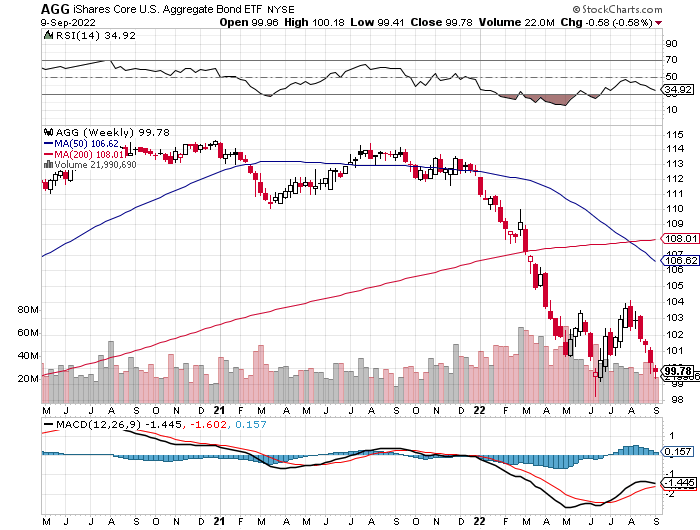 ---
3. Gas Prices $5.02 to $3.72
From Sam Ro According to GasBuddy's Patrick De Haan, the national average price of gasoline fell to $3.72 on Friday, down from its high of $5.02 on June 14. This is great news as energy is a major driver of most measures of inflation.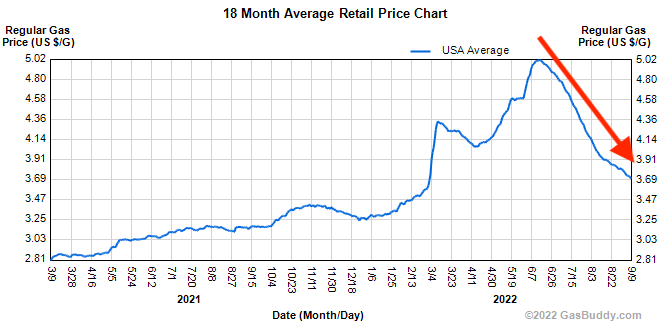 https://finance.yahoo.com/news/two-ways-of-thinking-about-this-chart-of-stocks-and-recessions-132828658.html
---
4. SPAC ETFs are Being Delisted
Callum Thomas Chart Storm SPAK OFF: SPACs were probably the most blatant symbol and symptom of the liquidity tidal wave the swept across markets in the wake of the pandemic. True frenzy.
And now the SPAC ETFs are being delisted.
Bottom or not, it tells you a lot.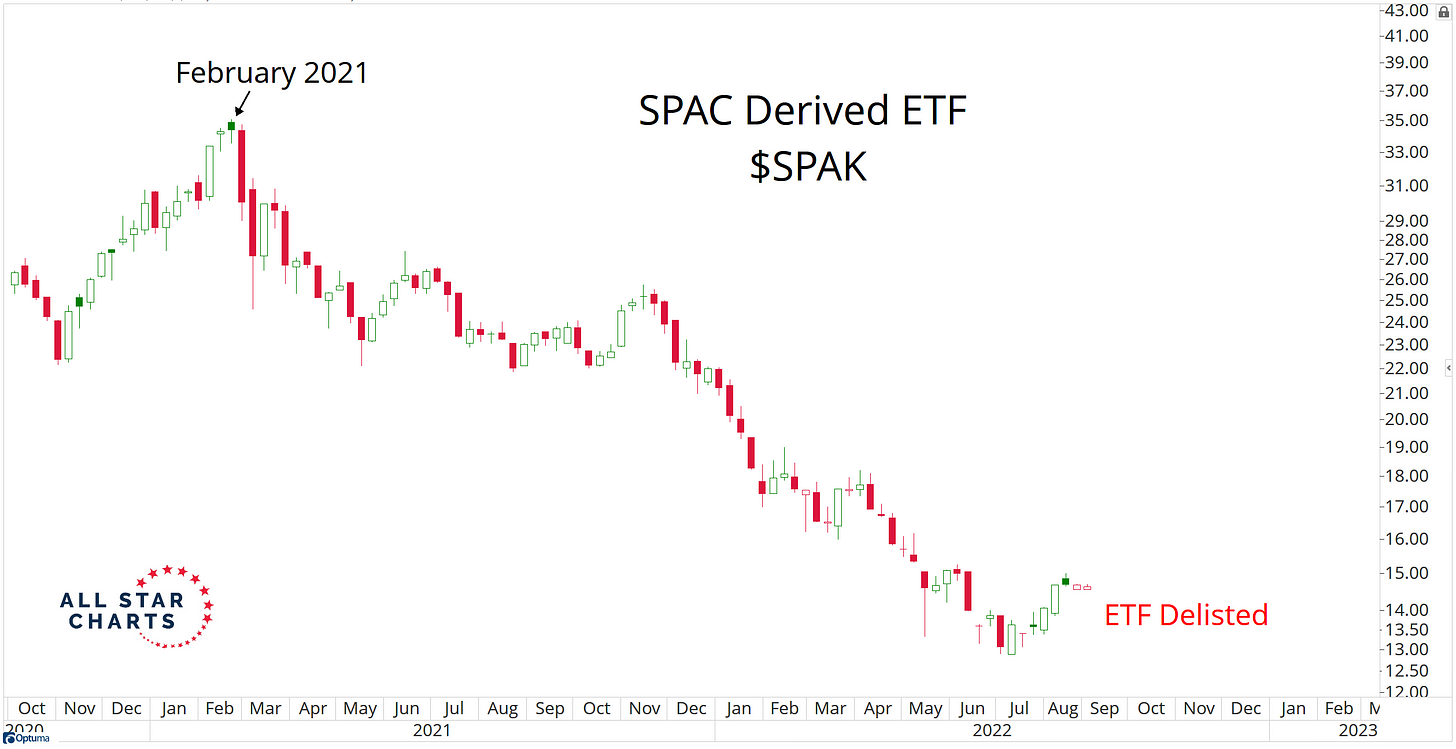 https://chartstorm.substack.com/p/weekly-s-and-p500-chartstorm-10-september
---
5. Solar ETF Data
Barrons-One example of how flows shifted in clean-energy funds was the Invesco Solar ETF (ticker: TAN), which saw assets under management rise from $418 million in early 2020 to peak at $5.2 billion in early 2021 after rising 233% in 2020. From 2021 through May 2022, assets fell to $1.79 billion as prices retreated, although as of early September assets are at $2.9 billion.
TAN ETF -50% Correction from $120 High …rally back to $87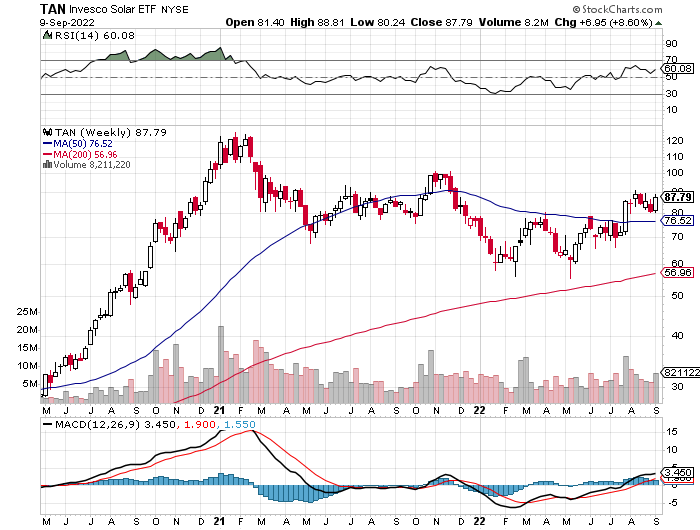 ESG Sector ETFs Could Be Volatile. What to Do Instead. By Debbie Carlson
https://www.barrons.com/articles/esg-sector-etfs-volatile-51662588284?mod=past_editions
---
6. VCs pour $14.2B into crypto in H1 2022, but investments now slowing –

BRAYDEN LINDREA KPMG noted that despite the expected downfall, investment figures remained well-positioned in comparison to pre-2021 figures, which highlights the growing maturity of the market. 2:58
Venture capital firms poured $14.2 billion into crypto across 725 deals in the first half of 2022, but big four accounting firm KPMG predicts investments will likely slow for the remainder of the year.
According to a newly released KPMG report on Tuesday, the largest investments in H1 2022 came from German-based crypto trading platform Trade Republic ($1.1 billion), digital asset custody platform Fireblocks ($550 million), crypto exchange FTX ($500 million), and Ethereum software company ConsenSys ($450 million).
Authors of the report, including KPMG's global leader of fintech, Anton Ruddenklau, noted the investment figures for the first half of 2022 alone were already more than double all years prior to 2021, which "highlights the growing maturity of the space and the breadth of technologies and solutions attracting investment."
However, Ruddenklau said that over-investment during the record-breaking 2021 and first half of 2022, along with a looming potential recession, rising inflation, interest rates and the Russia-Ukraine conflict, would bring about a drop off in investment this year.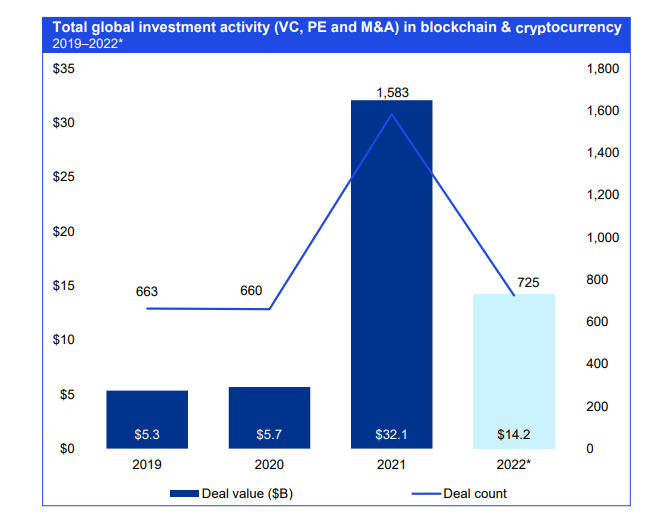 Total global investment activity (VC, PE and M&A) in blockchain & cryptocurrency. Source: KPMG.
KPMG's prediction for a crypto investment downturn appears to already be borne out in data from July, with monthly inflows into the blockchain venture capital market declining 43% in the month, according to Cointelegraph Research. 
Ruddenklau expects the slowdown of crypto interest and investment to be particularly felt in retail firms offering coins, tokens and nonfungible tokens (NFTs). 
Alexandre Stachtchenko, director of blockchain & crypto assets of KPMG France, stated in the report that "well-managed crypto companies with healthy risk management policies, long-term vision, and strong cost and risk management approach" will best position themselves to survive the current bear market:
"Of course, some cryptos will die out — particularly those that don't have clear and strong value propositions. That could actually be quite healthy from an ecosystem point of view because it'll clear away some of the mess that was created in the euphoria of a bull market. The best companies will be the ones that survive."
Stachtchenko added that financial institutions have become increasingly interested in blockchain infrastructure solutions and stablecoins to capitalize on the operational advantages of distributed ledger technology.
KPMG also expects further investment efforts in underdeveloped fintech markets, particularly in Africa. 
Efforts on this front have been made by crypto exchange Binance, which recently entered into early-stage talks with the Nigerian government to build a crypto-friendly economic zone with the aim to generate long-term economic growth through digital innovation.
https://cointelegraph.com/news/vcs-pour-14-2b-into-crypto-in-h1-2022-but-investments-now-slowing
---
7. Chinese ownership of U.S. farmland…20x rise from 2010-2020
Big Trouble in Little Texas
This isn't the first time a question has been raised in China's stake in the U.S.
The plug was pulled on a similar wind energy project in Del Rio, Texas, in April when state officials realized two key issues:
1.    The land dedicated to the wind farm is miles from the Laughlin Air Force Base.
2.    The Chinese company hired to carry out the job is owned by a former member of the Chinese military who has direct ties to China's ruling communist party.
Rep. Tony Gonzales (R-TX), who unsuccessfully pushed for the Trump Administration to reconsider allowing GH America Energy—a Chinese energy company—to purchase 130,000 acres in Val Verde County, Texas, in early 2021, has sought out secondary avenues.
In April 2021, Gonzales cosponsored the Protecting Military Installations and Ranges Act of 2021, which aims to place restrictions on certain property purchases entities in Russia, China, Iran or North Korea.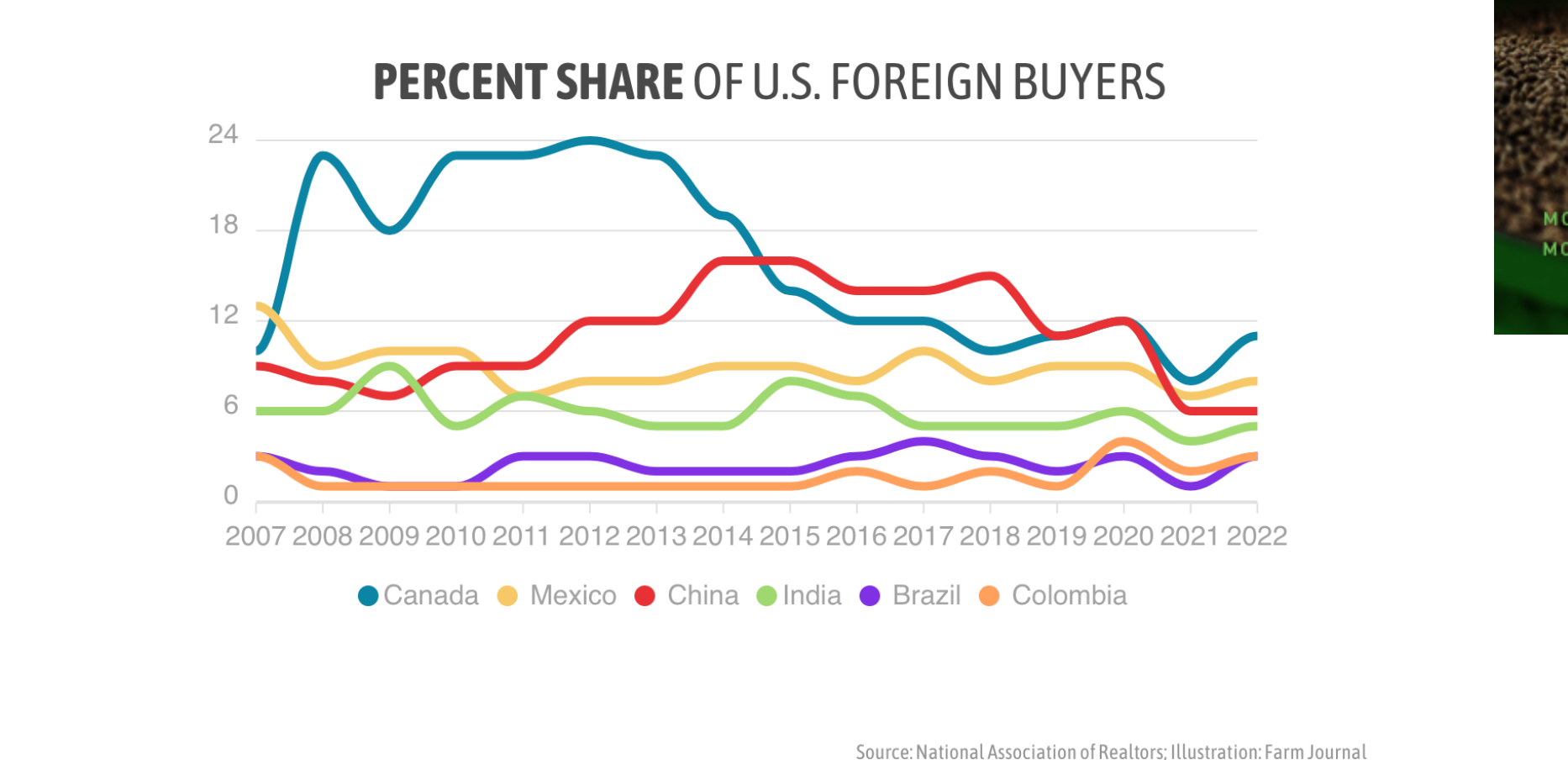 https://www.agweb.com/news/policy/politics/chinas-latest-land-purchase-could-pose-major-us-security-risk
---
8. Homebuilders Margins at Record Levels? Inflation and Housing Bear Market but Margins at Record Levels
John Burns Real Estate-Post-Covid Home Builder Gross Margin Hockey Stick chart below.
Home builders can drop price 8% and still achieve historically normal margins.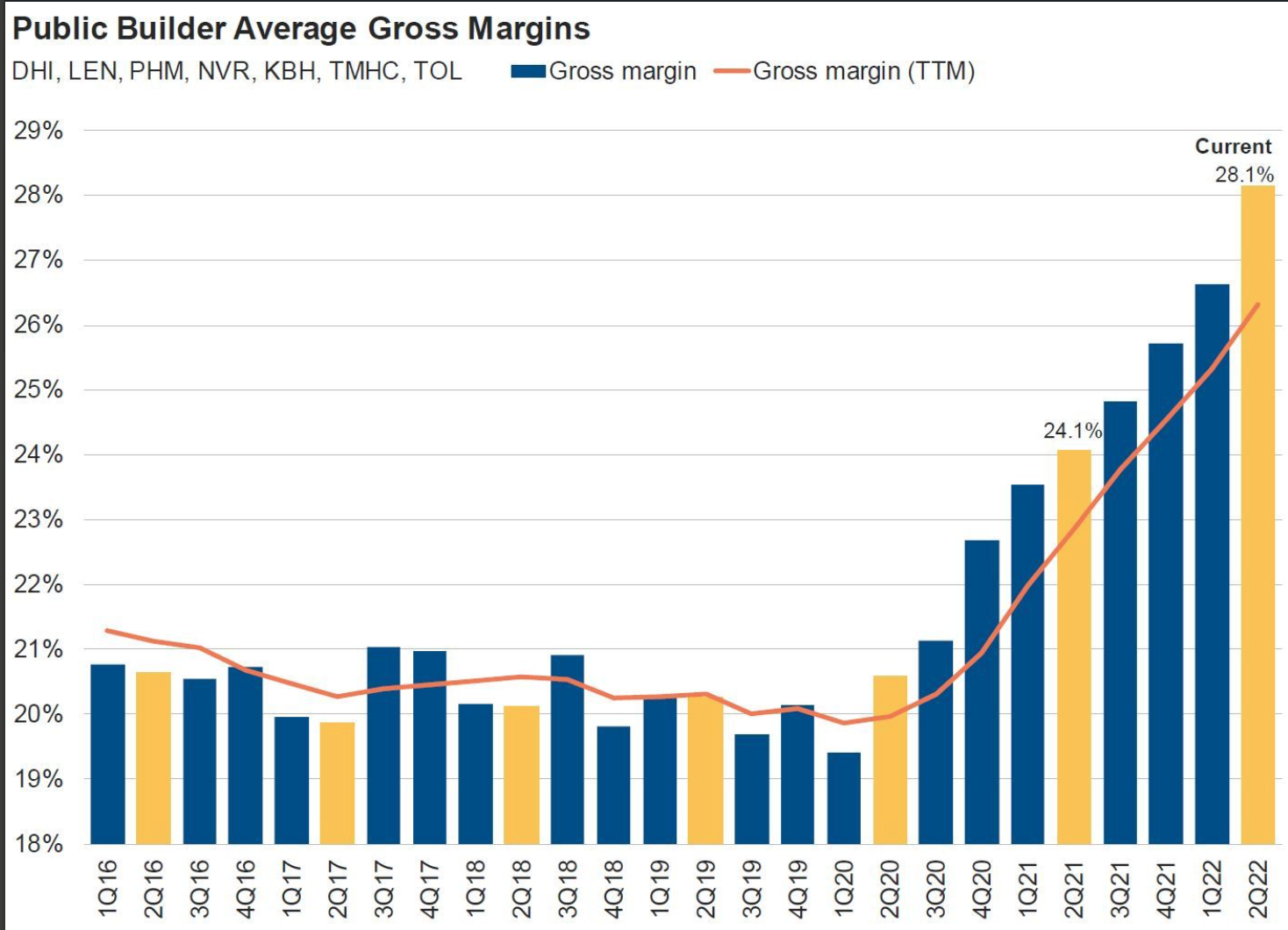 https://www.linkedin.com/in/johnburns7/
---
9. China has secured Russian gas at a 50% discount until the end of this year
China has inked a deal for Russian natural gas at half price through the end of this year.
The deal comes as Europe faces a near total cutoff from Russian gas supplies as winter nears. 
Dutch TTF futures soared 28% after Russia announced an indefinite halt of Nord Stream 1 this week. 
Sign up for our newsletter to get the inside scoop on what traders are talking about — delivered daily to your inbox.
China continues to ramp up imports of Russian natural gas, recently securing a deal for supplies from the Sakhalin 2 operator at a 50% discount until the end of the year, according to a report from Bloomberg. 
China imported 29% more Russian liquefied natural gas in the first half of the year than in 2021, and imports soared to their highest level since 2020 in August, according to Bloomberg data. That's cemented its spot as one of Russia's largest energy customers since the invasion of Ukraine, snapping up crude and natural gas at hefty discounts while the West attempts to pull back from the consumption of Russian energy commodities. 
China's appetite for Russian energy isn't showing signs of ebbing, as the country has recently struck a deal with Russia's Sakhalin-2 LNG plant to purchase natural gas supplies at half the current spot price, traders familiar with the matter told Bloomberg on Wednesday.
The deal complicates matters overseas, where Europe faces a looming energy crisis that could be worsened by a potential shutoff from Russian gas this winter. China snapping up Russian gas means less competition on the spot market for European and Asian suppliers, but they'll shoulder the cost of more expensive alternative supplies.
And Europe has already suffered from soaring energy prices. Dutch TTF futures, the European benchmark for natural gas, recently soared 28% after Russia announced an indefinite shutoff of the key Nord Stream 1 pipeline, up to 268 euros per megawatt hour. 
It's also affected consumers' electricity bills, as power is generated from natural gas. And German baseload power, the European benchmark for electricity, has skyrocketed to more than 1,400% above the average in the previous decade, breaking 700 euros per megawatt hour for the first time in August.
It gives a glimpse of the difficult winter ahead, the one upside being that China has been reselling its natural gas surplus to Europe ahead of winter. Already, 4 million tonnes of LNG have been passed off to the energy-strapped continent, largely due to decreased demand in China from its continued lockdown restrictions.
https://markets.businessinsider.com/news/commodities/russia-natural-gas-china-lng-europe-energy-crisis-discount-asia-2022-9
---
10. 'Too much free time won't make you happier,' says psychologist—how many hours you really need in a day
Published Thu, Sep 8 20229:18 AM EDTUpdated 3 Hours Ago
I remember in 2013, sitting on the late-night train home from New York City to Philadelphia, feeling utterly overwhelmed with life. For a working mother, it felt like there weren't enough hours in the day to get everything done.
My research has since shown that I wasn't the only one who was struggling. As a social psychologist and behavioral science professor at UCLA, I wanted to know: Will having more hours of free time actually make us more satisfied in life?
So I enlisted my colleagues to study how tens of thousands of Americans spent a regular day, as well as their overall happiness levels. The results were illuminating.
Too much free time won't make you happier in life
First, we calculated how much time people had in a day to spend on discretionary activities, such as relaxing, watching TV, playing sports or hanging with friends.
Then we tested how that calculated amount of time related to their satisfaction in life.
What we found was that two to five hours of free time in a day is ideal for boosted happiness. Having less than two hours or more than five hours of free time a day, however, decreased happiness.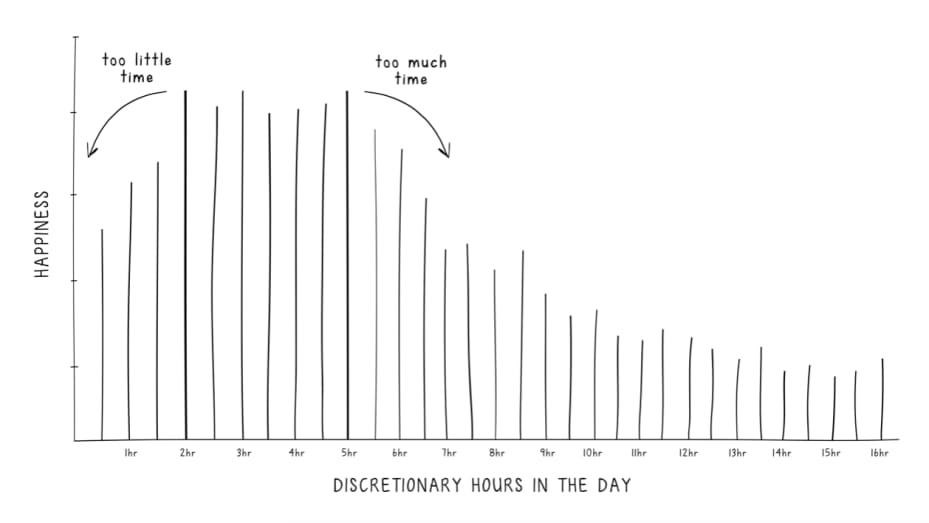 From "Happier Hour: How to Beat Distraction, Expand Your Time, and Focus on What Matters Most," by Cassie Holmes.
Photo: Cassie Holmes
The data confirmed that I was "time poor" — or feeling like I had too little time available to do all that I needed and wanted to do.
Nearly half of Americans feel they are in the same spot, according to a Gallup poll. Other studies have also shown that being "time poor" makes us more depressed, stressed and emotionally exhausted.
On the other hand, regularly having more than five hours of discretionary time in the day is too much, because it undermines one's sense of purpose.
It's worth pointing out that having a sense of purpose does not require working in a paid job. For example, unpaid volunteer work often provides a sense of purpose.
Additionally, tasks required to produce well-functioning households or for successful parenting can similarly offer a satisfying sense of accomplishment.
Yet I recognized that in my case, work gives me a significant source of purpose.
Free time is important, but so is how you spend it
The flatness of life satisfaction between two and five hours suggests that, except at the very extremes, the way we spend our free time matters a great deal.
We have 24 hours in a day, but the way we perceive time is subjective. This is important because how long a minute, an hour, a day, or a decade feels informs whether you view yourself as having "enough" time.
Feeling confident that you are able to accomplish everything you want to do is the definition of being "time affluent." I learned that even with the 90 minutes of free time I had a day, I could make my days feel less overwhelming and more fulfilling.
Here are three ways to feel more "time affluent," without adding more free time to your schedule:
1. Get moving.
Physical activity has been proven as an effective means to increase health, happiness and self-esteem.
Try 30 minutes of exercise per day for a few days this week. It's important to block out time in your calendar for this. The activities don't have to be strenuous; just taking a slow jog outside or walking to work — instead of driving — is enough.
After your session, write in a journal about how you're feeling (most likely, you'll feel great). So the next time you think you don't have enough time to work out, you'll remember how you felt, and that the time will be worth it.
2. Practice acts of kindness.
In one of my studies, I found that giving time to other people can make you feel like you have more discretionary time.
Sometime this week, perform two random acts of kindness — one for a friend or acquaintance, and another for a stranger. It's up to you what you do, but here are some ideas:
Pay for a stranger's order at a coffee shop.
Give someone a compliment.
Help a coworker complete a task.
Bring a family member a tasty treat or beverage.
Leave a friend flowers or a nice note.
Whatever it is, do it with the sole purpose of benefiting the other person. Don't think about or anticipate receiving anything in return for your kindness.
3. Experience awe
The ocean has always had a powerful effect on me. It inspires and fills me with a sense of awe. Finding ways to achieve this feeling can expand your perception of time.
In one study, researchers showed that compared to reflecting on a happy event, reimagining an awe-inspiring event made people feel less hurried. It also made them behave as though they had more time — making them more willing to volunteer their time for a charity.
Try to fit one of these experiences into your week:
Social interactions: Whether through physical intimacy, eye-opening conversation, or cradling a newborn, our interpersonal relationships extend us beyond ourselves.
Being in nature: Take a stroll your neighborhood park. Look up at the moon. Catch the golden-pink glow of dawn or dusk, and you'll feel less rushed.
Absorbing art: I vividly remember as college student being awestruck by Vincent van Gogh's "Starry Night." At first, I was anxious to take notes for my essay. But standing there, peering at the artist's swirling vision, I was enraptured and moved beyond concern about time.
Witnessing accomplishment: Tremendous inspiration can be found in individual achievement. Watching a skillfully executed athletic feat, for example, can open our eyes to the magnificent possibilities of humanity.
During moments of awe, absolutely nothing feels limiting — certainly not the minutiae of the day's schedule.
Cassie Holmes is a psychologist and professor at UCLA's Anderson School of Management. Her work on the intersection of time and happiness has been featured in such outlets as NPR, The Economist, The New York Times, The Wall Street Journal and The Atlantic. She is also the author of "Happier Hour: How to Beat Distraction, Expand Your Time, and Focus on What Matters Most."
https://www.cnbc.com/2022/09/08/too-much-free-time-wont-make-you-happier-says-psychologist-how-many-hours-you-really-need-in-a-day.html