1. IPO Market 12 Month Rate of Change 2020 +86% vs. 1999 +325%
Reformed Broker Josh Brown Blog
I'm showing you a chart below that Ari Wald at Oppenheimer just put out, I think it's a good way of viewing the difference between IPO performance in this era, versus that era. One of my guests from the podcast was Kathleen Smith, whose firm Renaissance Capital is actually the sponsor of the ETF Ari is looking at here: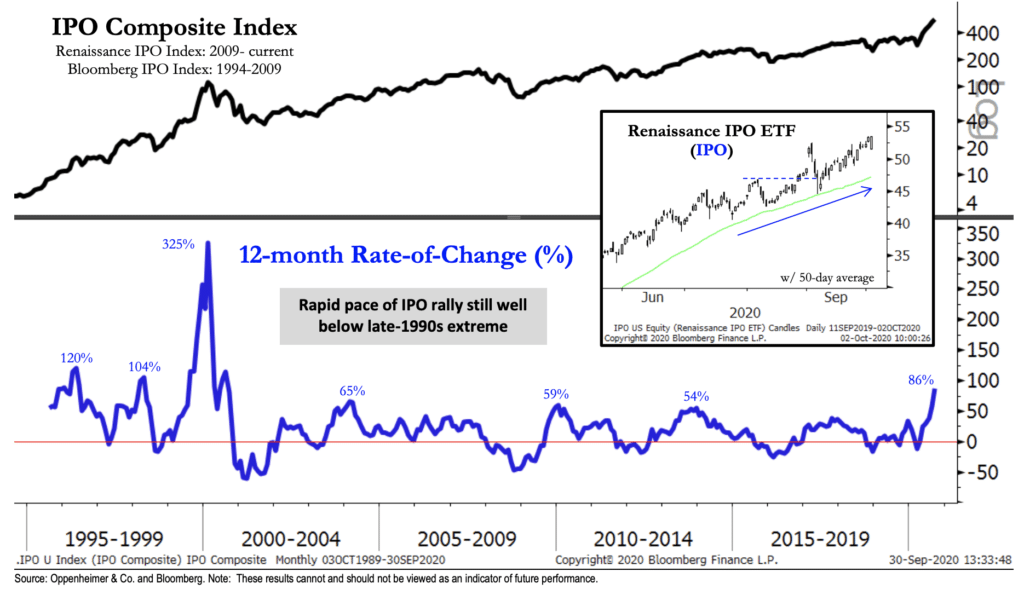 Here's Ari's take (bold is me):
Investor concerns have also shifted to an overheated IPO market. Indeed, the Renaissance IPO ETF (IPO) has rallied since July, and the ETF's 12-month rate-of-change now stands at 86%, the highest count in 20 years. However, we still think it's premature to compare this strength to that of the late 1990s, when the IPO market gained 325% in the final year into its March 2000 peak. Overall, early signs of IPO froth are worth monitoring, but we don't think it outweighs market positives elsewhere.
Source:
Inflection Points
Oppenheimer & Co – October 3rd, 2020
JOSH BROWN BLOG https://thereformedbroker.com/2020/10/05/this-is-what-ipo-nirvana-actually-looks-like/
2. Historical Look at 4thQuarter Returns Following Years Similar to 2020
LPL BLOG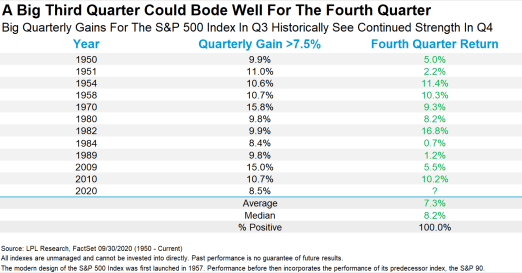 3. The Share of Energy Generated by Renewables Has Grown From 10% to 19% From 2010-2019.
Blackrock Blog
Chart of the week
U.S. electricity generation by major energy sources, 1950-2019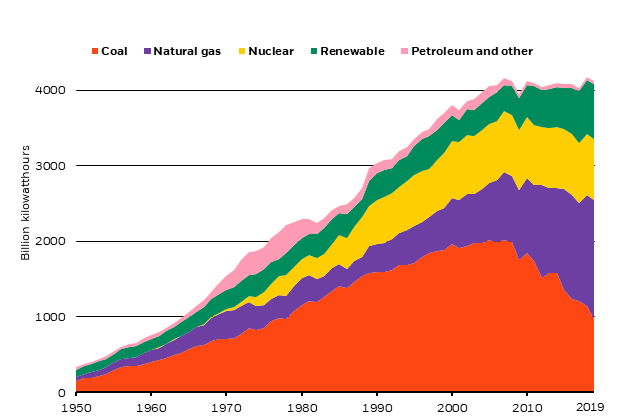 Sources: BlackRock Investment Institute, with data from the U.S. Energy Information Administration, October 2020. Notes: The electricity generation is from utility-scale facilities. Data for 2019 are preliminary.
A win by former Vice President Joe Biden – along with Democrats taking control of the Senate – could help accelerate a shift toward sustainability that is already under way. His climate policy would focus on four areas: electric power, transport, buildings and research and development (R&D) spending. The share of electricity generated by renewable sources has grown steadily in the U.S. – from 10% in 2010 to 17% in 2019 – according to the U.S. Energy Information Administration. See the chart above. A Democratic sweep could accelerate the decarbonization of the power sector, by extending and expanding tax credits for renewable power sources and other zero-carbon industrial sources such as carbon sequestration. The Biden campaign has also proposed significant investment to reduce emissions in the transport sector, and to retrofit commercial and municipal buildings to increase their energy efficiency. Industries such as solar may already have largely priced in the transition to clean energy, yet we see other opportunities, such as energy-efficient technologies and offshore wind power.
How much of Biden's climate policy proposal would become reality if he won the election? A Democratic sweep would likely lead to a large boost to public investment in clean energy. Fiscal spending would be significantly more constrained under a Biden win with divided government. Much could still happen on the regulatory front, such as tightening rules on oil and gas exploration, production and transmission. A crackdown on drilling and pipeline permits could constrain U.S. shale supply and push oil prices up, especially as demand recovers post-COVID. Yet any spike in oil prices may not be sustained given the prospect of an accelerating shift to clean energy in the transport sector. We see opportunities in private markets across renewables, digital infrastructure and transport regardless of the election result, given the structural shift to sustainability.
https://www.blackrock.com/us/individual/insights/blackrock-investment-institute/weekly-commentary
4. The Increasing Cost of Net Interest
Advisor Perspectives
Net interest payments set to Increase to #2 cost for government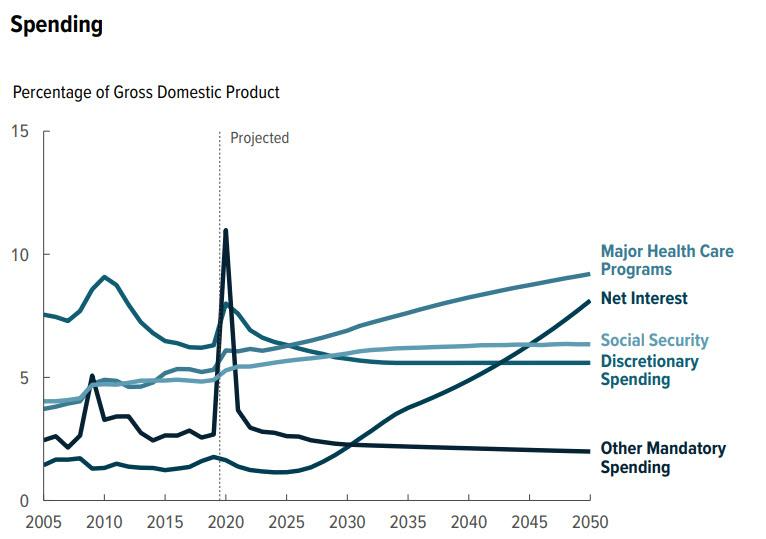 Given rising debt levels erode economic growth, as it displaces revenue from productive uses, debt continues to grow to support "mandatory spending" requirements.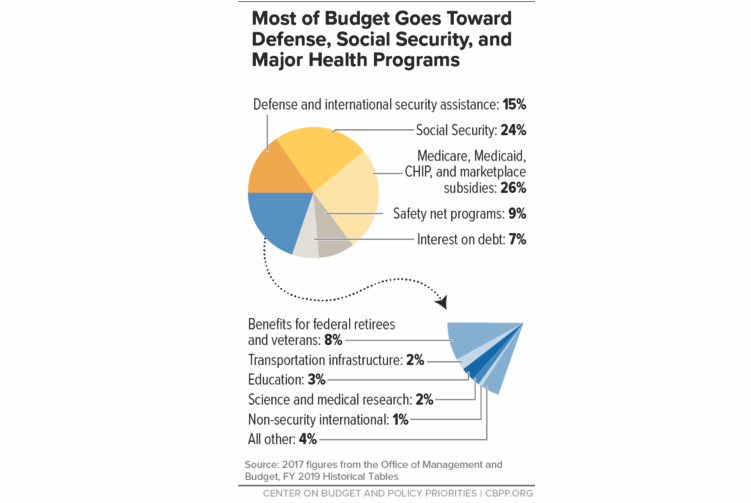 CBO – The "One-Way Trip" Of American Debt
by Lance Roberts of Real Investment Advice, 10/5/20
https://www.advisorperspectives.com/commentaries/2020/10/05/cbo-the-one-way-trip-of-american-debt
5. Which sectors are most sensitive to tax increases?
The Daily Shot Blog
Source: @WSJ Read full article
https://dailyshotbrief.com/the-daily-shot-brief-october-5th-2020/
6. U.S. Takes Stake in Battery-Metals Firm to Wean Itself Off China
Eddie Spence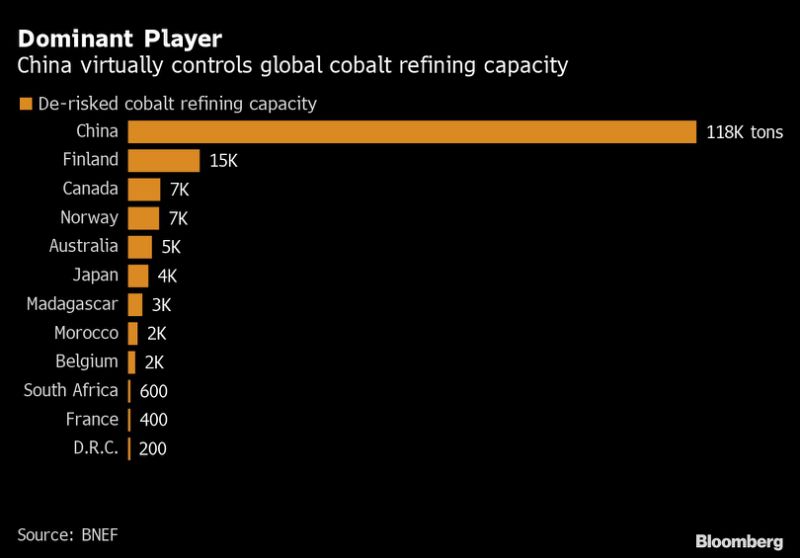 U.S. Takes Stake in Battery-Metals Firm to Wean Itself Off China
(Bloomberg) — The U.S. government has taken an equity stake in a battery-metals company in a move that undercuts dependence on China for a key material used in electric vehicles.
TechMet Ltd. received a $25 million investment from the U.S. International Development Finance Corporation to help develop a Brazilian nickel and cobalt mine, the Dublin-based company said Monday in a statement. Cobalt is an important ingredient in cathodes of most electric-vehicle batteries and its refining capacity is largely under China's control.
"Investments in critical materials for advanced technology support development and advance U.S. foreign policy," Adam Boehler, chief executive officer of the government agency, said in TechMet's statement.
The move is another example of U.S. efforts to reduce reliance on its greatest geopolitical rival for key materials and comes days after President Donald Trump signed an executive order to expand domestic production of rare-earth minerals — another sector China dominates. Such minerals are needed for magnets in a broad range of products including electric vehicles.
TechMet's main investments include lithium-ion battery recycling plants in Canada and the U.S., a Rwandan tin and tungsten mine and a U.S. vanadium facility. Most metals targeted by the company fall under China's influence at some stage of the global supply chain — a fact TechMet CEO Brian Menell is keen to highlight.
"TechMet represents a real opportunity for its investors not only to profit from the impending supply-demand dislocation for critical metals, but also to invest into ethical sources of supply that are aligned with U.S. interests, thereby playing a part in redressing the supply-chain imbalance," he said in the statement.
https://finance.yahoo.com/news/u-takes-stake-battery-metals-230100200.html
7. Stakeholder Capitalism
· Stakeholder capitalism is the economic notion that a company should prioritize all of its stakeholders (like employees and customers), and not just its shareholders.
· In August 2019, CEOs of top companies like JPMorgan Chase, Walmart, and Apple, declared stakeholder capitalism the economy's guiding principal in an open letter.
· In the year that's passed since the open letter, do Americans think leaders are still prioritizing shareholders above all else?
· JUST Capital, an independent research firm founded by the billionaire investor Paul Tudor Jones, surveyed some 4,400 Americans and found that more people think companies are indeed prioritizing their employees.
· However, a higher percentage still think shareholders are a company's top priority.
New research from JUST Capital, an independent research firm founded by the billionaire investor Paul Tudor Jones, suggests there has been.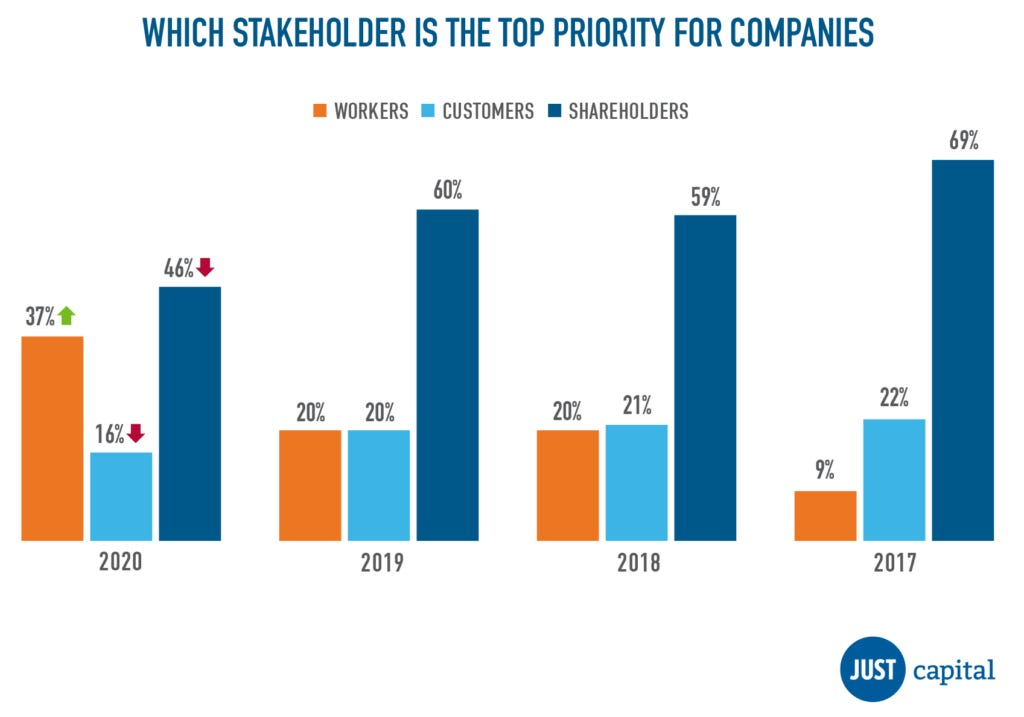 JUST Capital
In both 2017 and 2018, 20% of Americans believed workers were a company's top priority, compared to 60% who felt it was shareholders.
But in 2020, that shifted significantly: 37% of Americans think workers are a company's top priority, and 46% think it's a company's shareholders, according to JUST Capital's poll
One chart shows worker satisfaction is quickly becoming a top priority for executives
https://www.businessinsider.com/one-chart-shows-what-people-think-about-stakeholder-capitalism-2020-10
8. Despite Billions in Fees, Banks Predict Meager Profits on P.P.P. Loans-Stacy Cowly
Banks collected at least $13 billion in fees on Paycheck Protection Program loans, according to a New York Times analysis. But the largest lenders say costs wiped out most of what they took in.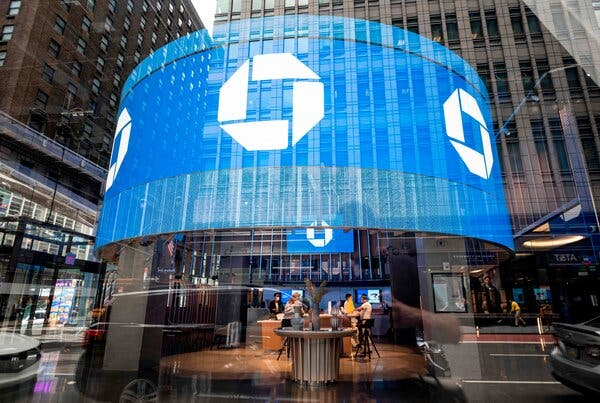 JPMorgan Chase collected fees on $29 billion in Paycheck Protection Program loans, but the bank's chief financial officer says its profits "will be near zero." Credit…Johannes Eisele/Agence France-Presse — Getty Images
Loath to be seen profiting from the economic disaster caused by the coronavirus, the nation's biggest banks were quick to pledge that they would donate to charity any money earned from helping deliver the government's signature small-business relief plan.
That promise may be something of a mirage.
The banks that were the largest lenders under the Paycheck Protection Program, handing out government-backed loans and collecting a fee from taxpayers for their trouble, now say their expenses were so high that they expect to make next to nothing on the loans.
At JPMorgan Chase, the chief financial officer, Jennifer Piepszak, said on a quarterly earnings call in July that profit from the program "will be near zero." Her counterpart at Bank of America, Paul M. Donofrio, said he did not expect much profit, "if any."
The $525 billion program handed banks at least $13 billion in fees, according to a New York Times analysis of data from the Small Business Administration. The agency, which managed the program, has not released detailed fee information, and few banks have disclosed how much they took in. Their true profits won't be known until the loans, which will be forgiven if borrowers meet certain criteria, are all paid off or resolved.
But some banks are already saying their profits will be eaten up by the costs they incurred to make the program work, including all-nighters and rushed technology projects during four frenzied months of lockdowns and business closures.
9. New York City Subway Usage
Calculated Risk Blog
—– New York City Subway Usage —–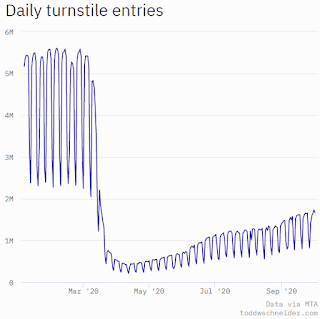 Here is some interesting data on New York subway usage (HT BR).

This graph is from Todd W Schneider.

This data is through Friday, October 2nd.

Schneider has graphs for each borough, and links to all the data sources.

He notes: "Data updates weekly from the MTA's public turnstile data, usually on Saturday mornings".
https://www.calculatedriskblog.com
10. Ten Tips to Avoid Self-Defeat and Reach Your Goals
These steps can keep you from undermining your progress so you're more likely to get back to your plan and meet your goals.
1. Accept the defeat, put down your gavel, and replace the judgment with self-compassion so you can recover more quickly.
2. Separate yourself from your shortfalls and see them for what they are: habits, old behavior patterns, or just plain mistakes that all of us make.
3. Think of foregoing that cigarette, beer, or extra piece of cake as self-care instead of self-deprivation.
4. Don't get fooled into just looking at where you want to land and feeling disheartened that you haven't reached your goal. Learn to look back and affirm how far you've come instead of how far you have to go. Then you get a truer picture of your map of progress.
5. Talk yourself off the ledge with comforting self-talk after a setback. Self-soothing in the form of pep talks and supportive words ("You've got this!") reduces the stress and helps you hop back in the saddle and try again.
6. Pinpoint the challenge, solution, or opportunity in the relapse. When you look for opportunity in the difficulty ("How can I make this setback work to my advantage?"), instead of the difficulty in the opportunity, it fuels you with optimism.
7. Think of a setback or mistake as a lesson for you to learn from instead of a failure to endure.
8. Remind yourself of how a setback can make you stronger and more resilient and the personal resources you have to get back in the saddle.
9. Look at the big picture. As you broaden your outlook and count all your blessings, how important is the judgment you make against yourself? Chances are when you create a wider context, your failure loses its sting, enabling you to snatch victory from the jaws of defeat.
10. Remember this: Success and failure are a package deal. As long as your zigzag keeps spiraling upward, you're "cha-cha-ing" your way to success.
How to Stop Yourself from Self-Sabotaging
10 strategies to scale obstacles, reach your goals, and find happiness.
Bryan Robinson
https://www.psychologytoday.com/us/blog/the-right-mindset/202009/how-stop-yourself-self-sabotaging?collection=1151137
Disclosure
Lansing Street Advisors is a registered investment adviser with the State of Pennsylvania..
To the extent that content includes references to securities, those references do not constitute an offer or solicitation to buy, sell or hold such security as information is provided for educational purposes only. Articles should not be considered investment advice and the information contain within should not be relied upon in assessing whether or not to invest in any securities or asset classes mentioned. Articles have been prepared without regard to the individual financial circumstances and objectives of persons who receive it. Securities discussed may not be suitable for all investors. Please keep in mind that a company's past financial performance, including the performance of its share price, does not guarantee future results.
Material compiled by Lansing Street Advisors is based on publicly available data at the time of compilation. Lansing Street Advisors makes no warranties or representation of any kind relating to the accuracy, completeness or timeliness of the data and shall not have liability for any damages of any kind relating to the use such data.
Material for market review represents an assessment of the market environment at a specific point in time and is not intended to be a forecast of future events, or a guarantee of future results.
Indices that may be included herein are unmanaged indices and one cannot directly invest in an index. Index returns do not reflect the impact of any management fees, transaction costs or expenses. The index information included herein is for illustrative purposes only.