1. Video Gamers Since 2001 Launch….+1600% vs. S&P 330%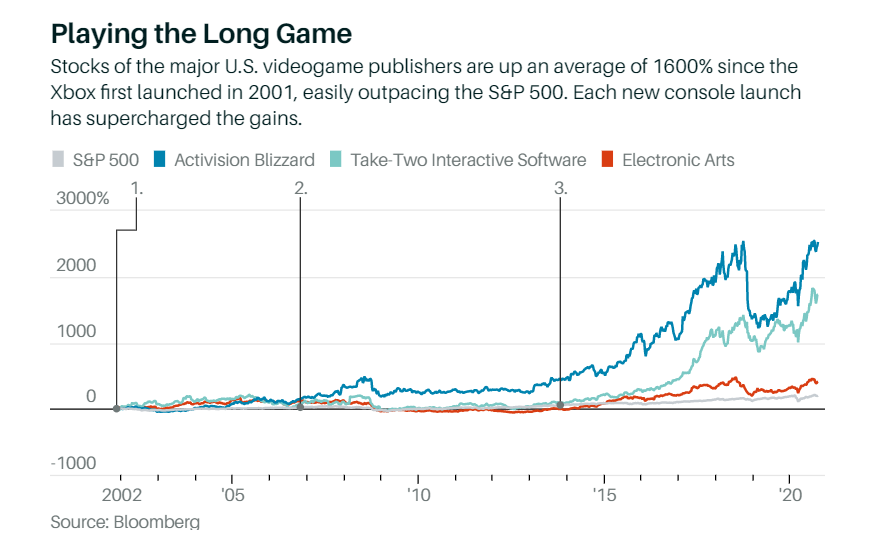 Videogame Stocks Have Soared for 20 Years. They're About to Get Another Boost.By Max A. Cherney
https://www.barrons.com/articles/the-playstation-5-and-xbox-series-x-are-a-huge-deal-for-gamers-heres-what-it-means-for-investors-51601682443?mod=past_editions
2. Average Short Interest By Sector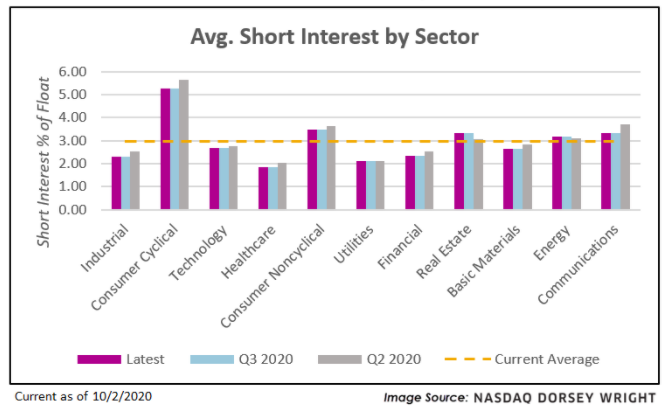 Nasdaq Dorsey Wright  www.dorseywright.com
3. MLP ETF Still -50% From Highs.
AMLP 2020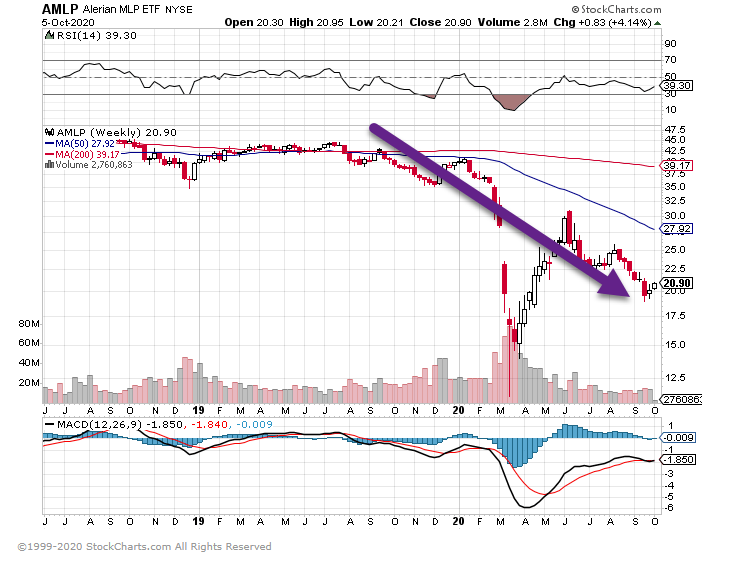 4. More Oil Companies Likely to Come Out of S&P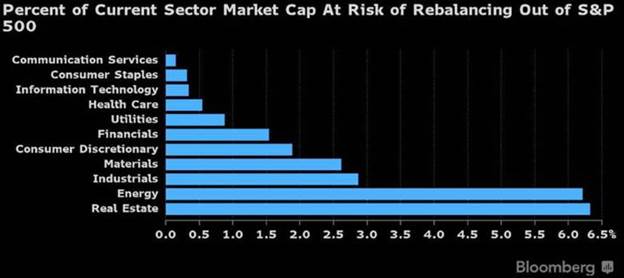 LizAnnnotes Given persistent weakness in certain sectors, a growing number of companies are at risk of rebalancing out of S&P 500 due to shrinking market caps …6.3% & 6.2% of Real Estate & Energy members, respectively, may drop out
From Dave Lutz at Jones Trading
5. Last 10 Years…Naz 100 Volatility Not Higher Than S&P
https://indexes.nasdaqomx.com/docs/NDX_Fundamentals.pdf
6. More Dry Powder….Record Large 3Y Treasury Auction Tails As Yield Rises From All Time Low
by Tyler Durden
Tue, 10/06/2020 – 13:19
TwitterFacebookRedditEmailPrint
After three consecutive record-large 3Y Treasury auctions, which also priced at progressively (record) lower yields, moments ago the Treasury sold another record amount of 3Y paper, when it auctioned off $52BN, up $2BN from $50BN a month ago, but in a notable reversal from the recent trend, the yield on today's auction was 0.193%, which not only tailed the 0.191% When Issued by 0.2bps, but was the first 3Y auction since June that did not price at a new all time low yield, printing 2.3bps higher than the 0.17% in September.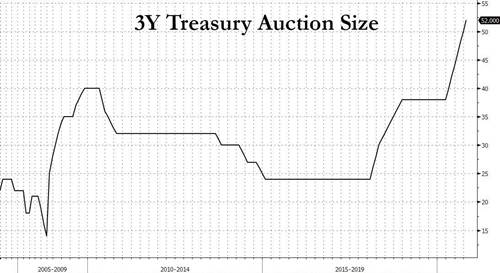 https://www.zerohedge.com/markets/record-large-3y-treasury-auction-tails-yield-rises-all-time-low
7. College Covid Map 70,000 Cases—3 Hospitalizations.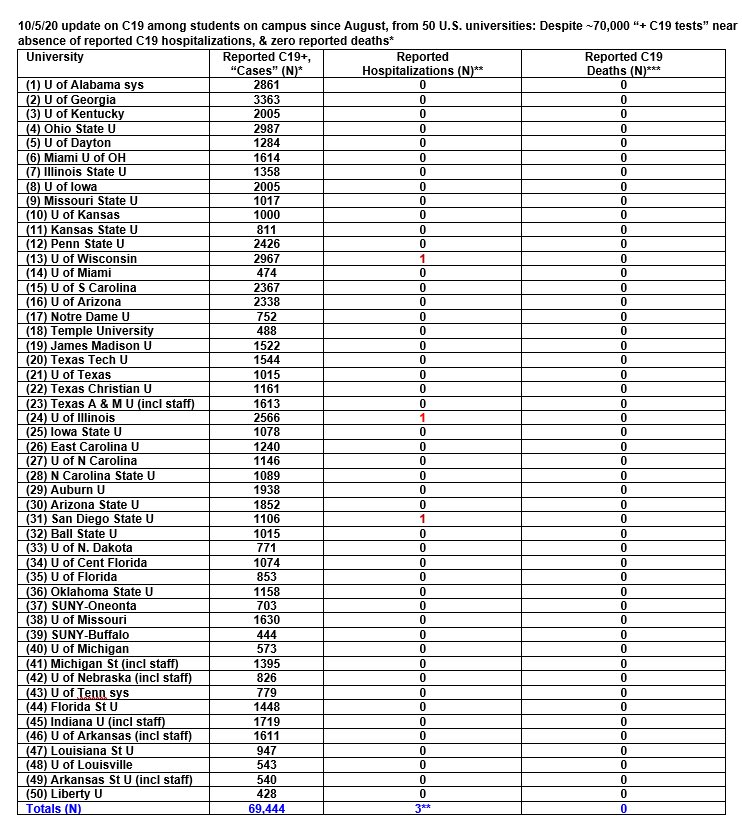 Out of 70,000+ positive reported COVID-19 cases on Universities: 3 hospitalizations 0 deaths
https://twitter.com/drsimonegold/status/1313199258393145344/photo/1
8. Passenger Airlines Turn To Cargo Delivery?
LOGISTICSAirline Industry Faces Cargo Shorts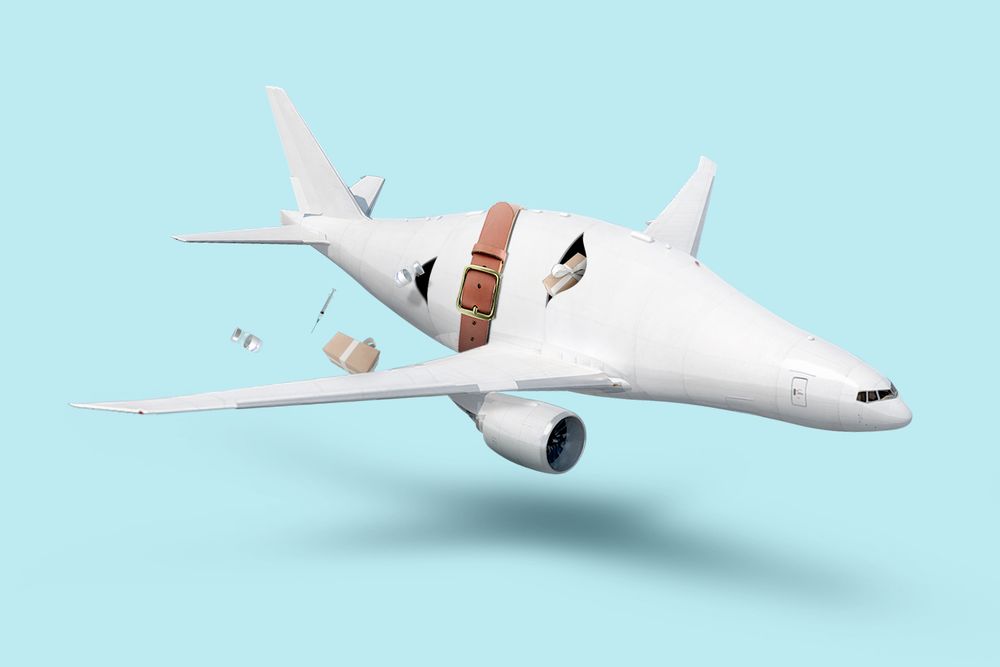 Francis ScialabbaIf you've been seeing a lot more of those weird-looking planes with big foreheads and no windows at the airport, that's because demand for airplane cargo space is sky-high.It starts with vaccines According to the International Air Transportation Association (IATA), providing a single dose to the world's 7.8 billion people would require 8,000 fully filled 747 cargo planes, which…is a problem considering there are fewer than one thousand 747 freighters on the planet, according to the IATA's head of cargo Glyn Hughes.Plus, vaccines are fragile. They don't care much about legroom, but the majority of vaccines in development need to be kept at a constant, near-freezing temperature to prevent spoiling. UPS and Lufthansa have been building massive "freezer farms" to prepare, though experts in the pharma industry still expect up to a 20% spoilage rate. Santa might be late, tooThe soon-to-be-released iPhones, Sony's new PlayStation 5, and Amazon's Prime Day items are all set to be shipped via cargo planes in the coming holiday shopping period. "We're planning for the mother of all peaks," the president of FedEx's express division told investors in September.Many commercial airlines have retrofitted aircraft to 1) meet cargo demand and 2) keep their businesses afloat during a period of historically low passenger traffic. Still, it was new territory for many legacy carriers. American Airlines was flying nearly 140 all-cargo trips per week early in the pandemic, after flying zero such trips in the past three decades. Bottom line: This isn't the cargo industry's first mile-high rodeo—shipping pharma products has been a fast-growing and profitable line of business for carriers over the past 10 years. But the busy holiday season + vaccine distribution + fewer flights will push it to the limit. 
Morning Brew https://www.morningbrew.com/
9. Venice holds back the water for first time in 1,200 years
Julia Buckley, CNN • Published 5th October 2020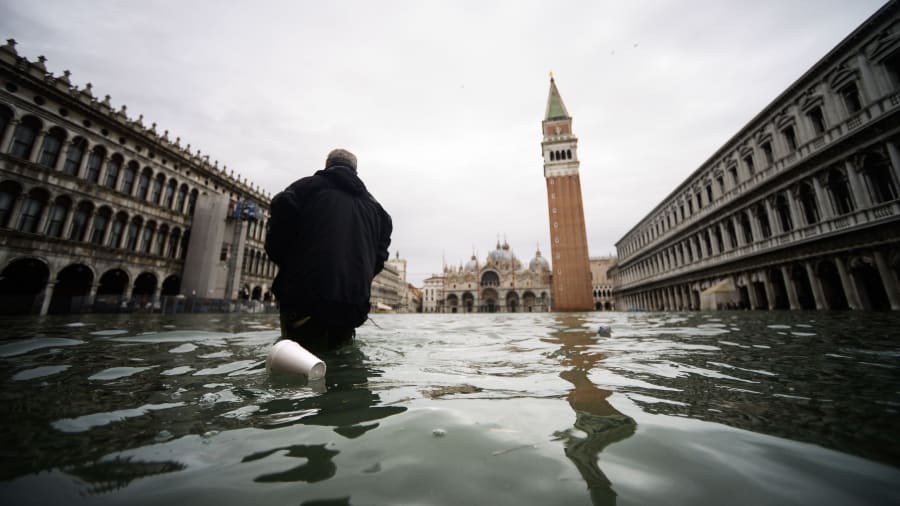 1/7
Flood barrier: The MOSE Experimental Electromechanical Module protects the city of Venice from floods. Pictured October 3, the last mobile gate is about to be lifted at the Malamocco inlet off Venice's Lido.
ANDREA PATTARO/AFP via Getty Images
Venice, Italy (CNN) — Sebastian Fagarazzi is used to moving his belongings around. As a Venetian who lives on the ground floor, every time the city faces acqua alta — the regular flooding caused by high tides — he must raise everything off the floor, including furniture and appliances, or risk losing it.
But on October 3, with a 135-centimeter (53-inch) high tide forecast — which would normally see around half the city under various levels of water — when the flood sirens went off, he did nothing. "I had faith," he says.
Saturday was the first acqua alta of the season for Venice. It was also the day when, after decades of delays, controversy and corruption, the city finally trialled its long-awaited flood barriers against the tide.
Content by GlobeIn
Travel the globe with this subscription service
GlobeIn is a subscription service for ethically sourced artisan goods from around the world, kind of like a club for the world traveler who can't make their annual trek this year.
A previous trial in July, overseen by Italian Prime Minister Giuseppe Conte, had gone well — but that was in good weather, at low tide. Earlier trials had not managed to raise all 78 gates in the barriers that have been installed in the Venetian lagoon.
Against all the odds, it worked.
At 12.05 p.m., high tide, St Mark's Square — which starts flooding at just 90 centimeters, and should have been knee-deep — was pretty much dry, with only large puddles welling up around the drains.
The square's cafes and shops, which often have to close for hours on end, remained open.
And in the northern district of Cannaregio, Sebastian Fagarazzi's home stayed dry.
"I'd heard the [warning] sirens in the morning but I didn't raise any of my furniture this time because the barrier lifted on the last test, and I had faith that it would work," Fagarazzi, co-founder of social initiative Venezia Autentica, says. "This is historic."
The defense system is called MOSE, the Italian for Moses, a name derived from the more functional Modulo Sperimentale Elettromeccanico, meaning Experimental Electromechanical Module. It consists of 78 flood barriers installed in the seabed at the lagoon's three main entrance points.
When the high tide arrives, they can rise to form a dam, stopping the Adriatic Sea surging into the lagoon and flooding the city.
Delays and corruption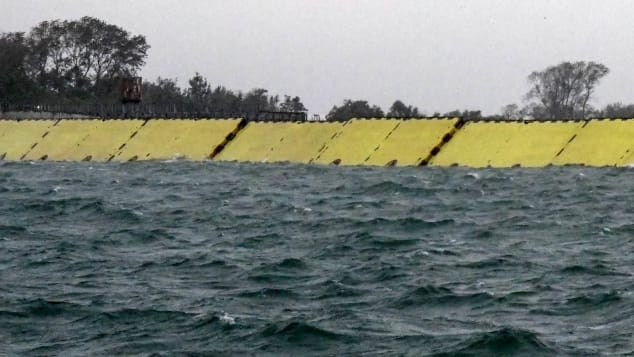 The new flood barrier in action at the Malamocco inlet off Venice's Lido.
ANDREA PATTARO/AFP via Getty Images
Venice's acque alte ("high waters") are normally seen between October and March, and last a couple of hours, predominantly affecting the two lowest (and most visited) areas of the city: San Marco and the area around the Rialto. The phenomenon is usually caused by a combination of exceptionally high tides, low atmospheric pressure and the presence of a southern sirocco wind.
In recent years, their frequency and severity have been increasing due to climate change. On November 12, 2019, the city was devastated by an acqua alta that reached 187 centimeters, with almost 90% of the city flooding. Businesses have struggled to recover since, with a sharp dip in tourist numbers on top of damage costs. The destruction, followed by the pandemic, has brought locals to their knees.
The MOSE project has been in the works since 1984, but has been so beset by delays and corruption that many Venetians never believed it would work.
Deserted Venice contemplates a future without tourist hordes after Covid-19
"It doesn't seem true," says Serena Nalon, at the Bottega del Mondo shop in Cannaregio. Her business — a fair trade co-operative — suffered major damages in last year's floods.
"I was very skeptical — not least because they've spent so much money, without any result until now, so this morning I had minimal expectations," she says.
"I was worried when I saw the tide predictions, then somewhere between incredulous and happy when it worked. You appreciate things more when you don't expect it."
Nearby, Federica Michielan, owner of bar Ae Bricoe, felt the same. "It's great — it's finally been resolved," she says. "At least, I hope it has, because if it breaks, we'll be under water."
'Historic day'
A test in poor weather conditions had been the next step for the MOSE, which is not yet completed. And on Friday, when a full moon and high winds were predicted for the following morning, the city council asked permission to raise the barriers.
The usual flood sirens rang throughout the city at around 8 a.m. Saturday, while the test started half an hour later. By 10.10, the barriers were fully raised — and while the water level rose to 132 centimeters outside the MOSE, inside the lagoon, it remained at 70 centimeters — enough to keep San Marco dry.
"This was a historic day for Venice," Mayor Luigi Brugnaro, who had watched the raising of the barriers with MOSE special commissioner Elisabetta Spitz, later told journalists.
"There's a huge satisfaction, having spent decades watching helplessly as the water arrived everywhere in the city, causing vast amounts of damage.
"We have shown, not only with a tide that would have flooded the city but also with a sirocco wind of 19 knots, that it works."
In the city, Venetians — many of whom had barricaded their property against the incoming water — could hardly believe their luck. At El Fornareto bakery in Cannaregio, locals grinned as they queued for bread in sneakers instead of the gumboots they'd usually be wearing. In the church of San Nicolò dei Mendicoli in the southern Dorsoduro district — which normally floods at 130 centimeters — the priest, don Paolo Bellio even referred to the success in his evening sermon.
"Today we were saved," he said afterward. "We didn't have to use the pumps. It was a surprise, but I'm happy it worked — especially as it has been so criticized. This is a day of joy for everyone."
Calling it a "clear success," commissioner Spitz underlined on Saturday that this is "only a fundamental step towards protecting the city and the lagoon." The project — which also involves raising pavements in the lowest areas of the city to 110 centimeters, and permanent defense walls near the flood barriers — is due to be completed December 2021, when it will be handed over to the city.
Until then, it has been agreed that from now on, the barrier will be raised each time the tide hits 130 centimeters, meaning devastating floods such as last year's should be a thing of the past (at least, in the medium term. Climate change means MOSE will not hold back the water indefinitely). However, once the city takes over, the barriers will go up earlier, at 110 centimeters.
https://www.cnn.com/travel/article/venice-flood-barrier/index.html
10. Six Ways Great Leaders Give Rise to Great Ideas
By John C. Maxwell | September 29, 2020 | 0 
If you desire to be a great leader, then you need to learn to recognize and promote the best ideas no matter where or from whom they're coming—man or woman, young or old, black, white, upside down or inside out.
Ideas are the lifeblood of an organization. Harvey Firestone, who founded the Firestone Tire and Rubber Company, said, "Capital isn't so important to business. Experience isn't so important. You can get both of those. What is important is ideas. If you have ideas, you have the main asset you need, and there isn't any limit to what you can do with your business and your life."
The progress and innovations of great organizations don't come down from on high. Their creative sessions are not dominated by top-down leaders, nor does every meeting become a wrestling match to see who can dominate everyone else in a struggle to take credit. People come together as teams, peers work together, and they make progress because they want the best idea to win.
How does a great leader help create and surface the best ideas from his or her team?
I believe there are a few common ways.
1. Listen to all ideas.
Finding good ideas begins with an open-minded willingness to listen to all ideas. Mathematician and philosopher Alfred North Whitehead said, "Almost all really new ideas have a certain aspect of foolishness when they are first produced."
During the brainstorming process, shutting down any ideas might prevent you from discovering the good ones. Group thinking (not to be confused with groupthink) can be such a positive: When we share our thinking among a group, we think faster, more innovatively and our thinking has greater value. Great thinking comes when good thoughts are shaped in a collaborative environment.
2. Never settle for just one idea.
Leaders can be so action oriented. They want to go. They want to make something happen. They want to take the hill! The problem comes when they fight their way to the top of the hill, only to find that it was the wrong hill.
One idea is never enough. Many ideas make us stronger. I once heard an analyst say he believed the reason the communist bloc fell at the end of the 20th century is because communism is built on only one idea. If anyone tried to do things a different way, they were knocked down or shipped out. In contrast, democracy is a system based on a multitude of ideas. Because of that freedom, in democratic countries creativity is high, opportunities are unlimited and the potential for growth is astounding.
3. Look in unusual places for ideas.
Good leaders are always searching for the next big thing. They cultivate their attentiveness and practice it as a regular discipline. As they read magazines, watch movies, enjoy leisure activities or engage with their colleagues, they are always on the lookout for ideas or practices they can use to improve their work and their leadership.
4. Don't let personality overshadow purpose.
When someone you don't like or respect suggests something, what is your first reaction? I bet it's to dismiss it. You've heard the phrase, "Consider the source." That's not a bad thing to do, but if you're not careful, you may very likely throw out the good with the bad.
Don't let the personality of someone you work with cause you to lose sight of the greater purpose, which is to add value to the team and advance the organization. Set aside your pride and listen.
5. Protect creative people and their ideas.
Ideas are such fragile things when they first come to light. Advertising executive Charlie Brower says a new idea "can be killed by a sneer or a yawn… stabbed to death by a quip and worried to death by a frown."
If you desire the best idea to win, then become a champion of creative people and their contributions to your organization. When you discover peers who are creative, promote them, encourage them, and protect them. Pragmatic people often shoot down the ideas of creative people—the very people who need to thrive and keep generating ideas for the benefit of the team.
6. Don't take rejection of your own idea personally.
When your ideas are not received well by others, stop competing and focus your energy on creating. You will open the way for people around you to take their creativity to the next level.
I know that my ideas aren't always the best ideas. I often think they are, but when everyone in the room has a different opinion, it pays to listen. The company owner doesn't need to win—the best idea does.
* * *
Never forget that having a collaborative spirit helps the entire organization. When you think it terms of our idea instead of my idea or her idea, you're probably on track to helping the team win.
That should be your motivation. Let the best idea win, and you will reap the rewards together.
Disclosure
Lansing Street Advisors is a registered investment adviser with the State of Pennsylvania..
To the extent that content includes references to securities, those references do not constitute an offer or solicitation to buy, sell or hold such security as information is provided for educational purposes only. Articles should not be considered investment advice and the information contain within should not be relied upon in assessing whether or not to invest in any securities or asset classes mentioned. Articles have been prepared without regard to the individual financial circumstances and objectives of persons who receive it. Securities discussed may not be suitable for all investors. Please keep in mind that a company's past financial performance, including the performance of its share price, does not guarantee future results.
Material compiled by Lansing Street Advisors is based on publicly available data at the time of compilation. Lansing Street Advisors makes no warranties or representation of any kind relating to the accuracy, completeness or timeliness of the data and shall not have liability for any damages of any kind relating to the use such data.
Material for market review represents an assessment of the market environment at a specific point in time and is not intended to be a forecast of future events, or a guarantee of future results.
Indices that may be included herein are unmanaged indices and one cannot directly invest in an index. Index returns do not reflect the impact of any management fees, transaction costs or expenses. The index information included herein is for illustrative purposes only.