1. Earnings Per Share Beats are not Being Rewarded.
Goldmannotesearnings beats are not being rewardedand misses are getting sold
From Dave Lutz at Jones Trading
2. Apple China Revenue -21%…Quarterly China Revenue Hits Multi-Year Low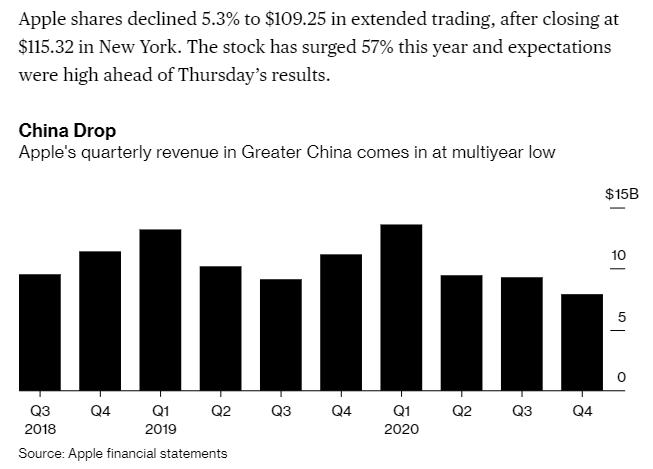 https://www.bloomberg.com/news/articles/2020-10-29/apple-results-beat-wall-street-estimates-china-sales-drop-29?srnd=premium&sref=GGda9y2L\
3. Big REITS -40-50%
From Josh Brown at Ritholtz Wealth.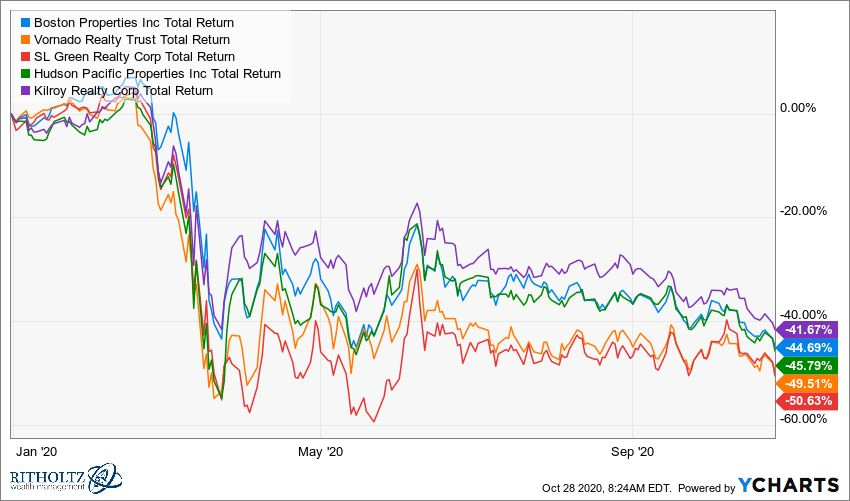 https://www.linkedin.com/in/joshua-brown-96a5569b/
4. Fallen Angel Bonds Will Be Closely Watched 2021
Fallen Angel Explained
Fallen angel bonds have been downgraded by one of the major rating services, which include Standard & Poor's, Fitch, and Moody's Investors Service. They may be corporate, municipal, or sovereign debt.
KEY TAKEAWAYS
A fallen angel is a bond that has been reduced to junk status because its issuer has fallen into financial trouble.
Its bonds pay higher returns than investment-quality bonds but are riskier.
Some bond funds and ETFs focus on fallen angels.
https://www.investopedia.com/terms/f/fallenangel.asp#:~:text=A%20fallen%20angel%20is%20a,quality%20bonds%20but%20are%20riskier.
We have seen a record $240 billion of fallen angels in 2020, and our research indicates that we could experience another $200 billion–$300 billion by the end of 2021.(Guggenheim Scott Minerd)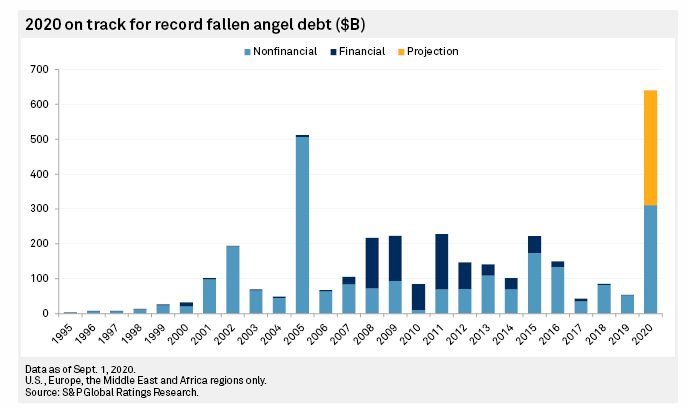 https://www.spglobal.com/marketintelligence/en/news-insights/latest-news-headlines/global-fallen-angel-debt-on-track-to-reach-record-high-in-2020-8211-s-p-60173177
5. Crude Inventories vs. Crude Futures.
"This is more of a reaction to concerns over the coronavirus and potential for further restrictions and lockdowns than the crude build," said Andrew Lebow, senior partner at Commodity Research Group. "Seemingly things are getting worse by the day."
© Bloomberg U.S. crude supplies fell last week for the first time in three weeks
Oil Plunges With Rising U.S. Oil Stockpiles Adding to Virus Woes-Andres Guerra Luz 1 day agohttps://www.msn.com/en-us/money/markets/oil-sinks-with-rising-u-s-stockpiles-adding-to-virus-woes/ar-BB1asjNk?li=BBnbfcN
6. Historical Chart of Corporate Profit After Tax
7. Walmart pulls firearms, ammunition from U.S. store floors as civil unrest flares
2 MIN READ
FILE PHOTO: The logo of a Walmart Superstore is seen during the outbreak of the coronavirus disease (COVID-19), in Rosemead, California, U.S., June 11, 2020. REUTERS/Mario Anzuoni
NEW YORK (Reuters) – Walmart Inc removed firearms and ammunition from U.S. store floors this week to protect customers and employees as tensions across the country have been rising, the world's largest retailer said on Thursday.
The move comes days before the U.S. presidential election on Nov. 3, with many worried that the result could be contested or spark violence.
"We have seen some isolated civil unrest and as we have done on several occasions over the last few years, we have moved our firearms and ammunition off the sales floor as a precaution for the safety of our associates and customers," a Walmart spokesman said. The company does not have a date for when it will place the guns and ammunition back on the shelves, he added.
ADVERTISEMENT
The Bentonville, Arkansas-based retailer, which sells firearms in approximately half of its more than 5,000 U.S. stores, will still sell the items upon request, it said.
Retailers have been on edge after raiders earlier this year smashed windows, stole merchandise and, at times, set stores ablaze in Chicago, New York, Los Angeles, Portland and other U.S. cities. In an another trend that has fed concern, gun sales in the United States this year have reached record highs, and more first-time buyers have purchased firearms recent months.
In June, Walmart pulled firearms and ammunition from some U.S. sales stores amid nationwide protests over the death of an unarmed black man, George Floyd, at the hands of police in late May.
Last year, the retailer stopped selling ammunition for handguns and some assault-style rifles in all its U.S. stores. It has also in the past called for a strengthening of background checks for gun buyers and action to take guns out of the hands of those who pose a risk of violence.
Shares of the retailer were trading roughly flat after the bell.
Reporting by Melissa Fares in New York; editing by Richard Pullin and David Gregorio
Our Standards: The Thomson Reuters Trust Principles.
8. Here's What Happens Every Minute on the Internet in 2020–Aran Ali-Visual Capatalist
Andres Guerra Luz 1 day ago
The New "New Thing"
Not surprisingly, much of the internet landscape looks different in 2020. Here are a few of the digital hot spots today.
Cash Transfers
Nearly $240,000 worth of transactions occur on Venmo per minute. This has served as a catalyst for parent company PayPal, which evolved along successfully with fintech trends. PayPal's stock now trades at near all-time highs.
E-Commerce
Even before COVID-19 resulted in shuttered storefronts and surging online orders, e-commerce was a booming industry. It's now estimated that $1 million is now spent per minute online. Amazon ships an astounding 6,659 packages every minute to keep up with this demand.
Collaboration Tools
In a predominantly remote-working environment, tools like Zoom and Microsoft Teams host 208,333 and 52,083 users each minute respectively. Particularly in the pandemic era, it seems that this trend is here to stay.
Accelerated Turnover
The accelerated world we are in today means that many companies do not sustain a competitive advantage for as long. Social media companies have dwindled as observed above, and this is similarly reflected in the average lifespan of an S&P 500 company.
A typical company's tenure on the S&P 500 is expected to shrink rapidly in the next few years:
· 1964: 33 years
· 2016: 24 years
· 2027E: 12 years
Companies are shaving anywhere between 15-20 years off those highs, with estimates of further declines. This metric symbolizes the rapid evolution of the business landscape.
What Lies Ahead
It's seemingly easy to forget mankind is still very early in the developments when it comes to the internet. But in this short period, its rise to prominence and the broad digitization of the world has left us with a very eventful timeline.
If the last decade serves as a reference point, one can expect further and intensifying competition among tech companies. After all, the reward—winning in today's digital economy—reaps much greater value.
All signs point to internet activity advancing to further heights, if not because of 5G and its associated breakthroughs, then perhaps due to the steady rise in people gaining internet access.
9.Europe Shut-Down Map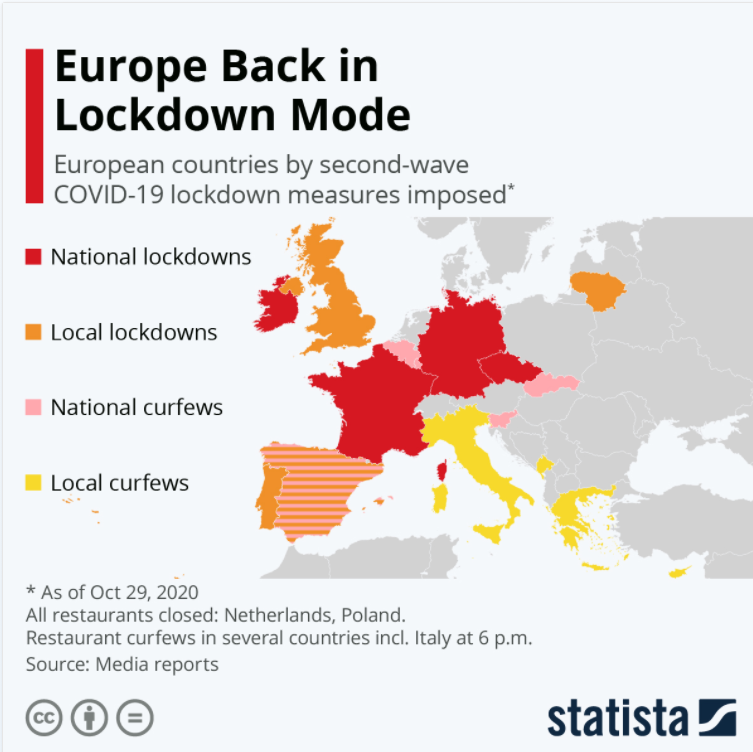 https://www.statista.com/chart/23330/coronavirus-restrictions-europe-map/
10. The Importance of Motivation in the Concept of Sociology
All my childhood, I studied hard and got good grades because I was motivated to escape my mother's disappointment and wrath on failure. Others in my class were motivated by their desire to excel and get into a good college. Still, others were doing it to maintain their social status and to be recognized as excellent students. The word "motivation" holds a different meaning for different people, as what motivates you may not be sufficient for me and vice versa.
Let's dig deeper into what the term means.
What is Motivation?
The word motivation has been derived from the word "motive," which means the human need that needs to be fulfilled to achieve satisfaction. This need can be acquired over time through the elements that surround people, such as the kind of culture, lifestyle, or the kind of environment that is around them.
Motivation is a diverse and varied concept because human beings are diverse and varied themselves. Generally, motivation is a repetitive behavior, something that helps keep us going. It is the driving force that builds within us to take on challenges.
Unsurprisingly, the concept of motivation has been of interest to sociologists and psychologists alike. Research in multiple fields, including business, psychology, and sociology, has tried to explain the concept of motivation in terms of human behavior.
"People Who Are Crazy Enough To Think They Can Change The World, Are The Ones Who Do." – Rob Siltanen
What is Social Motivation?
Social motivation refers to the human need to connect with each other and their desire to be able to be accepted by each other. Humans are not meant to live on their own, because they are supposed to coexist with others, and the need to interact with each other is what sets the basis of social motivation.
In this article, we will explain the concept of motivation in sociology. We will explain it with the help of different theories presented by psychologists and sociologists to understand human motivation and its sources.
Maslow's Hierarchy of Needs
According to Abraham Maslow, a person's motivation depends on his need level. His hierarchy of needs took a pyramidic shape where the lowest rung makes up the most basic level needs, and they keep moving upwards. Given below is the hierarchy of needs presented by Maslow.
1. Physiological needs: These are the basic survival needs of humans, such as food, water, and a place to live. Once these needs are fulfilled, humans move on to the second phase, which brings us to the second stage of the hierarchy.
2. Safety: The second most important human need is that of safety. It is human nature to protect themselves from any danger or anything that is a threat to them. Therefore, when humans are at this need level, they can be motivated by providing safety for themselves and their families.
3. Social needs: When the first two needs are fulfilled, humans look for relationships in which they feel as if they belong somewhere, and they are loved.
4. Self-esteem: All humans have self-esteem and dignity — they need to be respected and recognized as an important element that plays a role in human motivation.
5. Self-Actualization: The last level of Maslow's hierarchy of needs is self-actualization. This is an opportunity for humans to develop and learn. It is the greatest level that humans can achieve. Once humans reach this level, they can only be motivated by their yearning for learning.
"Growth must be chosen again and again; fear must be overcome again and again." – Abraham Maslow
McClelland's Theory of Needs
The second theory we will be discussing is McClelland's theory of needs. This theory is based on three motivating drivers.
Achievement
According to McClelland, a sense of achievement helps motivate people to achieve greater things in life. Achievement is basically the feeling that humans feel when they accomplish tasks. People who aim for achievement are looking for tasks that would help them grow personally, and they receive their due recognition as soon as possible.
Affiliation
As humans, we all seek the need to feel like we belong somewhere and be socially accepted. Those people who seek affiliation are motivated when they are accepted in society. It drives them to work harder and achieve more. Such people are also happier when they are in social gatherings, and they want to avoid any conflicts with others.
Power
The third driving factor is authority; some of us are motivated by the desire to be in a position of power. Those people who desire power are constantly looking for situations in which they would be able to exercise their authority. They seek situations or jobs in which they would be in a position of authority, which motivates them.
Let's take the simple example of house cleanliness; some people are motivated to keep their houses clean because they feel a sense of achievement in maintaining a clean house. On the other hand, some may maintain cleanliness because it allows them to connect with their friends and peers. While others maintain a spick and span home so they can maintain control and power among their peers.
Herzberg's Motivation Theory
This theory of motivation is based on two factors: motivators and hygiene factors. These two factors are motivators that motivate people to work harder.
Hygiene factors
These factors ensure people don't get dissatisfied. They are not a part of the job, but they make the job preferrable. Examples include the working conditions and cleanliness of an office. Does the company follow safety protocols? Is there enough lighting on the premise? Is there enough space in the office for the worker to be productive?
Motivators
These are factors that keep employees motivated. These can be different for different people, such as achievement, recognition, responsibility, or growth.
Implications of Social Motivation in our Daily Life
Applying the science of motivation in our daily lives can help improve performance at workplaces and even at our homes. Yes, many factors help people achieve happiness, but motivation is one of the biggest factors. Motivated human beings are more result-oriented and have clearer goals in life. A happy and balanced lifestyle may be maintained through the right amount of extrinsic and intrinsic motivating factors, as discussed in the theories above.
There are indeed different motivation factors for different people. No matter how many explanations there are, there will always be certain areas that are not yet covered since every human is different. There is still a vast amount of research being carried out on the subject to figure out human psychology in an in-depth manner.
As a leader, it is important to ensure that all the people working in the team are motivated. The motivation theories above give an insight into human psychology; managers and leaders can use these theories and motivating factors to motivate their employees according to their personality.
What motivates you in life? Share your thoughts with us below!
Disclosure
Lansing Street Advisors is a registered investment adviser with the State of Pennsylvania..
To the extent that content includes references to securities, those references do not constitute an offer or solicitation to buy, sell or hold such security as information is provided for educational purposes only. Articles should not be considered investment advice and the information contain within should not be relied upon in assessing whether or not to invest in any securities or asset classes mentioned. Articles have been prepared without regard to the individual financial circumstances and objectives of persons who receive it. Securities discussed may not be suitable for all investors. Please keep in mind that a company's past financial performance, including the performance of its share price, does not guarantee future results.
Material compiled by Lansing Street Advisors is based on publicly available data at the time of compilation. Lansing Street Advisors makes no warranties or representation of any kind relating to the accuracy, completeness or timeliness of the data and shall not have liability for any damages of any kind relating to the use such data.
Material for market review represents an assessment of the market environment at a specific point in time and is not intended to be a forecast of future events, or a guarantee of future results.
Indices that may be included herein are unmanaged indices and one cannot directly invest in an index. Index returns do not reflect the impact of any management fees, transaction costs or expenses. The index information included herein is for illustrative purposes only.