1. US Stock Repurchases are Tracking a 3% Decline in the Third Quarter after Falling 26% in the Previous Three Months, According to Bank of America Corp. Strategists
Dave Lutz Jones Trading Corporate America's spending on share buybacks, a driver of the US stock market rally for over a decade, is slowing in the face of higher-for-longer interest rates and an uncertain economic backdrop.  US stock repurchases are tracking a 3% decline in the third quarter after falling 26% in the previous three months, according to Bank of America Corp. strategists. Though the reversal appears to be becoming less severe, BofA says tightening credit conditions and increased cost of capital mean buybacks remain at risk.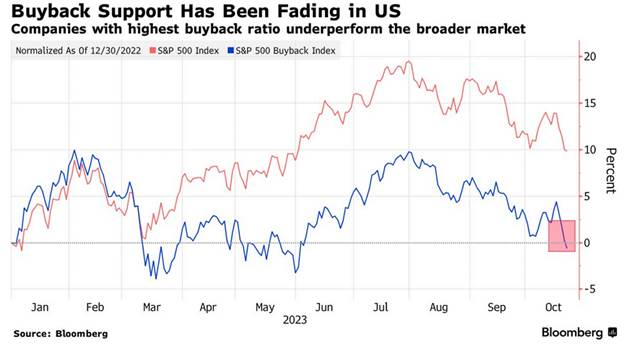 ---
2. Since Fed Hikes S&P vs. Small Cap
Michael Batnick Irrelevant Investor The S&P 500 is flat since the Fed started raising rates in March 2022. It's weathered the hiking cycle much better than smaller stocks that are more sensitive to tighter financial conditions. Over the same time, the Russell 2000 is down 16%.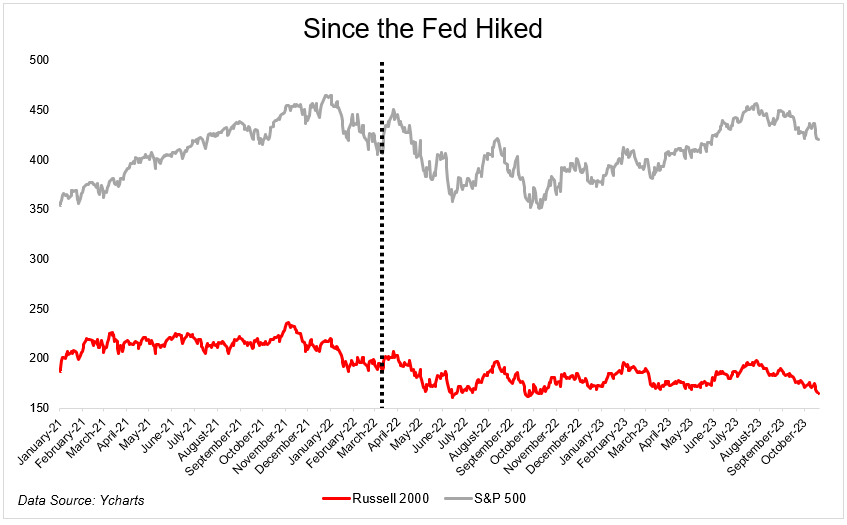 https://theirrelevantinvestor.com/2023/10/24/facts-can-be-misleading/
---
3. PKW-Buyback ETF Closes Below 200-Day
---
4. Equal Weight vs Cap Weigh S&P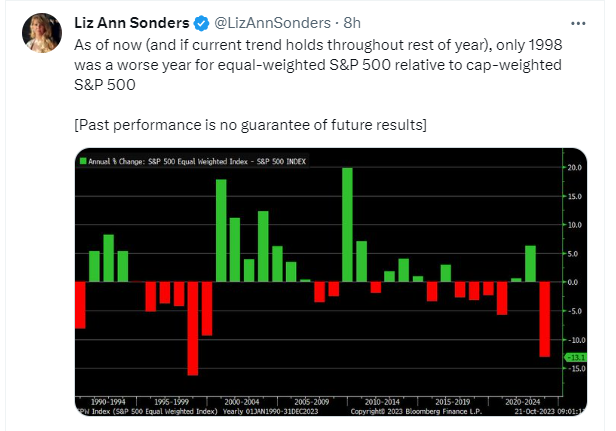 ---
5. Chinese Real Estate Index -80%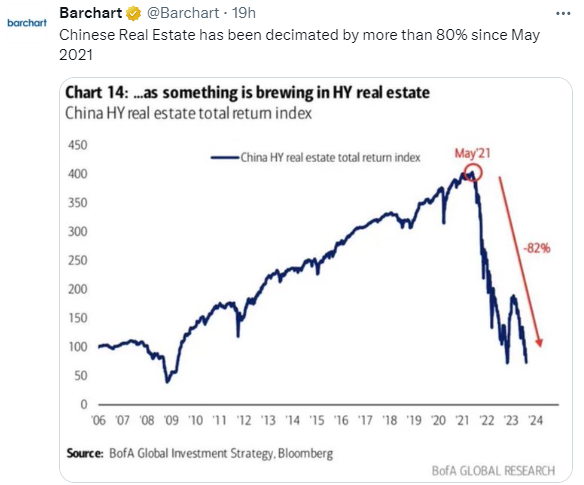 ---
6. Gasoline Futures Back to 200-Week Moving Average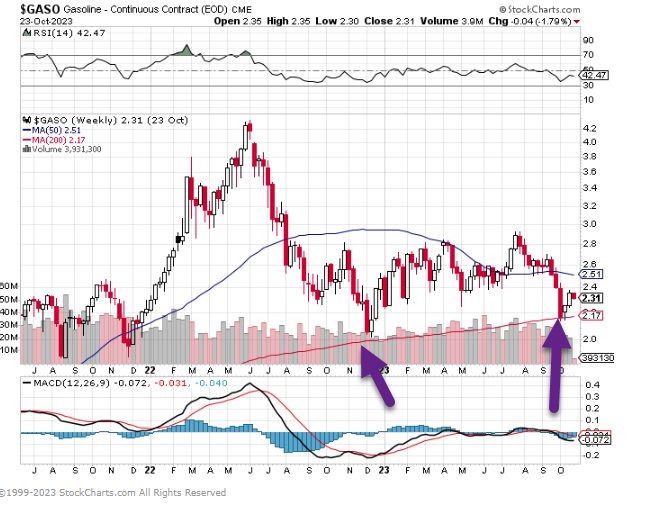 ---
7. 10-Year Hit 5% then Reversed Intra-Day
Bespoke Investment Group
https://www.bespokepremium.com/interactive/posts/think-big-blog/the-closer-earnings-yield-reversal-positioning-10-23-23
---
8. AI Website Visits.
From The Daily Shot Brief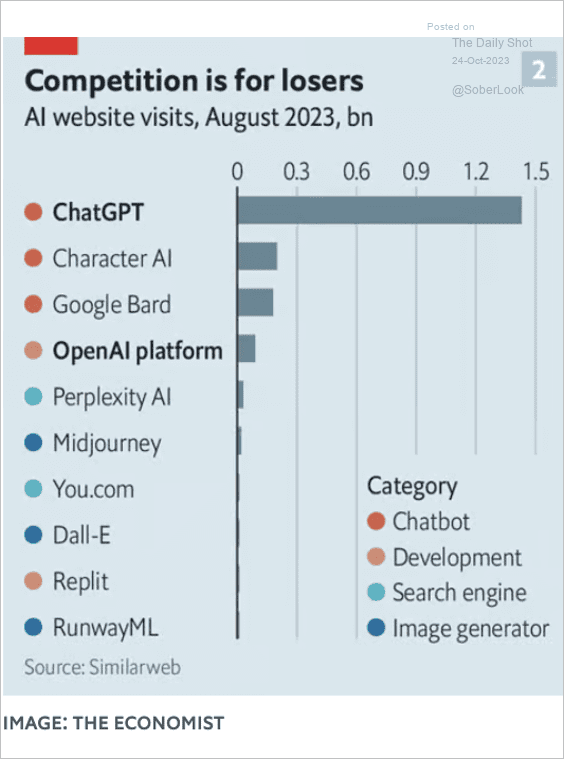 ---
9. Americans Car Loan Default Rates.
Bloomberg By Claire BallentineAmericans are falling behind on their auto loans at the highest rate in nearly three decades.  With interest rate hikes making newer loans more expensive, millions of car owners are struggling to afford their payments. It's a clear indication of distress at a time when the economy is sending mixed signals, particularly about the health of consumer spending.
The percent of subprime auto borrowers at least 60 days past due on their loans rose to 6.11% in September, the highest in data going back to 1994, according to Fitch Ratings. In April that figure slipped from a previous high of 5.93% in January. But after burning through tax returns, contending with a shakier job market and grappling with still-elevated inflation, more car owners have become delinquent.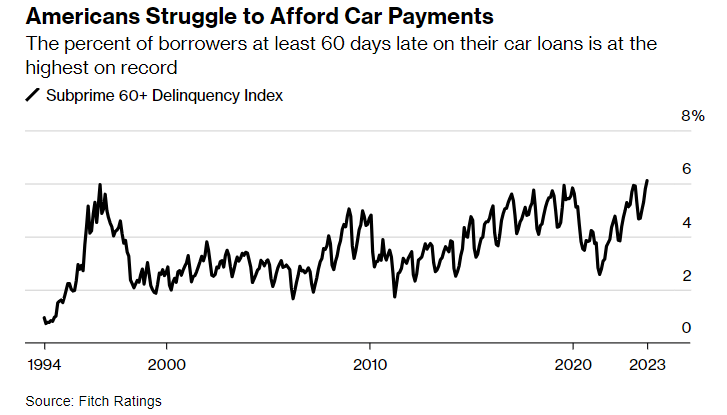 ---
10. Poor Wellbeing Linked to Formation of New Chronic Conditions
BY DAN WITTERS AND SANGEETA AGRAWAL
Lower wellbeing linked to 159 extra new conditions per 1,000 people
Analysis tracks 3,654 working adults over three-year period
$101.5 billion in new annual healthcare costs linked to extra conditions
WASHINGTON, D.C. — U.S. adult workers who have poor wellbeing across most or all of the five essential elements of wellbeing are about twice as likely to report a major new chronic condition over a 36-month period of successive surveys than are their counterparts who have high wellbeing in no more than one element. Overall:
Those workers with poor wellbeing (defined as having high wellbeing in one or none of the five elements) developed 450 new chronic conditions per 1,000 persons three years after being initially interviewed. 
Those workers with inconsistent wellbeing (i.e., high wellbeing in two to four of the elements) added 330 new chronic conditions per 1,000 persons over the three-year period.
Those workers with holistic wellbeing (i.e., high wellbeing in all five elements) added 230 new chronic conditions per 1,000 persons over three years.
As such, out of every 1,000 full-time working adults with either poor or inconsistent wellbeing, the increased odds of developing or experiencing new diseases or medical conditions are associated with an extra 159 chronic conditions over the 36-month measurement period than what would otherwise be expected if all 1,000 workers had holistically high wellbeing.
The wellbeing classification is based on the wellbeing of each respondent at the start of the three-year window. The increased disease rate for high-wellbeing respondents is statistically lower than the rates for their lower-wellbeing counterparts.
Gallup's five essential elements of wellbeing are:
Career wellbeing: You like what you do every day.
Social wellbeing: You have meaningful friendships in your life.
Financial wellbeing: You manage your money well.
Physical wellbeing: You have energy to get things done.
Community wellbeing: You like where you live.

https://news.gallup.com/poll/512750/poor-wellbeing-linked-formation-new-chronic-conditions.aspx