1. Netflix Breaks Out of 3 Months Sideways Pattern
NFLX sideways pattern broken to upside with earnings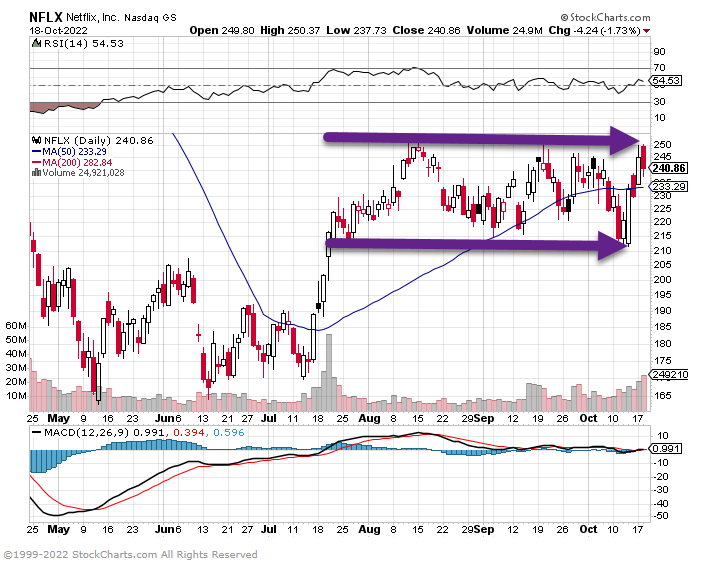 ---
2. Less Than 25 Days Supply in the Strategic Petroleum Reserve
@JamesHMackay
https://twitter.com/JamesHMackay
---
3. Gasoline Prices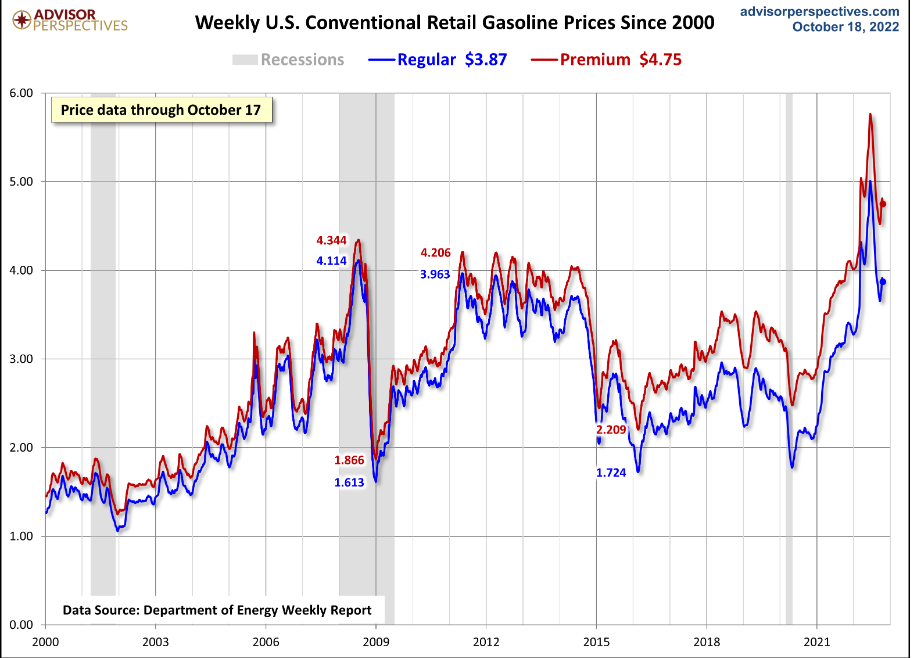 https://www.advisorperspectives.com/dshort/updates/2022/10/18/weekly-gasoline-price-update
---
4. Bond Crash….Lost Decade for Core Bonds
LPL Research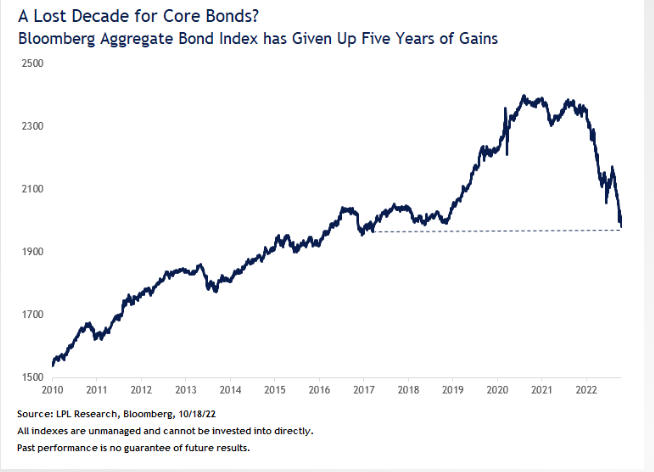 https://ipresearch.com/2022/10/18/a-lost-decade-for-core-bons/
---
5. EU ramps up Russian LNG purchases by 50% this year as Moscow cuts off natural gas pipeline supplies
The EU ramped up its purchases of Russian LNG this year, as Moscow slashes gas supplies via pipeline.
Imports of Russian LNG totaled 15 billion cubic meters through September, up 50% from last year.
Europe is scrambling to replace slashed pipeline flows through LNG purchases, which have allowed Moscow to pull in hefty amounts of cash.
The European Union has ramped up its purchases of Russian liquefied natural gas this year, while Moscow has slashed pipeline flows.
The EU's imports of Russian LNG totaled 15 billion cubic meters through September of this year, up 50% from a year ago, Tim McPhie, the European Commission's spokesperson for climate action and energy, told reporters on Friday, according to Russian news outlet Kommersant.
Still, Russia's share of total EU LNG imports dipped to 17% from 20% a year ago, as Europe has sharply increased its purchases from other parts of the world.
The EU's overall LNG imports soared 66% to almost 88 billion cubic meters through the first nine months of the year. 
European countries have been snapping up LNG cargoes from the US and Qatar recently as they scramble to build up inventories ahead of winter while Russia slashes pipeline gas flows.
Over the summer, Moscow began cutting deliveries via Nord Stream 1, then completely cut them off last month. Then earlier this month, explosions underwater blew open leaks in the pipeline in a likely act of sabotage.
Russia still supplies some pipeline natural gas to Europe via other pipelines, but not much: flows have been reduced from 350 million cubic meters at the start of the year to 70 million cubic meters, according to the most recent estimates from Kommersant. 
While LNG has helped make up for lost pipeline supplies, it comes with its own complications. LNG differs from pipeline gas in that it is largely imported overseas through tankers, and needs to be regasified before being used for energy.
Dozens of ships are circling the coast of Spain and other European countries as they wait to offload LNG cargoes, according to Reuters. The number of ships arriving outpaces the number of regasification terminals that can accommodate them.
In addition, increased LNG competition this year with Asian customers has ramped up prices and tanker rates dramatically. LNG ships now cost a record $400,000 a day, and Europe can no longer rely on cheap US LNG as supply continues to grow tight, a Texas-based LNG firm warned.
Meanwhile, Russia has been pulling in large amounts of cash through LNG sales, which are on track to reach a record high for the year, according to data from Bloomberg.
https://markets.businessinsider.com/news/commodities/europe-energy-crisis-eu-russian-lng-fuel-energy-prices-high-2022-10
---
6. Office Leases Signed Annually
@chasingthevig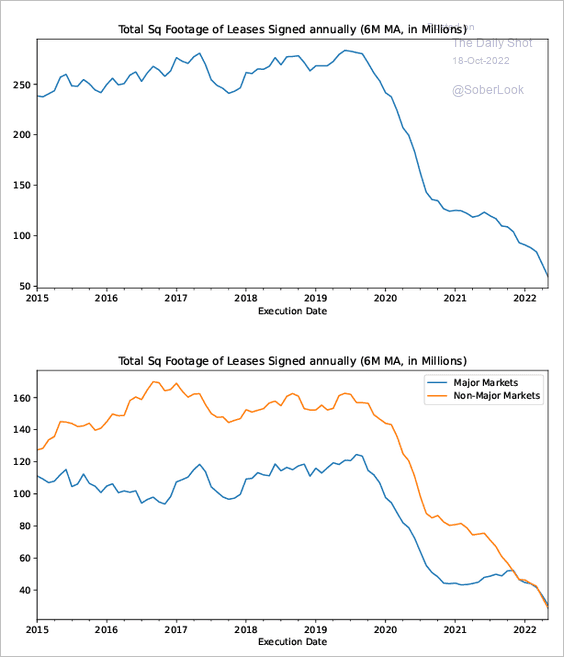 https://twitter.com/chasingthevig
---
7. Half of Airnub Listings Have Been Added Since 2020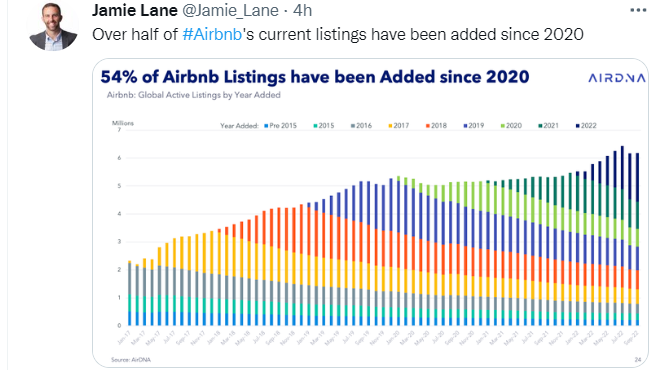 ---
8. Personal Savings Rate Down and Consumer Credit Up
@Charlie BilelloThe answer: they are saving less (lowest savings rate since 2008) and borrowing more (highest increase in consumer credit since 2011).

Needless to say, this trend cannot go on forever, which is why bringing down the rate of inflation remains critical to the long-term health of the economy.
---
9. Americans Trust in Media Still at All-Time Lows
STORY HIGHLIGHTS
34% have a "great deal" or "fair amount" of confidence in media
38% with no trust at all outpaces great deal/fair amount for first time
70% of Democrats, 14% of Republicans, 27% of independents trust media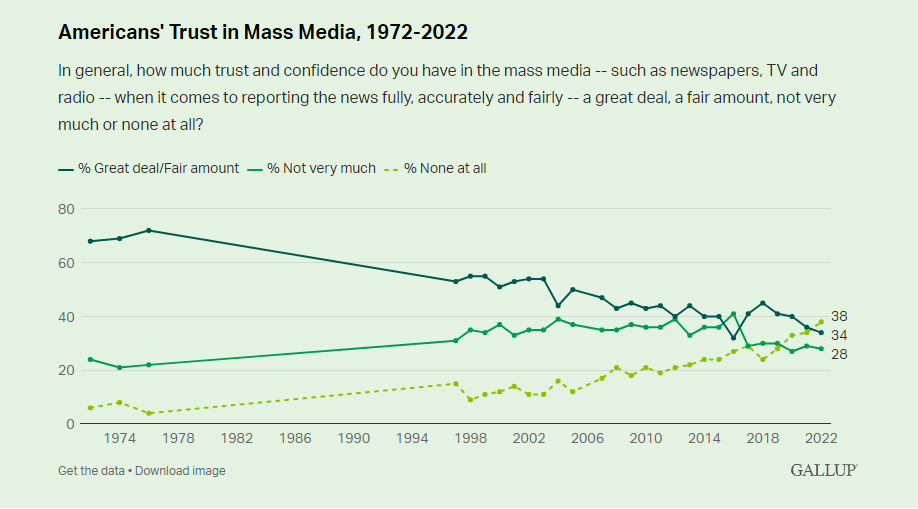 Gallup BY MEGAN BRENAN https://news.gallup.com/poll/403166/americans-trust-media-remains-near-record-low.aspx
---
10. 6 steps to self-acceptance
Psychology Today Karyl McBride Ph.D.
1. Make a commitment to work on self-acceptance. This simply means you decide to address your level of self-acceptance and work on it. To begin, notice your self-talk and whatever you are beating yourself up for. Keep a self-acceptance journal and write down the messages you are sending yourself.
article continues after advertisement
2. Assess and work on any past trauma. If you have trauma in your past, take note of it and write about it in your journal. Try to identify any trauma you have experienced and begin to process it. You may need to do this with a therapist.
3. Determine your own value system. Take an inventory of what you believe in and what you don't believe in. Write down your most important values and why you want to live by those values. Your value system may include some of what you were taught growing up, but you may also make the conscious decision not to include some of what you were taught to believe in your family of origin. Your value system should only include what is right for you.
4. Use your adult self to correct the negative messages you are sending yourself. Using your paternal or maternal adult self, speak to your inner child and correct the negative messages you're sending yourself. Write to your inner child and talk to him or her as you would talk to any small child. Explain why the messages are wrong and decide how you want to correct them. For example, if the message is "I am not good enough," explain to your inner child why you are good enough.
5. Forgive yourself for mistakes and failures. Make a conscious decision to offer yourself forgiveness. We can't blame ourselves for things we didn't know or weren't aware of before, even if we are aware of those things now. It's important to learn from our mistakes, but it is never helpful to keep punishing ourselves for regrets we may have.
6. Accept imperfection. No one is perfect, and no one can be perfect. Ask yourself: Who do I think I am that I have to be perfect, but I don't expect others to be? Learn to accept yourself for all of who you are: your strengths, weaknesses, mistakes, and all.
https://www.psychologytoday.com/us/blog/the-legacy-distorted-love/202112/6-steps-self-acceptance?collection=1180927