1. Last Week We Hit A Record Low Amount of Retail Investors That Say They Invest in Financial Markets
From Callum Thomas Chart Storm The Rise and Fall of Retail Investing: Bespoke's survey of consumers showed a record low % that say they invest in financial markets.
Probably reflects a combination of bad market performance and less money to invest as the bad macro crunches consumers…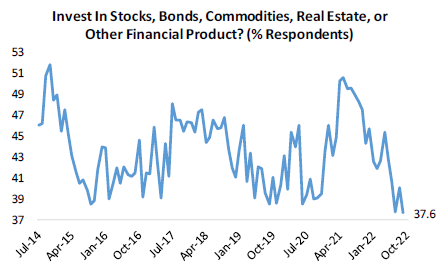 Source:  @bespokeinvesthttps://chartstorm.substack.com/p/weekly-s-and-p500-chartstorm-9-october-624
---
2. Ben Carlson Excellent Stats Always on Blog…..History of Bear Market Bottoms-Economic Signals Different on Every Bottom.
Highly Recommended Wealth of Common Sense Blog
I wish it was easy but there are no all-clear signals to tell you when the dust is going to settle. Just look at various fundamental indicators at the bottom of every bear market since 1945:
If you look at interest rates, valuations, inflation rates and dividend yields for every one of these bottoms there isn't much consistency.  You could try to use the economy as a tell for the stock market but good luck with that.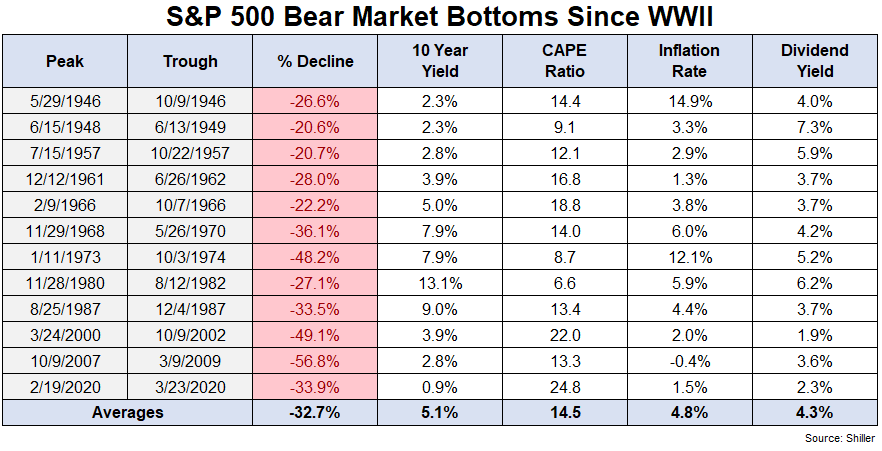 https://awealthofcommonsense.com/2022/10/what-a-stock-market-bottom-looks-like/
---
3. Valuation Expansion in Tech Sector vs. Earnings Growth and Dividends
Jack Ablin Cresset Capital Between 2011 and 2021, the technology sector delivered a cumulative 760 per cent return to investors, or about 24 per cent annualized. Of that, 620 percentage points was attributable to valuation expansion, leaving 140 per cent, or about 9.1 per cent annualized, attributable to earnings growth and dividend yield. As we have pointed out repeatedly in our research, it's unlikely investors will have the luxury of valuation expansion over the next 10 years.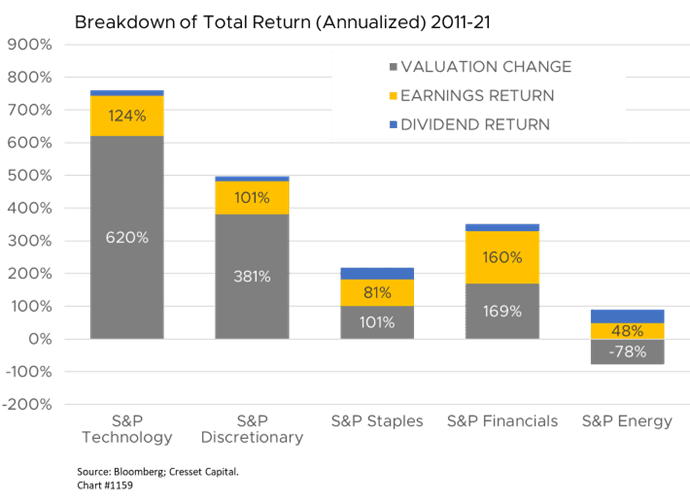 https://cressetcapital.com/post/q3-earnings-will-show-damage-from-rates-inflation-dollar/
---
4. Dollar Yen Spread Hitting 42 Year High
Zerohedge BY TYLER DURDEN–Japanese Prime Minister Fumio Kishida is stepping up the rhetoric against a weaker yen, suggesting that policy makers may be willing to step into the markets yet again. Japan's "yentervention" is doomed to failure.
As Bloomberg's Ven Ram notes, it is important to prepare appropriate action on the yen, Kishida has told parliament, as USD/JPY hovers not too far away from the psychologically significant 150 level. In fact, into the close the USDJPY spiked above 149, a new post-1990 high for the pair.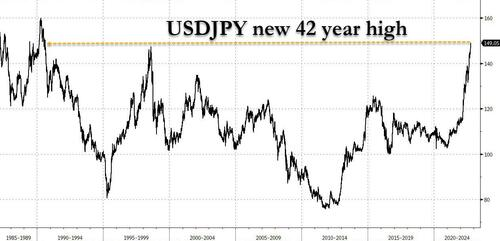 https://www.zerohedge.com/markets/japanese-jawboning-wont-stop-yens-explosive-downward-spiral-testing-150dollar
---
5. Tesla Finally Gets the -50% Pullback
Wolf Street Blog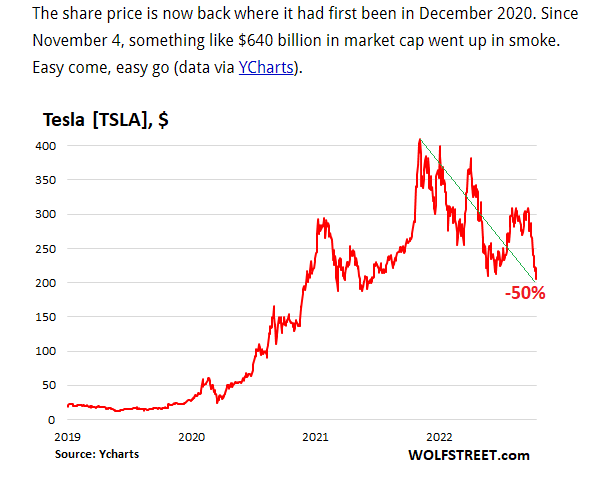 https://wolfstreet.com/2022/10/15/tesla-shares-get-halved/
---
6. The Federal Reserve Posted its First Operating Loss in a Decade
Bloomberg ByTracy Alloway @tracyalloway
The Federal Reserve is posting its first operating loss in years as interest rates soar and demand for US bonds craters.

Fed data show the central bank reporting earnings remittances due to the US Treasury of negative $2.9 billion as of Oct. 5.
It's a stark, though not unexpected, turn of events for a central bank which made billions in extra interest income from its expanding balance sheet in the years since the financial crisis. Of course, the Fed isn't a "normal" investor. It cannot go bankrupt and any operational losses stemming from its vast portfolio of bonds will simply mean it remits less money to the US Treasury.
But it does highlight the dramatic shift in the economic environment and could make for uncomfortable optics at a time when the Fed is already under pressure to bring down inflation. The central bank has ramped-up its fight against higher prices, paying added interest on bank reserves and through programs like the reverse repurchase agreement facility, better known as the RRP, as it attempts to dampen demand.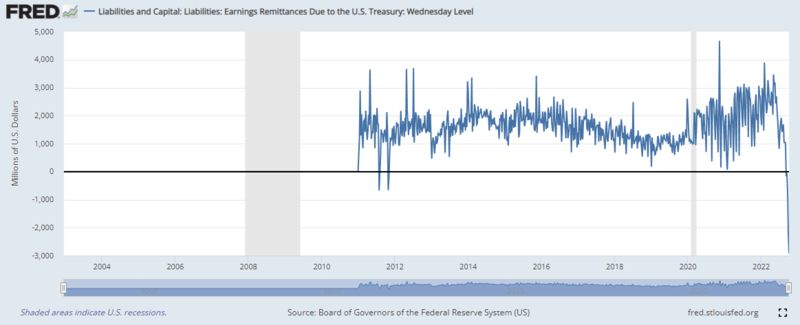 Source: FRED, St Louis Fed
"The Fed's interest expense — the interest it pays banks and RRP counterparties — increases with each rate hike," says Joseph Wang, a former trader on the central bank's open markets desk and the founder of the Fed Guy blog. "The 75 basis point September rate hike pushed the Fed into an operating loss. With expectations for a 'higher for longer' Fed, the operating loss is likely to significantly increase in the coming months."

As Wang explains, the move to an operating loss is notable because it so rarely happens. In the years since the global financial crisis, the US central bank earned more than $1 trillion in interest income that it remitted to the US Treasury. 

And while losses are likely to be uncomfortable for Fed policymakers who will have to answer awkward questions about it, it's not expected to have a major effect on monetary policy.

"This isn't something to be concerned about because it doesn't have a meaningful impact on monetary policy and is likely temporary," Wang adds. "The Fed cannot go broke, and the operating loss will go away when the Fed cuts rates during the next downturn. The optics of a money-losing Fed aren't good, though."

For more in-depth analysis of what this means for the Fed, check out this article from earlier in the year.
https://www.bloomberg.com/news/articles/2022-10-10/it-s-official-the-fed-s-in-the-red?sref=GGda9y2L&leadSource=uverify%20wall
---
7. Momentum Builds for Creating a Treasury Bond Buyback Program
Alexandra Harris
(Bloomberg) — The long-simmering idea that the US government should stand ready to buy back Treasury securities from investors to improve market functioning is moving closer to reality.
While the Treasury Department has carried out buybacks in the past — most recently between 2000 and 2002 — and while its industry advisers since then have urged it to consider establishing a program, steps taken in that direction last week were more than experts anticipated.
Liquidity metrics for the US government debt market are approaching crisis levels after a year of steep losses for bonds caused by rising inflation and Federal Reserve interest-rate increases, and with the central bank simultaneously cutting some of its holdings, the situation may worsen. Treasury Secretary Janet Yellen expressed concern about it last week.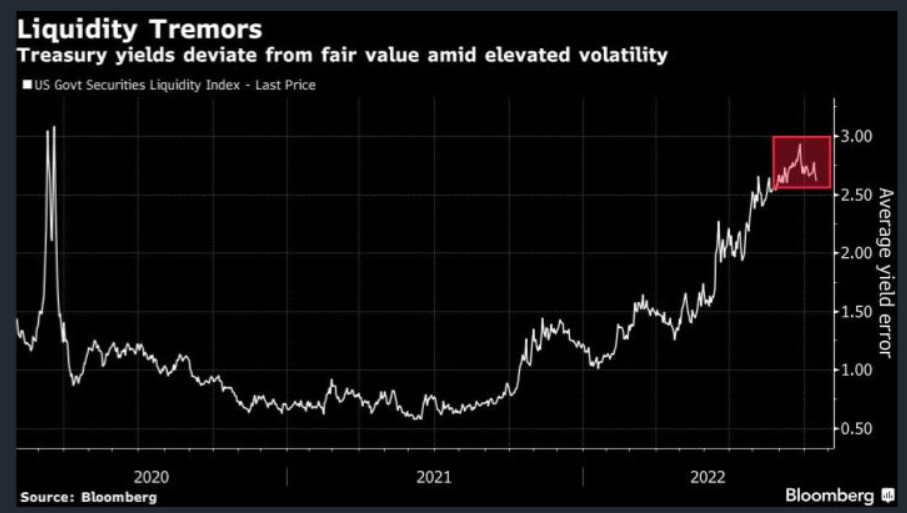 https://finance.yahoo.com/news/momentum-builds-creation-treasury-bond-174307311.html
---
8. Checking a lot of Charts…..AA Alcoa $94 to $34 Since April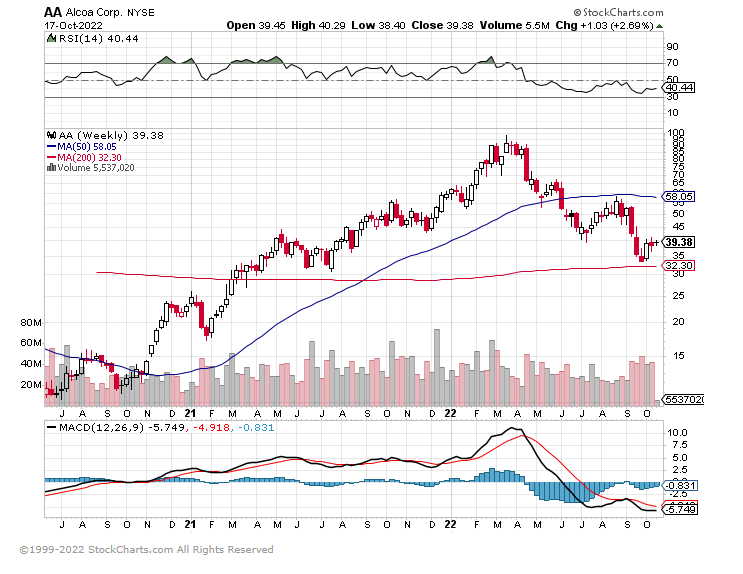 ---
9. Jim Reid Comments on Philly Fed Index
Jim Reid Deutsche Bank-Positives week last week was a bit of a struggle at times but I hope you appreciated the attempt to put a more positive spin on what is a fairly bleak outlook over the next 12 months (in my opinion), notwithstanding any countertrend rallies etc. Ultimately though much hinges on the question of if, when and how deep a US recession is.
On this theme, we first showed a version of this chart back in Q2 to highlight how if history was to believed, the US wasn't yet close to a recession even though we fully expected one in 2023.
Since this data was first collated in the late 1970s, we have needed at least 5 US states to be seeing negative monthly activity for 7 successive months for a recession to start. Up to April we had no states showing negative activity. We crossed our 5 state threshold in June and jumped to 16 states seeing negative activity in August (the last print). So if we stay above 5 until December then the conditions for a recession will have been met. So we will be keeping an eye on this for the next few months.
Interestingly for 25 months post September 1984 we had more than 5 states with negative activity without a recession. However this perhaps shows the lag of monetary policy. The first of these 25 months marked the peak of a hiking cycle that saw rates go from 8.5% to 11.75% over the preceding 18 months. However from that point on rates were progressively slashed to trough at just under 6% at exactly the time growth returned to at least 45 states again.
So back then a recession was likely avoided by a big Fed pivot. That's probably the main way a US recession can be avoided in 2023. But given the lags and last week's CPI print, this looks very unlikely at this stage.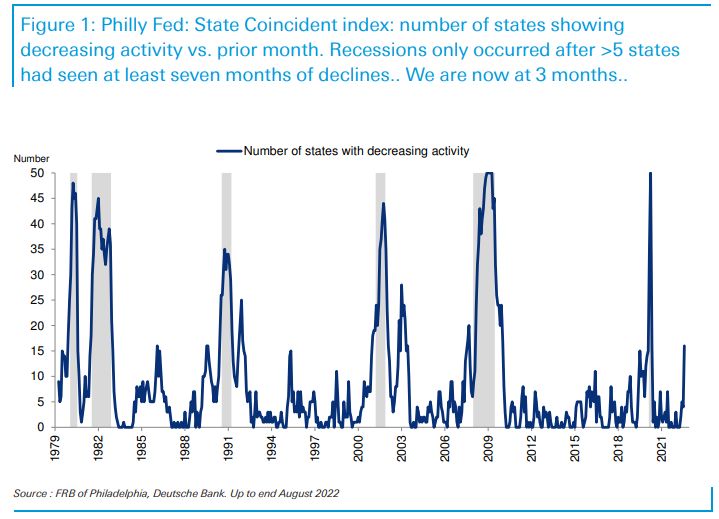 ---
Mastering the art of persuasion is a necessity when it comes to setting up a successful business. Here's how to tap into the human psyche and turn potential customers to actual ones.
BY PETER YANG, CO-FOUNDER, <A HREF="HTTPS://WWW.RESUMEGO.NET">RESUMEGO</A> AND <A HREF="HTTPS://WWW.MOCK-INTERVIEW.ORG">MOCK INTERVIEW</A>@THEPETERYANG
The most knowledgeable and renowned marketers in the world view marketing not as an "art form," but rather as an exact science. This is because marketing, like science, has been researched to death, experimented with since the dawn of time, and studied to the point where we can predict exactly what will and will not work.
I've been obsessed with the art of persuasion and marketing all my life, and this obsession has led me to study the very best out there–from Robert Cialdini to Seth Godin to Gary Vaynerchuk. After learning from these marketing gurus, as well as applying and experimenting with different marketing techniques myself for over a decade, I can tell you that there isn't a product in the world that can't be sold if you are able to simply flip four key switches that lie hidden within the human psyche.
1. Solution Switch: Show that your product is the answer to their problems.
People do not buy products. They buy solutions. And if you can convince your customers that your product is the solution to whatever problems they might be having, you'll spark their interest and turn on the most important switch necessary to making a sale.
Take, for example, a sales video designed for an internet business. As an online entrepreneur, what is it that makes purchasing a sales video from someone such an exciting prospect for your website? Is it the creativity and wittiness that's embedded within a memorable sales video? Or the extra care and effort that's put into making it? It's neither of these things, of course, because the real excitement doesn't have anything to do with the features of the video but rather the leads and potential customers that the sales video can generate. So don't market your product. Market the source of your customer's excitement.
2. Trust Switch: Become an authority figure.
Trust is a necessary component of making a sale, and whether it's consciously or subconsciously, all customers want to know that they're buying from a legitimate source. The key to flipping a customer's trust switch is to convince her that you're an authority figure–someone who is trusted as an expert on the subject at hand.
To illustrate just how powerful the trust switch can be, think about the last time you visited a doctor and ask yourself why it is that you, and almost everyone you know, trust your doctors. It's because when it comes to health and medicine, doctors are viewed as the ultimate authority figures. So when doctors tell us we should take such and such medication to fix such and such health problem, we listen to them because we trust them–not because we necessarily understand the medical reasoning behind their suggestions. This very fact highlights why trust is such a powerful persuader. The moment we trust someone as an authority figure, we are sold on anything he tells us.
3. Likability Switch: Befriend your customer.
We resonate with those who share our beliefs and ideologies, and we have trouble relating to those who don't. Similarly, customers prefer to buy from people they like. It's the whole reason why PR nightmares like the BP oil spill and the United Airlines overbooking incident are always followed by a noticeable decline in business, and it's also why companies love to publicize their charitable acts of philanthropy.
The likability switch works on a high level with regards to a company's image, but it's even more potent when applied at the customer level. Customers want to feel that you're truly out to help them and that you're listening to what they have to tell you. This often means trying to understand your customers and tailoring your product or service to solve their unique problems. By befriending consumers and building strong relationships with them, you elevate yourself above the rest of the competition because customers see you not as a greedy corporate identity, but as a friend.
4. Evidence Switch: Customers need proof, not promises.
People are often skeptical about whether or not they'll actually realize the benefits they hope to get from their purchase. It's this uncertainty that puts them on edge, as it can be very difficult to ascertain the quality and effectiveness of what you're trying to sell before actually making a purchase. In the back of their minds, customers are asking themselves a lot of questions: Will taking this marketing course really make me a master salesman and triple my income? Will buying this new outfit really impress all my friends? Will paying for this professional résumé writing service really double the number of interviews I get?
This is where you come in. Provide potential consumers with logical reasoning, quantitative data, or customer testimonials that validate what they were hoping to be true to begin with. Give them hard evidence proving that they will reap all the benefits they desire from your product, and you will easily win them over as eager customers.
https://www.inc.com/peter-yang/psychology-says-you-can-actually-sell-anything-so-long-as-you-use-these-4-hidden-switches.html?cid=sf01003