1. S&P and Nasdaq Largest Reversals from 52 Week Lows ….Thursday was 5th largest intra-day reversal ever for S&P and 3rd largest for Nasdaq
Sentiment Trader
https://twitter.com/sentimentrader
---
2. S&P Price to Earnings Ratio History.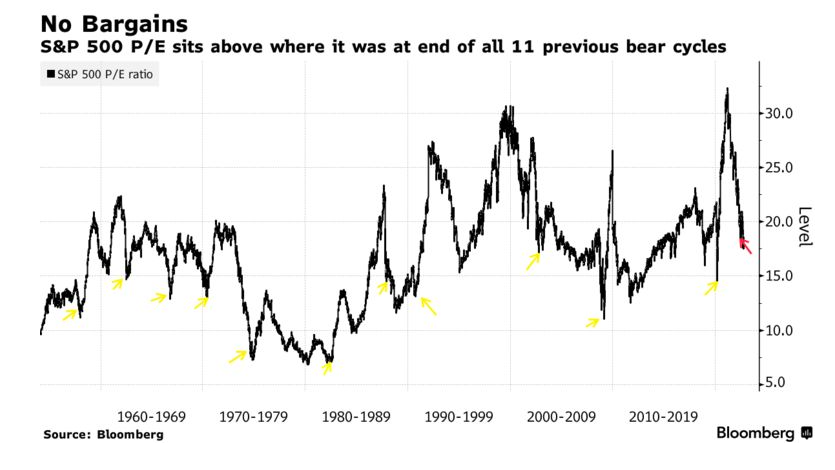 https://www.bloomberg.com/news/articles/2022-10-13/big-hedges-50-charts-okay-earnings-behind-the-stock-bounce?srnd=premium&sref=GGda9y2L
---
3. Vanguard Total Stock Market Index Sitting on 200 Week Moving Average.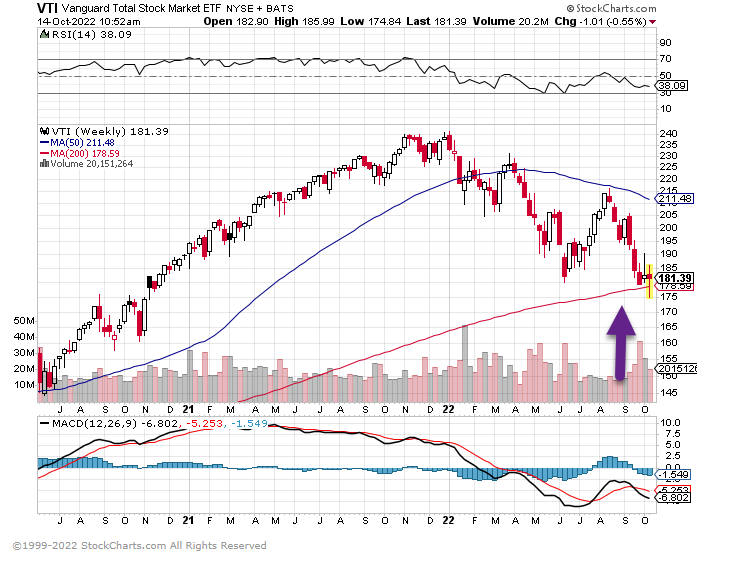 ---
4. Homebuilder ETF Tests 200 Week Moving Average for Second Time.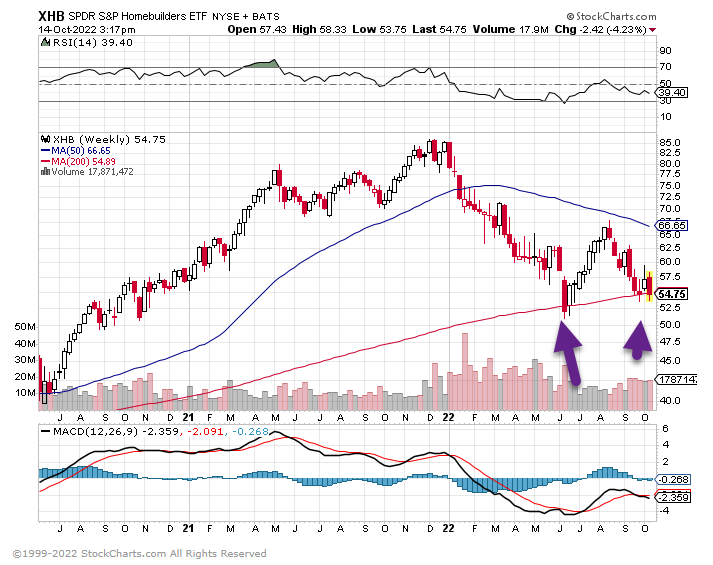 ---
5. Owners Equivalent Rent is the Number WE Need to Come Down. (35% of CPI)
Business Insider-While food and gas prices are no longer surging at the extraordinary rate seen earlier this year, housing costs have taken their place. Owners' equivalent rent — which measures how much rent would need to be paid to substitute an owned home as a rental property — soared 6.7% in the year through September, the Bureau of Labor Statistics said Thursday. That's up from the prior month's pace of 6.3% and the fastest rate since data collection began in 1984.  The measure captures just how expensive shelter has become for buyers and renters alike. Soaring interest rates have ripped through the housing market in 2022, driving mortgage rates to highs not seen since the peak of the mid-2000s housing bubble. That's made homes much less affordable for most buyers, as monthly payments on home loans are now far larger than they were just one year ago.
That's bled into the rental market, too. Demand for rental properties has rallied as Americans shy away from buying, leading costs to soar at apartments and rental homes, too. For those who don't own their home and haven't locked in a low mortgage rate, shelter is as expensive as it's ever been.
Ben Winck, Alcynna Lloyd, and Madison Hoff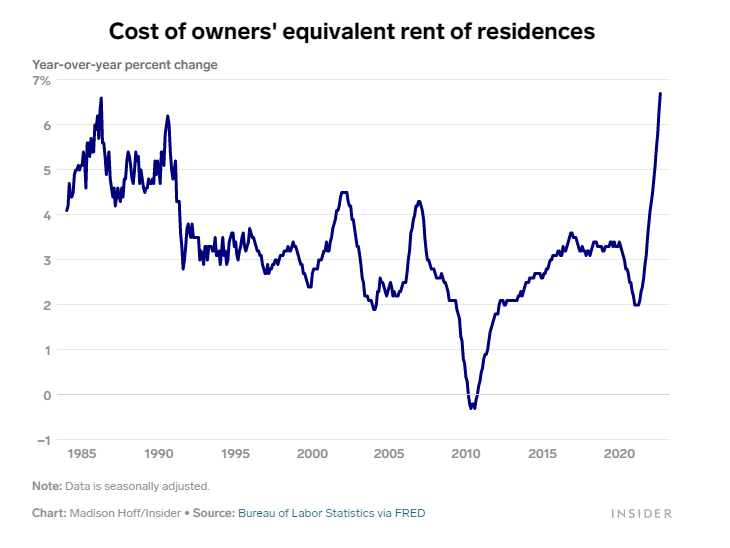 https://www.businessinsider.com/are-home-prices-rising-housing-inflation-cpi-september-rate-hikes-2022-10
---
6. Inflation Summary Since 2020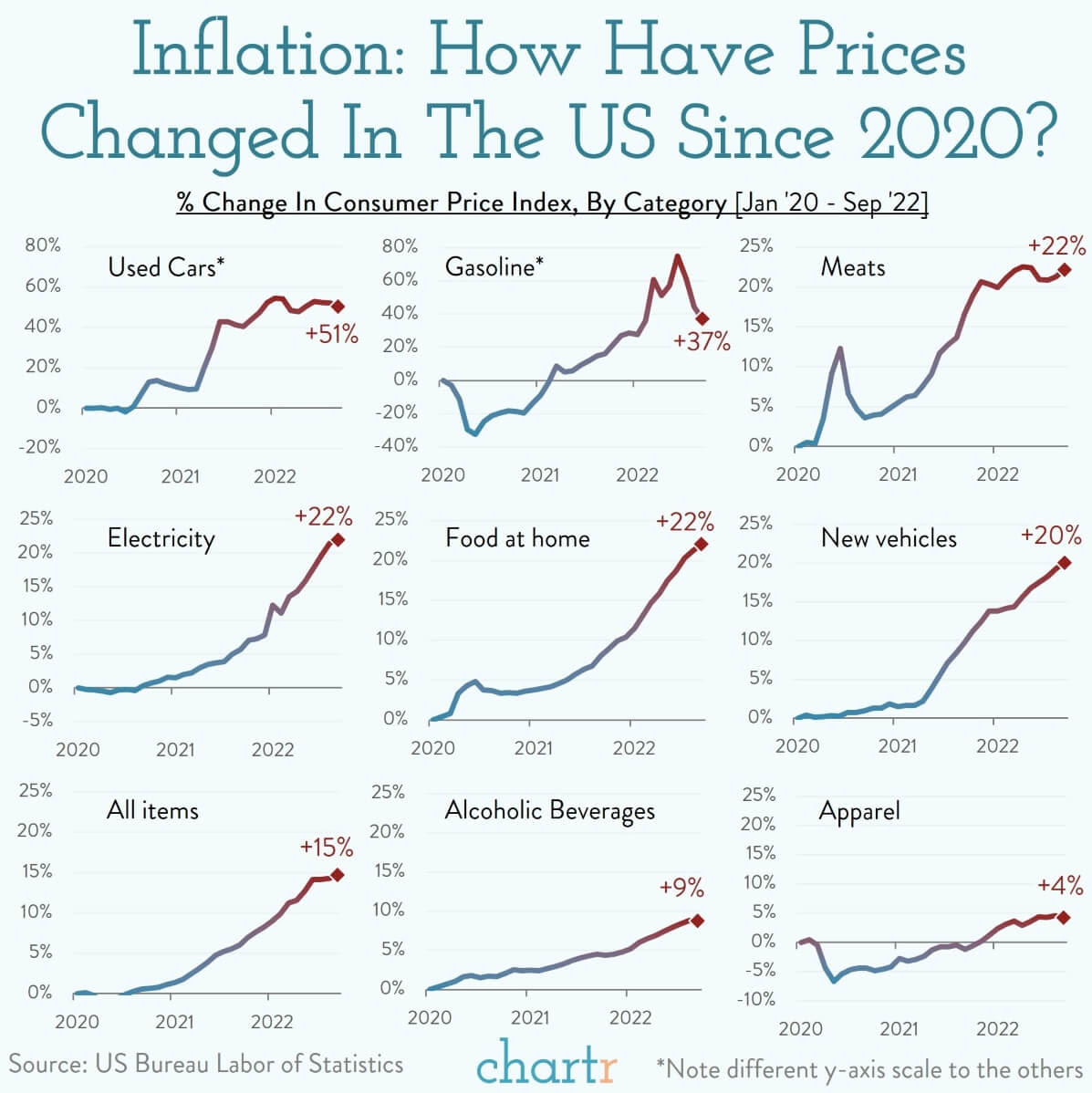 ---
7. F-150 Highest Selling Car in America…Price Chart
Wolf Street The chart below shows the MSRP for each model year of the F-150 XLT (red, left scale), and the Camry LE (purple, left scale), and the Consumer Price Index for New Vehicles (green, right scale). We'll get to the details and numbers in a moment:
years of real-world price increases compared to the CPI for New Vehicles.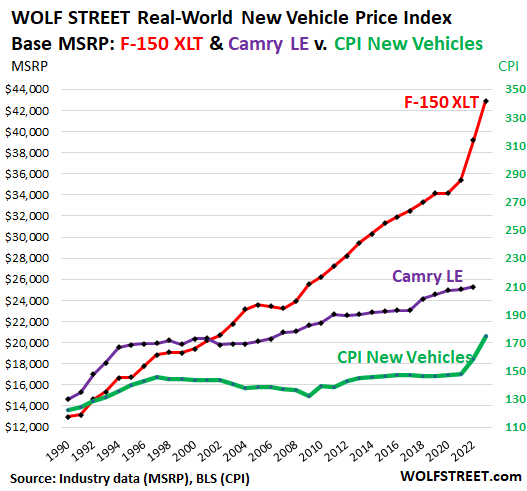 https://wolfstreet.com/2022/10/12/tge-wolf-street-real-world-new-vehicle-price-index-f-150-xlt-camry-le-models-fords-trucks-price-shocker/
---
8. South Korea Semiconductor Exports Index
Jack Ablin Cresset Capital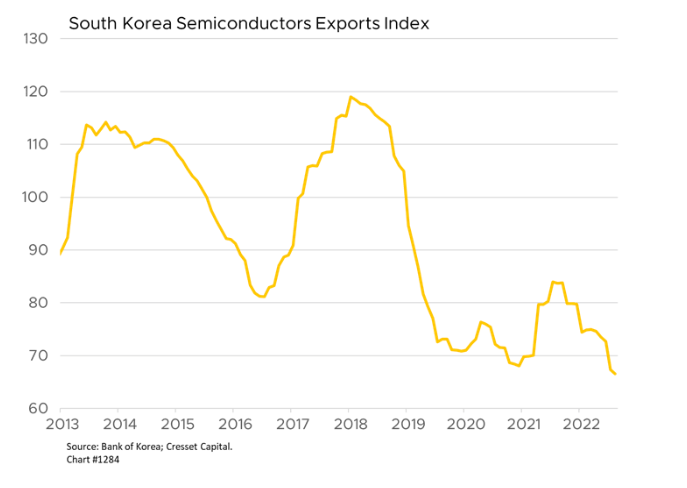 https://cressetcapital.com/post/strong-dollar-feedback-loop-hurts-top-and-bottom-lines/
Semiconductor Index Hard Close Below 200 Week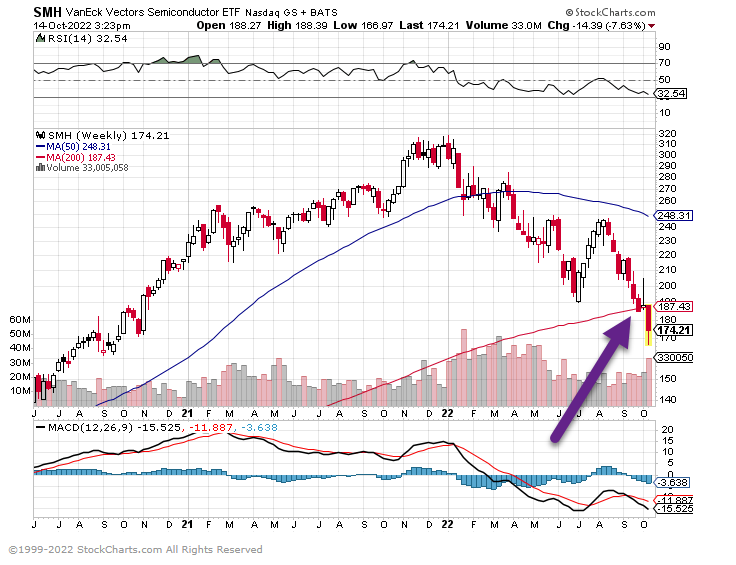 ---
9. SOFR Overnight Lending Rate ZERO to 3% in 7 Months …..$80 Trillion in Notional Debt Tied to SOFR
What Is the Secured Overnight Financing Rate (SOFR)?-The Secured Overnight Financing Rate (SOFR) is a benchmark interest rate for dollar-denominated derivatives and loans that is replacing the London Interbank Offered Rate (LIBOR). Interest rate swaps on more than $80 trillion in notional debt switched to the SOFR in October 2020. This transition is expected to increase long-term liquidity but also result in substantial short-term trading volatility in derivatives. https://www.investopedia.com/secured-overnight-financing-rate-sofr-4683954
Y Charts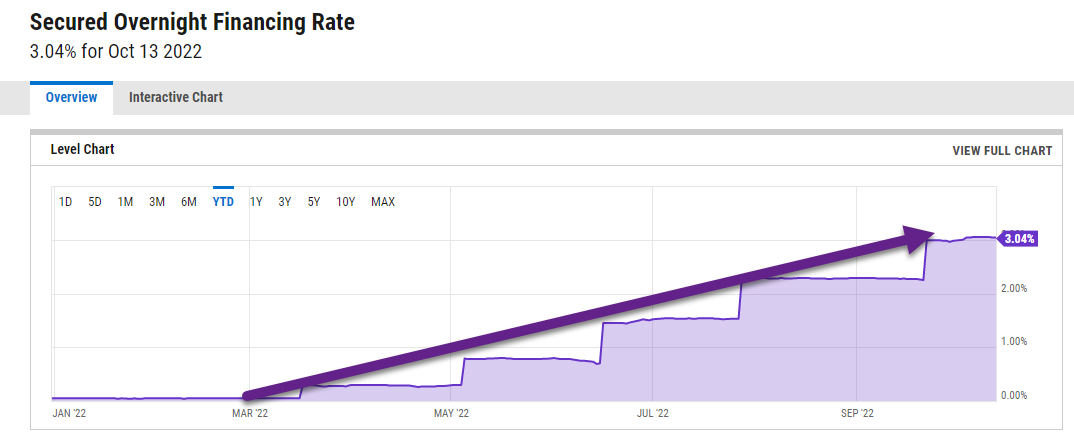 https://ycharts.com/indicators/sofr
---
10. The Stockdale Paradox
The Daily Stoic-We've talked before about the so-called Stockdale Paradox—the blazing determination inside Admiral James Stockdale that allowed him to believe that, despite his imprisonment and torture, he would not only survive but thrive because of his experience. There's something similar in Meditations where Marcus Aurelius, reflecting on the plague and the wars and the troubles that beset his reign, actually says to himself, "It's fortunate that this happened to me."
The Stoics always believed they could find a way. But it's important to understand where this was coming from, lest we confuse resilience with naivete or worse. In a recent episode of Ramit Sethi's wonderful podcast, one of the guests explained how his father, despite having to raise his kids in a trailer while making $30,000 a year, inspired his kids to believe that everything was going to be OK, that they'd get through it, that they would find a way. This was a wonderful and important lesson, except now as an adult working as a mortgage broker, the man seemed remarkably naive about the potential vulnerability of his industry to the turbulence of the economy. What if the market turns, he was asked. "I trust that my company will take care of me," he said. Wasn't he concerned that he had so little in the way of savings or emergency funds? No, he said, it'll all work out. My company will take care of me.
The word for this attitude is not "Stoic," it is Panglossian, a term derived from the novel Candide by Voltaire. A Stoic believes that they'll find a way through no matter what happens, yes, but they are also realistic. They try not to depend on things outside their control.
When asked who fared worst in the North Vietnamese prison camp, Stockdale singled out one group: the optimists. They were convinced they'd be rescued soon. They were convinced it was going to be over any day now. Ramit's mortgage broker guest went one step further, he was a fantasist. He dreamt of a reality that simply didn't exist. We cannot be so naive or excessively optimistic or wishful, as to place our fate in the hands of others. Like the Stoics, we must never expect, or hope, or believe that anyone is coming to save us. Because it's the expectation, the entitlement, the naivete that crushes us.