1. Tech Stocks by Decade.
1990's Tech grew+30%per year
2000's. Negative-7%per year
2010's Positive+20%per year
2020's-?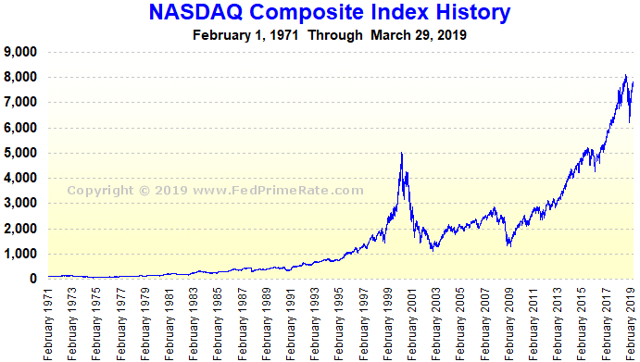 https://seekingalpha.com/article/4254915-numbers-justify-nasdaq-8000
2. S&P 500 Breadth Thrust…Equal Weighted RSP Outperforming S&P for Last 3 Months
Barrons-Forget Economic Stimulus. This Is Why the Dow Had a Great Week.
In fact, the market rally has broadened out so much that future gains look likely, if history is a judge. The reason? The S&P 500 just experienced a "breadth thrust," the term used to describe a 10-day period in which advancing stocks outnumbered decliners by at least 2-to-1. That doesn't happen very often—just 29 times since 1990—and it signals massive buying pressure in the market, according to Keith Lerner, chief market strategist at SunTrust Advisory Services. When a breadth thrust occurs, the S&P 500 has been higher 12 months later 96% of the time for an average gain of 13%.
RSP Equal Weighted S&P ETF About to Make New Highs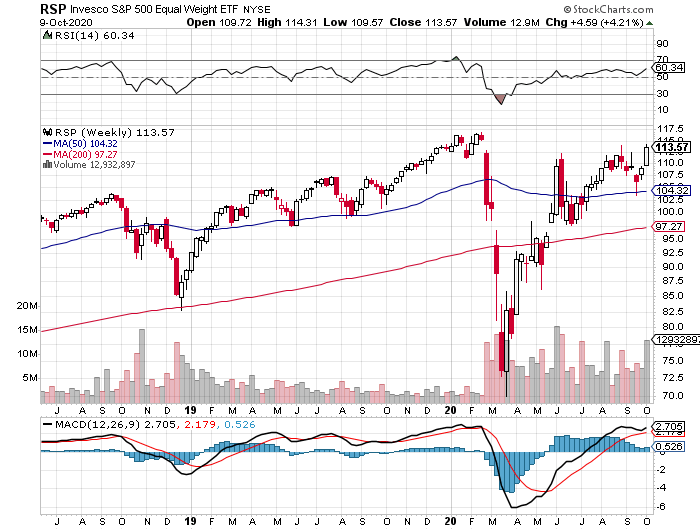 ©1999-2020 StockCharts.com All Rights Reserved
3. XLE Energy Sector SPDR Trading Slightly Above Companies Liquidation Value.
Barrons-Opportunity in Energy Shares
Since the introduction of S&P sector SPDRs at the end of 1998, the Energy Select fund has never been cheaper compared to the S&P 500 index. Moreover, the book value-to-price ratio of the fund is 1.1, which means that the sector's valuation is slightly above the total asset value if all assets on [component companies'] balance sheets are liquidated. This ratio is at its lowest since 1986, meaning that the sector's outlook is dismal.
https://www.barrons.com/articles/energy-stocks-look-dismal-its-time-to-buy-says-a-money-manager-51602288718?mod=past_editions
XLE ETF -50% YTD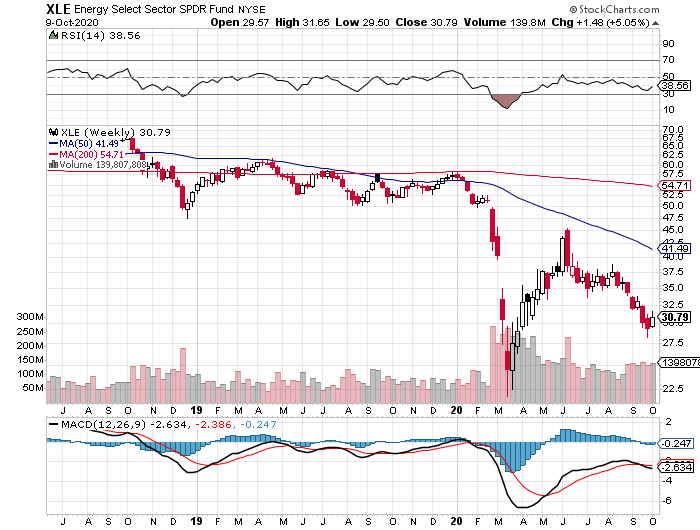 4. The Next Big Underperformer After Energy…Banks. JPM Earnings Today
On average the S&P 500 bank sector is expected to show a third-quarter earnings decline of 31% and a revenue decline of 6.7%, according to estimates gathered by Refinitiv.
The majority of big U.S. banks did manage to beat very low earnings per share and revenue expectations for the second quarter, according to Refinitiv.
(Graphic: Banks underperform broader market – )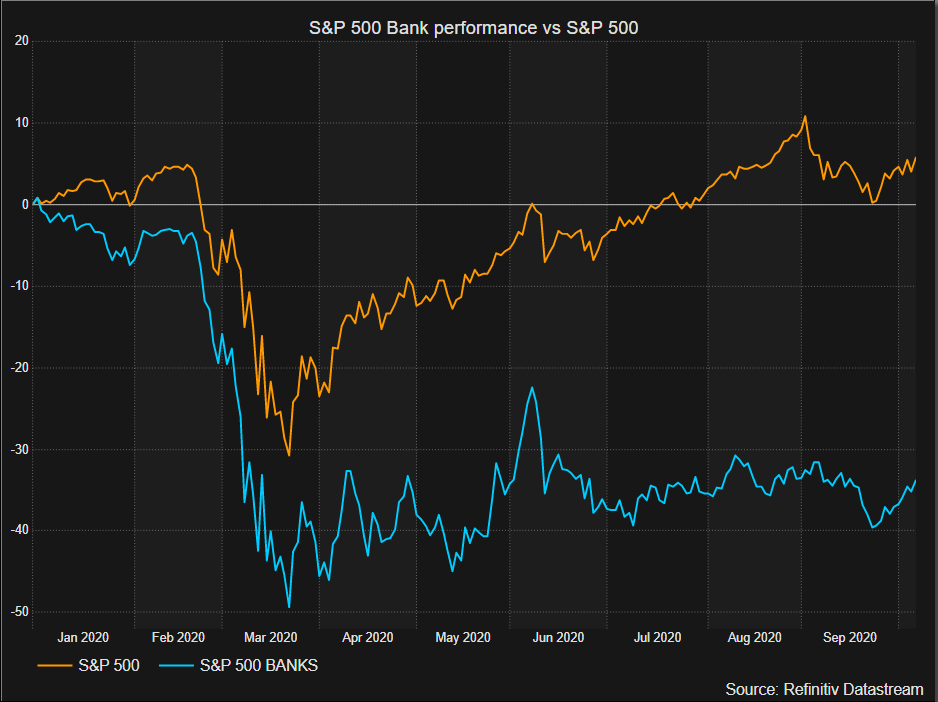 https://www.reuters.com/article/us-usa-stocks-banks-analysis/u-s-bank-stocks-are-fine-if-you-are-rich-in-patience-idUSKBN26U15O
5. Ten-Baggers Since Election
Fri, Oct 9, 2020
In our prior post we looked at the best and worst performing S&P 500 stocks since Election Day 2016. In this post we've broadened our filter and looked at the Russell 3,000, which is an index that covers more than 98% of all publicly traded market cap in the US. Within the Russell 3,000, there are 32 stocks that are up more than 1,000% since Trump was elected. These 32 "ten-baggers" — as Peter Lynch liked to call them — are listed in the table below.

At the top of the list is Enphase Energy (ENPH), which is up 8,892% since Election Day 2016. While Enphase has "Energy" in its company name, it's actually a Technology sector stock that "manufactures software-driven home energy solutions that span solar generation, home energy storage and web-based monitoring and control." Next up is Zynex (ZYXI) with a gain of 7,211%, followed by Digital Turbine (APPS) up 5,320%. ZYXI markets itself as a "better and safer way to manage pain" than opiods using electrotherapy devices. APPS is an app marketing company that helps app developers get their product on as many devices as possible.

Of the 16 best performing Russell 3,000 stocks since Election Day 2016, 15 come from either the Technology or Health Care sectors. XPEL is the only stock in the top ten that's not in either the Tech or Health Care sectors. Up 2,341% since Trump was elected, XPEL is a Consumer Discretionary stock whose main product is to provide auto-paint protection.

Along with the names mentioned already, other notables on the list of ten-baggers under Trump include Jack Dorsey's Square (SQ), pet-food maker Freshpet (FRPT), digital health company Teladoc (TDOC), the arts and crafts social media company Etsy (ETSY), and of course, Tesla (TSLA). With a gain of 1,002% since November 8th, 2016, Tesla just barely makes the cut!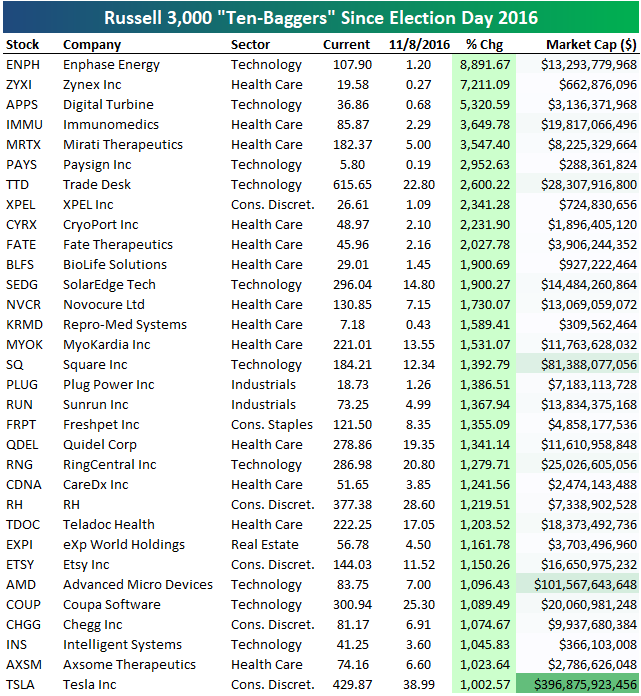 https://www.bespokepremium.com/interactive/posts/think-big-blog/ten-baggers-under-trump
6. 2020 Pre-Election Compared to 2016
The U.S. election certainly counts as a source of short term uncertainty. While this year's presidential race has seen steadier polling than the last one, investors seem reluctant to price in a specific outcome.
20/20 vision: A clearer path for growth
https://www.linkedin.com/company/nuveen/
7. S&P 500 Following Global Liqudity from Central Banks
Central Banks save the day, again! S&P 500 has gained 3.8% this week, best since June as global liquidity hit fresh ATH at $91.2tn.
2:13 PM · Oct 10, 2020·Twitter Web App
8. The World is Getting Older….65 Older Will Dwarf 5 and Under by 2060
Ben Carlson–By 2060, it's estimated nearly 95 million people in this country will be 65 or older. In 1900, that age cohort numbered just 3 million.
And it's not just the United States. The entire world is becoming older: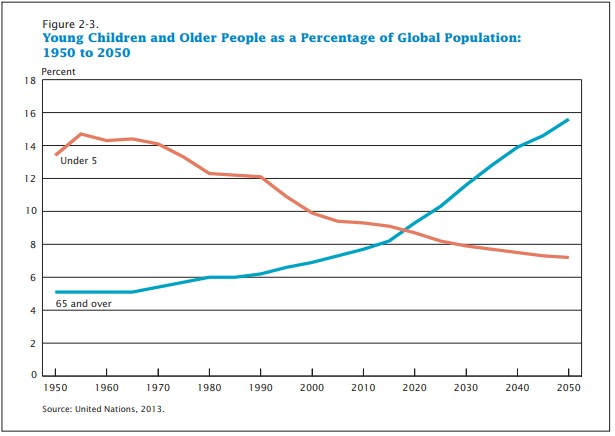 https://awealthofcommonsense.com/2020/10/the-7-things-that-matter-for-markets-going-forward/
Found at Crossing Wall Street https://www.crossingwallstreet.com
The Psychology of Money
""Like Warren, I had a considerable passion to get rich, not because I wanted Ferraris — I wanted the independence. I desperately wanted it."
— Charlie Munger
The world can appear vastly unequal in terms of the goods and services that people are able to consume. To the slum dweller in Mumbai or Rio de Janeiro, the lifestyle of a middle class American would seem utterly unbelievable. A middle class American would find the spending power of a family worth $20 million completely inconceivable. And the family worth $20 million cannot conceive of the spending power of a billionaire like Warren Buffett or Jeff Bezos.
Wealth can buy material goods and services and this is what most people focus on, both in terms of satisfying their desire to consume as well as their desire to appear successful in the eyes of their peers. But a relentless focus on the material goods that wealth can purchase badly misses the point.
The truth is that time is the currency of life.
The ability to control your time means that you have the ability to control how the most valuable resource you own is spent. The middle class American's life expectancy might not be quite as long as the life expectancy of a billionaire. Money can indeed purchase better medical care and, for some people, that can provide more time. But the truth is that Jeff Bezos and Warren Buffett cannot hope to enjoy multiples of the time that the rest of us can enjoy on this earth. Their time is limited, just as time is limited for all of us. However, they have both had something that most of us do not have: the ability to control how they spend every day of their lives starting from a very early age.
Most people will never be worth $5 million or $20 million, let alone worth billions. But it is within the power of people earning middle class incomes to design their lives in a manner that gives them increasing control of their time, and with that control comes the prospect of an increased level of satisfaction with life and greater happiness.
As Morgan Housel writes in The Psychology of Money, "The ability to do what you want, when you want, with who you want, for as long as you want, is priceless. It is the highest dividend money pays." If you are reading these words and nodding your head in agreement, you are vastly ahead of the game because this idea is far outside the mainstream of how people view money. For most people, the thought of money is inextricably linked with the goods and services it can buy and how those things will make their lives better and happier. The idea of saving money is grudgingly conceded to be a necessary, but distasteful, thing that responsible people must do. Most consumers view the next paycheck or bonus in terms of what it can buy, not the independence it can provide. And this makes intuitive sense at first glance. Aren't the wealthy happier than the middle class and the middle class happier than the poor? It seems obvious that this would be the case. How could it not be the case when money can be used to buy so much cool stuff?
For someone in poverty, being able to consume more stuff clearly will increase happiness. The ability to have as much food as your family needs, to have warm clothing in the winter, to be able to air-condition your home in summer, and to have a washer and dryer to avoid going to the laundromat — these are all tangible improvements for someone moving from poverty into the middle class. But beyond a certain point, hedonic adaptation takes hold. You keep ratcheting up your consumption, which brings transitory happiness at best, but soon find yourself right back where you started, except now your baseline set of expectations has grown requiring you to maintain your spending to avoid feeling deprived.
Morgan Housel has been writing about finance and investing for over a decade, getting his start at The Motley Fool and later writing a column for The Wall Street Journal. Housel is currently a partner at the Collaborative Fund and writes frequently on personal finance topics. His approach to money and investing is to view it through the lens of psychology because the human element stands far above all other factors when it comes to the results a person can expect to achieve over time. As Housel notes, investing is one of the very few fields that offer ordinary people daily opportunities for extreme rewards. If you view money through the lens of consumption, the temptation to try your luck in this casino can be overwhelming. However, if you view losing money or interrupting the process of compounding as losing control of your time and sacrificing your liberty, the temptation to gamble is much reduced.
10. Eight Work Habits Found in Extremely Valuable Employees
How do you define a valuable employee?
BY MARCEL SCHWANTES, FOUNDER AND CHIEF HUMAN OFFICER, LEADERSHIP FROM THE CORE@MARCELSCHWANTES
How do you define a valuable employee? Is it experience or maybe work ethic? Do you see competence in a specific area as the be-all and end-all of determining employee value?
What about soft skills? Do they hold the same value when interviewing for a rock star engineer or strategist position? Well, they should.
While technical skills and other hard skills defined in the job description matter, it's an employee's people skills and a whole host of other personal attributes that are crucial for long-term success.
Most companies undervalue soft skills or the impact people development will have on an organization. They assume the hard stuff holds more weight and makes the business go around. In turn, when difficult personalities and egos emerge, when sudden change and uncertainty takes place, and when conflict seems inevitable, it's the employees with the natural ability to communicate and respond to crisis who hold the most value.
Volume 0%
When crafting the people elements for fostering a great company culture, here are eight employees you'll want to consider hiring:
1. People who are active listeners.
Effective communication isn't just about talking; it is also the ability to listen and understand what's happening on the other side of the fence. The best people-centered employees will listen and reflect back what they hear to clarify ("What I hear you saying is …"), and they'll ask questions to probe the other person's feelings or opinions. This can be as simple as: "Tell me how you feel about this."
2. People with emotional intelligence (EQ).
While IQ still remains the best predictor of job success, once you land a job and start thinking about increasing your role, managing multiple priorities, getting promoted, leading others, and navigating political landscapes, IQ will be begging for EQ to show up. Daniel Goleman, the foremost authority on emotional intelligence, has put together these nine important questions to help a person evaluate his or her emotional intelligence.
3. People with a high degree of patience.
People with patience have the capacity to process a situation about to go south, get perspective, listen without judgment to someone they disagree with, and hold back from reacting head on. Practicing this rare business virtue may mean deciding to sit on your decision. By thinking over things with a rational and level head, you'll eventually arrive at a more sane conclusion. These are the people you want to build a company culture around.
4. People who avoid drama.
Employees with emotional intelligence have a clear advantage: they cut through the drama by telling the facts as they see them and how it affects them. Let me unpack that further: These people are able to diffuse an emotionally-charged moment with a calm demeanor, explain the outcome they're hoping for, and ask for other ideas for solutions with an open mind. By hiring people with the ability to manage conflict, you'll see more constructive, productive, and respectful discussions taking place, which can help resolve hairy situations to everyone's satisfaction.
5. People who can manage their emotions.
Self-control (or "self-management") is a personal competence developed in every person. The question behind self-control is: Can I manage my emotions and behavior to a positive outcome? Not everyone can. Daniel Goleman says this about people with self-control:
"Reasonable people–the ones who maintain control over their emotions–are the people who can sustain safe, fair environments. In these settings, drama is very low and productivity is very high. Top performers flock to these organizations and are not apt to leave them."
6. People who reject the idea of multitasking.
Productive people are successful in managing their time because they avoid juggling many things. Research says multitasking is a myth and can be damaging to our brains. You end up splitting your focus over many tasks, losing focus, lowering the quality of your work and taking longer to hit your goals.
7. People who value and practice well-being during work hours.
Top employees are looking for companies that allow them to integrate work and life during their schedule, and the smartest bosses are giving them that flexibility because it makes business sense. One example is the workplace habit of taking short, frequent breaks. A 2016 study showed that hourly five-minute walking breaks (out in nature with a friend, for example) boosted energy levels, sharpened focus, and improved mood throughout the day. These "microbursts of activity" increase motivation and concentration and enhance creativity, according to researchers at Stanford University.
8. People who self-manage extremely well.
Forget time management –you want people who are good managers of "self." By managing your life, tasks, and priorities efficiently, you can seamlessly transition to more productivity, higher work satisfaction, and better personal well-being. And that's what the most valuable employees do to reach their most optimal level of self-management. For example:
1. As noted earlier, they don't multitask or juggle too many things.
2. They start and end meetings on time, and don't get sidetracked or allow the agenda to get hijacked.
3. They set boundaries and say no to people when needed, so their time is protected.
4. They identify the time of the day when they're most productive and focus their energy on doing the most important things during those times.
5. They're aware of time-wasters such as visitors dropping by their workspace to gossip; they ensure they don't spend time in useless meetings, distracting phone calls, and anything that else that disrupts their state of flow.
Your turn: What traits or behaviors have you seen the most valuable employees exhibiting?
https://www.inc.com/marcel-schwantes/7-work-habits-found-in-extremely-valuable-employees.html?cid=sf01003
Disclosure
Lansing Street Advisors is a registered investment adviser with the State of Pennsylvania..
To the extent that content includes references to securities, those references do not constitute an offer or solicitation to buy, sell or hold such security as information is provided for educational purposes only. Articles should not be considered investment advice and the information contain within should not be relied upon in assessing whether or not to invest in any securities or asset classes mentioned. Articles have been prepared without regard to the individual financial circumstances and objectives of persons who receive it. Securities discussed may not be suitable for all investors. Please keep in mind that a company's past financial performance, including the performance of its share price, does not guarantee future results.
Material compiled by Lansing Street Advisors is based on publicly available data at the time of compilation. Lansing Street Advisors makes no warranties or representation of any kind relating to the accuracy, completeness or timeliness of the data and shall not have liability for any damages of any kind relating to the use such data.
Material for market review represents an assessment of the market environment at a specific point in time and is not intended to be a forecast of future events, or a guarantee of future results.
Indices that may be included herein are unmanaged indices and one cannot directly invest in an index. Index returns do not reflect the impact of any management fees, transaction costs or expenses. The index information included herein is for illustrative purposes only.