1. S&P Post-Election Rally Only Gains Back 2 Week Sell-Off.
S&P Still Below Sept Highs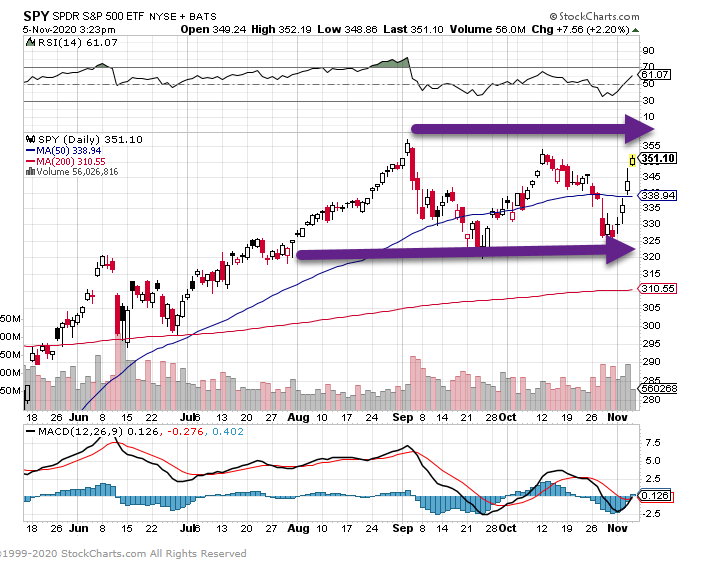 2. Russell 1000 Growth+30%YTD vs. Russell 1000 Value-11%
IWF Growth vs. IWD Value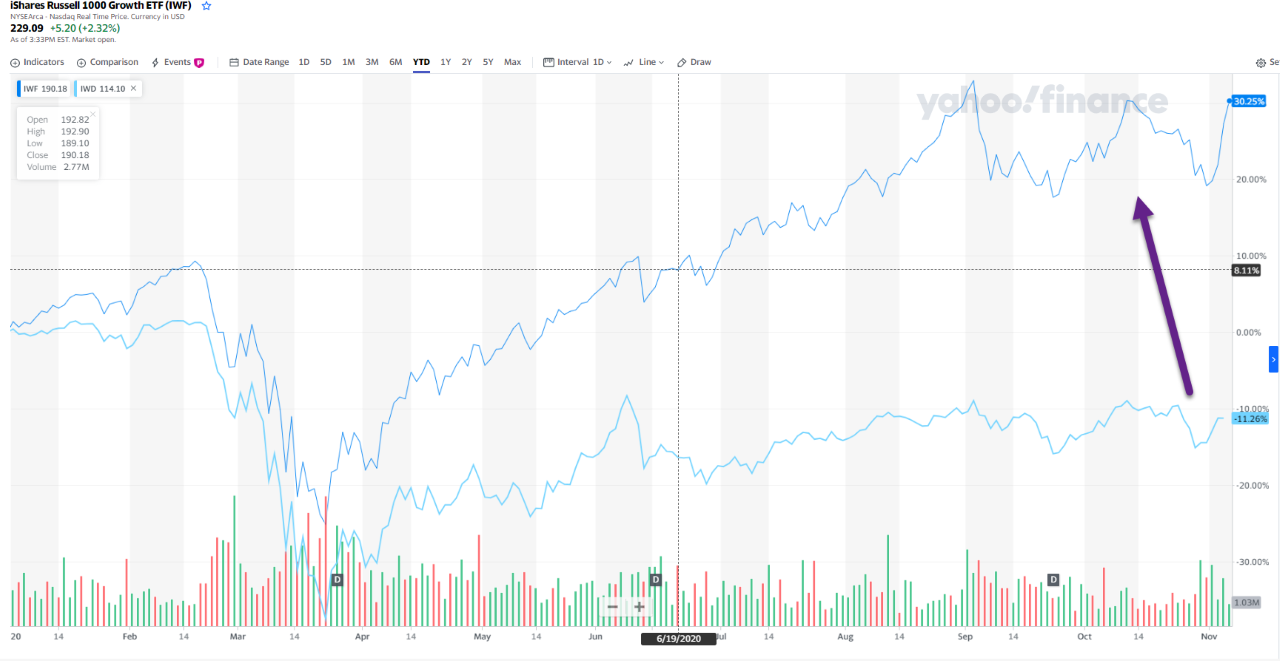 3. Stock market's post–Election Day rally shows that gridlock in Washington is good for Wall Street
Mark Hulbert-Marketwatch
U.S. equities have performed the best when political power in Washington is split between Democrats and Republicans
One reason the stock market soared in its post–Election Day trading session may be that it prefers political gridlock to a so-called blue wave.
To be sure, the outcomes of the presidential race and many congressional races are not yet known. But it increasingly is looking as though gridlock is a winner. Prior to the election, in contrast, some oddsmakers had said there was a three-in-four chance that the Democrats would emerge with control of not only the presidency but both houses of Congress.
Historically, that configuration has been associated with roughly average stock-market returns — 9.8% annualized for the S&P 500 SPX, 1.89% since 1945, as you can see in the accompanying chart. But when there is a Democratic president and a split Congress — the outcome that seems most likely as this is written — the stock market has performed significantly better (13.6% annualized).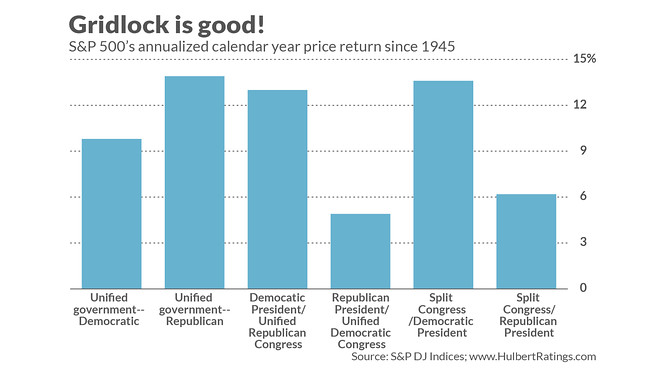 The S&P 500 and the Nasdaq Composite COMP, +2.45% on Wednesday each turned in their best post–Election Day rally on record.
Read: How to trade this 'freight train' market after the election
The likely reason that Wall Street likes gridlock is that it reduces the possibility that any major policy changes will take effect. Sam Stovall, chief investment strategist at CFRA, noted in an email to clients that the increasingly likely gridlock "lessens the prospects for an increase in regulations and taxes." In addition, he added, the gridlock reduces the likelihood of "additional fiscal stimulus" — and that reduced likelihood in turn eases potential inflationary pressures down the road.
To be sure, we need to be careful not to place undue importance on the pattern depicted in the chart above. That's because, as my MarketWatch colleague William Watts quoted a money manager as saying: Federal Reserve chairman Jerome Powell will remain the "most powerful man in Washington" regardless of who wins the presidency or controls the Senate. That's just another way of saying that monetary policy may be more important than political control of the White House and Congress, both to the economy in general and the stock market in particular.
In addition, we also need to be careful not to ascribe meaning to what may be random fluctuations in the market. We should never forget that many, if not most, of the stock market's daily gyrations are statistical noise.
Still, a greater-than-2% rally in the S&P 500, along with a nearly 4% rally in the Nasdaq, seems large enough to demand explanation. Gridlock is the obvious reason.
https://www.marketwatch.com/story/stock-markets-post-election-day-rally-shows-that-gridlock-in-washington-is-good-for-wall-street-2020-11-05?mod=home-page
4. Weed Stocks and ETFs Make Big Move Post-Election But….
MJ ETF move didn't even get it back to August levels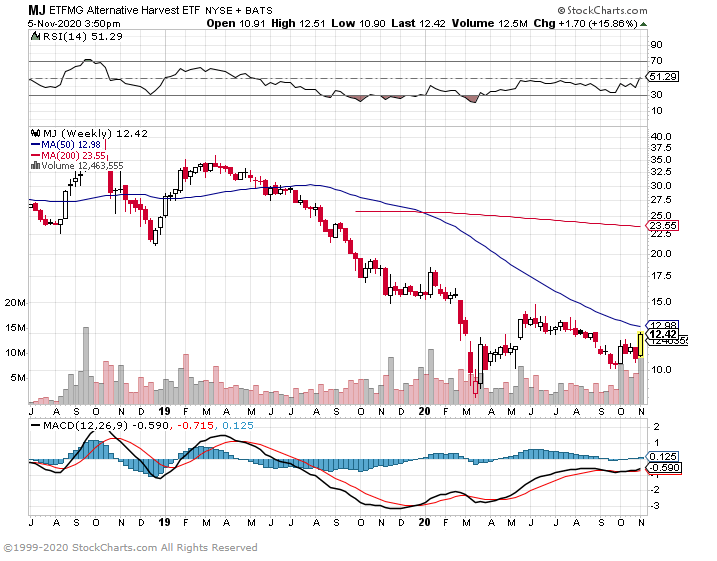 5. Dollar Bull ETF Right on 200 Day Moving Average
Dollar bull chart close to breaking levels to downside going back to 2019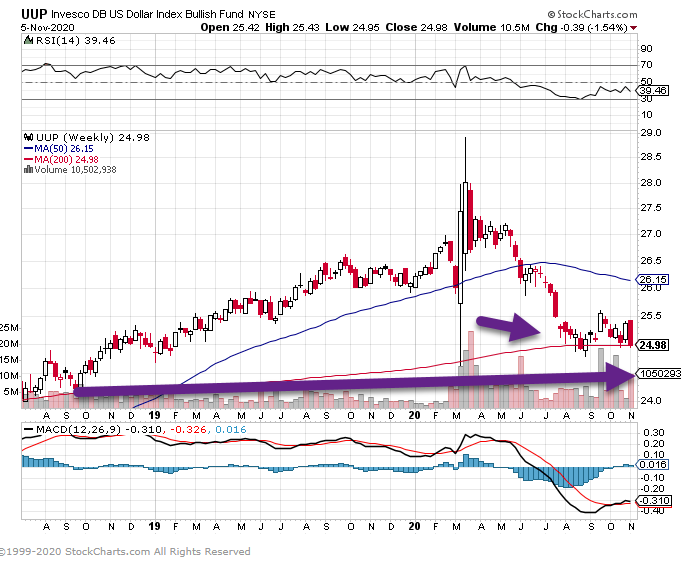 6. Emerging Markets Breakout from Biden Win.
EEM ETF breaks above 2019-2020 highs… 2 points from all-time highs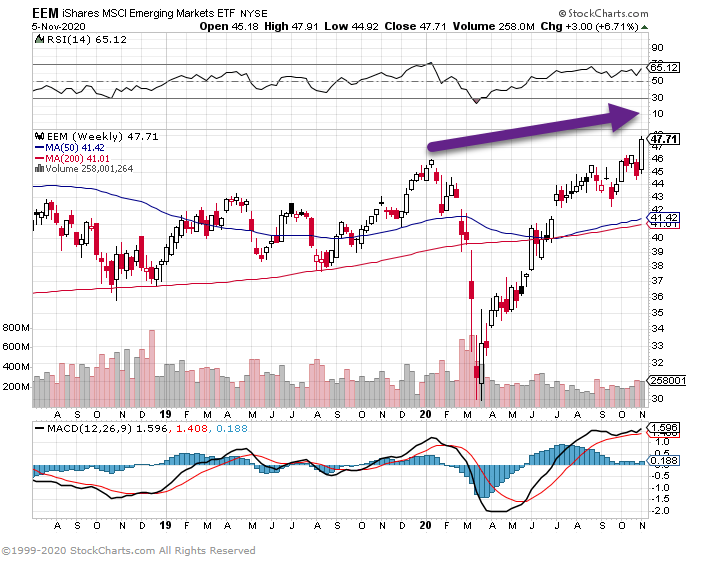 7. U.S. Debt vs. U.S. 10 Year Yield.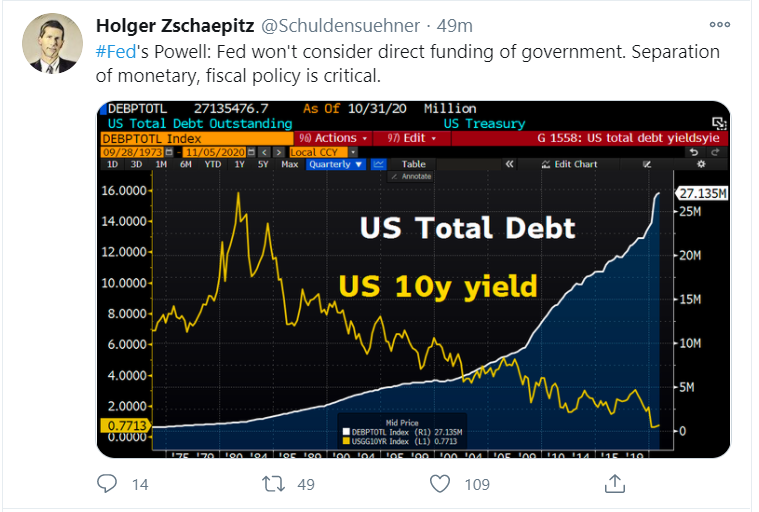 8. U.S. High Yield Bonds Hit Lowest Levels of Year.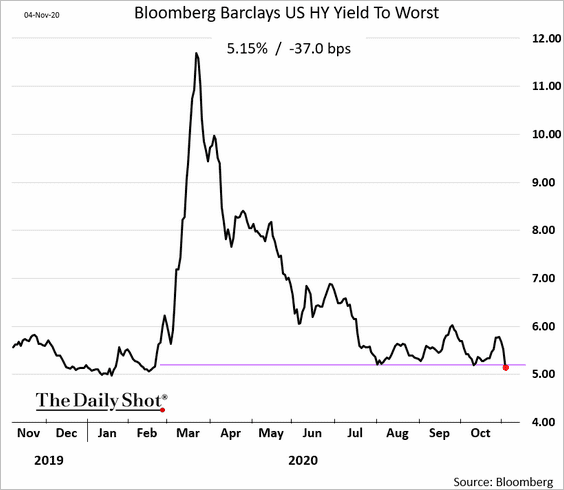 https://dailyshotbrief.com/the-daily-shot-brief-november-5th-2020/
9. Record $1 billion worth of bitcoin linked to the Silk Road seized by U.S. government
PUBLISHED THU, NOV 5 202012:19 PM ESTUPDATED AN HOUR AGO
KEY POINTS
· Thousands of bitcoins — worth $1 billion — were seized by law enforcement this week in what the Justice Department said was the largest seizure of cryptocurrency in the history of agency.
· The cryptocurrency is linked to sales of illicit drugs and goods on Silk Road, a dark web marketplace that shut down in 2013.
· "Silk Road was the most notorious online criminal marketplace of its day," says U.S. Attorney David Anderson of the Northern District of California. "The successful prosecution of Silk Road's founder in 2015 left open a billion-dollar question. Where did the money go?"
The U.S. government seized an unprecedented $1 billion worth of bitcoin linked to criminal marketplace, the Silk Road.
Thousands of bitcoins were taken by law enforcement this week, in what the Justice Department said was the largest seizure of cryptocurrency in the history of the agency.
"Silk Road was the most notorious online criminal marketplace of its day," U.S. Attorney David Anderson of the Northern District of California said in a civil complaint Thursday. "The successful prosecution of Silk Road's founder in 2015 left open a billion-dollar question. Where did the money go?"
Silk Road allowed people to buy and sell drugs and other illegal goods, and use bitcoin to anonymously fund those transactions. The dark web marketplace was shut down by U.S. federal authorities in 2013 and its founder, Ross Ulbricht, was sentenced to life in prison two years later.
Bitcoin has since taken off as a mainstream investment vehicle in recent years. It climbed above $15,000 on Thursday, hitting the highest level since January 2018. The cryptocurrency has more than doubled year to date.
This week, London-based blockchain analysis firm Elliptic said that it picked up on the massive movement of bitcoin spurred by the DOJ. The company reported 69,369 bitcoins — worth about $1 billion — had been moved out of a bitcoin wallet, which had the fourth-highest balance of any in the world. Tom Robinson, co-founder and chief scientist of Elliptic, said the movement of bitcoins "may represent Ulbricht or a Silk Road vendor moving their funds" but that it "seems unlikely that Ulbricht would be able to conduct a bitcoin transaction from prison."
The U.S. agencies were able to track down those illicit funds through a unit within the IRS that specializes in tracing virtual currency transactions. The IRS agents were able to identify 54 new bitcoin transactions executed by the Silk Road, which appear to be proceeds of some of that illegal activity, the complaint said. The agency was then able to trace that money to a specific bitcoin address that appeared to have hacked the bitcoin funds from the Silk Road.
While the Silk Road was in operation, thousands of drug dealers and other unlawful vendors used it distribute illegal drugs, unlawful goods and services to well over 100,000 buyers. At the time it was taken down seven years ago, Silk Road had nearly 13,000 listings for illegal drugs and "many more listings" offering illegal services such as computer hacking and murder for hire, according to the complaint. Those generated sales totaling more than 9.5 million bitcoins. The complaint also alleges that the Silk Road used a process to make it harder to track individual transactions of cryptocurrency.
The forfeiture could be temporary though. The U.S. still needs to prove its case before a judge before it can control the bitcoin funds for good.
— CNBC's Ryan Browne contributed reporting.
https://www.cnbc.com/2020/11/05/1-billion-worth-of-bitcoin-linked-to-the-silk-road-seized-by-the-us.html
10. The 5 Questions to Ask Yourself to Uncover Your Purpose
For many years in my life, I fell into the trap of thinking that if I search externally, my purpose would come to me. It began during my junior year of college, when I saw most of my peers preparing themselves for interviews with consulting firms with the hopes of landing a summer internship, which would then convert into a full-time offer before senior year.
I thought that consulting was a good option based on its popularity on campus, in addition to how the consulting firms marketed themselves, "Consulting is like a continuation of your liberal arts degree. You'll get a breadth of experiences across sectors and you'll get a depth of knowledge by diving into each of your projects."
At the beginning of my senior year, I landed a full-time offer as a consultant and I was over the moon! As a first-generation, low-income college graduate from an immigrant family, I was going to make more money than my parents and achieve upward mobility. However, it didn't take long for the excitement to wear off when I discovered the monotony of my job. A year and a half later, I left my job and shortly afterwards, I took a sabbatical to work in Italy for a few months.
I had very high expectations for my sabbatical – I very much believed that working abroad, being surrounded by different people and living in a new environment would lead me to, one day, wake up and magically know my purpose. Spoiler alert: It didn't! Although, I will say, the experience helped me realize what I enjoy, what I don't enjoy and that my problems/existential questions will follow me, wherever I go, even if I'm halfway across the world.
"Life is never made unbearable by circumstances, but only by lack of meaning and purpose." – Viktor Frankl
With these experiences, I've learned that uncovering our purpose is more about turning inward – tuning into our inner guidance, something that is always available to us, if we're able to quiet our minds and listen. I've also come to realize that our purpose encompasses much more than just our careers. Living our purpose means living intentionally – engaging in meaningful and worthwhile pursuits, both in and outside of work. When we can contribute to those around us in ways that feel true to us, we are then able to feel a deep sense of contentment and fulfillment that is hard to find elsewhere.
When you have a moment to access that quiet space within you, I invite you to reflect on the following questions to uncover your purpose:
1. WHO do you admire?
When you admire people, it's usually because they embody certain qualities. Whatever qualities you see in the people you admire are qualities that already exist within you. Perhaps they just need to be given some attention and cultivated so that you feel like you are embodying those same qualities in your everyday life.
Go and do the things that make you feel happy! (Even if it feels like you're not being "productive.") When we let our minds rest and feel happier, new ways of thinking are available to us. For example: I love being out in nature. One day, I went on a solo 2+ hour walk on a trail without listening to podcasts/music, which didn't seem very "productive." However, it was during this walk that all these ideas for my business popped up.
3. WHERE are you?
We are a product of our environments. When I was in a small town in India, it was so easy for me to relax and take each moment as it came because the people around me had a similar approach to life. However, if you asked me to embody this way of being in New York City, I'd have a much harder time because New Yorkers are always on the go. So, what this question is getting at is – are you surrounding yourself with people who support your dreams and aspirations? Are you in an environment that is conducive for you to reflect deeply and dream big.
4. WHEN were you happiest and WHEN were you most angry?
The first question will enable you to see the values that were being honored when you were happiest and the second question will enable you to see the values that were violated when you were most angry. Both questions will inform you of the values that you hold dear to your heart and when you're aware of those values, you can use them as a guiding light any time you make a decision.
"Activity without purpose is the drain of your life." – Tony Robbins
5. WHY do you do the things that you do?
Be honest with yourself. For example: Why did I choose to go into consulting? I went into consulting because I thought that it was the "right" path due to the fact that:
a) most of my peers were going down that path
b) I was convinced that consulting would give me the "breadth and depth" of experiences
c) I felt like I needed to earn a certain amount of money
However, had I been more honest with myself, I would've realized that what I cared more about than fitting in, having a variety of experiences and making good money was helping people. I did eventually come to that realization so when I was looking for another job, the main question became, "What are the job opportunities that will allow me to help people?"
"The answers you seek are inside of you." May you give them the time and space to come forth.
Disclosure
Lansing Street Advisors is a registered investment adviser with the State of Pennsylvania..
To the extent that content includes references to securities, those references do not constitute an offer or solicitation to buy, sell or hold such security as information is provided for educational purposes only. Articles should not be considered investment advice and the information contain within should not be relied upon in assessing whether or not to invest in any securities or asset classes mentioned. Articles have been prepared without regard to the individual financial circumstances and objectives of persons who receive it. Securities discussed may not be suitable for all investors. Please keep in mind that a company's past financial performance, including the performance of its share price, does not guarantee future results.
Material compiled by Lansing Street Advisors is based on publicly available data at the time of compilation. Lansing Street Advisors makes no warranties or representation of any kind relating to the accuracy, completeness or timeliness of the data and shall not have liability for any damages of any kind relating to the use such data.
Material for market review represents an assessment of the market environment at a specific point in time and is not intended to be a forecast of future events, or a guarantee of future results.
Indices that may be included herein are unmanaged indices and one cannot directly invest in an index. Index returns do not reflect the impact of any management fees, transaction costs or expenses. The index information included herein is for illustrative purposes only.