1. The Reduction in Small Business Loans………Loans for Under $100m from Banks to Small Business Down 75% Since 2008.
I heard this stat from Joel Greenblatt interview on Masters in Businesshttps://www.bloomberg.com/podcasts/masters_in_business?sref=GGda9y2L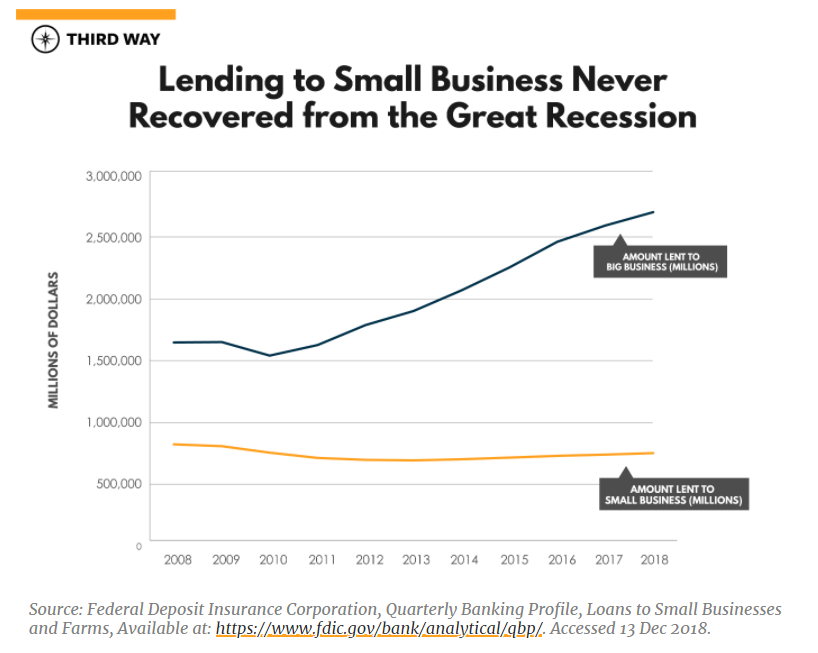 https://www.thirdway.org/report/the-opportunity-bank-a-trillion-dollars-in-new-small-business-lending
2. Supply of Homes Hits Record Lows Breaking Early 2000 Levels.
Ned Davis Research
3. Yesterday's Big Rally Concentrated ….Equal Weight S&P Was Flat Yesterday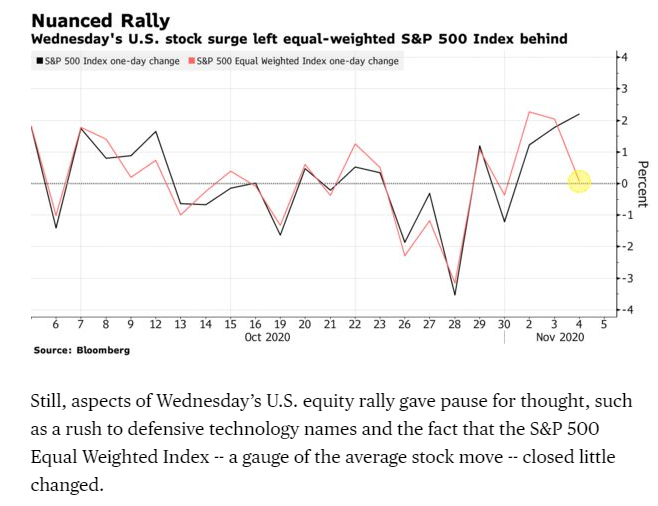 History Signals U.S. Stocks May Extend Post-Election Surge-By Joanna Ossinger and Andreea PapucIhttps://www.bloomberg.com/news/articles/2020-11-05/history-hints-u-s-stocks-may-rally-past-political-upheaval?sref=GGda9y2L
4. Here is the Concentration of Returns in Sector Charts
Barry Ritholtz blog
Coronavirus Changed Consumer Behaviors and Company Valuations
Source: Morningstar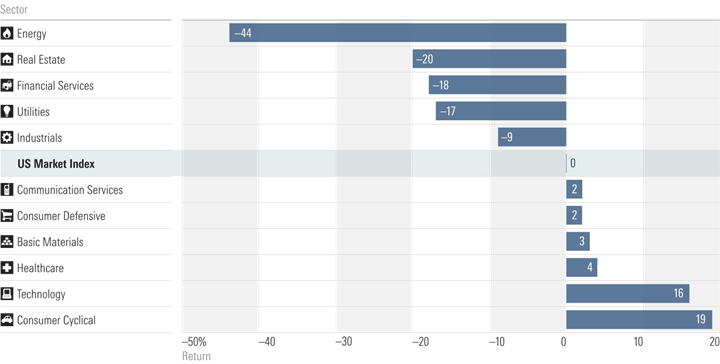 5. First and Third Year of Presidential Cycle Best.
Investment U
Why the Presidential Election Will Lead to a Brighter Year–By Matthew Carr
6. History of Lost Decades 60/40 Portfolios.
EXHIBIT 1: 60/40 "LOST DECADES" ARE MORE COMMON THAN YOU THINK
Most started with expensive stocks or bonds – today, both are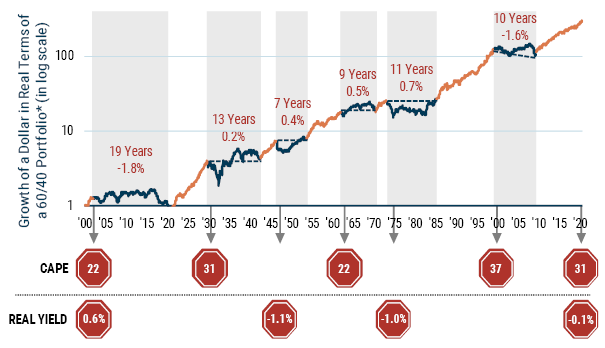 As of 9/30/20 | Source: Bloomberg, Global Financial Data (early history), Factset (S&P 500 returns and CPI), J.P. Morgan (J.P. Morgan GBI United States Traded), Shiller data; real yields are the yield on the 10-Year U.S. Treasury minus the 12-month trailing CPI.

*60% U.S. Equities (S&P 500), 40% U.S. Bonds (U.S. Treasuries) rebalanced monthly. Past Performance is not indicative of future results.
Tonight, We Leave the Party Like It's 1999by Peter Chiappinelli of GMO, 11/4/20
https://www.advisorperspectives.com/commentaries/2020/11/04/tonight-we-leave-the-party-like-its-1999
7. Highest Share of Income Going to Rent Cities vs. Lowest.
Zerohedge
These Are The Cities Where People Spend The Highest (Or Lowest) Share Of Their Income On Rent–by Tyler Durden
https://www.zerohedge.com/markets/these-are-cities-where-people-spend-highest-or-lowest-share-their-income-rent
8. The Capital of Sprawl Gets a Radically Car-Free Neighborhood-NY Times
On an empty lot near Phoenix, perhaps the most auto-addicted city in America, a start-up is betting $170 million on a more walkable future.
By Conor Dougherty
Phoenix, that featureless and ever-spreading tundra of concrete, has been called "the world's least sustainable city." It has been characterized as a "sprawling, suburbanite wasteland" and "a monument to man's arrogance." The Onion has darkly predicted that by 2050, "most of Earth's landmass" will be swallowed by the encroaching Phoenix exurbs. The Walk Score index ranks the place as the second-worst big city in America for pedestrians, and traversing it has been described as "a slog through a desert, plus the occasional McDonald's."
The Phoenix metropolitan area is, in other words, the last place you would expect a real estate developer to spend $170 million creating what it calls the first-ever car-free neighborhood built from scratch in the United States.
The development, Culdesac Tempe, is a 17-acre lot just across the Salt River from Phoenix. Currently a mess of dust and heavy equipment, the site will eventually feature 761 apartments, 16,000 square feet of retail, 1,000 residents — and exactly zero places for them to park. The people who live there will be contractually forbidden to park a car on site or on nearby streets, part of a deal the development company struck with the government to assuage fears of clogged parking in surrounding neighborhoods.
Culdesac Tempe is a proving ground for a start-up also called Culdesac, which was founded in San Francisco and moved to Tempe during the pandemic. Started in 2018 by two native Arizonans, the company announced the project last year to a mixture of curiosity and doubt. Urbanists cheered it as a bold and important step toward a future with fewer cars, while suburban developers said the concept could never work on a large scale.
Others preferred to simply ignore Culdesac. "If something is described as 'car-free,'" Car & Driver wrote, "we're generally not interested in reading any further."
Although Culdesac was devised before the coronavirus emerged and has experienced some construction delays, the project could end up benefiting from the pandemic, as more Americans consider working from home indefinitely in cheaper cities. Culdesac says it expects the first residents will be able to move into their apartments next year, with the larger site completed by 2023 — a pedestrian oasis in the megalopolis known as the Arizona Sun Belt.
To be fair, Tempe, the home of Arizona State University, gets high marks for bike friendliness and has seen a recent boom in high-rise construction. But outside the campus area, it is very much a part of the region's autoscape. Culdesac's immediate neighbors include an R.V. park, a mechanic, a transmission shop and an auto-parts store, and nearby apartment complexes — the competition — are surrounded by parking lots that shimmer in the three-digit heat.
The car-addicted reality of the area makes Culdesac's architectural renderings both intriguing and a little hard to believe. According to the images, neighbors will lounge in communal courtyards and walk to do their errands. Culdesac Tempe is directly on a light-rail line to downtown Phoenix, but residents may never need to leave: The complex will feature its own grocery store, coffee shop, restaurant, co-working space and other amenities.
9. Crypto Use by Country
https://www.coindesk.com/4-charts-financial-advisers-bitcoin?amp=1
10. 5 Ways Successful People Take Control of Life
By Mick Ukleja | March 21, 2017 | 0
Some of the most important things in life are accomplished when we have a sense of urgency. And some of the greatest stresses we endure are experienced when we are bombarded and ambushed by the emergencies of life. What's the difference? It's the locus of control. Are the stresses coming from outside ourselves, or are they coming from within?
Related: 23 Questions to Ask Yourself When You're Stressed Out
Best-selling author and leadership expert John Kotter suggests that too many workers—including executives—do not have a sense of urgency about their work. This is seen up and down the corporate ladder. This does not mean that workers should be running around with their hair on fire. It does mean that these workers are focused on what's important. They understand that they live in a world where change is continuous and not episodic. They know that the company cannot rest on its laurels, even as they celebrate victories. This cannot happen without creating a sense of urgency.
How does this parallel our daily lives? When it comes to urgencies, there are two kinds of people in the world:
One group is a victim of urgency. The other group is a victor in urgency.
One person doesn't create an inner sense of urgency. They opt to wait for life to become urgent and then react to it. Yet that kind of urgency brings its companions: stress, anxiety, self-pity, self-preoccupation, and sometimes for good measure, this kicks in the reactions of rush and panic in an attempt to salvage lost time. Rarely do these folks achieve their goals, if there were any.
The other person doesn't wait for the urgent. They create that sense of urgency in themselves. Their urgency is not as stressful as it is motivational. It creates drive rather than panic. They are driven to accomplish what's before them today. They understand that this day has never been here before, and it will never come again.
One group is a victim of urgency. The other group is a victor in urgency. What's the key? Location, location, location. Is it an inner or an external locus of control–
Related: 30 Tips to Take Control of Your Life Now
Successful people refuse to give their power away. Here are five things they do to take control of their life:
1. Successful people create a sense of urgency in themselves.
They get up each day with that urgent feeling in their gut. They don't create anxiety, but they do create urgency.
2. Successful people don't confuse activity with accomplishment.
They understand that busyness can numb us to complacency—allowing one day to flow into the next with no real desired outcomes. Let's call it intentional urgency.
3. Successful people don't let emergencies derail them.
Their success is fueled by the urgency of the day, not the emergency de jour. When those inevitable emergencies arrive, it doesn't derail them. They handle them as best they can and continue down the track. Outward circumstances are less compelling and urgent. An outer locus of control, with its plethora of issues, overwhelms us. We don't need to find them. They find us. The urgencies they face are the ones they create. Even when they go fast, they are not out of control. They don't rush. Rushing creates emergencies.
"Be quick, but not in a hurry." —John Wooden
4. Successful people know what's important.
Knowing what's important to you creates clarity. That in turn reduces stress. This helps rid them of needless clutter that will slow them down. They understand that everything is not an option, so they focus on the priority thing—the urgent thing. There is never enough time to do everything, but there's always enough time to do the important thing.
5. Successful people listen to the right voices.
Seth Godin warns about the trolls in our head. Beware of them. They love to instill a sense of panic. Be vigilant. The troll is the voice of insecurity and self-criticism. Don't feed the troll. That supplies it with more excuses. Don't argue with it. That just takes up your time. Don't attempt to litigate it. Your inner troll is an expert at swaying the jury. You create your own urgency and don't let your inner troll derail those good intentions.
Practicing simple habits will assist you in avoiding serious hazards. By creating your own urgencies, you will discover a newfound power in your life.
Related: 4 Reasons to Take Control of Your Destiny
This post originally appeared on LeadershipTraQ.com.
Disclosure
Lansing Street Advisors is a registered investment adviser with the State of Pennsylvania..
To the extent that content includes references to securities, those references do not constitute an offer or solicitation to buy, sell or hold such security as information is provided for educational purposes only. Articles should not be considered investment advice and the information contain within should not be relied upon in assessing whether or not to invest in any securities or asset classes mentioned. Articles have been prepared without regard to the individual financial circumstances and objectives of persons who receive it. Securities discussed may not be suitable for all investors. Please keep in mind that a company's past financial performance, including the performance of its share price, does not guarantee future results.
Material compiled by Lansing Street Advisors is based on publicly available data at the time of compilation. Lansing Street Advisors makes no warranties or representation of any kind relating to the accuracy, completeness or timeliness of the data and shall not have liability for any damages of any kind relating to the use such data.
Material for market review represents an assessment of the market environment at a specific point in time and is not intended to be a forecast of future events, or a guarantee of future results.
Indices that may be included herein are unmanaged indices and one cannot directly invest in an index. Index returns do not reflect the impact of any management fees, transaction costs or expenses. The index information included herein is for illustrative purposes only.