1. M1 Money Supply Up 44% in 2020…Highest Growth Since WW II.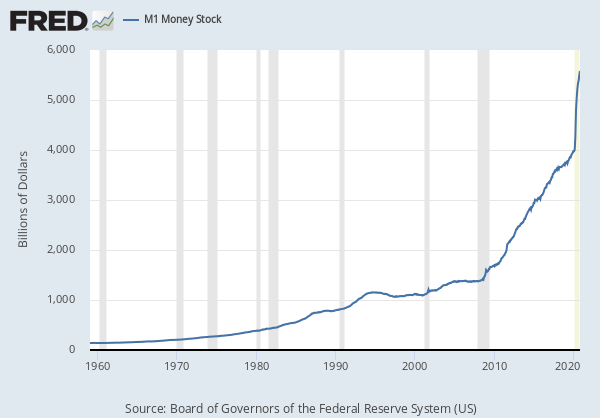 https://fred.stlouisfed.org/series/M1#
2. $1.6 Trillion in Treasury Cash Available for Deployment at a Moment's Notice.
However, as Hornbach reminds us, 2020 was unique in that Treasury issued lots of debt without spending the money, resulting in over $1.6 trillion in Treasury cash available for deployment at a moment's notice, yet due to Congress' inability to reach agreement on a fiscal stimulus, this money was never spent (and may have cost Trump a victory in the election).
The 2021 Liquidity Supernova: Step Aside Fed – US Treasury Will Unleash $1.3 Trillion In Liquidity
by Tyler Durden
https://www.zerohedge.com/markets/2021-liquidity-supernova-not-just-fed-us-treasury-will-unleash-13-trillion-liquidity-next
3. The Decade Belonged to the Stock Market Winners.
The Winners Won–Posted November 24, 2020 by Michael Batnick
This decade belonged to the winners.
I suppose that's always the case to a certain extent, but this time has to be close to a record. What I'm talking about specifically is that if you owned a portfolio of the 10 largest stocks and did a rebalance every January, you absolutely annihilated the S&P 500. I can't imagine this is always the case.
The only stocks that would have stayed in your portfolio from 2010 through the end of the decade were Apple, Microsoft, Google, and the one run by that guy down in Omaha.
Josh and I speculated on which one of the FAANG stocks are most vulnerable in the coming decade, and much more, on this week's What Are Your Thoughts?
4. The Dow Rises 100-fold in 92 Years-
Crossing Wall Street Blog
The S&P 500 closed yesterday at another all-time high. The Dow closed above 30,000 for the first time ever.
The Dow closed at 300.00 on the nose on December 31, 1928, so that's 100-fold in 92 years. The index first closed above 3,000 on April 17, 1991.
The market is down so far today. This morning, the government said the report on Q3 GDP growth was unrevised at 33.1%. Bear in mind, this comes after a massive drop for Q2.
Initial jobless claims rose to 778,000. This is the second weekly rise in a row. This is not a good sign, but I want to see more data.
New home sales for October came in at 999,000. That's the annualized number. The three months prior to that were all revised higher.
For October, personal spending increased by 0.5% while personal income decreased by 0.7%.
Posted by Eddy Elfenbein on November 25th, 2020 at 11:17 am
http://www.crossingwallstreet.com/archives/2020/11/the-dow-rises-100-fold-in-92-years.html
The information in this blog post represents my own opinions and does not contain a recommendation for any particular security or investment. I or my affiliates may hold positions or other interests in securities mentioned in the Blog, please see my Disclaimer page for my full disclaimer.
Dow Jones Industrial Average (DJIA) is most reliable Index of USA stock market and represents overall USA stock market. That's why Dow Jones Industrial average performance is considered US stock market performance and Dow Jones Index average return is generally regard as Market return.
Dow Jones chart shows all the major Dow Jones Industrial Average history from 1920 to present including all bull and bear market and major peaks and crashes of US stock market .
Dow Jones Inustrial Average Chart
Data source:Yahoo Finance
https://tradingninvestment.com/100-years-dow-jones-industrial-average-djia-events-history-chart/
5. Guggenheim Fund Files to Be Able to Invest Up to Almost $500M in Bitcoin Through GBTC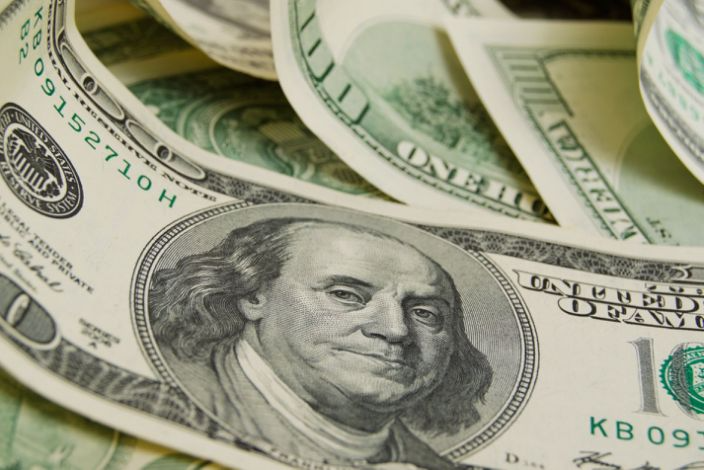 Kevin Reynolds
Sat, November 28, 2020, 9:26 PM EST
Guggenheim Funds Trust filed an amendment with the U.S. Securities and Exchange Commission to allow its $5 billion Macro Opportunities Fund gain exposure to bitcoin by investing up to 10% of the fund's net asset value in the Grayscale Bitcoin Trust (GBTC).
According to the amendment: "The Guggenheim Macro Opportunities Fund may seek investment exposure to bitcoin indirectly through investing up to 10% of its net asset value in Grayscale Bitcoin Trust ("GBTC"), a privately offered investment vehicle that invests in bitcoin. To the extent the Fund invests in GBTC, it will do so through the Subsidiary."
Given the fund has net assets of $4.97 billion, according to Fidelity, it means mean the fund can invest up to $497 million in GBTC. Grayscale's bitcoin trust, a publicly traded financial product that functions similar to an exchange-traded fund (ETF), tracks the price of bitcoin. Guggenheim notes, GBTC trades at a "significant premium."
The Macro Opportunities Fund is part of Guggenheim Investments, the global asset management and investment advisory division of Guggenheim Partners, and has more than $233 billion in total assets across fixed income, equity and alternative strategies.
Guggenheim is the latest multibillion dollar hedge fund to signal an interest in bitcoin. This summer, industry pioneer Paul Tudor Jones's $22 billion BVI Global Fund could invest "a low single-digit percentage" of its assets in bitcoin futures. Earlier this month, hedge fund manager Stanley Druckenmiller said bitcoin could outperform gold.
https://finance.yahoo.com/news/guggenheim-fund-files-able-invest-022605235.html
6. GM Investing $27B into Electric Cars by 2025.
General Motors is putting its foot on the accelerator to speed up its rollout of electric vehicles.
The automaker was planning to introduce 20 all-electric models globally by 2025, but is now increasing that to 30.
CEO Mary Barra told the Barclays Automotive Conference on Thursday that the company is targeting one million electric vehicle sales annually by mid-decade and will spend $27 million on EVs and autonomous vehicles to get there, up from a previously announced $20 million.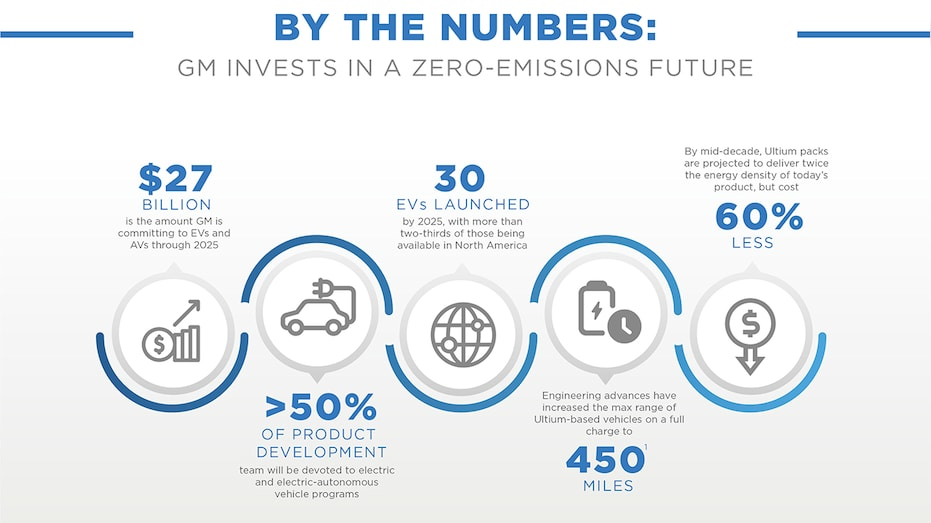 GM Invests In A Zero-Emissions Future
https://www.foxbusiness.com/lifestyle/gm-ev-27-million-investment
7. GM Triples Off Bottom….Breaks Out to All-Time Highs.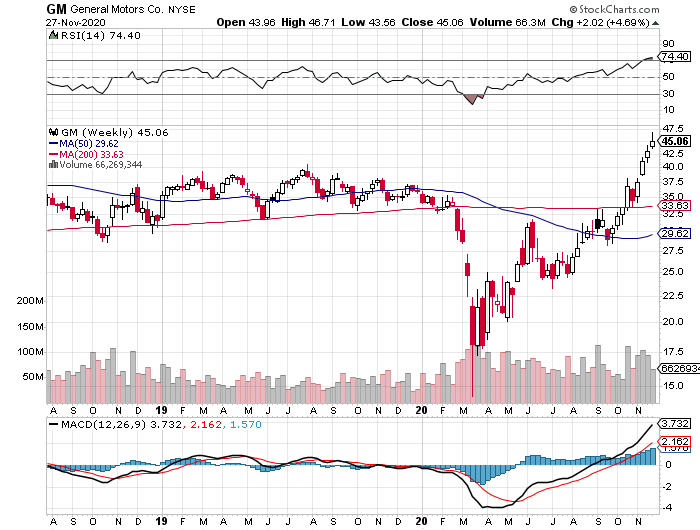 ©1999-2020 StockCharts.com All Rights Reserved
8. Change in International Travel During Covid.
Here's how international travel has suffered during the pandemic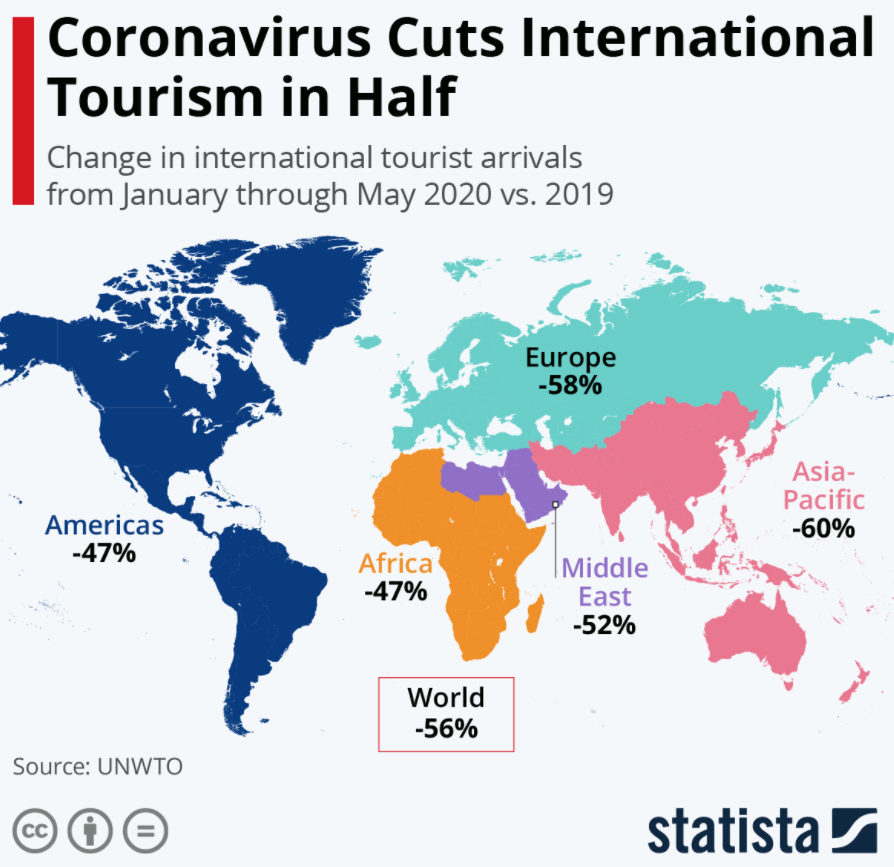 From Barry Ritholtz Blog https://ritholtz.com/2020/11/sunday-reads-223/
9. Anxiety can speed up development of Alzheimer's Disease, brain scans reveal
OAK BROOK, Ill. — Anxious thoughts and feelings can take a terrible toll on one's quality of life and mental health. Now, a new study finds anxiety may also cause mild cognitive decline to turn into full blown Alzheimer's disease faster.
This research, performed at the Medical University of South Carolina, is set to be presented at the 2020 meeting of the Radiological Society of North America (RSNA).
Alzheimer's is an awful neurodegenerative disease characterized by memory loss, confusion, and in extreme cases, the loss of one's very identity. Making matters worse, global deaths attributed to Alzheimer's have more than doubled since 2000. As of today, Alzheimer's is the fifth most common cause of death in the United States among adults over 65.
For a large portion of patients, Alzheimer's develops slowly at first. Many Alzheimer's patients experience mild cognitive impairment before the symptoms eventually worsen and become more extreme. Notably, many adults dealing with cognitive impairment also report elevated feelings of anxiety.
"We know that volume loss in certain areas of the brain is a factor that predicts progression to Alzheimer's disease," says study senior author Maria Vittoria Spampinato, M.D., professor of radiology at the Medical University of South Carolina (MUSC), in an RSNA release. "In this study, we wanted to see if anxiety had an effect on brain structure, or if the effect of anxiety was independent from brain structure in favoring the progression of disease."
Anxiety is a separate cause of dementia?
\MRI of a 72-year-old woman shows loss of volume of the hippocampus (arrows). The patient had all three characteristics, volume loss of the hippocampi, APOE4, and anxiety, which the study associates with progression from mild cognitive impairment to dementia. (Credit: Radiological Society of North America)
A total of 339 people with an average age of 72 took part in this research. All the participants had been initially diagnosed with mild cognitive impairment, with 72 eventually developing Alzheimer's and 267 remaining stable.
Researchers collected brain MRIs from each person to establish baseline readings for both hippocampus and entorhinal cortex volume. Both of those brain regions are essential for memory function. Other tests also searched each senior for ApoE4 allele, the top gene associated with Alzheimer's. Finally, the study gauged participants' anxiety levels using clinical surveys.
In line with modern medicine's understanding of the disease, patients who went on to develop Alzheimer's showed lower volumes in the hippocampus and the entorhinal cortex, as well as more ApoE4 allele genes.
Interestingly, however, study authors find anxiety has an independent link to cognition problems.
"Mild cognitive impairment patients with anxiety symptoms developed Alzheimer's disease faster than individuals without anxiety, independently of whether they had a genetic risk factor for Alzheimer's disease or brain volume loss," says study first author Jenny L. Ulber, a medical student at MUSC.
Mental health screenings may help spot warning signs
Researchers say this discovery opens the door for new ways of identifying cognitively impaired patients at an elevated risk of rapid Alzheimer's progression.
"We need to better understand the association between anxiety disorders and cognitive decline," Dr. Spampinato comments. "We don't know yet if the anxiety is a symptom–in other words, their memory is getting worse and they become anxious–or if anxiety contributes to cognitive decline. If we were able in the future to find that anxiety is actually causing progression, then we should more aggressively screen for anxiety disorders in the elderly."
"The geriatric population is routinely screened for depression in many hospitals, but perhaps this vulnerable population should also be assessed for anxiety disorders," Ulber adds. "Middle-aged and elderly individuals with high level of anxiety may benefit from intervention, whether it be pharmacological or cognitive behavioral therapy, with the goal of slowing cognitive decline."
Since this study focused on one round of MRIs, researchers hope future studies will perform a follow-up MRI on patients. This will facilitate a more through understanding of the connection between anxiety and dementia.
"We're now interested in looking at changes over time to see if anxiety has an effect one way or the other on how fast the brain damage progresses," Dr. Spampinato concludes. "We will also take a closer look at gender differences in the association between anxiety and cognitive decline."
https://www.studyfinds.org/anxiety-speeds-alzheimers-disease-development/
10. Expanded Definition of Emotional Well-Being.
Emotional well-being harkens back conceptually to the ancient Greek philosophy of hedonism, which places the experience of pleasure as the highest value. Emotional well-being involves the presence of positive affect and the absence of negative affect.
The concept of psychological well-being emerged in the '90s as researchers sought to expand the focus of inquiry into human happiness beyond the focus on pleasure and pleasant emotions to include notions of self-actualization and optimal functioning. Positive psychologists refer to this aspect of well-being as eudaimonia—the notion, dating back to Aristotle, that the realization of one's potential defined the good life. Current research has identified six elements that make up psychological well-being:
1. Self-acceptance: a positive and acceptant attitude toward aspects of self in the past and present
2. Purpose in life: goals and beliefs that affirm a sense of direction and meaning in life
3. Autonomy: self-direction as guided by one's own socially accepted internal standards
4. Positive relations with others: having satisfying personal relationships in which empathy and intimacy are expressed
5. Environmental mastery: the capability to manage the complex environment according to one's own needs
6. Personal growth: the insight into one's own potential for self-development
Both of the above aspects of "positive mental health" focus on the individual. Yet human beings are social creatures. We are entirely dependent for our survival, self-definition, and thriving on our social context. To prosper fully, one must prosper socially. A comprehensive evaluation of our well-being must, therefore, include social well-being. The influential sociologist, Corey Keyes of Emory University, described five core elements of social well-being:
1. Social coherence: being able to make meaning of what is happening in society
2. Social acceptance: a positive attitude toward others while acknowledging their difficulties
3. Social actualization: the belief that the community has potential and can evolve positively
4. Social contribution: the feeling that one's activities contribute to and are valued by society
5. Social integration: a sense of belonging to a community
In this formulation, then, one must demonstrate emotional, psychological, and social well-being to be considered completely healthy. These newly conceptualized aspects of positive mental health must be considered alongside traditional measurements of mental illness if we are to understand fully and accurately predict people's life paths and health outcomes.
Mental Health and Mental Illness Are Not Opposites
Insights from positive psychology have changed how we view mental health.
https://www.psychologytoday.com/us/blog/insight-therapy/202011/mental-health-and-mental-illness-are-not-opposites?collection=1154000
Disclosure
Lansing Street Advisors is a registered investment adviser with the State of Pennsylvania..
To the extent that content includes references to securities, those references do not constitute an offer or solicitation to buy, sell or hold such security as information is provided for educational purposes only. Articles should not be considered investment advice and the information contain within should not be relied upon in assessing whether or not to invest in any securities or asset classes mentioned. Articles have been prepared without regard to the individual financial circumstances and objectives of persons who receive it. Securities discussed may not be suitable for all investors. Please keep in mind that a company's past financial performance, including the performance of its share price, does not guarantee future results.
Material compiled by Lansing Street Advisors is based on publicly available data at the time of compilation. Lansing Street Advisors makes no warranties or representation of any kind relating to the accuracy, completeness or timeliness of the data and shall not have liability for any damages of any kind relating to the use such data.
Material for market review represents an assessment of the market environment at a specific point in time and is not intended to be a forecast of future events, or a guarantee of future results.
Indices that may be included herein are unmanaged indices and one cannot directly invest in an index. Index returns do not reflect the impact of any management fees, transaction costs or expenses. The index information included herein is for illustrative purposes only.