1. Nasdaq Thanksgiving Week Volume was Double Last Year.
Dave Lutz Jones Trading–Volume on the tech-heavy Nasdaq Composite Index averaged 1.07 billion shares per day through last Wednesday — making it the biggest lead up to Thanksgiving since 2004 and almost double the volume of last year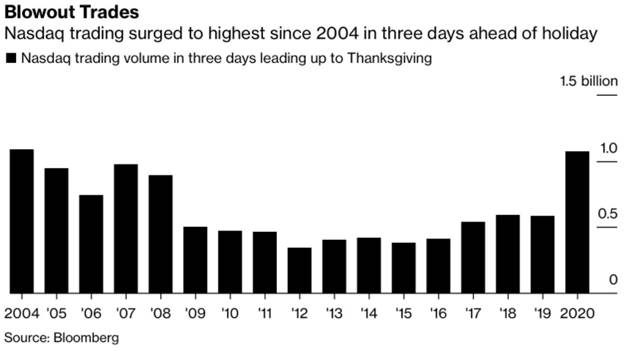 2. Growth Stocks Have Biggest Underperformance Month Since 2001.
Rotation Continues – Growth Having Worst Month Versus Value Since 2001
In a sign of one of the biggest style rotations in almost two decades, growth stocks have lagged well behind their value peers this month. The gap between MSCI Inc.'s global growth and value equity gauges has widened to more than 5% in November, with growth stocks set for their largest underperformance since 2001. – BBG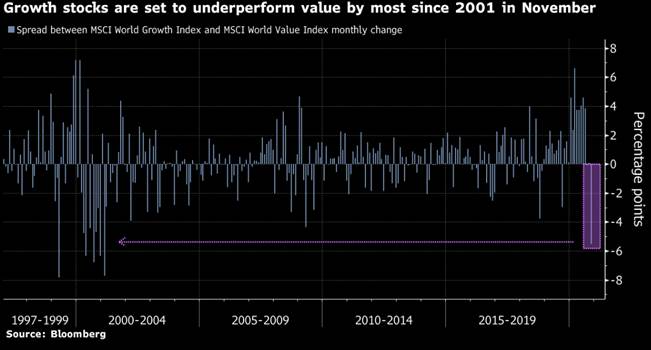 Christopher Preston
ILC/Trading and Operations
River and Mercantile Solutions
3. 2020-Most Money Raised in IPOs Since 2014
Barrons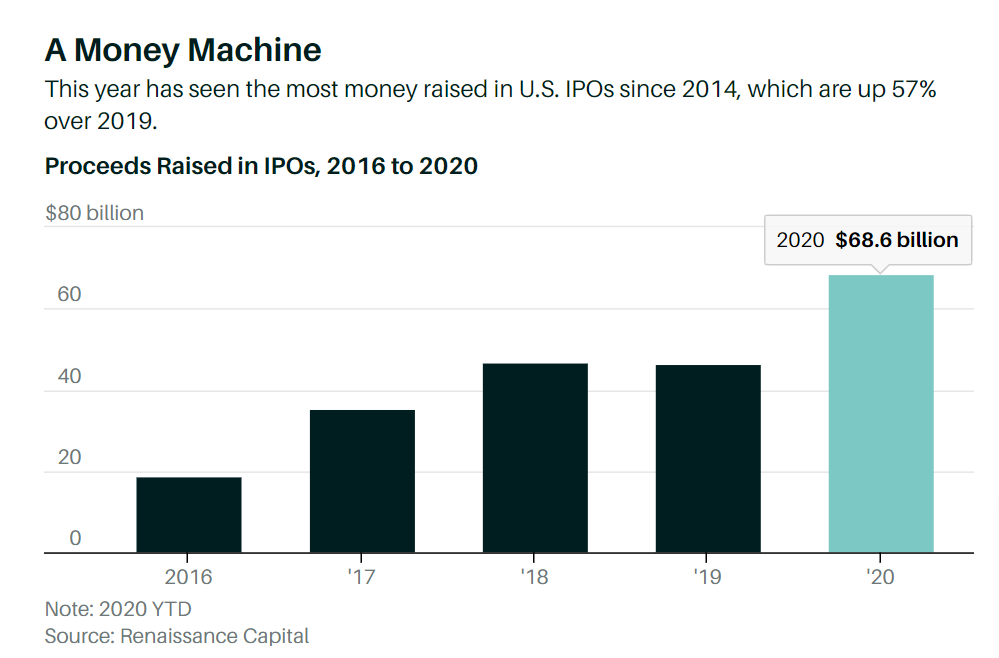 Big Names Line Up for IPOs as 2020 Draws to a Close | Barron's
4. The unicorn stampede is coming…500 Unicorns in Pipeline
Dan Primack, author of Pro Rata AXIOS
Airbnb and DoorDash plan to go public in the next few weeks, capping off a very busy year for IPOs.
What's next: You ain't seen nothing yet.
Other companies expected to complete IPOs before Christmas include fintech Affirm, gaming platform Roblox and e-commerce company Wish.
State of play: There are over 500 "unicorns," or upstart companies that are valued at $1 billion or more by venture capitalists, according to CB Insights. More than half of those are based in the U.S., and around two dozen are valued at more than $5 billion.
Among some of the better known names are ByteDance (owner of TikTok), SpaceX, Instacart, Epic Games (maker of Fortnite), Coinbase and Stripe.
Then there are the lesser-known cloud software companies seeking to become the next DataDog or Snowflake — valued at a combined $4.6 billion entering 2020, now trading with combined market cap of $130 billion.
"The real story of 2020 is that it's just the preview for 2021, especially if there's a vaccine and the economy roars back," a tech IPO banker tells Axios.
Another banker, this one based in San Francisco, adds that he regularly participates in multiple "bake-offs" on the same day for large tech IPOs.
There's also been a recent boom in special purpose acquisition companies (SPACs), which represent another way for startups to go public — including those that might not be ready to do a traditional IPO, like many of the uncommercialized electric vehicle makers.
Most of the SPACs formed in 2020 will seek out targets in 2021.
The bottom line: There used to be only a handful of unicorn IPOs per year, due to a limited pipeline, making each one a major Wall Street event. Those days are over.
https://www.axios.com/unicorn-stampede-ipos-08f6d68d-4fb3-42c5-a77e-f2a1d8690daa.html
Found at Abnormal Returns https://abnormalreturns.com/2020/11/29/sunday-links-a-name-worth-having/
5. Copper Hits 4 Year High.
JJC Copper ETF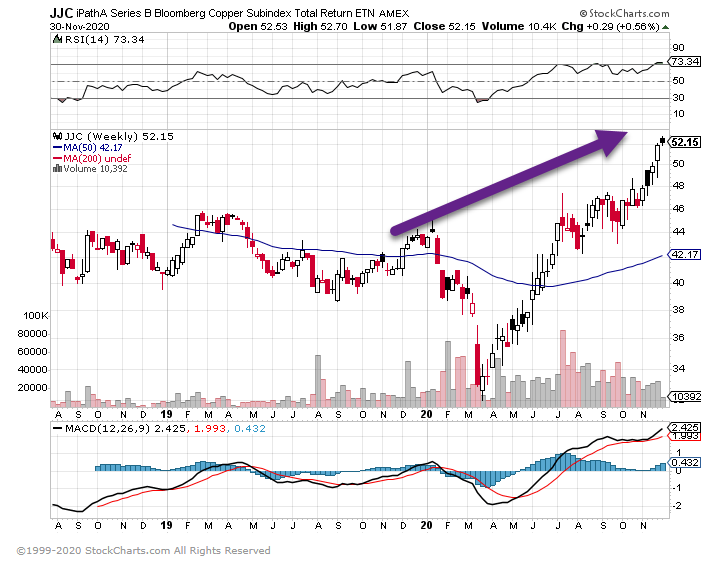 6. "Actual" Inflation Is Rising During The Recession
Joe Carson
"Actual" consumer price inflation is rising during the recession. That runs counter to the normal recessionary pattern when the combination of weak demand and excess capacity works to lessen inflationary pressures.
The main source of faster consumer price inflation is centered in the housing market. The Case-Shiller Home Price Index posted a 7% increase the last year, more than twice the gain of one-year ago.
The sharp acceleration in house price inflation represents the fastest increase since 2014 and runs counter to the patterns of the past two recessions. During the 2001 recession house price inflation slowed by one-third, while in the Great Financial Recession housing prices posted their largest decline in the post-war period, falling over 12% nationwide.
The consumer price index (CPI) does not show in house price inflation because it uses a non-market rent index to capture the trends in housing inflation. The Bureau of Labor Statistics (BLS) estimates that the non-market rent index has increased 2.5% in the past 12 months, or 450 basis points below the rise in house prices.
If actual house prices were used in place of rents core CPI would have registered a 3% gain in the past year, nearly twice the reported gain of 1.6%.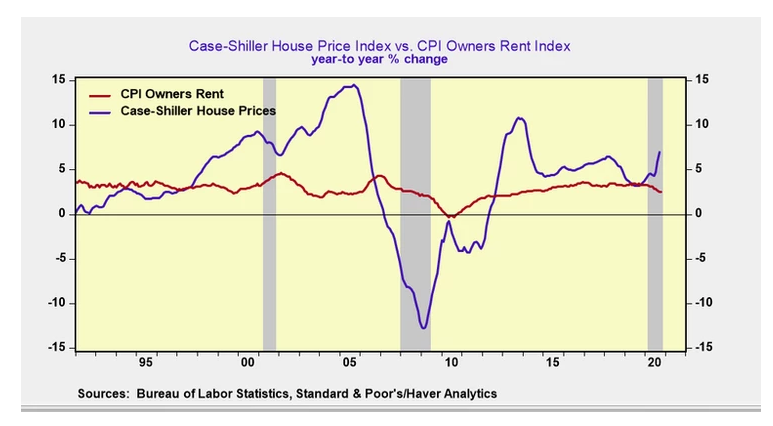 If aggregate price measures did not exist house prices would be one of the most important measures to gauge inflation and the proper setting of official interest rates. That's because house price cycles include easy credit/financial conditions, excess demand, and inflation expectations, three key ingredients of inflation cycles.
Rising consumer price inflation is added to the list of unique features of the 2020 recession. Others include an increase in corporate debt levels instead of debt-liquidation and rising equity prices instead of share price declines.
If the 2020 recession has economic and financial features that normally appear during economic recovery what does that imply for the next growth cycle? The debt overhang at the corporate and federal debt should impede the next growth cycle. And if the cyclical rise in housing demand is occurring in recession it can't be repeated during recovery.
The next economic cycle will be filled with unique tipping points, and no one should assume that policymakers can control or offset them.
https://www.thecarsonreport.com/post/actual-inflation-is-rising-during-the-recession
7. Per Capita Sales Volume of Gasoline Down 28% Since 1989
Average Daily Volume Sales Per Capita
The next chart adjusts the 12-month MA of sales volume for population growth based on the monthly data for Civilian Non-Institutional Population over age 16 from the Bureau of Labor Statistics, via the St. Louis FRED repository. What we see here is that gasoline sales on a per-capita basis are 16.3% lower than at the end of the Great Recession. The gallons-per-capita series includes the complete EIA data, but since we're using the 12-month MA, the blue line starts in 1984. We see the double peak in March 1989 (the all-time high) and August 1990. The latest per-capita daily average is 28.7% below the 1989 high.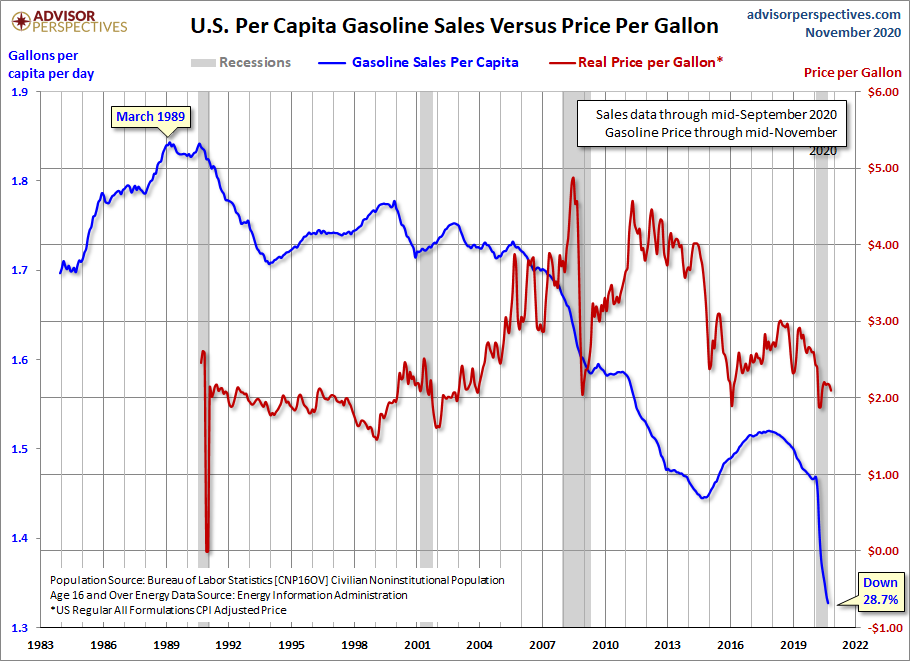 What does this analysis suggest about the state of the economy? The economic recovery after the Great Recession did not seem to improve the plight of gasoline sales. Due to the COVID-19 pandemic, sales per capita have plummeted despite general gasoline sales bouncing back.
https://www.advisorperspectives.com/dshort/updates/2020/11/23/gasoline-volume-sales-september-2020
8. The U.S. is on Track to Drill the Fewest Oil Wells Since 1880
One startling statistic illustrated the scope of America's decline. The U.S. is on track to drill fewer than 11,000 oil wells this year. This compares with 22,000 last year, 25,000 in 2018, and over 40,000 earlier in the decade. The previous low records were 12,170 in 1933 and 11,716 in 1931. Before then, the last time Americans drilled fewer than 11,500 wells, William McKinley was president, and both the Ford Motor Company and the Wright brother's first flight were years in the future. Granted, today's wells are more productive than those of 1897, but this collapse is truly remarkable.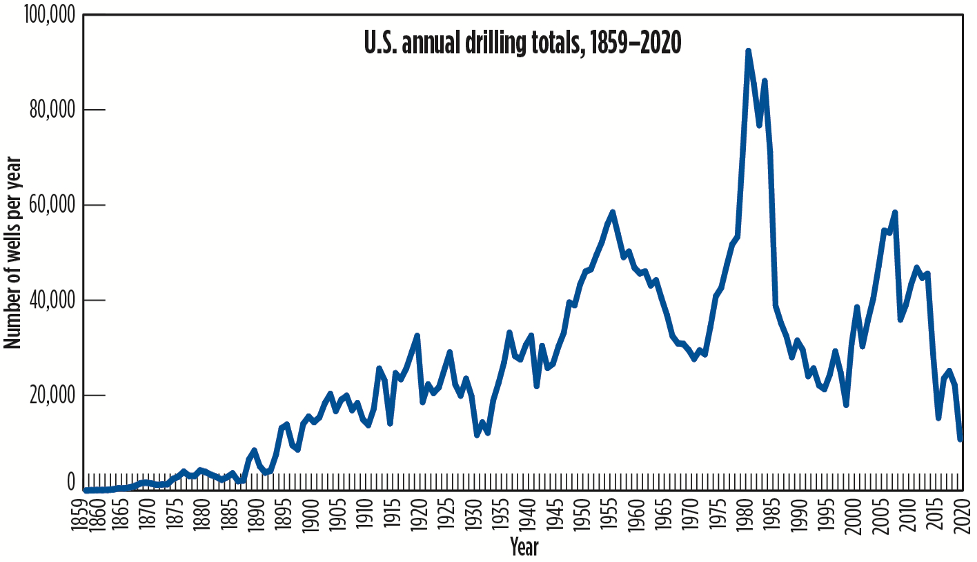 What Oil's Troubles Mean to the Rest of Us–by Richard Vodra, 11/30/20
https://www.advisorperspectives.com/articles/2020/11/30/what-oils-troubles-mean-to-the-rest-of-us
9. What Tesla is Really Chasing…..Battery Shortage Over Next Decade.
Energy: This chart shows a global forecast for battery storage capacity over the next decade.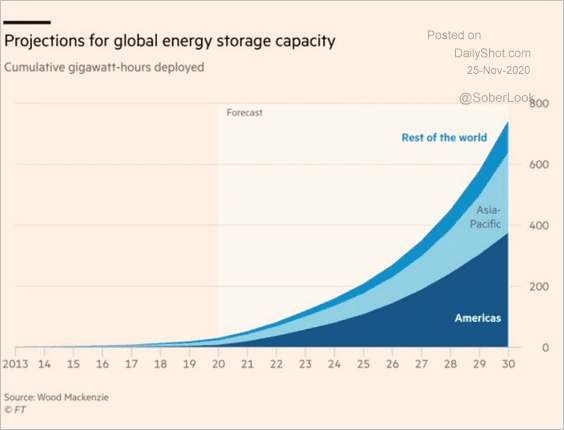 The Daily Shot https://dailyshotbrief.com/the-daily-shot-brief-november-25th-2020/
10. 10 Powerful Life Lessons You Can Learn from The Last Dance
Addicted 2 Success by Sija Mafu – 2w ago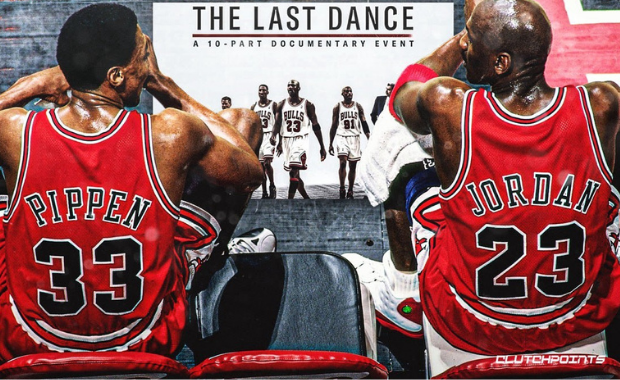 The Last Dance of the Chicago Bulls in the 1990s is a documentary that chronicles the life of Michael Jordan. It narrates the story of his final season with the Chicago Bulls and where it all started. Michael Jordan is considered to be one of the greatest basketball players ever and the documentary shares a glimpse into his greatness.
Here are 10 of the most powerful lessons from the last dance: 1. Coaching/Mentorship maximizes potential
The Last Dance documentary points out all the people that helped Michael Jordan on his journey to greatness. These include his parents James and Deloris Jordan, college coach Dean Smith, personal trainer Tim Grover and Phil Jackson the Chicago Bulls coach. Without those key relationships he may not have been as successful as he was.
I remember former players like Grant Hill saying in a post Last Dance interview how they wished they could have seen the documentary at the start of their career. They realized that they could have achieved more by learning from the best in the profession. Seeking out coaches and mentors can make a difference in your life as well.
2. Faith is essential
It's a common pattern in life that in order to achieve anything significant you must first believe that you can do it. Faith comes from understanding what you're capable of doing and honing your skills to achieve excellence. Michael Jordan's game throughout his career evidently showed how much faith he had in himself.
There were many stand out moments where he did the spectacular, including multiple game winning shots in big moments. His belief was evident in the first episode when asked about his prospects with the Chicago Bulls.
This is what he had to say, "I just want the franchise and the Chicago Bulls to be respected as a team; like the Lakers, or the Philadelphia 76ers, or the Boston Celtics. It's very hard for something like that to happen but it's not impossible. But hopefully this team and this organization can build a program like that."
"I've failed over and over and over again in my life and that is why I succeed." – Michael Jordan
3. One person can start a movement
Prior to Michael Jordan's arrival, the Chicago Bulls were known as a traveling cocaine circus. The team wasn't popular at the time with most Chicago citizens preferring to watch other sports. Game attendance for the Chicago Bulls games was about a third of the total capacity.
When Michael Jordan got drafted in the 1984 NBA draft, the narrative of the Chicago Bulls team suddenly changed. He brought a new energy to not just the team but the city of Chicago as a whole. Game tickets started to sell out from that season as the franchise realized they had one of the best talents.
4. It takes a team to win big
In spite of the shot in the arm Jordan brought to Chicago, his effort alone wasn't enough to win championships. Talentwise, Michael Jordan was the best in the league as he won all individual accolades early in his career. His less talented counterparts like Magic Johnson and Larry Bird were winning titles in the process.
It took Michael time to realize he had to trust his teammates and management to become a championship caliber team. General Manager Jerry Krause played a key part by getting the right players and ultimately the right coach in Phil Jackson. Some of the key players in the dynasty were Scottie Pippen, Dennis Rodman, Horace Grant, John Paxson and Bill Cartwright.
5. Document your life
The documentary itself is a powerful illustration of documenting life and lessons learned along the way. Your life story is worth recording for future generations to learn from both your positive and negative experiences. This is how life lessons are commonly passed on from generation to generation to ensure continuity of a standard of excellence.
The documentary chronicles his life from the time he was a teenager in high school. We learned about his family, friends, agent, and coaches that made a contribution to his life. In the same way you must record life events and the lessons learned along the way for future generations.
6. Let your skills do the talking
Unlike average performers who talk more than they do, Michael Jordan did the opposite. He focused on developing his skills to earn his respect instead of just talking a big game. "From the first day in practice, my mentality was whoever is the team leader on that team, I'm going after him. And I'm not going to do it with my voice because I had no voice, I had no status. I had to do it with the way that I play," said Michael in Episode 1 of the documentary.
In whatever you do in life, focus more on doing and less on talking. It's the results you produce that speak loudest after all is said and done.
7. Explore your passions
Michael Jordan enjoyed all kinds of sports as a young kid. He tried them all and narrowed down to basketball and baseball which his father loved. During his first retirement from basketball after his father's death, he went to play baseball for the Chicago White Sox.
Though he played for about eighteen months, he improved so much that he could have gone on to be a pro. In the same way, try out all the things you're passionate about until you zero in on what you'll be most successful at.
8. Practice like it's game time
One of the things that separated those Bulls' teams from other teams in the league was their dedication. For Michael Jordan and his teammates, practice sessions were more intense than actual games. Their reasoning was that by the time you got to the game, you would know instinctively what to do.
Practicing like they were in a real game put them way ahead of their counterparts. This is one of the most valuable lessons you can grasp from this team. Whatever you do in life, give it your best as though you were doing work for a client.
"I know fear is an obstacle for some people, but it is an illusion to me. Failure always made me try harder the next time." – Michael Jordan
9. Winning has a price
In the documentary Michael Jordan said, "Winning has a price!" For him that meant learning to trust his teammates instead of doing it all by himself among other things. Part of the price he had to pay was being misunderstood as a person.
By his standards, he wanted everyone on his team to win which meant pushing them hard. Some people saw him as a tyrant as a result because they didn't understand what it took to win. The more successful you become, the more people will misunderstand you. It's a price you have to pay.
10. Adversity can lead to breaking records
Jordan faced many obstacles in his career but most of them led to record breaking results. His team was the first to win three straight championships in 27 years and they did it twice in a decade. He set numerous other records throughout his career. Adversity has the capacity to influence that if you allow it to.
Which of the lessons resonate with you the most? Let us know in the comments below!
Found at Feedspot
https://www.feedspot.com/fo/2256349/fe/585417
Disclosure
Lansing Street Advisors is a registered investment adviser with the State of Pennsylvania..
To the extent that content includes references to securities, those references do not constitute an offer or solicitation to buy, sell or hold such security as information is provided for educational purposes only. Articles should not be considered investment advice and the information contain within should not be relied upon in assessing whether or not to invest in any securities or asset classes mentioned. Articles have been prepared without regard to the individual financial circumstances and objectives of persons who receive it. Securities discussed may not be suitable for all investors. Please keep in mind that a company's past financial performance, including the performance of its share price, does not guarantee future results.
Material compiled by Lansing Street Advisors is based on publicly available data at the time of compilation. Lansing Street Advisors makes no warranties or representation of any kind relating to the accuracy, completeness or timeliness of the data and shall not have liability for any damages of any kind relating to the use such data.
Material for market review represents an assessment of the market environment at a specific point in time and is not intended to be a forecast of future events, or a guarantee of future results.
Indices that may be included herein are unmanaged indices and one cannot directly invest in an index. Index returns do not reflect the impact of any management fees, transaction costs or expenses. The index information included herein is for illustrative purposes only.