1. Split Congress and Historic Stock Returns.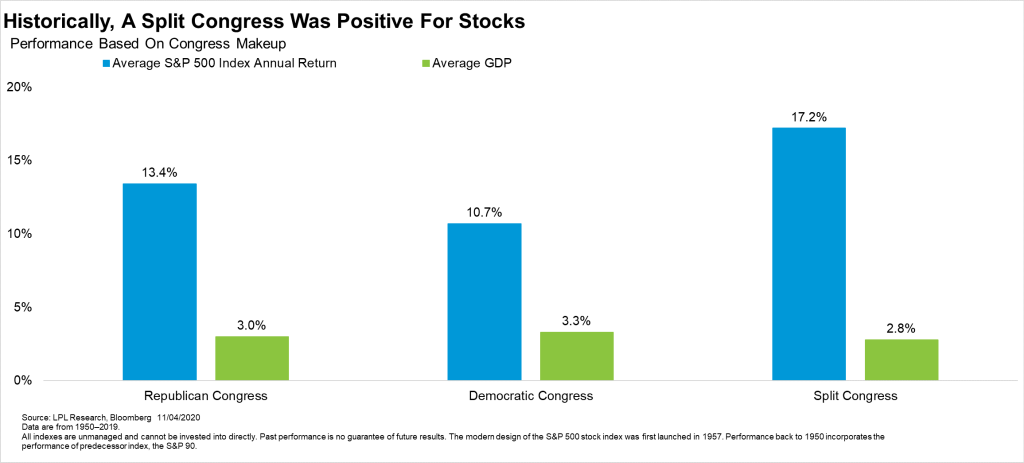 LPL Research
LPL BLOG https://lplresearch.com/2020/11/25/15-charts-to-be-thankful-for-in-2020-and-beyond/#more-19485
2. Three Week Post-Election Returns 2nd Best Ever.
The market started off November on a positive note, and even after the election has continued to add to its gains. Through the close today (11/24), the S&P 500 is up 7.90% since the close on Election Day. Relative to every other Presidential election since the beginning of the S&P back in 1928, the three-week performance of the S&P 500 following this Election Day ranks as the second-best of all time. It came down right to the wire, but the only other US President to see a stronger market reaction to their election (or re-election) was Ronald Reagan in 1980 (7.97%). Behind Reagan and Biden, the only other Presidents where the S&P 500 experienced an upside move of 5%+ in reaction to their elections were Hoover in 1928 and Clinton in 1996.

On the downside, the most negative reaction of the market in the three weeks after Election Day was the 14.75% decline following President Obama's election in 2008. In addition to Obama, the S&P 500's four other three-week downside moves of more than 5% came after the elections of Truman in 1948, the election of George W Bush in 2000 (although at the time it was unknown who was the winner of that election), the election of Franklin D Roosevelt in 1932, and Dwight D Eisenhower's re-election in 1956.

In aggregate, the S&P 500 hasn't historically responded all that great in the three weeks after a Presidential election. For every one since 1928, the median return of the S&P 500 in the three weeks after Election Day has been a gain of just 0.35%. Breaking out returns by party, in the three weeks after a Democratic candidate is elected, the S&P 500's median performance is a decline of 1.11% compared to a median gain of 3.04% when a Republican is elected. Click here to for a free trial to Bespoke's premium membership options and instant access to our research and interactive tools.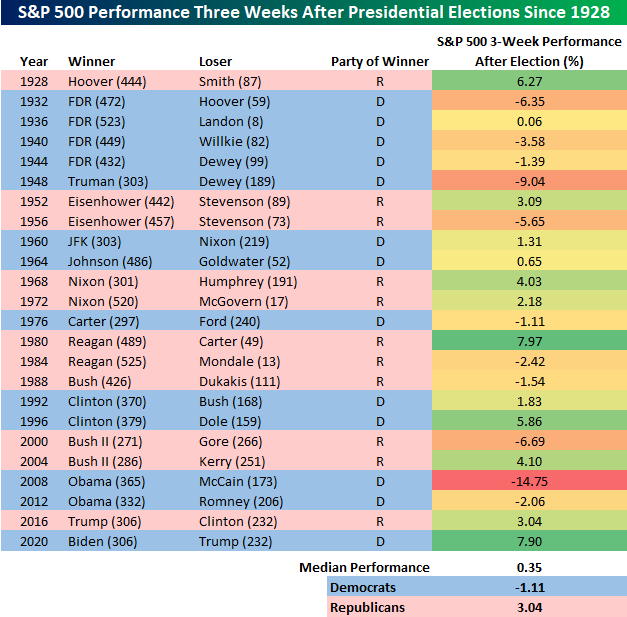 Biden – Best Since Reagan– https://www.bespokepremium.com/interactive/posts/think-big-blog/biden-best-since-reagan
3. Market Rallying But VIX Stuck Above 20
WSJ—The Stock Market and Derivatives Are Sending Different Signals
By Gunjan Banerji
Although market volatility has edged lower in recent days, the Cboe Volatility Index has hovered above 20 since Feb. 24, marking 194 consecutive trading sessions above that threshold. That is the longest such streak since one ending in 2009 during the financial crisis, according to Dow Jones Market Data. The gauge is based on options prices tied to the S&P 500 and tends to fall as stocks are rising.
The VIX at an elevated level signals investors remain cautious despite a stock market that is flying high, with concerns lingering that the volatility that gripped markets earlier in the year could return. It also reflects elevated prices for options bets tied to the S&P 500, which investors often tap to hedge portfolios or make directional bets on stocks.
The stretch is remarkable because it includes a period in which U.S. stocks tumbled into a bear market—defined as a drop of at least 20%—before rebounding back toward new highs. Despite the recent ascent for stocks, the elevated VIX signals some anxiety about the market's path. Since Feb. 24, the S&P 500 has gained about 12.5%.
In six out of eight of the past periods where the VIX hovered above 20 for at least 100 sessions, the S&P 500 had fallen, not risen, according to Dow Jones Market Data.
https://www.wsj.com/articles/the-stock-market-and-derivatives-are-sending-different-signals-11606473003

www.stockcharts.com
4. Buffett Indicator Well Above 1999…
Buffett Indicator is not timing market mechanism but one indicator that points to expensive levels for equities.
Market Cap to GDP is a long-term valuation indicator that has become popular in recent years, thanks to Warren Buffett. Back in 2001, he remarked in a Fortune Magazine interview that "it is probably the best single measure of where valuations stand at any given moment."
The Latest Data
With the Q3 GDP Advance Estimate, we now have an updated look at the popular "Buffett Indicator" — the ratio of corporate equities to GDP. The current reading is 181.4%, up from 171.7% the previous quarter
Market Cap to GDP: An Updated Look at the Buffett Valuation Indicator–by Jill Mislinski, 11/5/20
https://www.advisorperspectives.com/dshort/updates/2020/11/05/market-cap-to-gdp-an-updated-look-at-the-buffett-valuation-indicator
5. Venture Capital Funding Growing at Faster Rate Internationally than U.S.
Capital Group Blog –In fact, there is so much innovation happening overseas that venture capital funding has been growing at a faster pace outside the United States. Part of that is a function of valuations, which are generally cheaper outside the U.S., but it's also clear that professional early-stage investors are increasingly finding compelling new opportunities elsewhere. One area is China's biopharmaceutical sector, where venture capital funding has surged in recent years and a number of companies are seeking to go public.
International outlook: Innovation isn't just a U.S. story https://www.capitalgroup.com/advisor/insights/articles/2021-international-outlook.html
6. Tesla About to Pass Berkshire in Market Cap.
Zerohedge https://twitter.com/zerohedge
7. Massive Cash Build Up is Global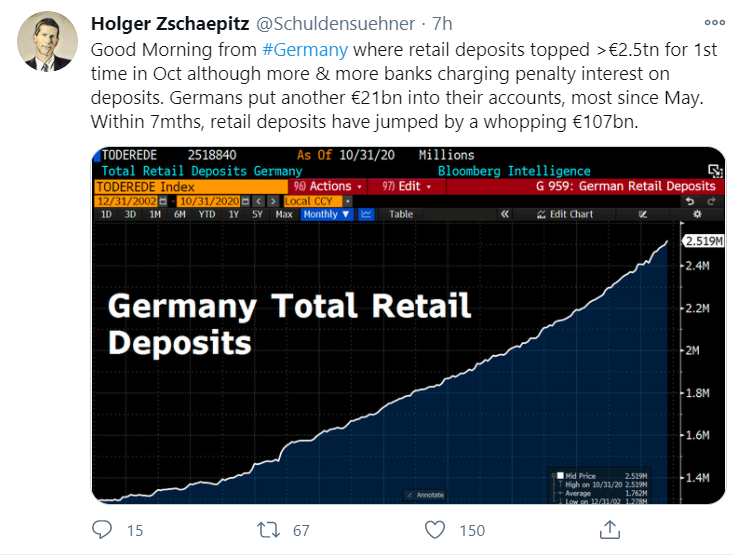 8. Inverse Chart….Home Price Index vs. 30 Year Fixed Mortgage Rate
9. Space-based power stations are turning from an idle dream into a serious engineering prospect, as scientists hope they can take renewable energy into orbit.—
By Amanda Jane Hughes and Stefania Soldini26th
It sounds like science fiction: giant solar power stations floating in space that beam down enormous amounts of energy to Earth. And for a long time, the concept – first developed by the Russian scientist, Konstantin Tsiolkovsky, in the 1920s – was mainly an inspiration for writers.
A century later, however, scientists are making huge strides in turning the concept into reality. The European Space Agency has realised the potential of these efforts and is now looking to fund such projects, predicting that the first industrial resource we will get from space is "beamed power".
Climate change is the greatest challenge of our time, so there's a lot at stake. From rising global temperatures to shifting weather patterns, the impacts of climate change are already being felt around the globe. Overcoming this challenge will require radical changes to how we generate and consume energy.
The aim is that solar power stations in space will become a reality in the coming decades
Renewable energy technologies have developed drastically in recent years, with improved efficiency and lower cost. But one major barrier to their uptake is the fact that they don't provide a constant supply of energy. Wind and solar farms only produce energy when the wind is blowing or the sun is shining – but we need electricity around the clock, every day. Ultimately, we need a way to store energy on a large scale before we can make the switch to renewable sources.
Benefits of space
A possible way around this would be to generate solar energy in space. There are many advantages to this. A space-based solar power station could orbit to face the Sun 24 hours a day. The Earth's atmosphere also absorbs and reflects some of the Sun's light, so solar cells above the atmosphere will receive more sunlight and produce more energy.
A space solar array could consist of one large structure, or many smaller ones gathered together (Credit: Nasa)
But one of the key challenges to overcome is how to assemble, launch and deploy such large structures. A single solar power station may have to cover as much as 10 sq km (4.9 sq miles) – equivalent to 1,400 football pitches. Using lightweight materials will also be critical, as the biggest expense will be the cost of launching the station into space on a rocket.
We are currently reliant on materials from Earth, but scientists are also considering using resources from space for manufacturing, such as materials found on the Moon
One proposed solution is to develop a swarm of thousands of smaller satellites that will come together and configure to form a single, large solar generator. In 2017, researchers at the California Institute of Technology outlined designs for a modular power station, consisting of thousands of ultralight solar cell tiles. They also demonstrated a prototype tile weighing just 280g per square metre, similar to the weight of card.
Recently, developments in manufacturing, such as 3D printing, are also being investigated for their potential in space power. At the University of Liverpool, we are exploring new manufacturing techniques for printing ultralight solar cells on to solar sails. A solar sail is a foldable, lightweight and highly reflective membrane capable of harnessing the effect of the Sun's radiation pressure to propel a spacecraft forward without fuel. We are exploring how to embed solar cells on sail structures to create large, fuel-free power stations.
You might also like:
These methods would enable us to construct the power stations in space. Indeed, it could one day be possible to manufacture and deploy units in space from the International Space Station or the future lunar gateway station that will orbit the Moon. Such devices could in fact help provide power on the Moon.
Solar energy is already used to power spacecraft, but beaming that energy back for use on Earth would become the next level (Credit: Nasa)
The possibilities don't end there. While we are currently reliant on materials from Earth to build power stations, scientists are also considering using resources from space for manufacturing, such as materials found on the Moon.
But one of the major challenges ahead will be getting the power transmitted back to Earth. The plan is to convert electricity from the solar cells into energy waves and use electromagnetic fields to transfer them down to an antenna on the Earth's surface. The antenna would then convert the waves back into electricity. Researchers led by the Japan Aerospace Exploration Agency have already developed designs and demonstrated an orbiter system which should be able to do this.
There is still a lot of work to be done in this field, but the aim is that solar power stations in space will become a reality in the coming decades. Researchers in China have designed a system called Omega, which they aim to have operational by 2050. This system should be capable of supplying 2GW of power into Earth's grid at peak performance, which is a huge amount. To produce that much power with solar panels on Earth, you would need more than six million of them.
Smaller solar power satellites, like those designed to power lunar rovers, could be operational even sooner.
Across the globe, the scientific community is committing time and effort to the development of solar power stations in space. Our hope is that they could one day be a vital tool in our fight against climate change.
Amanda Jane Hughes is a lecturer in energy engineering at the University of Liverpool, where her research includes the design of solar cells and optical instruments. Stefania Soldini is a lecturer in aerospace engineering at the University of Liverpool, and her expertise includes numerical simulations for spacecraft mission design and guidance, navigation and control, asteroids and solar sail missions.
This article originally appeared on The Conversation, and is republished under a Creative Commons licence. This is also why this story does not have an estimate for its carbon emissions, as Future Planet stories usually do.
https://www.bbc.com/future/article/20201126-the-solar-discs-that-could-beam-power-from-space
10. 5 tools to manage anxiety when it arises.
By Kristina Hallett, Ph.D., ABPP
1. Stop with the "what-ifs"
One of my biggest tools for reducing anxiety is to stop entertaining "what-if" scenarios, and instead take in the data—aka the facts and the reality of a given situation. Because it's relevant, let's use COVID-19 as an example:
Try not to think this: "What if I have the virus? What if I give it to my grandma when I visit her? What if she dies?"
Instead do this: Collect the data. If you've been exposed to COVID and want to verify if you have it, you can get a test. Rather than sitting around worrying that the test is positive, take action by self-quarantining until you know the results. Video chat or call friends and family so you feel less alone during this time.
Lack of control is a major trigger for anxiety, so rather than focusing on the various outcomes beyond your control, focus on what's certain and the actions you can take in that given circumstance.
2. Return to the present moment.
When we're anxious, the amygdala in the brain emits stress hormones, which activate the fight, flight, or freeze response. To activate the parasympathetic nervous system, or the rest-and-digest response, it's important to bring yourself back to the present moment.
Working on a puzzle, breathing deeply, cooking a meal you love, going for a walk, or spending time in nature are just a few ways to be present.
3. Engage your senses.
Engaging the five senses helps activate the limbic system, which is responsible for regulating emotions. Here's how I recommend doing that:
Sight: Nature. Whether you're going for a walk, tending to your house plants, or looking at photos of plants, nature has been shown to reduce stress, improve self-esteem, and boost mood.
Smell: Essential oils. My general framework for choosing the right essential oils is: lavender for sleep, citrus for mood, and eucalyptus or peppermint for stress. That said, scent preferences vary from person to person, so it's important to find oils that bring you comfort. (Here: a guide on using essential oils for anxiety.)
Hear: Podcasts, audio books, nature sounds, or music. When going for a walk, listen to an audio book or podcast that engages the mind. Nature sounds and bird songs can be calming, as well. When deciding what music to listen to, avoid songs that directly contradict your mood (i.e. a love song when you're dealing with a breakup), as well as those that are directly anxiety-inducing when you're feeling anxious. Tip: make a playlist of mood-boosting or calming songs ahead of time, so deciding what to listen to doesn't have to be an extra stressor.
Touch: Soft clothing. Dressing in fleece, soft cotton, or flannel can be comforting to the body and therefore the mind.
Taste: Soothing foods. "Comfort food" is often utilized amid anxiety (think: mac and cheese), but other more nutrient-rich food options exist, as well as soothing teas.
4. Practice progressive muscle relaxation.
Progressive muscle relaxation is a technique that not only helps relax physical tension in the body, but also focuses the mind away from anxious thoughts. To do it, squeeze each muscle in your body for three seconds, then release. Start with your toes, move up to your calves, and continue working your way up the body until you reach the crown of your head.
5. Go for a walk.
The physical act of walking has been shown to improve mood states. Even going for a short walk can help you reclaim time in the day, soak up vitamin D, and serve as a meditative moment. Just make sure your walks are leisurely and relaxing. Note: this is entirely different from pacing, which can exacerbate anxiety.
https://www.mindbodygreen.com/articles/can-i-manage-my-anxiety-alone-or-should-i-find-therapist
Disclosure
Lansing Street Advisors is a registered investment adviser with the State of Pennsylvania..
To the extent that content includes references to securities, those references do not constitute an offer or solicitation to buy, sell or hold such security as information is provided for educational purposes only. Articles should not be considered investment advice and the information contain within should not be relied upon in assessing whether or not to invest in any securities or asset classes mentioned. Articles have been prepared without regard to the individual financial circumstances and objectives of persons who receive it. Securities discussed may not be suitable for all investors. Please keep in mind that a company's past financial performance, including the performance of its share price, does not guarantee future results.
Material compiled by Lansing Street Advisors is based on publicly available data at the time of compilation. Lansing Street Advisors makes no warranties or representation of any kind relating to the accuracy, completeness or timeliness of the data and shall not have liability for any damages of any kind relating to the use such data.
Material for market review represents an assessment of the market environment at a specific point in time and is not intended to be a forecast of future events, or a guarantee of future results.
Indices that may be included herein are unmanaged indices and one cannot directly invest in an index. Index returns do not reflect the impact of any management fees, transaction costs or expenses. The index information included herein is for illustrative purposes only.