1. From Cash Pre-Election to Tsunami of Equity Inflows Post-Election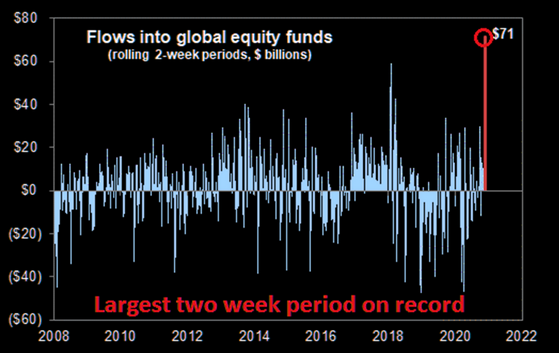 EPFR notes there has been a Tsunami of inflows over the past 2 weeks
2. Small Cap Value ETFs Break-Out
VBR-New Highs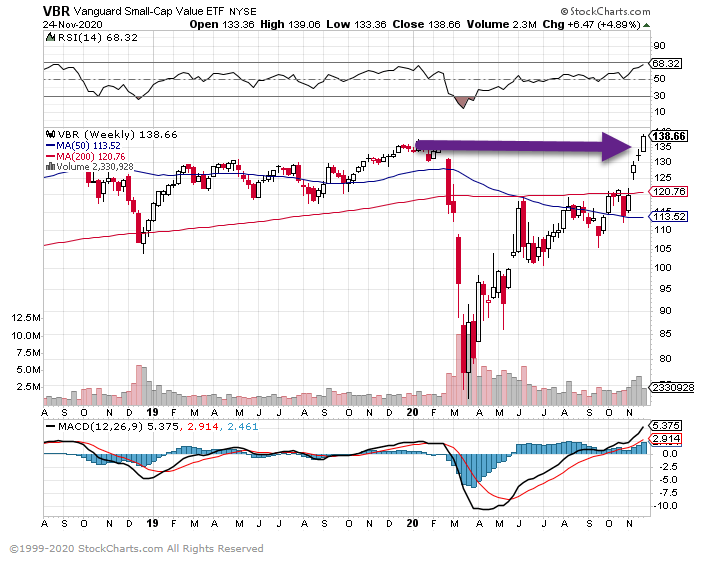 IWM-Russell 2000 Value New Highs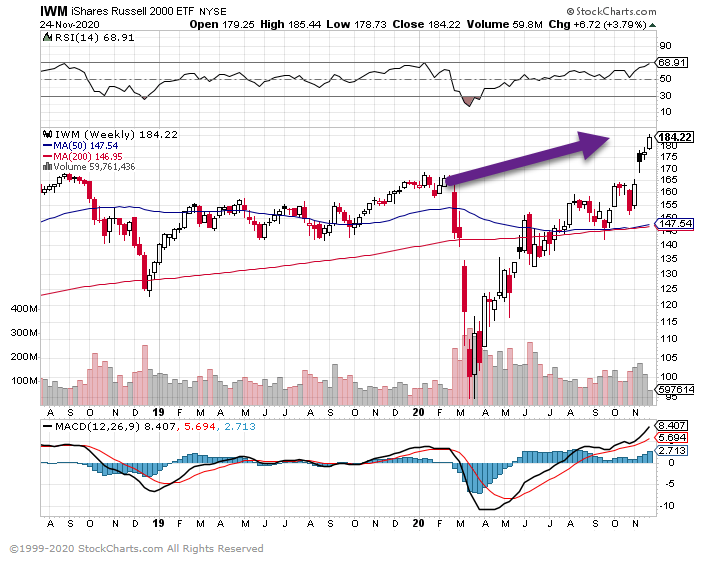 3. Russell 2000 Small Cap is on Track for Best Month Ever…What Happens After Record Months?
Ben Carlson-History of Record Months in Small Cap
I looked at every double-digit return month for the Russell 2000 going back to 1979 and then calculated the total returns for the ensuing 1, 3 and 5 year periods to see how they performed after those wonderful months: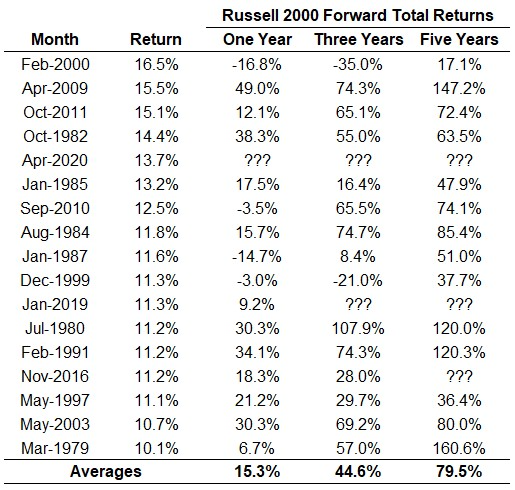 What Happens to Small Caps After a Huge Monthly Gain?Posted November 24, 2020 by Ben Carlson
https://awealthofcommonsense.com/2020/11/what-happens-to-small-caps-after-a-huge-monthly-gain/
4. Foreign Ownership of U.S. Treasuries Lowest Levels in 20 Years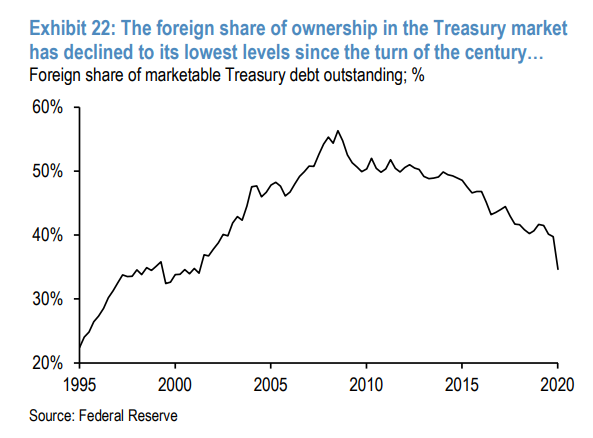 In 2008, foreign investors owned more than half of the U.S. Treasury market. Now they own about 35%, the lowest level in decades.
5. Private Client Allocation to Debt Hitting 20 Year Lows
Credit: Merrill Lynch private clients' allocation to debt hit a new low.
Source: BofA Global Research
The Daily Shot https://dailyshotbrief.com/the-daily-shot-brief-november-24th-2020/
6. Bitcoin Following Volume of Negative Debt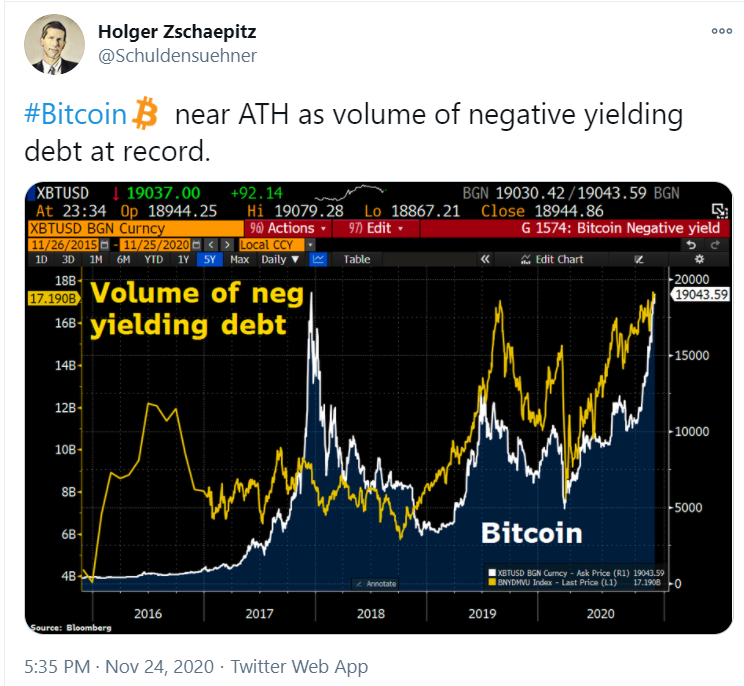 7. Gold Pulls Back to 200 Day Moving Average
GLD-closes right on 200 day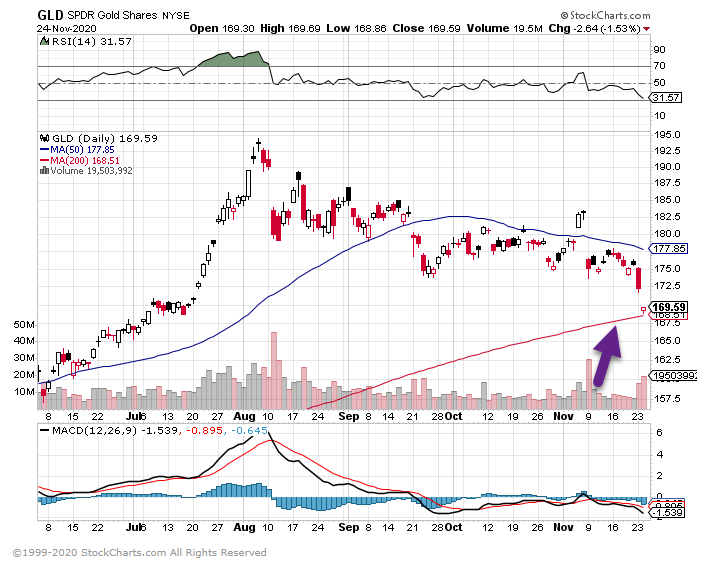 8. Third Quarter California Weed Tax Revenues Soar by 80% Year Over Year.
California Legal Cannabis Sales Exploded. And California is Cashing In–On Fumes of Stimulus and to Soothe the Frustration.
By Wolf Richter for WOLF STREET.
Cannabis tax revenues in Q3 collected by the State of California soared by a record 80% year-over-year, and by a record of $136 million year-over-year, to a $307 million, the California Department of Tax and Fee Administration reported Monday afternoon. This does not include tax revenues collected by cities and counties. All three categories surged: Excise Tax (+90%), Cultivation Tax (+80%), and Sales Tax (+66%).
This brought California's cannabis taxes during the first nine months of 2020 to $778 million, and on track to exceed $1 billion for the whole year, a sorely needed injection of moolah during these trying times: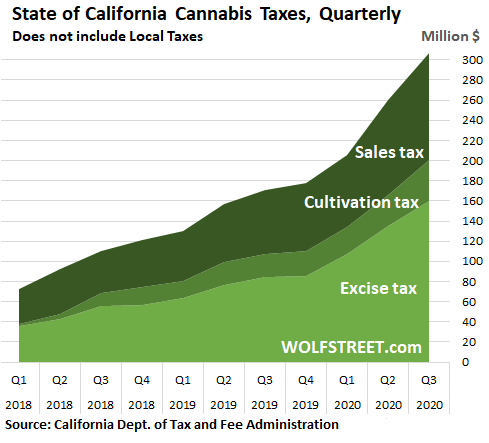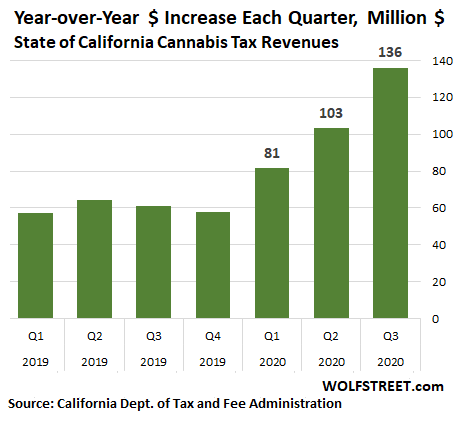 9. Biden has big plans for student debt relief—here are 3 possibilities to look for in 2021 and beyond
Take a big-picture look at your finances until we know what President-elect Joe Biden is planning for student loan forgiveness after his inauguration in January.
Published Mon, Nov 23 2020
December is likely the last month that federal student loan borrowers can take advantage of interest-free forbearance on their loans. With President-elect Joe Biden taking office in January, it's not yet clear whether the payment moratorium from Trump's executive order will extend into 2021.
While millions of Americans brace themselves for the possibility of repayment resuming in January, many wonder if they can afford to make payments. An estimated 12 million workers will lose their unemployment benefits at the end of December, according to a recent analysis by the Century Foundation, and there's still no federal plan to provide additional stimulus.
Needless to say, student loan relief of any kind would be a huge help to many. But with just a few weeks left until the end of the year, and no clear plan for additional help before 2021, it's important to take time now to prepare for what may come next.
Most likely, we won't know anything until January, following Georgia's runoff election, which will determine who has control of the Senate, as well as Biden's inauguration.
Here are three possible student loan debt relief programs you want to watch for post Inauguration Day 2021.
1. The current forbearance period gets extended
Biden could choose to extend Trump's executive order, which put an interest-free moratorium on federal student loan payments.
The current executive order expires at the end December, and Biden does not take office until Jan. 20. It's likely there could be a window of time in early 2021 in which you'll have to resume payments.
What you should do:
Prepare to make your January and February student loan payments since Biden's plan is still unclear. Check with your servicer to see if your monthly payment amount has changed. Make sure to set up and/or confirm your autopay information, including your most updated banking information and payment due date. If you don't use autopay, put a reminder on your calendar a few days before your payment is due so that it's not late.
2. Congress grants $10,000 to $50,000 in student loan forgiveness
During his campaign, Biden said he would forgive $10,000 of federal student loans as part of his Emergency Action Plan for the economic recovery.
This is in addition to the widespread student loan relief plan he proposed in the Biden Plan for Education Beyond High School, which would offer $10,000 of undergraduate or graduate student debt relief for every year of national or community service, up to five years. This forgiveness program would be extended to those working in schools, government, and other nonprofit settings, and they would be automatically enrolled. The plan states that those with five years of prior national or community service will also qualify.
What you should do:
This proposal hasn't been introduced to Congress yet, so it could be a while before we see any action.
While some politicians (including Chuck Schumer and Elizabeth Warren) are gunning for higher amounts of student debt forgiveness, even $10,000 is a considerable chunk of cash. To put it into perspective, $10,000 could be enough for down payment on a house, depending on where you live and the kind of mortgage you get. Think about your long-term goals now so you can make the most of loan forgiveness, if it does indeed become a reality.
Here's the good news: If you've been making monthly payments for years and suddenly find in 2021, or even 2022, that a portion of your student loan debt has been forgiven, you'll be in excellent shape to start saving more aggressively.
Debt payoff can actually kick-start better savings habits because over time you learn how to be consistent. It takes the same kind of skills to pay down a large balance as it does to save for retirement, start an emergency fund or reach another big savings goal. If your debt is forgiven, take those monthly payments and divert them to a savings or investment account.
3. Your monthly payments are lowered
The Biden Plan for Education Beyond High School also revisits our current income-based repayment models. Here's how that could look, according to the plan:
Individuals making $25,000 or less per year will not owe any payments on their undergraduate federal student loans and also won't accrue any interest on those loans.
Everyone else will pay 5% of their discretionary income (income minus taxes and essential spending like housing and food) over $25,000 toward their loans. After 20 years, the remainder of the loans for people who have responsibly made payments through the program will be 100% forgiven.
Individuals with new and existing loans will all be automatically enrolled in the income-based repayment program, with the opportunity to opt out if they wish.
Biden will also change the tax code so that debt forgiven through the income-based repayment plan won't be taxed.
https://www.cnbc.com/select/will-biden-forgive-student-loans/?__source=twitter%7Cmain
10. 4 Science-Backed Habits to Make You More Successful
By Ross Simmonds | March 8, 2017 | 0
It's hard to stick to your goals. The desire to eat healthy becomes overwhelmed by a desire to eat a burger. The urge to complete your to-do list takes a back seat to a weekend of Netflix. Goals are being put on the back burner, and the inspiration that was once so strong quickly dwindles.
Related: 18 Motivational Quotes About Successful Goal Setting
We all have things that we want to achieve. Whether it's getting in better shape, writing a book, growing a business or raising a family, our goals keep us inspired about the future. That's why coming up with goals is so fun—it's exciting to think about how great it would be if you lost 20 pounds or quit your job to pursue a dream.
We're hardwired to get excited about these things. The difficulty is sticking to our goals and turning them into realities.
To help, here are four habits that research has shown can have a direct impact on your ability to succeed:
How many decisions do we make every single day? Thousands.
From the moment we wake up, our minds are making decisions: to press snooze or not, whether to look at our phones, whom to text first, which socks to wear—the list goes on. Over the course of a year, those millions of decisions can pile up and result in decision fatigue, the point at which you're so tired of decisions that you stop giving each decision the attention it deserves.
Kathleen D. Vohs, a researcher at the University of Minnesota, led a great study to uncover the impact that decision-making has on us. Her research found that decision-making depletes the same resources used for self-control and active responding. In various studies, Vohs' team found that making lots of choices resulted in less physical stamina, reduced persistence in the face of failure, more procrastination and a lowered ability to do arithmetic calculations. From this, we can conclude that by reducing the number of choices you have to make each day, you can limit the negative side effects of decision fatigue.
One simple adjustment could be eating the same breakfast every single day. Rather than debating whether you should have eggs, toast, bagels or tofu scramble, stick to one standard breakfast every morning and reduce the fatigue that comes from constant decision-making.
Related: What I Learned From Wearing the Same Outfit for 2 Weeks
What do Oprah, Jack Dorsey and Richard Branson all have in common? Besides great success, each one practices yoga.
Yoga has become one of the fastest growing trends in North America—and for good reason. Study after study demonstrates the benefits of yoga and its impact on health, both physical and mental. One study in particular highlighted the impacts of yoga on high-stress employees: Those who picked up a yoga habit saw a reduction in perceived stress and an improvement in sleep quality.
3. Focus on one task at a time.
I've seen many résumés over the years. One thing that people often list under "strengths" that is an immediate turn-off is the word multitasking.
Multitasking is a dangerous habit that can cause more harm than good. In fact, a study conducted by the folks at Stanford University found that multitasking makes you less productive than you would be if you decided to do a single task. Furthermore, the study found that individuals who multitask cannot pay attention, recall information or switch tasks as quickly and effectively as someone who finishes one job at a time.
4. Listen to rock or hip-hop while working.
Last year, the saying "Drink some coffee, put on some gangsta rap, and handle it" showed up on mugs, T-shirts and all over the internet. It turns out that this idea is actually supported by science as a great way to be productive.
In a study called "The Music of Power: Perceptual & Behavioral Consequences of Powerful Music," researchers found that high-power music makes people feel more empowered and in control. The study used a series of songs to find out how each kind of music made the participants feel, and it concluded that the background music you listen to can have a direct influence on your mood and that music with bass increased participants' sense of power.
It's not easy to adopt new habits. That's why I challenge you to take one or two of these ideas and implement them in your life, rather than all four. If you can take just one of these habits and make it your own, it's likely that you will begin to notice immediate changes and improvements in your life.
Be aware of the habits you embrace and stay committed to achieving your goals. Success doesn't happen just because you made some goals. Success happens because you wake up every single day, embrace a series of habits and take the small steps you need to turn your big dreams into realities.
Related: 12 Simple Habits That Set Ultra-Successful People Apart
Share this:
Disclosure
Lansing Street Advisors is a registered investment adviser with the State of Pennsylvania..
To the extent that content includes references to securities, those references do not constitute an offer or solicitation to buy, sell or hold such security as information is provided for educational purposes only. Articles should not be considered investment advice and the information contain within should not be relied upon in assessing whether or not to invest in any securities or asset classes mentioned. Articles have been prepared without regard to the individual financial circumstances and objectives of persons who receive it. Securities discussed may not be suitable for all investors. Please keep in mind that a company's past financial performance, including the performance of its share price, does not guarantee future results.
Material compiled by Lansing Street Advisors is based on publicly available data at the time of compilation. Lansing Street Advisors makes no warranties or representation of any kind relating to the accuracy, completeness or timeliness of the data and shall not have liability for any damages of any kind relating to the use such data.
Material for market review represents an assessment of the market environment at a specific point in time and is not intended to be a forecast of future events, or a guarantee of future results.
Indices that may be included herein are unmanaged indices and one cannot directly invest in an index. Index returns do not reflect the impact of any management fees, transaction costs or expenses. The index information included herein is for illustrative purposes only.