1.The Biggest Stock Market Reversal in History
Source: A Wealth of Common Sense Found at Barry Ritholtz Blog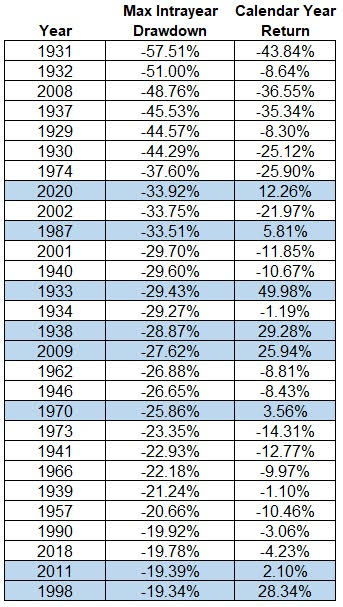 2. Low Volatility Stocks Still Well Below Highs.
SPLV S&P 500 Low Volatility…Trailed During Covid Drawdown Now Behind on Rally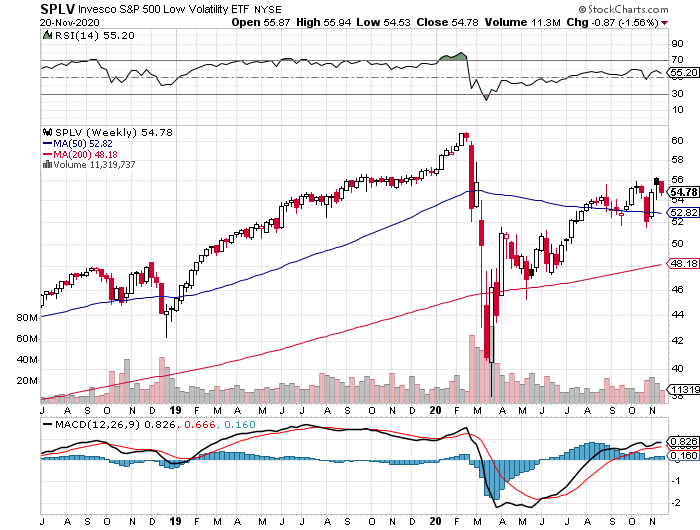 ©1999-2020 StockCharts.com All Rights Reserved
3. Emerging vs. Developed Markets
\Callum Thomas • 1stHead of Research at Topdown Charts – Global Economics & Asset Allocation research14h • 14 hours ago
It's been a long (relative) bear market for emerging market equities, but all things come to an end sooner or later – especially with regards to cycles…

Increasingly people are asking whether we are at or near a turning point in this trend.

I would say we are closer than ever. I am paying particular attention to valuations, monetary conditions, macro/earnings, sentiment, and technicals.

From a strategic perspective (thinking about capital market assumptions) the odds are clearly in favor of EM, but from a tactical standpoint we probably still need a bit more evidence in the way of confirmation to raise conviction levels.

Watch this space…

#emergingmarkets #equities #markets
---
https://www.linkedin.com/feed/
4. Pay attention to the new Breadth Thrust
Posted November 22, 2020 by Joshua M Brown
Pay attention when you hear the technicians start talking about a "breadth thrust" underway. It's often the signal that markets are leaving a consolidation and breaking out into a new bull market. Not always, but what we saw in the spring of 2013 was breathtaking. It was the moment we broke out of the secular bear market of 2000-2013 and into the current secular bull market, which has now been underway for six and half years.
We've been consolidating in the broad stock market averages since January 2018, so almost three full years now. Pull out the big QQQ names and you can really see the stagnation. The announcement of the vaccine data has changed this. These announcements acted as a massive deus ex machina for thousands of stocks, as we thought it might.
Here's Ari Wald (Oppenheimer) on what's going on:
The percentage of NYSE stocks above their 200-day average peaked at 82% last week, its highest tally since May 2013. We see this as a high-conviction signal of broad-based participation that leads us to expect additional S&P 500 gains. Our work shows that the S&P typically posts stronger returns when there's more stocks participating, and as a leading indicator, participation usually peaks ahead of the market. For instance, the S&P rallied another 45% between the 2013 breadth surge and 2015 price peak, and another 35% between the 2016 breadth surge and 2018 price peak. Since 1994, the highest count recorded was 94% in Sept. 2009. Our concerns about a market top will intensify when a new S&P high is undermined by fewer than 60% participation—we think this could still be 12+ months away.
OK, he calls it a breadth surge. Marty Zweig called it a thrust. Either way it's bullish af. An expanding 52 week high list, an increasing number of stocks in technically deigned uptrends (ie: trading above their 200-day MAs, etc) at or near record highs in the index price level is what you want.
Here's Ari's chart showing that breadth thrusts in the internals do not occur concurrently with market tops, they precede them (some would even say foreshadow them) by at least a year on average: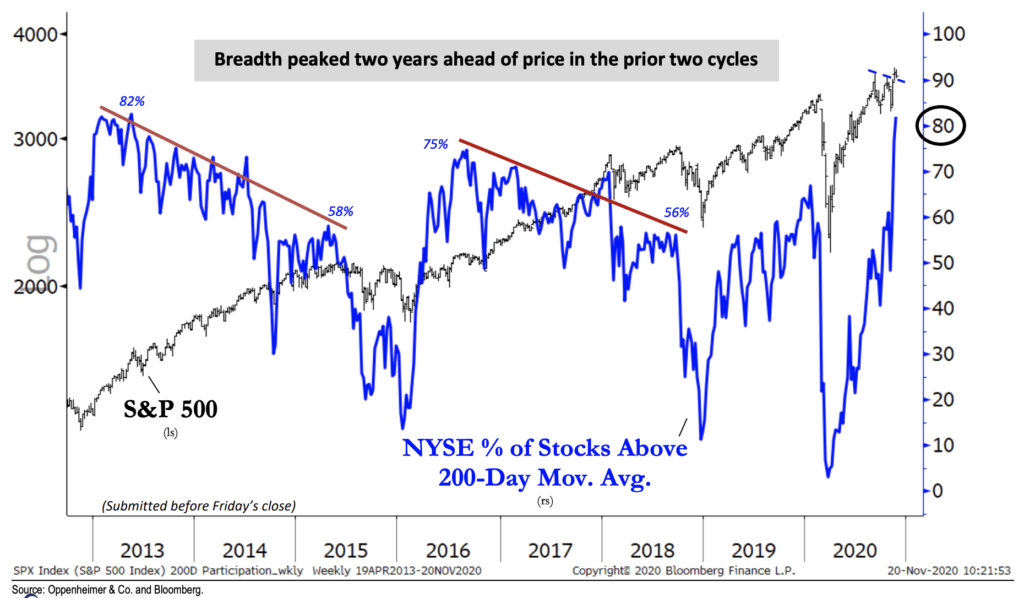 Inflection Points – Oppenheimer – November 21st, 2020
5. S&P 500 Short Interest
Michael Batnick Irrelevant Investor
If you're looking for evidence that shorts have thrown in the towel, and therefore now's the time to get cautious, there's a chart for that.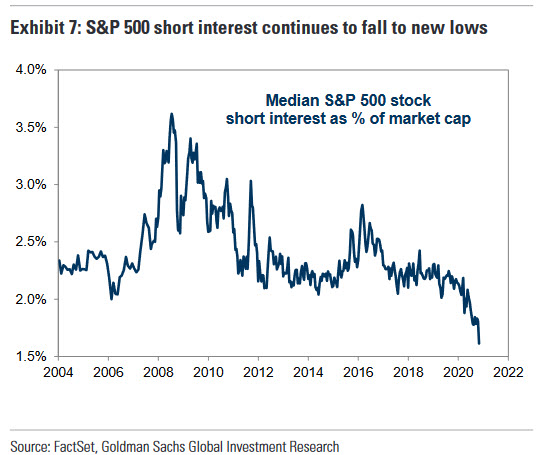 There's Always a Chart.https://theirrelevantinvestor.com/2020/11/22/theres-always-a-chart/
6. China Has Over 60 Electric Vehicle Companies.
China Electric Vehicle Sales — The Light At The End Of The Tunnel?
January 20th, 2020 by Jose Pontes
https://cleantechnica.com/2020/01/20/china-electric-vehicle-sales-the-light-at-the-end-of-the-tunnel/
7. The surprisingly strong U.S. consumer
Felix Salmon, author of CapitalIllustration: Aïda Amer/Axios
Most Americans are doing surprisingly well, financially, in the face of a major pandemic raging across the country.
Why it matters: The health of the U.S. consumer is one of the main reasons why a second stimulus is perceived to be much less urgent than the first one was.
Where it stands: Don't hold your breath for another stimulus deal before President-elect Biden takes office. Congress is on recess next week, and is only in session for another few weeks before breaking again for the December holidays, Axios' Alayna Treene reports.
That leaves precious little time to get anything passed before the end of the year. Most lawmakers admit there's a slim chance both parties reach a compromise on a comprehensive COVID relief bill before Biden is sworn in.
There's a greater chance that some provisions get tied to a government funding deal, which must pass before the end of the year to avoid a shutdown, but substantial negotiations have yet to take place.
By the numbers: Americans' disposable income was $15.7 trillion per year in September, up significantly from its pre-crisis level. Average earnings are $29.50 per hour, up from $28.69 in March.
The total amount borrowed has fallen, partly because Americans managed to save 14.3% of their income in September. That's roughly double the pre-crisis savings rate. And credit card balances are plunging.
Bloomberg summed up the data last week, under the headline "The American Consumer Is Flush With Cash After Paying Down Debt." Bonds backed by consumer debt are more expensive now than they were pre-crisis.
What they're saying: "The consumer has clearly come back," says Steve Sadove, Mastercard Senior Advisor and a former CEO of Saks. "Early on, the stimulus had a big effect on the consumer, especially the lower-end consumer. As we've gone into the latter parts of the recovery, higher-income consumers are starting to spend again."
The other side: Not all Americans are doing well. Millions are unemployed and going hungry, and vital crisis-era benefits are scheduled to expire at Christmas.
The broad economy remains well below potential, and won't return to its pre-crisis level any time soon. Many sectors, including hospitality, travel, and state and local government, are struggling mightily with no real light at the end of the tunnel.
The bottom line: A second round of stimulus is by no means assured. But if it happens, expect the bulk of the money to go to small businesses, other companies hit hard by the pandemic, and the unemployed.
https://www.axios.com/consumers-surprisingly-strong-covid-economy-d9d3da2e-fe17-41ce-822c-46d7a6181ff4.html
Found at Abnormal Returns blog www.abnormalreturns.com
8. Airnub Files to Go Public….Top Global Cities for Listings.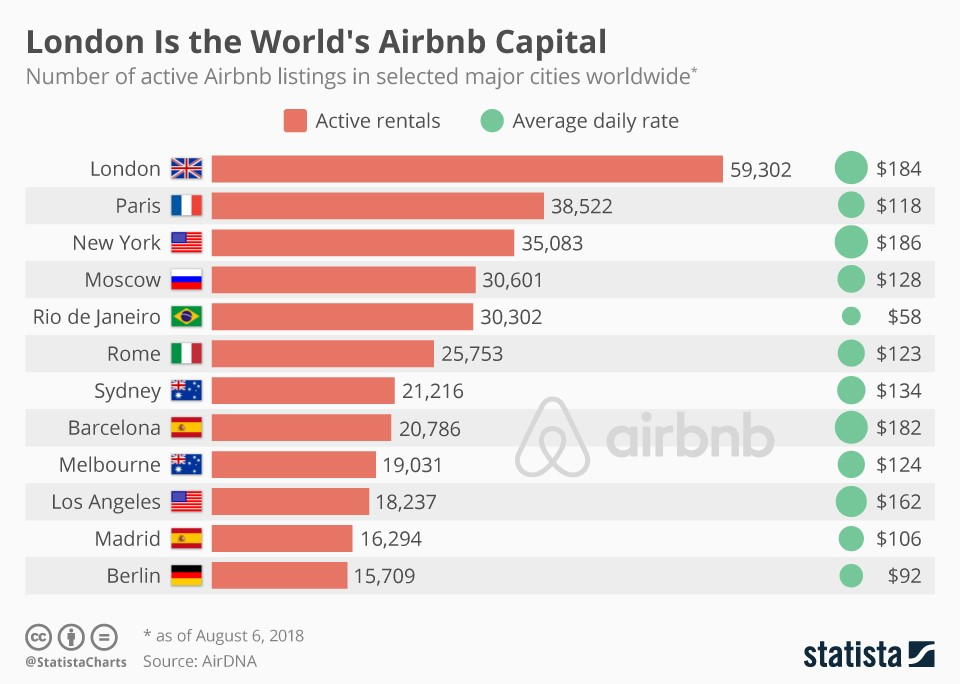 DESCRIPTION
https://www.statista.com/chart/14986/active-airbnb-listings-in-major-cities/
9. Former Harvard Fencing Coach Accused Of Taking $1.5 Million To Secure Admission For Students
by Tyler Durden, Sun, 11/22/2020 – 21:30
In the latest chapter of high profile college admission scandals across the U.S., former Harvard fencing coach Peter Brand was arrested last week for taking more than $1.5 million from Maryland-based businessman Jie "Jack" Zhao to secure spots at the school for Zhao's two sons.
Harvard began investigating the issue in May 2019 and, shortly thereafter, Brand was dismissed from his job, according to the Wall Street Journal.
Andrew E. Lelling, U.S. attorney for the District of Massachusetts, said: "This case is part of our longstanding effort to expose and deter corruption in college admissions. Millions of teenagers strive for college admission every year. We will do our part to make that playing field as level as we possibly can."
The complaint alleges that Brand recruited Zhao's sons in exchange for money and allegedly said in 2012 that the boys "don't have to be great fencers."
In 2013, Zhao donated $1 million to a fencing charity run by a co-conspirator of Brand. Zhao's son was admitted into Harvard, as a fencing recruit, in December. He enrolled the following fall. The charity then sent $100,000 to the Peter Brand foundation, a second charity set up by Brand and his spouse.
Zhao also allegedly "paid for Mr. Brand's car, covered college tuition payments for the coach's son, paid the mortgage on his house in Needham, Mass., and later bought the house for more than its market value."
Both Zhao and Brand deny the allegations.
William D. Weinreb, a partner at Quinn Emanuel Urquhart & Sullivan LLP said: "Jack Zhao's children were academic stars in high school and internationally competitive fencers who obtained admission to Harvard on their own merit. Both of them fenced for Harvard at the Division One level throughout their college careers."
Douglas Brooks, partner at Libby Hoopes Brooks PC, said: "The students were academic and fencing stars. Coach Brand did nothing wrong in connection with their admission to Harvard. He looks forward to the truth coming out in court."
https://www.zerohedge.com/markets/former-harvard-fencing-coach-accused-taking-15-million-secure-admission-students
10. JPMorgan CEO Jamie Dimon: People with these traits succeed–'not the smartest or hardest-working in the room'
Published Wed, Nov 18 202012:26 PM ESTUpdated Thu, Nov 19 20204:45 PM EST
According to Jamie Dimon, chairman and CEO of JPMorgan Chase, the most successful leaders have certain key traits.
″[H]umility, openness, fairness [and] being authentic" are most important – "not [being] the smartest person in the room or the hardest working person in the room," Dimon, who runs the nation's largest bank and oversees more than 250,000 employees globally, told LinkedIn editor in chief Daniel Roth in a recent video.
Don't miss: Highest-ever Amex Gold Card welcome bonus is worth up to $600 in gift cards
"Management is: Get it done, follow-up, discipline, planning, analysis, facts, facts, facts. It's [getting] the right people in the room, kill the bureaucracy, all of these various things," Dimon told Roth. "But the real keys to leadership aren't just doing that."
It's about having "respect for people," not about having "charisma" or "brain power," he said.
Having these traits also increases your productivity, along with your success, Dimon said. If you're "selfish" or "take the credit" when it isn't warranted, others are "not going to want to work," which will impact efficiency on the job.
Dimon also looks for these things when hiring, he said in July. When interviewing or assessing a promotion, Dimon asks himself a few questions about the candidate, including, "Would you work for that person? Would you want your kid to work for that person?"
He also considers whether they "take the blame" or "how they act anytime something goes wrong."
In his role as CEO, Dimon said he tries to practice what he preaches.
"No one would say Jamie Dimon is humble," he said in July, "but I treat everyone the same, and I expect the same thing. You'd want to work for me if you think I give a s—, if I treat you fairly, if I treat everyone equally."
To achieve success, "treat people the way you want to be treated," Dimon told Roth. "Have respect for people."
https://www.cnbc.com/2020/11/18/jpmorgan-ceo-jamie-dimon-on-what-makes-the-most-successful-leaders.html?__source=sharebar%7Clinkedin&par=sharebar
Disclosure
Lansing Street Advisors is a registered investment adviser with the State of Pennsylvania..
To the extent that content includes references to securities, those references do not constitute an offer or solicitation to buy, sell or hold such security as information is provided for educational purposes only. Articles should not be considered investment advice and the information contain within should not be relied upon in assessing whether or not to invest in any securities or asset classes mentioned. Articles have been prepared without regard to the individual financial circumstances and objectives of persons who receive it. Securities discussed may not be suitable for all investors. Please keep in mind that a company's past financial performance, including the performance of its share price, does not guarantee future results.
Material compiled by Lansing Street Advisors is based on publicly available data at the time of compilation. Lansing Street Advisors makes no warranties or representation of any kind relating to the accuracy, completeness or timeliness of the data and shall not have liability for any damages of any kind relating to the use such data.
Material for market review represents an assessment of the market environment at a specific point in time and is not intended to be a forecast of future events, or a guarantee of future results.
Indices that may be included herein are unmanaged indices and one cannot directly invest in an index. Index returns do not reflect the impact of any management fees, transaction costs or expenses. The index information included herein is for illustrative purposes only.