1. Last 30days…FANG -6% vs. SPY +7%
FANG+ vs. SPY Chart straight down……50day breaking 200 day to downside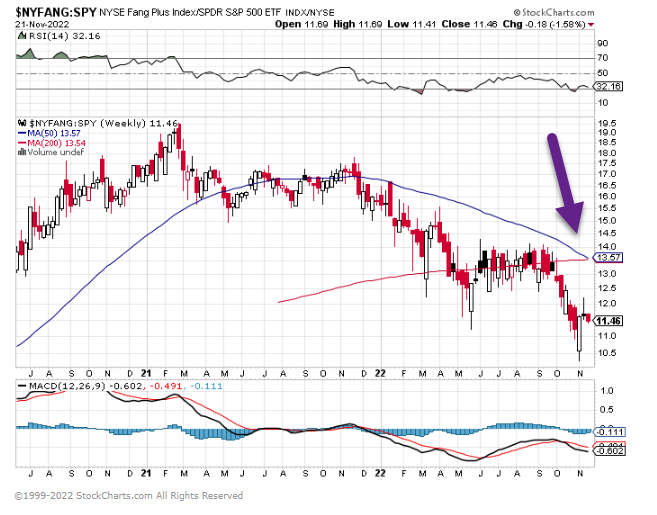 ---
2. Crude Oil Approaching Sept. Lows
Crude chart…50day went thru 200day to downside in September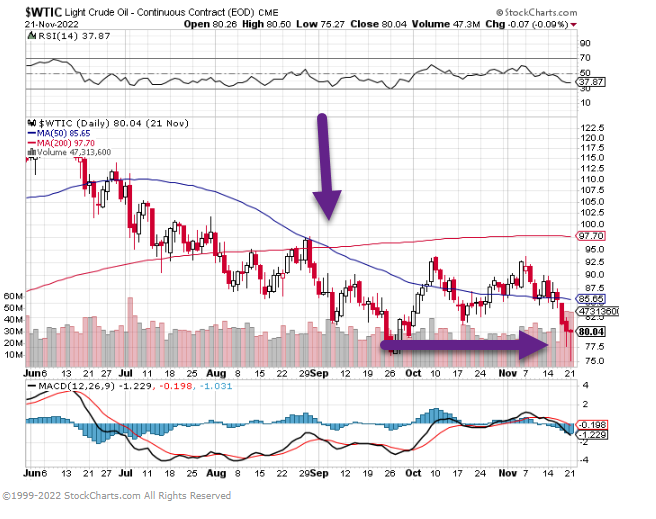 XLE Oil Stocks Outperforming the Commodity….this chart is showing XLE performance vs. Crude Oil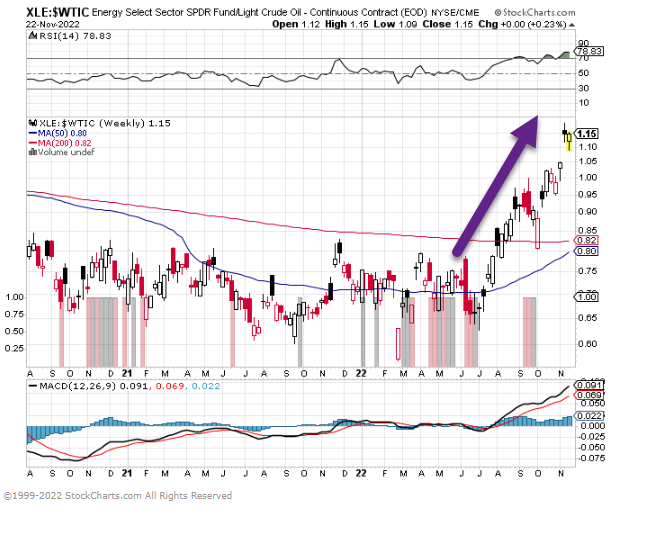 ---
3. Gas at the Pump Did Take Out Sept Low….$5 to $3.66
From Dave Lutz Jones Trading But Bespoke notes the AAA national average price of a gallon of gas took out its September low yesterday (before today's big drop in oil prices). Should help November CPI. Down 10 cents/gallon MTD.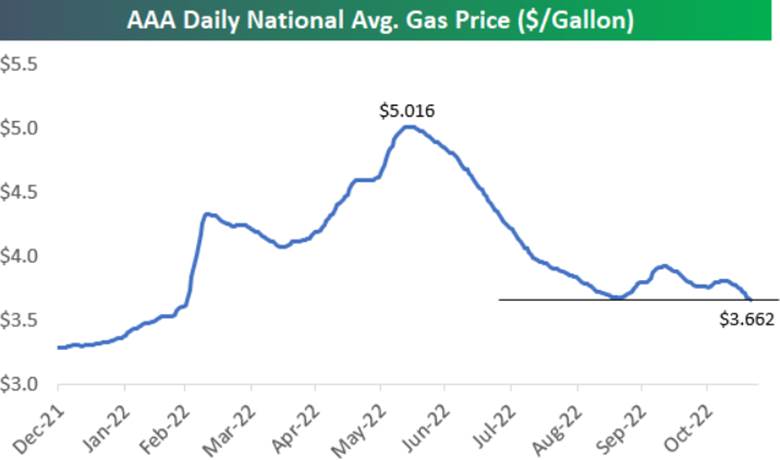 ---
4. Only Stock Drawdown in History Where 20 Year Treasury Lost More than Stocks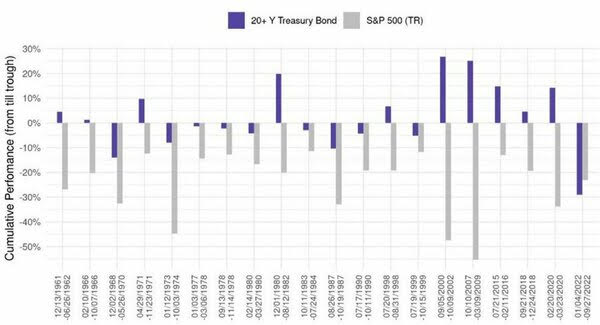 I've shown the below chart multiple times documenting how this is the only year in history where in a top 20 drawdown for stocks, Treasuries (the risk-off asset) during that drawdown lost more (my hell).
But what if the drawdown isn't over in stocks?
Can Treasuries still work? https://t.co/61QHWUK5Ek
9:38 PM – 18 Nov 2022
---
5. Crypto Stock Implosion Summary
Wolf Street Blog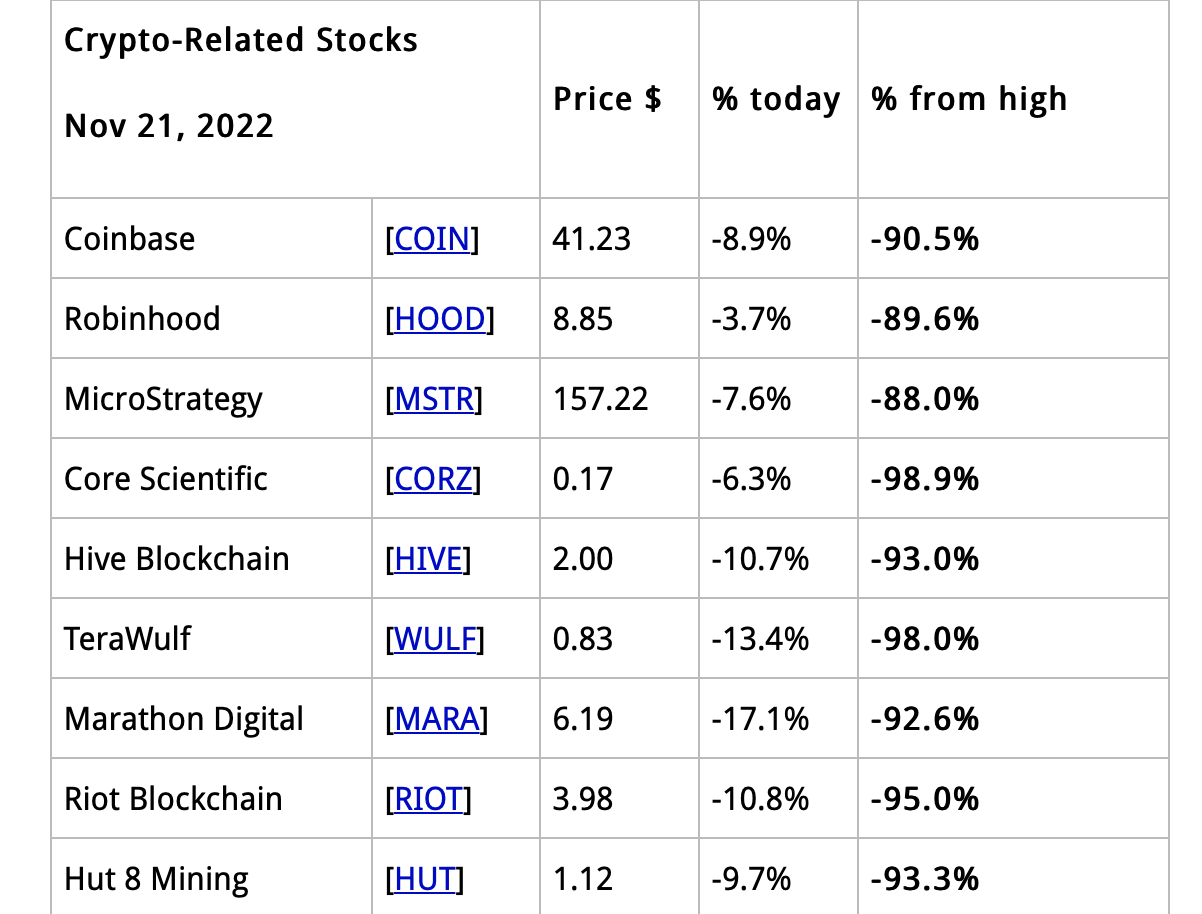 https://wolfstreet.com/2022/11/21/i-agree-dont-graduate-crypto-let-it-burn-making-good-progress-on-its-own/
---
6. Kailash Concepts Charts on Cap Weighted Russell Large Cap Growth….30 Names Make Up 65% of Index
Sign up for trial https://kailashconcepts.com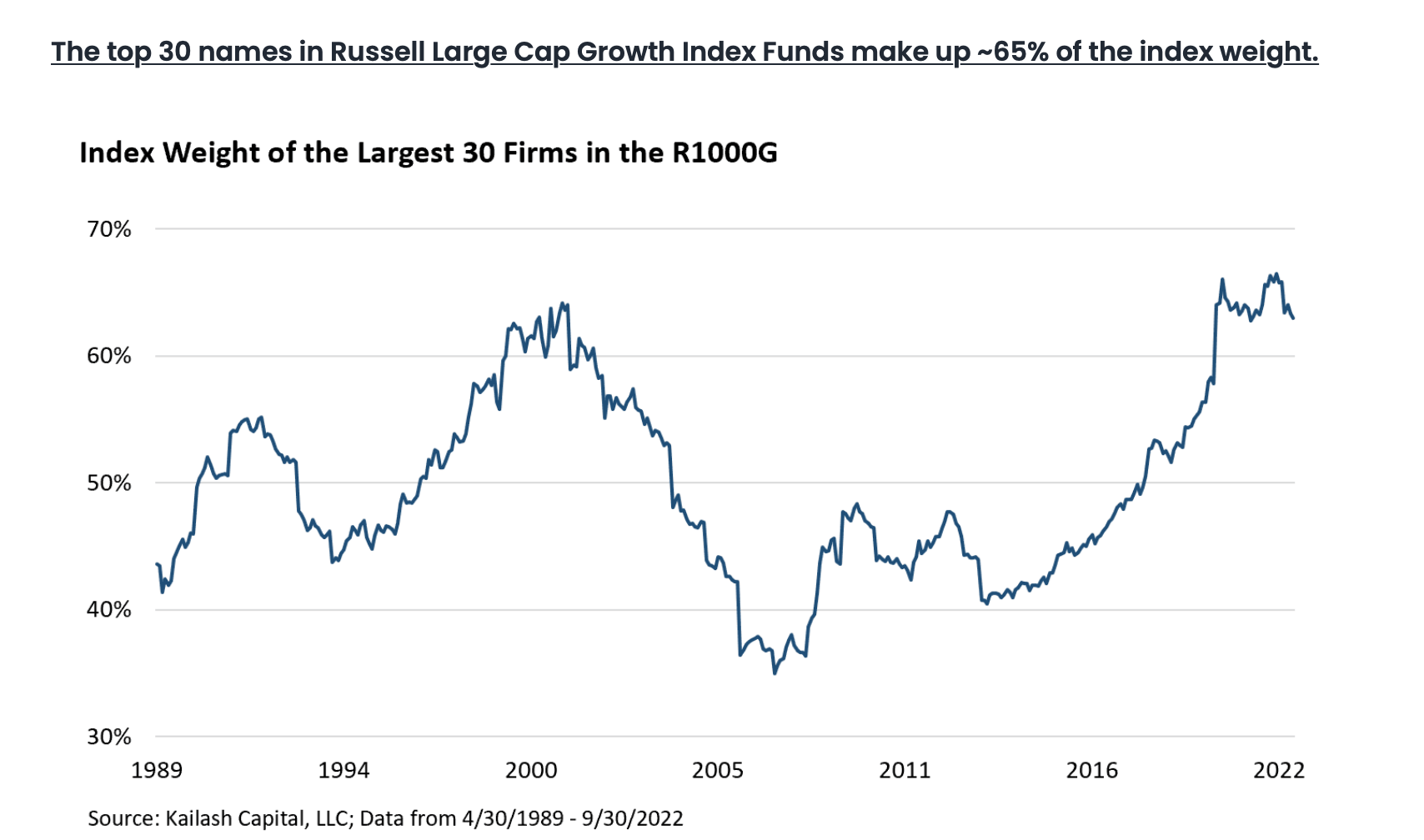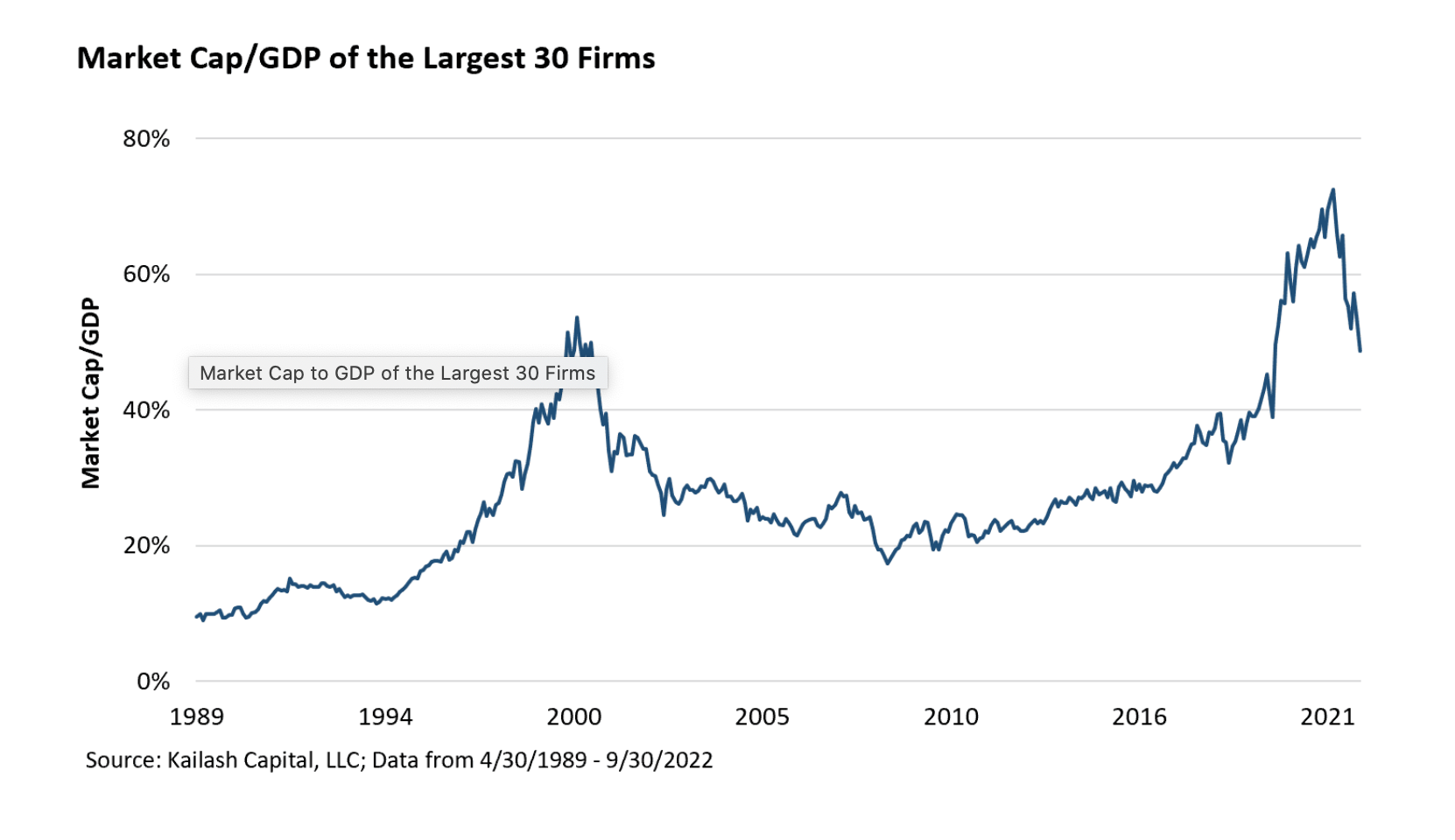 ---
7. GMO Latest 7 Year Real (inflation adjusted) Returns
GMO *The chart represents local, real return forecasts for several asset classes and not for any GMO fund or strategy. These forecasts are forward-looking statements based upon the reasonable beliefs of GMO and are not a guarantee of future performance. Forward-looking statements speak only as of the date they are made, and GMO assumes no duty to and does not undertake to update forward-looking statements. Forward-looking statements are subject to numerous assumptions, risks, and uncertainties, which change over time. Actual results may differ materially from those anticipated in forward looking statements. U.S. inflation is assumed to mean revert to long-term inflation of 2.3% over 15 years.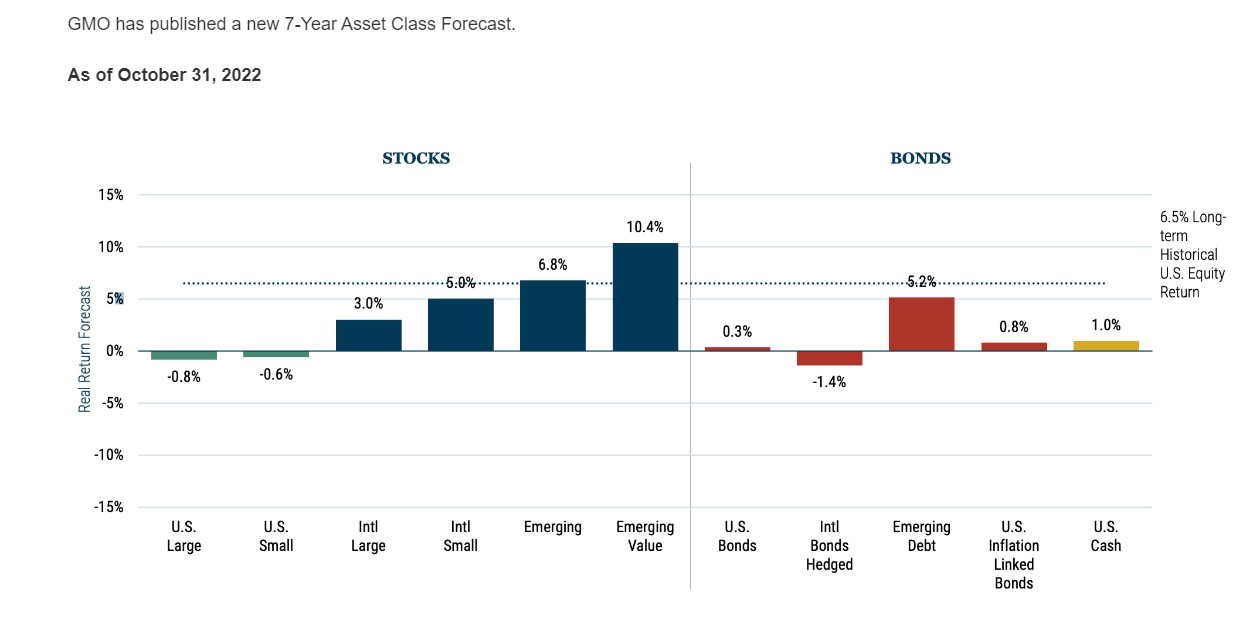 Source: GMO
Found at Advisor Perspective
https://www.advisorperspectives.com/commentaries/2022/11/22/gmo-7-year-asset-class-forecast-october-2022
---
8. Unwinding the FED Balance Sheet
The Fed's balance sheet is now down roughly $340 billion from the peak.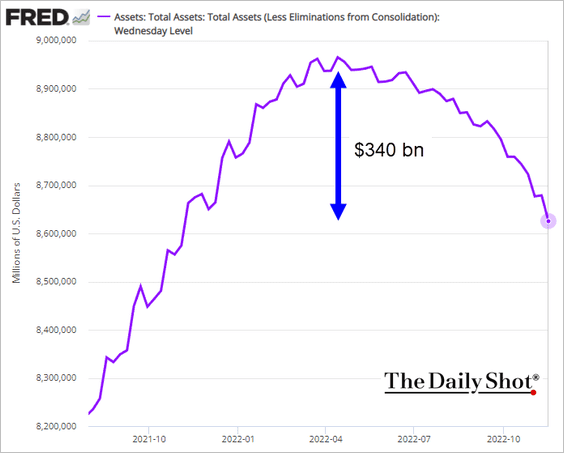 Source: Daily Shot
---
9. Qatar World Cup Spending vs. Historical Hosts…$220B vs. $12B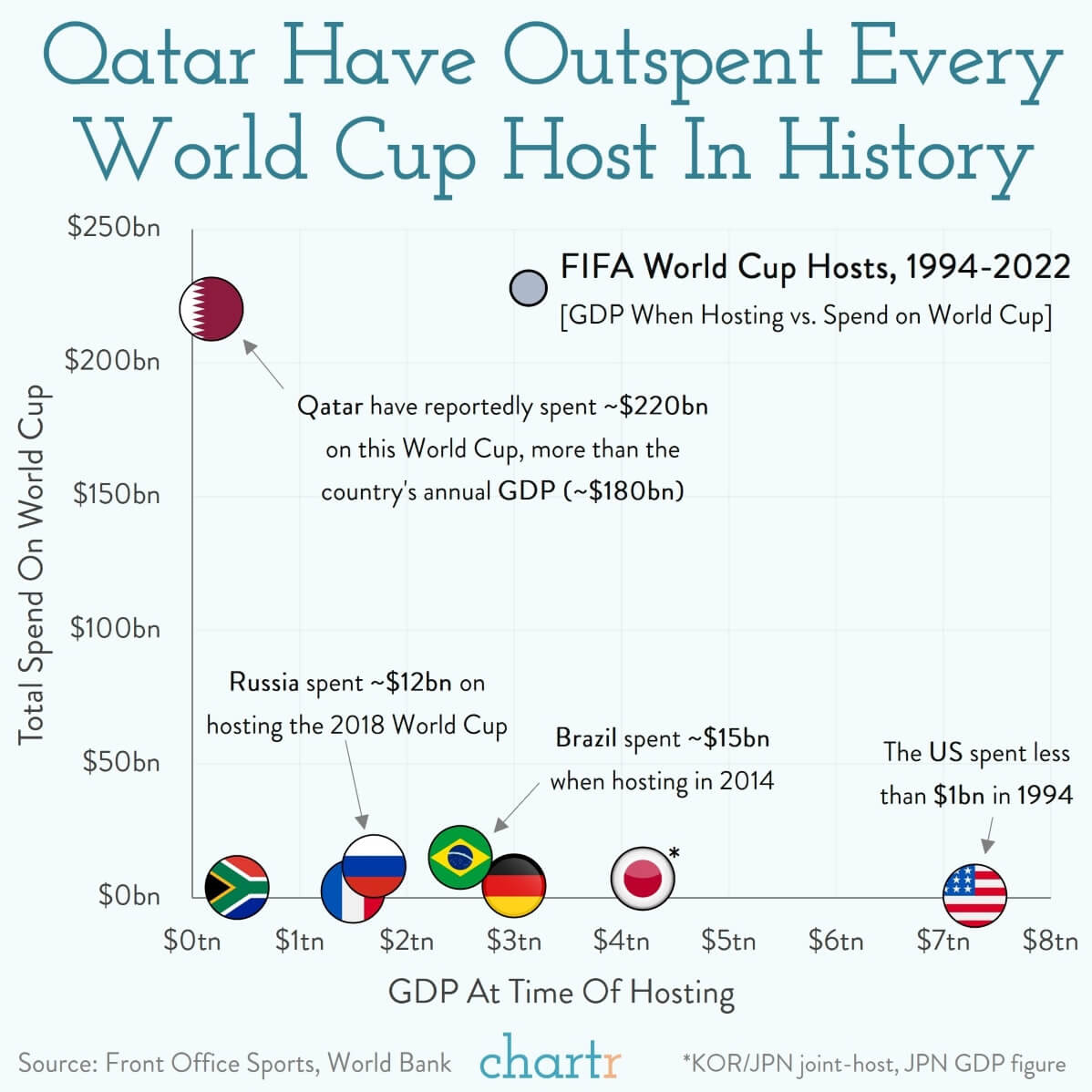 Soccer spend-The 2022 World Cup got underway yesterday as hosts Qatar lost to Ecuador in the opening game. Having reportedly spent $220bn on the tournament, Qatar's focus for the competition may not strictly be based on soccer results.

What's the score?FIFA's decision to elect Qatar as the host nation led to allegations of corruption back in 2010 and criticism and controversy have hardly ceased since. With Qatar's human rights record and its maltreatment of migrant workers and the LGBT community, many have accused the state of sportswashing; attempting to tidy their reputation via the World Cup. It's been an expensive clean-up effort if that's the case.

Qatar has gone all out, basically building a city to host the final and outspending every nation that's held the tournament before them. All told, the state has reportedly shelled out a staggering $220bn to prepare for kickoff, though Bloomberg estimated that the true cost could be as high as $300bn. The US, by comparison, spent just $500m when they hosted back in 1994.  Even if we were to adjust for inflation, the American tally would be a drop in the ocean compared to the Qatar figures — which become even more mind-boggling when compared to the host's relatively-small $180bn GDP figure.
---
10. The Lessons Never Change in the Stock Market
Liz Ann Sonders quotes from legendary investors
Edwin LeFevre
"Fear and hope remain the same; therefore the study of the psychology of speculators is as valuable as it ever was. Weapons change, but strategy remains strategy, on the New York Stock Exchange as on the battlefield."
"The sucker has always tried to get something for nothing, and the appeal in all booms is always frankly to the gambling instinct aroused by cupidity and spurred by a pervasive prosperity. People who look for easy money invariably pay for the privilege of proving conclusively that it cannot be found on this sordid earth."
"Speculators buy the trend; investors are in for the long haul; 'they are a different breed of cats.' One reason that people lose money today is that they have lost sight of this distinction; they profess to have the long term in mind and yet cannot resist following where the hot money has led."
"Never try to sell at the top. It isn't wise. Sell after a reaction if there is no rally."
"…there is nothing new in Wall Street. There can't be because speculation is as old as the hills. Whatever happens in the stock market today has happened before and will happen again."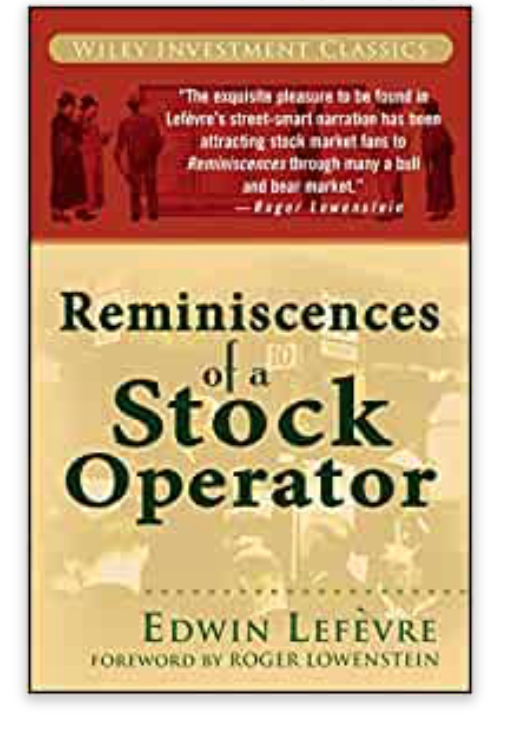 https://www.schwab.com/learn/story/songs-experience-reminiscences-strategist