1. Russell 2000 Small Cap-Highest Percentage of Small Caps Above 200 Day Moving Average.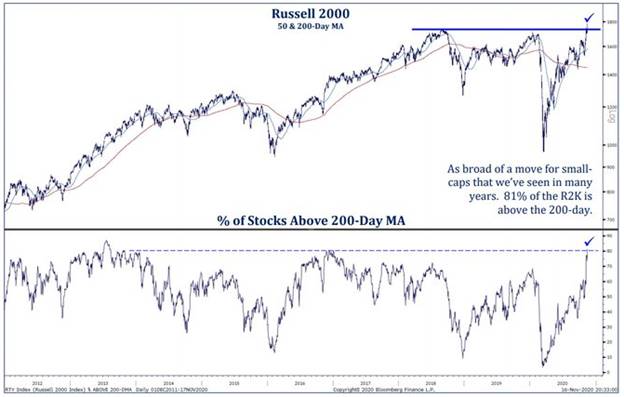 Highest % of stocks above 200-day for small-capssince 2013 notesStrategas
From Dave Lutz at Jones Trading
2. Average Returns of Securities Added to the S&P 500 Index vs. Average Retun SPX.
Nasdaq Dorsey Wright
3. 73% of Fund Managers Expect a Steepening Yield Curve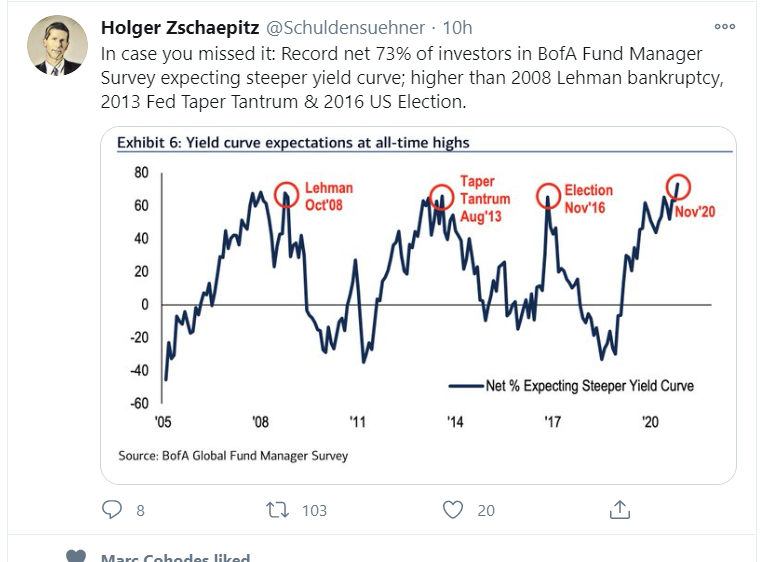 4. Here's How Much Cash is on Sidelines.
ZeroHedge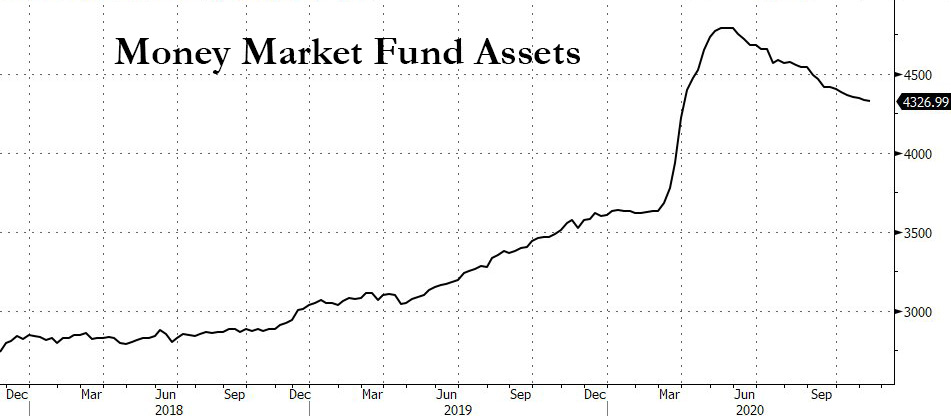 5. American banking consolidates as PNC buys BBVA's US business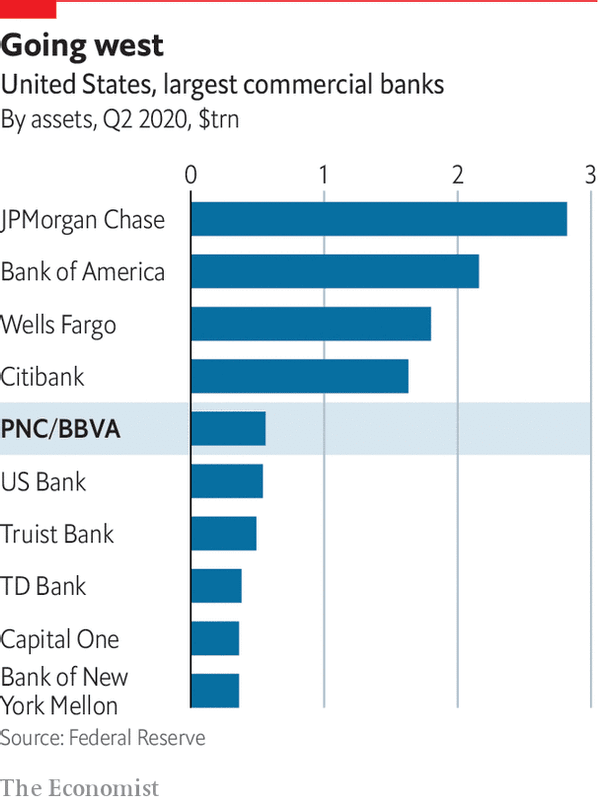 BACK IN MAY PNC, America's seventh-largest retail bank, sold its 22% stake in BlackRock, the world's largest asset manager, for $17bn. Bill Demchak, its boss, said at the time that worries about the health of the economy had prompted it to divest, in order to "bullet-proof" its balance-sheet against future bad loans. Six months on, Mr Demchak seems to have decided to break cover. On November 16th PNC announced it would buy the American arm of BBVA, Spain's second-largest bank, for $11.6bn. The deal may well precipitate a scramble for scale on both sides of the Atlantic: the same day BBVA said it was in merger talks with Sabadell, Spain's fifth largest lender.
https://www.economist.com/finance-and-economics/2020/11/16/american-banking-consolidates-as-pnc-buys-bbvas-us-business
6. US Chapter 11 bankruptcies surged to a decade-high in the 3rd quarter as stimulus dried up
Noam Galai/Getty Images
A gauge of Chapter 11 bankruptcies surged 12 points to 81 in the third quarter and hit its highest level since 2010, according to a report from law firm Posinelli.
The reading sits 26 points higher compared to the year-ago period but remains 19 points below the benchmark set in the fourth quarter of 2010.
US businesses faced a dire confluence of soaring virus cases and expiring fiscal support in the third quarter. The Southeast region, which hosted the bulk of new outbreaks, saw nearly 40% of quarterly bankruptcy filings.
Filings will likely increase "as we deal with the fallout from the pandemic," Jeremy Johnson, a bankruptcy attorney and co-author of the report, said.
Chapter 11 bankruptcies hit their highest level since 2010 in the third quarter as lasting damage from the coronavirus pandemic and expiration of fiscal support overwhelmed US businesses.
A gauge of Chapter 11 distress among surged roughly 12 points to 81 over the quarter that ended in September, according to a report from law firm Posinelli. The index sits roughly 26 points higher from the year-ago period and remains 19 points below the benchmark set in the fourth quarter of 2010.
The third quarter marked the sixth straight quarter of the distress index landing above 50 points. The gauge hasn't seen such stress since the financial crisis, Posinelli said.
The firm's index of real estate distress dipped 1 point to 29 in the third quarter. The reading is down roughly 4 points from the year-ago period. The nation's housing market has served as a bright spot throughout the pandemic as record-low rates fuel outsized buying.
The Posinelli-TrBK indexes track Chapter 11 filings from businesses with more than $1 million in assets. Nearly half of the previous quarter's filings came from businesses with more than $500 million in assets.
Almost 40% of filings originated in the Southeast, according to the report. The region, which includes Florida, Texas, and Georgia, was hit particularly hard by the virus over the third quarter.
The jump in bankruptcy filings arrived as key stimulus measures expired over the summer. The Paycheck Protection Program, which offered forgivable loans to small businesses, closed in early August. The period also saw the expiration of expanded unemployment benefits, leaving unemployed Americans with diminished spending power as cases ticked higher across the nation.
The current quarter doesn't offer much reprieve for struggling companies. Daily virus cases continue to hit record highs as public health experts warn for a dangerous winter. Several cities have instituted new lockdown measures to curb the virus's spread, but the restrictions could cut into crucial holiday-season revenue. And Congress remains stuck in a stimulus stalemate as both parties quarrel on the size of a new relief package.
"Although it's difficult for anyone to predict what the economy will do the rest of 2020 and into 2021, we do anticipate filings continuing this momentum as we deal with the fallout from the pandemic," Jeremy Johnson, a bankruptcy attorney and co-author of Posinelli's report, said.
Do you have a personal experience with the coronavirus you'd like to share? Or a tip on how your town or community is handling the pandemic? Please email covidtips@businessinsider.com and tell us your story.
Get the latest coronavirus business & economic impact analysis from Business Insider Intelligence on how COVID-19 is affecting industries.
https://www.businessinsider.com/us-bankruptcies-q3-decade-high-stimulus-expired-coronavirus-resurgence-recession-2020-11
7. U.S. Pension Funds with Large Private Equity Allocations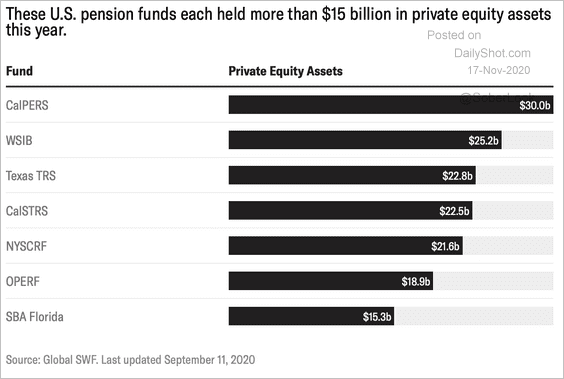 The Daily Shot https://dailyshotbrief.com/the-daily-shot-brief-november-17th-2020/
8. 6 reasons bitcoin is trading at its highest level since 2017 — and 1 warning
Last Updated: Nov. 18, 2020 at 4:55 p.m. ETFirst Published: Nov. 18, 2020 at 4:04 p.m. ET
The popular digital currency, which is arguably one of the most polarizing in financial markets, is approaching heights not seen since the frenzied rush into cryptocurrencies three years ago.
Bitcoin's price BTCUSD, +0.06% on Wednesday briefly hit an intraday peak at 18,358.98, and was pulling back in recent trade but still on pace for the fourth-highest finish in its history since December 2017, when the asset briefly flirted with $20,000 before collapsing in dazzling fashion, according to Dow Jones Market Data, based on a 7 p.m. Eastern close.
Bitcoin bounce: Bitcoin's price is knocking on the door of a record high near $20,000. Bitcoin USD Source: CoinDesk
But now bitcoin is drawing eyeballs and wallets again, outshining gold prices GOLD, -3.58% and the stock market, with a year-to-date advance that has exceeded 150% so far in 2020.
So why does the asset, based on the distributed-ledger technology, suddenly appear ready to surpass its 2017 peak at $19,783?
There are a few key reasons:
Bitcoin was created in 2009 and as a part of its creation by a person, or persons, using the name Satoshi Nakamoto, who embedded a limit of 21 million coins in the original bitcoin code. That means only 21 million bitcoin can ever exist. Currently, 18.5 million are in circulation, or nearly 90% of that total.
Bitcoins are digitally mined by those who expend outsize sums of computer power to solve puzzles and who are rewarded with coins in exchange for verifying transactions on the anonymous blockchain network.
Nakamoto designed the coins to be harder to get as the network gets closer to the maximum float. It's estimated that it will take 120 years to "mine" the remaining 10% of bitcoins needed to get to the 21 million limit.
The perceived scarcity, or supply limit, of an asset doesn't magically confer value to it. But the belief that there will be fewer opportunities to obtain bitcoin, or that it will reside in the hands of a select few, is often cited as a reason that demand for bitcoins has returned.
Familiarity breeds…buying?
Bitcoin doesn't have the cachet or tradition of other assets that have been around for much longer, including gold, which boasts a history stretching back thousands of years as a store of value and medium of exchange.
However, bitcoin's popularity has been growing among average folks and institutional investors alike, supporters say.
Bitcoin as a so-called uncorrelated asset, one not directly linked to price swings in, say, gold, bonds, or the Dow Jones Industrial Average DJIA, -1.15% or S&P 500 index SPX, -1.15%, has led to some buying of bitcoin as a financial hedge.
"Derivatives have taken a robust role in these markets, aiding the product variety available for active traders to advance their understanding of market dynamics and core risk management," Catherine Coley, CEO of Binance U.S., one of the world's largest crypto exchanges, told MarketWatch in an emailed exchange.
The rise of stablecoins
Another factor tied to familiarity is the emergence of stablecoins, or those cryptocurrencies that are usually pegged to a fiat currency, like the dollar DXY, -0.01% or the euro EURUSD, -0.01%. These coins don't have nearly the volatility that is associated with a generic cryptocurrency because of their peg to a traditional currency that often underpins it.
Stablecoins have become a major source of liquidity in cryptocurrency markets, experts say.
Such coins backed by governments or corporate groups also have conferred the air of legitimacy of the digital-currency sector, with the Federal Reserve exploring the possibility of issuing its own digital currency, amid reports that China is moving forward with a digital yuan. The second-largest economy in the world launched a trial of a digital currency last month, according to reports.
The U.K. is also pushing the idea of a stablecoin for its central bank, according to a statement from Chancellor of the Exchequer Rishi Sunak.
Among major institutions, JPMorgan Chase & Co. JPM, -0.74% launched an interbank payment systems using their own blockchain-based technologies to create a dollar-pegged digital asset called JPM coin.
Fall of the buck and gold rivalry
Worries that governments are printing heaps of money to paper over problems created partly by the 2008 financial crisis was at least part of the reason that bitcoins were created over a decade ago. That thinking is also the basis for this resurgence in bitcoin, crypto experts said, as the COVID-19 pandemic forces governments and central banks to spend to limit the economic hit.
The dollar is down 4.2% so far in 2020, as measured by the ICE U.S. Dollar Index DXY, -0.01%, a gauge of the buck against a half-dozen currencies, including the euro. That puts the dollar on pace for its worst annual drop since 2017, when bitcoins were on the ascent.
"Bitcoin as a form of digital gold is also seeing its time in the sun as we see the floodgates open on monetary policy. Closing the sluice gate is more difficult than opening it," Charles Hayter, founder and CEO of CryptoCompare, a company engaged in bitcoin data and analytics, told MarketWatch.
Anthony Denier, CEO of Webull, a crypto-trading platform said that low interest rates also have diminished the cost of owning bitcoins over dollars or bonds.
In an email exchange, Denier said "you have an extremely low interest rate environment which takes makes fiat cash stockpiles obsolete."
Mainstream appeal…and more
PayPal PYPL, -1.13% recently said that users on its platform will be able to purchase bitcoin, as well as other sister cryptos like ethereum, Bitcoin Cash and Litecoin. PayPal's decision last month was a further recognition of the legitimacy of digital currencies, crypto enthusiasts say.
"Today bitcoin has gotten to a place where institutional investors, banks, and family offices are legitimately pondering involvement as a defense against currency devaluation," wrote Alex Mashinsky, CEO of Celsius Network, in emailed commentary.
"This isn't a gold rush anymore, it's a good investment," he said. He predicts that bitcoin will hit $30,000 by the end of next year.
Read: Bitcoin bull sees digital currency at $55,000 or $60,000 by end of 2021
2017 vs 2020?
Some bulls make the case that this rally in bitcoin is different than the one three years ago that resulted in a massive and painful head-fake upward and crash lower for enthusiasts.
As the chart below shows, bitcoin's price is notably higher than it was at this time three years ago, wrote Matthew Weller, head of market research at GAIN Capital in a research note.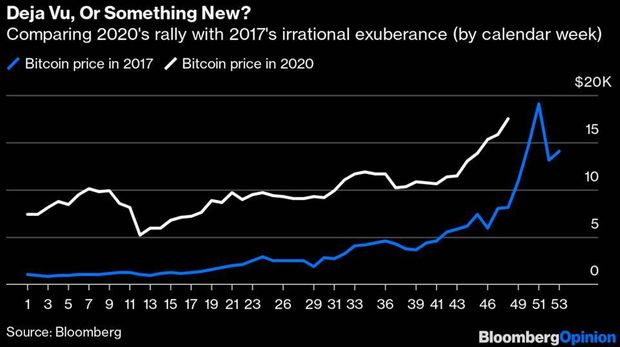 BLOOMBERG, GAIN CAPITAL VIA MATTHEW WELLER
Weller suggested that there is less hype in the move for bitcoin this time around and therefore, it might be more sustainable even if there is a pullback in coming weeks.
"Bitcoin is clearly overbought across most short- and medium-term time frames, so a brief pullback/consolidation is likely soon, but the world's oldest cryptocurrency has closed exactly three days above the current price near $18,000, so there's little in the way of overhead resistance to prevent new all-time highs this year," he wrote.
A word of caution
It's important to note that not everyone is a fan or believer in the inevitability of bitcoin as a legitimate asset in financial markets. Critics say that bitcoin is best used in money laundering and other criminal activities and make distinctions between digital currencies and the blockchain technology that underpins them.
Jamie Dimon, CEO of JPMorgan Chase, said that bitcoin wasn't his "cup of tea" at the New York Times DealBook Summit on Wednesday, even as he extolled the virtues of the blockchain backed JPM coin.
Dimon and others believe that governments can impose regulations on digital currencies that could nullify their appeal.
https://www.marketwatch.com/story/6-reasons-bitcoin-is-trading-at-its-highest-level-since-2017-and-1-warning-11605733477?mod=home-page
9. 11 Best Foods to Boost Your Brain and Memory
Your brain is kind of a big deal.
As the control center of your body, it's in charge of keeping your heart beating and lungs breathing and allowing you to move, feel and think.
That's why it's a good idea to keep your brain in peak working condition.
The foods you eat play a role in keeping your brain healthy and can improve specific mental tasks, such as memory and concentration.
This article lists 11 foods that boost your brain.
1. Fatty Fish
When people talk about brain foods, fatty fish is often at the top of the list.
This type of fish includes salmon, trout and sardines, which are all rich sources of omega-3 fatty acids (1Trusted Source).
About 60% of your brain is made of fat, and half of that fat is the omega-3 kind (2Trusted Source).
Your brain uses omega-3s to build brain and nerve cells, and these fats are essential for learning and memory (2Trusted Source, 3Trusted Source).
Omega 3-s also have a couple additional benefits for your brain.
For one thing, they may slow age-related mental decline and help ward off Alzheimer's disease (4Trusted Source, 5Trusted Source, 6Trusted Source, 7Trusted Source).
On the flip side, not getting enough omega-3s is linked to learning impairments, as well as depression (3Trusted Source, 8Trusted Source).
In general, eating fish seems to have positive health benefits.
One study found that people who ate baked or broiled fish regularly had more gray matter in their brains. Gray matter contains most of the nerve cells that control decision making, memory and emotion (9Trusted Source).
Overall, fatty fish is an excellent choice for brain health.
SUMMARY:
Fatty fish is a rich source of omega-3s, a major building block of the brain. Omega-3s play a role in sharpening memory and improving mood, as well as protecting your brain against decline.
2. Coffee
If coffee is the highlight of your morning, you'll be glad to hear that it's good for you.
Two main components in coffee — caffeine and antioxidants — help your brain.
The caffeine in coffee has a number of positive effects on the brain, including (9Trusted Source):
Increased alertness: Caffeine keeps your brain alert by blocking adenosine, a chemical messenger that makes you sleepy (10Trusted Source, 11Trusted Source, 12Trusted Source).
Improved mood: Caffeine may also boost some of your "feel-good" neurotransmitters, such as serotonin (13).
Sharpened concentration: One study found that when participants drank one large coffee in the morning or smaller amounts throughout the day, they were more effective at tasks that required concentration (14Trusted Source).
Drinking coffee over the long term is also linked to a reduced risk of neurological diseases, such as Parkinson's and Alzheimer's (9Trusted Source).
This could at least be partly due to coffee's high concentration of antioxidants (15Trusted Source).
SUMMARY:
Coffee can help boost alertness and mood. It may also offer some protection against Alzheimer's, thanks to its caffeine and antioxidants.
3. Blueberries
Blueberries provide numerous health benefits, including some that are specifically for your brain.
Blueberries and other deeply colored berries deliver anthocyanins, a group of plant compounds with anti-inflammatory and antioxidant effects (16Trusted Source).
Antioxidants act against both oxidative stress and inflammation, conditions that may contribute to brain aging and neurodegenerative diseases (16Trusted Source).
Some of the antioxidants in blueberries have been found to accumulate in the brain and help improve communication between brain cells (16Trusted Source, 17Trusted Source).
Animal studies have shown that blueberries help improve memory and may even delay short-term memory loss (18Trusted Source, 19Trusted Source, 20Trusted Source).
Try sprinkling them on your breakfast cereal or adding them to a smoothie.
SUMMARY:
Blueberries are packed with antioxidants that may delay brain aging and improve memory.
ADVERTISING
4. Turmeric
Turmeric has generated a lot of buzz recently.
This deep-yellow spice is a key ingredient in curry powder and has a number of benefits for the brain.
Curcumin, the active ingredient in turmeric, has been shown to cross the blood-brain barrier, meaning it can directly enter the brain and benefit the cells there (21Trusted Source).
It's a potent antioxidant and anti-inflammatory compound that has been linked to the following brain benefits:
May benefit memory: Curcumin may help improve memory in people with Alzheimer's. It may also help clear the amyloid plaques that are a hallmark of this disease (21Trusted Source, 22Trusted Source).
Eases depression: It boosts serotonin and dopamine, which both improve mood. One study found curcumin improved depression symptoms just as much as an antidepressant over six weeks (23, 24Trusted Source).
Helps new brain cells grow: Curcumin boosts brain-derived neurotrophic factor, a type of growth hormone that helps brain cells grow. It may help delay age-related mental decline, but more research is needed (25Trusted Source).
To reap the benefits of curcumin, try cooking with curry powder, adding turmeric to potato dishes to turn them golden or making turmeric tea.
SUMMARY:
Turmeric and its active compound curcumin have strong anti-inflammatory and antioxidant benefits, which help the brain. In research, it has reduced symptoms of depression and Alzheimer's disease.
5. Broccoli
Broccoli is packed with powerful plant compounds, including antioxidants (26Trusted Source).
It's also very high in vitamin K, delivering more than 100% of the Recommended Daily Intake (RDI) in a 1-cup (91-gram) serving (27).
This fat-soluble vitamin is essential for forming sphingolipids, a type of fat that's densely packed into brain cells (28Trusted Source).
A few studies in older adults have linked a higher vitamin K intake to better memory (29Trusted Source, 30Trusted Source).
Beyond vitamin K, broccoli contains a number of compounds that give it anti-inflammatory and antioxidant effects, which may help protect the brain against damage (31Trusted Source).
SUMMARY:
Broccoli contains a number of compounds that have powerful antioxidant and anti-inflammatory effects, including vitamin K.
6. Pumpkin Seeds
Pumpkin seeds contain powerful antioxidants that protect the body and brain from free radical damage (31Trusted Source).
They're also an excellent source of magnesium, iron, zinc and copper (32).
Each of these nutrients is important for brain health:
The research focuses mostly on these micronutrients, rather than pumpkin seeds themselves. However, since pumpkin seeds are high in these micronutrients, you can likely reap their benefits by adding pumpkin seeds to your diet.
SUMMARY:
Pumpkin seeds are rich in many micronutrients that are important for brain function, including copper, iron, magnesium and zinc.
7. Dark Chocolate
Dark chocolate and cocoa powder are packed with a few brain-boosting compounds, including flavonoids, caffeine and antioxidants.
Flavonoids are a group of antioxidant plant compounds.
The flavonoids in chocolate gather in the areas of the brain that deal with learning and memory. Researchers say these compounds may enhance memory and also help slow down age-related mental decline (41Trusted Source, 42Trusted Source, 43Trusted Source, 44Trusted Source).
In fact, a number of studies back this up (45Trusted Source, 46Trusted Source, 47Trusted Source).
In one study including over 900 people, those who ate chocolate more frequently performed better in a series of mental tasks, including some involving memory, than those who rarely ate it (45Trusted Source).
Chocolate is also a legitimate mood booster, according to research.
One study found that participants who ate chocolate experienced increased positive feelings, compared to participants who ate crackers (48Trusted Source).
However, it's still not clear whether that's because of compounds in the chocolate, or simply because the yummy flavor makes people happy (48Trusted Source).
SUMMARY:
The flavonoids in chocolate may help protect the brain. Studies have suggested that eating chocolate could boost both memory and mood.
8. Nuts
Research has shown that eating nuts can improve markers of heart health, and having a healthy heart is linked to having a healthy brain (49Trusted Source, 50Trusted Source).
A 2014 review showed that nuts can improve cognition and even help prevent neurodegenerative diseases (51Trusted Source).
Also, another large study found that women who ate nuts regularly over the course of several years had a sharper memory, compared to those who didn't eat nuts (49Trusted Source).
Several nutrients in nuts, such as healthy fats, antioxidants and vitamin E, may explain their brain-health benefits (52Trusted Source, 53Trusted Source).
Vitamin E shields cell membranes from free radical damage, helping slow mental decline (54Trusted Source, 55Trusted Source, 56Trusted Source).
While all nuts are good for your brain, walnuts may have an extra edge, since they also deliver omega-3 fatty acids (57).
SUMMARY:
Nuts contain a host of brain-boosting nutrients, including vitamin E, healthy fats and plant compounds.
9. Oranges
You can get all the vitamin C you need in a day by eating one medium orange (58).
Doing so is important for brain health, since vitamin C is a key factor in preventing mental decline (59Trusted Source).
Eating sufficient amounts of vitamin C-rich foods can protect against age-related mental decline and Alzheimer's disease, according to a 2014 review article (60Trusted Source).
Vitamin C is a powerful antioxidant that helps fight off the free radicals that can damage brain cells. Plus, vitamin C supports brain health as you age (61Trusted Source).
You can also get excellent amounts of vitamin C from bell peppers, guava, kiwi, tomatoes and strawberries (62).
SUMMARY:
Oranges and other foods that are high in vitamin C can help defend your brain against damage from free radicals.
10. Eggs
Eggs are a good source of several nutrients tied to brain health, including vitamins B6 and B12, folate and choline (63).
Choline is an important micronutrient that your body uses to create acetylcholine, a neurotransmitter that helps regulate mood and memory (64Trusted Source, 65Trusted Source).
Two studies found that higher intakes of choline were linked to better memory and mental function (66Trusted Source, 67Trusted Source).
Nevertheless, many people don't get enough choline in their diet.
Eating eggs is an easy way to get choline, given that egg yolks are among the most concentrated sources of this nutrient.
Adequate intake of choline is 425 mg per day for most women and 550 mg per day for men, with just a single egg yolk containing 112 mg (64Trusted Source).
Furthermore, the B vitamins have several roles in brain health.
To start, they may help slow the progression of mental decline in the elderly (68Trusted Source).
Also, being deficient in two types of B vitamins — folate and B12 — has been linked to depression (69Trusted Source).
Folate deficiency is common in elderly people with dementia, and studies show that folic acid supplements can help minimize age-related mental decline (70Trusted Source, 71Trusted Source).
B12 is also involved in synthesizing brain chemicals and regulating sugar levels in the brain (69Trusted Source).
It's worth noting that there's very little direct research on the link between eating eggs and brain health. However, there is research to support the brain-boosting benefits of the nutrients found in eggs.
SUMMARY:
Eggs are a rich source of several B vitamins and choline, which are important for proper brain functioning and development, as well as regulating mood.
11. Green Tea
As is the case with coffee, the caffeine in green tea boosts brain function.
In fact, it has been found to improve alertness, performance, memory and focus (72Trusted Source).
But green tea also has other components that make it a brain-healthy beverage.
One of them is L-theanine, an amino acid that can cross the blood-brain barrier and increase the activity of the neurotransmitter GABA, which helps reduce anxiety and makes you feel more relaxed (73, 74Trusted Source, 75).
L-theanine also increases the frequency of alpha waves in the brain, which helps you relax without making you feel tired (76Trusted Source).
One review found that the L-theanine in green tea can help you relax by counteracting the stimulating effects of caffeine (72Trusted Source).
It's also rich in polyphenols and antioxidants that may protect the brain from mental decline and reduce the risk of Alzheimer's and Parkinson's (77Trusted Source, 78Trusted Source).
Plus, green tea has been found to improve memory (79Trusted Source).
SUMMARY:
Green tea is an excellent beverage to support your brain. Its caffeine content boosts alertness, while its antioxidants protect the brain and L-theanine helps you relax.
The Bottom Line
Many foods can help keep your brain healthy.
Some foods, such as the fruits and vegetables in this list, as well as tea and coffee, have antioxidants that help protect your brain from damage.
Others, such as nuts and eggs, contain nutrients that support memory and brain development.
You can help support your brain health and boost your alertness, memory and mood by strategically including these foods in your diet.
https://www.healthline.com/nutrition/11-brain-foods
10. How to Grow Your Wealth for Decades
By Mark Ford
Originally posted November 18, 2020 on Liberty Through Wealth
FacebookTwitterEmailLinkedInPinterest
Wednesday Wealth Recap
· Conscious leadership is about more than running a successful business – it's about connecting people to purpose. Alexander Green points out that CVS is a great example.
· Value stocks have suffered a decade from hell. Nicholas Vardy asks, what's a value investor to do?
· Stomach-churning volatility often makes investors feel like a passenger in a car with a drunk driver at the wheel. But what if you could remove some of the guesswork? Matthew Carr explains how to invest for success.
---
Maybe I'm lucky. Or maybe it's just common sense.
I've been involved in the investment advisory business for 30 years. And except for a few early mistakes buying real estate, the big financial hoaxes and bubbles that devastated so many investors never burned me.
That made a huge difference over time. It allowed me to grow my net worth year after year without a single year of loss.
I learned several lessons about growing wealth and avoiding the biggest mistakes average investors make.
The financial life of the typical investor is marked by a plethora of hopeful speculations. Only a few dozen, at best, achieve their promise. My investment history is less exciting but more profitable.
I get into trends only after they're proven, I get out as soon as they don't make sense, and I turn my back on 9 out of 10 opportunities that come my way.
For example, in the 1980s, penny stocks were all the rage. The financial press was full of stories about investors who got rich by buying little-known companies at $0.50 per share.
My boss invested in one and tried to convince me to do the same. I was tempted… but something inside me said to let this bus pass me by.
I'm glad I did. My boss, a very savvy investor, lost 100% of his money on that deal. It turned out to be a scam.
I remember thinking that if a sophisticated investor could be fooled by one of those cheap stock deals, I stood no chance.
Another example: the recent real estate bubble. By that time, I'd been investing in real estate for more than 10 years. I knew the game. I'd made a lot of money.
But by 2006, the houses I'd been buying were selling for 20 times their yearly rentals. I knew it was time to get out.
I stopped buying, and I advised my friends to do the same. They thought I was crazy. I'm sure they wish they'd listened to me now.
I'm telling you these stories not to brag but to illustrate an important point: You don't have to be a sophisticated investor to avoid making big investment mistakes. You can do so by applying a little bit of common sense.
Here are the five biggest mistakes most ordinary investors make:
1. Being swept away by exciting stories.
The business my boss got suckered into had an amazing story. A company in Central America was turning beach sand into gold. The company had "proof" of its success – in the form of audited financial statements, geologist reports and endorsements from investment experts.
My partner even went down there to see the operation. He saw the sand going in and the gold dust coming out.
I didn't invest because the story sounded so fantastic. I remember telling him, "This sounds like alchemy." I didn't know anything about geology or gold, but I didn't need to. The story itself was just too crazy.
When I hear stories like that nowadays, I'm totally turned off. One part of my brain might get excited, but the smarter part tells me, "Stay clear!"
2. Investing in businesses you don't understand.
My boss was a sophisticated investor. He had his own seat on the stock exchange when he was in his 20s and had been successfully investing since that time. But he knew nothing about gold mining.
His ignorance allowed him to be duped by the reports and the fraudulent factory tour. The scam was exposed by a few people in the mining business. They understood the industry and knew how to read reports with the sophistication of experience.
If you don't understand the business you're investing in, you're investing blind.
3. Allowing yourself to be bullied by good salespeople.
I mentioned I made some bad investments early in my real estate career. They were due to a combination of the two mistakes I just enumerated. Plus, I buckled under pressure from a real estate broker who also happened to be my landlord and – I thought – my friend.
I agreed to make the investments even though I had a hunch they wouldn't work out. I ignored my instincts because she was so good at manipulating my emotions.
Nowadays, whenever someone tries hard to sell me something, I take that hard selling to be a signal: Stay away!
4. Investing in trends too late – when the only chance of making money is to find "the bigger fool."
I got into real estate investing at a good time, when prices were already going up but the values were still good. I made a lot of money as the market rose.
When I could no longer buy properties at eight or 10 times yearly rentals, I realized the only way to profit was to ride the bubble to the top.
But riding a bubble when the economics are bad is a fool's game. Your only chance of winning is to find someone else willing to buy you out… someone who knows less about the market than you do.
Insiders call this "the bigger fool theory." You'd think anybody with common sense wouldn't fall victim to this impulse. But millions of Americans (including bankers and brokers) did.
There's a time to get into a trend and a time to get out. Neither is particularly difficult… so long as you pay attention to the fundamental economics of the deal and ignore the excitement caused by the bubble.
5. Investing without a way to limit your losses.
Sometimes, even if you use your common sense – and avoid the four mistakes I've already explained – you can lose money because something unpredictable happens.
To avoid this, I have a rule: I never get into an investment unless I have a way out.
When you're investing in a business deal, that "way out" might be a buy-sell agreement.
When you're investing in real estate, the way out is the income you can get from renting it if you can't sell it for any reason.
When you're investing in stocks for yearly gains or income, the way out is the trailing stop loss.
There is always a way to limit your downside as long as you identify what that is before you make the investment – and stick to it. Even if you feel like you shouldn't.
Those are the five biggest mistakes ordinary investors make. As you can see, they're all pretty obvious – the kind of mistakes you can avoid by applying common sense. Avoiding these mistakes is part of how I've managed to get richer, year after year.
Think about your own investment experiences and the investments you're making right now. Ask yourself honestly: "Am I making any of these five common mistakes?"
Good investing,
Mark
Disclosure
Lansing Street Advisors is a registered investment adviser with the State of Pennsylvania..
To the extent that content includes references to securities, those references do not constitute an offer or solicitation to buy, sell or hold such security as information is provided for educational purposes only. Articles should not be considered investment advice and the information contain within should not be relied upon in assessing whether or not to invest in any securities or asset classes mentioned. Articles have been prepared without regard to the individual financial circumstances and objectives of persons who receive it. Securities discussed may not be suitable for all investors. Please keep in mind that a company's past financial performance, including the performance of its share price, does not guarantee future results.
Material compiled by Lansing Street Advisors is based on publicly available data at the time of compilation. Lansing Street Advisors makes no warranties or representation of any kind relating to the accuracy, completeness or timeliness of the data and shall not have liability for any damages of any kind relating to the use such data.
Material for market review represents an assessment of the market environment at a specific point in time and is not intended to be a forecast of future events, or a guarantee of future results.
Indices that may be included herein are unmanaged indices and one cannot directly invest in an index. Index returns do not reflect the impact of any management fees, transaction costs or expenses. The index information included herein is for illustrative purposes only.