1. Year-End Historically Positive for Momentum Stocks
Momentum stocks may get an end-of-the-year push, history shows
Last Updated: Nov. 17, 2020 at 2:30 p.m. ETFirst Published: Nov. 17, 2020 at 7:07 a.m. ET
By Mark Hulbert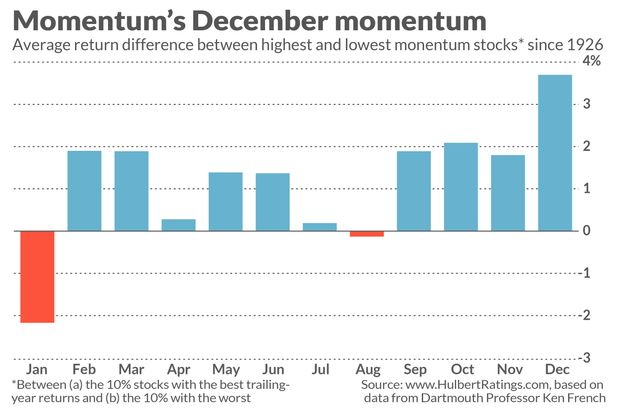 The next six weeks are shaping up to be especially good for momentum strategies in the stock market.
Such strategies lead investors to typically buy the winning stocks over the trailing year and sell (or sell short) the losers. This year the pattern is likely to be particularly strong, for two reasons.
The first is year-end tax-loss selling, according to Richard Sias, chair of the finance department at the University of Arizona. He was referring to what happens when investors sell the stocks they're holding at a loss to offset capital gains on which they otherwise would have to pay tax. This year's bifurcated market is tailor-made to produce a lot of such selling: While some stocks have performed spectacularly well, many have lost ground.
One gauge of this split market comes from the proportion of stocks with gains or losses. Of the 1,500 stocks in the S&P 1500 Index, for example, 48% have year-to-date gains as of mid-November while 52% have losses. To put this in context, consider that one year ago, 80% of stocks were sporting year-to-date gains and only 20% were sitting on losses.
As Sias put it to me: This year there are "lots of gains to offset and lots of stocks to offset those gains."
https://www.marketwatch.com/story/momentum-stocks-may-get-an-end-of-the-year-push-history-shows-11605564341?mod=article_inline
2. S&P All-Time Highs by Size, Style and Sector
Nasdaq Dorsey Wright
When we examine these areas of the broader market by way of the aggregated S&P 1500 Index, we find that a total of 304 stocks (about 20%) have moved to new all-time highs since September 2. As shown in the chart below, we can see that some areas of the market are participating more in this rally than others. Large caps have led the way in terms of headcount, accounting for 187 of the 304 stocks (62%) moving to new highs. Mid-caps are next in line with 99 stocks (33%), followed by small caps with 18 stocks (6%).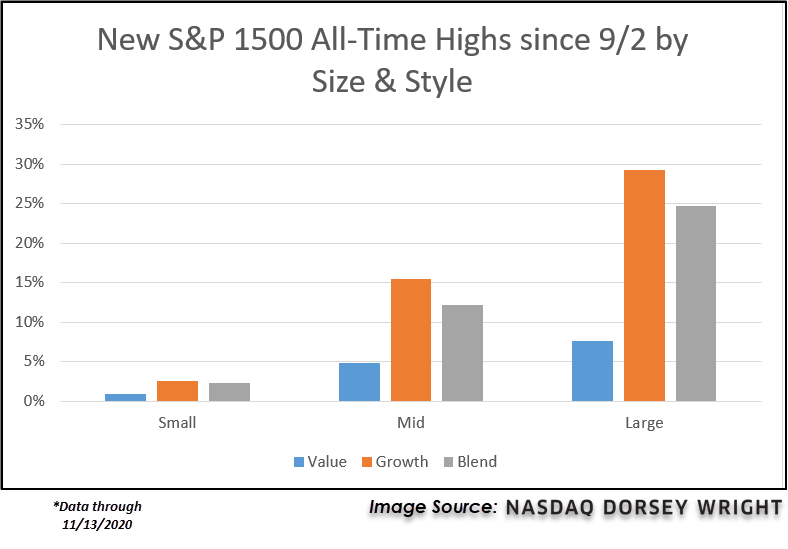 As we lift the hood to examine the individual names that have reached new highs, we are able to pinpoint sector participation. The image below shows the number of stocks within each sector that have hit a new high between September 2 and November 13 (with the percentage of the 304 new highs the sector accounts for shown above each of the bars). Most of the new highs since September 2 have come from stocks within high relative strength sectors, i.e. sectors that rank in the top half of the DALI rankings. Combined, the technology, cyclicals, healthcare, and industrials sectors, which currently rank #1 through #4 in DALI, respectively, account for 232 or 76% of the new highs. All in all, the industrials sector tops the list with 32.2% of the new S&P 1500 highs, followed by consumer cyclicals (16.10%), and technology (14.1%). There was minimal representation from the energy sector, which is to be expected as energy is the weakest area within US equities with a rank of #11 in DALI.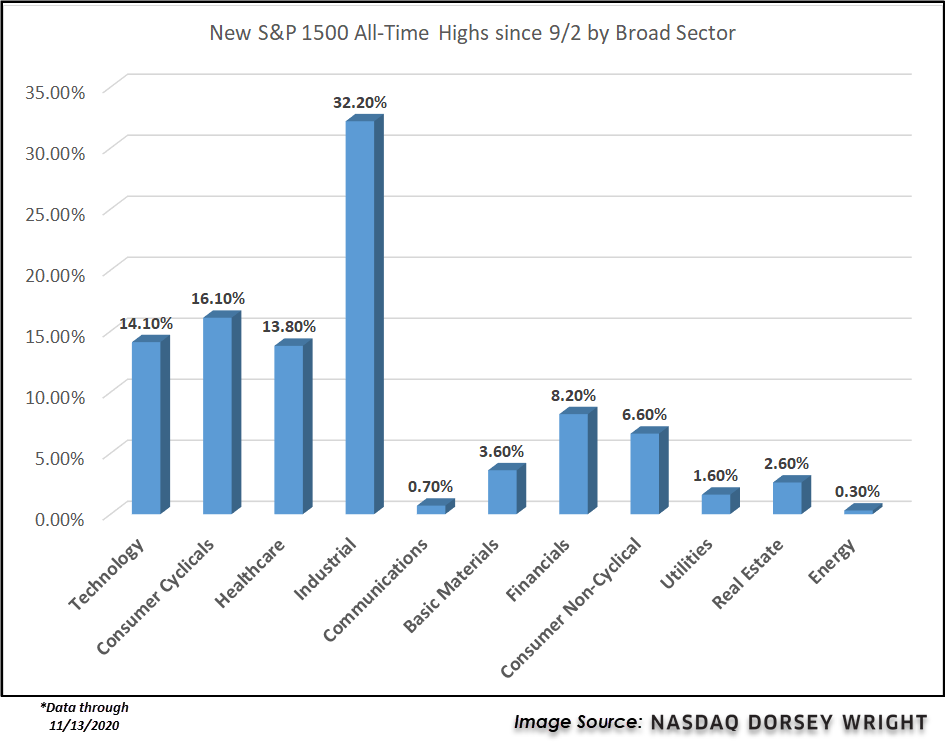 We have created a public portfolio containing all of 304 these stocks, in case you would like to review the names that have hit new highs over the last few months, or maybe even cross-reference it with your firm-approved list. To access the public portfolio, please click here. It can also be found in the DWA Portfolios section within your Portfolios page. To narrow the list down to a manageable size, we ran it through a few filters using the Security Screener tool using the criteria listed below. Note: if you run this same screen on our pre-made portfolio, your results may differ from ours as each day's action has the potential to alter the results.
3. 10 Year Treasury Yield Forming Technical Bottoming Pattern
Inverse Head and Shoulders Pattern
One of the most well-known patterns in technical analysis is the Head and Shoulders Pattern. A reversal pattern, noted for its three points (left shoulder, head, and right shoulder) as well as the neckline, this pattern can also signal a reversal from a downtrend to an uptrend when the pattern appears to be upside down. As shown in Figure 1, we believe we are close to completing an inverse Head and Shoulders Pattern on the yield of the 10-year Treasury. A weekly close above the neckline near 0.95% would signal confirmation and target a move to just above 1.3%. The range from 1.3% to 1.5% also marks significant resistance for yields, as it was support for nearly a decade before breaking down in February.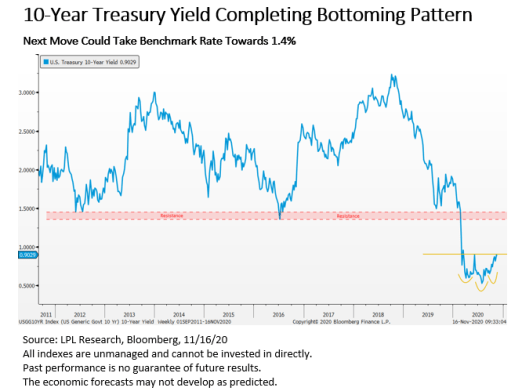 4. Some Short-Term Sentiment Indices Hitting Extreme Greed
Zerohedge
Our composite "fear/greed" indicator, which primarily comprises investor positioning, shows much of the same as "bullish sentiment" pushes back to extremes.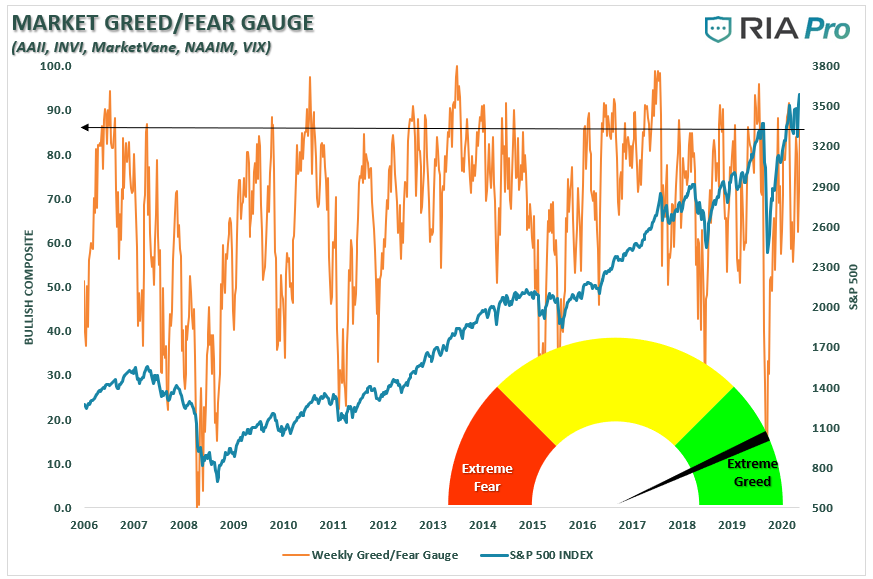 "Insider selling" has reached more important extremes and typically coincides with short-term market corrections.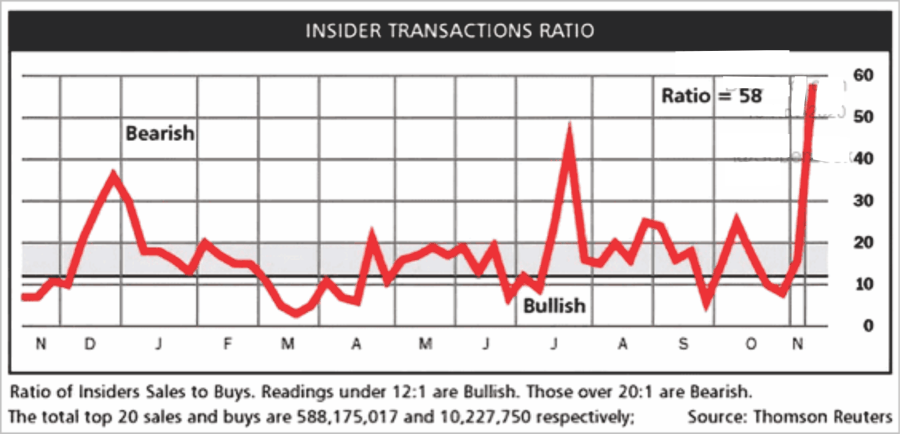 https://www.zerohedge.com/markets/bulls-go-ballistic-time-reduce-risk
5. Air Traffic Flatlines at Low Level
Wolf Street—In terms of the number of passengers, it is clear what is not happening: normal seasonal increases and decreases. These seasonal variations in passenger traffic have largely been upended this year. Traffic has been more stable, but at much lower levels. The chart below shows the number of people who passed through TSA checkpoints per day through November 11 (seven-day moving average; 2020 = red line; 2019 = black line):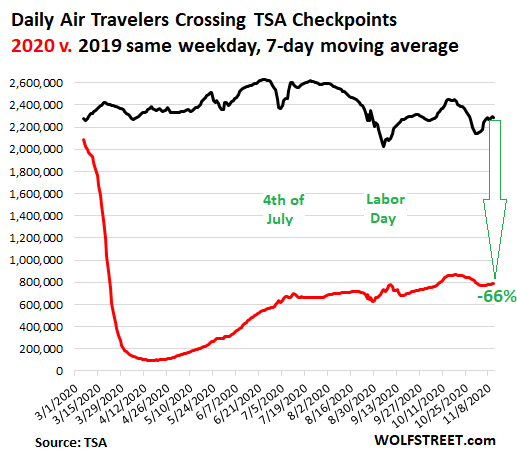 Southwest said:
"The Company has experienced a deceleration in improving revenue trends for November and December 2020 in recent weeks.
"While the Company expected the election to impact trends, it is unclear whether the softness in booking trends is also a direct result of the recent rise in COVID-19 cases.
"As such, the Company remains cautious in this uncertain revenue environment."
6. Temporary Layoffs Have Plunged from Highs
Schwab-Liz Ann Sonders
As you can see in the following chart, while temporary layoffs have been falling, permanent losses had been rising until recently. October's reversal is a welcome sign, but not yet the start of a definitive trend.
Temporary layoffs have plunged from highs and permanent job losses have dipped slightly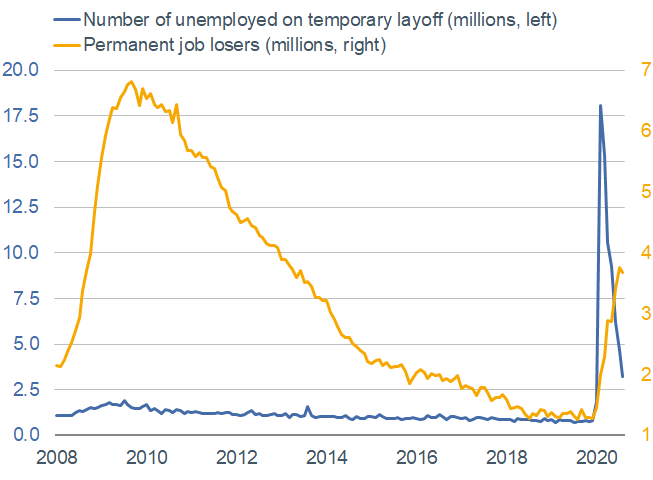 Source: Charles Schwab, Bloomberg, as of 10/31/2020.
Vaccine News Improves Outlook
by Liz Ann Sonders, Jeffrey Kleintop, Kathy Jones of Charles Schwab, 11/13/20
https://www.advisorperspectives.com/commentaries/2020/11/13/vaccine-news-improves-outlook
7. Amazon Expands Push Into Health Care With Online Pharmacy
Prime customers offered fast delivery, discounts for medicines
New digital drug store comes after 2018 PillPack acquisition
Amazon.com Inc. unveiled its biggest push into selling prescription drugs with the launch of a digital pharmacy and discounts for paying U.S. Prime members that sent shock waves through shares of drugstore chains and distributors.
The e-commerce giant on Tuesday unveiled Amazon Pharmacy, a section of its retail website and mobile application that lets people order medication. Shoppers can pay using their health insurance. Prime members who don't use their insurance are eligible for discounts on generic and brand-name drugs on Amazon's site or at about 50,000 participating pharmacies.
Amazon's new offering comes more than two years after its $753 million acquisition of PillPack, an online pharmacy known for organizing prescriptions into packets. This expansion puts the Seattle-based e-commerce company into more direct competition with pharmacy giants CVS Health Corp. and Walgreens Boots Alliance Inc., the two largest chains in the U.S.
CVS shares fell as much as 8.5% in early trading in New York, while Walgreens Boots dropped as much as 10.3%. GoodRx Holdings, a digital prescription-drug platform, fell 15% at 9:55 a.m. Drug distributor Cardinal Health Inc. lost as much as 9%, and rival McKesson Corp. slid as much as 6.8%.
The move also helps Amazon compete with Walmart Inc. and other big-box stores that already sell prescription drugs.
Read More: Amazon Online Pharmacy Plan Pressures Drug Stores, Distributors
Analysts have long expected Amazon to dive deeper into health care in a bet the company can bring its digital real estate and logistical prowess to bear on a roughly $4 trillion industry in the U.S. with a reputation for inefficiency. The company rattled drug retailers with its PillPack acquisition, but Amazon has been slow to integrate the online pharmacy startup into its offerings.
The announcement Tuesday marks the first time that shoppers can order prescription drugs directly on Amazon. Previously, they were redirected to PillPack's website. An integrated pharmacy removes one of the few gaps in Amazon's offerings compared with major big box and grocery rivals, some of whom have long filled shoppers' prescriptions in the same stores where they sold flat-screen televisions or cans of soup.
The discounts are a clear play for people who pay for their medications with cash, whether they are uninsured or are looking to save money. Strong demand for transparency and better deals have helped fuel the rise of discount card programs like GoodRx Holdings Inc. Amazon will display both the price when using insurance and the price without. Infusing transparency into a system that has been frustratingly opaque for consumers could alter the supply chain.
"We designed Amazon Pharmacy to put customers first – bringing Amazon's customer obsession to an industry that can be inconvenient and confusing," said TJ Parker, vice president of Amazon Pharmacy and co-founder of PillPack.
Amazon's push comes as consumers are shunning stores and ordering more items online, a trend the coronavirus pandemic has accelerated. With consumer behavior shifting, chain drugstores have already started rethinking their strategies. CVS acquired health insurer Aetna for $68 billion in 2018 and is adding more health services to its stores. Walgreens is dabbling with numerous partnerships to add items like groceries and mobile phones to its stores.
Amazon could find it difficult to quickly pry away customers from pharmacy chains. For many consumers, asking doctors to steer recurring prescriptions elsewhere is cumbersome, especially for those who rely on insurance to pay for their medication.
In some cases, such a switch might also require an office visit — at a time when Americans have been steering clear of the doctor's office out of concerns about the pandemic. And the ubiquity of the biggest pharmacy chains means most consumers have one nearby, and shopping at them is an ingrained habit.
Amazon's entry into a market doesn't guarantee its dominance. Drugstores have long insisted that patients prefer to talk to their pharmacist at the counter, an experience Amazon will try to recreate digitally.
Amazon Chief Executive Officer Jeff Bezos has positioned Prime, Amazon's paid membership program, at the center of the company's efforts to create loyal customers. What was originally an unlimited shipping program has grown in recent years to include video streaming, games and digital storage, and discounts at Amazon-owned Whole Foods Market.
(Updates shares in fourth paragraph.)
https://www.bloomberg.com/news/articles/2020-11-17/amazon-expands-push-into-health-care-with-online-pharmacy?srnd=premium
8. Worlds Highest Paid Athletes 2020
https://www.dailynorseman.com/2020/5/29/21274591/kirk-cousins-espn-list-worlds-highest-paid-athletes-minnesota-vikings
9. 97% of All U.S. Wineries Produce Less Than 50,000 Cases Per Year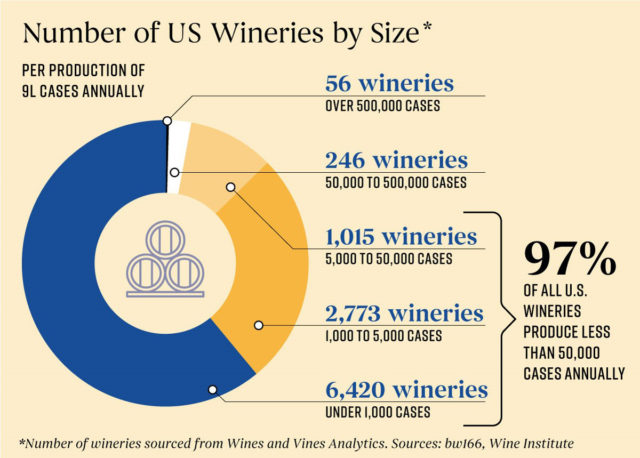 US Wine Losses from COVID-19 Could Reach $5.94 Billion
10. Deep Sleep Protects Against Alzheimer's, Growing Evidence Shows
Researchers are learning that there is a significant relationship between sleep and dementia, particularly Alzheimer's disease.
Basak Gurbuz Derman/Getty Images
During deep sleep, the brain appears to wash away waste products that increase the risk for Alzheimer's disease.
A host of new research studies suggest that this stage of sleep — when dreams are rare and the brain follows a slow, steady beat – can help reduce levels of beta-amyloid and tau, two hallmarks of the disease.
"There is something about this deep sleep that is helping protect you," says Matthew Walker, a professor of neuroscience and psychology at the University of California, Berkeley.
The research comes after decades of observations linking poor sleep to long-term problems with memory and thinking, Walker says. "We are now learning that there is a significant relationship between sleep and dementia, particularly Alzheimer's disease."
The strongest evidence involves deep sleep, he says. That's when body temperature drops and the brain begins to produce slow, rhythmic electrical waves.
So Walker and a team of scientists set out to answer a question: "Can I look into your future and can I accurately estimate how much beta-amyloid you're going to accumulate over the next two years, the next four years, the next six years, simply on the basis of your sleep tonight?"
To find out, Walker's team studied 32 people in their 70s who had taken part in a sleep study that looked for the slow electrical waves that signal deep sleep. None of the participants had memory problems.
The scientists used brain scans to monitor levels of beta-amyloid in each participant for up to six years. And the results, published in the Nov. 2 issue of the journal Current Biology, showed people who got less deep had more beta-amyloid.
"We have a specific sleep signature right now that seems to help us better understand where you may sit on the Alzheimer's risk trajectory in the future," Walker says.
Other studies have found that a lack of deep sleep is associated with higher levels of tau, which forms toxic tangles inside the brain cells of people with Alzheimer's.
Scientists have some ideas about why deep sleep seems able to reduce both beta-amyloid and tau.
In 2013, a landmark study of mice found that their brains switched on a sort of dishwasher during sleep.
"So things like amyloid beta, which are implicated in Alzheimer's disease, seem to actually be removed more rapidly from the brain when an animal is asleep versus when they're awake," says Laura Lewis, an assistant professor of biomedical research at Boston University.
In 2019, Lewis led a team that showed how this dishwasher works in people.
"We realized that there's these waves of fluid flowing into the brain during sleep," she says. "And it was happening at a much larger and slower scale than anything we'd seen during wakefulness."
What's more, each wave of fluid was preceded by a large, slow electrical wave.
So now scientists are looking for ways to induce the slow waves that signal deep sleep. Lewis says it's easy — in rodents.
"There's a specific deep brain structure that if you stimulate it, you can cause these sleep-like slow waves in the brain," she says.
In people, there's some evidence that rhythmic sounds can increase slow waves.
It's also possible to boost slow waves by treating certain sleep disorders, says Dr. Yo-El Ju, an associate professor of neurology at Washington University in St. Louis.
Ju was part of a study of people with obstructive sleep apnea, which repeatedly blocks the airway. These patients "seem to have a change in their ability to clear proteins or waste products from their brain," she says. "And people with sleep apnea are at higher risk for dementia down the line."
So Ju's team looked to see what happened after patients had been treated successfully for apnea. The scientists found that treatment resulted in more deep sleep and more beta-amyloid cleared from the brain.
And Ju says there was another effect: Participants' brains began making less beta-amyloid.
"So I don't know whether it's that sleep increases clearance or whether sleep decreases the production of waste products," she says.
Either way, sleep is important to brain health, Ju says – though she admitted to being a bit sleep deprived on the day we spoke.
"My 2-year-old decided to sleep in my bed and eat a tortilla and a banana at 2 in the morning," she says. "But usually I get a pretty good sleep."
https://www.npr.org/sections/health-shots/2020/11/17/935519117/deep-sleep-protects-against-alzheimers-growing-evidence-shows
Disclosure
Lansing Street Advisors is a registered investment adviser with the State of Pennsylvania..
To the extent that content includes references to securities, those references do not constitute an offer or solicitation to buy, sell or hold such security as information is provided for educational purposes only. Articles should not be considered investment advice and the information contain within should not be relied upon in assessing whether or not to invest in any securities or asset classes mentioned. Articles have been prepared without regard to the individual financial circumstances and objectives of persons who receive it. Securities discussed may not be suitable for all investors. Please keep in mind that a company's past financial performance, including the performance of its share price, does not guarantee future results.
Material compiled by Lansing Street Advisors is based on publicly available data at the time of compilation. Lansing Street Advisors makes no warranties or representation of any kind relating to the accuracy, completeness or timeliness of the data and shall not have liability for any damages of any kind relating to the use such data.
Material for market review represents an assessment of the market environment at a specific point in time and is not intended to be a forecast of future events, or a guarantee of future results.
Indices that may be included herein are unmanaged indices and one cannot directly invest in an index. Index returns do not reflect the impact of any management fees, transaction costs or expenses. The index information included herein is for illustrative purposes only.