1. Small Cap Value Watch for Break Above 5 Year Sideways.
VBR-Vanguard Small Cap Value 5 Year Chart
https://ycharts.com/companies/VBR
2. Vanguard Mega-Cap Tech ETF Hit New Highs.
Rotation Out of Tech? Not substantial yet.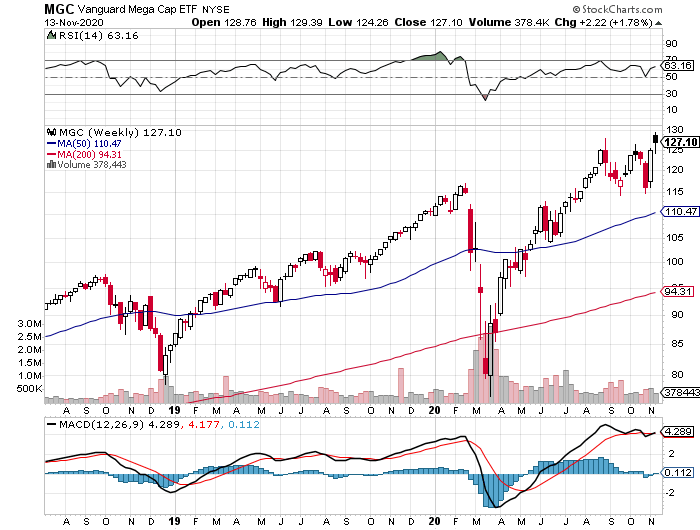 3. Long Bond Yields and Growth Stocks
A substantial increase in Treasury yields could pose a risk for growth stocks, especially the tech mega-caps. A successful vaccine rollout, for example, could be a catalyst for higher rates.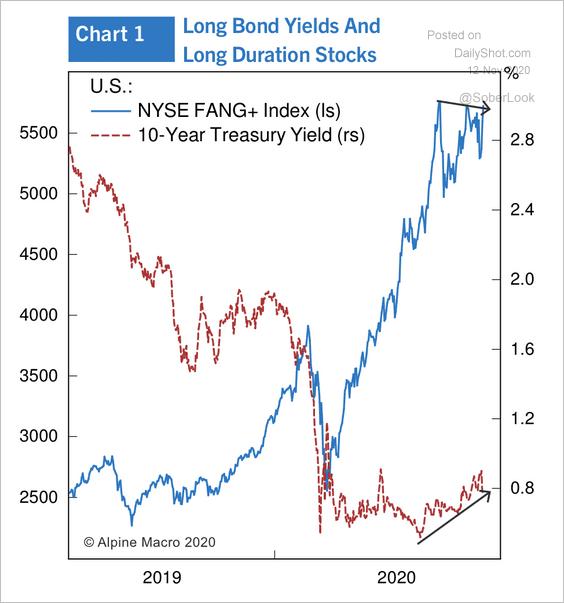 Source: Alpine Macro
https://dailyshotbrief.com/the-daily-shot-brief-november-12th-2020/
4. Possibly the Biggest Covid Related Stock…Zoom -37% from Highs.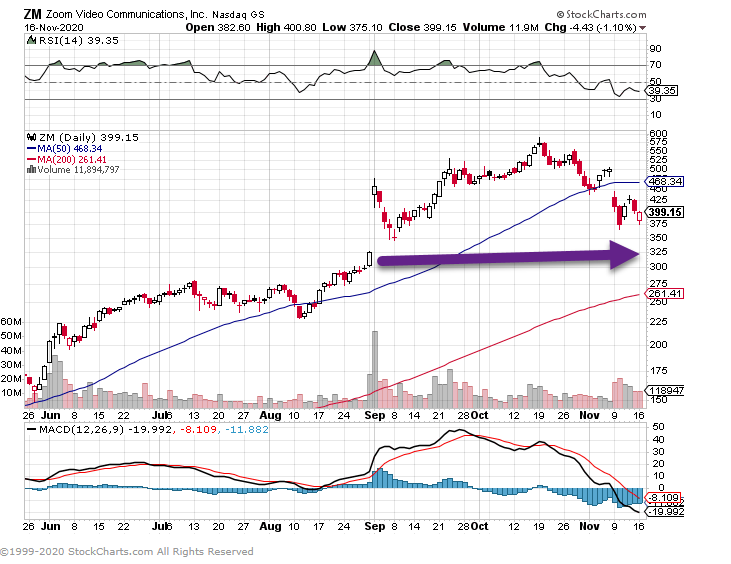 5. Massive Cash Build Up on Sidelines Pre-Election Moving Back into Market
AND WAS REAL BUYERS– Investors ploughed more into global stock funds in the days after Pfizer unveiled its coronavirus breakthrough on Monday than in any week in at least two decades – Funds that buy stocks counted $44.5bn of inflows in the week to Wednesday,including more than $32bn that was invested in US stock funds, according to the data provider EPFR Global.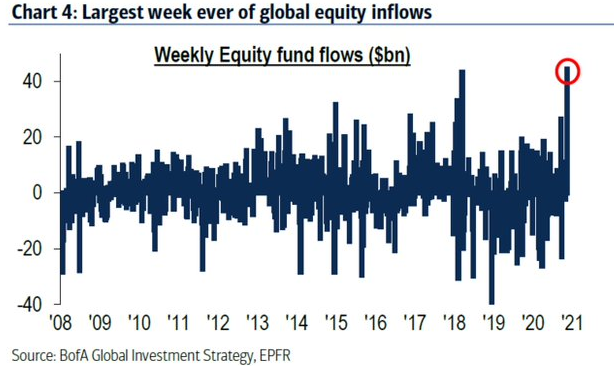 From Dave Lutz at Jones Trading
6. Small Cap Market Cap Russell 2000 Takes Market Cap Lead Back from Apple.

Carl Quintanilla, @carlquintanilla
"A couple of months ago, Apple's market cap eclipsed the market cap of the entire Russell 2,000, but as of today, the lead for the Russell has grown back to ~$500 billion." –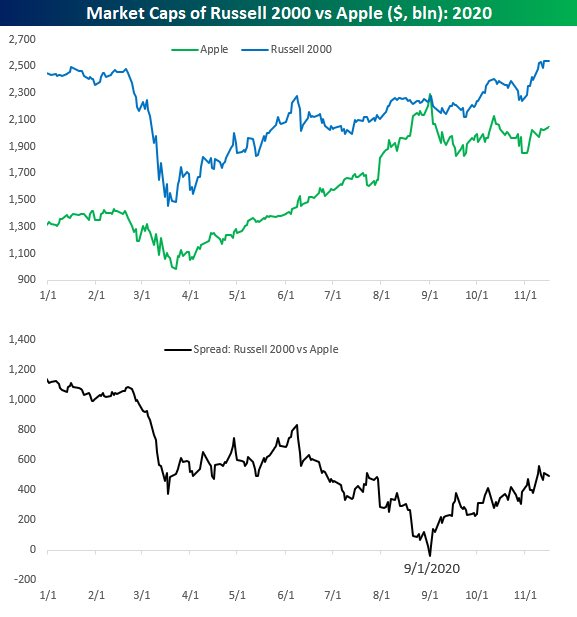 7. Tesla to Join S&P 500 Next Month as Largest-Ever New Member
Tesla Inc., Elon Musk's 17-year-old upstart carmaker, took a giant step toward blue-chip respectability on Monday, getting named to one of the world's most famous stock indexes in an action that will greatly broaden its investor base.
The announcement that Tesla will enter the S&P 500 on Dec. 21 follows months of speculation, and one temporary setback, after the stock failed to make the cut during the index's quarterly rebalancing in early September. The anticipation has helped drive a nearly fivefold rally in the stock this year to almost $390 billion, making the electric vehicle pioneer the biggest company ever to be added to the gauge. It will also be one of the index's most influential constituents with a weighting that falls around those of Berkshire Hathaway Inc., Johnson & Johnson and Procter & Gamble Co.
It's so big that S&P Dow Jones Indices said it is seeking feedback from the investment community to determine if Tesla should be added all at once or in two separate pieces. The company that Tesla is to replace in the index will be named later, the index provider said.
Tesla shares rose as much as 15% to $467.50 in extended New York trading on the news.
https://www.bloomberg.com/news/articles/2020-11-16/tesla-will-join-s-p-500-in-december-as-largest-ever-new-member?srnd=markets-vp
8. Machine Learning in One Picture
Which#MachineLearning#AlgorithmShould You Use By Problem Type?
https://twitter.com/andi_staub/status/1328202144927920128/photo/1
9. Covid Pushes Real Estate Into the Future-NY Times –By Stefanos Chen
There's no going back to the old ways. Which technologies could propel the industry forward?
A bed that descends from the ceiling when it's needed and conceals the couch.CreditCredit…Video by Stefano Ukmar
The coronavirus could be the crisis that finally propels the tech-averse real estate industry into the 21st century.
Location matters less, now that the office is the kitchen. Size matters more, now that everyone is at home. And the best way to justify exorbitant prices is no longer the building's amenity package — it's peace of mind walking from the lobby to the living room.
These are the touch points for a host of new or newly valuable technologies emerging in the post-Covid housing market, from rent-regulated apartments to luxury condos. They range from robotic furniture that reimagines itself inside our shrinking walls, to contactless apps designed to bring neighbors together. They are futuristic takes on prosaic features, like ultraviolet wands in air ducts, and "Ghostbusters"-inspired blasters to hose down Amazon boxes. Some may be passing fads.
Still, the ones that stick could have long-term implications for a stubbornly analog industry, even as some critics have raised concerns about data collection and privacy. And it remains unclear whether these improvements will reach the workaday housing market, or remain a luxury niche.
Here are some of the products and ideas that could stay with us long after the pandemic.
Robotic Furniture
Transforming furniture is hardly new — consider the folding Murphy bed, patented more than a century ago. But housebound workers, cramped in overpriced studio apartments, might welcome an upgrade that not only saves floor space, but doubles as a tidy Zoom background.
Ori, a robotic furniture company short for "origami" that was founded in 2015, recently launched the pocket office: An almost 7-foot-tall sliding desk that, with the tap of an app, expands from a 30-inch-deep cabinet into a full-size desk with storageand library shelves. When sealed, it's a sleek TV console with shelving and a Scandinavian aesthetic; when it opens, with the aid of a low-profile track system, it splits down the middle to create an office nook with a retractable desk on one wall and a bookcase and standing-desk setup on the other.
"People are expecting more from their space," said Hasier Larrea, the company's founder and chief executive, on a video call from his one-bedroom apartment in Williamsburg. "But square footage is the most expensive thing out there."
Continue reading the main story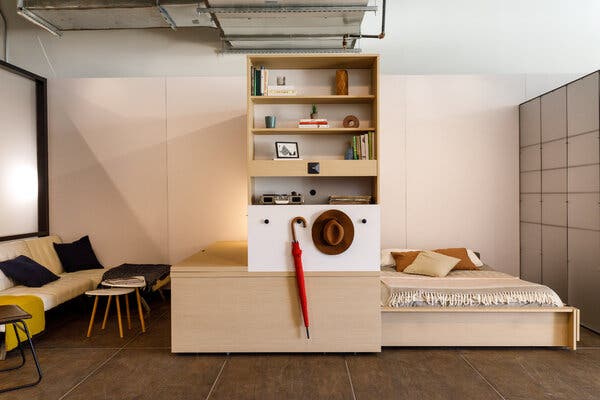 A transforming "studio suite" at Ori's design studio at the Brooklyn Navy Yard. Their Swiss Army-knife approach to furniture includes a sliding bed, desk space and storage.Credit…Stefano Ukmar for The New York Times
That has always been true in big cities, but work-from-home policies and the uncertain prospect of a safe daily commute, even years after the virus recedes, has been a boon for the company, Mr. Larrea said.
"This is not only in New York, San Francisco, Boston — we're seeing this from Boise, to Minneapolis, to Houston," he said, noting that their bookings have "quadrupled"from last year, without specifying sales, and that clients have purchased thecompany's furniture in over 15 cities, mostly in rental buildings.
Bumblebee Spaces creates modular storage and bed frames suspended from the ceiling that can be lowered or stowed away to clear floor space. Credit…Bumblebee Spaces
Bumblebee Spaces, a San Francisco-based comp
10. 6 Brilliant Things People With Emotional Intelligence Do Under Pressure
Emotional intelligence is now one of ten critical job skills required for workers to thrive by 2020.
By
In 2016, the World Economic Forum released its fascinating Future of Jobs Report, where they asked chief human resources officers from global companies what they saw as the top 10 job skills required for workers to thrive by 2020.
One skill projected for success in 2020 that didn't even crack the top 10 list in 2015 was — you guessed it — emotional intelligence.
According to many experts in the field, emotional intelligence has become an important predictor of job success for nearly two decades, even surpassing technical ability.
In one noteworthy CareerBuilder survey of more than 2,600 U.S. hiring managers and human resources professionals, it was found that "fifty-nine percent of employers would not hire someone who has a high IQ but low [emotional intelligence]."
In fact, 75 percent of survey respondents said they're more likely to promote someone with high emotional intelligence over someone with high IQ.
Companies are placing a high value on workers with emotional intelligence for several reasons. In my own studies and observations over the years as a leadership coach, here are six that really stand out.
1. People with emotional intelligence respond rather than react.
So often we react and get defensive when faced with an emotionally charged situation or a difficult co-worker or client. In high-EQ people, once they get a handle on the root cause of a negative emotion (what's pushing their buttons), they typically respond with a more patient, "keep calm" approach. They'll process a situation about to go south, get perspective, listen with without judgment, and hold back from reacting head on.
2. People with emotional intelligence show up with their real selves.
A common tendency for people at work is to put on a mask that hides who they truly are when faced with difficult people or situations. An emotionally-intelligent worker or leader shows up with integrity and her best and most authentic self; she'll face those difficult people and situations with unfettered, emotional honesty and transparency.
3. People with emotional intelligence think before they speak.
There's a nifty conversational technique called the "six second pause," used by people with emotional intelligence to gather their thoughts before they speak. Why six seconds? The chemicals of emotion inside our brains and bodies usually last about six seconds. During a heated exchange, if we can pause for a short moment, the flood of chemicals being produced slows down. When you are frustrated or upset, before you say something harsh, this precious pause helps you to quickly assess the costs and benefits of your actions and make more careful choices.
4. People with emotional intelligence handle tough situations better
Take an unhappy customer or a disgruntled coworker, for example. A high level of EQ in a colleague or manager will show up by staying calm and positive during tough conversations; it also shows up with firmness and boundaries to set limits on people during spiraling disagreements and unhealthy conflict.
5. People with emotional intelligence practice self-control.
Psychologist and best-selling author Daniel Goleman says this about people with self-control:
Reasonable people–the ones who maintain control over their emotions–are the people who can sustain safe, fair environments. In these settings, drama is very low and productivity is very high. Top performers flock to these organizations and are not apt to leave them.
Self-control is a learned skill to help you be more present, calmer, and focused during times of high stress. It's a necessary emotional skill with long-term payoff.
6. People with emotional intelligence look at the whole picture.
Because they operate with a high degree of self-awareness, they're able to see both sides of an issue and tap into their feelings and those of others to choose a different, and better, outcome. Quoting Daniel Goleman again, he says this about self-awareness:
"If you don't have self-awareness, if you are not able to manage your distressing emotions, if you can't have empathy and have effective relationships, then no matter how smart you are, you are not going to get very far."
Originally published on Inc.com.
Follow us here and subscribe here for all the latest news on how you can keep Thriving.
Stay up to date or catch-up on all our podcasts with Arianna Huffington here.
— Published on December 11, 2018
https://thriveglobal.com/stories/6-brilliant-things-people-with-emotional-intelligence-do-under-pressure/
Disclosure
Lansing Street Advisors is a registered investment adviser with the State of Pennsylvania..
To the extent that content includes references to securities, those references do not constitute an offer or solicitation to buy, sell or hold such security as information is provided for educational purposes only. Articles should not be considered investment advice and the information contain within should not be relied upon in assessing whether or not to invest in any securities or asset classes mentioned. Articles have been prepared without regard to the individual financial circumstances and objectives of persons who receive it. Securities discussed may not be suitable for all investors. Please keep in mind that a company's past financial performance, including the performance of its share price, does not guarantee future results.
Material compiled by Lansing Street Advisors is based on publicly available data at the time of compilation. Lansing Street Advisors makes no warranties or representation of any kind relating to the accuracy, completeness or timeliness of the data and shall not have liability for any damages of any kind relating to the use such data.
Material for market review represents an assessment of the market environment at a specific point in time and is not intended to be a forecast of future events, or a guarantee of future results.
Indices that may be included herein are unmanaged indices and one cannot directly invest in an index. Index returns do not reflect the impact of any management fees, transaction costs or expenses. The index information included herein is for illustrative purposes only.