1. Ten-Year Treasury Yield Broke Above Trend Line from 1982
The red line in chart is trendline going back to 1982….See X's breaking above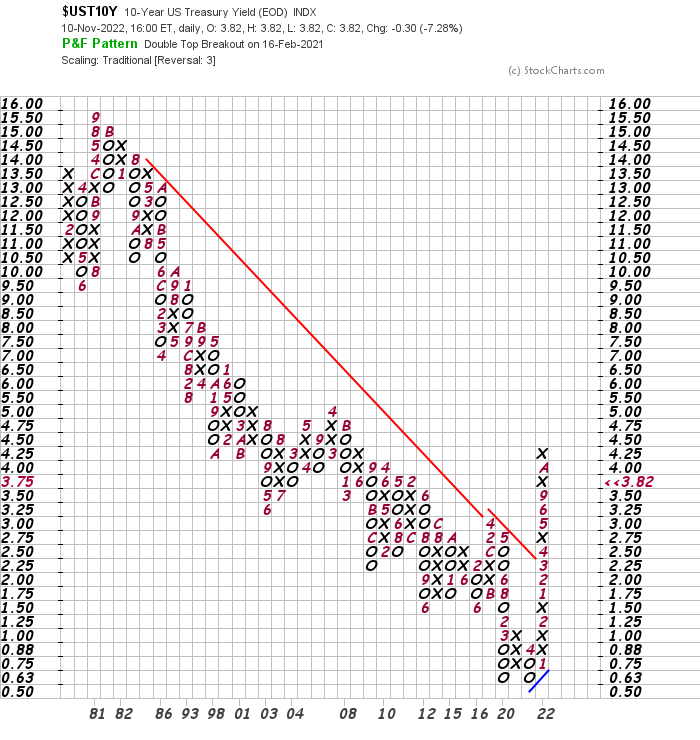 ---
2. Dollar Breaks 50day on downside and Copper Makes Run at upside 200day….China is 70% of Copper Demand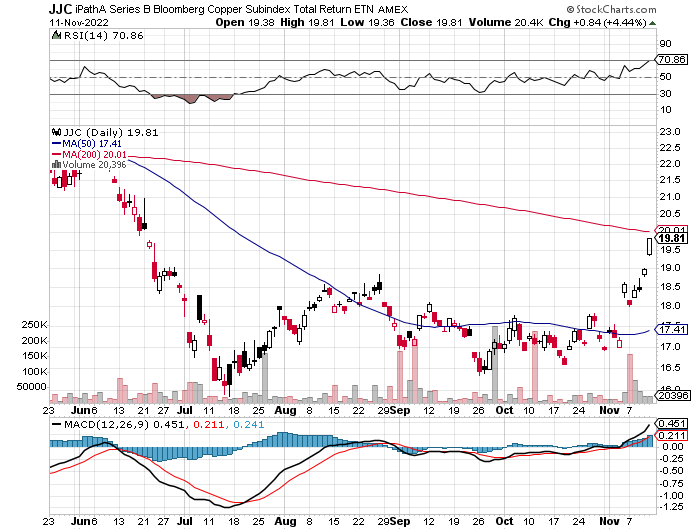 ---
3. Two Cali Gambling Votes Fail to Pass
Geoff Zochodne Covers.com As of around 8:00 a.m. E.T. on Wednesday, results showed that both Proposition 26 and Proposition 27 had been defeated. With 94.5% of precincts partially reporting, Prop 26 had been approved by 29.9% of voters, while Prop 27 had only 16.6% support, meaning both were well short of the 50% they needed.
Prop 26 aimed to bring in-person sports betting to racetracks and Native American casinos in California. Prop 27, meanwhile, would have permitted statewide online sports betting via tribes and licensed gambling companies.
https://www.covers.com/industry/us-midterm-election-sports-betting-ballot-results-november-2022
Dow Jones Gambling Index -50% Correction from Highs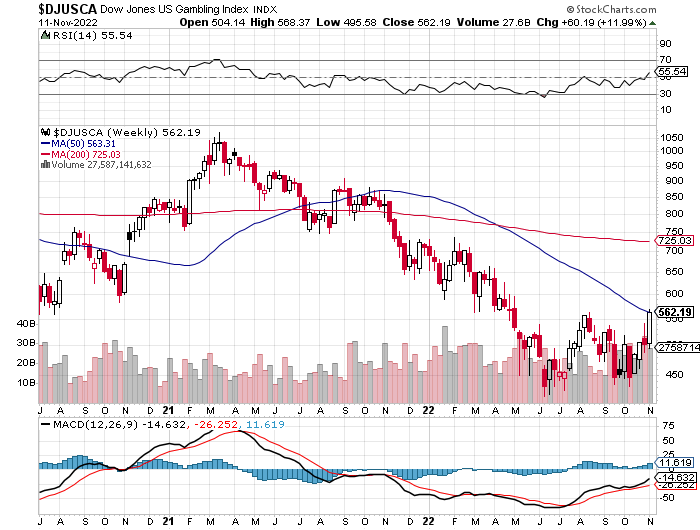 ---
4. CPI Shelter 40% of Inflation Numbers
Charlie Bilello But CPI Shelter continues to be a lagging indicator, as the real-time housing data has been moving in the opposite direction…
a) Rents are up 5.8% year-over-year, the smallest rate of increase since May 2021.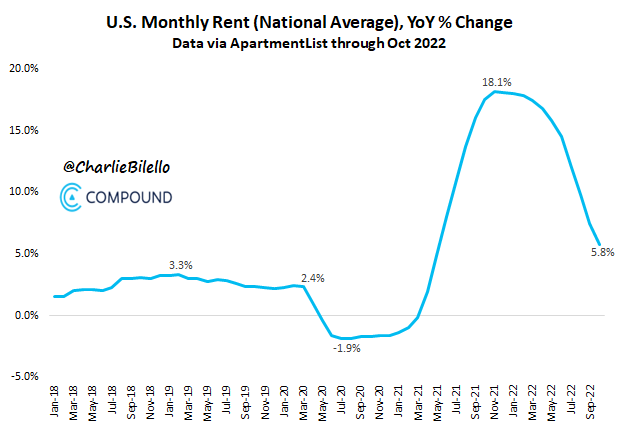 ​b) Home prices are up 3.2% year-over-year, their slowest growth rate since the start of the pandemic.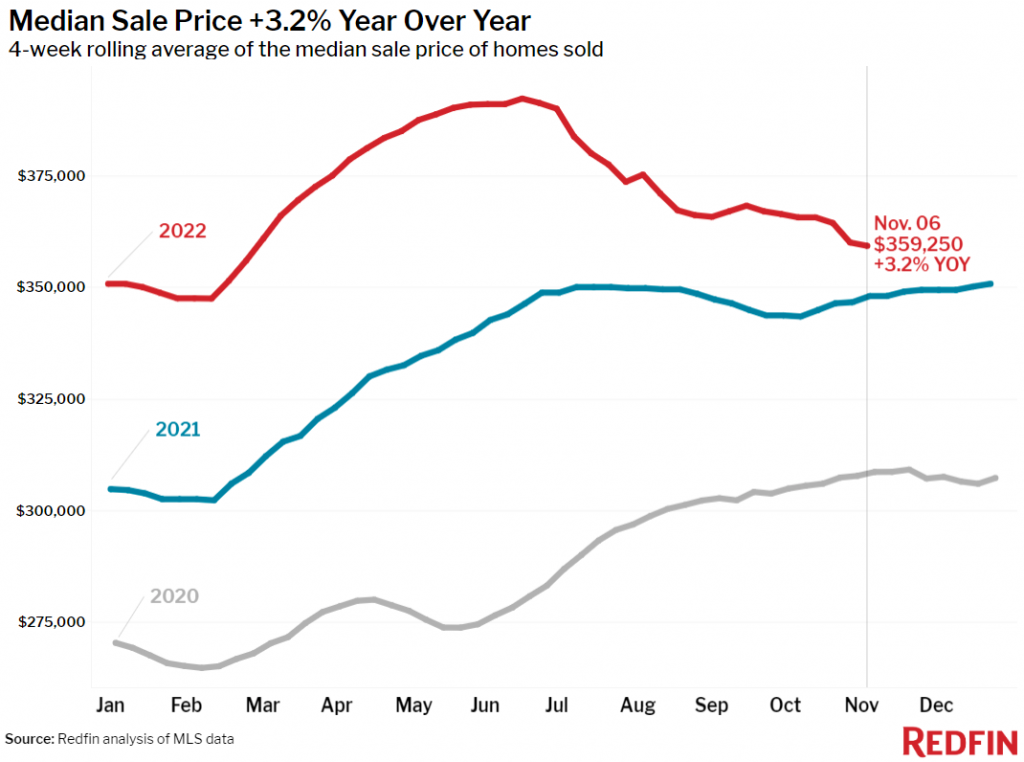 ​At some point, Shelter CPI will start reflecting this new data, but we don't appear to be there just yet. There remains a considerable gap between reported and actual housing inflation that will likely be closed in part by continued increases in Shelter CPI.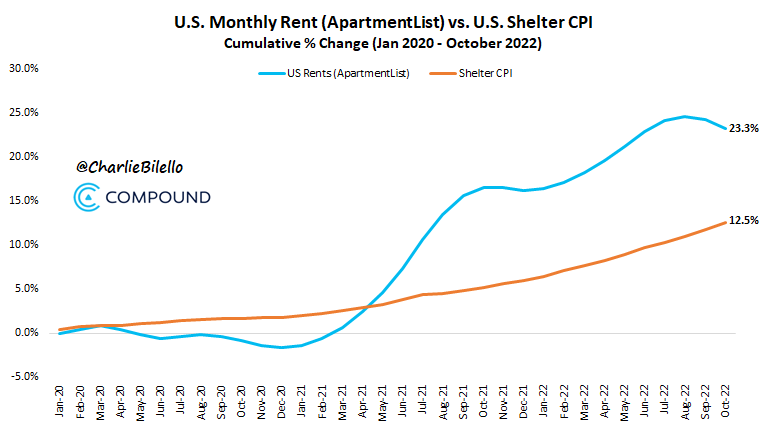 ---
5. Employment Cost Index Rolling Over.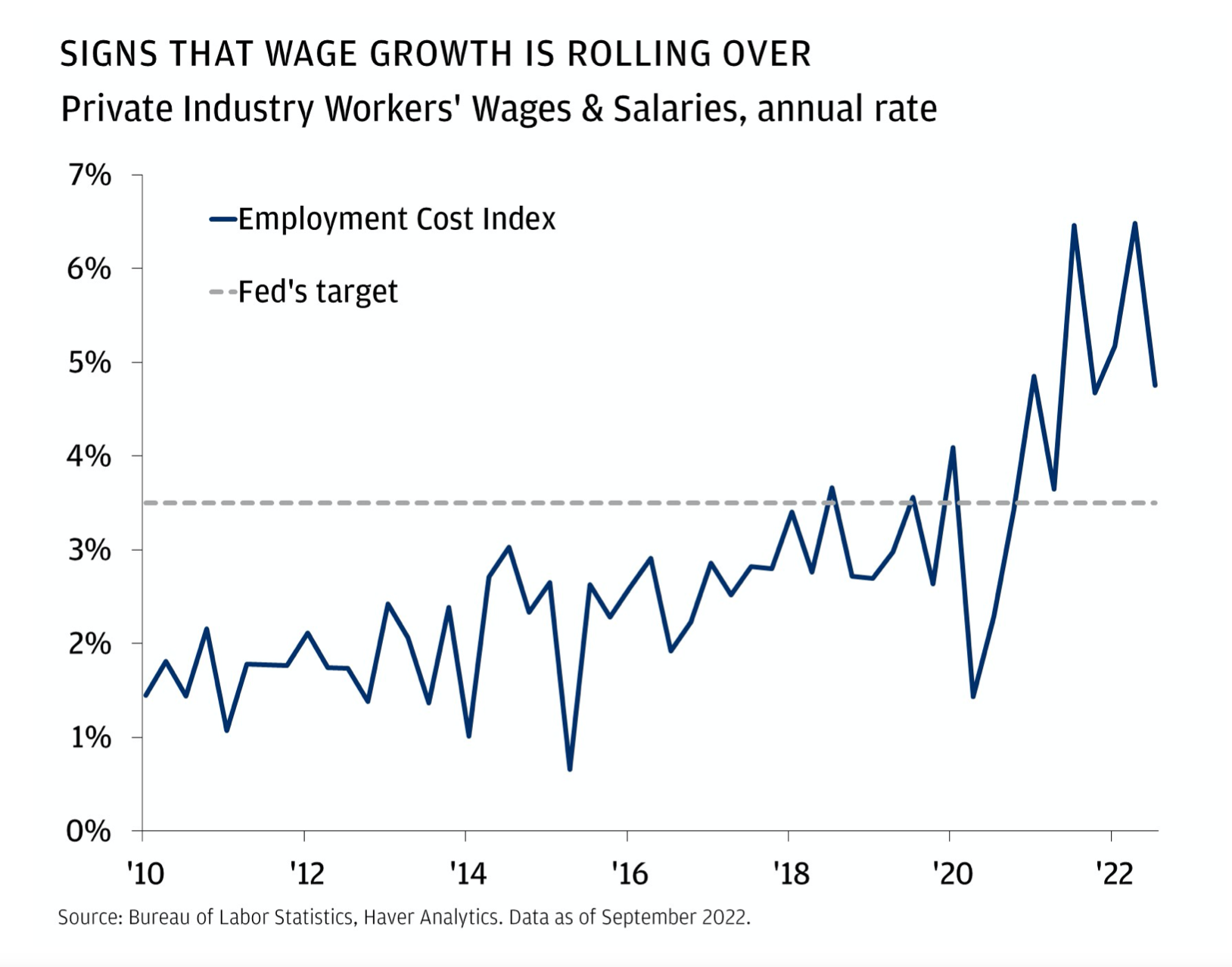 ---
6. Diesal Fuel Below Highs but Still Up Over 100% Since 2021
Y Charts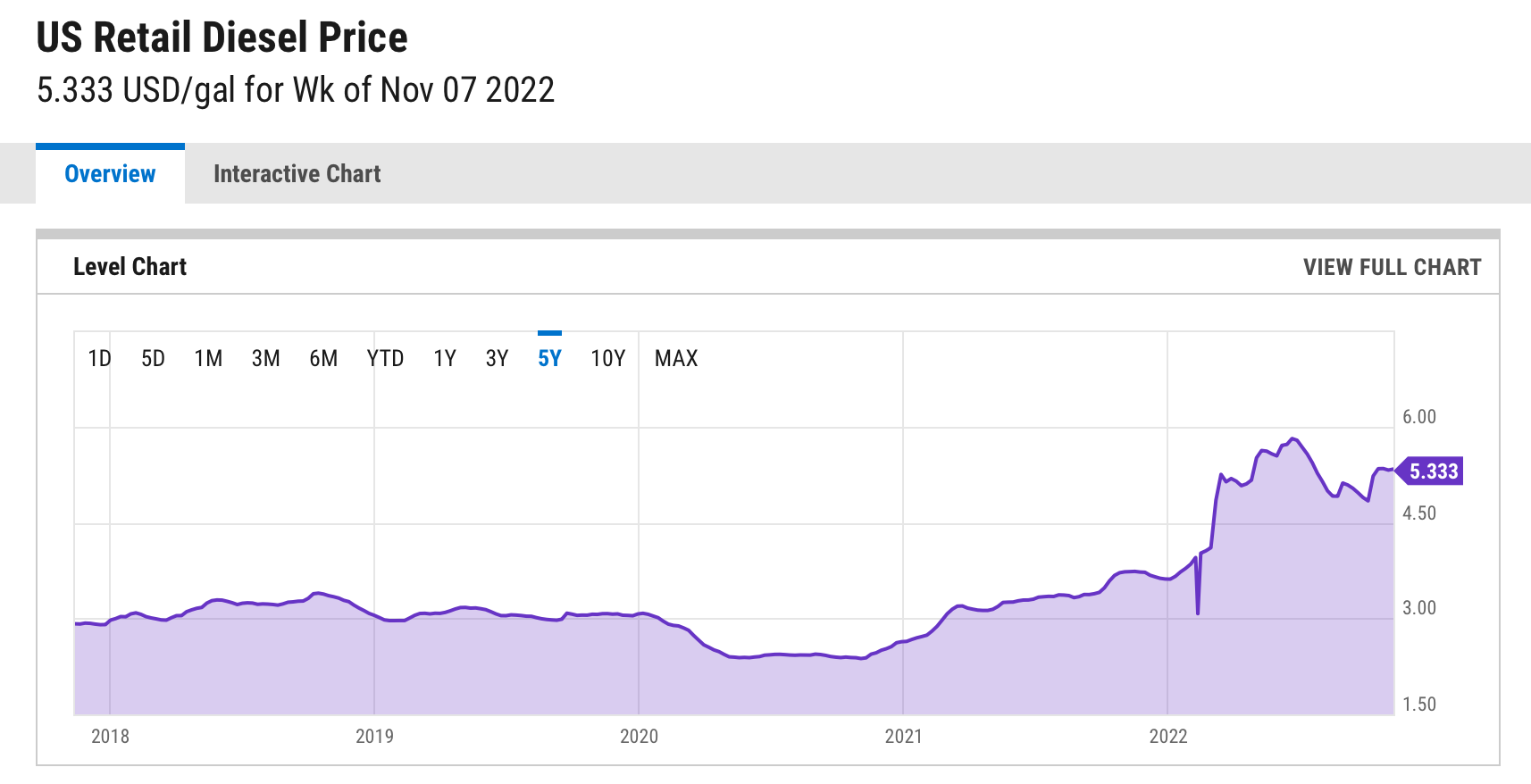 https://ycharts.com/indicators/us_retail_diesel_price
---
7. Japan Equities 2022 Currency Hedged vs Unhedged Year to Date Massive Spread
DXJ Hedged vs. EWJ Unhedged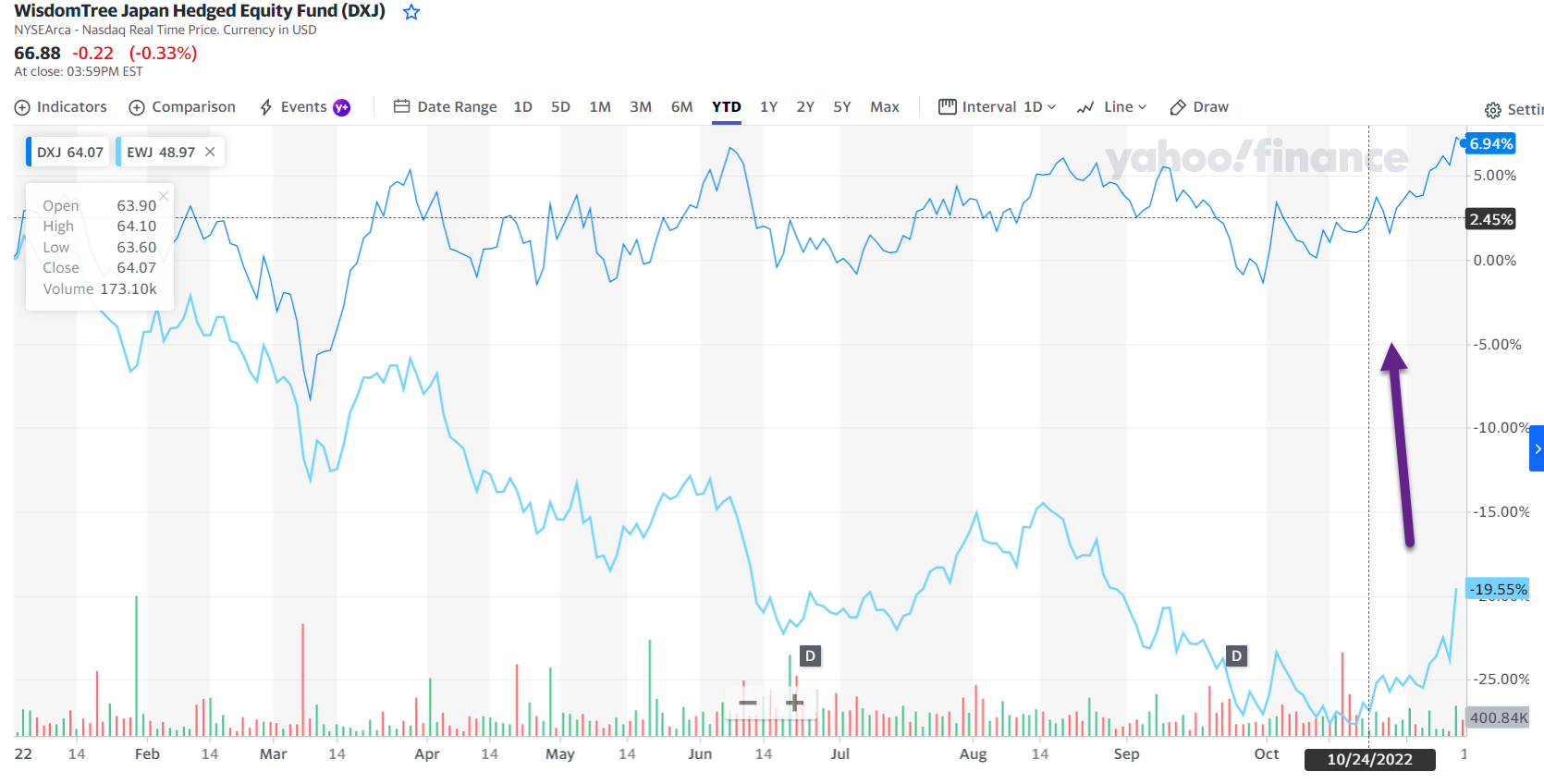 ---
8. Financial Sector ETF +20% in One Month
Bespoke The Financial sector ETF (XLF) has been on fire since its intraday low of $29.59 on October 13th, which was the day of the hotter than expected September CPI report.  From that low point on 10/13, XLF is up 20.2%.  As shown below, the ETF is currently at the very top end of a wide sideways range that has been in place over the last six months.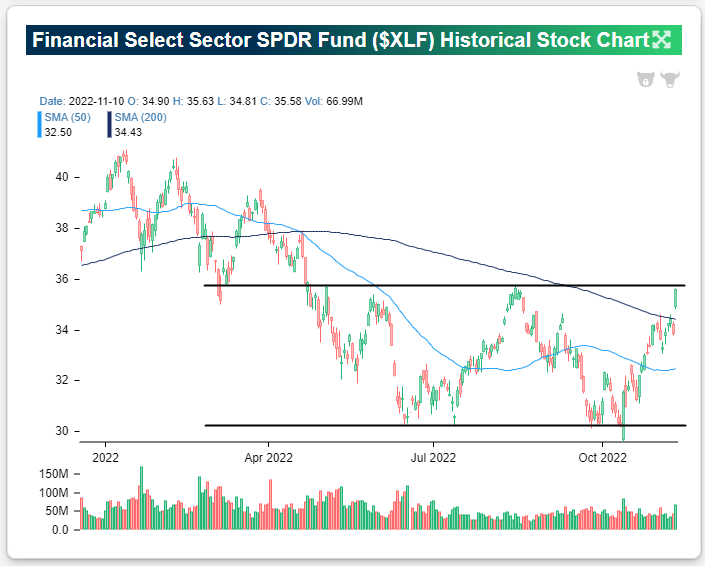 https://www.bespokepremium.com/interactive/posts/think-big-blog/banks-and-brokers-on-fire
---
9. Three Million World Cup Tickets Sold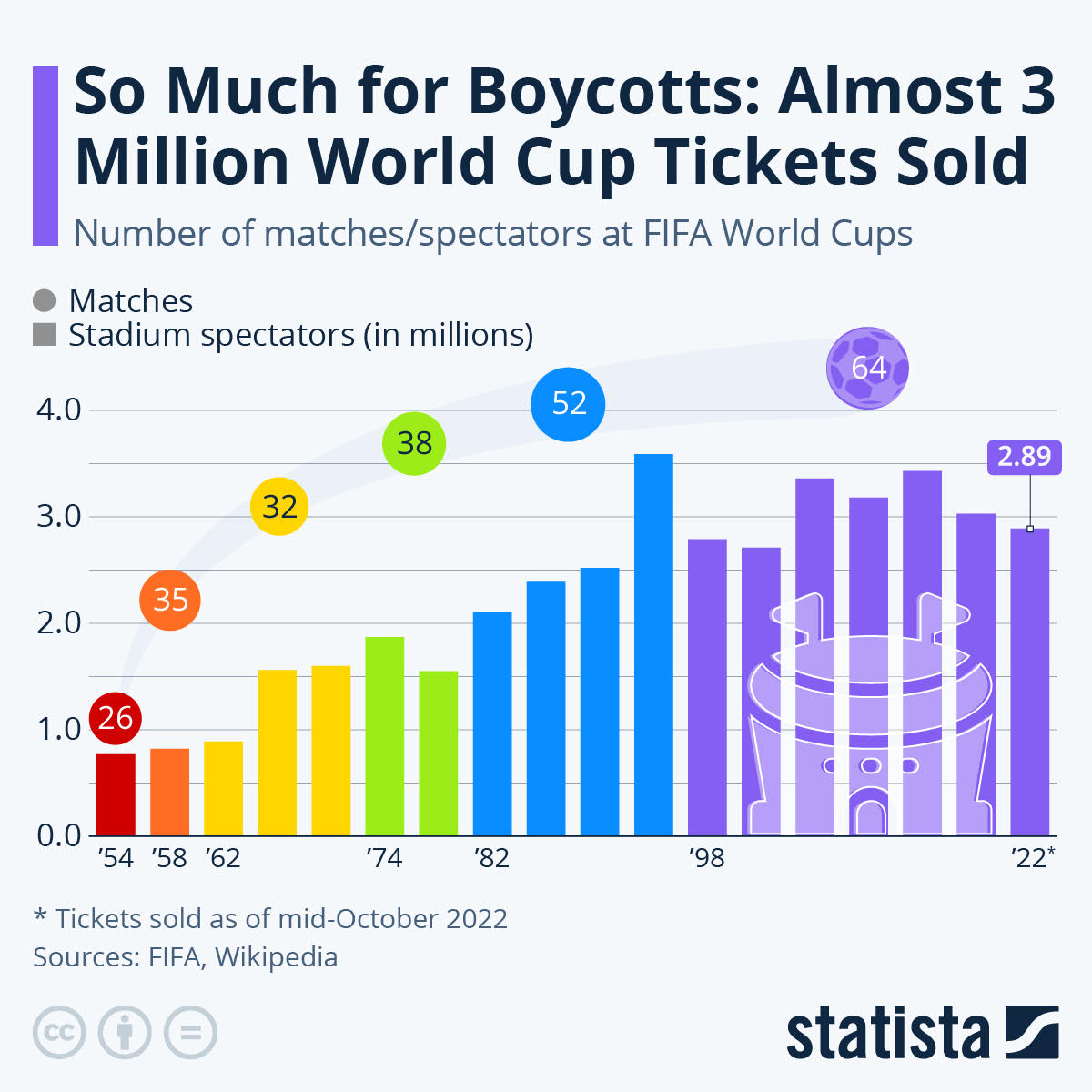 ---
10. Discipline is Often a Carefully Created Environment
Tiny Thought-Farnam Street
Eventually, everyone loses the battle with willpower; it's only a matter of time. Consider my parents. Neither of them smoked when they joined the armed forces, but it didn't take long for them to join their smoking co-workers. At first, they resisted, but as the days turned into weeks, the grind of saying no when everyone else was saying yes wore them down. Decades later, quitting proved nearly impossible when they turned to willpower. Everyone around them smoked. The very same force that encouraged them to start was preventing them from stopping. They were only able to kick their habit when they changed their environment. They had to find new friends whose default behavior was their desired behavior.
What looks like discipline is often a carefully created environment to encourage certain behaviors. What looks like poor choices is often someone trying their best to use willpower to go against their environment.
The people with the best defaults are typically the ones with the best environment. Sometimes it's carefully chosen, and sometimes it's just plain luck. Either way, it's easier to align yourself with the right behavior in the right environment.
The way to improve your defaults isn't by willpower but by creating an artificial environment where your desired behavior becomes the default behavior.
Joining groups whose defaults are your desires is an effective way to create an artificial environment. If you want to read more, join a book club. If you want to run more, join a running club. If you want to exercise more, hire a trainer.
Your environment will do a lot of the heavy lifting for you if you align it with where you want to go.