1. Biggest One Day Decline of 10 Year Yield Since GFC
Jim Reid Deutsche Bank -After last week's downside surprise in US CPI, we saw some of the biggest daily market moves in years. In fact, as today's chart of the day points out, the daily decline in the 10yr real Treasury yield on Thursday was the second-largest since the GFC and behind only the initial Covid move in March 2020.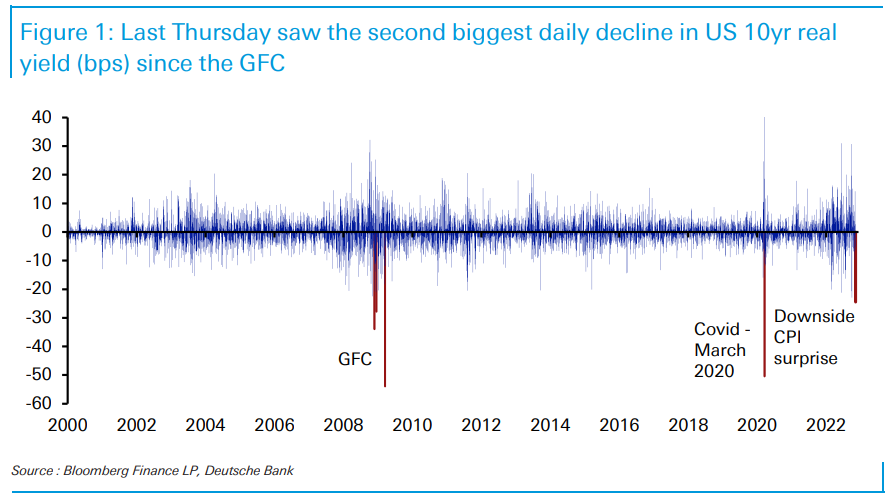 ---
2. Wisdom Tree Weekly from Jeremy Siegel.
If CPI used up to date housing data…core inflation would be zero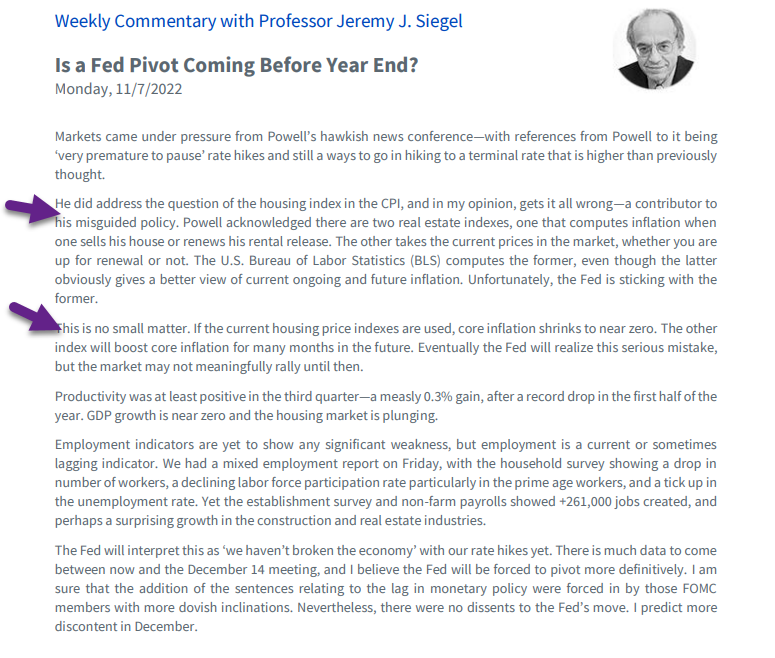 https://www.wisdomtree.com/-/media/us-media-files/documents/resource-library/weekly-commentary/siegel-weekly-commentary.pdf
---
3. Lumber at 25 Year Low
From Trading Economics Lumber 25 Year Low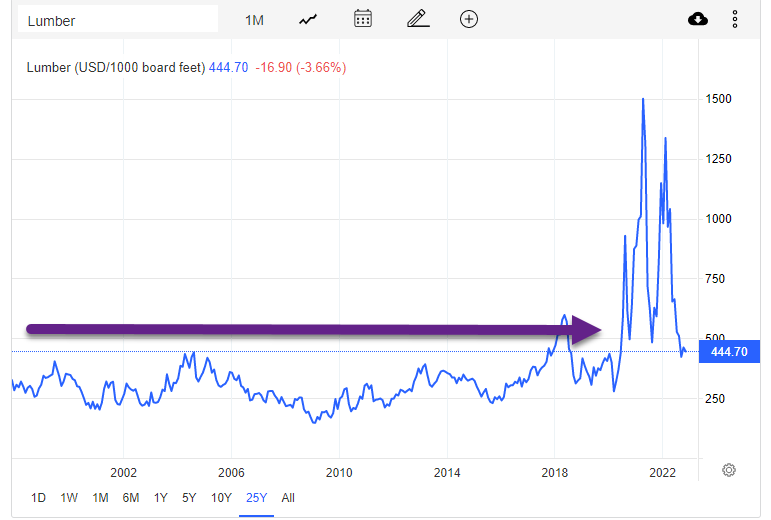 https://tradingeconomics.com/commodity/lumber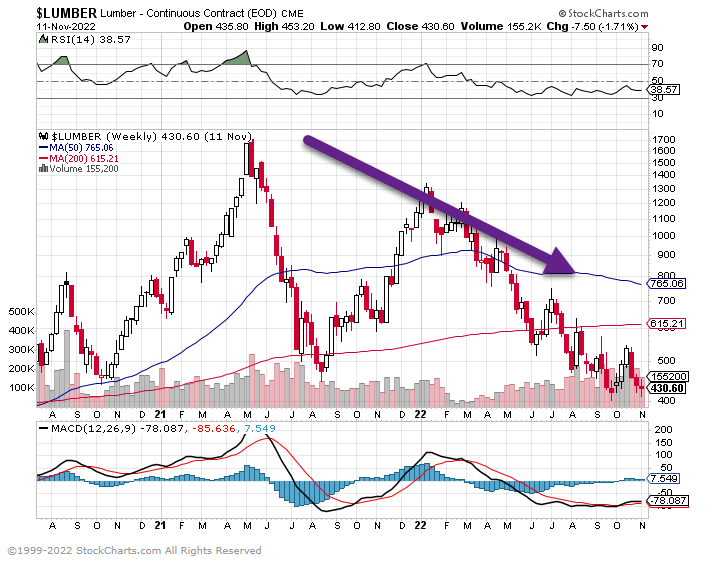 ---
4. Follow Up on Dollar Technical Breakdown Last Week….All International Charts on Watch List
EFA Developed International vs. S&P…Will it Bottom?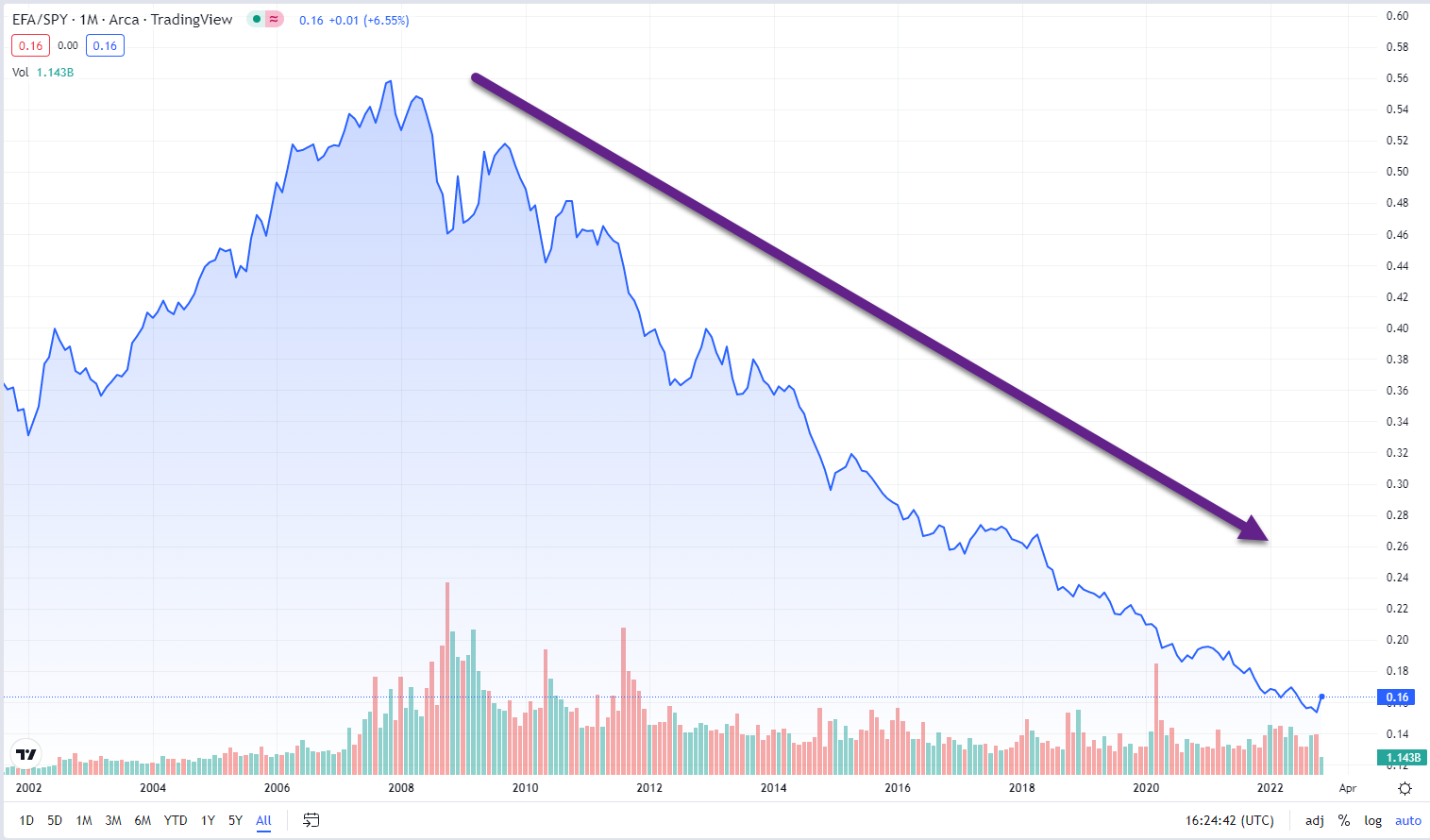 ---
5. Barrons Stat on Tech Historical Bear Market Rallies
BTIG in Barrons For example, the Nasdaq 100NDX +1.82%  (NDX) gained 7.49%. Of the 20 largest NDX daily gains since 1990, 16 of them happened either between April 2000 and May 2002, or in October 2008, none of which marked the end of those bear markets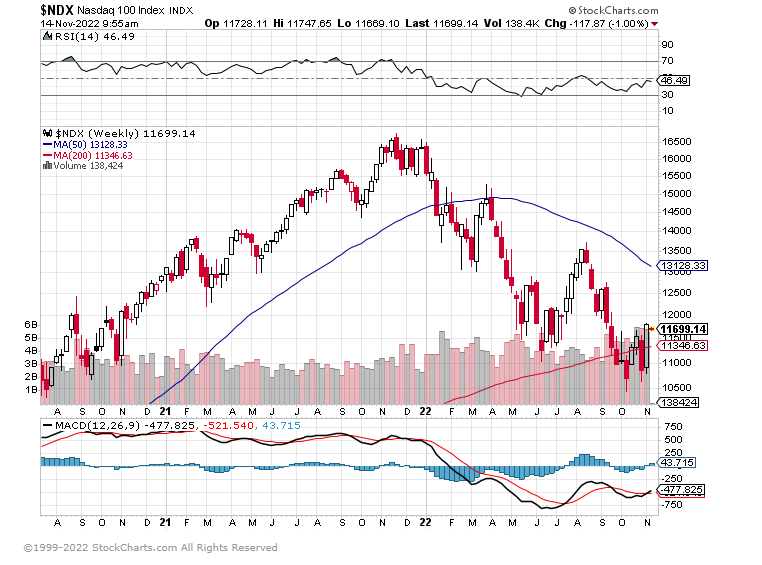 Stocks Rallied Dramatically. It's Still a Bear Market | Barron's (barrons.com)
---
6. Non-Profit Tech Led the Rally Last Week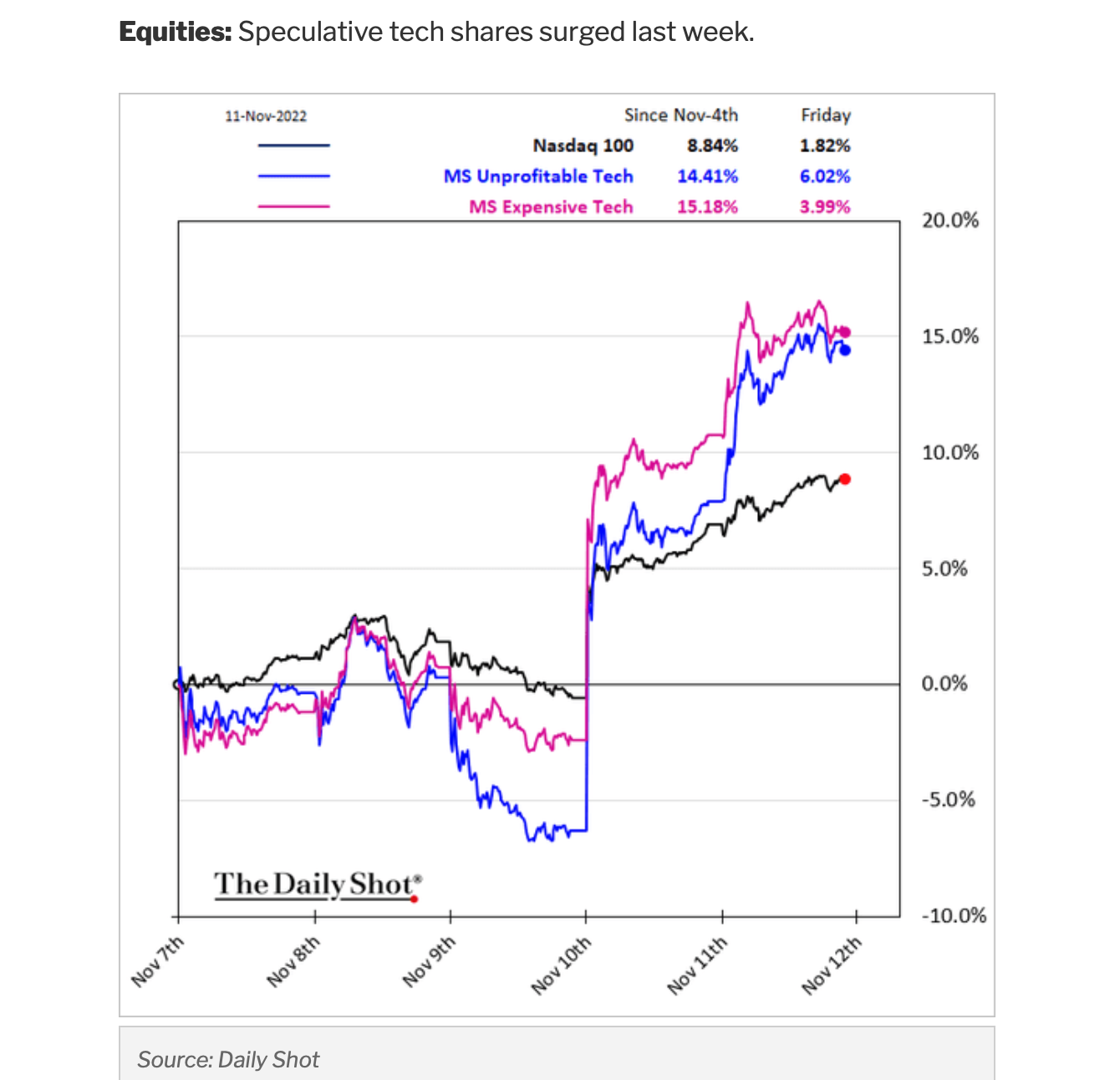 ---
7. Coffe Prices Go On List of Falling from Highs.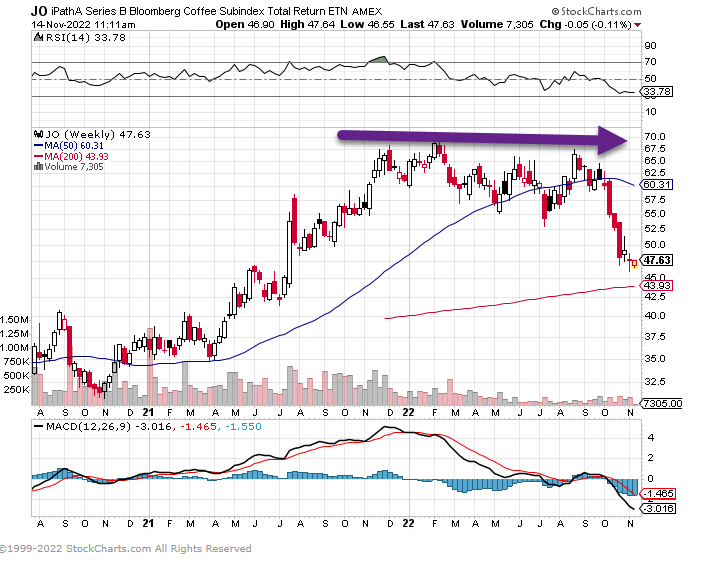 ---
8. 'FTX Has Been Hacked': Crypto Disaster Worsens as Exchange Sees Mysterious Outflows Exceeding $600M
FTX officials appeared to confirm rumors of a hack on Telegram, instructing users to delete FTX apps and avoid its website.
By Cheyenne Ligon, Sam Reynolds, Sam Kessler, Nikhilesh De, Reilly Decker
FTX bought the naming rights to the Miami Heat arena in March 2021. (Danny Nelson/CoinDesk archives)
The collapse of FTX, already one of the most spectacular disasters in financial history, worsened as hundreds of millions of dollars were drained from the cryptocurrency exchange hours after it filed for bankruptcy.
More than $600 million was siphoned from FTX's crypto wallets late Friday. Soon after, FTX stated in its official Telegram channel that it had been compromised, instructing users not to install any new upgrades and to delete all FTX apps.
"FTX has been hacked. FTX apps are malware. Delete them. Chat is open. Don't go on FTX site as it might download Trojans," wrote an account administrator in the FTX Support Telegram chat. The message was pinned by FTX General Counsel Ryne Miller.
Hours later, Miller disclosed in a tweet that FTX US and FTX.com had been moving all their digital assets to cold storage because of the Friday bankruptcy. "Process was expedited this evening – to mitigate damage upon observing unauthorized transactions," he said.
Many FTX wallet holders reported $0 balances in their FTX.com and FTX US wallets. FTX's API appeared to be down, which could account for this. According to on-chain data, various Ethereum tokens as well as Solana and Binance Smart Chain tokens exited FTX's official wallets and moved to decentralized exchanges like 1inch. Both FTX and FTX US appear to be affected.
The transfers occurred on the same day that the firm filed for Chapter 11 bankruptcy protection in the U.S. after apparently losing – or misappropriating – billions of dollars in user funds. Suspicions – which are conjecture at this point – circulated online about whether, rather than an outside attack, someone inside the company might've been responsible.
On Twitter, members of the cryptocurrency community quickly began to speculate that the outflows could have been coordinated by a member of Bankman-Fried's inner circle, pointing out that the simultaneous and sophisticated hacks of FTX and FTX US are indicative of a potential inside job. Twitter sleuth ZachXBT tweeted Friday night that "multiple former FTX employees confirmed to me that they do not recognize these transfers."
Around midnight Eastern time, FTX's login portal was unavailable (though the site was still online) giving users a 503 error when they attempted to log in. A 503 error happens when the server is unavailable, commonly because it's down for maintenance or unavailable for access.
'FTX Has Been Hacked': Crypto Disaster Worsens as Exchange Sees Mysterious Outflows Exceeding $600M (coindesk.com)
---
9. We Shall See…..
FTX's bust and crypto crash come with two silver linings
Brian Sozzi. Follow Sozzi on Twitter @BrianSozzi and on LinkedIn. Read this and more market news on the go with Yahoo Finance App.
Let's look at the bright side of the FTX-driven crypto crash to kick off what will likely be another long week for the industry.
There are probably two positives worth considering here.
First, the crypto crash has not spread over into the stock market. The S&P 500 is up 5.9% in the past five trading sessions compared with a 19% drop for bitcoin. Why is this you ask? Simple. The rout is not as huge as the headlines suggest.
"We think Bitcoin and ETH remain a too small part of the market to cause broader financial market contagion, with a total crypto market cap size of $890 billion vs $41 trillion for U.S. equities," Citigroup digital asset analyst Joseph Ayoub said in a note to clients. "The FTX shortfall is still relatively small in comparison to other crypto events, such as Luna ($40 billion lost) or market cap losses in public tech names."
So there's that.
And two, what has happened with FTX should ultimately set the groundwork for a more stable crypto market over time (hopefully). Maybe that means less booms and busts, which is a positive for investors. There are a couple reasons for that, such as regulators coming in next year with new guardrails and the washout removing froth (maybe fewer crypto events in the Bahamas with Lambos parked outside for the Gram) and bad actors (we're looking at you, SBF).
What we have witnessed in the past week is a flush out and it's all good — even if there is pain to be had today.
"This should be a wake-up call that what you thought was worth something is actually not worth anything," said Mizuho analyst Dan Dolev on Yahoo Finance Live.
https://finance.yahoo.com/news/ft-xs-bust-and-crypto-crash-come-with-two-silver-linings-103045894.html
---
10. 10 Signs Your Employees Aren't the Right Fit For Their Jobs
Find the job that's right for you.
BY LAURA GARNETT, PERFORMANCE STRATEGIST AND AUTHOR, THE GENIUS HABIT@GARNETTL
Hiring the right talent and helping those people thrive in their positions is one of the biggest challenges any leader, CEO, or founder has, especially since job hopping has become the norm. You not only need to find incredibly smart people, you also need to make sure they stick around, rather than jump to the next best thing around the corner. 
The single most important key to this is to make sure that your people are in the right roles for who they are. Often, performance issues are misdiagnosed. If you have someone on your team who's not working enough, who isn't performing the way that they should, or who seems bored and disengaged, the issue isn't always a matter of that person's ability. Sometimes, it's a matter of fit. If a job isn't aligned with someone's strengths, values, and personality-;it's pretty impossible for them to succeed. 
How can you tell whether your employees are in the right roles? It's often incredibly subtle, so you need to pay attention. For starters, look for these 10 signs. 
They are often bored or disengaged, and you regularly get the sense that their head isn't in the game.
They just can't master the tasks they're assigned, despite lots of feedback as to how to do them better or differently.
They often don't share their ideas with you or other colleagues. Or, when they do, what they have to offer feels completely off base and unhelpful.
They seem to be struggling with confidence. They rarely participate in group discussions or share their perspective with others.
You can visibly notice that they get frustrated easily.
What is needed for them to perform does not seem to be aligned with their personality or strengths.
You've had a sneaking feeling for a while that something just isn't working.
They communicate that they don't feel valued, despite feeling that you've done everything you can to make them feel valued.
Despite efforts to provide feedback, coaching, and support, their performance doesn't shift.
They've approached you saying that they aren't happy with the work they're doing or that they would like a different role.
If you see several of these signs in one of your employees, it's time to make a change. Navigating transitions are always difficult, but know that you can start the conversation with empathy and compassion. 
When you realize that someone on your team isn't in the right role, ask them to tell you more about who they are, what they're best at, and what they ultimately want out of their career. It could be that there is another place in the business that they could contribute to that would be a better fit for both of you. 
Or, if not, then knowing that they aren't right for your company is a great thing. It won't only be good for your business, it'll ultimately be a positive shift for that person's career. After all, no one wants-;or can succeed at-;a job that isn't the right fit for them.
https://www.inc.com/laura-garnett/10-signs-your-employees-arent-right-fit-for-their-jobs.html?utm_source=linkedin&utm_medium=social&utm_campaign=freeform