1. XLK Tech ETF Just Below December 2021 Highs…2 Stocks Half the Portfolio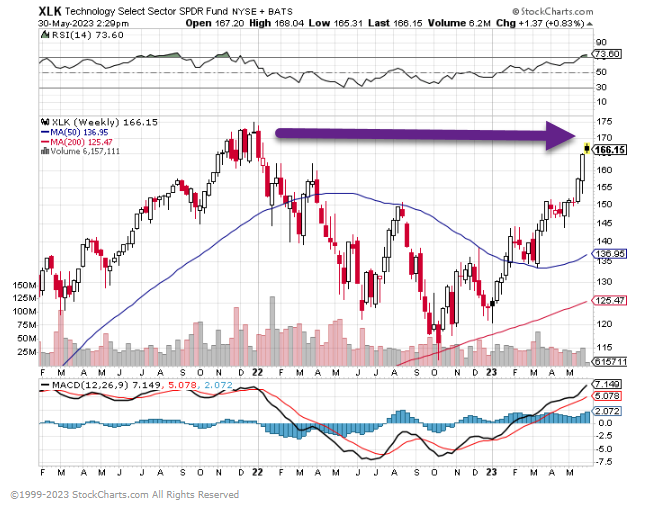 MSFT and AAPL 47% of SPDR Tech ETF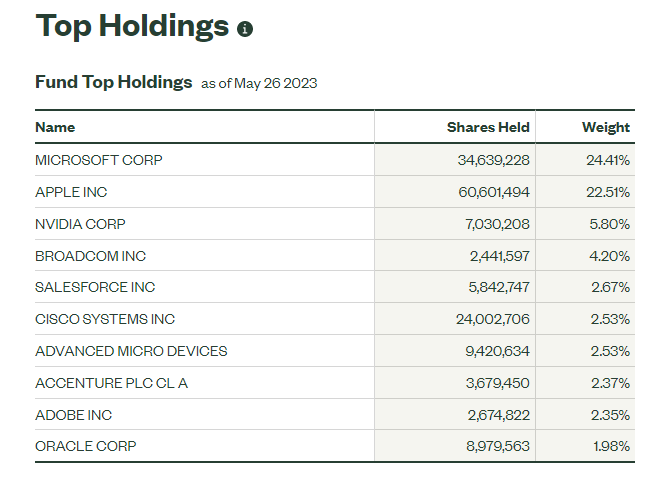 https://www.ssga.com/us/en/intermediary/etfs/funds/the-technology-select-sector-spdr-fund-xlk
---
2. Quant Buyers Pushing Up Tech?
From Dave Lutz at Jones Trading QUANT BUYERS– The market's steady rise has puzzled analysts and portfolio managers as the S&P 500 has churned more than 9% higher this year (and the technology-focused Nasdaq Composite has risen 24%). One explanation: Quant funds, or those relying on computer models and automated trading, have been doubling down on equity markets as other investors have stepped back, citing high valuations and concerns about the likely course of the U.S. economy.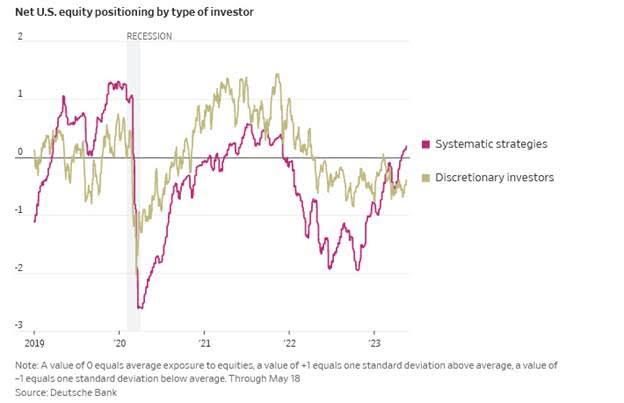 Quant-fund buying has pushed these funds' net exposure to U.S. stocks to the highest level since December 2021, according to data from Deutsche Bank. Mainstream investors, in contrast, have been pulling cash from stock funds and pouring it into money markets, WSJ notes.
---
3. Number of Companies Citing "AI" in Earnings Calls
Food for Thought: Companies citing "AI" on earnings calls: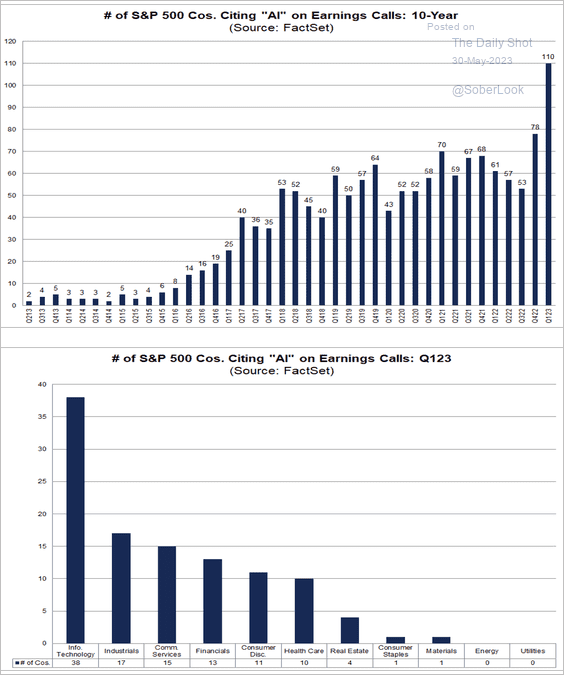 ---
4. Corporate Insiders Buying Financial Stocks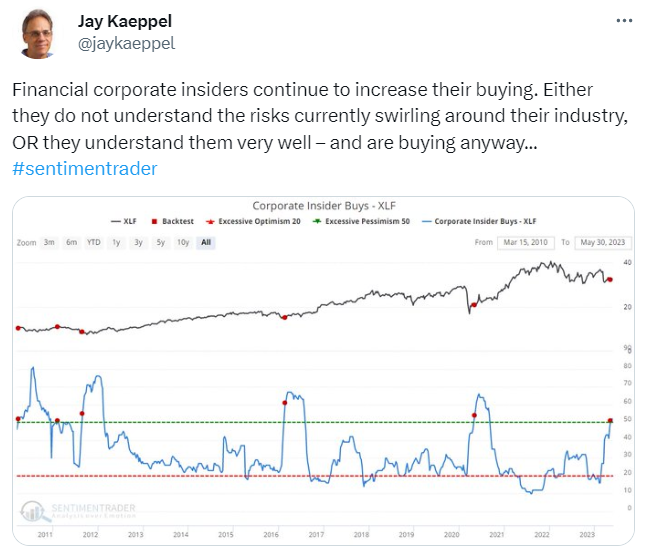 Found at Abnormal Returns Blog www.abnormalreturns.com
---
5. XLF Financials ETF Chart Update
XLF still holding above 200 week moving average….Held 3 times in last 12 months.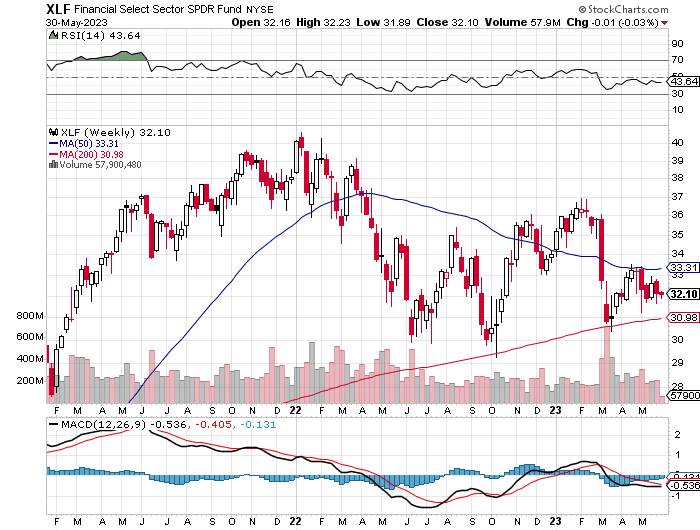 ---
6. Strong First 100 Days of Year Bullish
Jeffrey Buchbinder, CFA, Chief Equity Strategist-LPL Research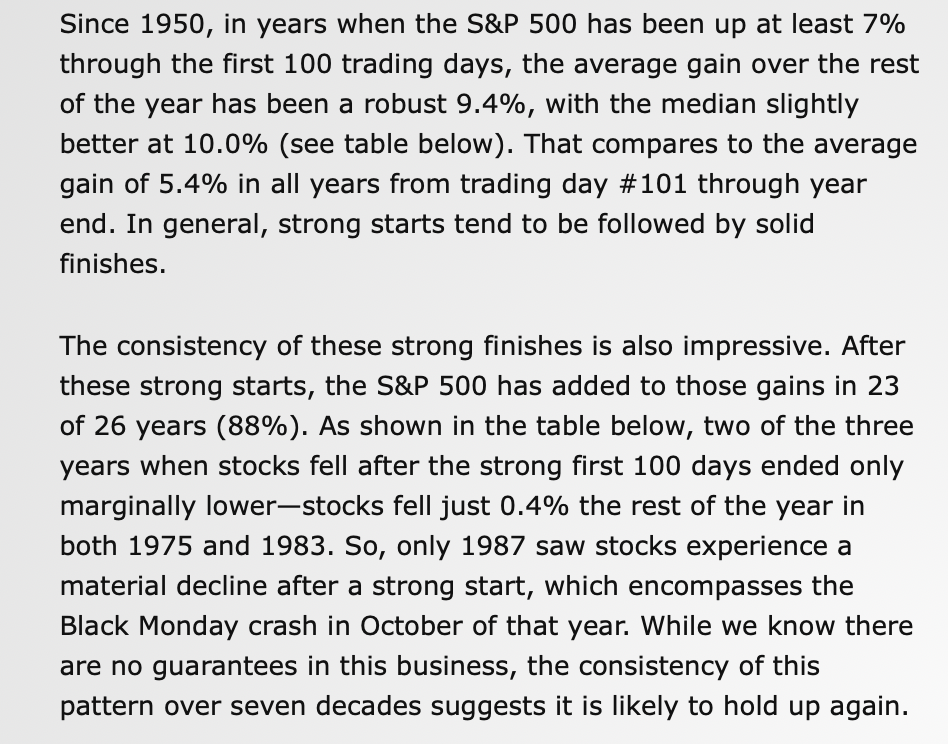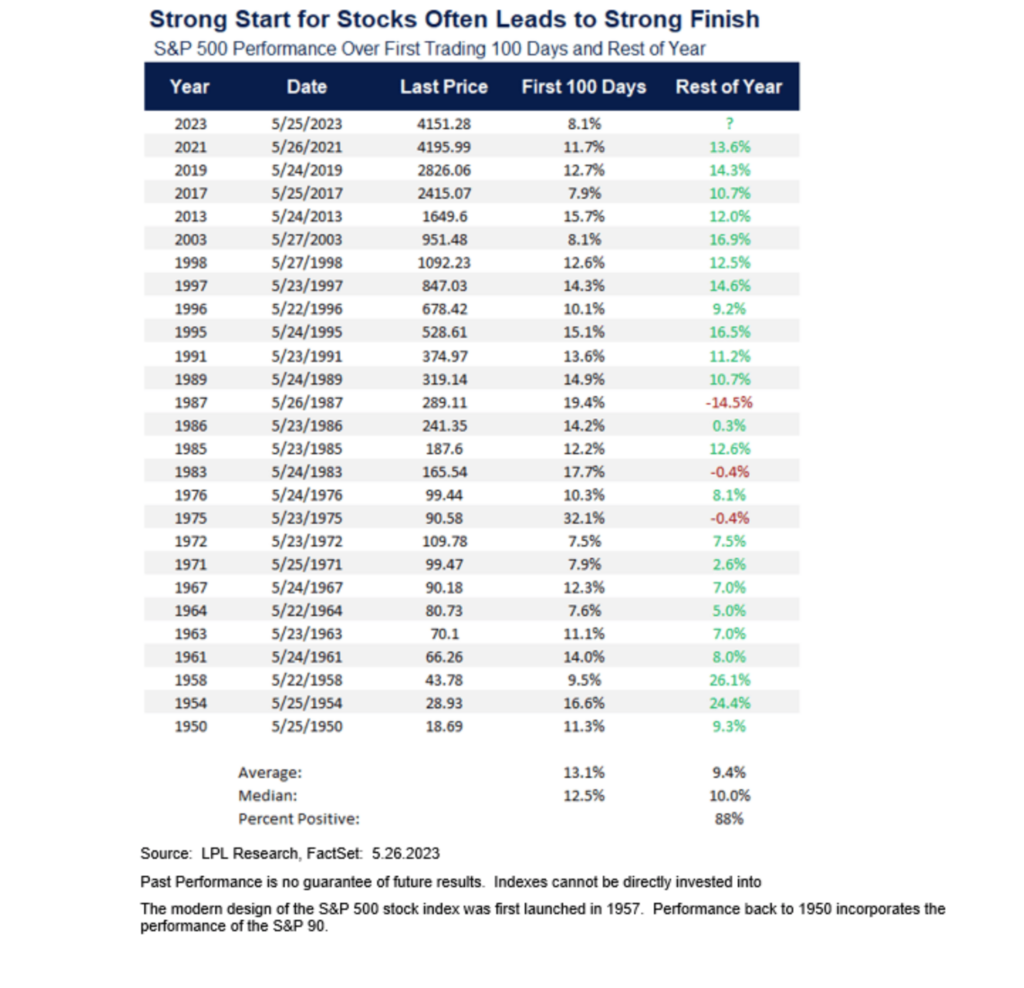 https://lplresearch.com/2023/05/26/strong-first-100-days-a-positive-sign-for-the-rest-of-2023/
---
7. Commodities Approaching 2021 Lows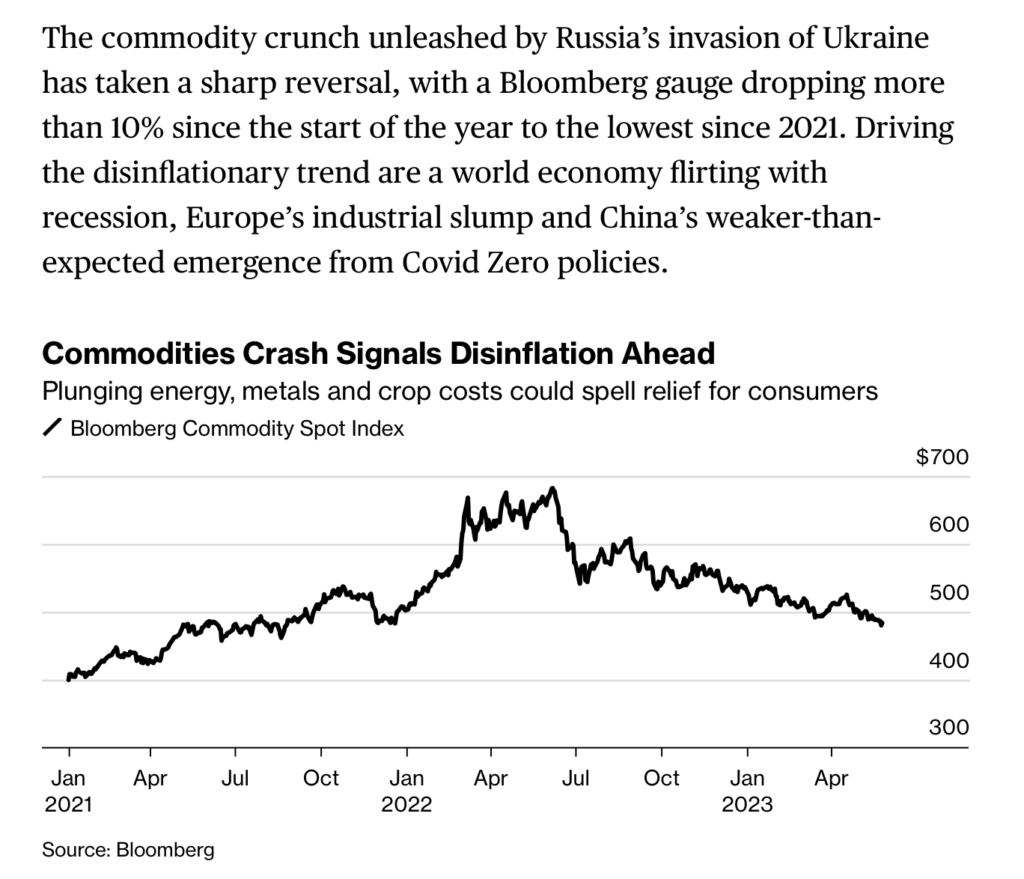 Bloomberg Carolynn Look and Enda Curran
https://www.bloomberg.com/news/articles/2023-05-31/commodity-crash-signals-disinflation-is-taking-hold-for-now?srnd=premium&sref=GGda9y2L
---
8. Chinese Property Markets Rolling Back Over
CNBC-Investors pull back Evelyn Cheng@CHENGEVELYN
Investors in Chinese property developers are also getting more skeptical about the market.
The Markit iBoxx index for China high-yield real estate bonds is back down to near where it was trading in November, when Beijing announced support for the sector through a "16-point plan."
While that plan "has been instrumental to setting a floor to this crisis," the initiatives are only aimed at supporting developers' debts at a project level, S&P Global Ratings analysts said in a May 22 report.
That means there's still uncertainty about whether developers can repay investors for bonds at a holding company level, the ratings agency said. They're looking at whether the developers can generate enough cash from property sales.
In April, the analysts pointed out that national property sales fell to 900 billion yuan ($126.87 billion), below last year's monthly average of 1.1 trillion yuan.
For all of 2023, S&P expects China developer sales to fall by about 3% to 5% — slightly better than the previously forecast 5% to 8% drop.
This year's forecasts are based on expectations that sales in larger cities grow by about 3%, while sales in smaller cities don't drop by more than 10%, the report said.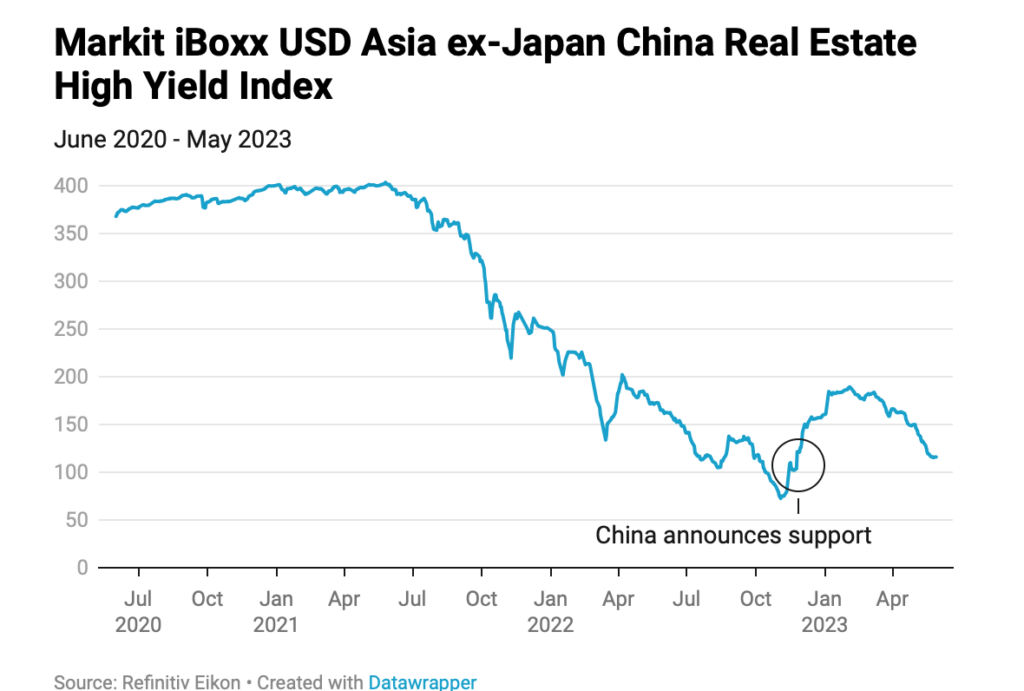 https://www.cnbc.com/2023/05/31/new-warning-signs-emerge-for-chinas-property-market.html
---
9. Business Insider  House prices are declining in these 7 Western states while continuing to hit new heights across the rest of the country
A single-family home stands in a canyon in the Grand Staircase-Escalante National Monument in Utah. Carla Mozée 
US house prices rose modestly in the first quarter, said the FHFA on Tuesday. 
But some Western states are seeing the first year-over-year price declines in years. 
The agency's pricing index rose 4.3% in the first three months of the year. 
America's housing market broadly notched price increases as the key spring-selling season began, but one area of the country that was booming saw the air coming out of prices on a yearly basis, according to government data released Tuesday. 
House prices grew 4.3% in the first quarter compared to a year ago, the Federal Housing Finance Agency said in a report on Tuesday. The advance meant that the market had notched annual appreciation each quarter since 2012. 
The agency's House Price Index reached just under 400, hitting an all-time high with figures tracking back to 1991. The index measures prices of single-family houses with mortgages guaranteed by Fannie Mae and Freddie Mac.  
"U.S. house prices generally increased modestly in the first quarter," said Anju Vajja, principal associate director at the FHFA's Research and Statistics division. "However, year over year prices in many western states have started to decline for the first time in over ten years."
Seven states logged prices declined, all located in the Western US. Utah led the list, with prices off by 4.35%. Nevada followed with a drop of 3.6%.
California's house prices fell by 2.86%, and Washington saw a 2.62% drop, the FHFA report said. Also landing on the list were Idaho, Oregon, and Colorado, with the latter seeing prices down 1.07%.
Outside the Western states, the District of Columbia experienced a 2.35% year-over-year price pullback. Of the nine regions that the FHFA tracks, two had annual house price decreases. The Pacific division was down 2.4%, and the Mountain division was down 0.1%.
Rising interest rates directed by the Federal Reserve in fighting hot inflation have contributed to a slowdown in the housing market since last year, with home sellers slashing listing prices while listings themselves have become scarce.
Separate data from property software and data provider Black Knight has shown markets on the West Coast, including San Francisco and Seattle, have seen the biggest slowdowns. Localized data also point to the sharp regional divides in the housing market. Over the last four quarters, house prices rose in 78 of the top 100 largest metropolitan areas, fronted by a 14% rise for the Miami area. San Francisco-San Mateo-Redwood City, California, was the largest metro area with the greatest price decline, at 10.1%. 
Nationwide, FHFA said housing prices rose 0.6% in March. That rate outstripped the 0.3% estimate at Econoday.The start of the spring selling season showed house price gains in March in a separate S&P CoreLogic report released Tuesday. Its Case-Shiller Index rose 0.7% in March versus the year-ago period as tight inventory pressured prices upward. 
The "decline in home prices that began in June 2022 may have come to an end," in March, said S&P CoreLogic.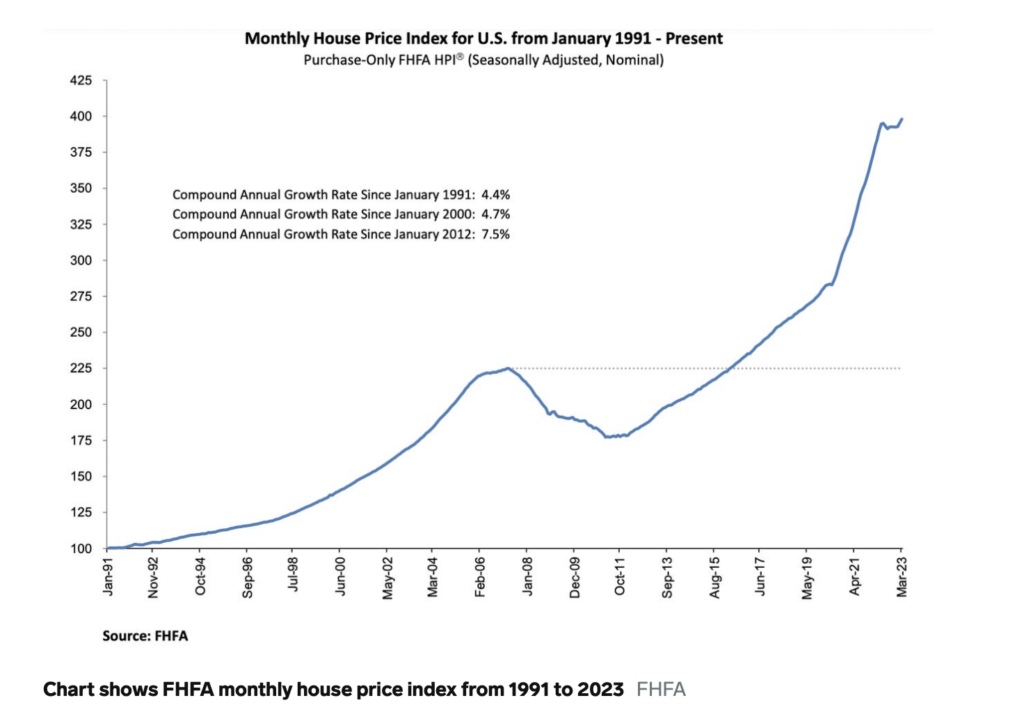 https://markets.businessinsider.com/news/stocks/house-prices-housing-market-decline-7-western-states-fhfa-homes-2023-5
---
10. The best intentions, the worst results:
Farnum Street Blog "The issues facing San Francisco aren't from a lack of funding. In 2021 alone, the city allocated $1.1 billion to its Department of Homelessness, and its budget has risen 500% since 2016. The results: Homelessness actually increased 64% during the same period. Where does all this money go?"
— Source (Pair with Iatrogenics)