1. FXI China Large Cap ETF Negative for 2023
Chinese stocks negative after spike to start 2023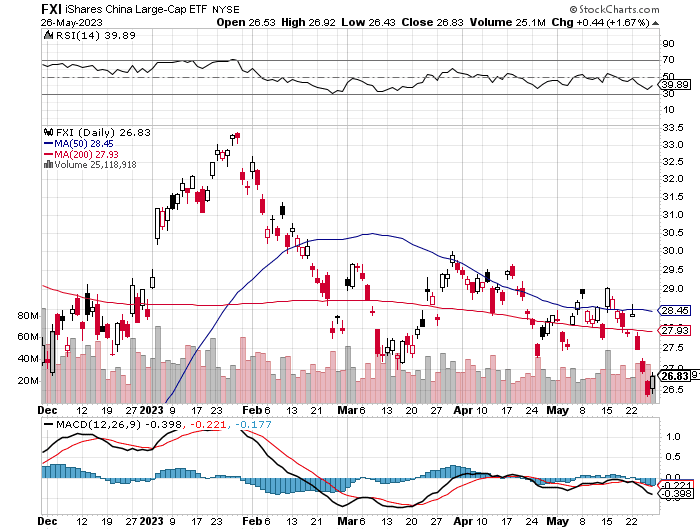 ---
2. China Small Cap -18% 2023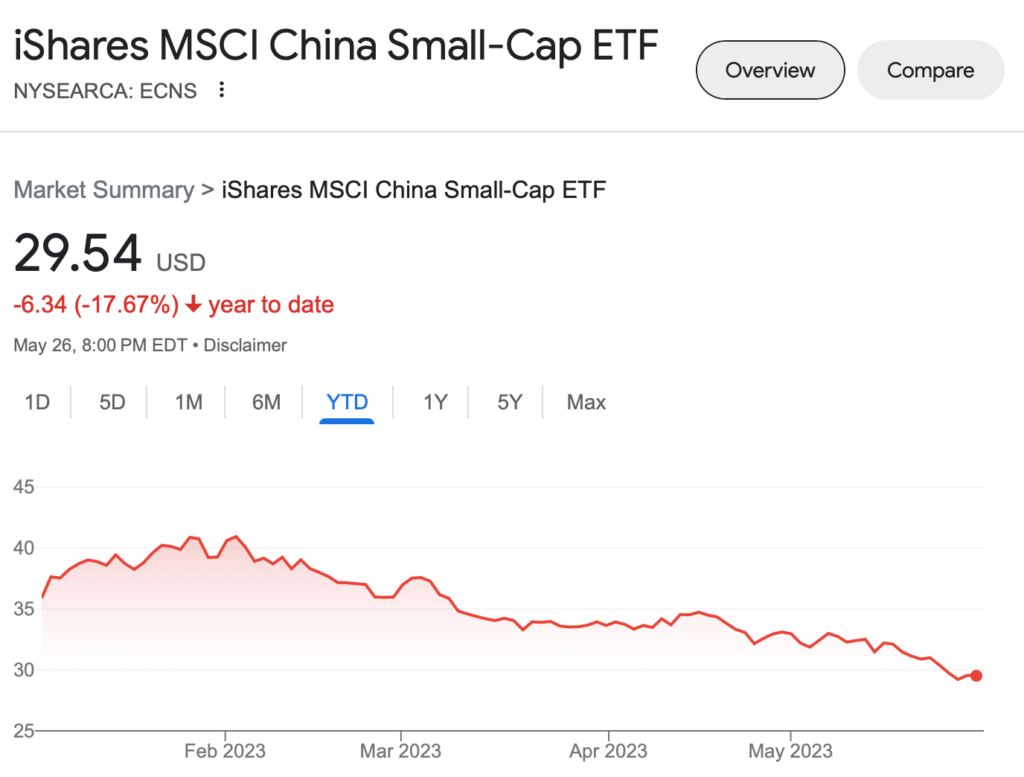 ---
3. ChatGPT Reached 100m Monthly Active Users in 2 Months vs. 9 Months for TikTok
Zerohedge BY TYLER DURDEN. OpenAI's viral ChatGPT chatbot reached 100 million monthly active users in just two months in January after launching in November, making it the fastest-growing consumer application in history. For some context, it took TikTok nine months after its launch to reach 100 million users and Instagram 2.5 years.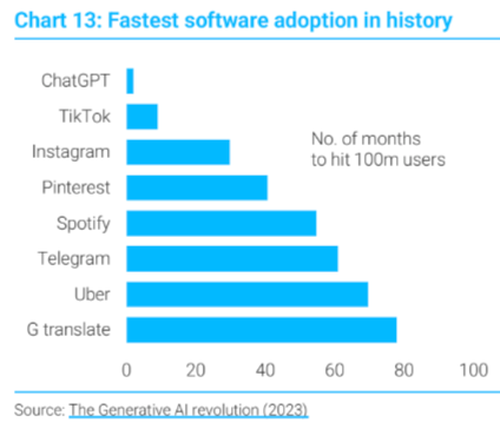 https://www.zerohedge.com/technology/race-100-million-users-who-did-it-fastest-and-what-does-mean-productivity
---
4. Tech 3.23 Standard Deviation Over 50Day….Most Since 2004
Bespoke Investment Group Again, Tech has led the way higher with a sharp move this week.  The sector is now extremely overbought, trading 3.23 standard deviations above its 50-DMA; the fifth most overbought reading on record.  Since 1990, there have only been a handful of times in which the S&P 500 Tech sector has traded at least 3 standard deviations overbought, with the most recent being roughly six years ago. But to find the last time the sector was as extended as it is today, you'd have to go all the way back to early 2004!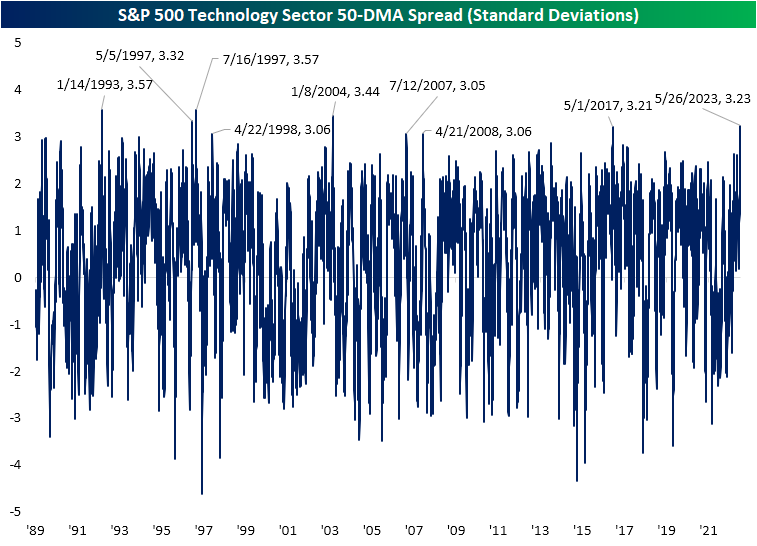 https://www.bespokepremium.com/interactive/posts/think-big-blog/tech-in-orbit
---
5. Tech Sector Forward Price/Earnings Soars 46%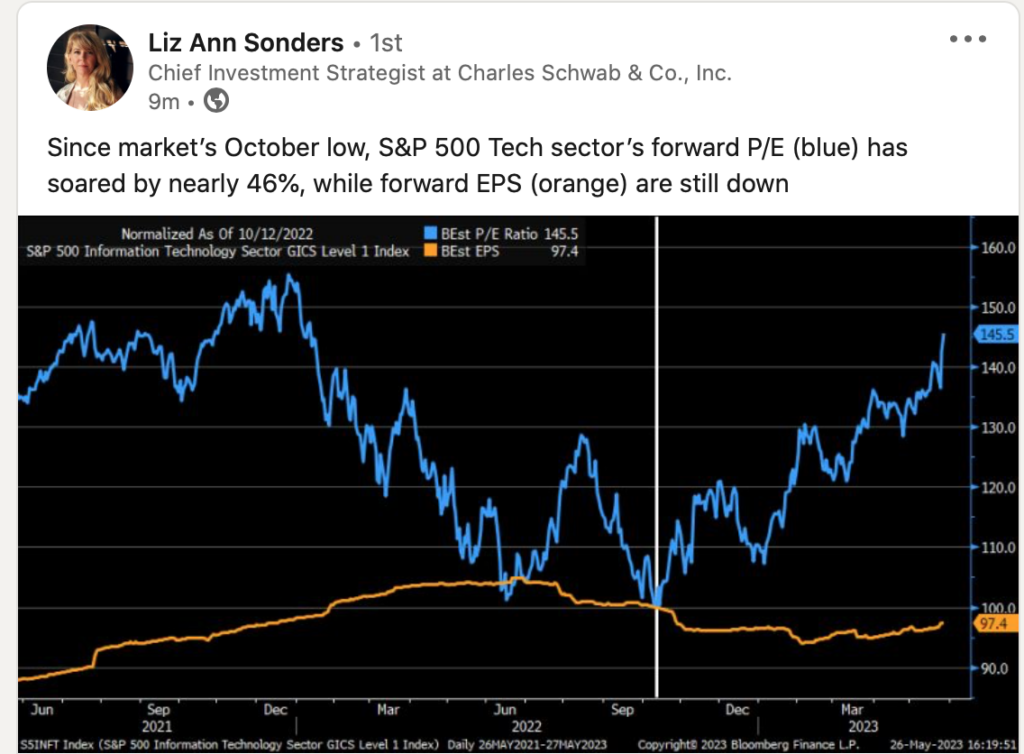 https://www.linkedin.com/feed/
---
6. No Recession at Blackjack Tables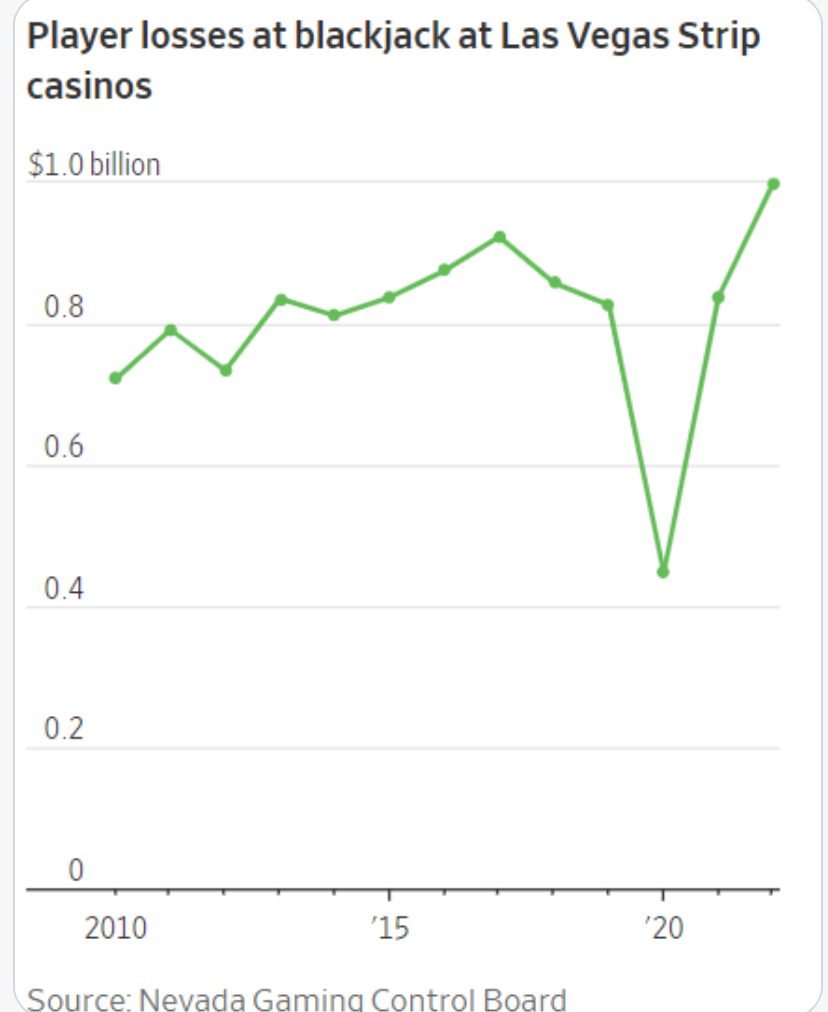 https://www.wsj.com/articles/why-youre-losing-more-to-casinos-on-the-las-vegas-strip-73f6f3ab?mod=hp_lead_pos4
---
7. Mental Hospitals vs. Prisons in America
From Barry Ritholtz Blog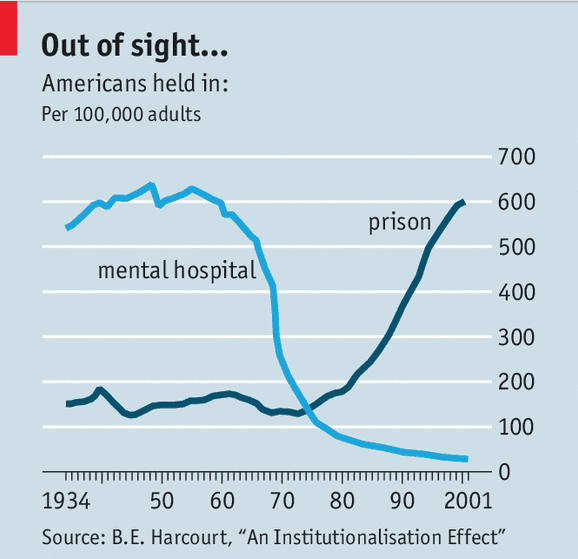 ---
8. Global Democracies in Decline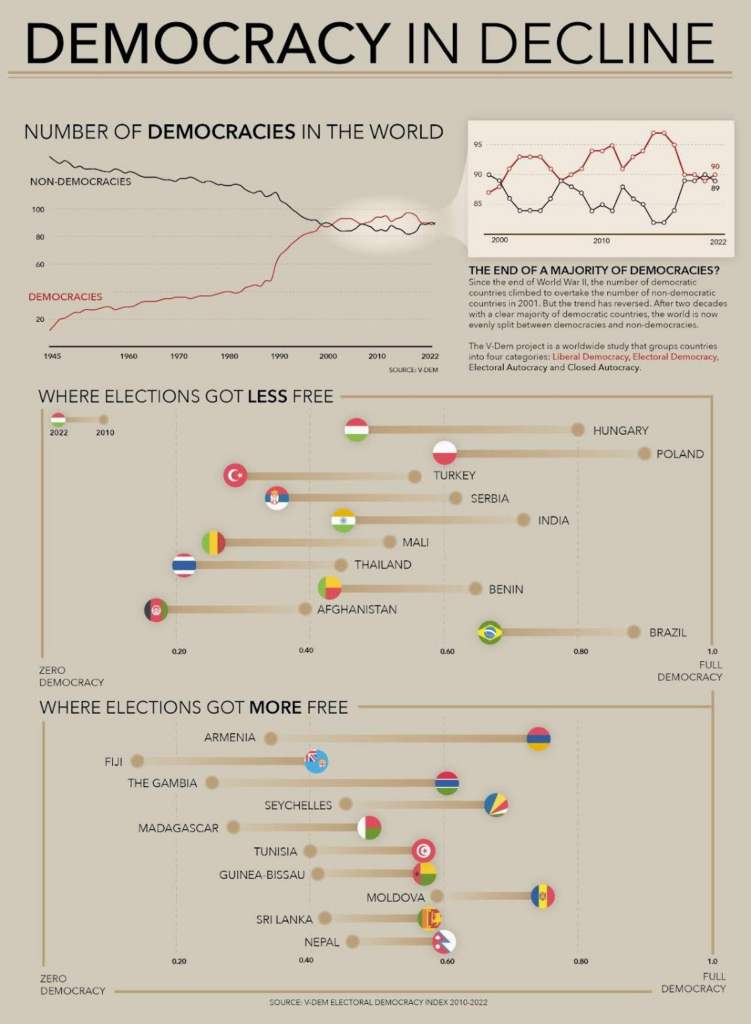 https://cms.zerohedge.com/s3/files/inline-images/2023-05-28_14-17-57.jpg?itok=fFYj1Opq
---
9. Immigrants are Record Share of Workforce-3.4% Unemployment
MoneyWatch Aimee Picchi The share of immigrants in the workforce rose to 18.1% last year, an increase from 17.4% in 2021, the Bureau of Labor Statistics said in a recent report.
Employees who were born outside the U.S. had a lower jobless rate last year than native-born workers, the BLS said. Foreign-born workers had an unemployment rate of 3.4% in 2022, compared with 3.7% for people born in the U.S., it noted.
The biggest difference was among men, with about 77% of immigrant male workers over the age of 16 in the workforce, compared with 66% of those born in America, the analysis found.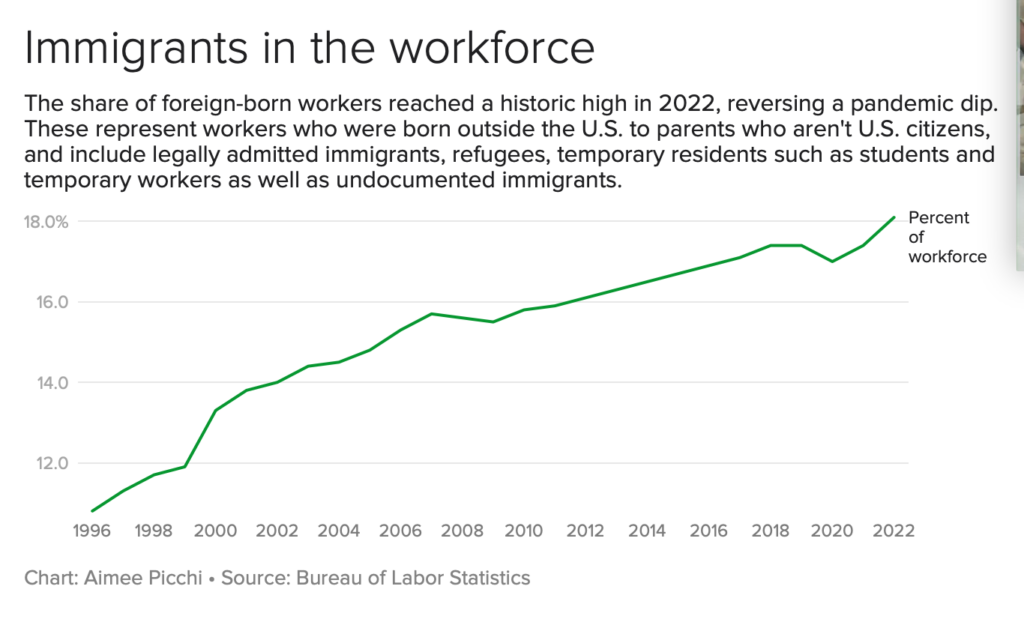 https://www.cbsnews.com/news/immigrants-record-share-of-u-s-workers-heres-what-to-know/
---
10. This 101-Year-Old Is the Last Survivor of Pearl Harbor's USS Arizona
Lou Conter survived the deadliest of the day's attacks. He doesn't want to be called a hero
He was one of the 334 people assigned to the USS Arizona who survived the 1941 attack on Pearl Harbor. 
Lou Conter was 20 years old when the warship he was on—the USS Arizona—was bombed by Japanese forces at Pearl Harbor in 1941. 
Now, at 101, he's the last known survivor of the USS Arizona. He escaped the burning wreckage and helped crewmates to safety. Just don't call him a hero.
"I consider the heroes the ones that gave their lives, that never came home to their families," he said. "They're the real heroes."
The USS Arizona's bombing was the deadliest of the attacks that day, killing 1,117 people. It accounted for nearly half of the 2,403 who died during Pearl Harbor. Conter was one of the 334 people assigned to the USS Arizona who survived.
He became the last known survivor in April, after his former crewmate Ken Potts died at 102 years old. 
The warship's ammunition storage exploded during the bombings. The USS Arizona was so badly damaged that it was left to sink instead of being repaired. Its ruins are still underwater and viewable from the USS Arizona Memorial, which was built to hover over the warship.  
Conter helped pull crewmates out of the burning ship. 
"As we guided these men to safety, more often than not, their burned skin would come off on our hands," Conter wrote in his 2021 book, "The Lou Conter Story."
He often wondered why he made it out of the USS Arizona alive. 
"God didn't want you to go that time," he said he told himself. "There's a lot more for you to do for the country."
A month after Pearl Harbor, Conter went to flight school. Working 12- to 14-hour days kept his mind off the death and destruction he saw on the USS Arizona. 
"It helped out a lot to not think about it," he said. 
He got his pilot wings in November 1942, he said, and was part of a team that flew Black Cat aircraft overnight doing bomb runs in the South Pacific. He said he was shot down twice, once in September 1943 and a second time three months later. Both times, he used a lifeboat to get to shore. 
After World War II ended, he said he returned to California and signed up for the reserves. In the early 1950s, he served again in the Korean War. 
Conter retired from the Navy in 1967 as a lieutenant commander. He became a real-estate developer in California, where he still lives. 
As the number of the USS Arizona survivors dwindled to about 30, they would get together, Conter said. The group got smaller through the years, from 13 to five and then to two.
"Now I'm the only one still living," he said. 
Conter said he didn't know Potts when they were on the USS Arizona, but they became friends decades later. He talked to Potts on the phone every three weeks, asking him how he was doing and whether he was eating well. "Keep your spirits up," Conter would say. 
He is now on a new mission: Go back to Pearl Harbor this December. 
It has been about four years since Conter has been to the annual remembrance. His doctor had forbidden him from taking the nine hours of flights from his home in Grass Valley, Calif., to Hawaii. 
"I'd like to go once more," Conter said. 
Write to Joseph Pisani at joseph.pisani@wsj.com
Copyright ©2023 Dow Jones & Company, Inc. All Rights Reserved. 87990cbe856818d5eddac44c7b1cdeb8
Appeared in the May 27, 2023, print edition as 'USS Arizona's Last Survivor, Age 101, Says He's Not a Hero'.
https://www.wsj.com/articles/this-101-year-old-is-the-last-living-survivor-of-pearl-harbors-uss-arizona-a97740c8?mod=itp_wsj&ru=yahoo