1. U.S. Dollar Rally in May New 2023 High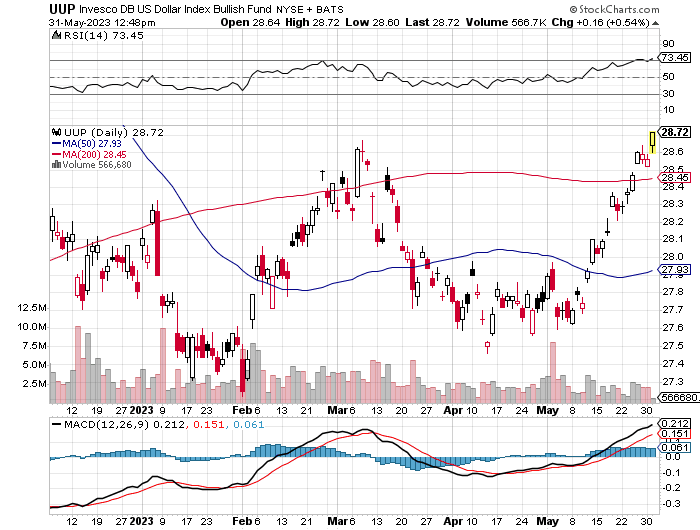 ---
2. Central Banks Demand for Gold Highest Since 2010
From Zerohedge.

https://www.zerohedge.com/markets/central-banks-are-buying-gold-record-pace-what-does-mean-inflation
---
3. AI Google Search Hockey Stick
Google Search trends for AI…Extremes…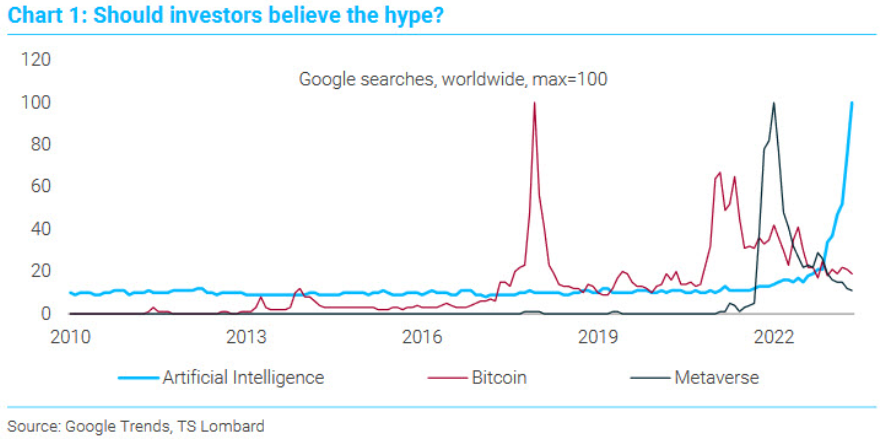 Dan Stratemeier dstratemeier@jefferies.com
---
4. Chinese Internet ETF KWEB
KWEB bearish chart negative for year and 50day thru 200day to downside.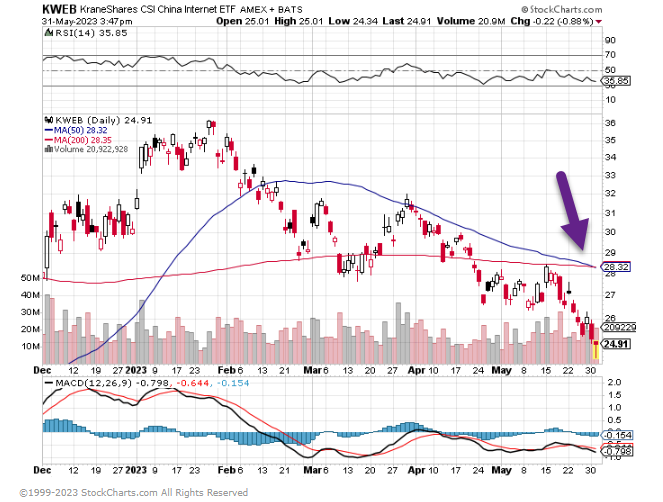 ---
5. Shanghai to L.A. Freight Cost Chart
From Irrelevant Investor Blog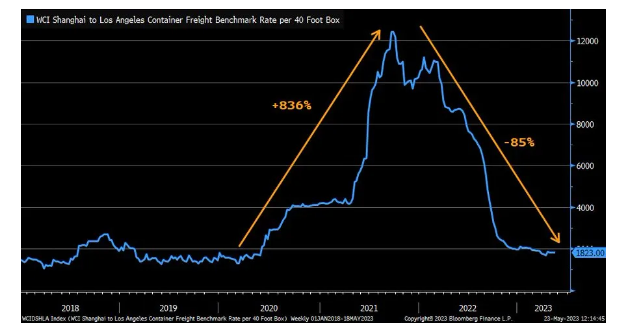 https://theirrelevantinvestor.com/2023/05/31/animal-spirits-something-has-to-break/
---
6. Percentage of S&P Members Outperforming S&P 500 Index at 30 Year Low on Chart
Liz Ann Sonders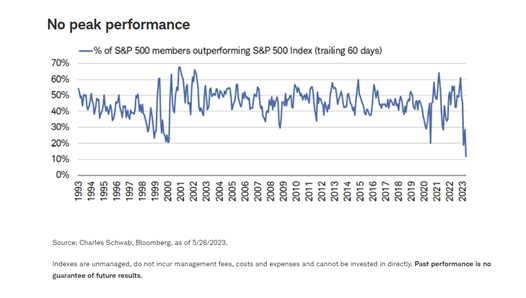 https://www.advisorperspectives.com/commentaries/2023/05/31/mega-caps-reign-annsonders
---
7. QQQ vs. PKW Buyback ETF
Tech dominance shows in this chart …..QQQ vs. stocks that are buying back the most stock.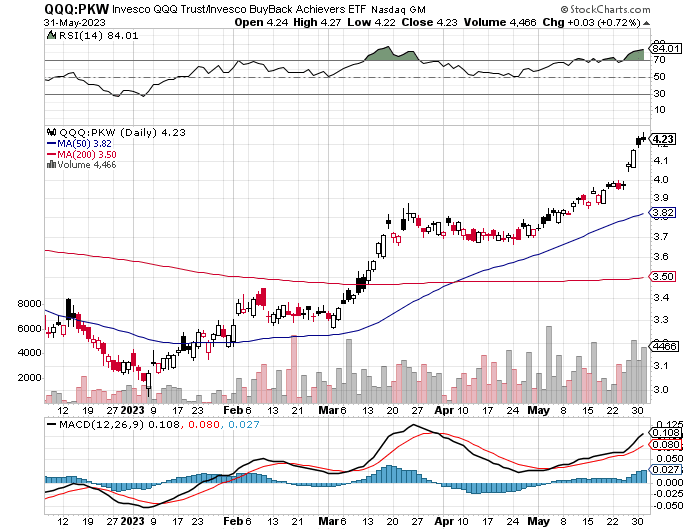 ---
8. Renewable Energy in U.S.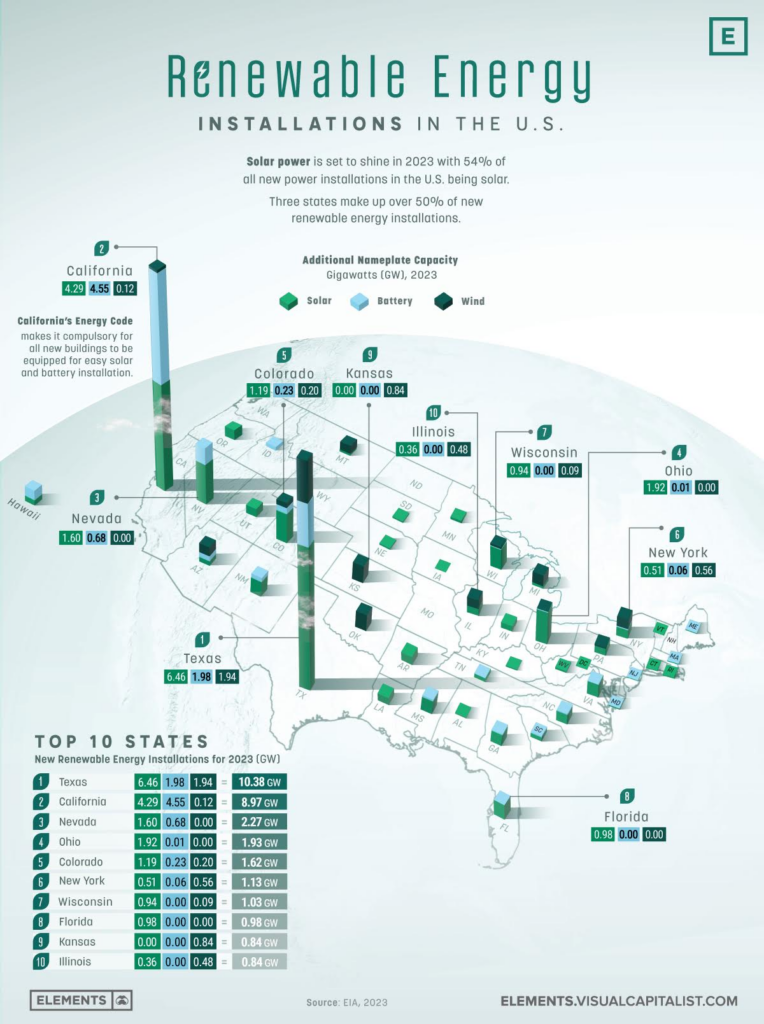 https://www.visualcapitalist.com/mapped-renewable-energy-and-battery-installations-in-the-u-s-in-2023/
---
9. China Overtakes Japan As The World's Biggest Exporter Of Passenger Cars-Forbes
The Buick Envision SUV is assembled at a GM's assembly plant in Shanghai, China, and imported to the…
According to reports, China is now the world's biggest exporter of cars. Credit tariffs, the war in Ukraine, and the changing automotive landscape that have positively affected the country's car production.
Chinese officials have released figures showing the country exported 1.07 million cars during the first three months of 2023, an increase of 58 percent compared to last year. That number pushes Japan, with 954,185 cars, to second place despite increasing its production by more than 6 percent in the same period. Germany, which previously held the second spot for passenger car exports, was surpassed by China last year — it now sits in third.
China's rise in vehicle production is due to increased global demand for new energy vehicles (NEVs) as countries enact legislation limiting fossil fuel (combustion) vehicles and their emissions. The Asian nation is well-positioned to accommodate the demand. According to an International Energy Agency report released in July 2022, China produces 75 percent of the world's lithium-ion batteries and holds 85 percent production capacity for anodes and 70 percent for cathodes. The report says that China's first-quarter exports of NEVs, including electric cars, rose more than 90 percent compared to a year ago.
The war in Ukraine has also helped China's exports. Western countries have imposed trade sanctions on Moscow, so the Russian government has turned to China for its vehicles. While Volkswagen and Toyota pulled out of Russia after the Ukraine invasion, Chinese carmakers Great Wall, Chery, and Geely — satisfying the new demand — enjoyed a market share jump.
Other automakers, such as Tesla, are benefitting as well. Elon Musk's electric car company has a massive Shanghai manufacturing plant that sends cars to Europe and Japan — the Gigafactory is currently capable of making 1.25 million vehicles a year and has plans to increase capacity. While Chinese-built Teslas still aren't being imported into the United States, last month, the company began making Model Y sport utility vehicles for export to Canada.
SAIC Motor, the Chinese state-owned automaker based in Shanghai (which owns the MG brand), and BYD Auto Co., Ltd., an automotive subsidiary of the publicly listed Chinese multinational manufacturer BYD Company (backed by US investor Warren Buffett), are some of China's top exporters of NEVs.
It's interesting to note that import tariffs, legislated by the US government, have prevented most, but not all, automakers from bringing Chinese cars into the US marketplace. However, tariffs have not stopped GM from selling its Buick Envision SUV (based price of about $35,000) in the US market. Last year, GM imported 36,407 made-in-China vehicles, with the majority being the aforementioned Buick SUV. The balance was brought in by Polestar and Volvo brands.
Don't get the impression that China is throttling back its manufacturing capabilities. On the contrary, Xu Haidong, the deputy chief engineer at the state-backed China Association of Automobile Manufacturers, has indicated that China's target is to export a staggering 8 million passenger vehicles by 2030!
https://www.forbes.com/sites/michaelharley/2023/05/22/china-overtakes-japan-as-the-worlds-biggest-exporter-of-passenger-cars/?sh=30a1b6632c4f
---
10. The Costanza Principle-2023 Market
The Daily Stoic-A classic episode of Seinfeld begins with George Costanza having a revelation. "Every decision I've ever made in my entire life has been wrong," George says. "Every instinct I have in every aspect of life…is often wrong." Then just do the opposite, Jerry says. "Yes," Costanza says with excitement, "I will do the opposite!" For the rest of the episode, George has great success doing the opposite of what his instincts tell him to do.
This is now known as The Costanza Principle. And it turns out to be scientifically-sound advice. On a recent episode of the Daily Stoic podcast, the positive psychiatrist Dr. Samantha Boardman said,
"There's so much messaging today about how you always have to be yourself and trust your feelings. But I tell people, "be un-you." Like what is the opposite of what you feel like doing right now? Or who is someone you really admire—what would they do in this moment? And I actually think that can get us closer to the versions of ourselves that we would like to be…Separating oneself from one's impulse, taking a healthy step back and gaining some distance between what you feel like doing and what's actually going to help you—you'll make a better choice."
As we've talked about before, this is ancient advice. In his essay on clemency, Seneca tells the story of the emperor Augustus' wife advising him, "Do what doctors do when the usual prescriptions have no effect: try the opposite remedies. Strictness has gotten you nowhere…Now try and see how far clemency gets you." And Epictetus' line was, "What assistance can we find in the fight against habit? Try the opposite!"
When the Stoics, the science, a wife, and a sitcom agree on something, only a fool would decline to listen. Try the opposite today. Be un-you.
You can listen to the entire interview with Dr. Samantha Boardman where she talks about her book Everyday Vitality: Turning Stress into Strength, how you can improve your life by changing small daily habits, why feeling stressed is not necessarily a bad thing, how to deal with catastrophizing, and more.