1. Margin Debt -35% from Peaks.
– margin debt tanked -35% off peak and -$330 billion
– greater than GFC peak to trough
– and 1.59% (% market cap) lowest since dot-com low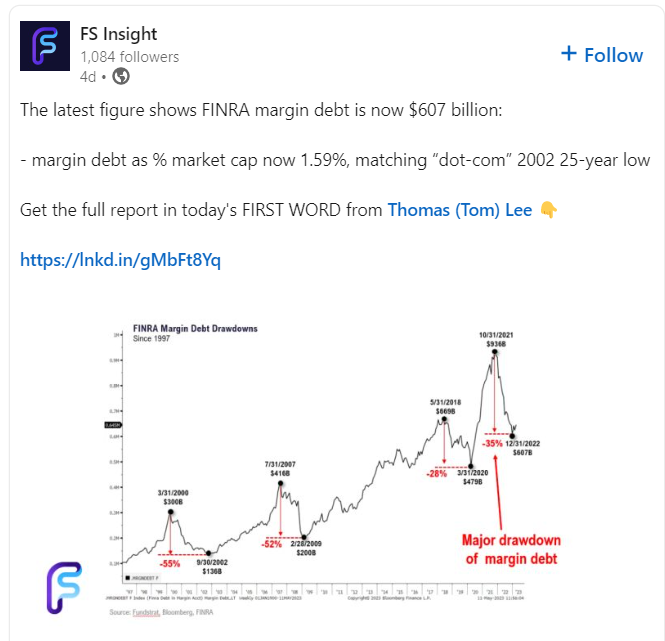 https://www.linkedin.com/company/fsinsight/
---
2. Fed Fund Rate Greater than CPI….This May Signal the End of Rate Hikes.
From Dave Lutz at Jones Trading Ryan notes Another clue the Fed is likely done hiking?  Fed funds rate > CPI YoY – Each of the previous 8 cycles could stop once this was in place.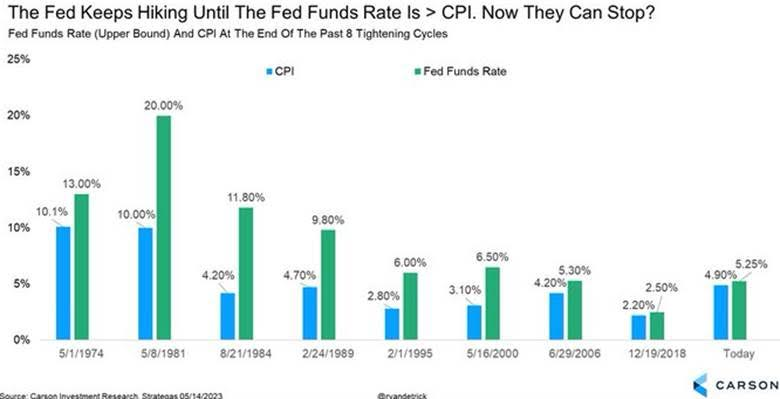 ---
3. Software ETF Still Bouncing Along Bottom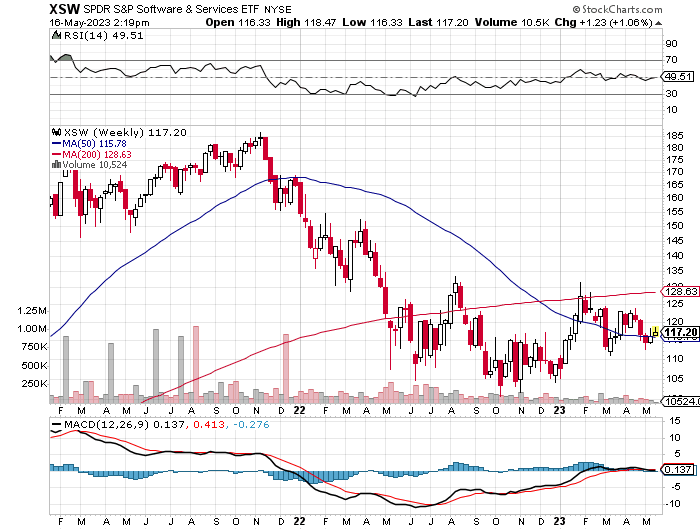 ---
4. Biotech ETF Still in Range Near Bottom-IBB ETF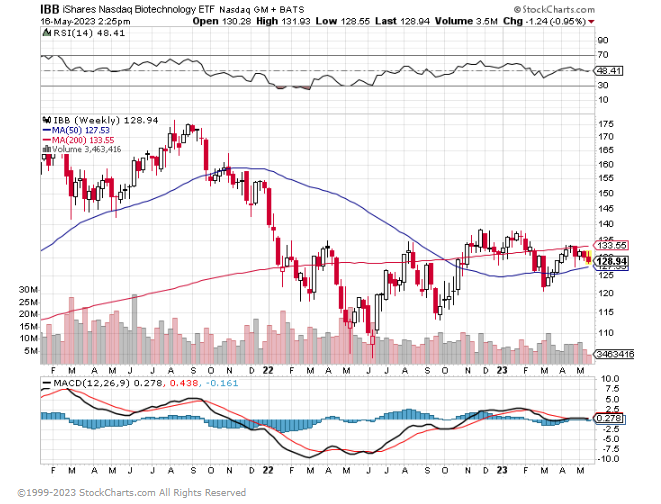 ---
5. IPO Market Still Closed…IPO ETF Sideways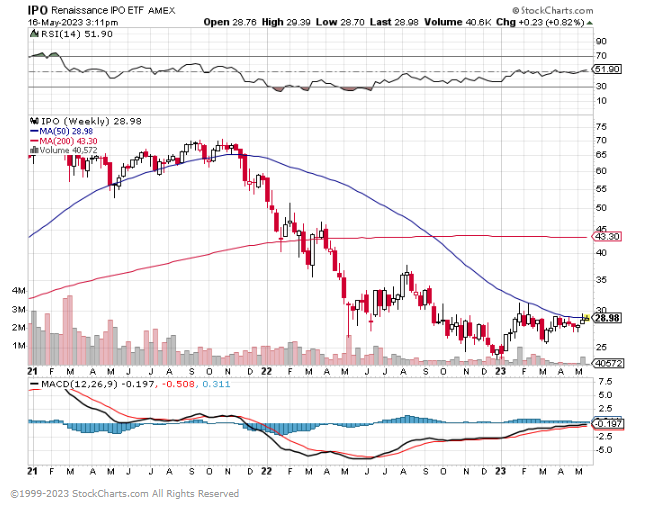 ---
6. Walmart vs. Target
This chart shows Walmart performance vs. Target….straight up since 2021…50day thru 200day to upside.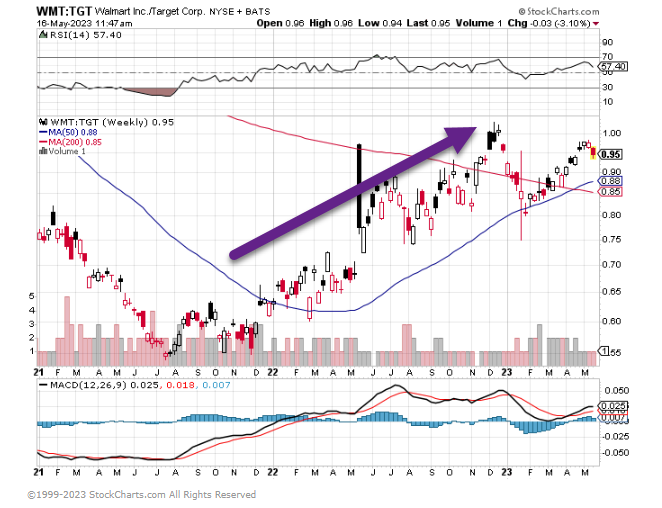 ---
7. Home Depot Chart.
HD closes right at 200 week moving average.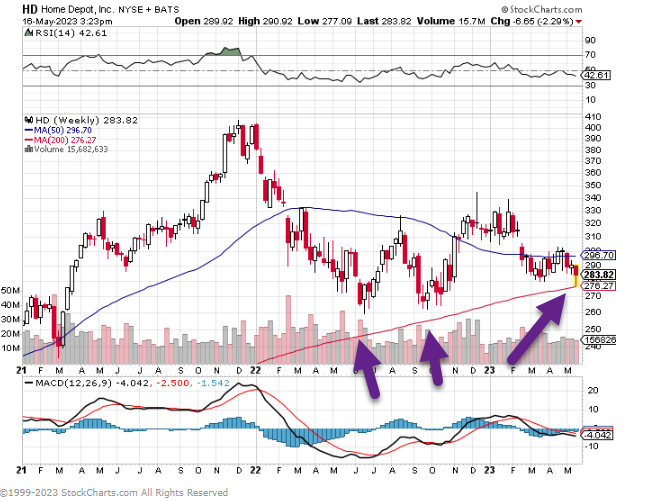 HD P/E Ratio..15x has been bottom of range since 2014 Macrotrends blog

https://www.macrotrends.net/stocks/charts/HD/home-depot/pe-ratio
---
8. Personal Savings Rates by Income
GMO Research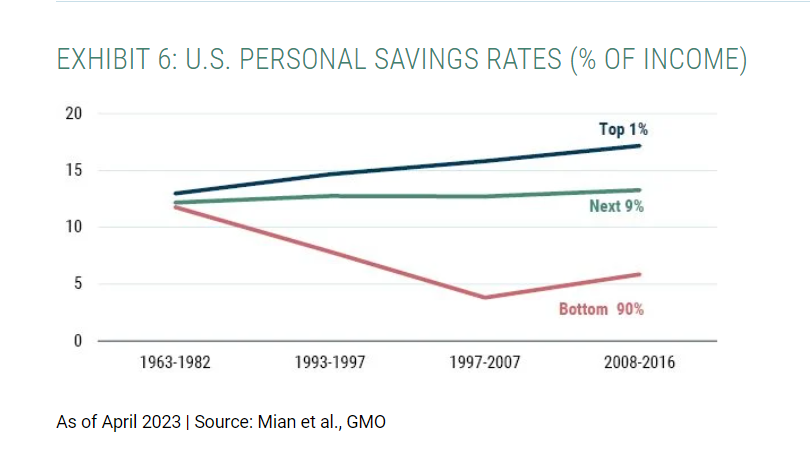 https://www.gmo.com/americas/research-library/
---
9. Drug Enforcement Administration Announces the Seizure of Over 379 million Deadly Doses of Fentanyl in 2022
WASHINGTON – As 2022 comes to an end, the Drug Enforcement Administration is announcing the seizure of over 50.6 million fentanyl-laced, fake prescription pills and more than 10,000 pounds of fentanyl powder this calendar year. The DEA Laboratory estimates that these seizures represent more than 379 million potentially deadly doses of fentanyl.
Fentanyl is the deadliest drug threat facing this country. It is a highly addictive man-made opioid that is 50 times more potent than heroin. Just two milligrams of fentanyl, the small amount that fits on the tip of a pencil, is considered a potentially deadly dose.
"In the past year, the men and women of the DEA have relentlessly worked to seize over 379 million deadly doses of fentanyl from communities across the country," said Administrator Anne Milgram. "These seizures – enough deadly doses of fentanyl to kill every American – reflect DEA's unwavering commitment to protect Americans and save lives, by tenaciously pursuing those responsible for the trafficking of fentanyl across the United States. DEA's top operational priority is to defeat the two Mexican drug cartels—the Sinaloa and Jalisco (CJNG) Cartels—that are primarily responsible for the fentanyl that is killing Americans today."
Most of the fentanyl trafficked by the Sinaloa and CJNG Cartels is being mass-produced at secret factories in Mexico with chemicals sourced largely from China. In 2021, the DEA issued a Public Safety Alert on the widespread drug trafficking of fentanyl in the form of fentanyl-laced, fake prescription pills. These pills are made to look identical to real prescription medications—including OxyContin®, Percocet®, and Xanax®—but only contain filler and fentanyl and are often deadly. Fake pills are readily found on social media. No pharmaceutical pill bought on social media is safe. The only safe medications are ones prescribed directly to you by a trusted medical professional and dispensed by a licensed pharmacist.
Just last month, DEA alerted the public to a sharp nationwide increase in the lethality of fentanyl-laced fake prescription pills.  DEA laboratory testing in 2022 revealed that six out of ten fentanyl-laced, fake prescription pills contained a potentially lethal dose of fentanyl. This is an increase from DEA's announcement in 2021 that four out of ten fentanyl-laced, fake prescription pills contain a potentially deadly dose.
In 2022, DEA seized more than double the amount of fentanyl-laced, fake prescription pills that it seized in 2021. DEA also seized nearly 131,000 pounds of methamphetamine, more than 4,300 pounds of heroin, and over 444,000 pounds of cocaine. DEA is now providing a regularly updated counter at http://www.dea.gov to track approximate amounts of fentanyl pills and fentanyl powder seized by DEA.
DEA has created a Faces of Fentanyl memorial to commemorate the lives lost from fentanyl poisoning. To submit a photo of a loved one lost to fentanyl, please send their name, age, and photograph to fentanylawareness@dea.gov, or post a photo and their name to social media using the hashtag #JustKNOW.
https://www.dea.gov/press-releases/2022/12/20/drug-enforcement-administration-announces-seizure-over-379-million-deadly
---
10. Motivation: The Driving Force Behind Our Actions
What Are the 3 Components of Motivation?
If you've ever had a goal (like wanting to lose 20 pounds or run a marathon), you probably already know that simply having the desire to accomplish these things is not enough. You must also be able to persist through obstacles and have the endurance to keep going in spite of difficulties faced.
These different elements or components are needed to get and stay motivated. Researchers have identified three major components of motivation: activation, persistence, and intensity.4
Activation is the decision to initiate a behavior. An example of activation would be enrolling in psychology courses in order to earn your degree.
Persistence is the continued effort toward a goal even though obstacles may exist. An example of persistence would be showing up for your psychology class even though you are tired from staying up late the night before.
Intensity is the concentration and vigor that goes into pursuing a goal.5 For example, one student might coast by without much effort (minimal intensity) while another student studies regularly, participates in classroom discussions, and takes advantage of research opportunities outside of class (greater intensity).
The degree of each of these components of motivation can impact whether you achieve your goal. Strong activation, for example, means that you are more likely to start pursuing a goal. Persistence and intensity will determine if you keep working toward that goal and how much effort you devote to reaching it.
Tips for Improving Your Motivation
All people experience fluctuations in their motivation and willpower. Sometimes you feel fired up and highly driven to reach your goals. Other times, you might feel listless or unsure of what you want or how to achieve it.
If you're feeling low on motivation, there are steps you can take to help increase your drive. Some things you can do to develop or improve your motivation include:
Adjust your goals to focus on things that really matter to you. Focusing on things that are highly important to you will help push you through your challenges more than goals based on things that are low in importance.
If you're tackling something that feels too big or too overwhelming, break it up into smaller, more manageable steps. Then, set your sights on achieving only the first step. Instead of trying to lose 50 pounds, for example, break this goal down into five-pound increments.
Improve your confidence. Research suggests that there is a connection between confidence and motivation.6 So, gaining more confidence in yourself and your skills can impact your ability to achieve your goals.
Remind yourself about what you've achieved in the past and where your strengths lie. This helps keep self-doubts from limiting your motivation.
If there are things you feel insecure about, try working on making improvements in those areas so you feel more skilled and capable.
 What to Do When You Have No Motivation
Causes of Low Motivation
There are a few things you should watch for that might hurt or inhibit your motivation levels. These include:
All-or-nothing thinking: If you think that you must be absolutely perfect when trying to reach your goal or there is no point in trying, one small slip-up or relapse can zap your motivation to keep pushing forward.
Believing in quick fixes: It's easy to feel unmotivated if you can't reach your goal immediately but reaching goals often takes time.
Thinking that one size fits all: Just because an approach or method worked for someone else does not mean that it will work for you. If you don't feel motivated to pursue your goals, look for other things that will work better for you.
Motivation and Mental Health
Sometimes a persistent lack of motivation is tied to a mental health condition such as depression. Talk to your doctor if you are feeling symptoms of apathy and low mood that last longer than two weeks.
Theories of Motivation
Throughout history, psychologists have proposed different theories to explain what motivates human behavior. The following are some of the major theories of motivation.
Instincts
The instinct theory of motivation suggests that behaviors are motivated by instincts, which are fixed and inborn patterns of behavior.7 Psychologists such as William James, Sigmund Freud, and William McDougal have proposed several basic human drives that motivate behavior. They include biological instincts that are important for an organism's survival—such as fear, cleanliness, and love.
Drives and Needs
Many behaviors such as eating, drinking, and sleeping are motivated by biology. We have a biological need for food, water, and sleep. Therefore, we are motivated to eat, drink, and sleep. The drive reduction theory of motivation suggests that people have these basic biological drives, and our behaviors are motivated by the need to fulfill these drives.8
Abraham Maslow's hierarchy of needs is another motivation theory based on a desire to fulfill basic physiological needs. Once those needs are met, it expands to our other needs, such as those related to safety and security, social needs, self-esteem, and self-actualization.
Arousal Levels
The arousal theory of motivation suggests that people are motivated to engage in behaviors that help them maintain their optimal level of arousal.4 A person with low arousal needs might pursue relaxing activities such as reading a book, while those with high arousal needs might be motivated to engage in exciting, thrill-seeking behaviors such as motorcycle racing.
The Bottom Line
Psychologists have proposed many different theories of motivation. The reality is that there are numerous different forces that guide and direct our motivations.
Understanding motivation is important in many areas of life beyond psychology, from parenting to the workplace. You may want to set the best goals and establish the right reward systems to motivate others as well as to increase your own motivation.
Knowledge of motivating factors (and how to manipulate them) is used in marketing and other aspects of industrial psychology. It's an area where there are many myths, and everyone can benefit from knowing what works with motivation and what doesn't.