1. Debt Market View FAANG as Safer than U.S. Government Debt.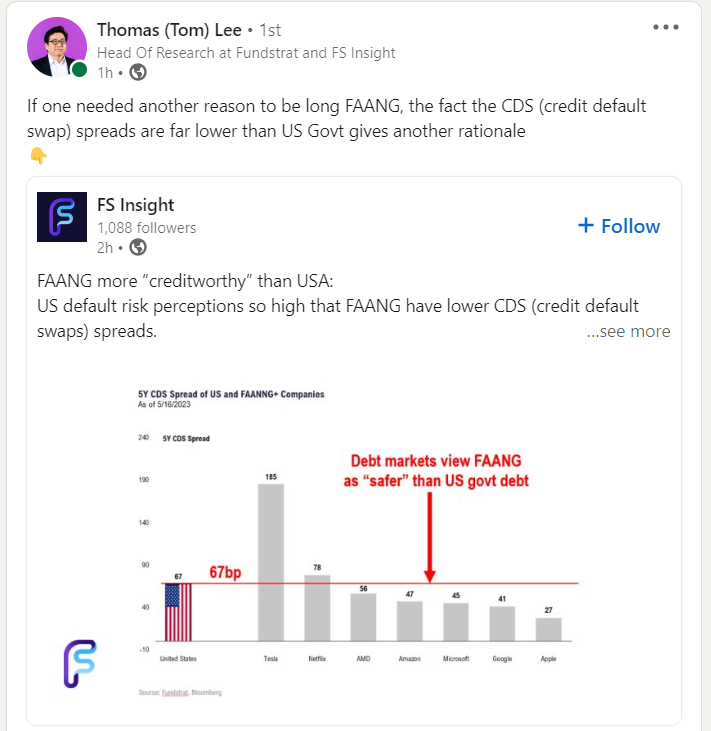 https://www.linkedin.com/in/thomas-tom-lee-98756b6/
---
2. FAANG Rallies Right Back to 2022 Highs.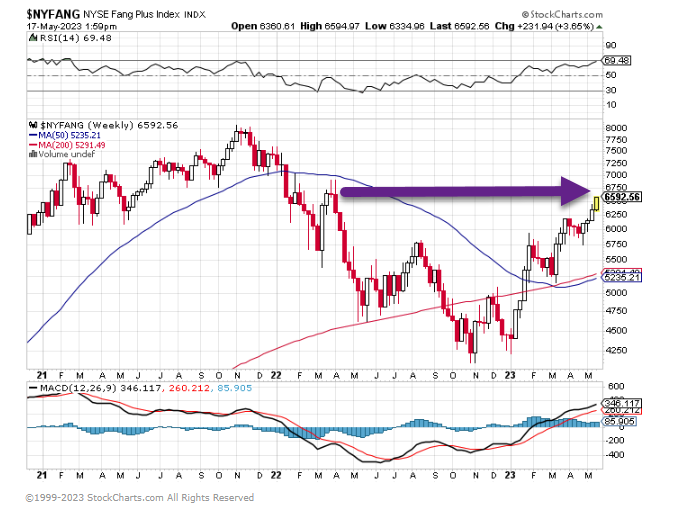 ---
3. Cash to Debt Ratio Show Corporate Borrowers Maintaining Liquidity
Guggenheim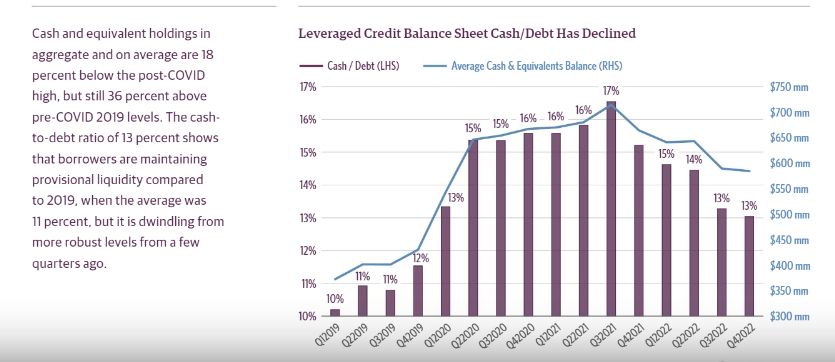 https://www.guggenheiminvestments.com/perspectives/sector-views/high-yield-and-bank-loan-outlook-april-2023
---
4. The Risk On Chart of Year ..Bitcoin +64% YTD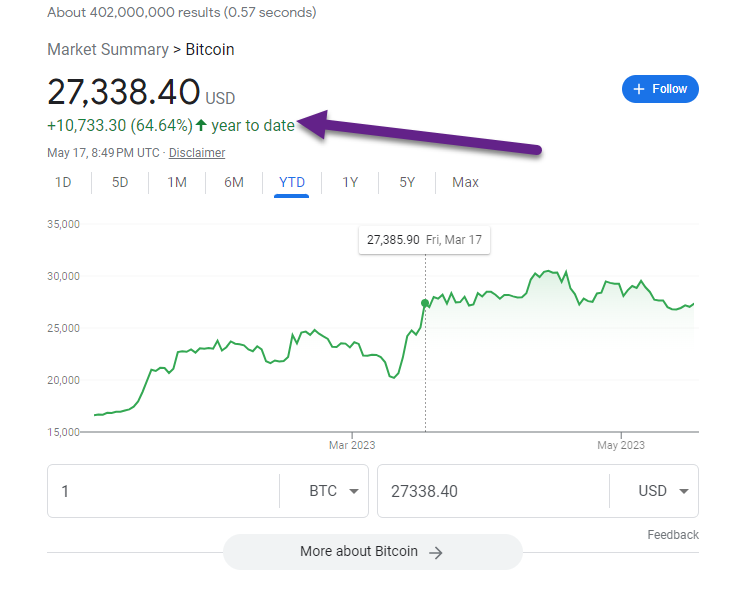 ---
5. Shopping Center Rents Record Highs
By Kate King WSJ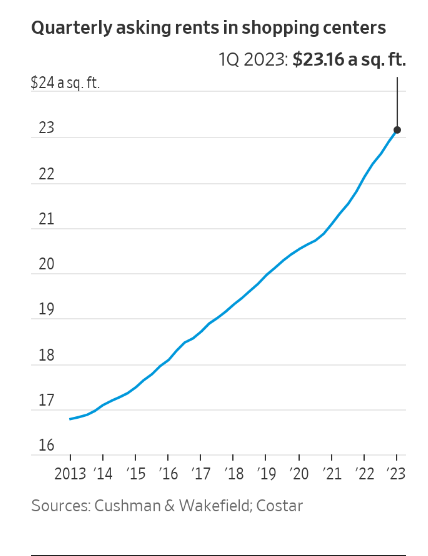 https://www.wsj.com/articles/warby-parker-allbirds-everlane-parachute-collars-co-stores-e4b94623
---
6. Retail Shopping ETF Still in Downtrend…RTH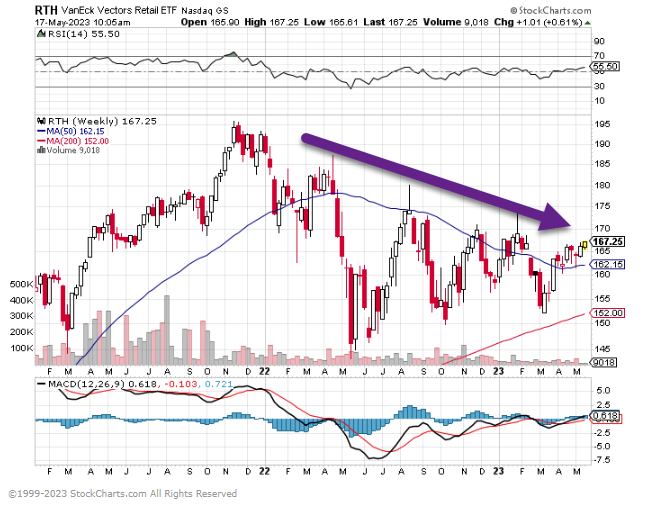 ---
7. Credit Card Debt not Getting Paid Down in Q1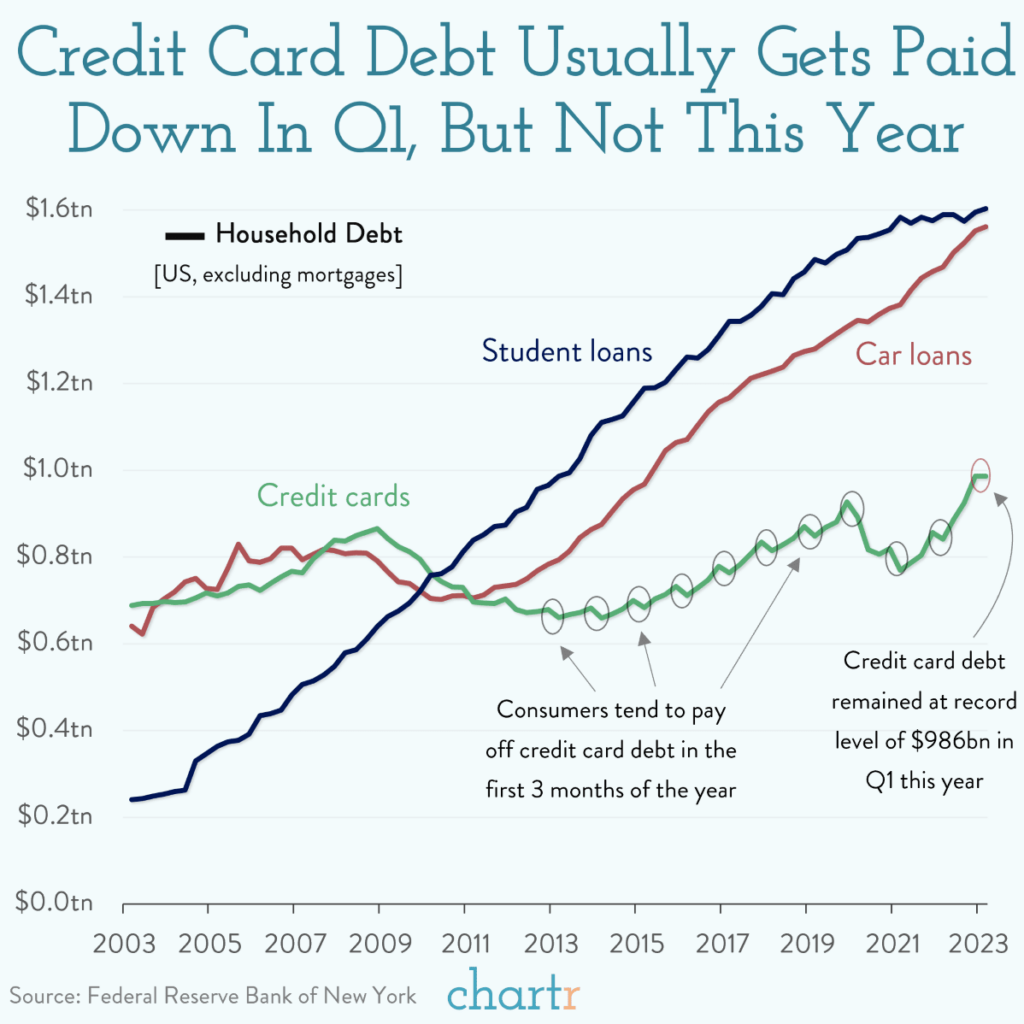 WE O U $17T  The New York Fed recently released its first-quarter report on household debt, revealing that American households now owe someone a staggering $17 trillion.  The majority of that is tied up in home mortgages, with the remainder split across student loans, car loans and credit cards — with the latter (and smallest) of those 3 categories particularly striking.

Credit card debt remained at a record level of $986 billion, defying the usual trend of post-holiday debt reduction. Indeed, this is the first time in over two decades that credit card balances haven't decreased in the first quarter — a period when many cut back on spending after the holiday period of October-December.All told, credit card debt rose 17% in the last 12 months, a potential sign that consumers are turning to credit cards to cope with mounting daily expenses as inflation continues to bite. Another concern is the rising delinquency rate, with ~4.6% of credit card debt transitioning into "serious delinquency" — where debt remains unpaid for 90+ days — up from just 3% during the same period last year.

Save to spendThis current situation stands in contrast to the pandemic, when US consumers, buoyed by stimulus checks and lockdown savings, managed to pay off $160bn of credit card debt between the end of 2019 and March 2021.
---
8. U.S. Commercial Real Estate Prices Turn Down in Q1….First Time in a Decade.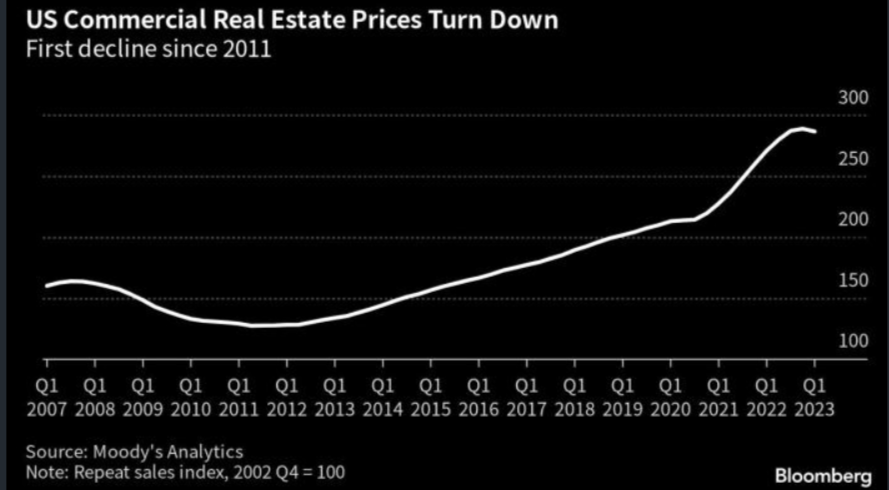 Bloomberg Rich Miller
https://www.bloomberg.com/news/articles/2023-05-17/us-commercial-real-estate-prices-fall-for-first-time-since-2011?sref=GGda9y2L
---
9. Office Space-Is 50% the New (Metro) RTO?
The Big Picture by Barry Ritholtz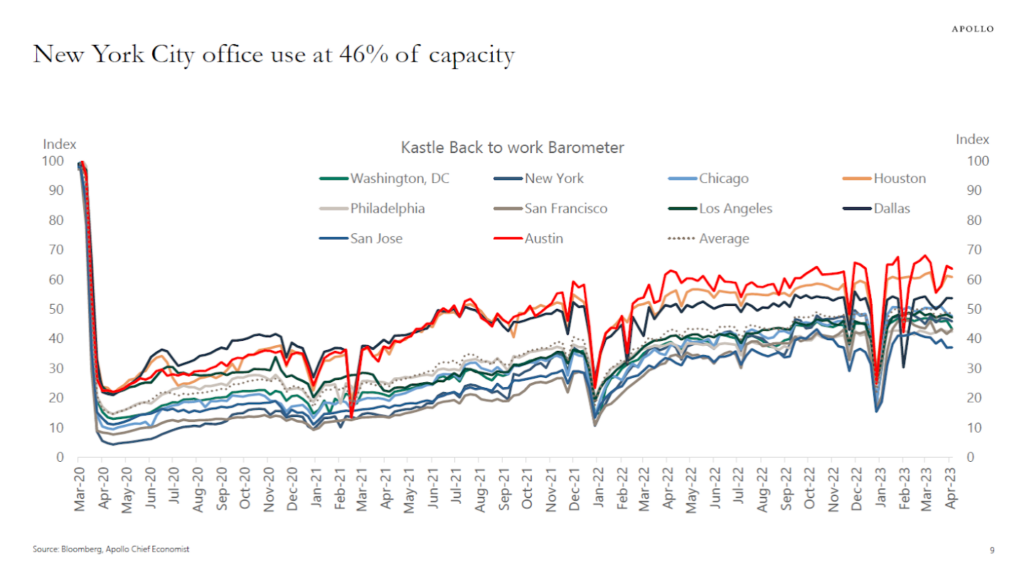 I mentioned a few weeks ago how much better Europe's return to office rate was doing versus ours: 90+% RTO, while the USA is ~60%. I cannot speak to Europe, but that U.S. number is an average across all regions, industries, age groups, etc. In some parts of the country, it is appreciably higher or lower; as you might imagine, it varies greatly.
The biggest drag? Big cities.  As Torsten Slok's chart above shows, the biggest metropolitan employment centers run lower than the national average — which is about 50%. The range is surprisingly wide, from mids-30s to upper-60s: Austin,1 Texas is in the mid-60% range; San Jose is in the high-30%; San Francisco, D.C., and Philidelphia are low-40%. New York City, the biggest US metro center, is one of the laggards with an office occupancy rate of 46%.
Hybrid work models are now well-established. This leads Slok to ask a fascinating question: Is 50% the new permanent level in most metropolitan areas for RTO?
https://ritholtz.com/2023/04/metropolitan-rto/
---
10. Odds of Premature Mortality
Scott Galloway According to the U.S. Surgeon General (an impressive man who makes you feel good about America): "Evidence across scientific disciplines converges on the conclusion that socially connected people live longer." Social isolation is associated with a 29% increase in the risk of heart disease and a 32% increase in the risk of stroke. Put another way: loneliness kills.