1. 82% of Bonds in AGG Bond Index Trade Below Par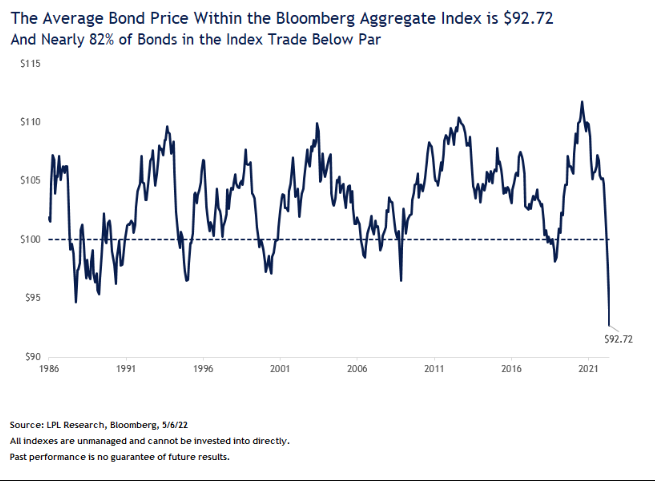 https://Iplresearch.com/2022/05/10/core-bonds-are-trading-at-deep-discounts-to-par/
---
2. Global Bonds 9 Straight Months of Losses
Vanguard International Bond ETF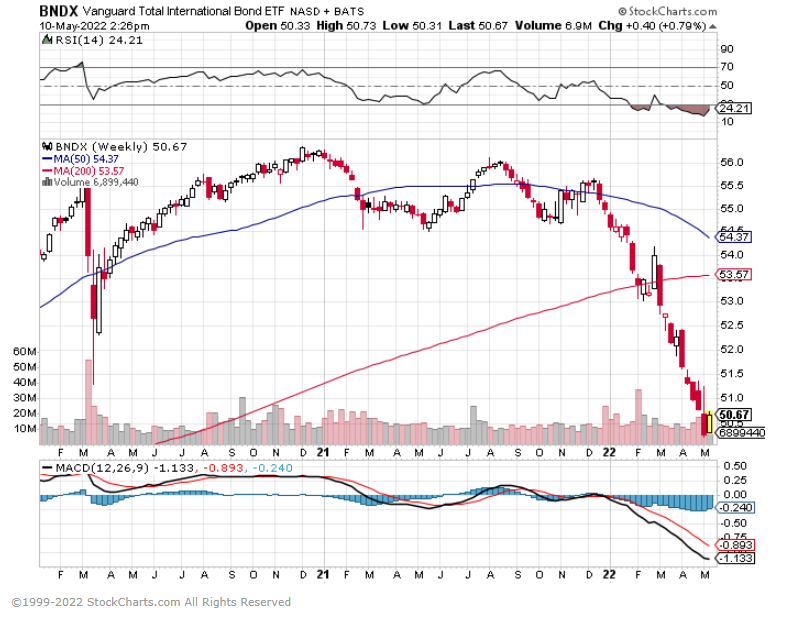 ---
3. Value Worst Year Ever Vs. Growth 2020….Now?
Irrelevant Investor-The outperformance of growth over value has been historic. For 14 out of 15 quarters from 2017 through 2020, value underperformed growth  That mentality reached a fever pitch in 2020 when growth stocks gained  37% while value stocks gained nothing. That was the worst year ever for value relative to growth, including 1999.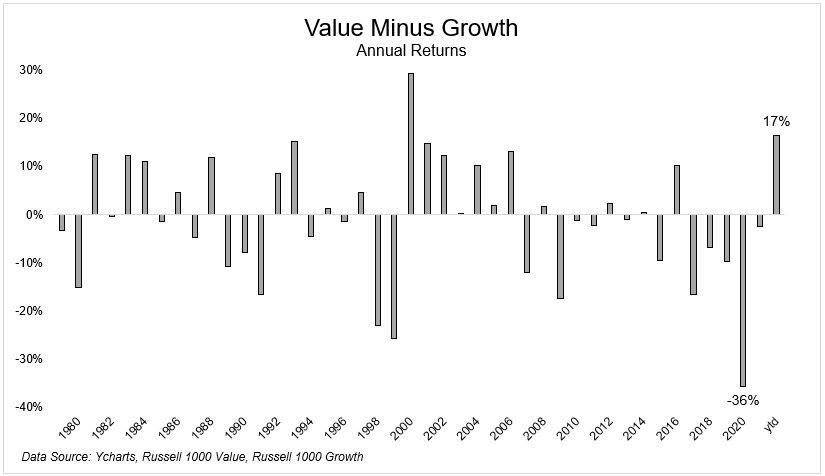 ---
4. Gasoline & Diesel Prices Spike to New WTF Records
by Wolf Richter  –Predictions a few weeks ago of peak gasoline prices have been obviated by the inflationary mindset.  The average price of all grades of gasoline at the pump spiked to a record $4.33 per gallon on Monday, May 9, the third week in a row of increases, and was up 46% from a year ago, edging past the prior record of Monday, March 14 ($4.32), according to the US Energy Department's EIA late Monday, based on its surveys of gas stations conducted during the day.
Gasoline price increases slap consumers directly in the face every time they get gas, and the classic ways of hiding price increases – such as making gallons smaller (shrinkflation) – would be illegal.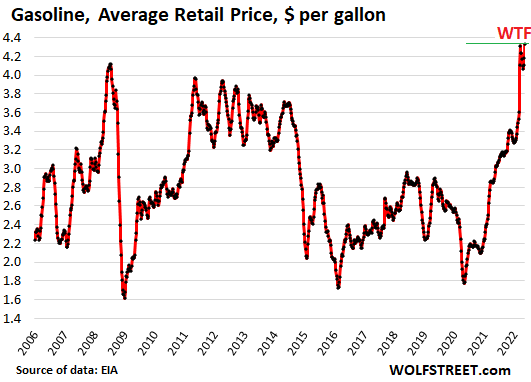 https://wolfstreet.com/2022/05/09/gasoline-diesel-prices-spike-to-new-wtf-records-but-dont-blame-crude-oil/
---
5. Small Cap -28% from highs…Closing right at 200day moving average on long-term chart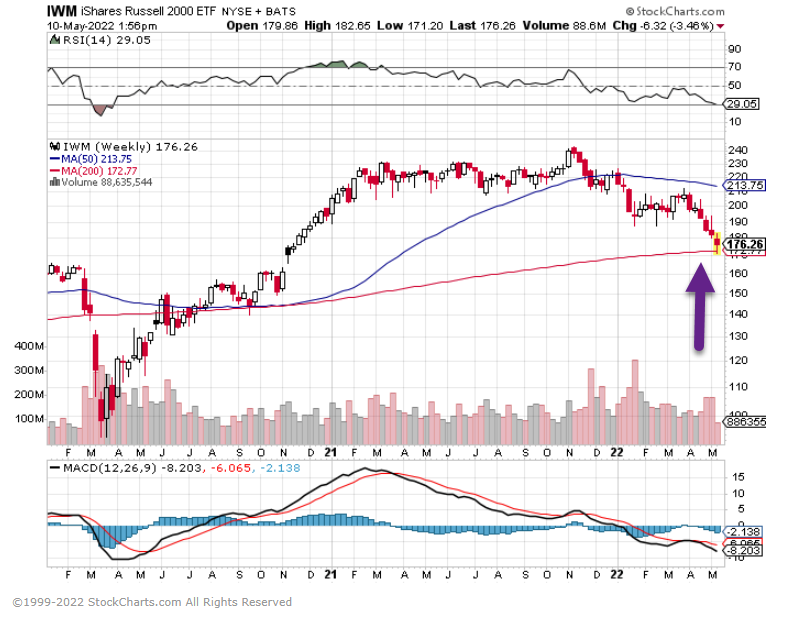 ---
6. Bitcoin Washout Is Leaving Mom-and-Pop Buyers Holding the Bag…Short-Term Holders Average Price $47,500 and They are Selling.
Bloomberg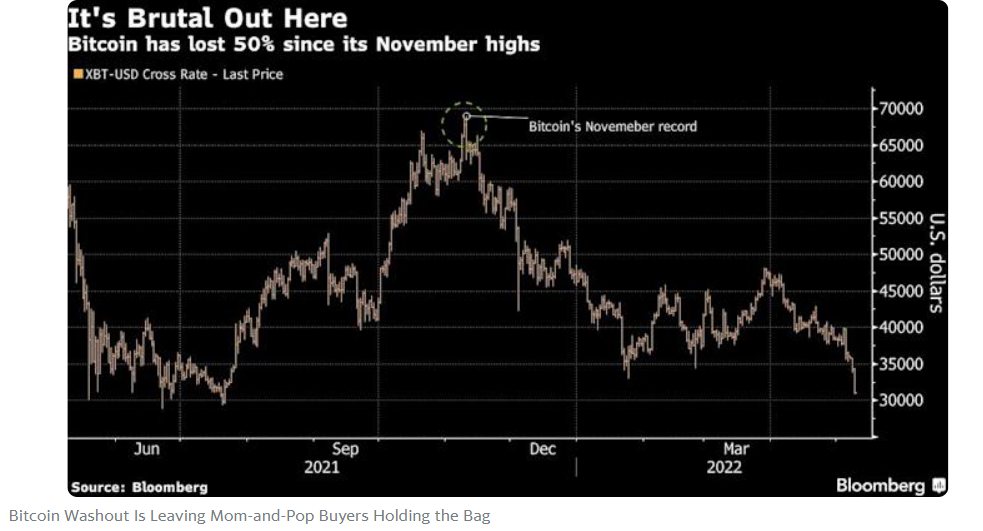 Vildana Hajric
(Bloomberg) — There's a crypto refrain when prices crash precipitously like this: The selloff is washing out the short term-focused non-believers, known as weak hands, strengthening the industry in its wake.
It's a glib way to think of all those who had joined the market as Bitcoin's price rose to an all-time high at the end of last year — including institutions and small-time at-home investors, many of whom are deeply underwater on their investments now.
A measure called MVRV — which divides market value by the average purchase price — shows that short-term holders, on average, purchased Bitcoin at around $47,500. Another gauge, called the spent-output-profit ratio (SOPR), indicates those kind of investors are selling at a loss right now, according to an analysis by Genesis Global that uses Glassnode data.
And it's not just those who have held the coin for a few months. More than half of traders who held crypto at the end of 2021 had gotten in that year, crypto-firm Grayscale Investments said at the time. Bitcoin's average price in 2021 hovered around $47,300. It was near $32,000 on Monday in New York trading.
"Absolutely a ton of people are down," said Stephane Ouellette, chief executive of FRNT Financial Inc. "Anyone who bought BTC for the first time in 2021 is down."
Crypto fans have long argued that digital assets would hold up well during turbulent times. Many had said Bitcoin would prove to be a good inflation hedge thanks to its limited supply. It was also supposed to hold up better amid economic and geopolitical crises because it's not tied to any government and has no centralized authority.
Instead, digital-asset investors are suffering through an environment that's put a lot of risky assets through the wringer this year. The Federal Reserve and other central banks are raising interest rates to combat inflation just as the economic backdrop is softening. In this environment, Bitcoin, the largest digital asset by market value, has been cut in half since its November record. It's seen five straight weeks of declines and just one positive day out of the last 11 sessions, including Monday's.
To be sure, short-term investors aren't all necessarily retail — a lot of institutional players also started to dabble in crypto in recent years. Still, the crypto craze had caught the eye of a lot of at-home traders who had been stuck at home during the pandemic and who deployed money into a market that went up in 2020 and 2021.
https://finance.yahoo.com/news/bitcoin-washout-leaving-mom-pop-220000088.html
---
7. Chewy Another Covid Favorite Goes Full Roundtrip Back to 2020 Lows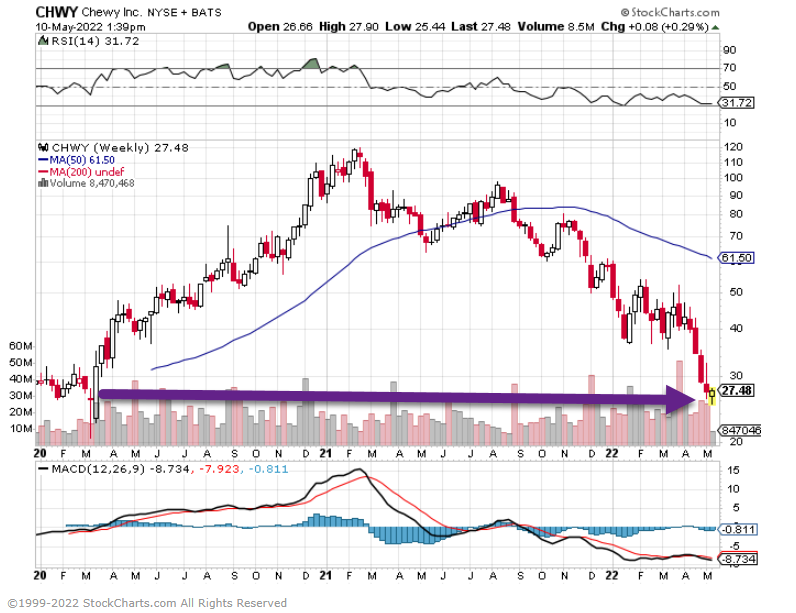 ---
8. Another Look at Personal Savings in U.S……Consumers Better Prepared for Downturn.
Capital Group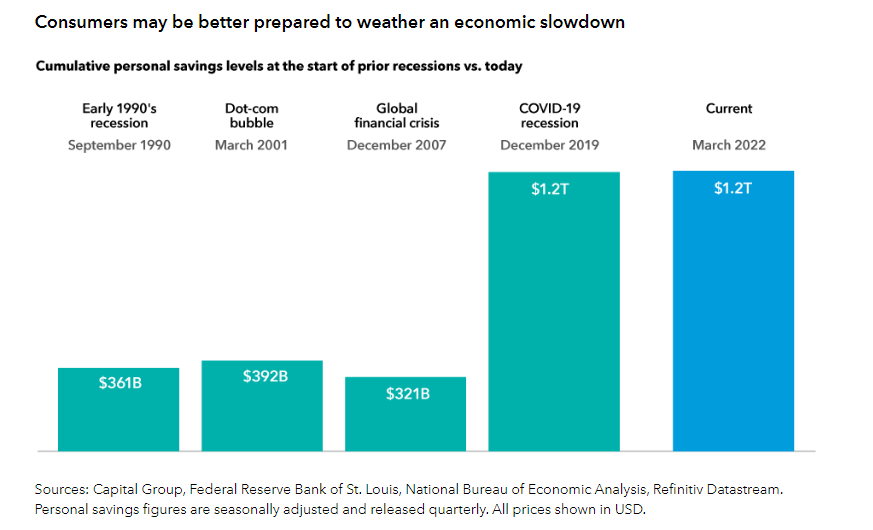 https://www.capitalgroup.com/advisor/insights.html
---
9. Firearm homicides hit highest level since 1994-Axios
Axios on facebook
Axios on twitter
Axios on linkedin
Axios on email
The firearm homicide rate in the U.S. reached its highest level since 1994 during the first year of the COVID pandemic, with significant racial and class disparities, according to a CDC report published Tuesday.
Driving the news: 2020 saw a historic rise in homicides in the U.S., and the upward trend continued into 2021.
About 79% of homicides and 53% of suicides in the U.S. involved firearms in 2020, according to the CDC report.
The big picture: The nation's firearm homicide rate increased 34.6% from 2019 to 2020, with the largest increases occurring among Black men aged 10-44 years old and Native American or Alaska Native men aged 25-44 years old, per the new report.
"The firearm homicide rate among Black males aged 10–24 years was 20.6 times as high as the rate among white males of the same age in 2019, and this ratio increased to 21.6 in 2020," the report says.
Larger increases were also observed at higher poverty levels, with racial and ethnic minorities more likely to live in communities with high surrounding poverty.
Counties with the highest poverty levels in 2020 experienced firearm homicide and suicide rates that were 4.5 and 1.3 times as high, respectively, as counties with the lowest poverty levels.
While overall firearm suicide rates remained "relatively unchanged" from 2019 to 2020, increasing only slightly, the highest increases were observed among Native Americans or Alaska Natives "at the two highest poverty levels," the report noted.
What they're saying: The CDC noted that firearm homicides and suicides are a "persistent and significant" public health concern in the U.S.
During the pandemic, "longstanding systemic inequities and structural racism have resulted in limited economic, housing, and educational opportunities associated with inequities in risk for violence and other health conditions among various racial and ethnic groups," the report stated.
The bottom line: The study's findings "underscore the importance of comprehensive strategies that can stop violence" by addressing underlying factors that contribute to homicide and suicide rates, including economic and social inequalities that drive racial disparities in health outcomes, per the report.
These could include policies that improve economic and household stability — such as child care subsidies and housing assistance — and community outreach programs.
https://www.axios.com/2022/05/10/firearm-homicide-high-1994
---
10. 5 Lessons On Being Wrong
James Clear Being wrong isn't as bad as we make it out to be. I have made many mistakes and I have discovered five major lessons from my experiences.
1. Choices that seem poor in hindsight are an indication of growth, not self-worth or intelligence. When you look back on your choices from a year ago, you should always hope to find a few decisions that seem stupid now because that means you are growing. If you only live in the safety zone where you know you can't mess up, then you'll never unleash your true potential. If you know enough about something to make the optimal decision on the first try, then you're not challenging yourself.
2. Given that your first choice is likely to be wrong, the best thing you can do is get started. The faster you learn from being wrong, the sooner you can discover what is right. For complex situations like relationships or entrepreneurship, you literally have to start before you feel ready because it's not possible for anyone to be truly ready. The best way to learn is to start practicing.
3. Break down topics that are too big to master into smaller tasks that can be mastered. I can't look at any business and tell you what to do. Entrepreneurship is too big of a topic. But, I can look at any website and tell you how to optimize it for building an email list because that topic is small enough for me to develop some level of expertise. If you want to get better at making accurate first choices, then play in a smaller arena. As Niels Bohr, the Nobel Prize-winning physicist, famously said, "An expert is a person who has made all the mistakes that can be made in a very narrow field."
4. The time to trust your gut is when you have the knowledge or experience to back it up. You can trust yourself to make sharp decisions in areas where you already have proven expertise. For everything else, the only way to discover what works is to adopt a philosophy of experimentation.
5. The fact that failure will happen is not an excuse for expecting to fail. There is no reason to be depressed or give up simply because you will make a few wrong choices. Even more crucial, you must try your best every time because it is the effort and the practice that drives the learning process. They are essential, even if you fail. Realize that no single choice is destined to fail, but that occasional failure is the cost you have to pay if you want to be right. Expect to win and play like it from the outset.
Your first choice is rarely the optimal choice. Make it now, stop judging yourself, and start growing.