1. Lumber Makes New Lows.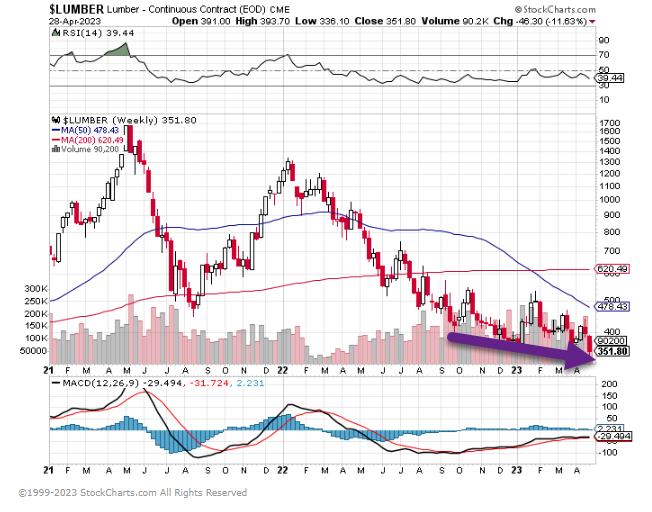 ---
2. High Yield Bond ETF
HYG held 200day moving average 3x still below 2023 highs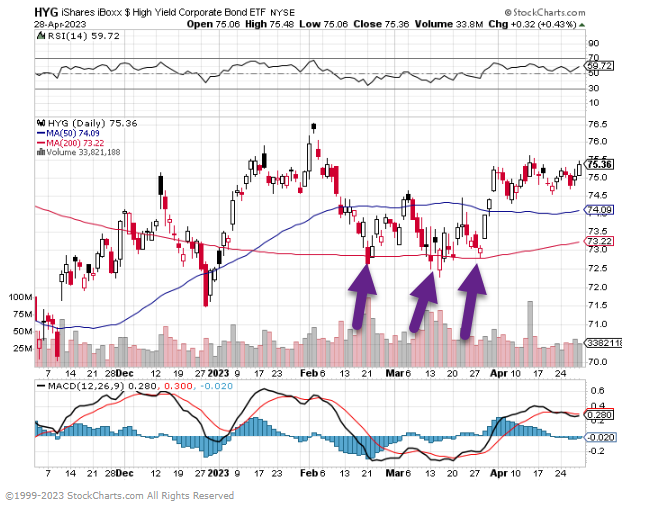 ---
3. Market Cap to Equal Weight S&P One of Widest Spreads Ever 2023
Bespoke Investment Group-Whenever you see a list of best-performing stocks, it's inevitably loaded with many small stocks that most investors have never heard of. This year, though, it's practically been the opposite trend as the two top performing stocks in the S&P 500 on a YTD basis – Meta Platforms (+96%) and Nvidia (+88%) – are not only household names, but they also have market caps of more than $500 billion.  We'd also note that both stocks are more than 30 percentage points ahead of the next closest stocks in terms of top YTD returns!
With such strong returns among the largest stocks in the S&P 500, the YTD performance spread between the market-cap-weighted S&P 500 and its equal-weighted counterpart is among the widest ever seen on a YTD basis through the end of April. Through Friday afternoon, the market-cap-weighted S&P 500 was up 8.26% YTD, while the equal-weighted index was up just 2.13%.  At 6.14 percentage points, the YTD performance gap between the two indices is the second widest since 1990, trailing only the 6.8% percentage point gap in 2020.  Besides 2020, the only other year where the gap was wider than two percentage points was in 1997.  While it's a small sample size and history doesn't always repeat itself, we'd note that the S&P 500's rest-of-year performance was a gain of over 20% in both of those years.  Just saying.
Besides the two other years where the performance gap was significantly wide like this year, what stands out about the chart below is how common it has historically been for the market cap-weighted index to underperform the equal weight index in the first four months of the year. Including this year, the cap-weighted index has only outperformed nine times in the last 34 years.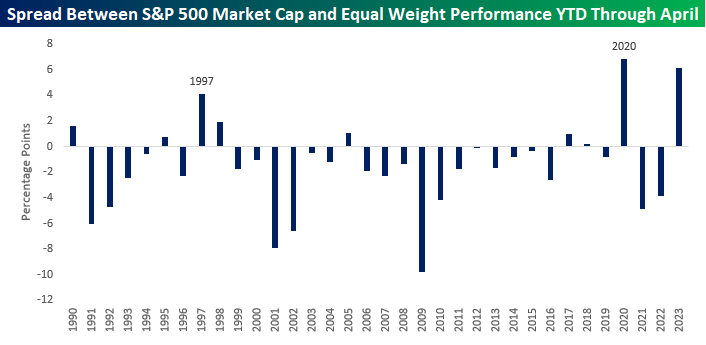 https://www.bespokepremium.com/interactive/posts/think-big-blog/big-winners
---
4. 10 Stocks 80% of Returns.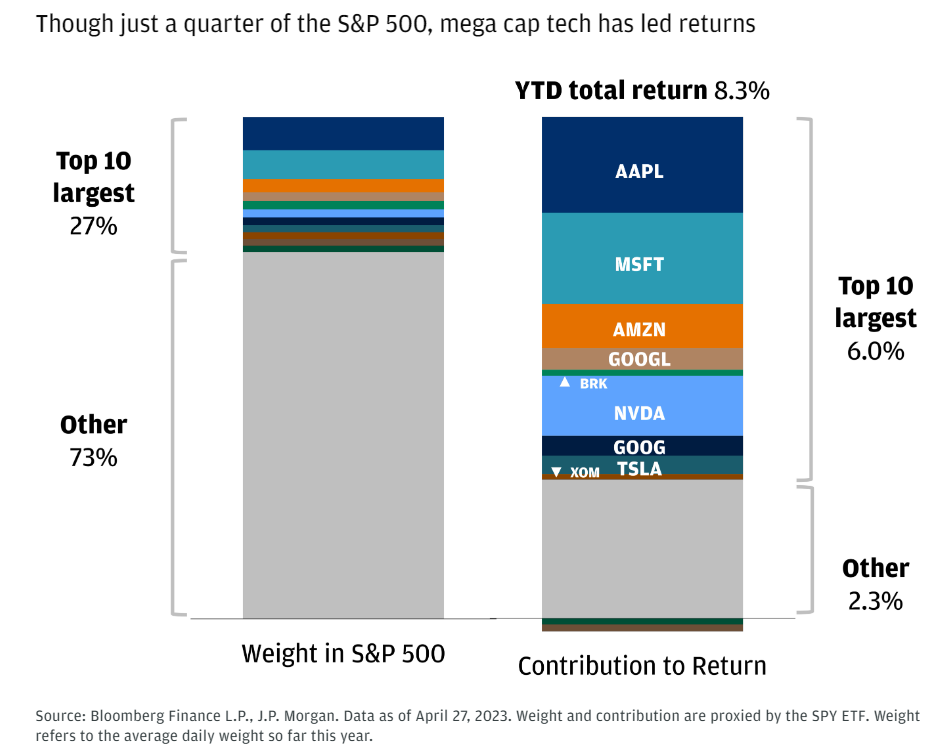 Source: Bloomberg Finance L.P., J.P. Morgan. Data as of April 27, 2023. Weight and contribution are proxied by the SPY ETF. Weight refers to the average daily weight so far this year. 
---
5. Mortgage Originations…2020-2021 vs. GFC 2008 Crisis
2021 Super Prime 70% vs. 2007 26%…..2021 Sub-Prime 2% vs. 2007 12%
Hoya Capital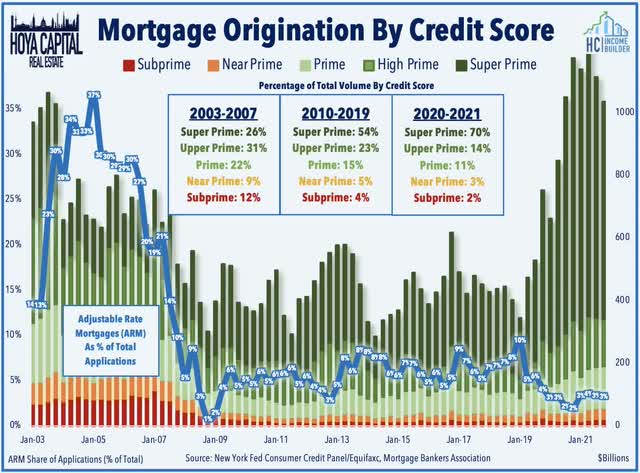 Found at Seeking Alpha.  https://seekingalpha.com/article/4558411-mortgage-reits-high-yields-are-fine-for-now
---
6. Next Bitcoin Halving One-Year Away
What is Bitcoin Halving?
KEY TAKEAWAYS
A Bitcoin halving event occurs when the reward for mining Bitcoin transactions is cut in half.
Halvings reduce the rate at which new coins are created and thus lower the available amount of new supply.
Bitcoin last halved on May 11, 2020, resulting in a block reward of 6.25 BTC.
The final halving is expected to occur in 2140 when the number of bitcoins circulating will reach the maximum supply of 21 million.1
https://www.investopedia.com/bitcoin-halving-4843769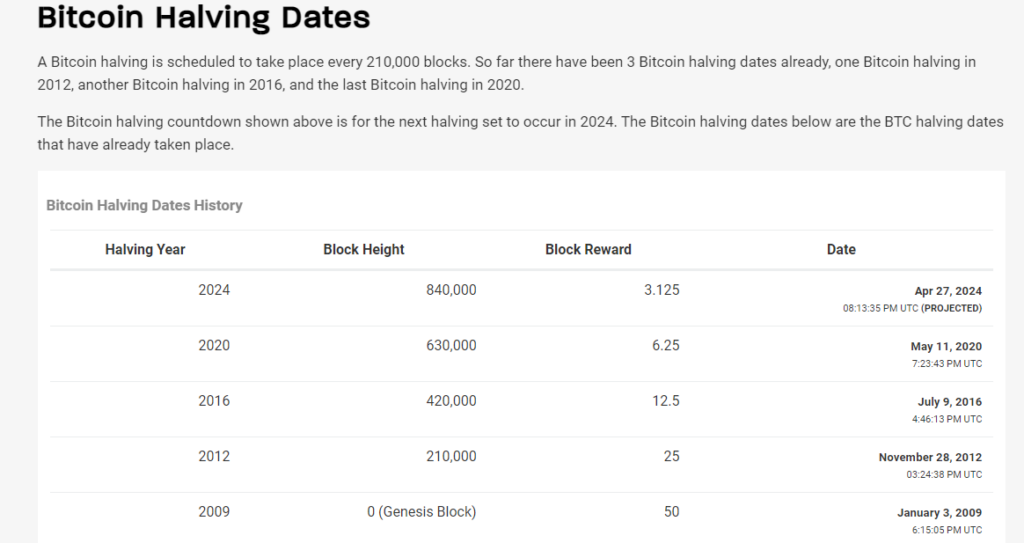 https://www.coinwarz.com/mining/bitcoin/halving
---
7. Saudi Mega City Project $500B vs. Inflation Reduction Act $370B
Scott Galloway-This sci-fi mega-city is the centerpiece of Saudi Arabia's Neom project, budgeted at $500 billion. Keep in mind, that's the budget — and 9 out of 10 mega-projects go over budget. Saudi Arabia is also building the Diriyah Gate, a $20 billion property development that will add 20,000 homes to the historic district of Diriyah, and the Red Sea Project, which will build 1,000 homes and 50 hotels across 22 small islands. Meanwhile, Qatar is building its own "city of the future" fit with a 90,000-capacity sports stadium, a dedicated entertainment district ("Entertainment City"), and the country's first six-star hotel. No ski resort, though.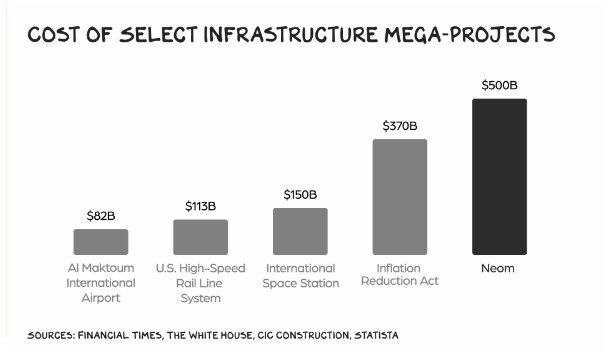 https://www.profgalloway.com/the-mother-of-all-pivots/
---
8. McDonalds Biggest Downloaded Food App.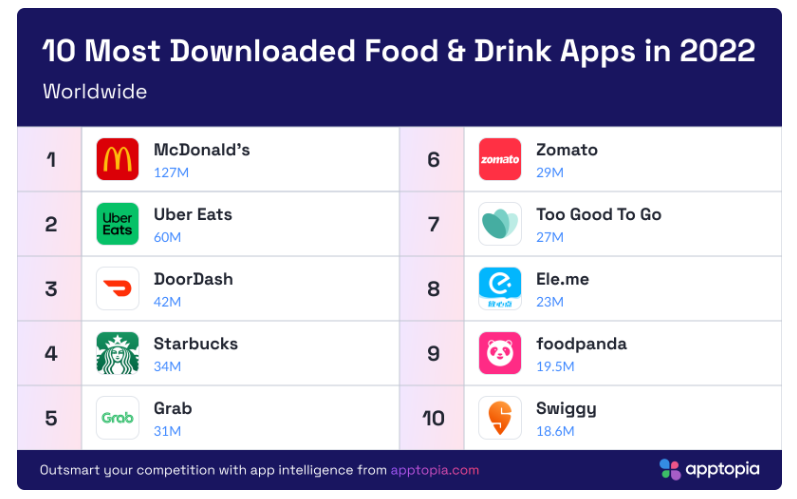 https://www.qsrmagazine.com/fast-food/40-million-people-downloaded-mcdonalds-app-2022
---
9. Record Number of Journalists Detained Worldwide …Where are they Held?
WSJ By Alyssa Lukpat and Max Rust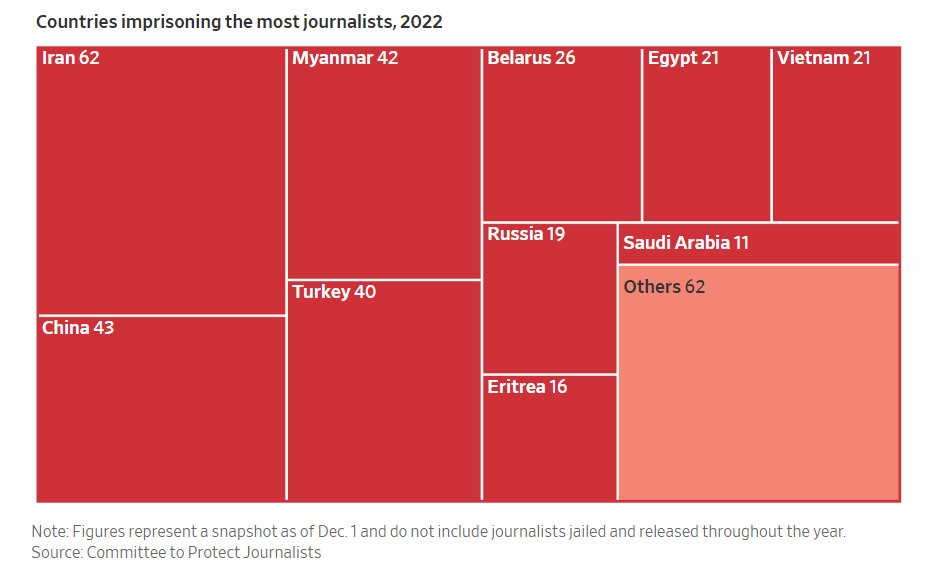 https://www.wsj.com/articles/a-record-number-of-journalists-were-detained-worldwide-prior-to-evan-gershkovichs-arrest-cae34b14
---
10. Practice Improves the Potential for Future Plasticity-
E. Paul Zehr Ph.D. The more you attempt to learn skills, the better your brain gets at learning.
KEY POINTS
Motor skill learning leads to changes in brain structure and function.
Some of the neuroplasticity from skill learning is related to getting better at learning in general.
The training we do produces neuroplasticity to get better at what we are doing now and may help us learn better in the future.
Learning something new is hard. It doesn't matter what it is, from motor skills for martial arts to musing about Mozart's motivations, the process of acquiring knowledge, skills, and abilities is challenging. We can be trying to do something new or even reassembling and repurposing disparate bits of knowledge we already have. Regardless of the context, learning takes us out of our comfort zone and into discomfort while we try to kickstart the neuroplasticity that will take us forward.
Priming plasticity with prior practice
But can you get better at learning how to learn? This is basically the question that Jamie Kweon, Megan Vigne, Richard Jones, Linda Carpenter and Joshua Brown at Butler Hospital and Brown University were interested in answering with their research. These folks wondered if the effort and training that musicians and athletes undergo to learn and acquire skills has a more generic benefit of being better at learning in general.
We already know that learning motor skills produces changes in brain structure and function. Folks who have trained for a long time show these changes and acquired neuroplasticity.
From Mozart to Martial Arts Moves
In groups of musicians, athletes, and untrained "control" participants, the researchers used repetitive brain stimulation and pharmacological manipulation known to be related to the cellular basis of skill learning. The idea was to see if excitability of the brain related to motor activity was different in those who had intensively trained to learn skills and those who had not. They found that there was no inherent difference in general excitability between the groups. However, when the brain stimulation and pharmacological conditioning designed to enhance neuroplasticity, the musicians and athletes had a much more powerful response.
The overall "findings suggest that motor practice and learning create a neuronal environment more responsive to plasticity-inducing events". It seems that deep history of skill learning allows for a better ability to switch to an enhanced learning mode. Since this was a cross-sectional study, it would be great to see an experimental study measuring such changes over time.
In any case, this interesting result has big implications for designing strategies and paradigms for learning in general but also for "psychotherapy and rehabilitation…including recovery from neurological disorders…like stroke rehabilitation, cognitive-behavioral therapy, or clinical rTMS". This includes translation to other brain areas and "networks, such as those theoretically targeted with dorsolateral prefrontal cortex rTMS for depression".
Yearning to Learn How to Learn
When I came across this study it brought to mind something related to this that I've seen so many times over the years. And this has been in both my own practices of physical activity especially in martial arts, but also teaching martial arts across the lifespan. A big part of what people learn at the beginning of training is actually how to learn the thing they're doing. Once they get that down and achieve some level of neuroplasticity related to learning the tasks they're trying to do, their learning going forward is enhanced and proceeds at a different rate than it did in the beginning.
I have seen this across many decades of teaching martial arts and also in my own practices and learning. In recent years I've expanded my repertoire to include more Chinese martial arts. The teaching methodologies of these traditions differ wildly from my prior experiences in Japanese and Okinawan martial arts. A big part of my ability to learn those new traditions was actually understanding how to "learn the learning". In each case, once I worked through the hard work of learning how to learn, subsequent training was easier to do.
A takeaway is that steady work and dedication to learning skills and abilities will lead to better learning in the future. We just have to endure the upfront discomfort in the brain for beneficial long-term gain. This applies whether we are learning how to play guitar, apply a wrist lock, or implement strategies in cognitive-behavioral therapy. Like all things, it gets better with practice, and present practice can enhance future plasticity.
(c) E. Paul Zehr (2023)
References
Kweon J, Vigne MM, Jones RN, Carpenter LL and Brown JC (2023) Practice makes plasticity: 10-Hz rTMS enhances LTP-like plasticity in musicians and athletes. Front. Neural Circuits 17:1124221. doi: 10.3389/fncir.2023.1124221
https://www.psychologytoday.com/us/blog/black-belt-brain/202303/practice-improves-the-potential-for-future-plasticity