1. XLF Financial Sector ETF Just Broke Above Pre Great Financial Crisis Highs.
S&P 500 Financials Sector SPDR (XLF)—2002-2020 Chart
Bar Chart Blog
https://www.barchart.com/etfs-funds/quotes/XLF/technical-chart?plot=BAR&volume=total&data=MO&density=X&pricesOn=1&asPctChange=0&logscale=0&sym=XLF&grid=1&height=500&studyheight=100
Top 10 Holdings (53.90% of Total Assets)
| | | |
| --- | --- | --- |
| Name | Symbol | % Assets |
| Berkshire Hathaway Inc Class B | BRK.B | 13.68% |
| JPMorgan Chase & Co | JPM | 12.10% |
| Bank of America Corp | BAC | 6.96% |
| Wells Fargo & Co | WFC | 3.81% |
| Citigroup Inc | C | 3.72% |
| BlackRock Inc | BLK | 3.07% |
| Morgan Stanley | MS | 2.96% |
| Goldman Sachs Group Inc | GS | 2.88% |
| Charles Schwab Corp | SCHW | 2.37% |
| S&P Global Inc | SPGI | 2.35% |
https://finance.yahoo.com/quote/XLF/holdings/
2. S&P Top 10 Names Market Cap Weighted vs. Equal Weighted.
SPY Market Cap Weighted vs. RSP Equal Weighted.
3. Inflation is Good News for Value Stocks
Opinion: Most investors don't like accelerating inflation — but this one group does
By Mark Hulbert
Value investors are keenly aware that the value-over-growth premium tends to rise when inflation heats up.
Certain stock market investors are secretly hoping that inflation heats up in coming months.
I bet you thought I'm referring to gold bugs. But I'm instead talking about value investors, since value stocks historically have been an even better inflation hedge than gold.
The reason value investors are keeping their hopes of higher inflation secret is that most other investors dread higher inflation, as I pointed out in a column last week. It would be unseemly to get too much pleasure from others' pain. But value investors are keenly aware that the value-over-growth premium tends to rise when inflation accelerates.
A decade in the making
And that's why value investors are particularly hopeful right now. After a decade in which inflation has been unexpectedly low, inflation expectations are beginning to rise — especially so in recent weeks. Compared to an increase in the Consumer Price Index over the last 12 months of only 1.4%, the bond market is currently betting that CPI will rise at a 2.3% annualized rate over the next five years (as judged by the five-year breakeven inflation rate).
Inflation is good for the value premium because growth stocks are those for which a disproportionate share of their valuation comes from future years' earnings. So as inflation heats up, the present value of their futures earnings can decline precipitously. Value stocks are at the opposite end of the spectrum, with a relatively greater proportion of their valuation derived from current earnings. So they are relatively immune to higher inflation.
To illustrate, consider a biotech company that has no current year earnings and whose stock price is entirely a function of future years' earning potential. It would be the ultimate growth stock. So when inflation drops, such as it did a year ago as the economy was put in a medically induced coma, theory predicts that its valuation will shoot up relative to value stocks. Sure enough, over the last year the SPDR Biotech ETF XBI, +2.43% has beaten the iShares S&P 500 Value ETF IVE, +2.17% by an incredible 57 percentage points.
95-year history
This is just one data point. But the general pattern is borne out historically as well. Since 1926, as you can see from the accompanying chart at the top of this column, value stocks have beaten growth stocks by the most when inflation is higher. Notice furthermore the monotonic relationship between lower inflation rates and a smaller value premium.
Expected inflation in coming years falls in the category that's associated with a value premium of 8%, in contrast to a premium that's barely positive when inflation is between 0% and 2%. No wonder that value investors are getting excited.
One sign of that excitement: The performance since last November of a package of value stocks that were highly recommended by the value-oriented newsletters my firm monitors. On average since that column was published, those stocks have produced a gain of 35.7% versus 10.9% for the S&P 500 and 9.9% for the S&P 500 Growth ETF IVW, +2.63%.
Ten days ago I presented an updated list of these newsletters' most-recommended stocks. Since then they have outperformed the S&P 500 by a margin of 2.1% to minus 0.7%.
Mark Hulbert is a regular contributor to MarketWatch. His Hulbert Ratings tracks investment newsletters that pay a flat fee to be audited. He can be reached at mark@hulbertratings.com.
https://www.marketwatch.com/story/most-investors-dont-like-accelerating-inflation-but-this-one-group-does-11614030315?mod=home-page
4. Interesting Action in AMZN Charts
AMZN traded down to 200 day moving average in the pullback
AMZN has been in tight range since June 2020….usually breaks one way or the other
5. TBF-Short 20 Year Treasury…Rally But Not Yet Back to Pre-Covid Levels.
Rates rising but short 20 year still not even back to pre-covid
6. Copper Approaching 10,000 2010 Level.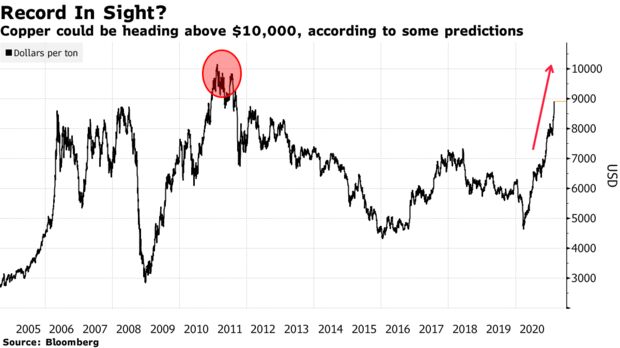 https://www.bloomberg.com/news/articles/2021-02-26/when-does-a-commodities-boom-turn-into-a-supercycle-quicktake?srnd=premium&sref=GGda9y2L
7. Construction Spending – What Pandemic?
The month of March is no doubt starting off on a positive note for economic data. In addition to the ISM Manufacturing report, which moved to its highest level since January 2018, the latest update on Construction Spending for the month of January was also incredibly strong. While economists were expecting the headline index to rise by 0.8%, the actual level of growth was more than double that at 1.7%. The chart below shows the headline index going back to 2005, and the latest leg higher has been incredible, rising by 11.1% from its May low and leaving the pre-COVID peak in the dust. It's also worth pointing out that the decline in Construction Spending was actually smaller and shorter than the decline we saw during 2018!

Also notable about Monday's report on Construction Spending is the fact that January marked the fourth straight month where the headline index grew more than 1% m/m. Since 1993, there have only been three streaks that were longer and another three that were as long. In case you needed a reminder, the economy is humming. Click here to view Bespoke's premium membership options for our best research available.


https://www.bespokepremium.com/interactive/posts/think-big-blog/construction-spending-what-pandemic
8. Goldman Sachs restarts cryptocurrency trading and will begin dealing bitcoin futures for clients next week, report says
Isabelle Lee, Mar. 1, 2021, 09:12 PM
The Goldman Sachs logo is seen displayed on an Android mobile phone
Omar Marques/SOPA Images/LightRocket via Getty Images
Goldman Sachs Group has restarted its cryptocurrency trading desk amid a boom in bitcoin, Reuters first reported.
The investment bank will deal bitcoin futures and non-deliverable forwards beginning next week.
Goldman Sachs is also reportedly exploring a bitcoin exchange traded fund.
Goldman Sachs has restarted its cryptocurrency trading desk amid a boom in bitcoin, which saw its price rise 65% year-to-date and 470% in the past year alone, Reuters first reported. The investment bank will start dealing bitcoin futures and non-deliverable forwards beginning next week.
The desk, which will be part of the US Global Markets division, is part of the bank's efforts to keep up with the rapidly evolving digital assets sector. This includes blockchain technology and central bank digital currencies, Reuters said.
Goldman Sachs, which first set up a cryptocurrency desk in 2018, is also reportedly exploring a bitcoin exchange traded fund, the Reuters report said.
The price of bitcoin has been rising rapidly in recent weeks, smashing above the $58,000 level and breaching the $1 trillion market capitalization in February before giving up gains. The asset was trading higher by 10.5% on Monday, at $48,423.
Bitcoin has also been embraced by major institutions from Tesla to Mastercard. Despite criticism from crypto bears, many investors see bitcoin as a hedge of inflation, while others see its potential to become a mainstream form of payment in the future.
https://markets.businessinsider.com/currencies/news/goldman-sachs-restarts-crypto-trading-and-will-begin-trading-bitcoin-futures-report-2021-3-1030137170
9. The Best States for Retirement in 2021-Ny Times
And the ones you may want to avoid.–By Michael Kolomatsky
The golden years can offer great promise — moments with grandchildren, time for travel and leisure. But they can also be a source of great stress — over money, declining health and decisions about relocation.
Where you retire can make all the difference. A recent study by the financial website WalletHub.com offers some guidance, ranking each of the 50 states in terms of their suitability for retirement. A total of 45 metrics across three categories (affordability, quality of life and health care) were weighed to rate every state.
Among the measures of affordability were the cost of living, annual costs of adult day care and in-home services, taxes and inheritance laws.
Each state's health care rating was affected by the quality and availability of geriatric care, the life expectancy and health of seniors, and even Covid-19 positivity and death rates — good to know for this pandemic or the next — among other factors.
The quality-of-life scores took into account many metrics, each with less weight. Among them: the state's share of population aged 65 and older and how those residents were affected by crime, the availability of public transportation, poverty, food insecurity, and opportunities to work and volunteer. Environmental factors, like mildness of weather, were also considered. While we shouldn't ignore climate change, as the recent snow storms in southern states suggest, weather made up less than 3 percent of each state's overall score.
In this week's chart, you'll find the best and worst states for retirement as determined by WalletHub, as well as two categories that helped or hurt each state
10. Wiser:The Scientific Roots of Wisdom, Compassion, and What Makes Us Good
Dilip Jeste, MD, is a professor of psychiatry and neuroscience at the University of California, San Diego, and director of that school's Center for Healthy Aging. He is a neuropsychiatrist specializing in geriatric issues, and previously served as president of the American Psychiatric Association.
Below, Dilip shares 5 key insights from his new book, Wiser: The Scientific Roots of Wisdom, Compassion, and What Makes Us Good, written with Scott LaFee. Download the Next Big Idea App to enjoy more audio "Book Bites," plus Ideas of the Day, ad-free podcast episodes, and more.
1. If you think you're wise, think again.
If you think you are wise, there's bad news and good news. The bad news is that thinking you are wise means that you are not. As Socrates famously said, the only true wisdom is in knowing that you know very little. But the good news is that you can become wiser—whether you're young or old, healthy or physically disabled. A wise person can learn from almost any person they meet and every situation they find themselves in.
Wisdom is a unique personality trait that includes several specific components:
Self-reflection: knowing your strengths and your limitations.
Emotional regulation: controlling your emotions.
Empathy and compassion: understanding others' emotions and helping those people.
Striking a balance between accepting diversity of perspectives and being decisive.
Like other personality traits, wisdom can be measured. Find out how wise you are using the San Diego Wisdom Scale, developed by Dr. Jeste and his team, and use the results to see where you can improve. Recognizing your limitations is the first step toward increasing your wisdom.
"The only true wisdom is in knowing that you know very little."
2. Understand yourself better.
We all have biased perceptions of ourselves, and tend to be better at spotting the weaknesses of others rather than our own. So how do we learn and practice the self-reflection needed to improve our lives?
The first step is to set aside some time on a regular basis for quiet and honest reflection. You can do it during your lunch hour, before going to bed, or even during a workout. Use that private time to think about the events of the previous day, focusing on things that upset you. Go over the sequence of events without blaming yourself or someone else immediately. Over a period of time, you will find recurring patterns that you can begin to address. For example, if you note that you often feel shame because of shyness, you can research strategies for increasing your social skills.
Self-reflection followed by self-correction is usually the best way to reduce your level of stress and increase your personal well-being. Remember that you are the master of your own ship—so check from time to time if you are navigating in the right direction, and correct the trajectory if needed.
"Good decisions come from experience—and experience comes from making bad decisions."
3. Don't judge the wisdom of a decision too soon.
Mark Twain said that good decisions come from experience—and experience, he said, comes from making bad decisions. In reality, almost no decision is purely good or purely bad, and the immediate outcome of a decision is almost never the final outcome. Make a decision based on all of the facts you have at the time, but if the results are not what you want, don't blame yourself. Your "bad" decision will help you make a better one in the future.
If you are a sports fan, you know that in every game the coaches and players have to make instant choices many times over. A number of those decisions will prove wrong because of bad luck, or because of an unexpected move by the opponent. A good player doesn't dwell on those mistakes, but learns from them and moves on. Indeed, a loss in a game could spur a strong performance in the next game. Thus, what proved to be a wrong decision in the short term may turn out to be a blessing in disguise.
4. Spend time with people who are different.
Understandably, we like to spend time with people who think like us, but that tendency constrains our personal growth. To expand our mental horizons, we need to work and play with people who are different from us.
For example, mix with people from other generations. Younger people bring energy, curiosity, excitement, and the ability to learn new things quickly, and older people offer emotional regulation, empathy, compassion, positivity, and decisiveness while accepting uncertainties in life. Research has shown that intergenerational activities are helpful for all generations involved.
"Extreme compassion toward others, without compassion toward yourself, will limit your ability to help people."
The same applies to interacting with people with different belief systems. In today's increasingly polarized world, it can be hard to connect with people who have starkly different beliefs from your own, but it's worth the effort. Try putting yourself in their shoes, and find out where their perspective is coming from. Don't question their motives, but ask them to explain their rationale. You might still disagree, but you will have a better understanding of their logic. Both of you may then choose to modify or improve your own views, making both of you wiser.
5. Put on your mask first before helping others.
While settling into the middle seat on a plane that is about to take off, we listen to the security video, which tells us what to do if the air pressure drops suddenly and masks come down. Put on your mask first, it says, before helping your child or others sitting nearby. It sounds incredibly selfish; how can you take care of yourself without first helping a struggling and panicky child sitting next to you? But the fact is, you can put on your own mask in five seconds, and then you can spend whatever time is needed to help the child on one side and a disabled person on the other. In other words, helping yourself first will enable you to help several others.
Empathy and compassion are the most powerful drivers of wisdom. As social animals, we must aid one another to thrive and flourish as individuals, communities, societies, and as a species. However, this also includes self-compassion. Be kind to yourself and learn to take care of yourself if you want to help others. Extreme compassion toward others, without compassion toward yourself, will limit your ability to help people. Of course, too much self-compassion leads to narcissism, which is not a desirable trait. What is needed is an appropriate balance between compassion toward others and compassion toward yourself.
For more Book Bites, download the Next Big Idea App today:
https://nextbigideaclub.com/magazine/wiser-scientific-roots-wisdom-compassion-makes-us-good-bookbite/26163/
Lansing Street Advisors is a registered investment adviser with the State of Pennsylvania..
To the extent that content includes references to securities, those references do not constitute an offer or solicitation to buy, sell or hold such security as information is provided for educational purposes only. Articles should not be considered investment advice and the information contain within should not be relied upon in assessing whether or not to invest in any securities or asset classes mentioned. Articles have been prepared without regard to the individual financial circumstances and objectives of persons who receive it. Securities discussed may not be suitable for all investors. Please keep in mind that a company's past financial performance, including the performance of its share price, does not guarantee future results.
Material compiled by Lansing Street Advisors is based on publicly available data at the time of compilation. Lansing Street Advisors makes no warranties or representation of any kind relating to the accuracy, completeness or timeliness of the data and shall not have liability for any damages of any kind relating to the use such data.
Material for market review represents an assessment of the market environment at a specific point in time and is not intended to be a forecast of future events, or a guarantee of future results.
Indices that may be included herein are unmanaged indices and one cannot directly invest in an index. Index returns do not reflect the impact of any management fees, transaction costs or expenses. The index information included herein is for illustrative purposes only.