1. Two-Year Yield Falls 120 Basis Points in 5 Trading Sessions.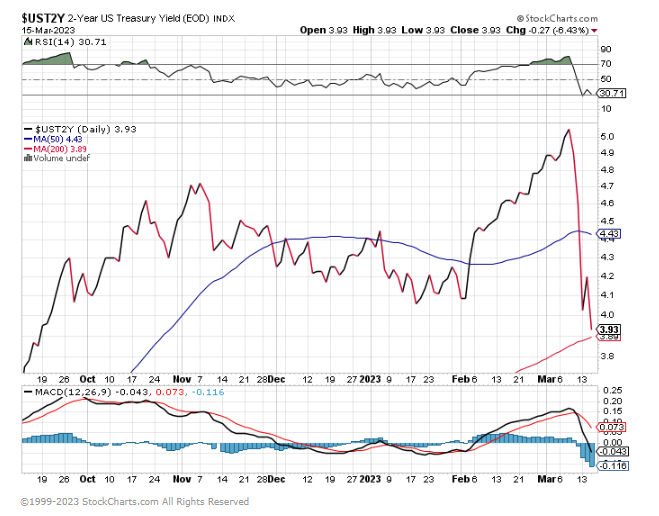 ---
2. Vanguard Short-Term Bond Index Rallies Above 2023 Highs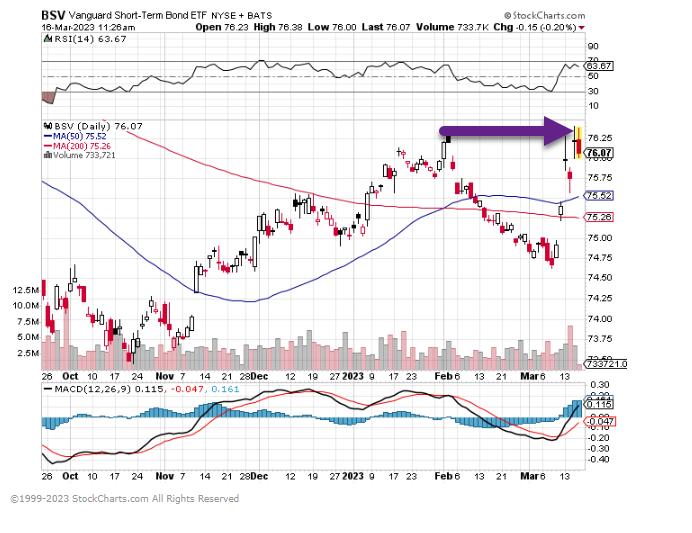 ---
3. Biggest Drop Since 1987 Crash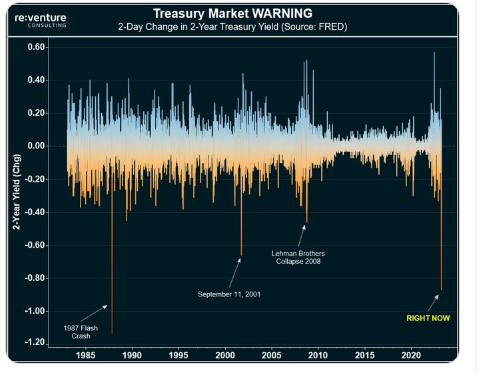 https://www.twitter.com/nickgerli1
---
4. Small Domestic Banks 67% of Commercial Real Estate Loans
Torsten Slok Apollo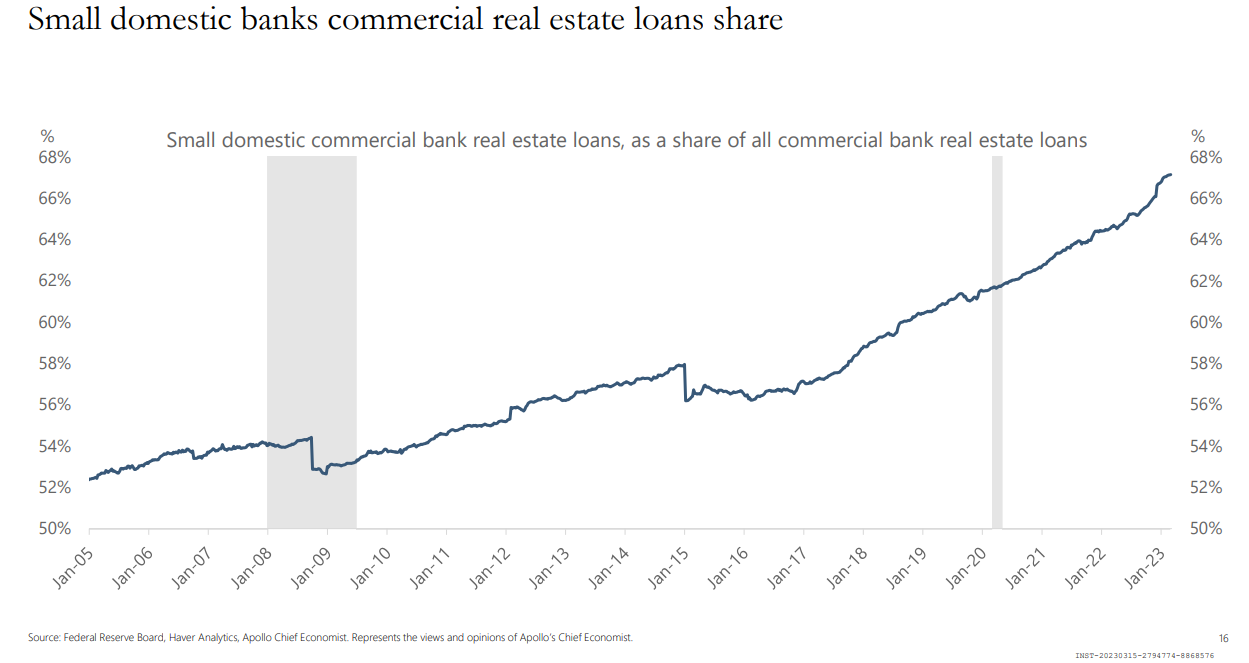 ---
5. The long-anticipated office reckoning is upon us-Axios
Data: Moody's Analytics; Chart: Axios Visuals
Office vacancy levels are approaching highs last seen during the savings and loan crisis in the 1980s.
Why it matters: It appears that a reckoning in the office market, widely anticipated since the start of the pandemic, is upon us.
"We're not ready to say that this is a cliff for the office sector. But I think right now we're finally entering the true turbulent times," Thomas LaSalvia, director of economic research at Moody's Analytics, told Axios.
Context: Vacancies refer to the share of office space that is not leased by a tenant — as opposed to leased office space that's mostly deserted.
Zoom out: This was always going to be a slow-moving trend. Remote work drove folks home, but companies didn't instantly give up on their office spaces. Typical leases run for at least 10 years.
And for property owners dealing with rising vacancies, there's a new wrinkle: They're getting hit with rising costs thanks to higher interest rates on their floating rate debt.
State of play: At the end of last year, even Class A buildings saw a drop in occupancy, per a new report from Moody's.
Some office landlords are showing signs of distress, as the 

WSJ

 reported. Brookfield Asset Management last month defaulted on $750 million in debt on two 52-story office towers in Los Angeles. (It still holds hundreds of properties.)
These properties were Class A, but faced competition from even-fancier Class A+ properties with better amenities, according to Moody's report. Brookfield's moves might "spur other landlords," it says.
Meanwhile, Columbia Property Trust recently defaulted on a $1.7 billion loan backed by seven office properties, mainly due to the rise in interest rates.
The company took out a floating-rate loan in December 2021, according to Moody's. It's gone from paying around 3% on the loan to 6%.
The bottom line: Office space is a good place to start cutting back if you're a CEO looking to batten down the hatches in a turbulent time.
Rather than lay off workers during a time of labor shortages, companies are looking to real estate as a way to cut costs, said LaSalvia.
"The low-hanging fruit is definitely that office space," he said.
6. Tech Stocks Rally….QQQ 50day thru 200day to upside.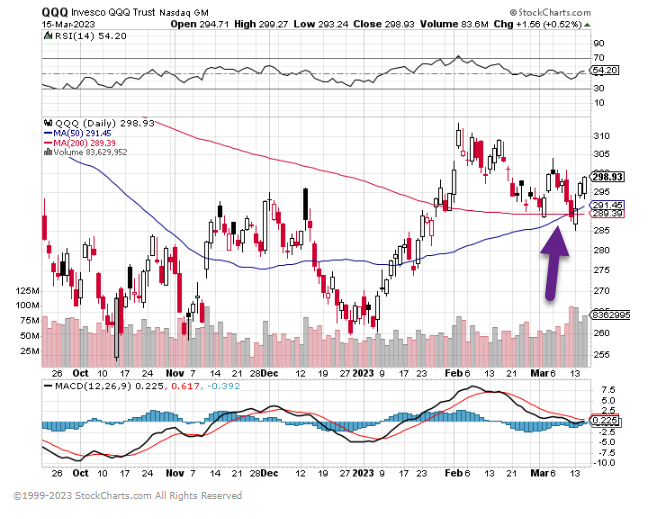 ---
7. EFA Developed International Correct Toward 200day Support
EFA outperforming U.S. stocks…See if it holds up
---
8. EUFN-Euro Financials ETF Hits Wall at Previous High
CS crisis hitting European financial stocks back down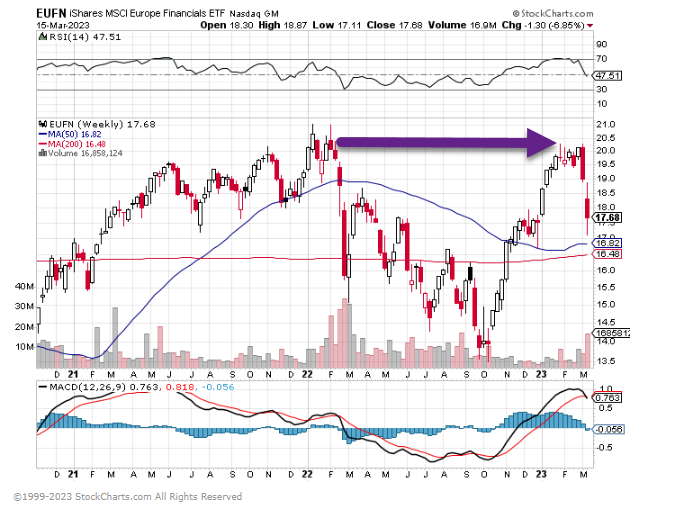 ---
9. XLF Energy ETF Update …Last Year's Big Winner
XLF closes below 200 day moving average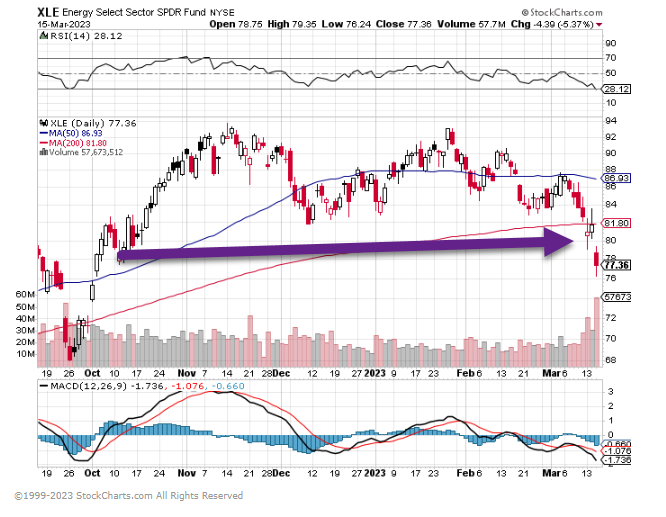 XLF long-term weekly chart broke 50-week after holding it 4x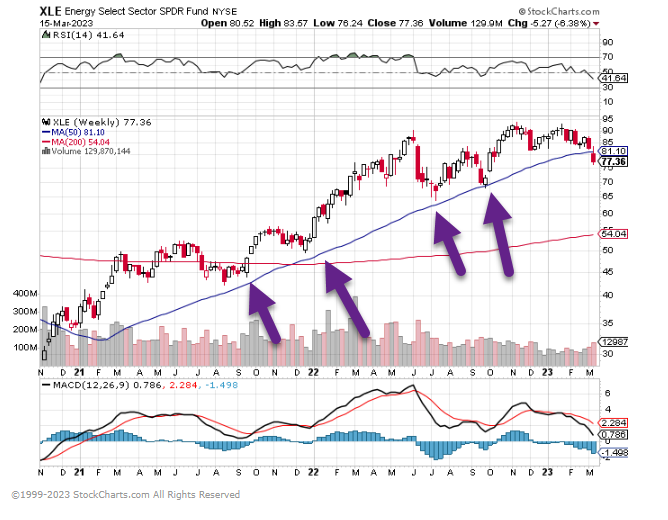 ---
10. Are Americans Really Becoming Less Intelligent?
Why is the Flynn effect is reversing in some domains? Karen Wu Ph.D.
KEY POINTS
The Flynn Effect, the increase in intelligence over generations, appears to be stagnating or even reversing in parts of Europe and the US.
Researchers cross-sectionally examined the Flynn Effect in a large dataset of almost 400,000 Americans.
Cognitive ability scores decreased in several domains related to reasoning, while increasing for visuospatial skills.
Potential reasons were offered for these results, however, there are alternative explanations, such as the test-taking environment.
Since the early 1900s, intelligence has been increasing by approximately 3 to 5 points per decade due to many factors including better nutrition, increased access to education, and familiarity with test-taking. The increase in intelligence over generations is well-documented and has been termed the "Flynn Effect." However, recent research in parts of Europe and the US has started to find a plateau in intelligence scores, and even a reversal of the effect. For example, a recent study in the US found lower vocabulary scores in newer cohorts. Shockingly, US college graduates in the 2010s had lower vocabulary scores than their counterparts in the 1970s. Thus, to comprehensively test for the Flynn effect in recent years, Dworak et al. (2023) conducted a pre-registered study of almost 400,000 American adults between 2006-2018.
The researchers gathered cross-sectional data through the Synthetic Aperture Personality Assessment Project, which was advertised online as a personality test. They measured several domains of cognitive ability, including matrix reasoning (non-verbal reasoning), letter and number series (computational-mathematical reasoning), verbal reasoning, and 3D rotation (visuospatial skills).
Results indicated a reversal of the Flynn Effect for composite scores of cognitive ability, matrix reasoning, and letter and number series when participants were grouped by age, education, and gender. In other words, there was a downward trend in these domains of cognitive ability over generations. Yet, performance on 3D rotations increased over time. The greatest differences were within groups of 18- to 22-year-olds as well as those without a college degree. To explain their results, the researchers offered five main explanations:
1. The ceiling effect: Intelligence cannot grow forever and must eventually reach a plateau.
The researchers note that prior gains in intelligence were likely due to increases in nutrition, access to education, and familiarity with tests. At a certain point, these gains should plateau, as should performance on intelligence tests. In addition, while prior researchers have suggested decreases in health in recent years, poor health is unlikely to explain the patterns in this study given that 3D rotation abilities actually increased.
2. Media exposure may be responsible for lower scores.
Given the different findings by domain, media exposure might be partially responsible. However, this explanation is currently speculative, as there is little experimental research on the effects of media exposure on intelligence. In addition, no potential mechanisms for the effects of media exposure on cognitive abilities were offered by the researchers.
3. Technology may be protecting or enhancing certain aspects of cognitive performance.
Fortunately, there is a bright side to technology. The researchers propose that certain aspects of technology might explain the increase in 3D rotation abilities, which reflect visuospatial skills. Specifically, video games have been linked to greater visuospatial skills.
4. Quality of education may have decreased.
The researchers propose that education has either decreased in quality or changed in content, thus resulting in poorer non-verbal reasoning and mathematical-computational reasoning, as well as stagnation in verbal reasoning.
5. The importance of different skills may have changed.
Finally, the authors speculate that society now places more value on visuospatial abilities and less value on the various forms of reasoning skills.
Importantly, the researchers caution that cognitive ability scores may not actually be reflective of intelligence. In addition, there are several key limitations of the study. Participants self-selected into the study by finding it online, which could lead to differences in cohorts. Specifically, the authors mention that the personality test is now more popular and may thus include more "normal" people. Furthermore, since the study was advertised as a personality test, people might not have been motivated to do well on cognitive tasks.
An Alternative Explanation: The Role of Smartphones
Given the time frame of the study from 2006-2018 and the researchers' method of data collection, I propose an alternative explanation for their results. Within that period, smartphone ownership in the US rose from an estimated 3 percent to 81 percent according to one source. The researchers do not appear to have accounted for whether participants took the test on their phones or on a computer. Given the huge increase in smartphone ownership over time, newer cohorts were much more likely to take the test on their phone, especially since they were led to believe it was a personality test. Therefore, they might have been unable to concentrate on complex questions surrounding verbal, mathematical, and non-verbal reasoning.
Meanwhile, 3D rotation tasks might not be as difficult to complete on a phone, and performance may be less affected by distractions. Furthermore, smartphones have been found to deplete our cognitive resources, so even the presence of a smartphone could be problematic when testing cognitive abilities. These explanations seem especially plausible given that 18- to 22-year-olds experienced the greatest changes in cognitive ability scores. Compared to older adults, this group seems the most likely to own a smartphone and to have taken the test on their phones in recent years. Hopefully, subsequent iterations of this study will shed light on the potential role of smartphones in the results.
References
Dworak, E. M., Revelle, W., & Condon, D. M. (2023). Looking for Flynn effects in a recent online US adult sample: Examining shifts within the SAPA Project. Intelligence, 98. https://doi.org/10.1016/j.intell.2023.101734
https://www.psychologytoday.com/us/blog/the-modern-heart/202303/are-americans-really-becoming-less-intelligent