1. Credit Default Swaps on Big Banks Barely Budging
Dave Lutz Jones Trading Despite regional bank turmoil, credit-default swap spreads on big banks are barely budging, WSJ notes.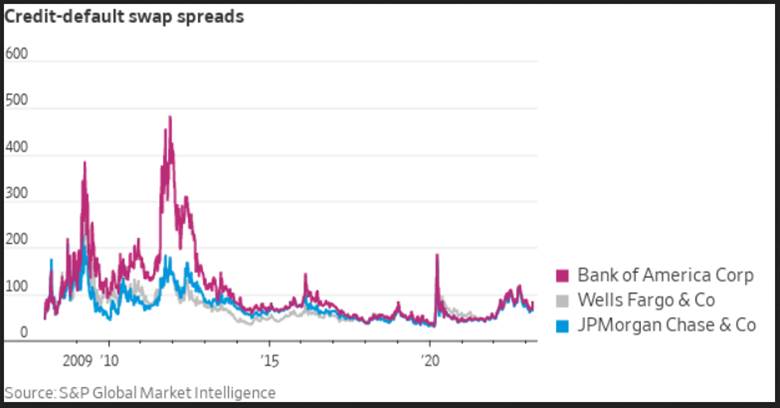 2. Two-Year Treasury Yield Falls 100 Basis Points in Three Days
Fed Fund Futures Pricing in 4% Down from 5.40% for Two-Year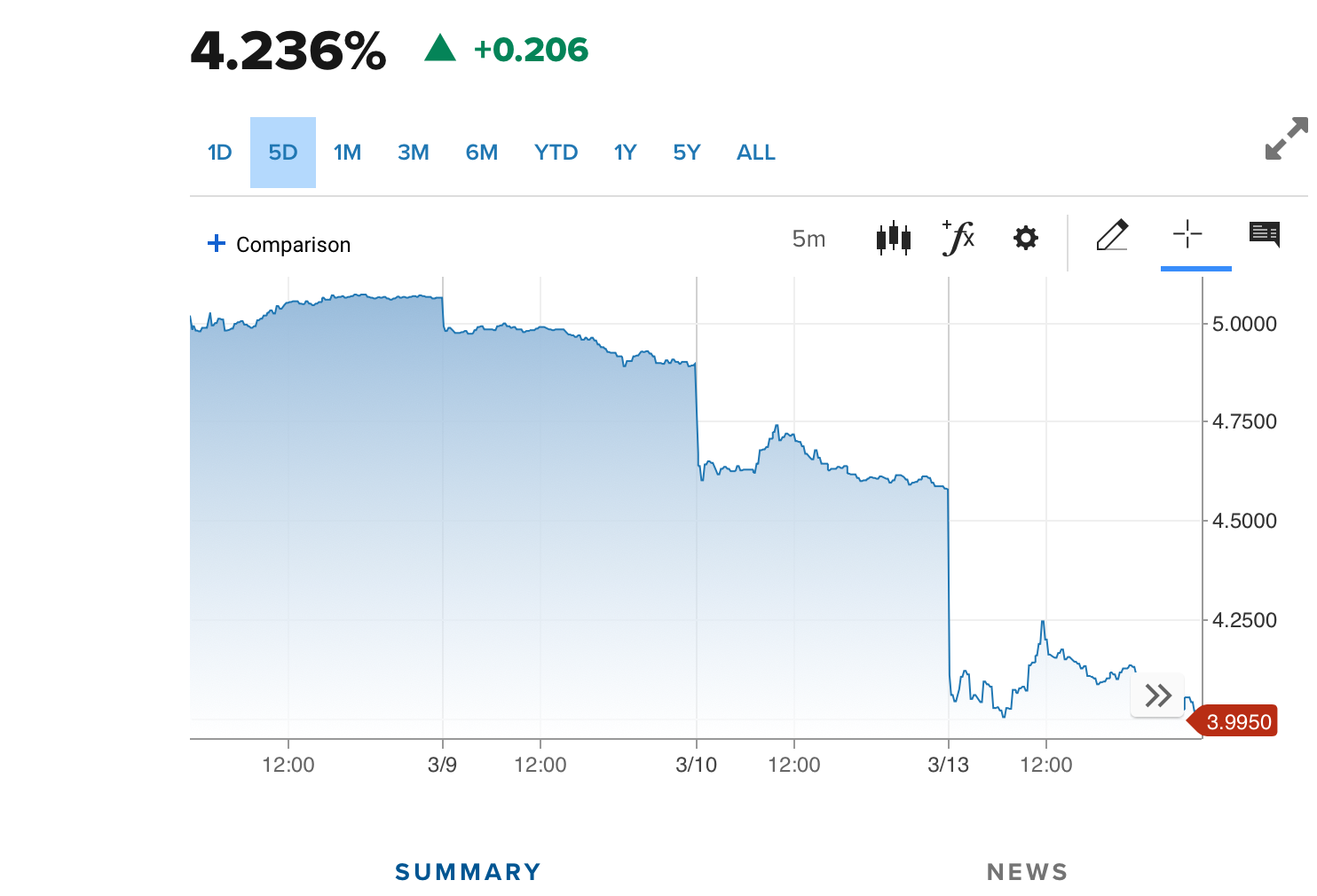 https://www.cnbc.com/quotes/US2Y
3. History of 2-Year Yield Collapses
Irrelevant Investor Blog Silicon Valley Bank's collapse will make all the headlines, but what happened in the bond market deserves a lot of attention. The 2-year yield collapsed over the last two days to an extent only seen around historical events (h/t Jim Bianco). Since 1990, the only other times we saw a decline of this magnitude was after the 9/11 attack, when Lehman Failed, when the TARP vote failed, and this week, when SVB failed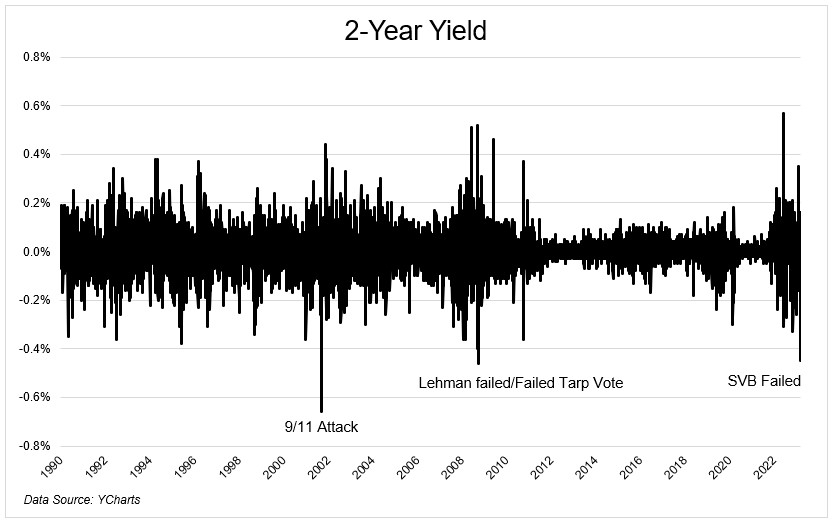 https://theirrelevantinvestor.com/2023/03/11/a-reverse-minsky-moment/
4. The Rise.and Fall of One-Year Deposits at U.S. Banks
By: Eddie Duszlak Verdad Research
The failure of Silicon Valley Bank – and the crisis facing the banking industry today – started with COVID. After the U.S. government launched its stimulus program in response to COVID in 2020, the 1-year growth in deposits at U.S. banks increased at an unprecedented rate. The chart below shows just what an outlier this represented in the context of the last forty years.
Figure 1: 1-Year Growth in Deposits at FDIC-Insured Banks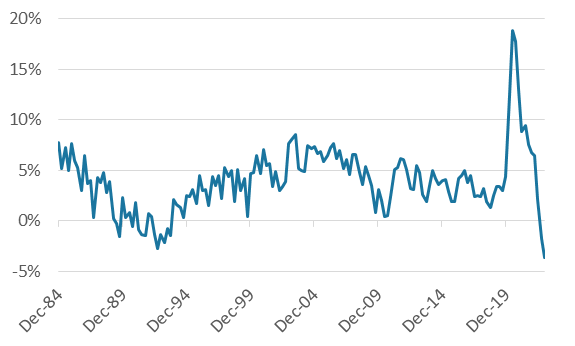 Source: FDIC. Data is as of December 31, 2022.
Typically, deposits and loans have historically tracked each other quite closely. The lines in the chart below are almost indistinguishable through 2008, after which they diverge. At the risk of oversimplifying, loan demand in the U.S. weakened after the 2008 crisis, and banks increased securities portfolios as a result. This growth in securities portfolios saw another acceleration in 2020 and 2021, as deposit growth spiked. Prior to this recent outlier period, it is noteworthy how little the slope of the lines varied over forty years.
Figure 2: Deposits and Total Loans & Leases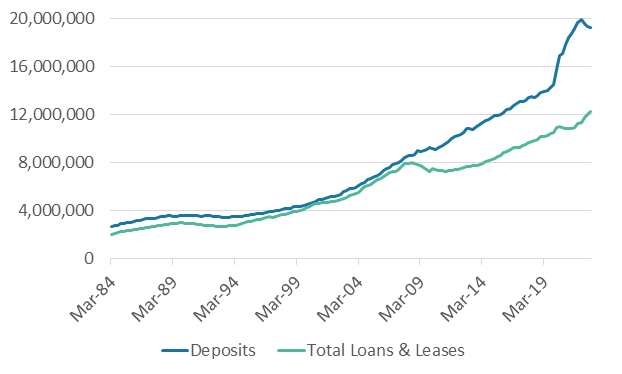 Source: FDIC. Values are in millions of USD. Data is as of December 31, 2022.
https://mailchi.mp/verdadcap/bank-run?e=b838bc224f Found at Abnormal Returns Blog www.abnormalreturns.com
5. Will Credit Suisse Pull Off Restructuring Post SVB Crisis?
Bloomberg Marion Halftermeyer Credit Suisse Group AG said it found "material weaknesses" in its reporting and control procedures for the past two years, after questions from US regulators last week.
The Zurich-based bank said Tuesday it will take steps to fix ineffective checks on the process it follows to pull together its financial reports. But the firm said its statements for 2022 and 2021 "fairly present" its financial condition.
Credit Suisse was forced to delay the release of its annual report from last week after the Securities and Exchange Commission raised last-minute queries on cash-flow statements from 2019 and 2020, discussions which the bank said have now been concluded. Chief Executive Officer Ulrich Koerner is attempting to push through a complex restructuring in a bid to return the bank to profitability, a process now at risk of becoming bogged down in a broader financial-sector selloff linked to US lender Silicon Valley Bank.
https://www.bloomberg.com/news/articles/2023-03-14/credit-suisse-finds-material-weakness-in-financial-reporting?srnd=premium&sref=GGda9y2L
The collapse of Credit Suisse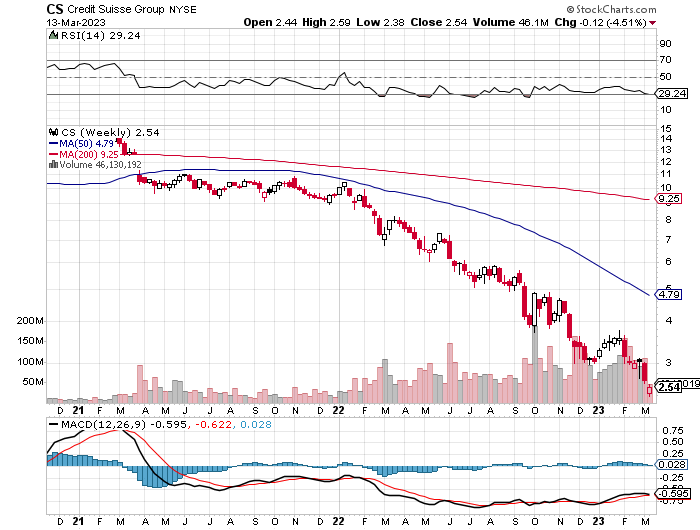 6. Contraction of Money Supply Leads to Bank Crisis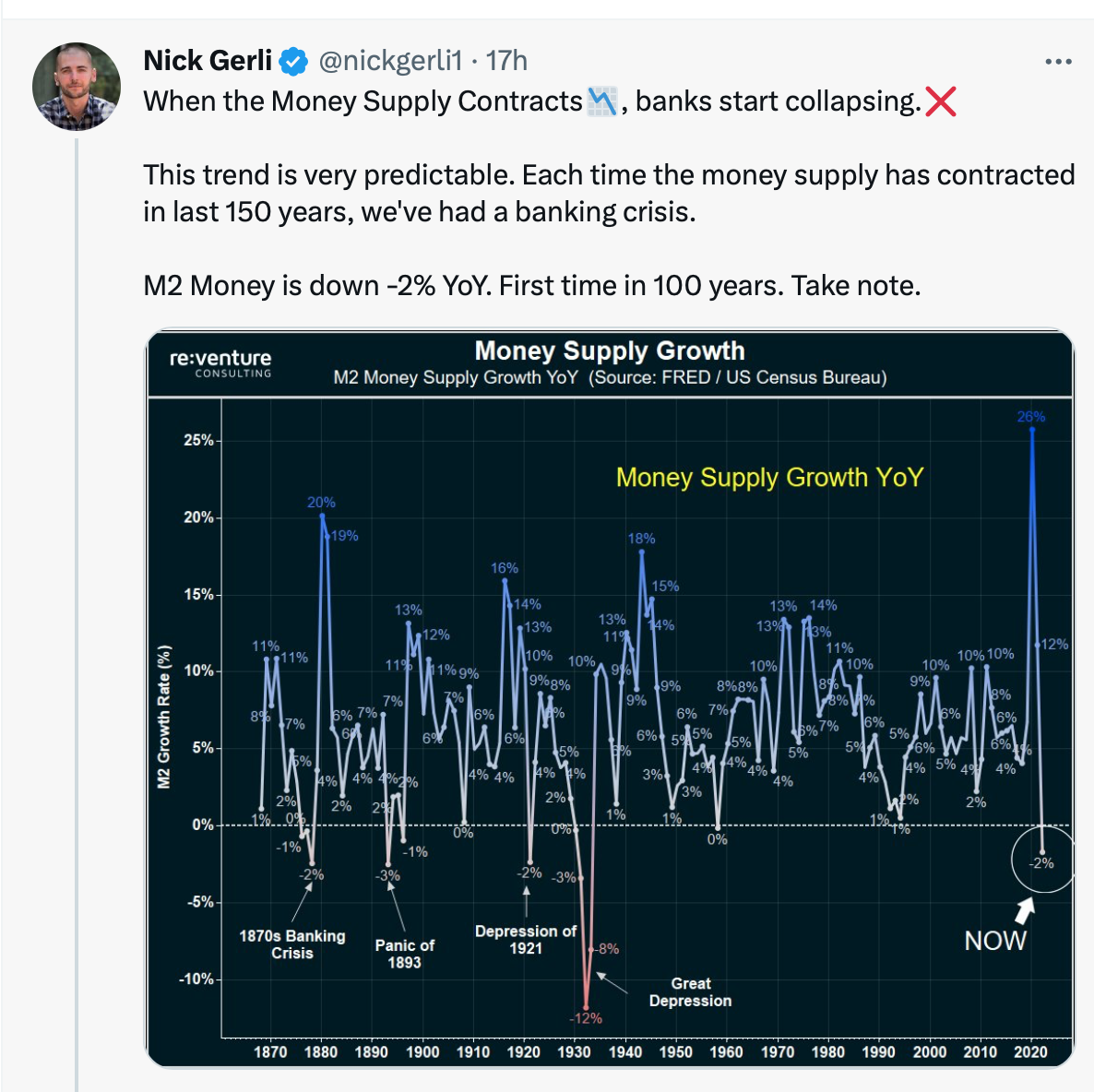 https://twitter.com/nickgerli1
7. Schwab -45% from Highs
Schwab stock hit $30 at bottom of Covid crisis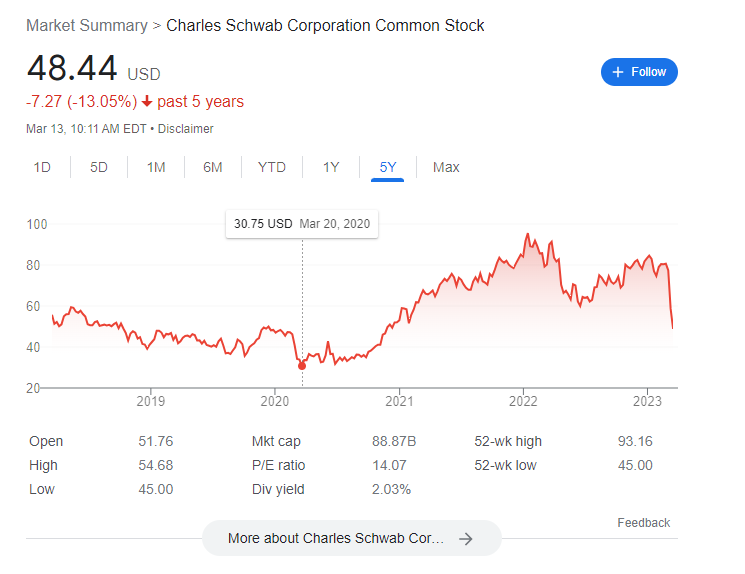 8. Rates Falling will Help this Chart….Highest Mortgage Payments for First Time Home Buyers in Modern History
Gundlach Double Line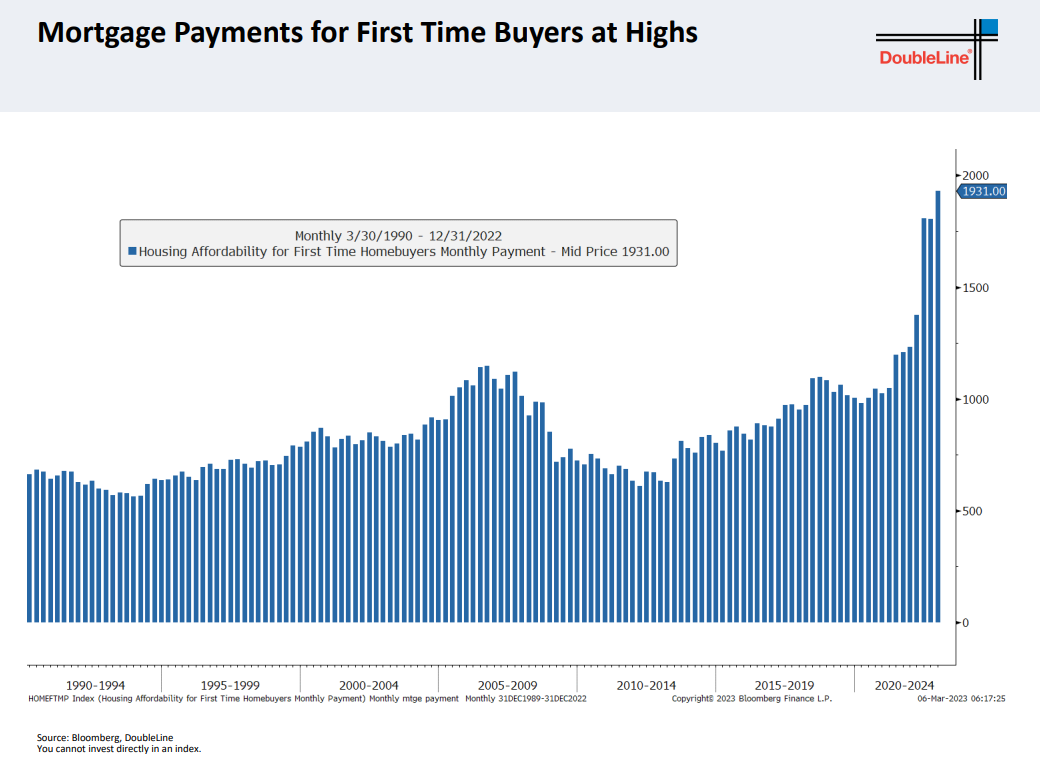 9. China has Low Profit Margin Businesses
Figure 3: Average Profit Margin by Country (2022)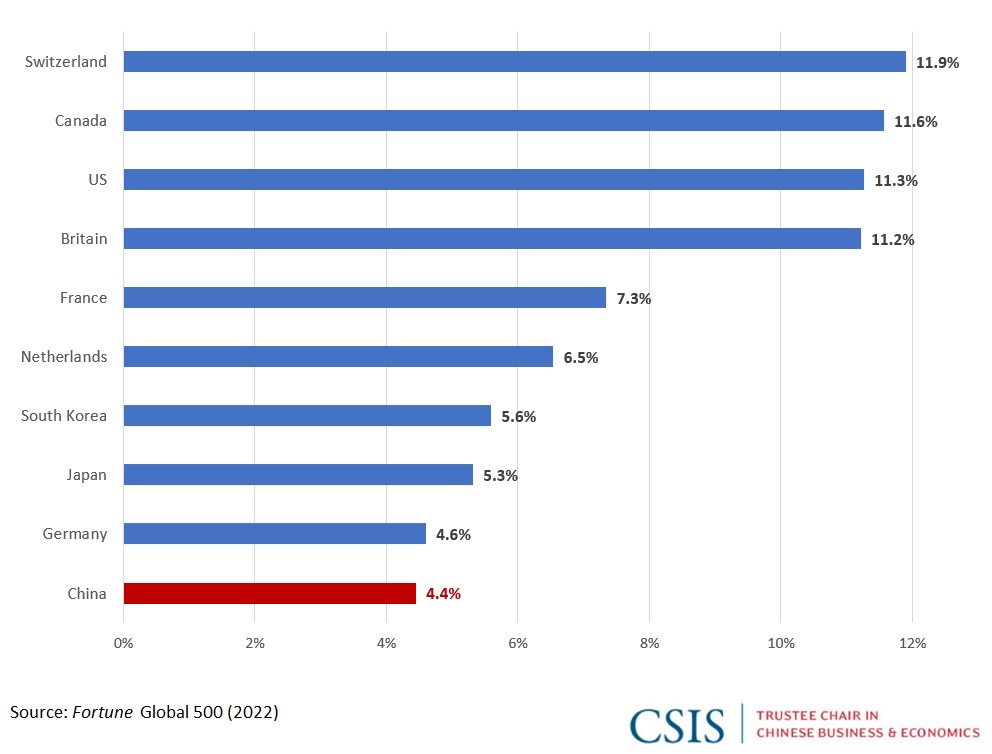 https://www.csis.org/blogs/trustee-china-hand/fortune-favors-state-owned-three-years-chinese-dominance-global-500-list
10. 1990-2018-Murders in NYC -80%