1. Unrealized Losses on U.S. Government Bonds  Held by Bank
BARRONS-Daren Fonda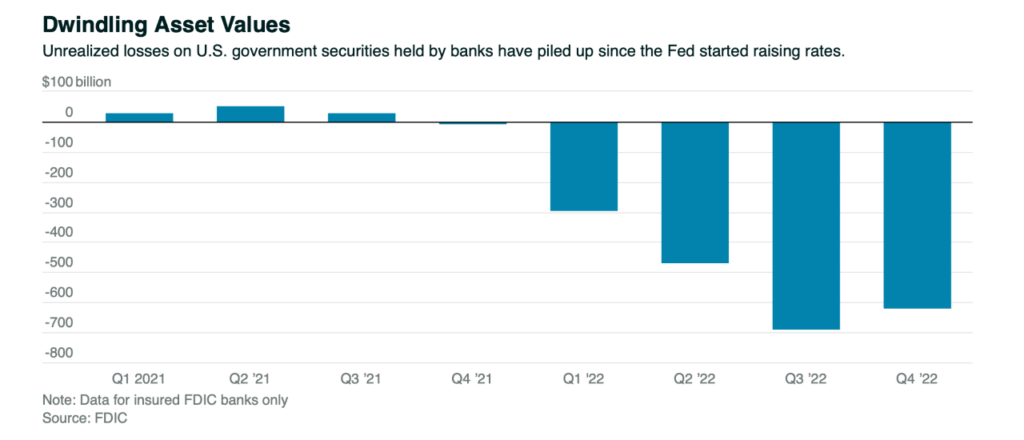 https://www.barrons.com/articles/banking-regulation-silicon-valley-first-republic-ebcfc98b?mod=past_editions
---
2. Credit Suisse Has Been Imploding for a Decade but Blaming American Regional Banks Over Weekend for their Demise.
Credit Suisse has been mired in endless scandals and fines over the last 10+ years….$90B market cap to $1B and counting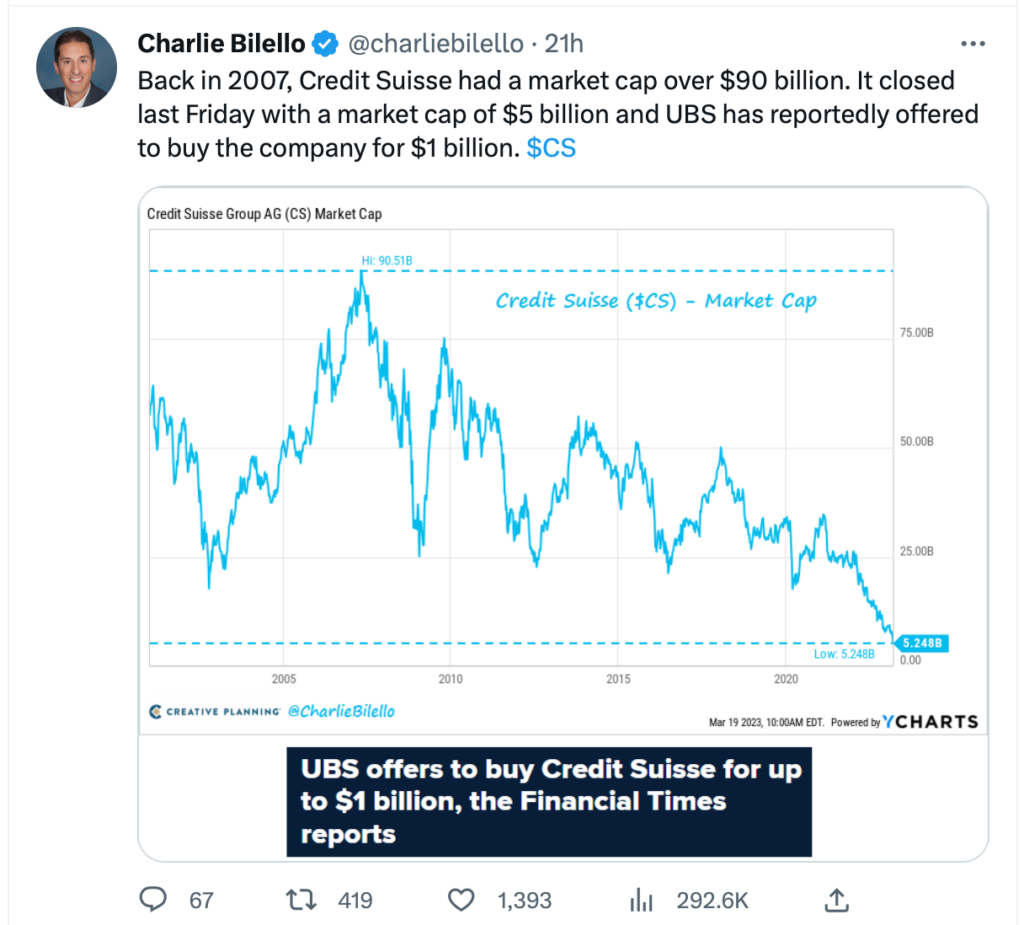 https://twitter.com/charliebilello?ref_src=twsrc%5Egoogle%7Ctwcamp%5Eserp%7Ctwgr%5Eauthor
---
3. First Republic #14 on Biggest Bank List
Wall Street's Biggest Banks Rescue Teetering First Republic.
Source: NYT
https://ritholtz.com/2023/03/weekend-reads-556/  Barry Ritholtz Blog
---
4. $100B went into Money Markets this Week…Out of Banks??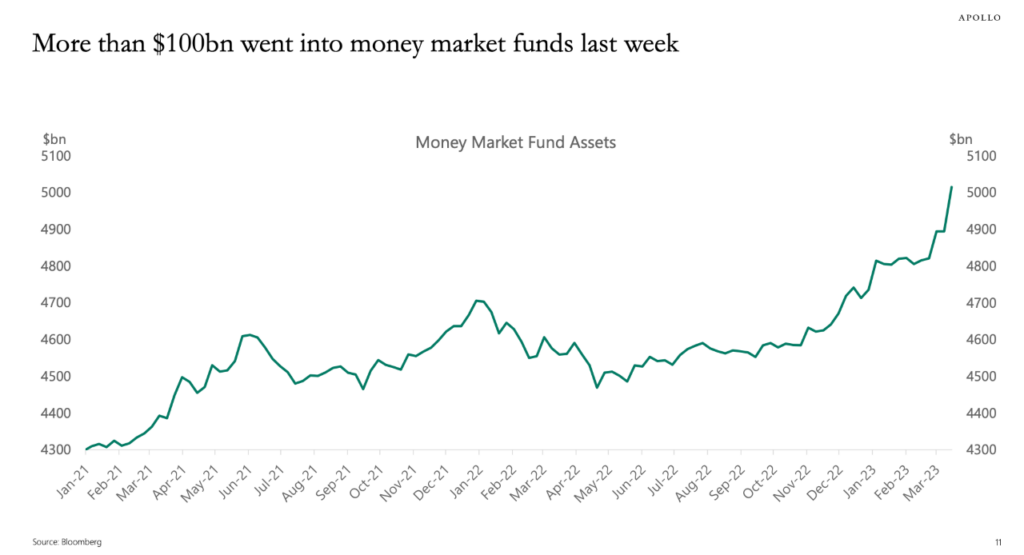 ---
5. Bank Crisis Led to Huge Jump in Bond Market Volatility
The first and most important point we need to make is about bond market volatility.  Regional banks are not the only area that have been on a wild ride since last week. The bond market has seen a historic level of volatility.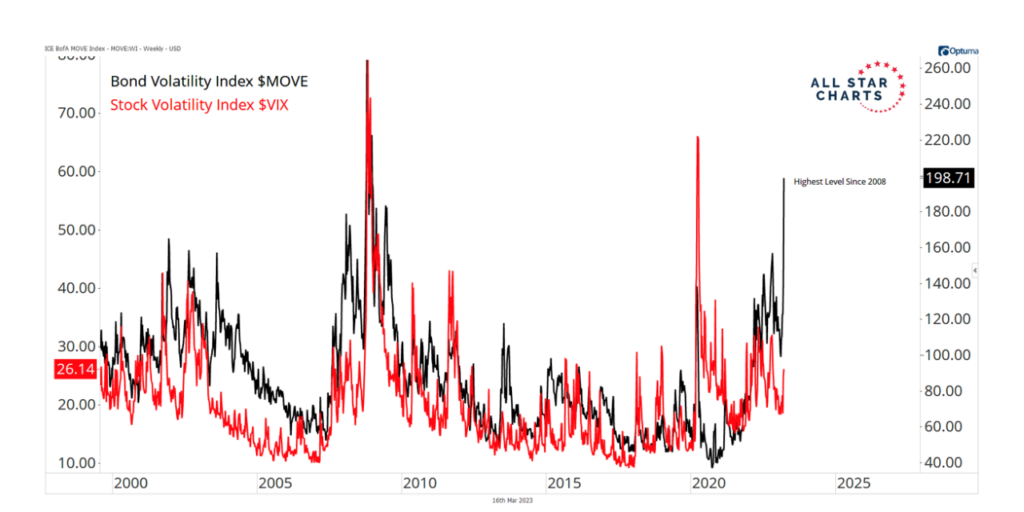 https://allstarcharts.com/volatility-rocks-bond-market/
---
6. And…The Near Breakout in Gold.
Gold ETF about to break out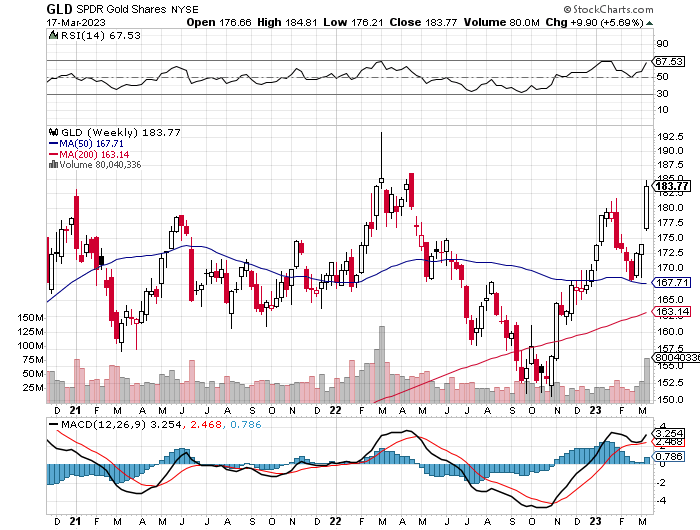 ---
7. Money Poured Back into Tech as Banks/Value Stocks Sold Off…Naz Outperforms S&P 12 Days Straight
Nasdaq 100 Steadily Outperforms-Everywhere you look these days, you can find crazy things going on with the market.  A case in point is the Nasdaq 100's performance relative to the performance of the S&P 500.  In early afternoon trading, the Nasdaq 100 is on pace for its 12th straight day of outperforming the S&P 500.  That's a streak that has only been exceeded two other times (July 2005 and July 2017) since 1996, and there have only been a total of six streaks where the Nasdaq 100 outperformed the S&P 500 for ten or more trading days.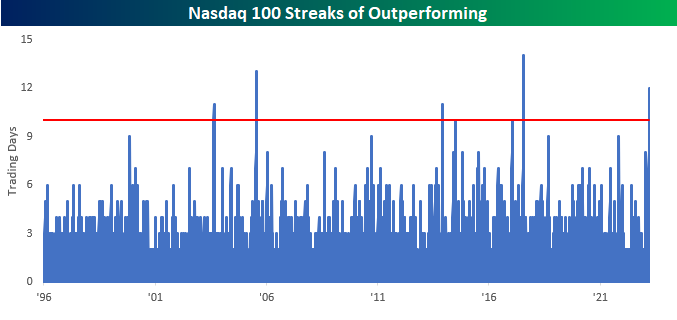 https://www.bespokepremium.com/interactive/posts/think-big-blog/nasdaq-100-steadily-outperforms
---
8. DEEP…Deep Value Stocks Give Back All Gains for the Year….-15% from 2023 Highs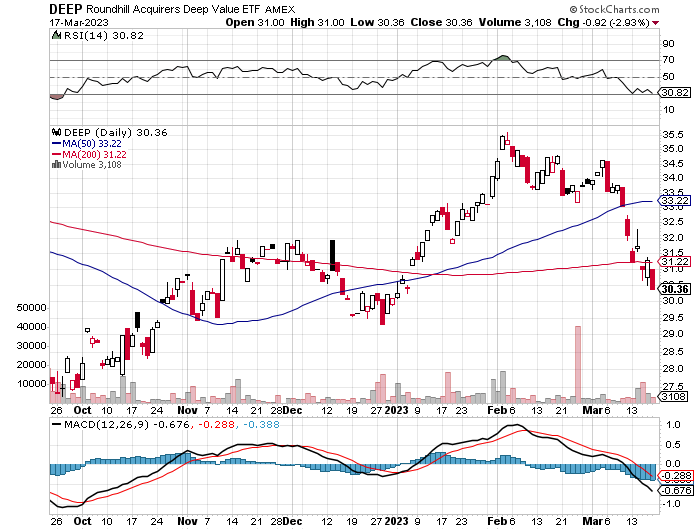 ---
9. Only 1 in 5 Homes Considered "Affordable"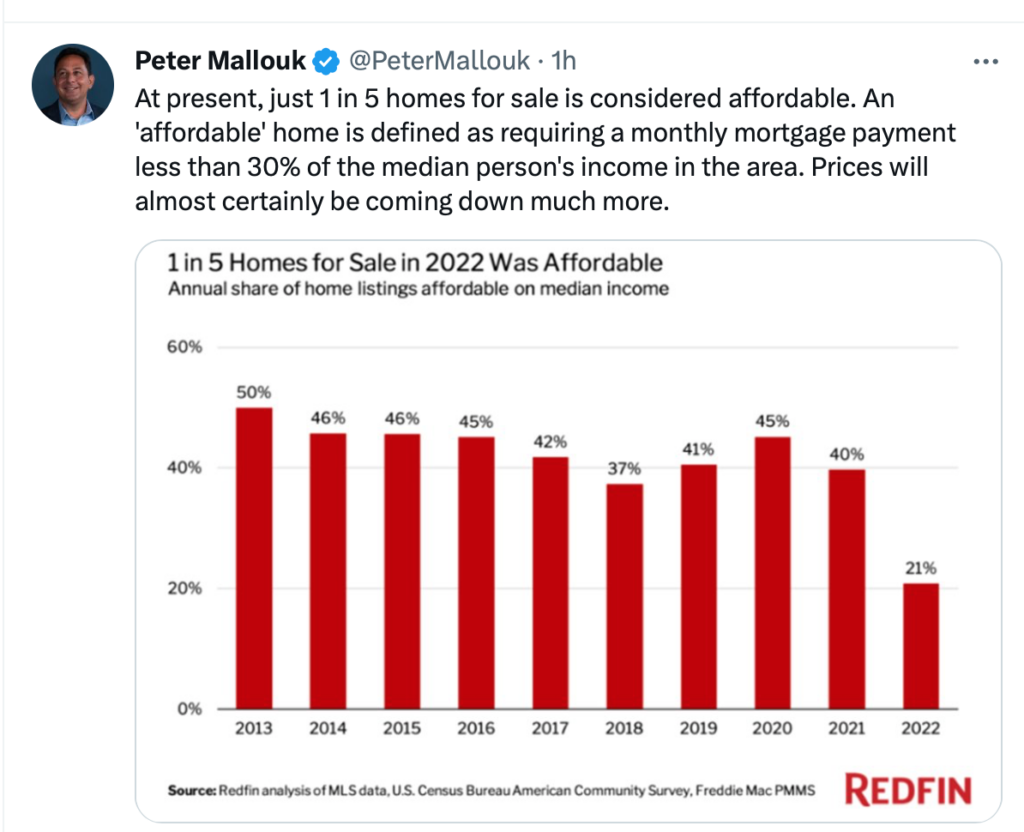 ---
10. The 10 most expensive U.S. states to retire in — California didn't make the list
Cheyenne DeVon  CNBC
In addition to being home to the most expensive city to live in worldwide, New York is the least affordable U.S. state to retire in.
That's according to WalletHub's "2023 Best States to Retire," which compared all 50 states across three main categories: affordability, quality of life and health care.
For the affordability metric, WalletHub used data from various agencies such as the U.S. Census Bureau and the Council for Community and Economic Research. The ranking looked at adjusted cost of living, general tax-friendliness and annual cost of in-home services, as well as other factors.
While New York ranked 10th in the quality-of-life category and 16th in health care, it came in 50th for affordability. That's likely due to having the second-highest adjusted cost of living, behind Alaska, and the third-highest tax rate, according to WalletHub.
Even $1 million in retirement savings would cover your living costs for only about 14 years, a fraction of the 25 years or moreretirement typically lasts.
Don't expect to find affordability across the Hudson River either: New Jersey ranks as the second most expensive state to retire in.
Here are the top 10 most expensive states to retire in, according to WalletHub:
1.                New York
2.                New Jersey
3.                Vermont
4.                Massachusetts
5.                Maryland
6.                Washington
7.                Connecticut
8.                Maine
9.                Illinois
10.            Oregon
Retirement will look different to everyone, and there are several factors to consider.
While a state's cost of living is often important, retirees may also think about how close they'll be to family and how easily they'll be able to access health care and engage in social activities, Alan Castel, a professor at the University of California, Los Angeles, and author of "Better with Age: The Psychology of Successful Aging," said in WalletHub's report.
If you'll be living on a fixed income in retirement, it's important to regularly review your budget and future financial commitments, said Castel.
"Sometimes our spending habits need to be re-evaluated, and many senior discounts can be utilized to lower bills," he said. "It may also be useful to consider downsizing or minimizing certain costs that are no longer needed."
https://www.cnbc.com/2023/03/19/most-expensive-us-states-to-retire-in.html