1. Banks Assets $2 Trillion 2008 vs. $8 Trillion 2023
Jack Ablin Cresset Meanwhile, the stockpile of assets held at US banks over the FDIC's $250,000 guarantee limit has mushroomed to nearly $8 trillion – up from a bit over $2 trillion during the financial crisis.
Any deposits under $250k are not on this list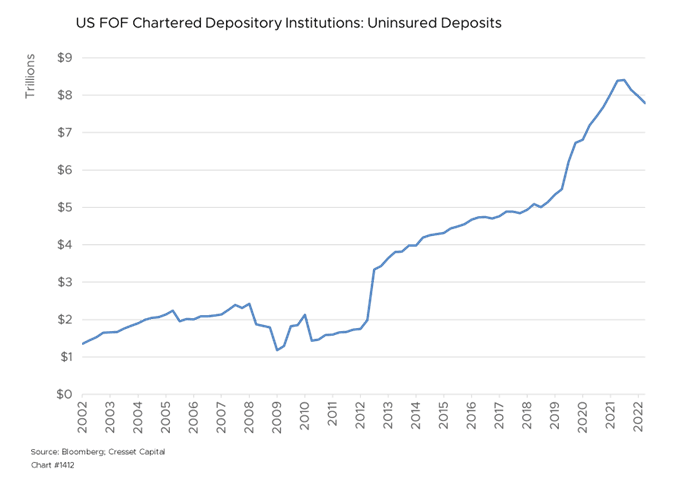 https://cressetcapital.com/post/the-perils-of-skinny-dipping-at-ebb-tide/
---
2. LPL Research Analysis of Banks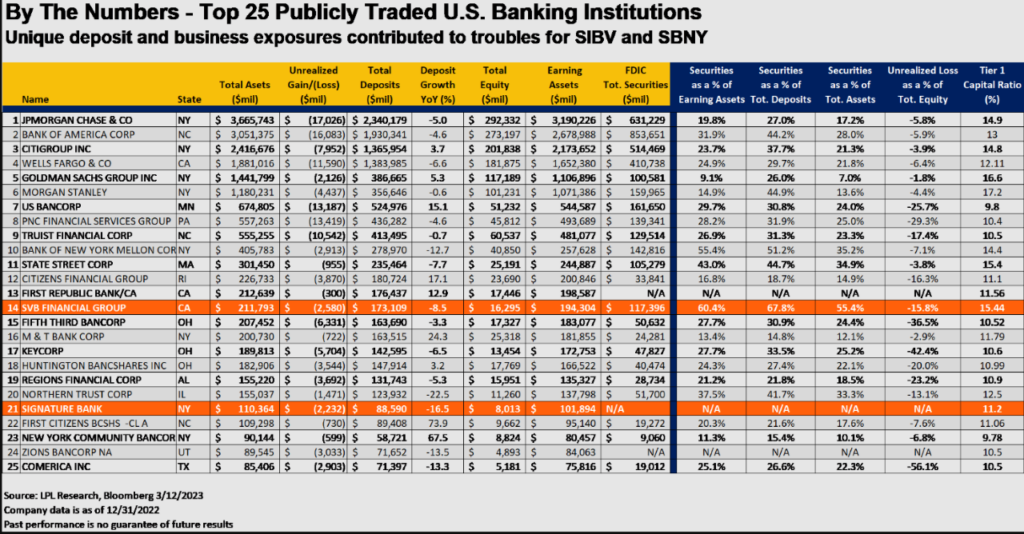 https://lplresearch.com/2023/03/13/dissecting-recent-bank-failures/
---
3. Banks Net Interest Margins
What is meant by net interest income?
What is 'Net interest income (NII)' Definition: Net interest income (NII) is the difference between the interest income a bank earns from its lending activities and the interest it pays to depositors. Net interest income = Interest earned – interest paid.
Grid from @ecommerceshares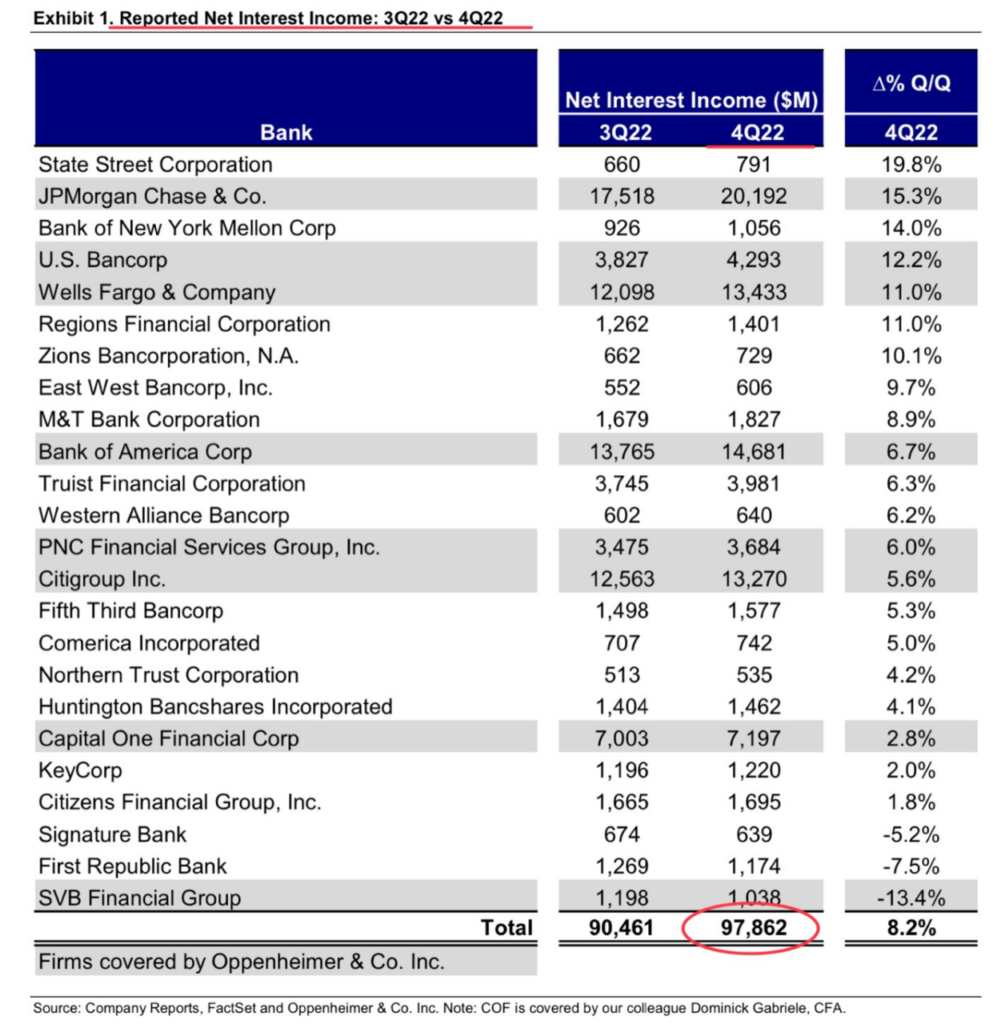 https://twitter.com/ecommerceshares
---
4. Bond Volatility Surges to Highest Level Since 2008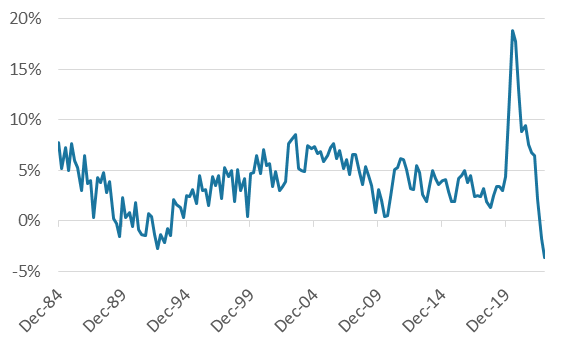 ---
5. Signature Bank 12% of New York City Commercial Real Estate Lending
Trepp Matt Anderson & Stephen Buschbom
"Commercial loans (including commercial and industrial loans and loans to commercial borrowers that are secured by real estate) constitute a substantial portion of our loan portfolio. Substantially all of the real estate collateral for the loans in our portfolio is located within the New York metropolitan area." 
https://www.trepp.com/trepptalk/digging-into-new-york-commercial-real-estate-exposure-after-signature-bank-closure
---
6. Cathie Wood ARKK ETF had Massive Inflows this Week….Investors Piled into Growth Stocks as Rates Came Down.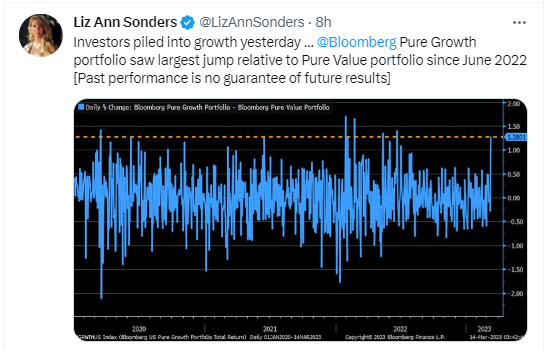 https://twitter.com/LizAnnSonders
---
7. Crypto Saw Massive Trading Action
WSJ Highest Crypto Turnover Since FTX Collapse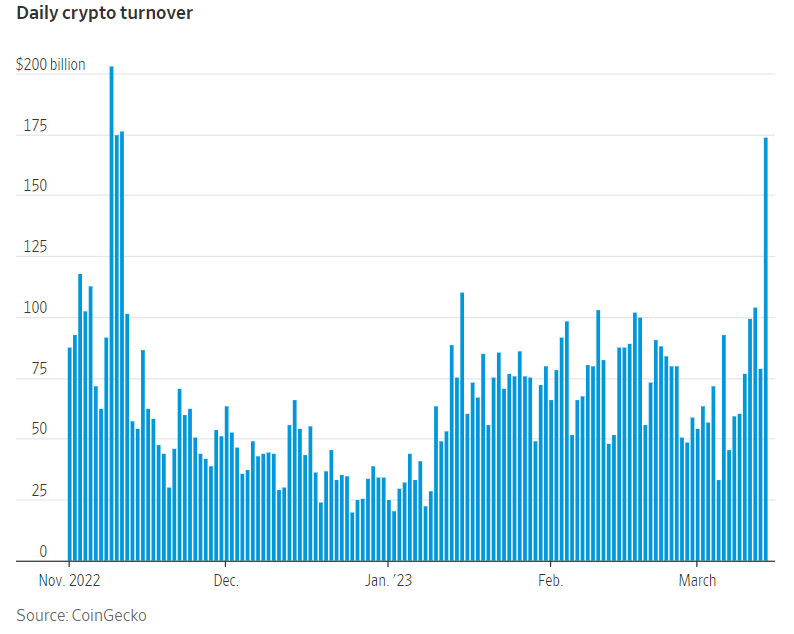 https://www.wsj.com/livecoverage/stock-market-news-today-03-14-2023-cpi-report-inflation-svb/card/crypto-volumes-hit-highest-level-since-ftx-collapse-s31RdBYbziP9VTJmv2UP
---
8. Europe Adjusted Fast…Natural Gas Consumption Drops by a Record
ZERO HEDGE BLOG Natural gas consumption in OECD Europe fell by an estimated 13% in 2022, its steepest decline in absolute terms in history, IEA said in its quarterly gas report at the end of February. Demand in Europe fell amid mild winter weather and demand reduction in industry due to high prices. 
Significant changes in the energy mix, economic activity, weather, and consumer behavior were responsible for the dramatic shift in natural gas consumptionin Europe last year, IEA's analysts Peter Zeniewski, Gergely Molnar, and Paul Hugues wrote in the commentary.
Record additions of solar and wind power helped lower gas demand, but record-high gas prices in the summer of 2022 also led to a lot of industry curtailments and lower consumption by industries and businesses, according to the IEA.
Yet, the extent to which the high prices will lead to permanent reductions in demand in gas-intensive industrial sectors remains unclear,the IEA's analysts say.   
In Europe's industry, gas use fell by 25 bcm, or around 25%, in 2022, due to production curtailment and fuel switching, as the energy-intensive industries were the first to respond to the gas price shocks last year, the IEA said.
In household consumption, "Policy measures – such as renewable support schemes, grants and preferential loans for housing retrofits and heat pump installations, alongside campaigns to encourage behavioural change – all played a part in moderating gas demand," according to the analysts.
The European Union managed to beat its target for cutting gas demand this winter, Eurostat data showed last month.
According to the data, the EU's winter demand has so far dropped by 19.3% compared to the five-year average, beating the 15% goal it set for itself to help it survive the winter without gas shortages.
https://www.zerohedge.com/energy/four-reasons-europes-record-breaking-drop-natural-gas-demand
Natural Gas Broke Below 2020 Lows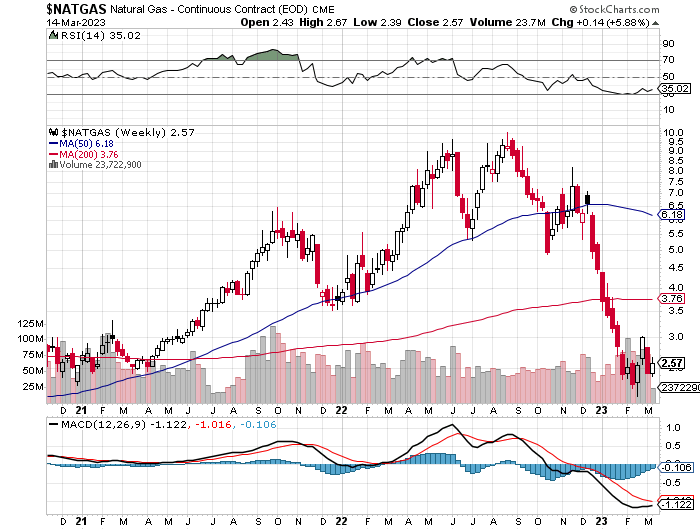 ---
9. Gold Watch
GLD watch list for run at highs
---
We tend to quit when the effort is massive and the timeline indefinite. That's why successful people embrace a different approach to making progress.
BY JEFF HADEN, CONTRIBUTING EDITOR, INC.@JEFF_HADEN
Sometimes starting a successful business is a lot like exercise.
For example, imagine I put you on an exercise bike and ask you to pedal as hard as you can for five seconds so we can measure the power you generate. Then, after a short break, I ask you to ride until you run out of steam so we can measure your endurance. 
If you're like the average person in the actual study published in PLoS One, you last about 12 minutes.
Box CEO Aaron Levie on the Biggest Factors That Will Shape Softwar 
Then I ask you to immediately repeat the five second, all-out-effort power test.
You're crazy, you think. You're whipped. Pedal more? No way. You stopped because you can't pedal any more.
Although it turns out you can: If you're like the average person in the actual study, you produce three times more power than you did during the endurance test.
So why did you give up because you couldn't pedal any more, yet somehow crank out substantial power seconds later? Clearly your muscles weren't as exhausted, and your energy as depleted, as you thought. 
The 40 Percent Rule
That finding provides research-based proof of the 40 percent rule, a concept popularized by Dave Goggins in Jesse Itzler's book Living With a Seal. 
The 40 percent rule is simple. When your mind tells you that you're exhausted, fried, and totally tapped out, you're really only 40 percent done: You still have 60 percent left in your tank. 
So why do you (we) stop? In part, the problem lies with motivation: It's hard to keep going indefinitely when your heart is pounding and legs are screaming.
Another problem lies in the word indefinitely.
Even if you think you're exhausted, cranking out another five seconds is (relatively) nothing. The endurance test is a different beast. Stuck on a bike, hamster-wheeling away, heart pounding and legs screaming, and not knowing how long all that pain will last? That's physically and mentally draining, a combination that makes it much harder to keep pushing past what you perceive as your limit. 
The same is true for starting a business.
Turn 'As Long as You Can' …
Launching a business is hard. Bootstrapping your way through a constant — at some point, they inevitably feel endless — series of challenges, and setbacks, and difficult decisions, and long nights and longer weekends doesn't require just physical effort.
The mental effort required is just as extreme — especially since you have no idea when you will finally turn the corner and the struggle will, if not end, at least ease.
That's why many entrepreneurs quit. When today is hard, and you know tomorrow will be hard, and you have no idea how many more tomorrows you will ultimately have to endure.
Yeah: It's incredibly hard to keep going — even though you still have 60 percent remaining in your stay-the-course tank.
So what can you do?
… Into 'Five Seconds'
Turn "indefinitely" into your own version of "five-second" bursts.
Instead of thinking in terms of an endless number of cold calls, set a target for each day. Make five. Or 10. Or 20. Whatever your plan calls for. That way you take your mind off tomorrow, and can just focus on today — and can focus on making each call to the best of your ability. 
Instead of thinking in terms of an endless number of pitch meetings, set a target for each week. Five. Ten. Whatever your plan calls for. That way you can take your mind off next week — and can focus on delivering each pitch to the best of your ability.
When "indefinitely" is the time window, it's natural to ease up, even if slightly. To pace yourself. To give less than your all.
To our bodies, and minds, that's Survival 101. We're wired that way.
But when "all" you have to do is do the best you can for a finite period of time, or one task at a time, then it's much easier to find the energy and focus you need to be at your best.
Being at your best? That will get you to whatever your finish line might be a lot faster. 
Because doing your best, each and every time, is the best way to bring "indefinitely" to an end.
https://www.inc.com/jeff-haden/success-persistence-seal-40-percent-rule-high-achiever-mindset.html