Bailout Monday
1. Major Problem for SVB…..U.S. Venture Capital Valuations -60% from the Peak
Torston Slok Apollo Group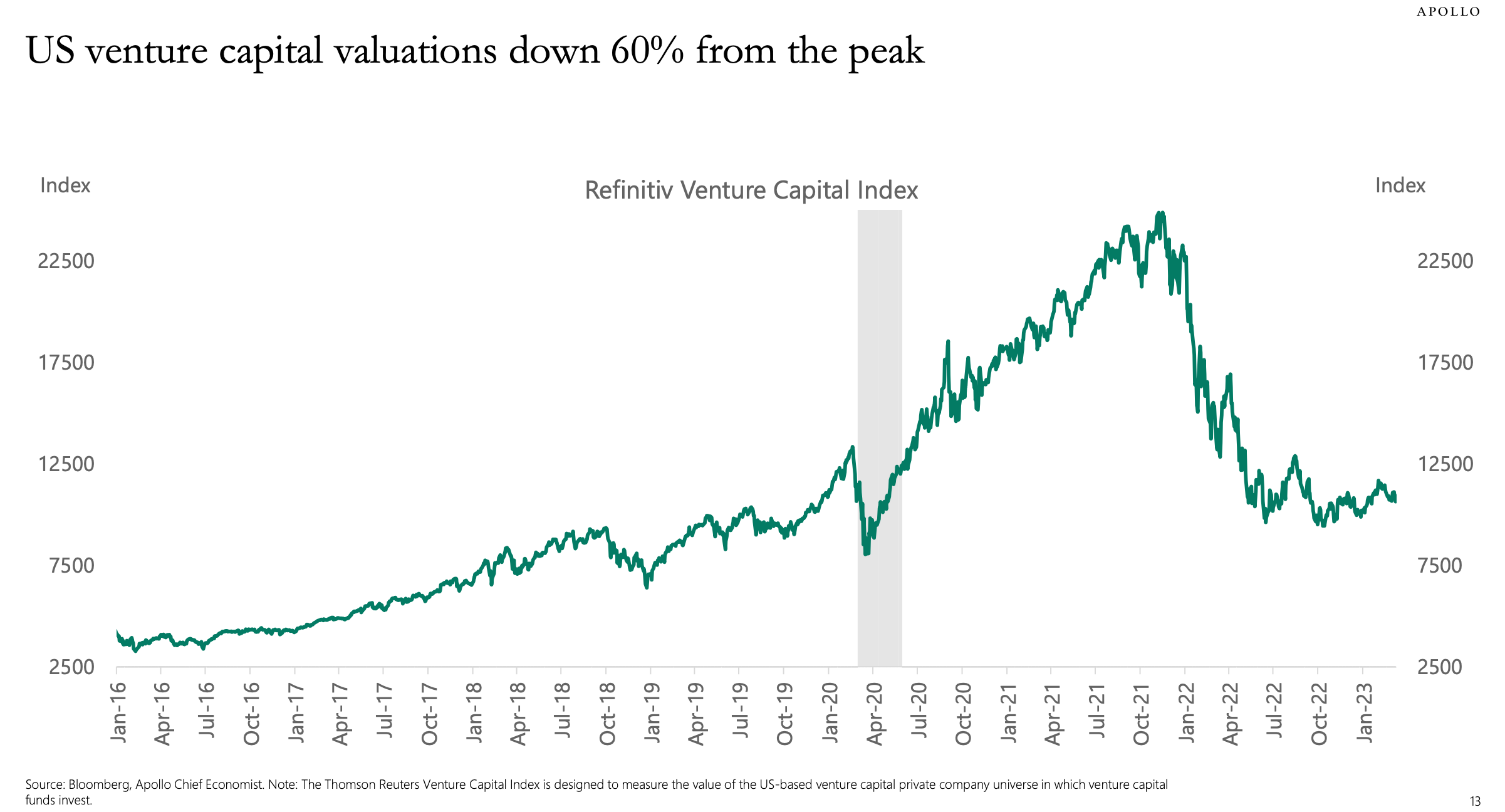 ---
2. Two Most Crypto Friendly Banks Close
CNBC 'The two most bitcoin-friendly banks'
In the long run, the shutdown of the crypto banking trifecta could present problems for bitcoin, the world's largest cryptocurrency, with a market value of $422 billion.
The Silvergate Exchange Network (SEN) and Signature's Signetwere real-time payment platforms that crypto customers considered core offerings. Both allowed commercial clients to make payments 24 hours a day, seven days a week, through their respective instant settlement services.
"Bitcoin liquidity and crypto liquidity overall will be somewhat impaired because Signet and SEN were key for firms to get fiat in on the weekend," said Carter, who added that he is hopeful that customer banks will step in to fill the void left by SEN and Signet.
"These were the two most bitcoin-friendly banks, supporting the lion's share of fiat settlement for bitcoin trades between trading counterparties in the U.S.," wrote Mike Brock in a post on social media app Damus. Brock is the CEO of TBD at Block, a unit which focuses on cryptocurrency and decentralized finance.
Although Carter thinks the Fed stepping in to guarantee depositors of SVB will prevent a larger bank run on Monday, he says it is still dispiriting to see the three largest crypto-friendly banks taken offline in a matter of days.
"There are very few options now for crypto firms and the industry will be strapped for liquidity until new banks step in," said Carter.
Mike Bucella, a longtime investor and executive in the crypto space, says that many in the industry are pivoting to Mercury and Axos, two other banks that cater to startups. Meanwhile, Circle has already publicly said that it is shifting is assets to BNY Mellon now that Signature bank is closing.
"Near-term, crypto banking in North America is a tough place," said Bucella. "However there is a long tail of challenger banks that may take up that slack."
https://www.cnbc.com/2023/03/12/signature-svb-silvergate-failures-effects-on-crypto-sector.html
---
3. Terminal Rate Plunges…Odds of 50 Basis Point Raise Plunges
Zerohedge Blog The terminal rate has plunged from September 2023 at 5.70% on Wednesday to June 2023 at 5.15%, and expectations for rate-cuts in H2 2023 are soaring…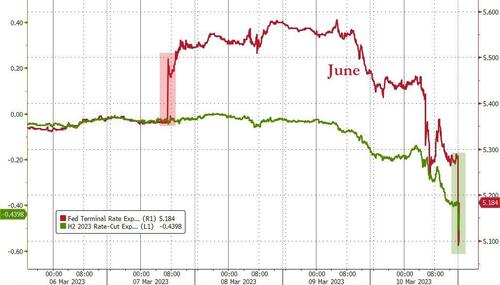 Source: Bloomberg
The odds of a 50bps hike in March plunged from 75% to less than 20% and May has collapsed from a coin-toss for 50bps to just 85% odds of a 25bps hike…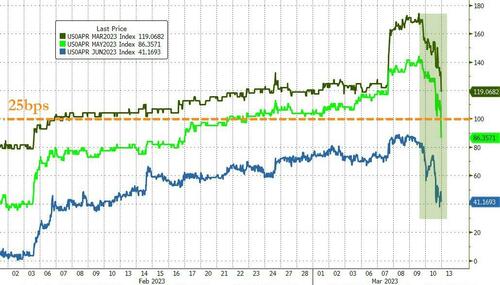 Source: Bloomberg
Dramatically steepening the yield curve…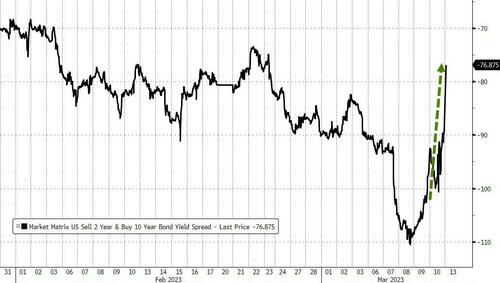 Source: Bloomberg
https://www.zerohedge.com/markets/bitcoin-bullion-surge-after-fed-bailout-rate-hike-odds-plummet
---
4. European Financials Take Much Less of a Hit.
This chart shows Euro financials vs. U.S. financial sector ETF…..straight up since end Fall of 2022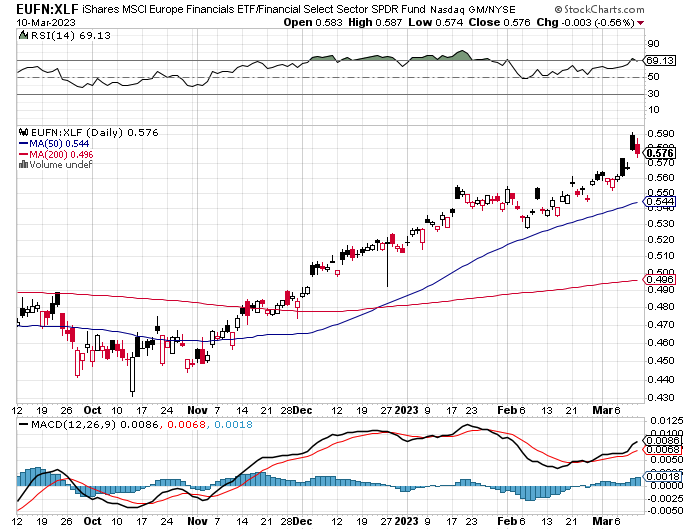 EUFN Euro Financials ETF—Ran right up to 2022 highs and reversed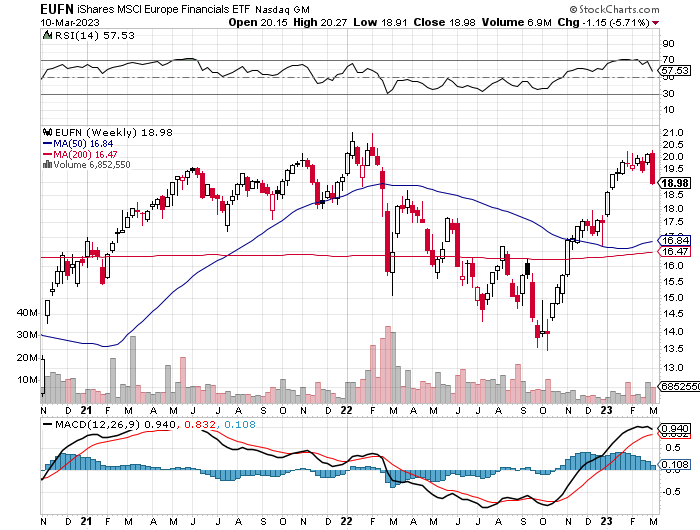 ---
5. XLF Financial Sector ETF Still Well Above 200 Week Moving Average
XLF unlike KRE….made 2 new highs in 2023 and holding above 200 week moving average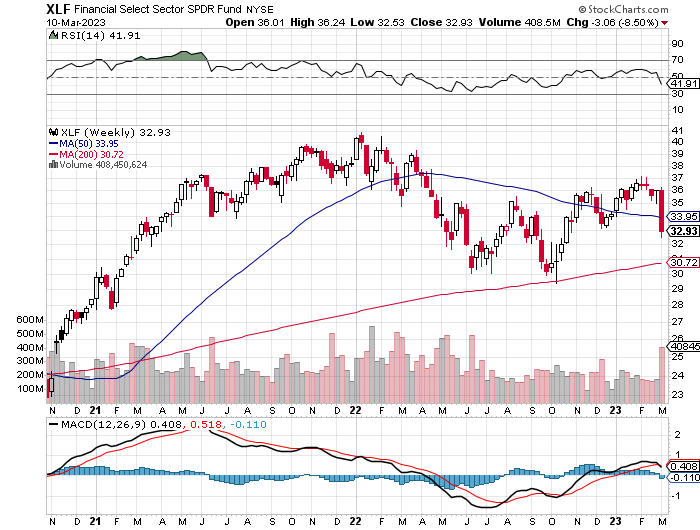 ---
6. XLF Top Holdings vs. KRE Regional Banks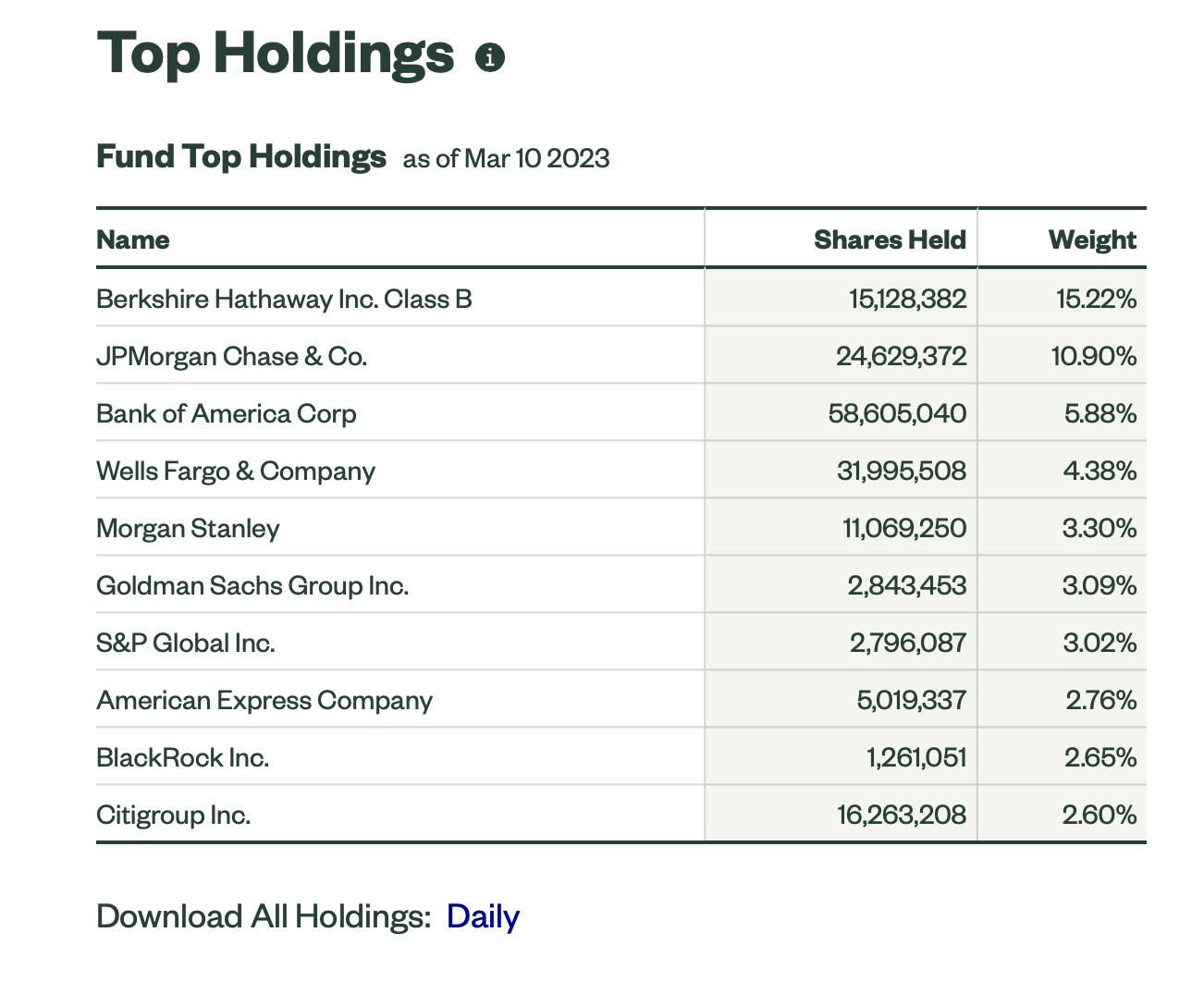 KRE Top Holdings None Trading Below 1x Book Value Yet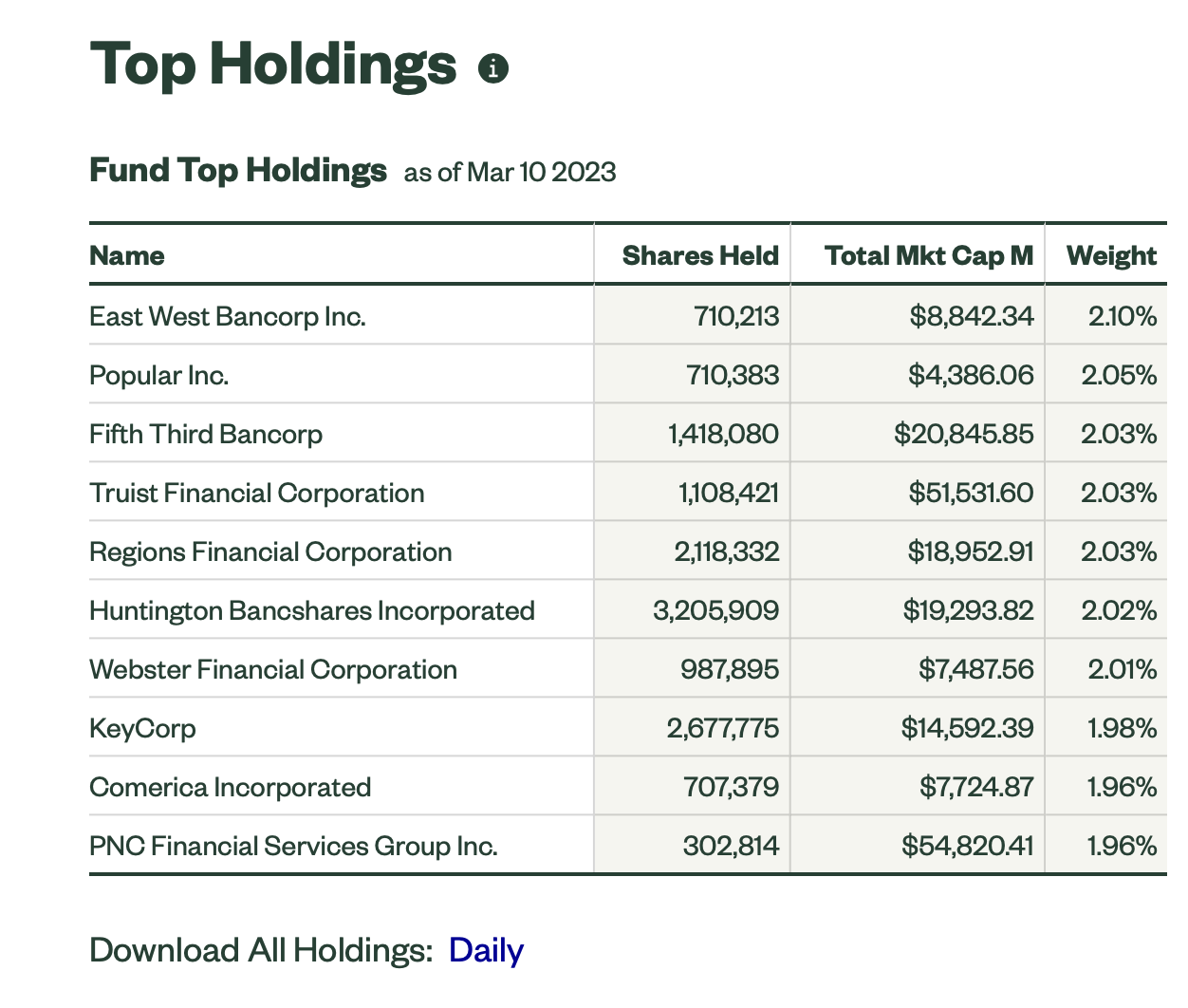 https://www.ssga.com/us/en/intermediary/etfs/funds/the-financial-select-sector-spdr-fund-xlf
---
7. Regional Banks Other Issue…Commercial Real Estate
VNO Vornado Realty breaks to new lows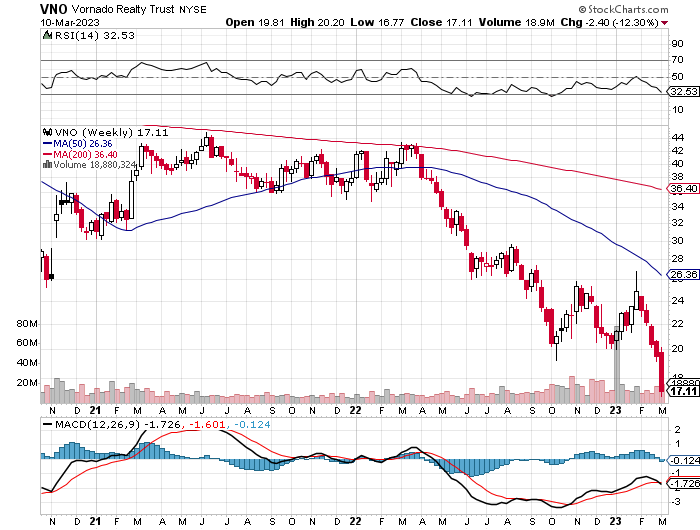 VNQ-Watch if it holds previous lows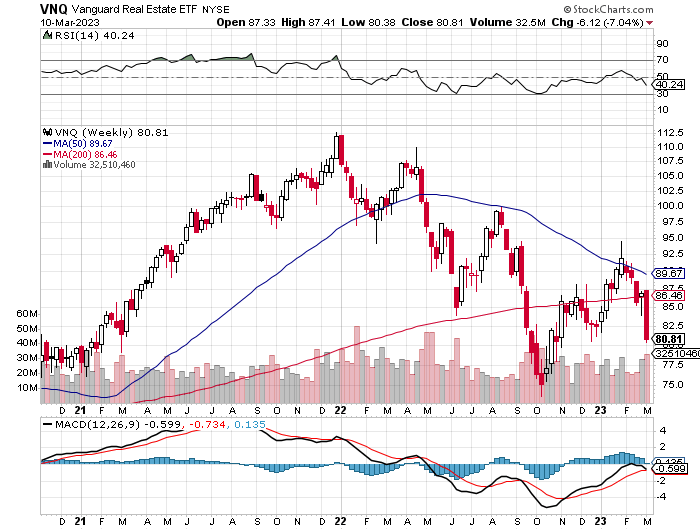 ---
8. Equities and Bonds Diverge…Bonds Acting Like Bonds Again
The Daily Shot Blog Equities: Equities have diverged from bonds as recession risks resurface.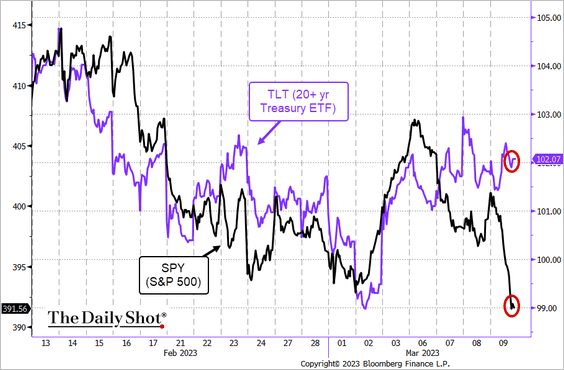 Source: @TheTerminal, Bloomberg Finance L.P.
---
9. The New Murder Incorporated -39 Dead Oligarchs and Counting
The Sun Bloodthirsty 'mafia boss' Putin killing Russian elite to cling to power as 39 oligarchs & officials mysteriously die
VLADIMIR Putin is presiding over a "mafia" state where murder is a tool used to defeat his enemies and to scare his uneasy allies into keeping in line. 
Experts believe the deaths of at least 39 high profile figures – ranging from oligarchs to scientists and even generals – could show the shadowy and bloodstained hand of the Kremlinussia-linked deaths since the start of 2022 
DOZENS of people in the Kremlin's orbit have died since the start of 2022 – how many of them have been killed by Vlad and his cronies? 
Leonid Shulman – January 30 – Gas boss – Found dead in his bathroom with suicide note
Igor Nosov – February 8 – Former governor – Died after suffering an apparent stroke in Moscow
Mikhail Watford – February 28 – Businessman – Found dead at his home in Surrey, UK – no evidence of crime found by cops
Alexander Tyulakov – February 25 – Gas boss – Found dead in his garage in suspected suicide in St Petersburg
Vasily Melnikov – March 23 – Medical firm boss – Stabbed to death along with his family in 'murder-suicide' in Nizhny Novgorod
Vladislav Avayev – April 18 – Gas boss – Found dead with gun in his hand alongside wife and daughter in Moscow
Sergei Protosenya – April 19 – Gas boss – Found hanged alongside his wife and daughter who died of axe wounds at villa in Lloret de Mar, Spain
Andrei Krukovsky – May 2 – Gas boss – Fell down a cliff to his death in Sochi
Alexander Subbotin – May 8 – Oil boss – Died of 'drug induced heart attack' during shamanic ritual in Moscow
Dmitry Kovtun – June 4 – Ex-KGB agent linked to Litvinenko murder – Died in hospital from Covid in Moscow
Dr Dmitry Kolker – July 2 – Laser scientist – Dies after being arrested for treason and being flown to Moscow
Yuri Voronov – July 4 – Shipping chief – Shot dead in swimming pool in Leningrad
Dan Rapoport – August 14 – Investor & Putin critic – Died after falling from a 9-story high rise in Washington DC
Darya Dugina – August 20 – Daughter of 'Putin's Rasputin' – Died in car bombing in Moscow
Ravil Maganov – September 1 – Oil oligarch & Putin critic – Falls from balcony while smoking in 'suicide'
Ivan Pechorin – September 10 – Gas boss – Found floating in the sea near Vladivostok
Vladimir Sungorkin – September 14 – Editor of Putin's 'favourite newspaper' – Suddenly suffered stroke while on lunch and died in Khabarovsk
Anatoly Gerashchenko – September 21 – Aviation boss – Falls down "several" flights of stars and dies
Pavel Pchelnikov – September 28 – Railway exec – Found shot dead on his balcony in Moscow
Nikolay Petrunin – October 12 – Politician – Died from complications of Covid
Nikolai Mushegian – October 28 – Crypto boss – Drowned in swimming pool in Puerto Rico, US
Viktor Cherkesov – November 8 – Putin's spy mentor – Dies after 'serious illness' in St Petersburg
Colonel Vadim Boyko – November 16 – Ukraine war mobilisation chief – Death ruled suicide despite being shot five times in Vladivostok
Vyacheslav Taran – November 25 – Crypto billionaire – Killed in helicopter crash in clear weather near Monaco
Vladimir Makei – November 26 – Belarusian foreign minister – Death ruled suicide by Minsk officials
Grigory Kochenov – December 7 – Tech boss – Fell to his death as police searched his flat in Nizhny Novgorod
Dmitriy Zelenov – December 9 – Real estate tycoon – Dies after hitting his head after falling down stairs in Antibes, France
Vladimir Budanov – December 22 – 'Companion' of Pavel Antov – Found dead in his hotel room in Odisha, India –
Pavel Antov – December 24 – Politician and businessman – Found dead in a pool of blood at his hotel just days after his friend Bidenov
Alexander Buzakov – December 24 – Shipyard chief – Died after attending unveiling a new submarine – no cause of death
General Alexei Maslov – December 25 – Tank firm boss – Suddenly fell ill and dies after Putin cancelled visit to factory in Uralvagonzavod
Vladimir Nesterov – December 28 – Disgraced rocket engineer – Cause of death undisclosed in Russia
Magomed Abdulayev – January 6 – Former regional leader – Mown down by car in Makhachkala
Dmitry Pawochka – January 26 – Space boss – Burned alive in his apartment in Moscow
Major General Vladimir Makarov– February 14 – Police chief – Found shot dead in 'suicide' at his apartment in Moscow
Marina Yankina – February 16 – Defence official – Found dead after falling from window of 16-storey high rise in St Petersburg
Viatcheslav Rovneiko – February 22 – Oil boss – Found unconcious at his home in Moscow
Andrey Botikov – March 3 – Sputnik V scientist – Strangled to death at his home in Moscow
Sergey Grishin – March 6 – 'Scarface' oligarch – Dies in hospital of sepsis in Moscow
Many of the deaths are particularly strange – but then get ruled as "suicide" and quickly swept under by the Russian authorities.
https://www.the-sun.com/news/7603864/putin-killing-russian-elite-mob-boss/
---
10. Eliminate these 11 phrases that 'make people question your credibility,' says public speaking expert
As a public speaking expert, I've spent over a decade working with executives and leaders from major companies like Google, Facebook and LinkedIn. My advice to them is always: Less is more.
Being too wordy dilutes your message and presence. Instead of using weak filler words, silence is sometimes best; it allows you to pause and think, while letting the audience process what you're saying.
To build trust, avoid these 11 words and phrases that make people question your credibility and respect you less:
This is the most common crutch word. It suggests that you're unprepared, lack confidence, or at loss of what to say next.
---
People use "in all honesty" or "I'm not going to lie to you" to convey sincerity, although it could be read as the opposite.
The audience already knows that your intention is to tell the truth. Reiterating it will only make them question why you're trying to assure them of your honesty.
---
This phrase makes you sound tentative and unsure of what you're saying — it's not a fact, but a thought. If you know you are presenting a well-researched argument, lead with confidence and conviction.
---
"Sort of" is almost impossible to measure. It leaves your listener in limbo because it weakens the impact of your message. Another phrase that has the same effect is "kind of."
---
I understand the fear of being bold. But using weak words like "just" minimizes your message by making your statement feel less important.
---
We've all heard this sprinkled in sentences: "So, like, I was thinking we could, like, start the session with a round of introductions."
But, similar to "um" and "uh," it causes you to sound less prepared or less confident.
---
When you use this phrase, you are directly undermining your own knowledge. In attempt to sound cool and confident, you're actually doing the opposite.
---
Of course you want to acknowledge differences of opinion and have respect for other views. But overdoing it can make you sound unsure or hesitant to take a strong stance at all.
---
Are you fully committed if you say you'll try? Maybe. But this phrase makes you sound only partially committed, or that you lack the confidence to complete the task at hand.
---
When you overuse apologetic phrases, you can come across as weak or overly subservient.
And if you're going to make an apology, do it with conviction. Don't qualify it with insincere filler words like "but."
---
11. "Did that make sense?"
I've seen people say this after they've tried to explain something, but didn't feel like they did a good job. A better phrase would be: "I hope that made sense." Give people at least 15 to 30 seconds to digest, then ask if they have questions.
Christina Helena is a public speaking expert, speech coach and TEDx speaker. With over a decade of experience, she has worked with clients at major companies including Google, Apple, Facebook and LinkedIn. Follow her on Instagram.
https://www.cnbc.com/2023/03/12/eliminate-these-11-phrases-that-make-people-respect-you-less-says-public-speaking-expert.html