1. 200 North American Exploration Companies Have Gone Bankrupt Since 2015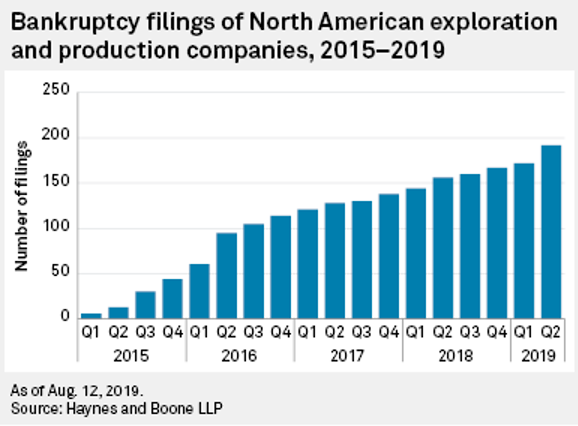 As oil and gas bankruptcies rise, S&P warns of coming shale producer downgrades–AuthorBill Holland
https://www.spglobal.com/platts/en/market-insights/latest-news/oil/061120-upstream-us-bankruptcies-analytics-spotlight
2. Top 10 Largest Oil Producers and Top 10 Largest Oil Consumers
ValueWalk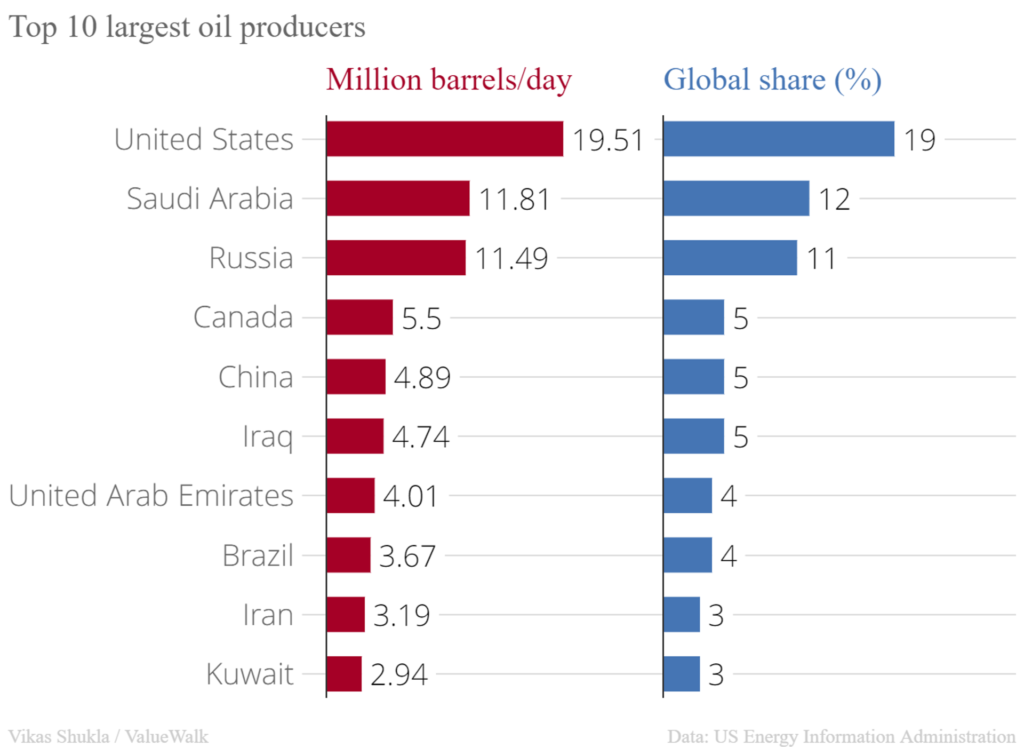 Top 10 largest oil consumers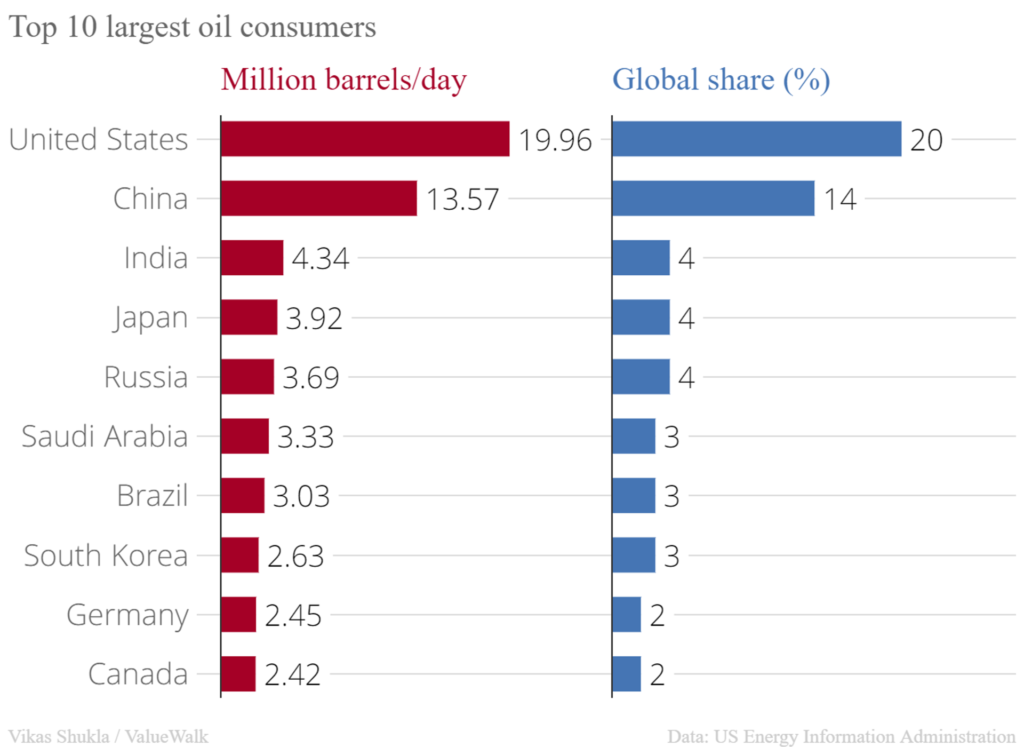 TOP 10 LARGEST OIL PRODUCERS AND CONSUMERS IN THE WORLD–By Vikas Shukla
https://www.valuewalk.com/2020/06/largest-oil-producers-2020/
3. The Hit to Americans Net Worth 2020 vs. 2008….Much Smaller This Time Due to Housing Stability and Faster Government Stimulus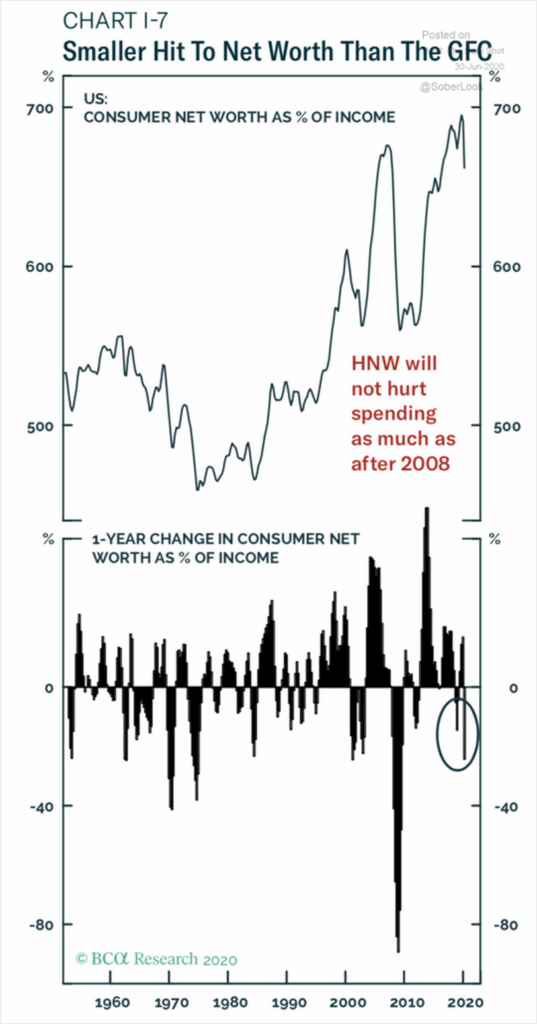 The Daily Shot https://blogs.wsj.com/dailyshot/2020/06/30/the-daily-shot-current-hit-to-household-net-worth-much-less-severe-than-in-2008/
4. But Only Half the U.S. Population is Working Right Now
In February there were 6 million unemployed people in the US. Today there are 21 million, and to get the employment-to-population ratio back to where it was at its peak in 2000 we need to create 30 million jobs, see chart below and here.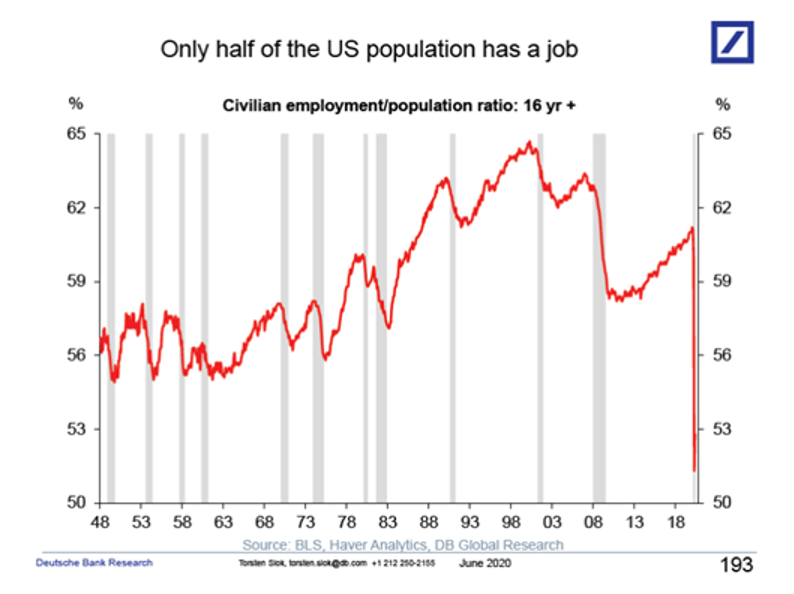 Torsten Sløk, Ph.D., Chief Economist, Managing Director
5. Online Car Buying Stocks
CVNA CHART $30 to $120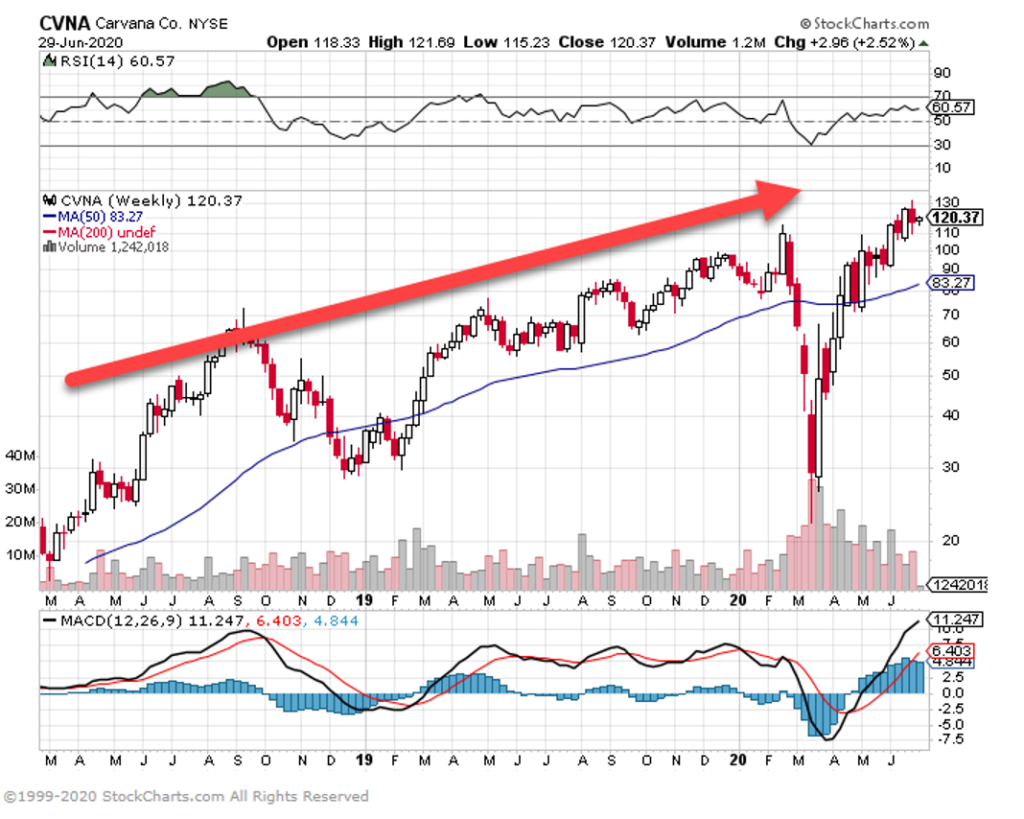 Together, Carvana, Vroom and Shift sold fewer than 300,000 cars in 2019, less than 1% of the used-car market in the U.S., according to Mr. Drury.
Investors are excited by the prospect of an entirely new market for online players to displace traditional sellers. Carvana's shares, which have climbed steadily since late March, have jumped eightfold since the company's 2017 initial public offering. Vroom shares have more than doubled since its IPO early this month.
Shift Plans to Go Public This Year as Covid-19 Boosts Online Car Sales–By Rolfe Winkler
https://www.wsj.com/articles/shift-plans-to-go-public-this-year-as-covid-19-boosts-online-car-sales-11593424801?mod=itp_wsj&ru=yahoo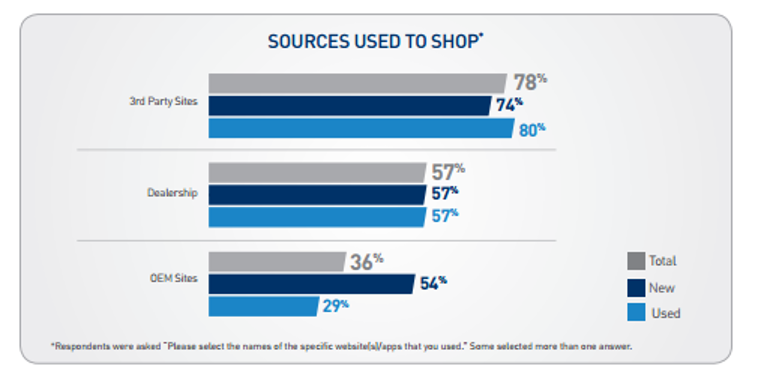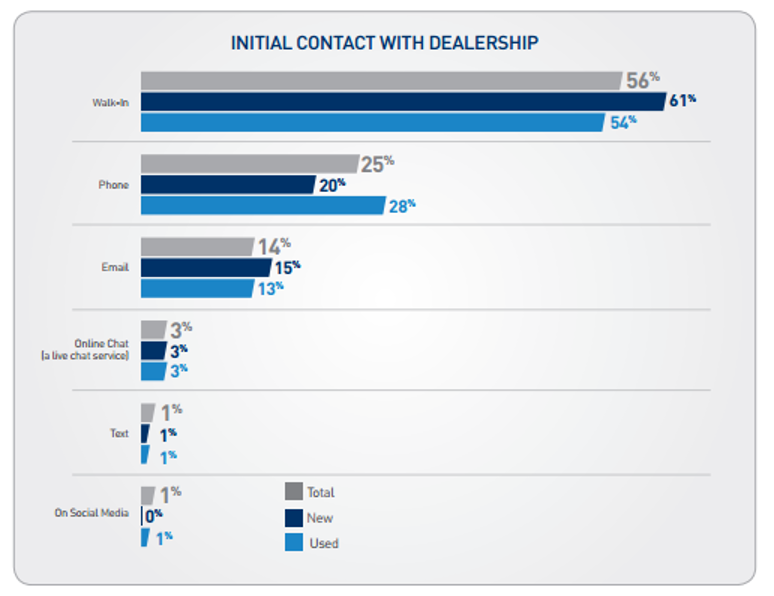 25 Amazing Statistics on How Consumers Shop for Cars https://v12data.com/blog/25-amazing-statistics-on-how-consumers-shop-for-cars/
https://www.wsj.com/articles/the-pandemic-has-pushed-car-buying-online-its-expected-to-stick-11592658001
6. Ad sales plunge in May as lack of NBA hurts Disney, WarnerMedia
June 29, 2020 | 5:43pm | Updated
The coronavirus continued to wreak havoc on the advertising market in May, new data shows.
Last month, US advertising revenue plummeted 31 percent with the postponement of big-ticket sporting events dragging down big media companies like Disney, owner of ESPN, according to a new report from StandardMedia Tracker, which tracks media spend.
According to the data, media giants Disney and WarnerMedia logged some of the steepest ad declines last month due to a delay in the NBA playoffs, which typically take place in May and is broadcast by Disney's ABC and ESPN and WarnerMedia's TNT. The lack of the playoffs caused WarnerMedia ad revenue to fall by 45.5 percent during the month while Disney saw its ad sales dip by 39.6 percent, the data said.
The coronavirus-embattled travel industry slashed its ad spend by a whopping 87 percent, the most in any category, the report said. Automotive ad spend dipped by 60 percent, followed by apparel and accessories ad spend, which fell 57 percent.
Restaurants pulled back by 52 percent and retailers slashed their budget by 45 percent. Tech ad spending fell 25 percent and advertising from financial-services advertisers was off 13 percent. The only sector to spend more in May than they did a year earlier was the pharmaceutical industry, which increased its ad spend by 4 percent.
Google, Facebook and Microsoft saw some of the smallest drops in ad revenue in part because they are less reliant on sports. Digital media companies accounted for a 50 percent share of all ad dollars, StandardMedia said, up from 47 percent in April and 43 percent during the first quarter.
Most companies slashed their ad spend by 10 percent or more, the report said, although May's dismal numbers were better than the 35 percent decline in ad spend in April — providing some signs of hope, said Standard Media Index Chief Executive Officer James Fenessy.
"There is anticipated improvement in the market conditions as live sports gradually returns in June," Fennessy said. "Although annual year-over-year growth is not expected, smaller declines will be the new norm."
https://nypost.com/2020/06/29/ad-sales-drop-31-in-may-as-nba-delay-hurts-disney-warnermedia/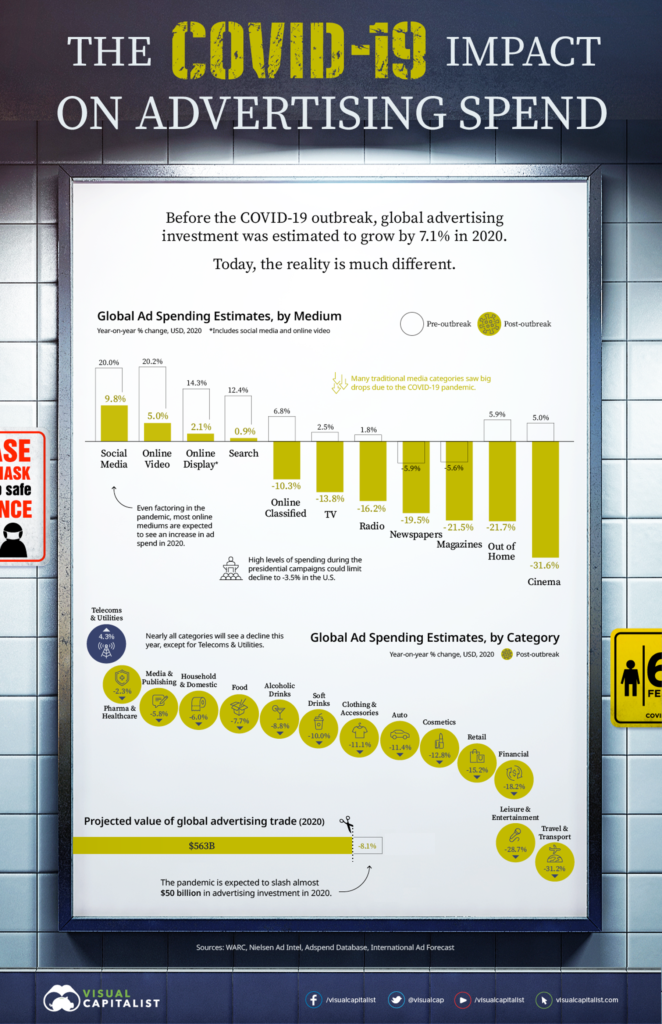 7. All the Companies Quitting Facebook…FB $17B in Ad Revenue First Quarter Alone
Dealbook-NY Times
It's worth remembering that Facebook collected more than $17 billion in advertising revenue in the first quarter alone: Losing big brand ads is painful, but the bulk of the company's sales come from millions of smaller businesses that rely heavily on the platform.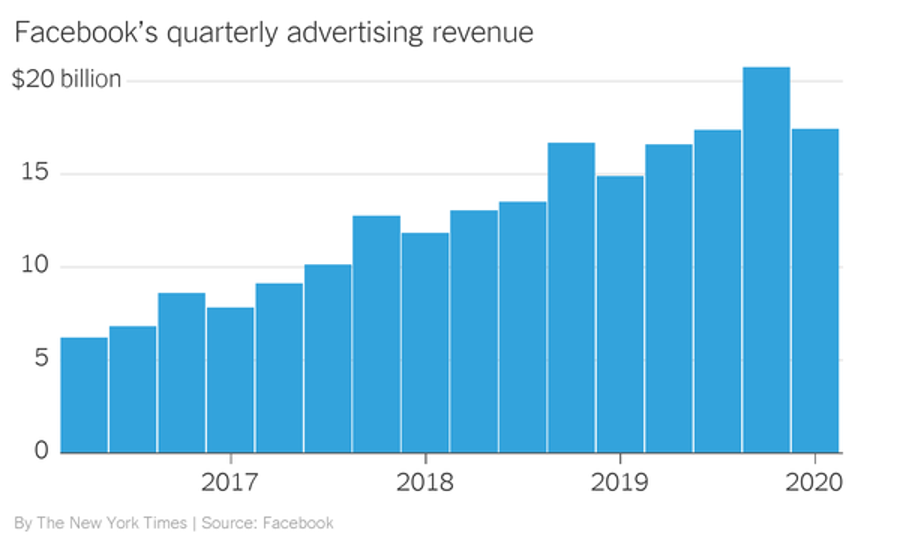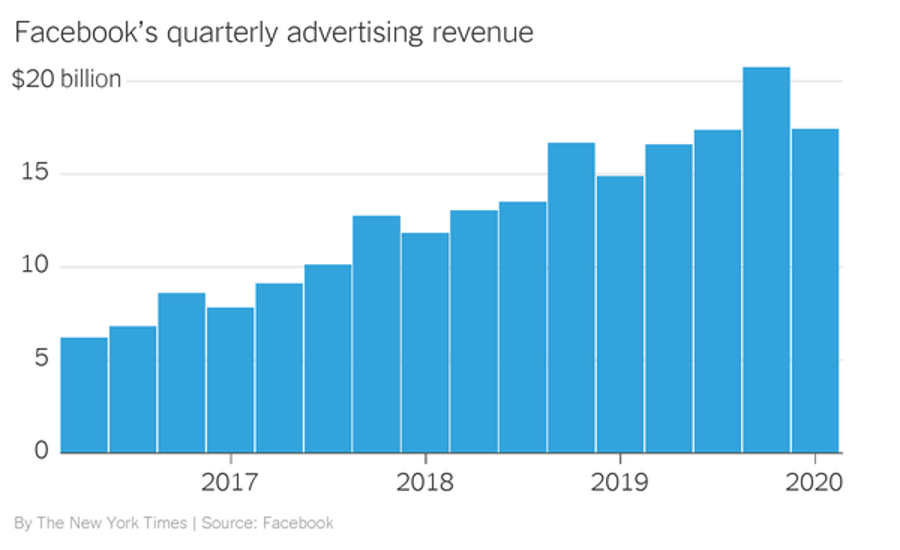 https://www.nytimes.com/2020/06/29/business/dealbook/facebook-boycott-ads.html
8. The (near) cashless society arrives
Illustration: Aïda Amer/Axios
People have suddenly stopped using money — of the bill-and-coin variety — for fear it may spread the virus. Some worried shopkeepers have stopped accepting it, too.
Why it matters: The coronavirus may have changed our buying and payment habits forever. Online shopping is through the roof, and consumers are rushing to get "contactless" credit and debit cards, which are tapped at a merchant terminal rather than inserted or swiped.
Driving the news: The coronavirus has made us scared to touch anything, and there's a perception that money is dirty and payment terminals carry germs.
ATM use is down 32%, according to Visa, and 63% of consumers say they're using less cash.
In places like South Korea, bank notes have been disinfected and placed in quarantine.
The decline of cash has been particularly pronounced in the U.K., where an article in the Telegraph quoted a W.H.O. official advising people to wash their hands after touching currency.
Yes, but: Health experts say they consider it unlikely that cash is spreading COVID-19 (though hand-washing is always recommended).
The backstory: In March, when many people started sheltering in place and retail locations closed en masse, there was a huge migration to virtual commerce. Merchants that hadn't been online raced to put up web storefronts, and consumers moved the bulk of their shopping.
"It's just been like three years of digital commerce growth being pulled forward into three months," Brian Cole, head of North America products & solutions for Visa, tells Axios. "People are making purchases that they would have made in person, but they're making them online now."
The number of active Visa cards being used e-commerce jumped 30%.
COVID-19 is "pushing people into e-commerce who would not normally be using it," David Robertson, publisher of the authoritative card industry publication the Nilson Report, tells Axios. "I mean, I have a 90-year-old friend who uses Instacart now."
One practice that has grown common and isn't likely to go away: Paying for something on an app or a website — like a pair of pants or a pasta dinner — and picking it up in the store.
Between the lines: The acceleration of e-commerce and card payments at the expense of cash is convenient for consumers and good for banks, which reap fees on the transactions. But it can be bad for merchants, who pay those fees, and for low-income people who lack bank accounts.
Retailers have been in litigation with the credit card networks for decades over the "swipe fees" they owe whenever a consumer pays by card.
The fees vary widely, depending on the type of card and size of the merchant, but can typically be 2%-2.5% of a transaction.
Despite the growing cost of handling cash (bringing it to the the bank, etc.) "I think most merchants, especially small merchants and small-transaction merchants, would still prefer to take cash," K. Craig Wildfang of the law firm Robins Kaplan, who represents retailers in an ongoing lawsuit over swipe fees, tells Axios.
The catch: Not everyone has access to credit or debit cards — especially low-income people.Retailers like Sweetgreen have tried going entirely cashless only to see pushback from advocates for the poor.
The city of Philadelphia now has a law requiring all stores to accept cash.
People who rely on cash tips also suffer when currency isn't in wide use. (David Gelles of the New York Times discovered this when he experimented with living cash-free, and found himself guiltily stiffing his barber and a hotel valet out of a tip.)
The next big thing: contactless cards. They're pervasive in Europe and elsewhere, and are just starting to hit the U.S. in a big way — and, for the first time, consumers are demanding them.
People who use Apple Pay and Samsung Pay on their phones have gotten accustomed to paying with a wave.
The credit card networks have always promoted electronic payments as faster and more efficient — and now, with COVID-19, they're promoting them as cleaner and healthier.
Burger King ran a recent commercial in which it touted its contactless payment option.
The bottom line: As bad as things have been, life during COVID-19 would have been much worse for so many people without the ability to buy goods online and have them delivered, notes Linda Kirkpatrick, Mastercard's president of U.S. issuers.
"I can't imagine if this happened 55 years ago before our network was created," she tells Axios. "We would be in a very very different place."
https://www.axios.com/cashless-society-coronavirus-455e0045-1160-4240-8fe1-c888a40630cb.html
9. Global Union Membership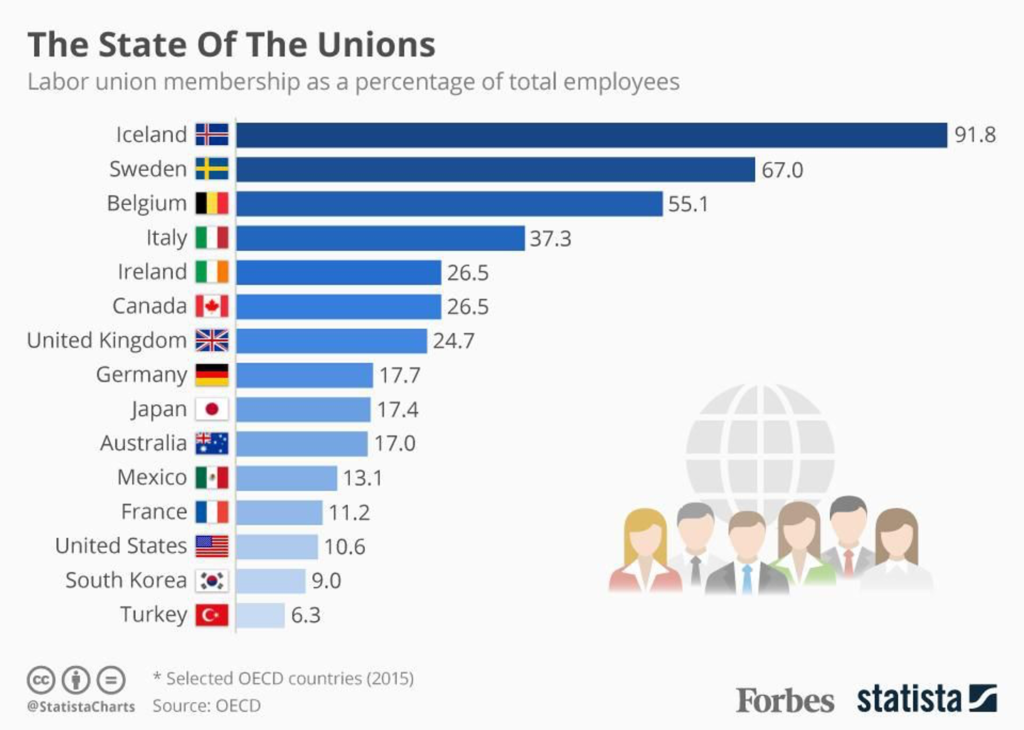 10. How to Maintain Memory as You Age
Learn five ways to maintain your memory while you get older.
We all deal with memory loss of one kind or another. Whether we miss a monthly payment, temporarily lose our keys, or forget the name of a long-time neighbor, most of us deal with some type of harmless forgetfulness.
As we grow older, it is not uncommon for many over a certain age to begin associating these normal lapses in memory with fear of conditions such as Alzheimer's disease or some other form of dementia.
While the majority of those diagnosed with dementia tend to be older, our forgetfulness and memory loss don't necessarily indicate the onset of such devasting diseases like Alzheimer's. In fact, the Alzheimer's Association provides resources on its website to differentiate these types of common slip-ups from the early signs and symptoms associated with dementia.
As we celebrate and promote women aging well this month, here are some integrative approaches to maintaining your memory and cognition as you age.
Herbal Supplements
Herbal remedies have been used in China for more than 2,000 years to boost memory. Some with the most evidence behind them include:
Turmeric: You probably know this herb as a spice, but it's also used in numerous remedies in Asian medicine. Like all the herbal remedies mentioned here, it has strong antioxidant and anti-inflammatory properties. One study of 1,101 older people without dementia found that those with a high turmeric consumption had better cognitive function than those with lower consumption.
Ginseng: Ginseng can help improve learning and memory, potentially protecting against Alzheimer's disease. One reason could be its ability to protect against amyloid-β and cholinesterase activity, both of which are associated with the development of Alzheimer's disease.
Healthy Diet
Maintaining your memory as you age also means embodying a healthy diet to minimize the risk factors associated with diseases like dementia. A diet high in healthy proteins, fruits and vegetables and low in saturated fat, sugar, and processed foods, can go a long way in preventing many health problems, including those connected to Alzheimer's disease.
In fact, a systematic review of 12 studies found that participants who strictly followed the Mediterranean diet had a better cognitive function, lower rates of declining cognitive functioning, and a reduced rate of Alzheimer's disease.
Yoga or Exercise
The benefits of exercise and yoga are extensive but, specifically, they can be utilized in treating the effects of depression, which can lead to chronic inflammation, especially as we get older. By engaging in any of the various types of exercise to combat depression, you can avoid the "foggy" feeling that limits the ability to concentrate in many depressed people.
Not only can yoga and exercise improve depression and mood, but there is also evidence they can lead to improvements in cognitive function, particularly attention, processing speed, executive function (decision-making) and memory in people with and without depression.
Sleep
The National Sleep Foundation provides the following information on the connection between sleep and memory:
"Healthy sleep puts us in the right state of mind to take in information as we go about the day. Not only that, we need a good night's sleep to process and retain that information over the long term. Sleep actually triggers changes in the brain that solidify memories—strengthening connections between brain cells and transferring information from one brain region to another."
article continues after advertisement
As the medical field continues to take a keen interest in sleep and the importance of getting regular, restful sleep for our overall health, the impact sleep has on our memory will only expand as studies continue to be published.
Playing Games
And lastly, play games. Playing board games, crosswords, chess, bingo, or cards was found to slow mental decline for those in their 70s, so says a decades-long study of over 1,000 people in Scotland. Those who played games kept memory sharp and improved scores on thinking tests compared to those who didn't play. It's great to start early, but even those who increased gameplay in their 70s still benefited as they aged.
For women entering the later stages of their life, memory can serve as a foundational aspect of healthy aging. By embracing the approaches here, you can maintain your memory and cognitive function while also lowering your risk for diseases associated with dementia. Minor episodes of forgetfulness will most likely still occur every so often but your overall memory will hopefully remain in generally good health.
For more information, see the full Successful Aging pocket guide here.https://www.psychologytoday.com/us/blog/how-healing-works/202001/how-maintain-memory-you-age?collection=1146785
Disclaimer
Lansing Street Advisors is a registered investment adviser with the State of Pennsylvania..
To the extent that content includes references to securities, those references do not constitute an offer or solicitation to buy, sell or hold such security as information is provided for educational purposes only. Articles should not be considered investment advice and the information contain within should not be relied upon in assessing whether or not to invest in any securities or asset classes mentioned. Articles have been prepared without regard to the individual financial circumstances and objectives of persons who receive it. Securities discussed may not be suitable for all investors. Please keep in mind that a company's past financial performance, including the performance of its share price, does not guarantee future results.
Material compiled by Lansing Street Advisors is based on publically available data at the time of compilation. Lansing Street Advisors makes no warranties or representation of any kind relating to the accuracy, completeness or timeliness of the data and shall not have liability for any damages of any kind relating to the use such data.
Material for market review represents an assessment of the market environment at a specific point in time and is not intended to be a forecast of future events, or a guarantee of future results.
Indices that may be included herein are unmanaged indices and one cannot directly invest in an index. Index returns do not reflect the impact of any management fees, transaction costs or expenses. The index information included herein is for illustrative purposes only