1. Technology Stocks Set for Best Half Since Internet Bubble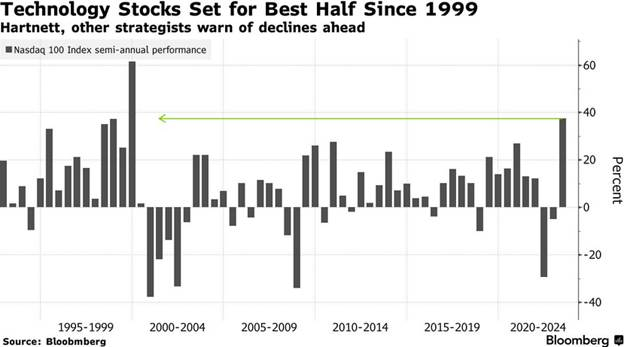 ---
2. Nasdaq vs. Small Cap Russell 2000 (small cap) Record Spread Twice in 3 Years
From Nasdaq Dorsey Wright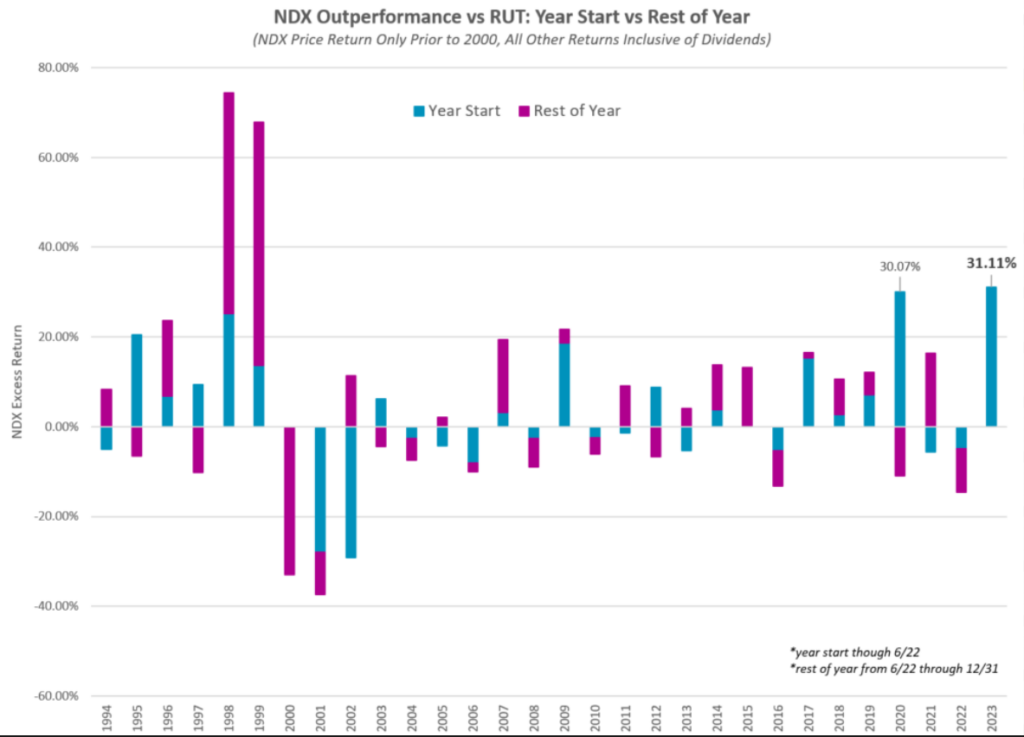 ---
3. Nasdaq Cap Weight vs. Equal Weight Hit Previous Highs
This chart is showing you QQQ cap weighted vs. equal weight QQQ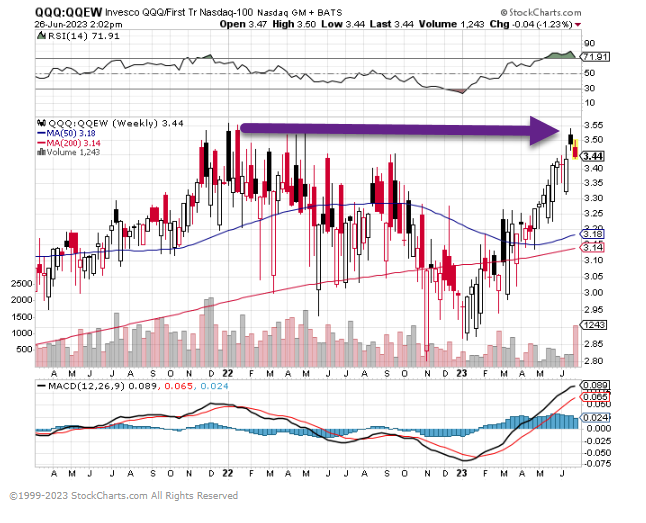 ---
4. Cap Weighted Means 7 Stocks When It Comes to Nasdaq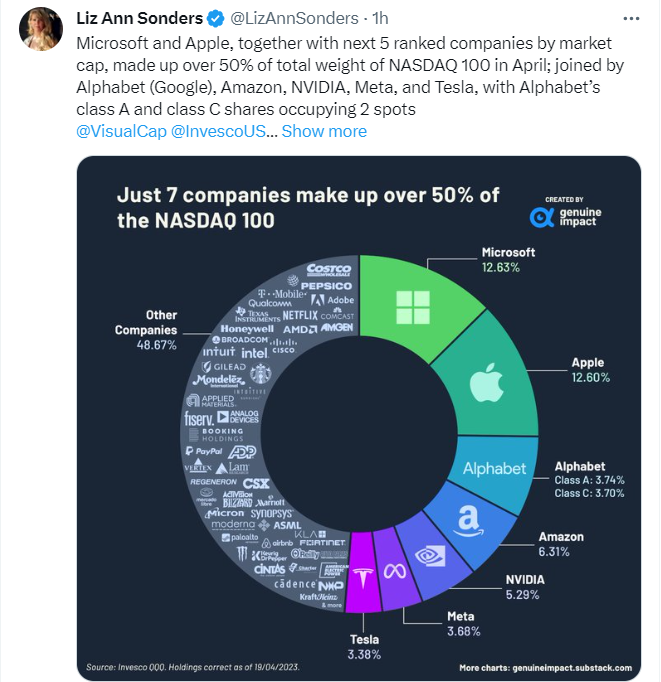 ---
5. June Will Be Busiest Month for Options Trades Ever
Marketwatch By Joseph Adinolfi  Trading in U.S. stock option contracts has surged in 2023 as retail and institutional traders have harnessed bullish call options to chase a runaway rally in U.S. stocks, market analysts told MarketWatch.As of Friday, 46 million option contracts linked to U.S. equity indexes, individual stocks and exchange-traded funds have traded hands every trading session on average this month, according to an analysis by Callie Cox, a U.S. equity strategist at eToro.This means that, barring a sudden drop-off in trading activity, June is on track to be the busiest month for option traders ever, Cox said. That is particularly notable given that the summer months are typically more placid on Wall Street."It's pretty incredible for a summer month. It shows how engaged investors are after such a strong rally," said Callie Cox, a U.S. equity strategist at eToro, during an interview with MarketWatch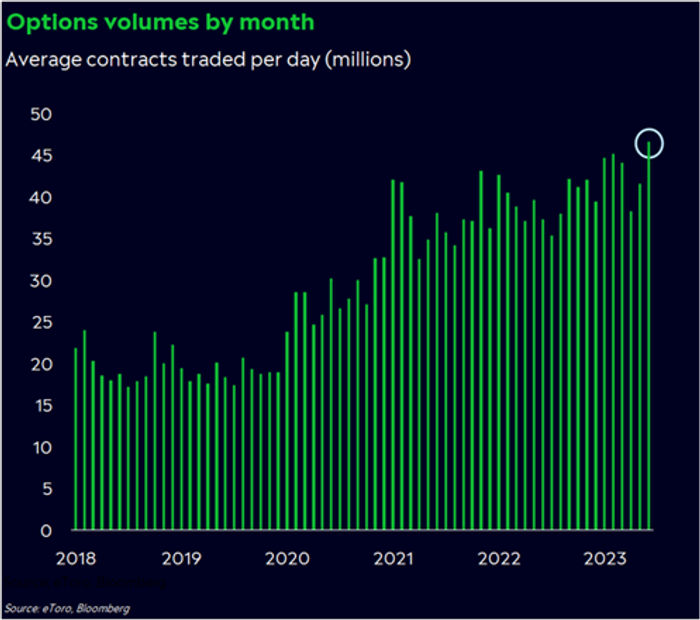 https://www.marketwatch.com/story/option-demand-explodes-in-june-as-investors-use-bullish-bets-to-chase-stock-market-rally-e10b0d50?mod=home-page
---
6. S&P Duration Between 3% Drawdowns
Jim Reid Deutsche Bank In this week's piece (link here) they show an interesting graph that suggests that we're now in the 85th percentile of periods since WWII without a 3% drawdown in the S&P 500. This has been 73 trading days and over 3 months in real life. Due to a combination of this, positioning, and where vol currently is, they think we're due a 3-5% modest correction.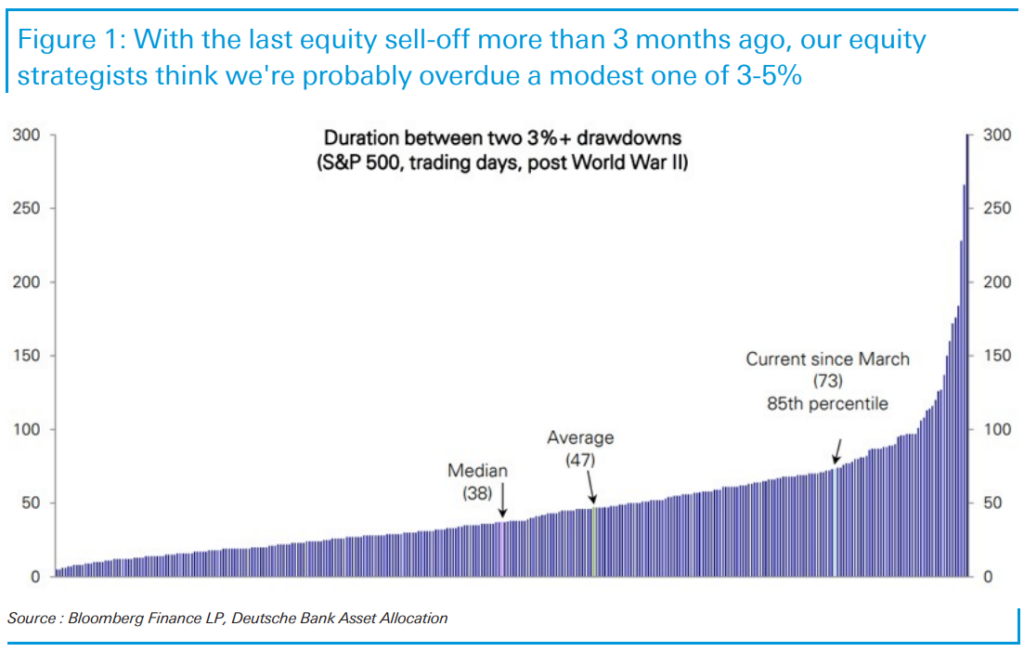 ---
7. Solar panel prices are 85% lower than they were a decade ago, adjusted for inflation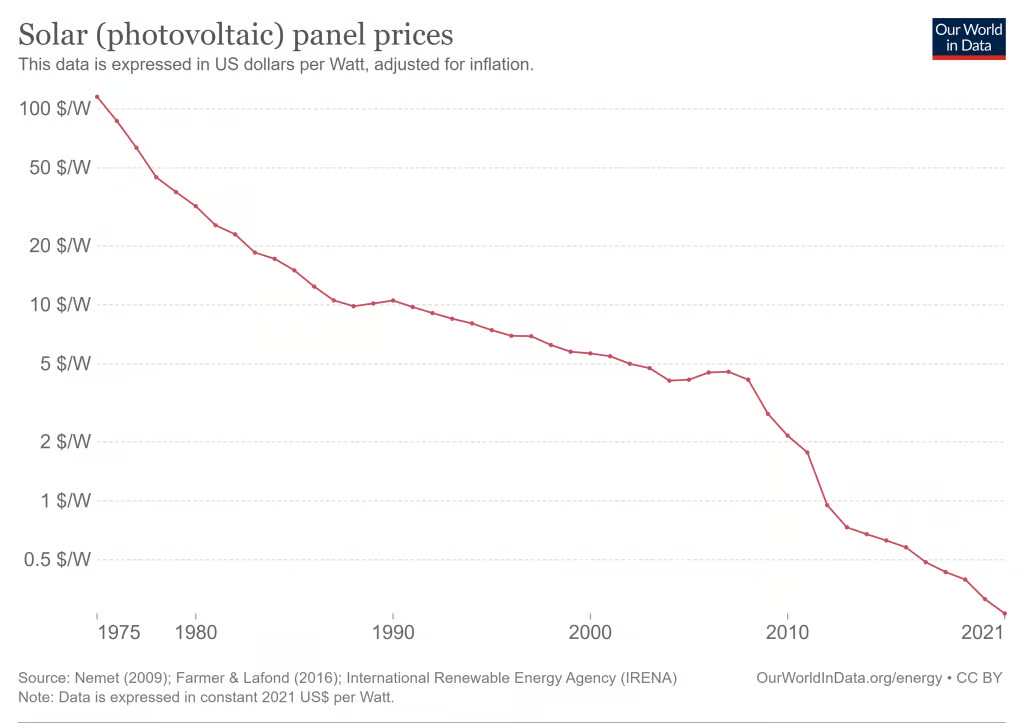 TAN Solar Stocks ETF about to break 200-week moving average …..-30% from 2021 highs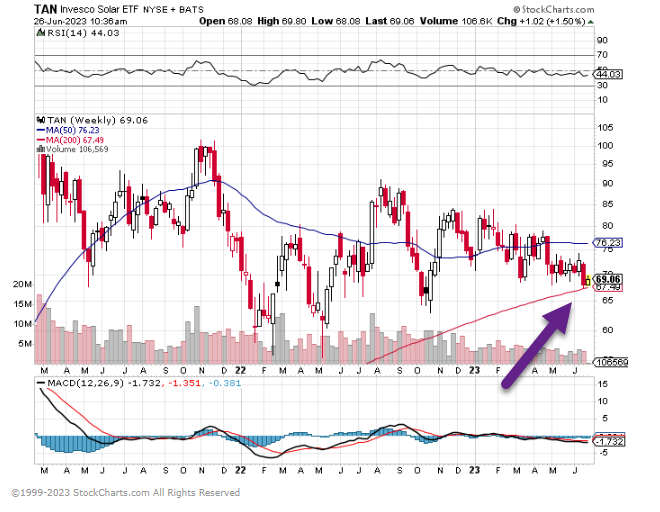 ---
8. Recent weakness in net loan issuance illustrates China's challenges
Vanguard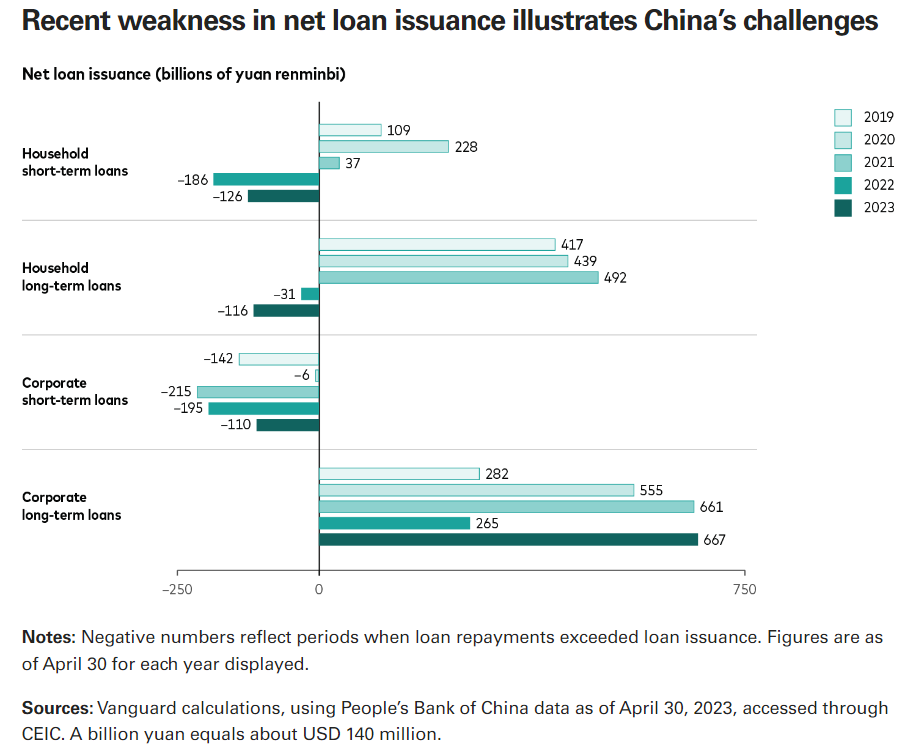 Notes: Negative numbers reflect periods when loan repayments exceeded loan issuance. Figures are as of April 30 for each year displayed.
Sources: Vanguard calculations, using People's Bank of China data as of April 30, 2023, accessed through CEIC. A billion yuan equals about USD 140 million.
https://advisors.vanguard.com/insights/article//series/vanguardmarketperspectives?cmpgn=FAS:EM:NWLTR:810295603552&suid=&crd=%%Advisor_CRD_Number%%&guid=%%Contact_GUID%%#emerging-markets
---
9. Pickleball Injuries May Cost Americans Nearly $400 Million This Year, According to UBS
Bloomberg By Joe Weisenthal As for the ultimate math UBS writes  First, we forecast 150% growth in pickleball players for 2023 or about 22 mn players. On volumes, we estimate the following: 1) total ED visits and hospitalizations informed by Weiss' findings; 2) total outpatient visits and outpatient surgeries based on ED to outpatient care ratios from the American Hospital Association; and 3) post-acute episodes based on 1.5 30-day episodes per outpatient surgery and hospitalization.
In total, we estimate 67k ED visits, 366k outpatient visits, 8.8k outpatient surgeries, 4.7k hospitalizations, and 20k post-acute episodes. We then use the nature of pickleball injuries and care setting to inform our estimates of unit pricing. All said, we estimate $377 mn of medical costs related to pickleball of which $302 mn (80%) is attributable to the outpatient setting and $75 mn (20%) is attributable to the inpatient setting.
While more activity is generally seen as good and healthy, the analysts offer a somewhat depressing conclusion: "While we generally think of exercise as positively impacting health outcomes, the "can-do" attitude of today's seniors can pose greater risk in other areas such as sports injuries, leading to a greater number of orthopedic procedures."

https://www.bloomberg.com/news/articles/2023-06-26/pickleball-injuries-may-cost-americans-nearly-400-million-this-year-according-to-ubs?sref=GGda9y2L
---
10. Learning
Eric Barker Newsletter
Effective learning is not intuitive. And it's made even more unintuitive by the fact that your brain is lazy and will play devil-on-your-shoulder the entire time. It wants to do what is easy, not necessarily what's effective. And when it comes to learning, what feels like it's working often doesn't and what feels like it isn't working often does. When you feel stupid, it's usually a sign you're getting smarter.

Time to outsmart our brains. If you need to learn a new topic or skill for work, if you're a student studying for exams, or if you just want to get better at a hobby or area of interest, this is the post for you. (And if you have kids in your house, this is something you'll want to review with them. This way in a few years they'll be getting acceptance letters from prestigious schools and not planning an inside job at Dunkin Donuts.)

Daniel Willingham is a professor of psychology at the University of Virginia. His book is "Outsmart Your Brain: Why Learning is Hard and How You Can Make It Easy."
Sum Up
Here's how to outsmart your brain and learn effectively…
What Doesn't Work: The tip of your highlighter is where wisdom goes to die. Take notes, remember that familiarity is not comprehension, and cramming doesn't work over the long haul.
Organizing: Preparing to study is studying. Organizing your notes is critical for memory. (If you took notes on this post, you get a gold star.)
Meaning: Some subjects are complex and when the professor speaks all you hear is Charlie Brown's teacher talking. But we comprehend and remember better when we take the time to create meaning. Don't abstractly memorize; create a schema that the facts and ideas all fit into.
Self-Testing: It's king. Yes, the nerdy kid in school making flash cards was right and you were wrong. Sorry. And don't learn – overlearn.
During The Test: Don't be distracted by the scent of looming catastrophe. Make an effort to remember. If you did the work above, it will make a difference. And be afraid don't be afraid to change answers.