1. VIX Call Buying
Dave Lutz Jones Trading Traders are piling into wagers that would profit if that occurred. More call options tied to the VIX have changed hands on an average day in June than in any other month on record, according to WSJ – Among the most actively traded options tied to the VIX in recent sessions have been those tied to the gauge jumping to as high as 47.5 or 30, a sign that some traders are positioning for more tumult later this year.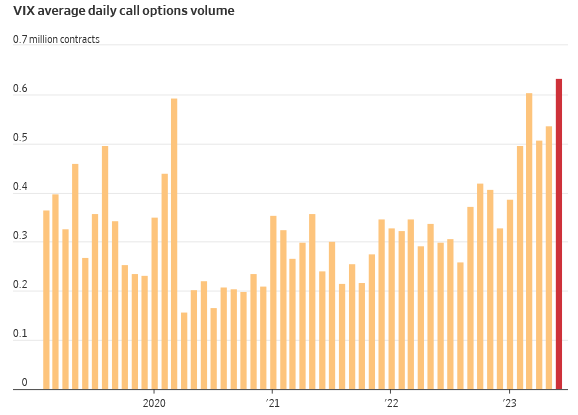 ---
2. Nasdaq 1% Days
Dorsey Wright Another positive sign can be seen by breaking down the count of "extreme" days so far this year by the direction of the move. By random happenstance, the breakdown of positive to negative 1% days in 2023 directly follows the breakdown of the days in Q1 and Q2; there have been 30 positive 1% days and 19 negative 1% days. Said another way, 25% of the trading days so far this year have seen NDX move at least 1% higher, while 15.83% have seen it move at least 1% lower. That equates to a 9.17% spread between the percentage of positive days and the percentage of negative days, which is the most extensive spread favoring positive days since 2009. Only two other years have seen a larger spread, which occurred in 1998 (9.92%) and 1999 (11.90%).
The important point with this spread data is that we are seeing significantly more sharp moves higher than sharp moves lower this year, which has historically only occurred in two market environments: the formation of the dot-com bubble in the late 1990s and the bear market exit in 2009. The current market environment has been attributed to both of those timeframes. Some view the current AI-induced mania as the beginning of another bubble. It is worth pointing out that the overall percentage of 1% days experienced by the NDX would not support this theory in the same way that we saw in the late 1990s. At that time, the NDX saw the percentage of volatile days continuously elevating from 58% in 1997 to sitting north of 70% from 2000 through 2002. So, while we saw significantly more positive 1% days than negative 1% days in the final two years of the 20th century, the overall level of volatility was continuing to rise as well. Fast forwarding to the current market environment, we are faced with a very different picture. Overall volatility has come down sharply over the past few months, but the days that have been "extreme" have seen consistent movement higher.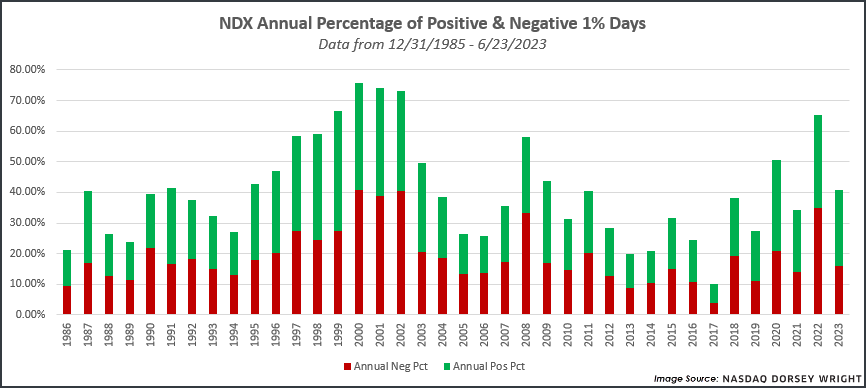 https://www.nasdaq.com/solutions/nasdaq-dorsey-wright
---
3. S&P Intra-year Drawdowns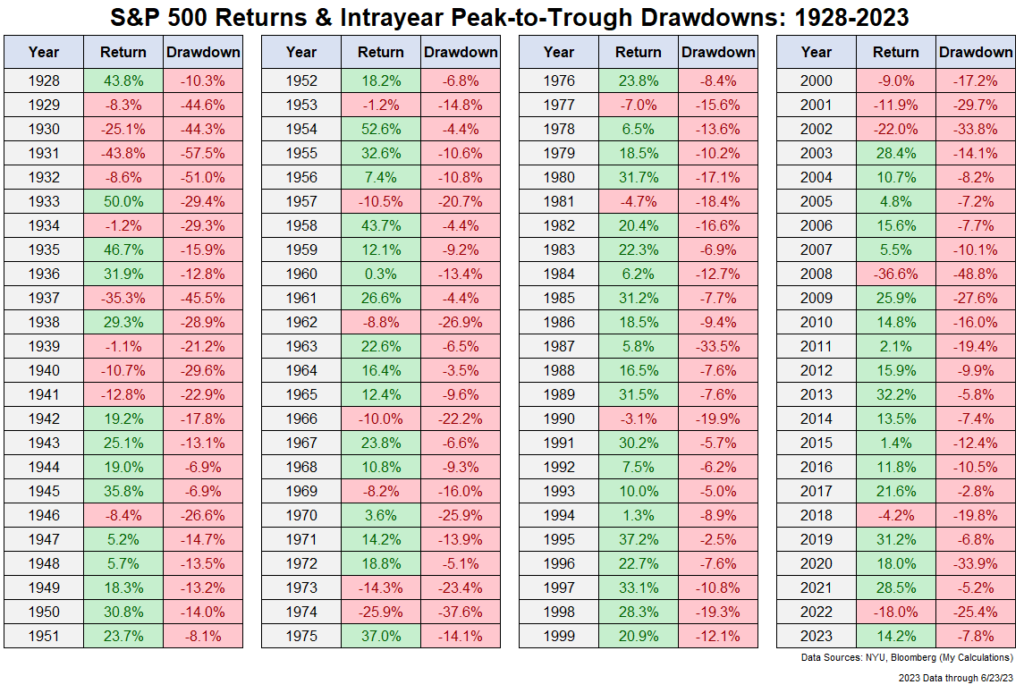 Found at Barry Ritholtz The Big Picture
Blog https://ritholtz.com/2023/06/10-tuesday-am-reads-432/
---
4. Nasdaq 34 Straight Days Overbought Technicals
Bespoke Investment Group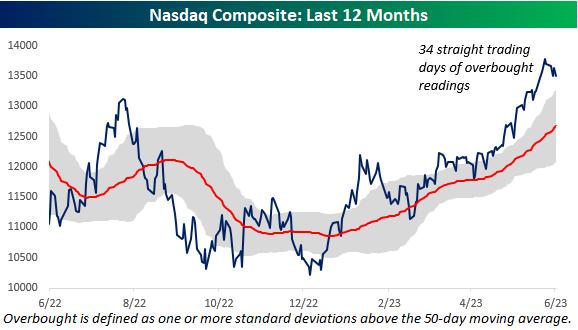 https://twitter.com/bespokeinvest
---
5. Walgreens Broke to New Lows
Walgreens thru 2022 low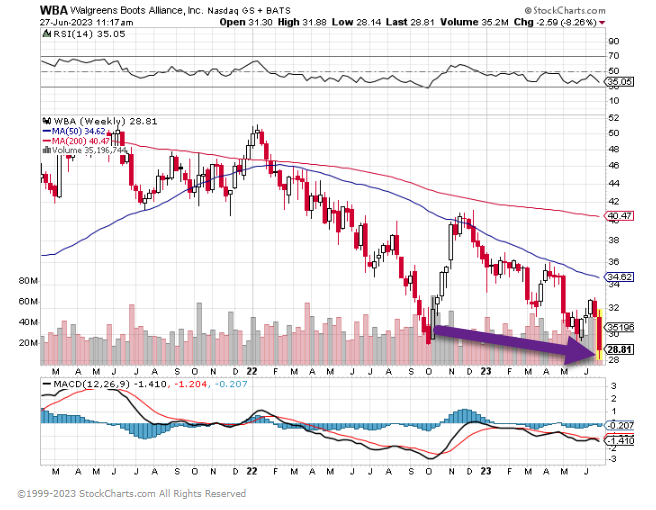 ---
6. Forward P/E Ratios by Sector in S&P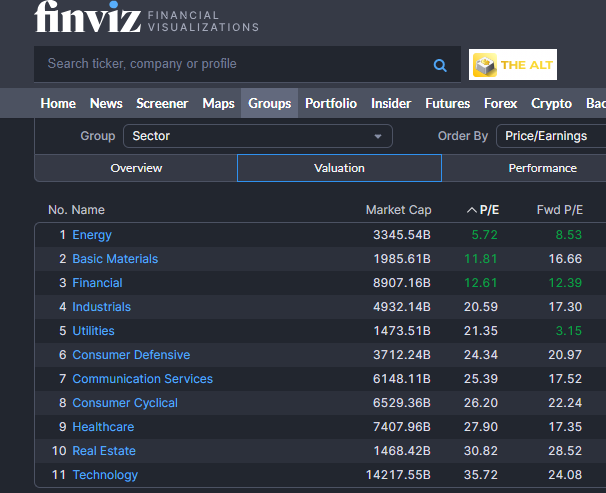 https://finviz.com/groups.ashx?g=sector&v=120&o=pe
---
7. With the World Focused on Clean Energy…XLE Energy ETF vs. ICLN Clean Energy
XLE outperforming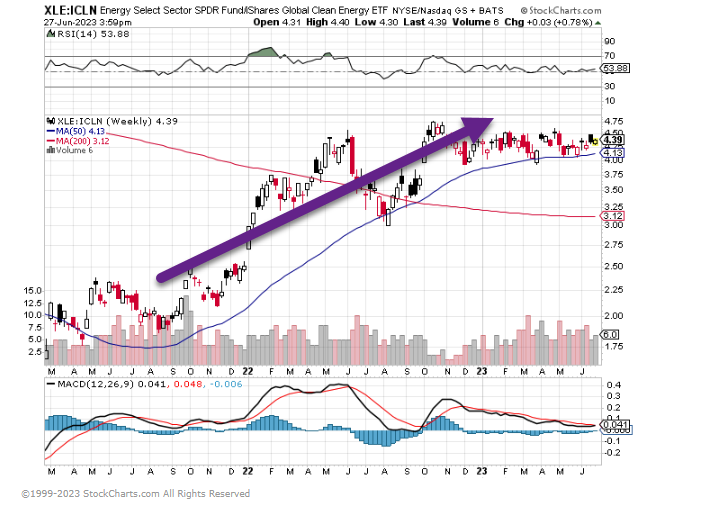 ---
8. Share of Homes Bought Cash—Baby Boomers Have A lot of Money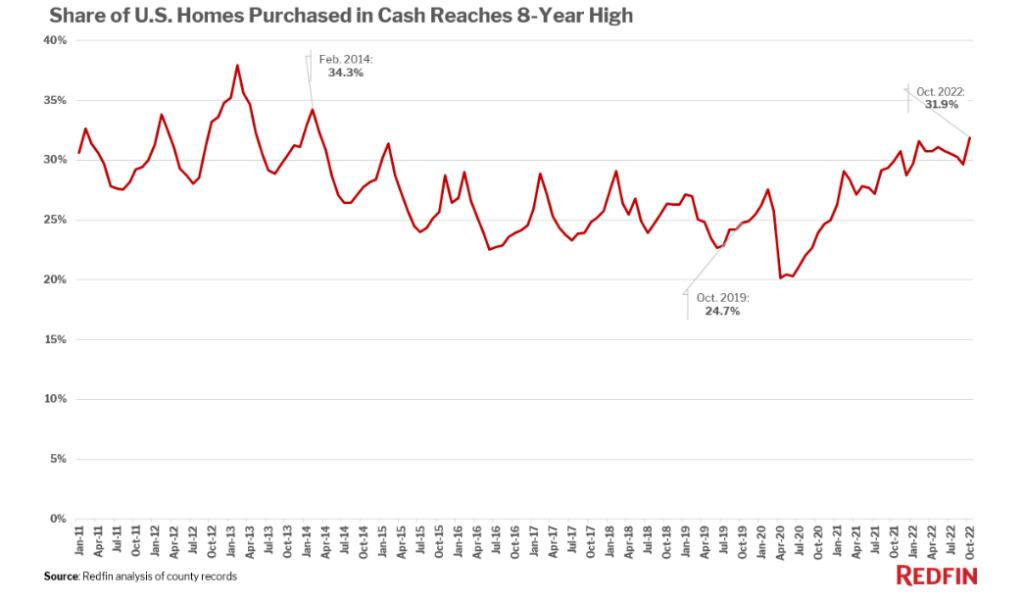 https://www.redfin.com/news/all-cash-home-purchases-fha-loans-october-2022/
---
9. Magic Mushrooms. LSD. Ketamine. The Drugs That Power Silicon Valley
Entrepreneurs including Elon Musk and Sergey Brin are part of a drug movement that proponents hope will expand minds, enhance lives and produce business breakthroughs
WSJ By Kirsten Grind
Elon Musk takes ketamine. Sergey Brin sometimes enjoys magic mushrooms. Executives at venture-capital firm Founders Fund, known for its investments in SpaceX and Facebook, have thrown parties that include psychedelics.
Routine drug use has moved from an after-hours activity squarely into corporate culture, leaving boards and business leaders to wrestle with their responsibilities for a workforce that frequently uses. At the vanguard are tech executives and employees who see psychedelics and similar substances, among them psilocybin, ketamine and LSD, as gateways to business breakthroughs.
"There are millions of people microdosing psychedelics right now," said Karl Goldfield, a former sales and marketing consultant in San Francisco who informally counsels friends and colleagues across the tech world on calibrating the right small dose for maximum mindfulness. It is "the fastest path to opening your mind up and clearly seeing for yourself what's going on," said Goldfield.
Goldfield doesn't have a medical degree and said he learned to dose through experience. He said the number of questions he gets about how to microdose has grown dramatically in recent months.
The account of Musk's drug use comes from people who witnessed him use ketamine and others with direct knowledge of his use. Details about Brin's drug use and the Founders Fund parties come from people familiar with them.
Musk, his attorney and a top adviser didn't respond to requests for comment. A spokeswoman for Brin, the co-founder of Google, didn't respond to requests for comment.
The movement isn't a medical experiment or a related investment opportunity, but a practice that has become for many a routine part of doing business. It comes with risks of dependence and abuse. Most of the drugs are illegal. Before he was killed in April in San Francisco, Bob Lee, the founder of CashApp, was part of an underground party scene known as "the Lifestyle," where the use of psychedelics was common. Lee had ingested drugs including ketamine before his death, an autopsy showed.
Silicon Valley has long had a tolerance toward drug use—many companies don't test employees regularly—but the phenomenon is worrying some companies and their boards, who fear they could be held liable for illegal activity, according to consultants and others close to the companies.
Users rely on drug dealers for ecstasy and most other psychedelics, or in elite cases, they employ chemists. One prolific drug dealer in San Francisco who serves a slice of the tech world is known as "Costco" because users can buy bulk at a discount, according to people familiar with the business. "Cuddle puddles," which feature groups of people embracing and showing platonic affection, have become standard fare.
Some start dabbling with psychedelics in search of mental clarity or to address health issues and end up using the drugs more frequently at Silicon Valley parties or raves, where they have taken a role similar to alcohol at a cocktail party.
Invitations to psychedelic parties are often sent through the encrypted messaging app Signal, rather than over email or text, so they can't be shared easily. At some high-end private parties, users are asked to sign nondisclosure agreements and sometimes pay hundreds of dollars to attend, according to people who have attended or received invitations.
https://www.wsj.com/articles/silicon-valley-microdosing-ketamine-lsd-magic-mushrooms-d381e214
---
10. Write in Notebooks
The Daily Stoic  In Walter Isaacson's wonderful biography of Leonardo Da Vinci, he spends a lot of time dissecting and exploring the ideas in Da Vinci's notebooks. As Isaacson observed of Da Vinci's lifelong habit of journaling: "Five hundred years later, Leonardo's notebooks are around to astonish and inspire us. Fifty years from now, our own notebooks, if we work up the initiative to start them, will be around to astonish and inspire our grandchildren, unlike our tweets and Facebook posts."
Paper, Isaacson says, is one of the best technologies ever invented.
Marcus Aurelius's paper journals survive to us today and remain best read in print. Much of what is in those journals was influenced by the handwritten notes Rusticus took while sitting and listening to the lectures of Epictetus. The simple letters that Seneca penned by hand to a friend also endure.
And it's remarkable that the contents of those enduring pieces of paper would fill the journals, commonplace books, and published books of writers over the centuries and for centuries more to come.
Stop wasting your time tweeting and texting and snapchatting. Or at least steal some of that time to start producing your own notebooks. Create something that, if the centuries aren't astonished and inspired by them, at least your family can be. Issacson again: "They'll be around 50 years for…your grandchildren or great-grandchildren."
Take his advice. Get a notebook. And start writing!