1. The Nasdaq Tends to Rise into the Final Fed Rate Hike.
Equities: The Nasdaq tends to rise into the final Fed rate hike.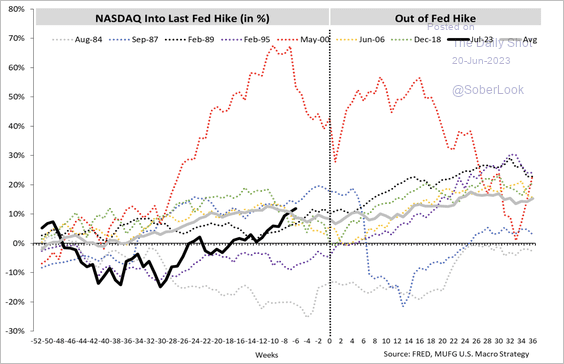 ---
2. Equity Earnings Yield Equal to U.S. 3 Month Treasury.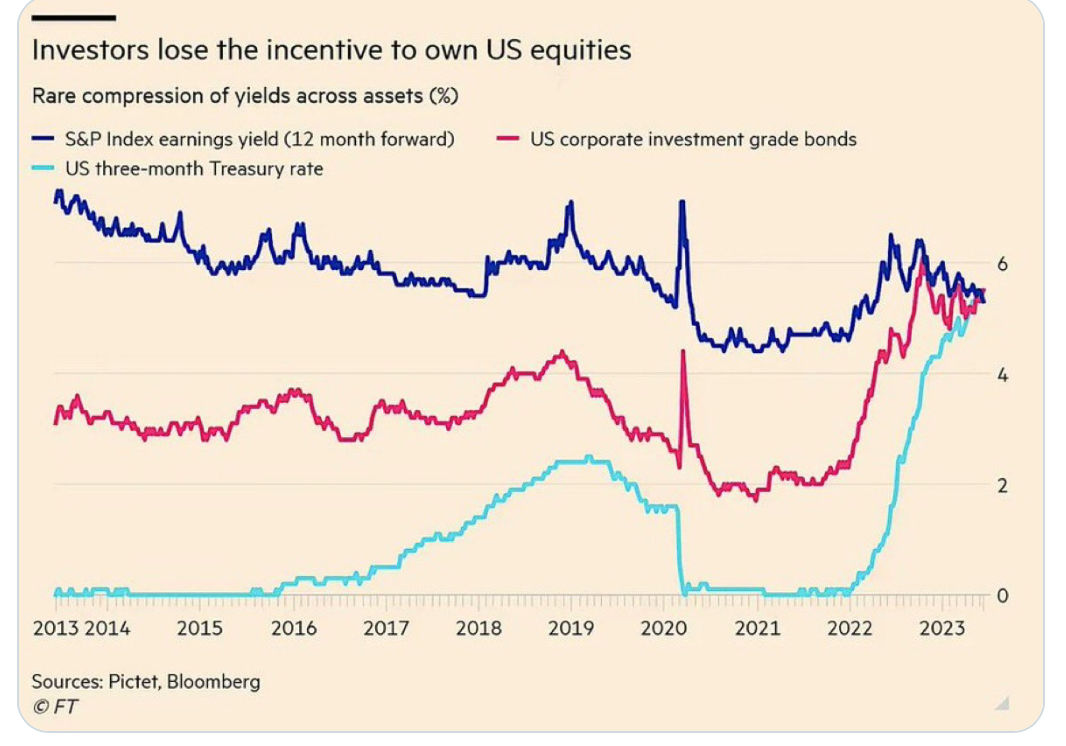 ---
3. Tesla Running Up to Next Level of Resistance.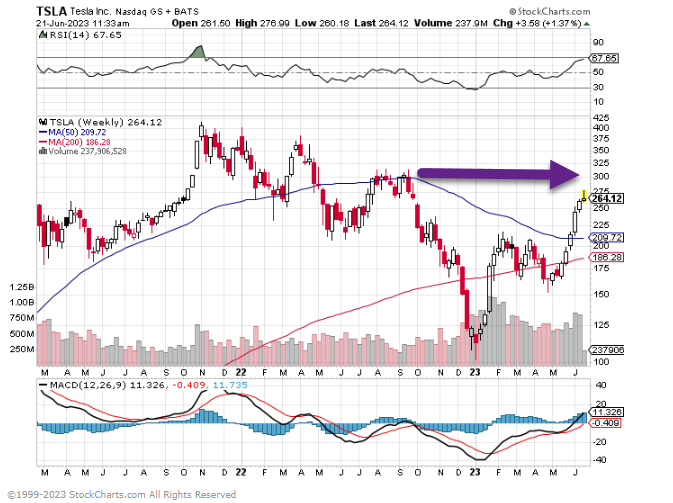 ---
4. NVDA Two Insider Sellers From Board
https://markets.businessinsider.com/news/stocks/nvidia-board-member-sells-51-million-worth-of-stock-ai-2023-6?_gl
NVDA RSI 87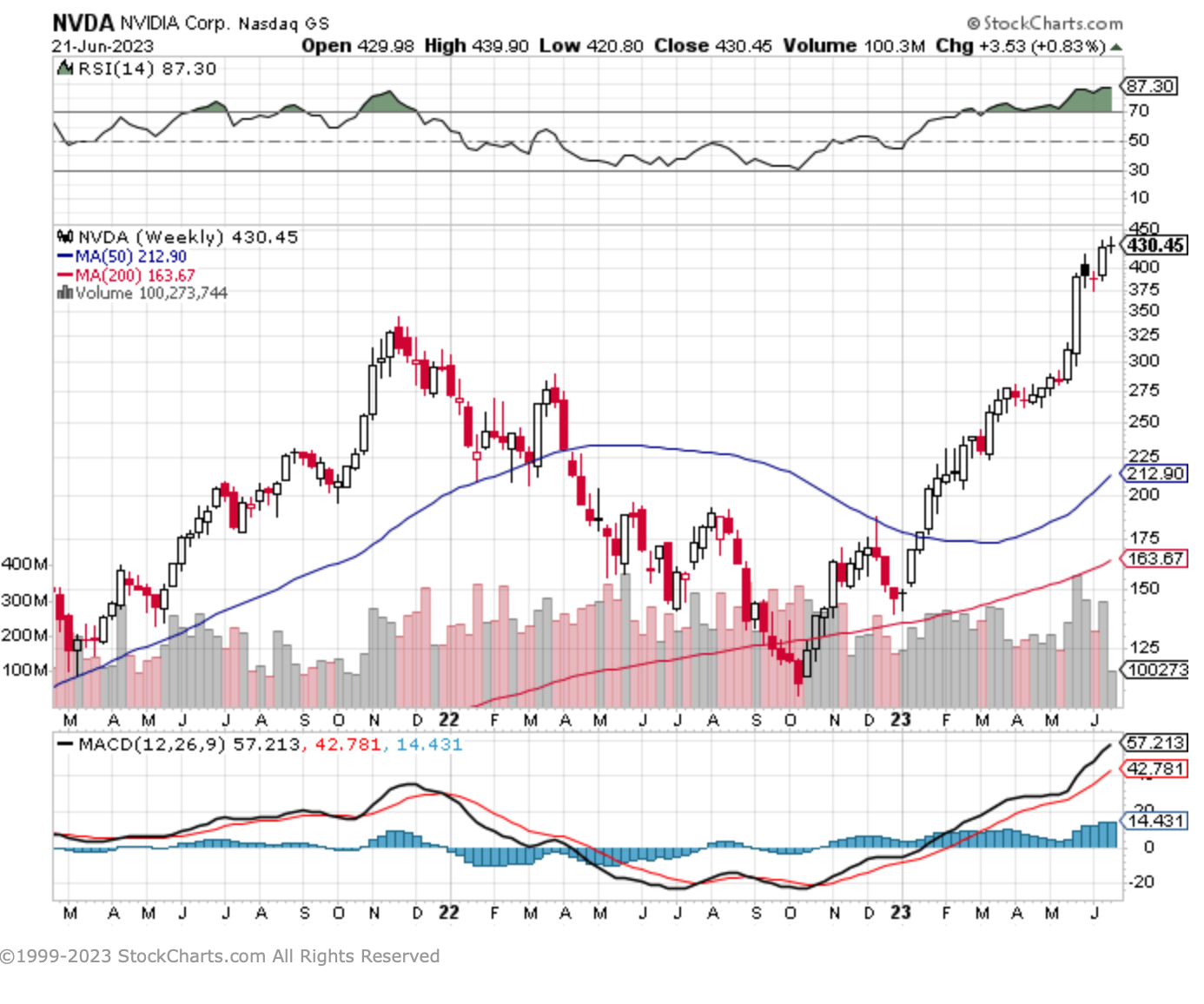 ---
5. China Trade Situation After 30 Years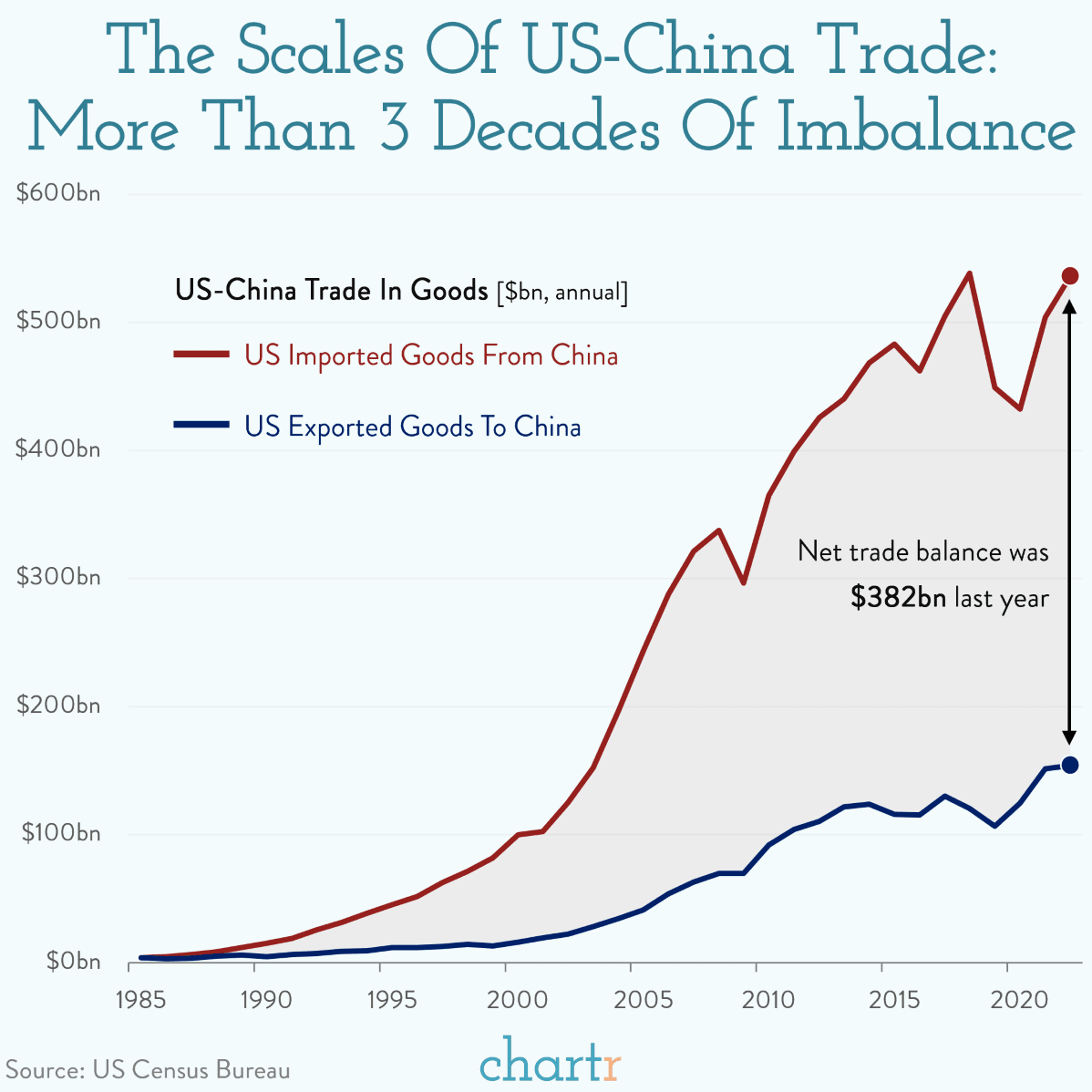 ---
6. India Stepping to the Forefront
POLITICS
Modi means business on his US state visit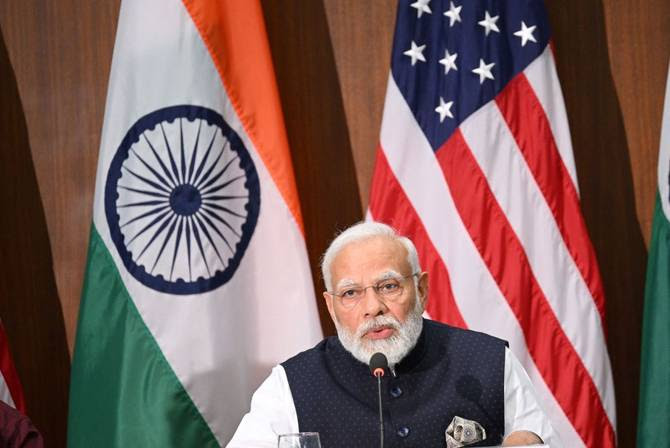 India's Prime Minister Narendra Modi arrived in the US on Tuesday, and tonight he'll be feted at a state dinner—making him only the third world leader to get one during Joe Biden's presidency. While we don't know whether the guest of honor will enjoy the saffron-infused risotto, we do know what he'll be talking about in between bites: deepening economic ties.
One major topic will be a guest not invited: China. With US–China relations fraught, American companies are looking to diversify their manufacturing base, and India has been seizing the opportunity that provides.
India and the US are already plenty economically intertwined—especially in the tech sector:
Apple has shifted some iPhone production from China to India, and CEO Tim Cook attended the opening of the nation's first Apple store in April.
About half of IBM's workforce is located in India, according to Axios.
Around 60 Fortune 500 companies are run by CEOs of Indian origin, including Google and Adobe.
And with CEOs from Apple, Microsoft, FedEx, and Marriott among the anticipated guests at tonight's gala, per CNBC, the relationship will only get stronger. New deals are expected to be announced during Modi's stay, and he's hoping to return home with:
A promise from Tesla. The prime minister met with self-proclaimed Modi "fan" Elon Musk on Tuesday, and Musk said Modi pushed for "significant investments" in India—which Musk said he intends to make. The Tesla CEO said the company will be in India "as soon as humanly possible."
Permission to manufacture military jet engines. It's been in the works for a while, but the Biden administration will probably officially authorize General Electric to make F414 engines in India, a necessary step since defense technology is heavily regulated.
There's a catch: Both the US and India want to counter China's economic might, but there are concerns about Modi's record on human rights: He has cracked down on dissent and free speech and helped sow religious discord.—AR
India ETF 50day crossing thru 200day to upside.

---
7. Globalization Eliminated 8m High Paying Manufacturing Jobs in America.
Jack Ablin Cresset Globalization was responsible for not just increased profitability, but also higher productivity, lower inflation and modest interest rates. These benefits, however, came at the expense of high-paying manufacturing jobs. Between 1988 and 2009, more than eight million jobs were eliminated from America's manufacturing sector, leaving a trail of unemployment and despair. These families represented the seeds of the populist movement that has germinated in recent years.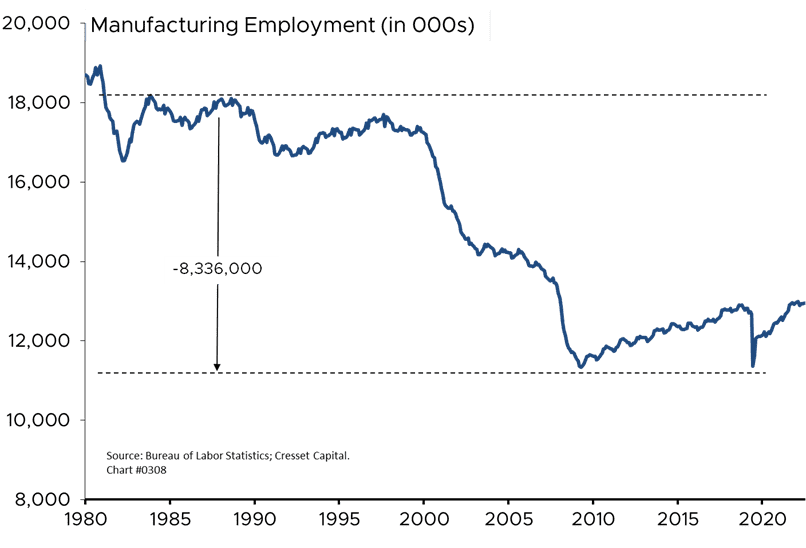 https://cressetcapital.com/post/big-business-and-congress-on-collision-course/
---
8. Housing Record Tight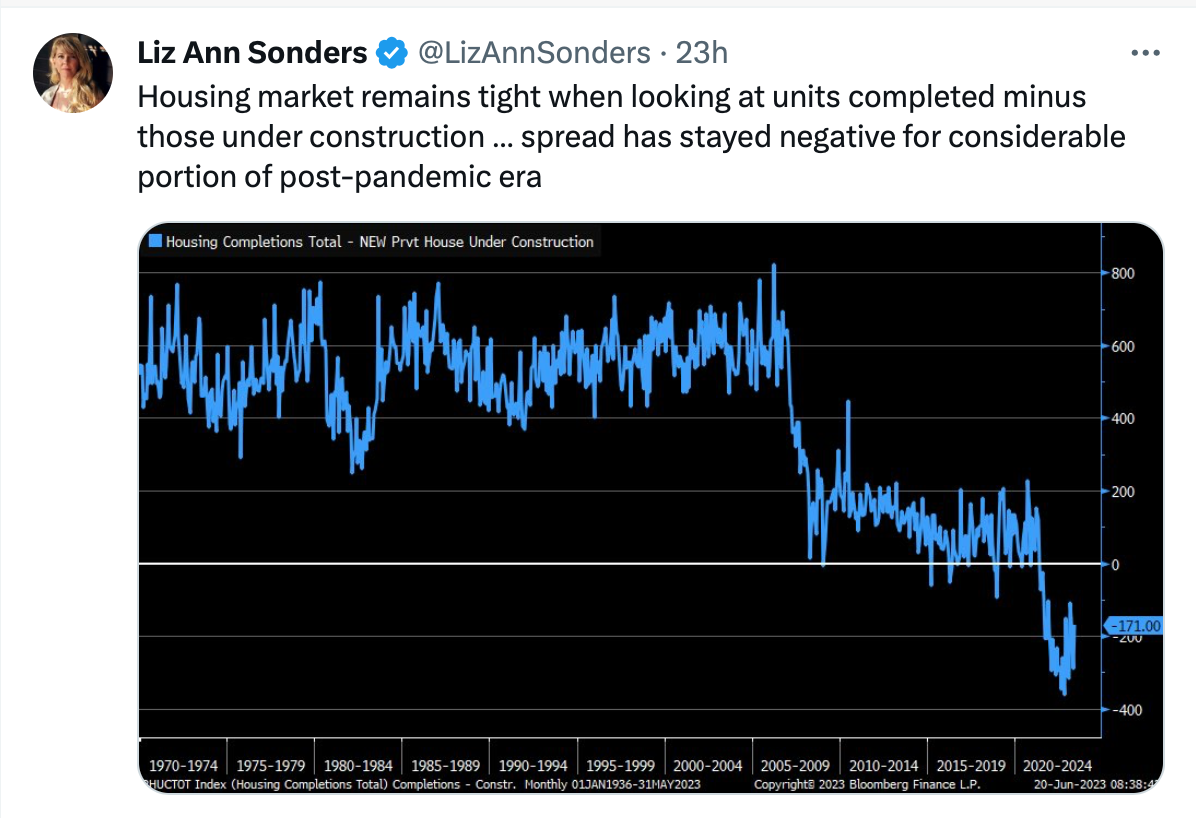 ---
9. Number of Homes for Sale the Lowest Number on Record
Dave Lutz Jones Trading Data from Redfin show number of homes for sale in U.S. fell by 7.1% y/y to 1.4 million (seasonally adjusted) as of May … lowest level on record (going back to 2012) and first annual decline since April 2022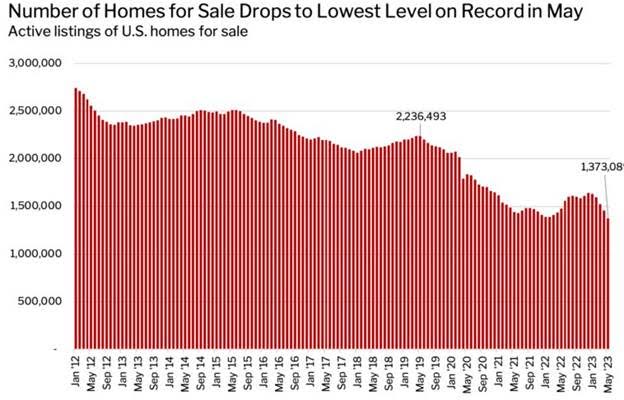 ---
10. How to Reduce Your Self-Esteem in 8 Easy Steps
Psychology Today- Padraic Gibson D.Psych
We must remember it's not what you are but what you can become. We know that self-esteem is not inherited, but it is constructed. By following the simple and ancient Chinese stratagem of "knowing to straighten something by bending it first", we must try each day to ask ourselves, how could I worsen my self-esteem to learn how to improve it? In asking ourselves this question, we can already identify eight dysfunctional patterns that, if repeated in a rigid and generalized way, will ensure the success of our problem. These are:
1. Complaining.
Very often talking about one's difficulties initially produces relief, but in the long run, it amplifies and complicates the extent of one's discomfort and transforms pain into suffering.
2. Seeking help.
It is reassuring because if we receive it, it also means that the person who "helps us" cares about us, but unwittingly they may also be communicating another message to us: "I help you because you are not capable of helping yourself," thus triggering a dependency on others and weakening ourselves.
3. Avoidance.
Feeling fear in the face of some situations can be natural, and so is the primordial instinct to avoid it, but if at that moment it produces relief in the long run, our perception of danger increases, as does the inability to deal with such situations.
4. Self-Fulfilling Prophecy.
Our actions influence the opinions that others have of us, determining their behaviours which, in turn, reinforces and confirms our beliefs and our actions.
5. Postpone.
Cultivating the illusion that we can act effectively but in reality failing to do so is a great way to weaken our determination and corrupt our ability to make and take decisive action, which is at the heart and soul of self-esteem.
6. Saying yes when we should say no.
In an attempt to acquire greater security, it is sometimes easy to give into the temptation to always say 'yes' to people's demands, in the illusion that our self-esteem can be increased by being more likeable or compliant. Nothing could be further from the truth. Saying yes to avoid having to say no is at the root of many social and relational difficulties.
7. Neglect yourself.
Contrary to common sense, dressing in a too-humble or disheveled way can worsen people's views of us. Remember that there is rarely a second chance to make a good first impression.
8. Surrender.
"You are defeated, only when you surrender". Detrimental to our survival as humans is to avoid surrendering or believing nothing will come of our ideas. We should keep pushing forward until our goal is reached.
https://www.psychologytoday.com/us/blog/escaping-our-mental-traps/202306/how-to-reduce-your-self-esteem-in-8-easy-steps