1. Money Supply and Inflation
Jack Ablin
Huge Increase in Money Supply But 5 Year CPI Hooking Down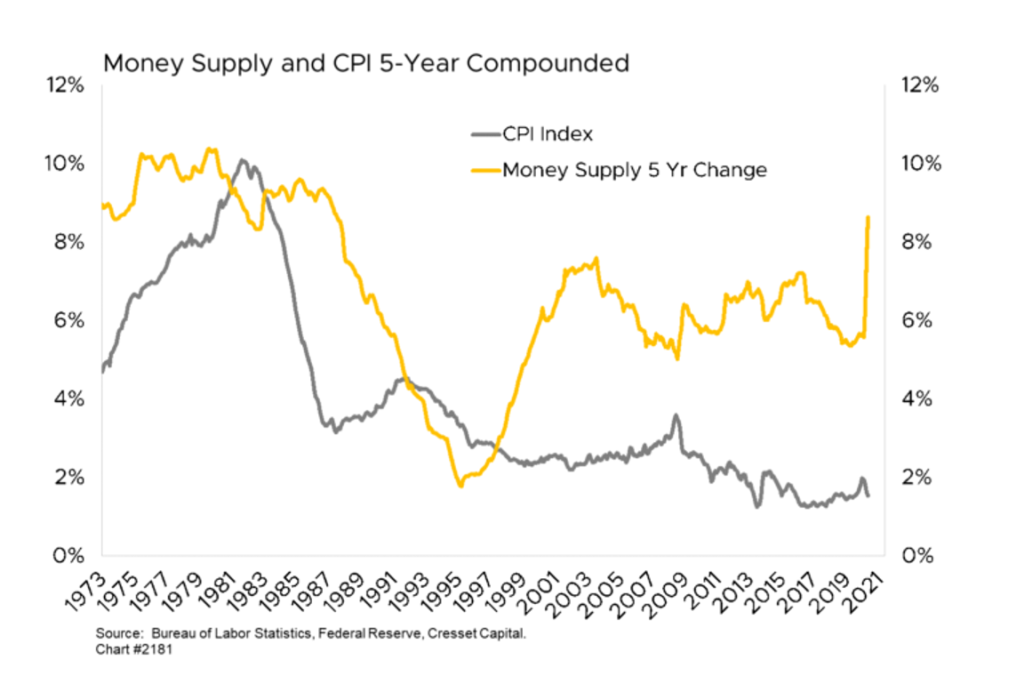 Source: Jack Ablin, Cresset Wealth Advisors
The Daily Shot https://blogs.wsj.com/dailyshot/2020/06/25/the-daily-shot-entering-the-slow-phase-of-the-recovery/
2. Re

tail Bankruptcies 2020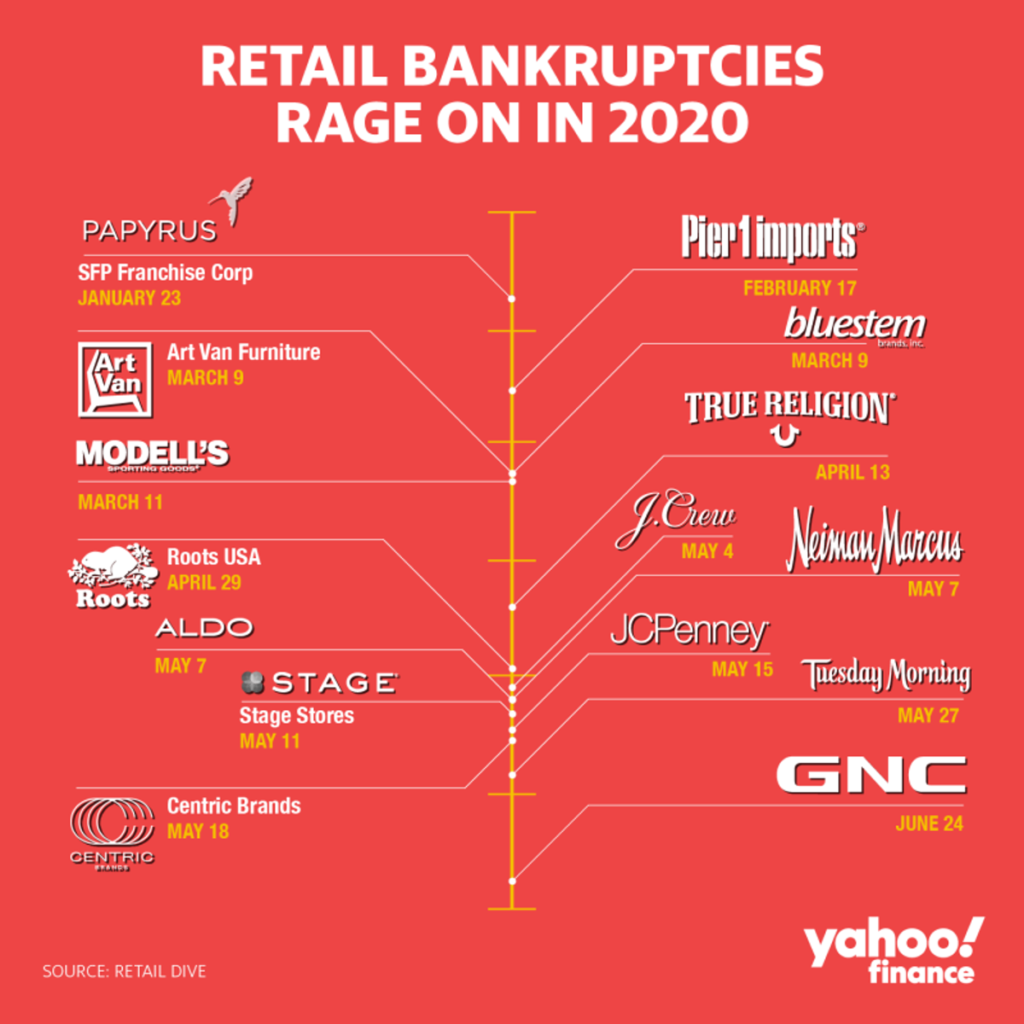 'A scary number' of retail companies are facing bankruptcy amid the coronavirus pandemic Brian Sozzi
https://finance.yahoo.com/news/a-scary-number-of-retail-companies-are-facing-bankruptcy-amid-the-coronavirus-pandemic-180604964.html
3. Virus Outbreak vs. Consumer Spending….Credit Card Spending was Getting Back on Track Rapidly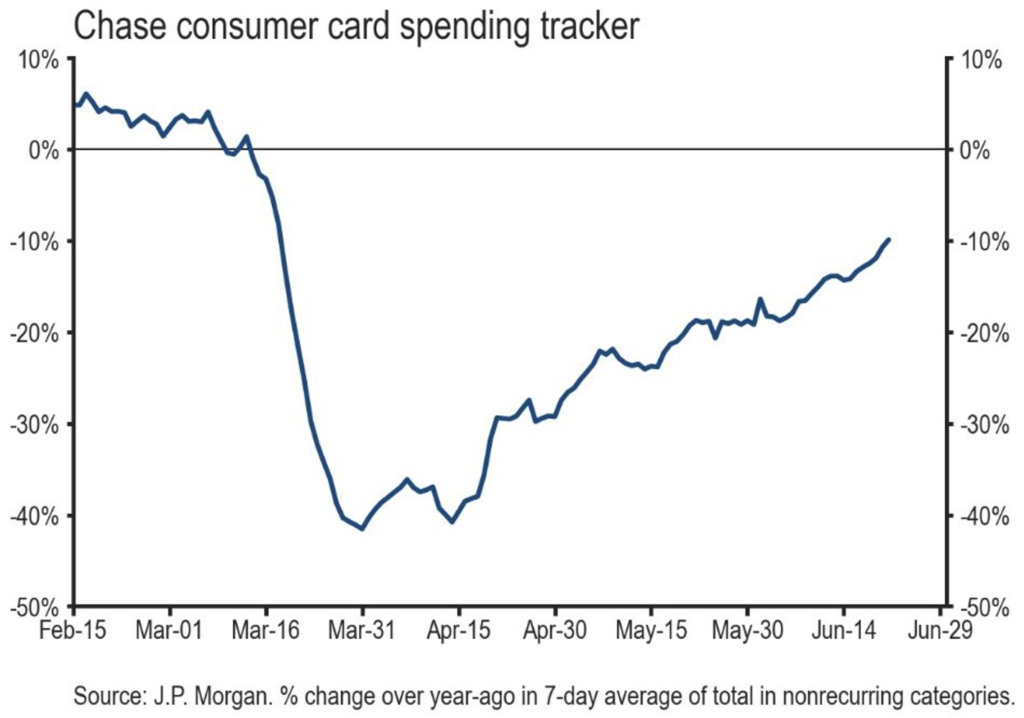 JPMORGAN: "Our tracker of spending by 30 million Chase credit and debit cardholders has continued to rebound in recent weeks even as #COVID19 has begun spreading rapidly again in some states."
CARL QUINTANILLA
https://twitter.com/carlquintanill a
4. Regulators Lower the Standards of Volcker Rule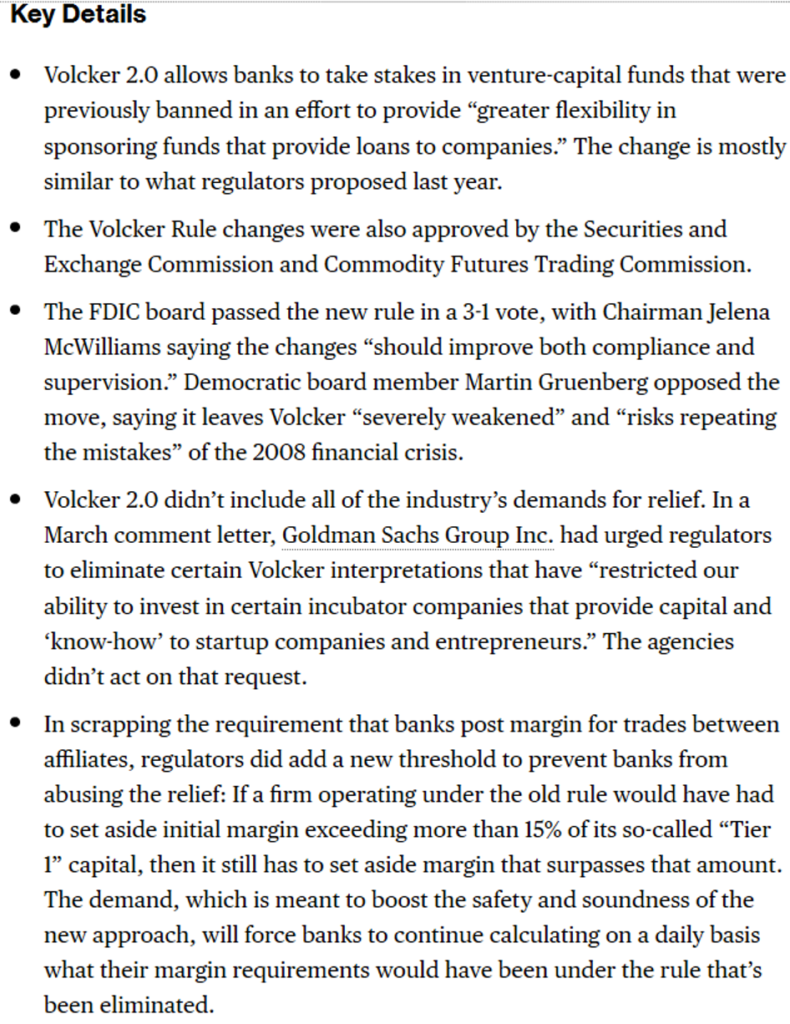 Banks Get Easier Volcker Rule and $40 Billion Break on Swaps By Jesse Hamiltonhttps://www.bloomberg.com/news/articles/2020-06-25/banks-get-easier-volcker-rule-and-40-billion-reprieve-on-swaps?sref=KkPzpZvz&utm_source=morning_brew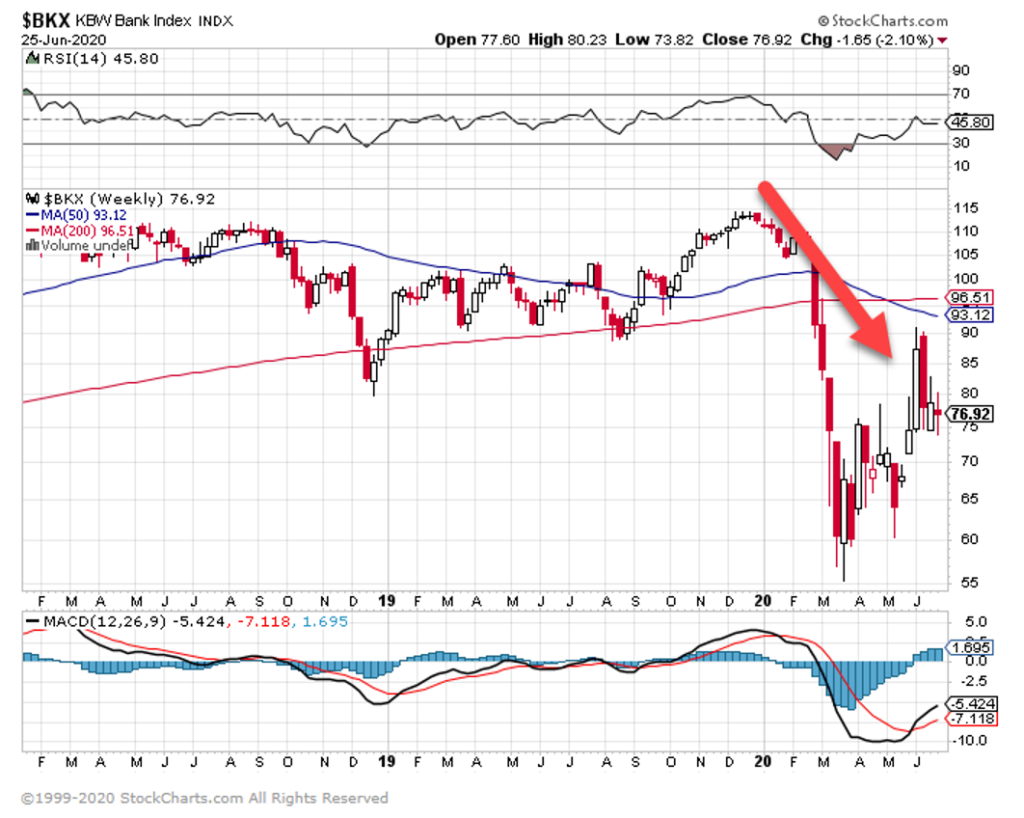 5. Barry Ritholtz Poll Show Economists Have "Consensus" Slow Recovery Thesis…..0% Expect a V
Consensus Rarely Plays Out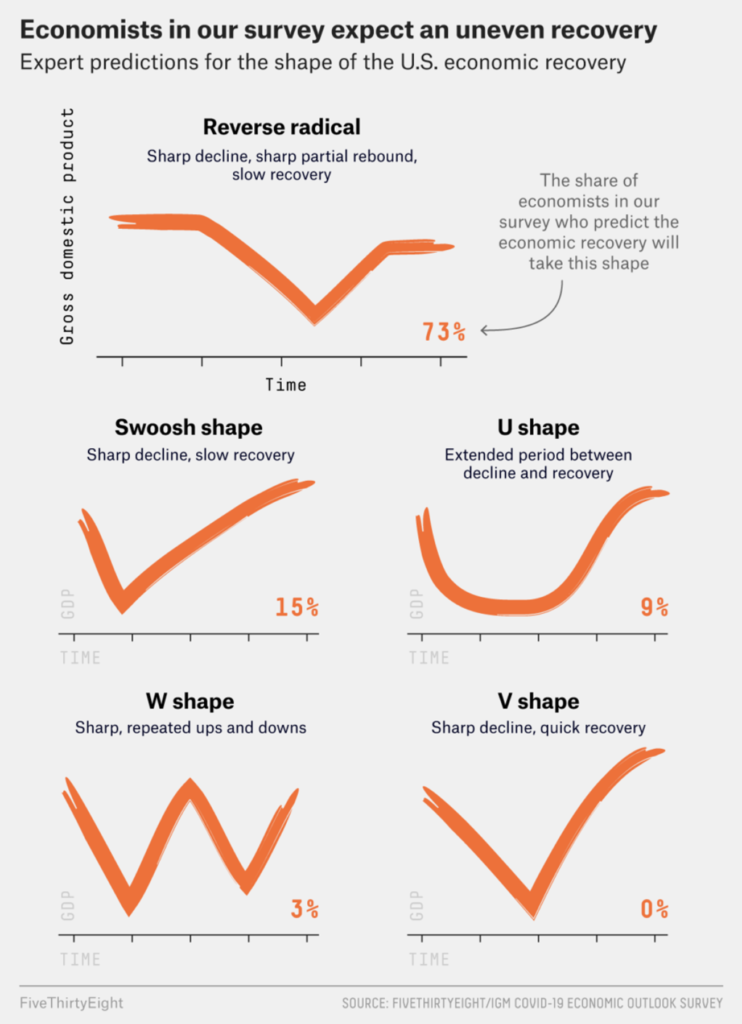 https://ritholtz.com/wp-content/uploads/2020/06/survey.png
6. Average Daily Option Volume Spike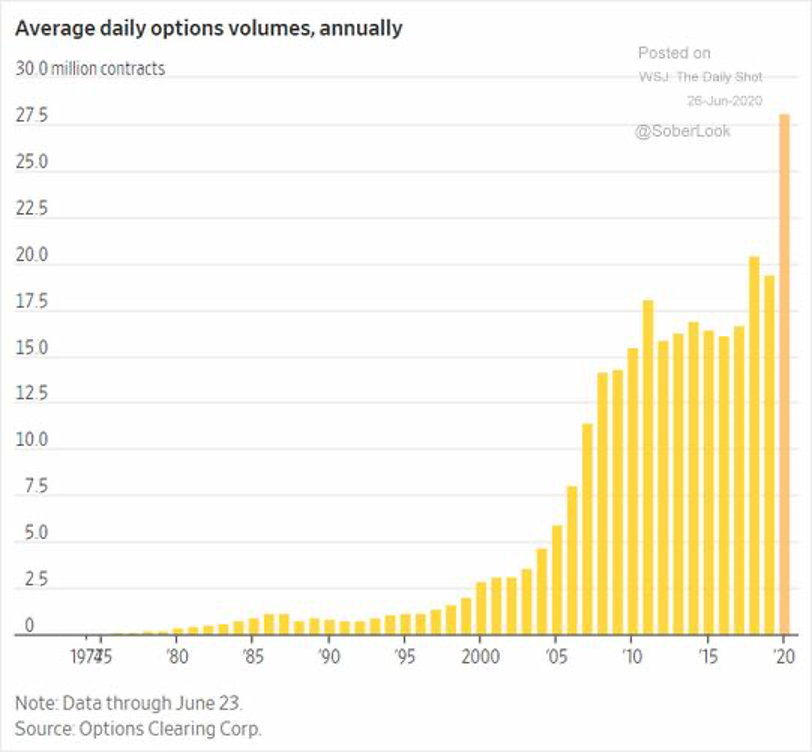 7. Digital Camera Sales -87% in 10 Years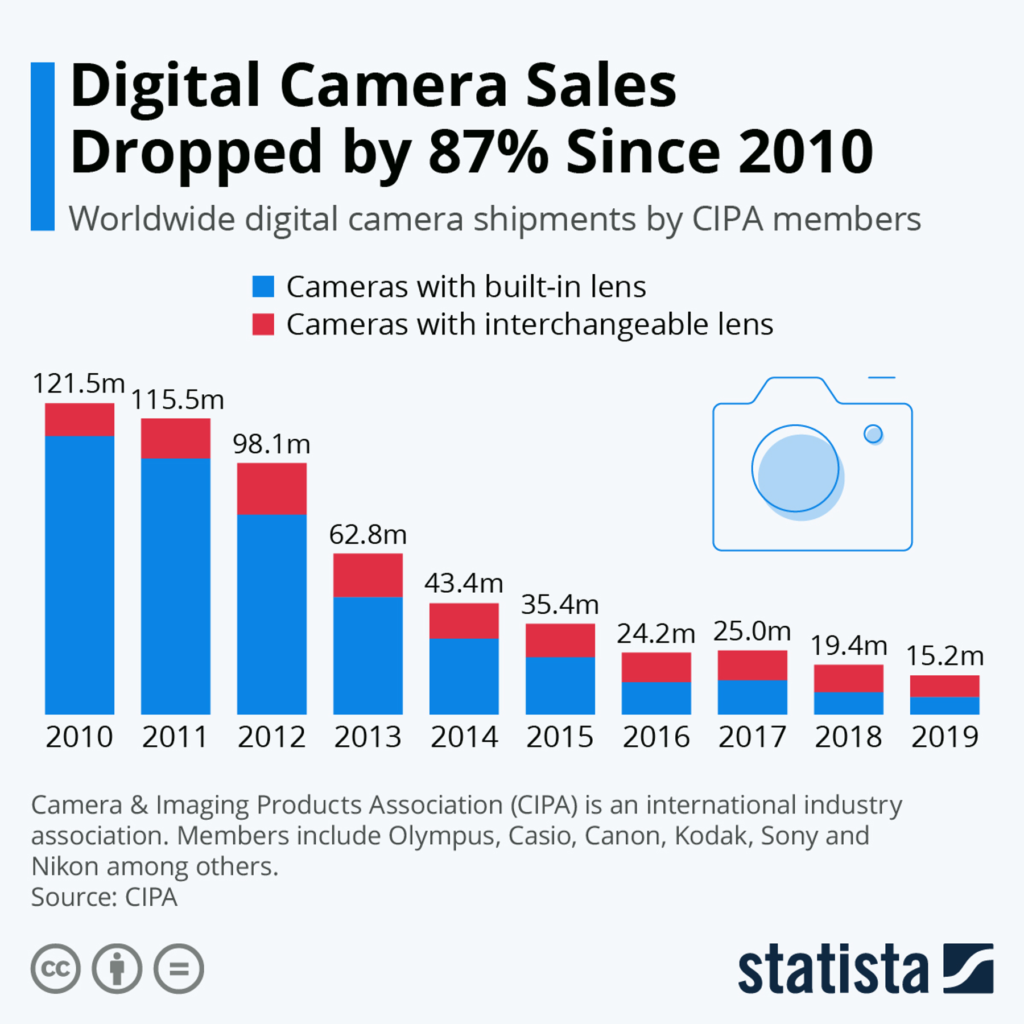 8. Huge Disparity in Assets Between Between Baby Boomers and Millennials at Same Age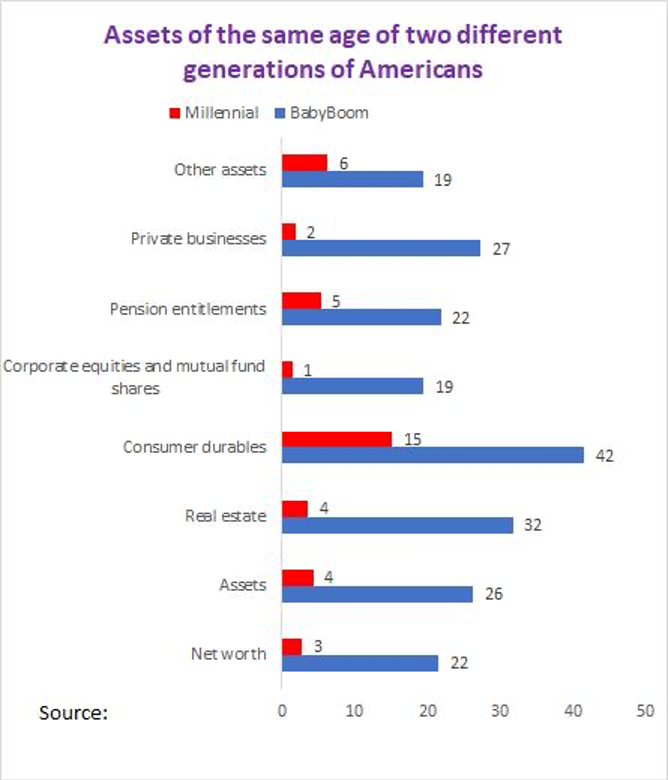 Daniel Crosby, Ph.D.
1st degree connection1st
9. Where the science stands on using face masks against coronavirus
Scientific evidence shows face masks can help to control the spread of the novel coronavirus, but the nuances and changes in messaging about their use are complicating public health efforts.
Why it matters: COVID-19 cases are rising in many parts of the U.S., but politics, distrust in public health advice and science are coming to a head over face masks.
The latest: The Centers for Disease Control and Prevention will reportedly update its recommendations on masks again after studying whether they help to protect people from the virus.
Early on in this pandemic, when highly protectiveN95 masks were in short supply, public health officials in the U.S. said the public did not need to wear masks.
Their recommendation changed as it became clear that people without symptoms — or who aren't showing them yet — can spread the virus and that even basic cloth face coverings combined with social distance measures may slow transmission.
Between the lines: The mask messaging mishap reflects a "lack of confidence in the public's ability to process nuances and act responsibly, so that rather than be transparent about the limited protection offered by masks and the risks of supply problems, officials and journalists told the public they were useless," David Wallace-Wells writes in New York magazine.
What's known: Wearing face masks "could result in a large reduction in risk of infection," according to a recent review of 172 studies looking at the effectiveness of masks in reducing the spread of SARS-CoV-2 and other coronaviruses.
Mandating of masks in 15 states plus D.C. may have helped to avert at least 230,000 cases of COVID-19 by May 22, according to a study published in Health Affairs last week. (The study measured the effect of the policies, not mask use directly.)
And countries that adopted widespread mask wearing sooner had significantly lower death rates and shorter outbreaks, according to another new study.
Where it stands: The WHO and the CDC recommend mask use in health care settings, if you or someone you live with is sick, and where social distancing is difficult (for example, in stores or on public transit).
N95: These masks, which block 95% of small particles (0.3 microns or larger) when properly fitted, protect the person wearing it and those around them. But there are ongoing shortages of these masks and the CDC says they should still be reserved for health care workers.
KN95: These masks are similar to N95 ones but are produced in China under the country's standards. The FDA shortened their list of approved KN95 manufacturers after some were found to be faulty.
Surgical masks: They're meant to stop large droplets of saliva coming from the person wearing the mask but about 75% of droplets may be blocked from entering, too.
Cloth masks: The many configurations of cloth masks may block 30–60% of particles, according to the same preprint study that assessed surgical masks. (The authors found adding a layer of nylon stocking increased the efficiency by 15–50%.)
The WHO recommends a mask with three layers — an absorbent cotton inside, a filter and a nonabsorbent outer layer.
"Cloth masks protect everyone around you, first and foremost," says Werner Bischoff, a professor of infectious diseases at Wake Forest University School of Medicine. "They can filter out some of the viruses you breathe but that is not what they are there for.
The epidemiology of how SARS-CoV-2 spreads inside a community points more to the virus being transmitted by large droplets that don't travel far, says Bischoff. "Those large droplets get caught in material very easily."
Yes, but: The virus can be detected more than 6 feet away from someone who is infected, and there is some evidence it is still viable and infectious. But it is unclear how much of the virus someone has to be exposed to — and for how long — to be infected.
"In an ideal world, N95 masks should be what everyone is having, for when they are exposing other people and for when they are exposed to other people, so this way you will prevent both infecting others and being infected," says Sangwei Lu, an adjunct professor of infectious diseases and vaccinology at University of California, Berkeley's School of Public Health.
But Lu says she encourages people to wear whatever masks they can find.
Even if wearing a cloth mask reduces transmission by 10%, that percentage of 2 million cases ends up being a large number, Lu points out.
The big picture: Masks aren't the pandemic silver bullet. Social distancing and shutdown policies are also key. By one estimate, such policies prevented or delayed about 530 million infections across China, South Korea, Iran, Italy, France and the U.S.
A study published last week in PNAS that claimed masks alone — not social distancing and other measures — are the most effective way to reduce the virus transmission is facing calls to be retracted.
The bottom line: The changes in mask recommendations have fueled distrust in public health experts as evidence grows of their effectiveness in fighting the coronavirus.
"The most potent weapons in the public arsenal against the pandemic all require buy-in from the public, and this muddled and erratic messaging has already undermined the trust on which such buy-in is transacted," Wallace-Wells writes.
https://www.axios.com/coronavirus-face-mask-science-e9df446b-e7fb-447b-a980-67a9cf73556a.html
10. 5 Basketball Lessons That Taught Me How To Close Consistent Sales
By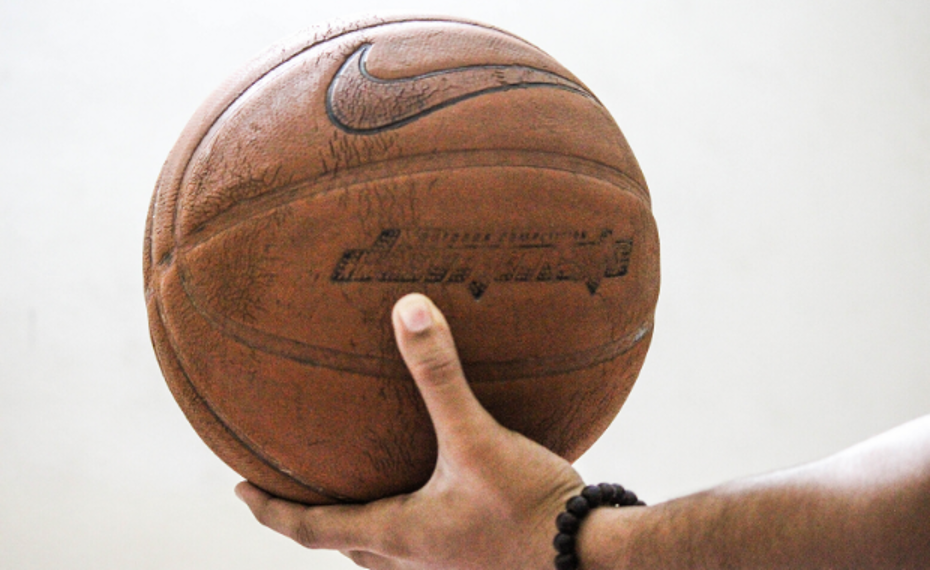 Image Credit: Unsplash
If you'd like to learn how to close consistent sales in your business so you can make money and be successful, sign up for the free 90-Day Master Class hosted by the founder of Addicted2Success.com, Joel Brown.
---
Heart pounding. Skin prickling. Unsure of what the outcome will be. Reminding myself to focus and breathe. Sales and competitive basketball have more in common than you'd think. The same tenacity, drive, and commitment that were required for success in my athletic career were the same things I needed to become successful in sales.
When I became a mortgage loan officer, I was surprised to find that my adrenaline and nerves would spike as I picked up the phone to talk to a prospect, similar to when I was waiting for the ref's whistle to blow to start a make or break play.
If you're new to making sales or haven't quite found your footing yet, these transferable lessons can help you strengthen your skills:
1. Intentional Reps Equal Success
Intention plus action creates momentum. You can be good at anything if you get the reps in and focus on getting better with every set. Taking action for the sake of taking action can exacerbate poor habits, and make you feel like selling just isn't your thing. The truth is that you need intentional practice so you consistently get better.
Athletes are taught to focus on their form while executing different drills and exercises so that they can get the results they want. For example, in basketball, if you wanted to dribble better with your left hand, you would do everything with your left hand for 30 days to increase your coordination and familiarity with your non-dominant side. In sales, if you're nervous about talking to people on the phone, you want to talk to five people minimum on the phone every day for 30 days.
By pushing yourself outside of your comfort zone, you're able to grow. This is what differentiates the people who just get by and the people who consistently close.
"There are no shortcuts—everything is reps, reps, reps." – Arnold Schwarzenegger
2. Little Actions Yield Big Results
Small things can make a big difference, especially over time. If you can commit to doing the little things that make you better, you'll see bigger results. For example, by putting yourself in more sales situations, you have increased your number of leads and chances for closing a sale.
Likewise, if you increase your successful lead generating activities (the ones that you know work) by 20%, you now have more opportunities to sell to the right prospects. The same goes for implementing a 30-minute reach out session each week to existing and potential referral partners. When you put effort into small, important actions, you can actually yield big results in your closing numbers.
3. Learn How To Prioritize
You constantly hear about time management, but how often do you receive help understanding how to manage your time? Time management, in a nutshell, is valuing your time to make sure that you're taking action in a way that actually moves you forward instead of digging you deeper.
For example, doing paperwork and administrative tasks may be an important part of your duties, but if you get lost in those activities, you'll miss out on the opportunity to make more sales.
The truth is that time management is actually priority management. When you think about time management like that, it's easier to see what activities are actually at the top of the list. Here's an exercise that can help you develop a time and priority management system for yourself:
Write out all of your business and sales needs.
Once you have that list, break down your needs into three categories: urgent, important, and nice to have.
Sort your list by category: urgent first, important second, and nice to have last. If you're not sure how to sort these needs, use this question as a guideline: "Is it improving my prospects or process? If no, then it's not urgent."
Looking at your sorted list, how have you been prioritizing up until now? Do you find yourself spending more time than you thought focused on other needs instead of "urgent" needs?
If you realized you've been focusing on needs that are lower priority, it's okay. Most people find out that's what has been happening the first time they do this exercise. The goal is to recognize it and put a system in place that will help you focus on your needs in the proper priority hierarchy.
"The shorter way to do many things is to only do one thing at a time." – Mozart
4. Discipline Matters
There are things that you're not going to want to do that are central to achieving your goals. Discipline is about not giving up and sticking with the plan, even when you don't feel like it. You can see this easily in sports.
For example, there was a difference between the athletes who slacked on offseason and those who stuck to their workout and practice regimens. There was a significant difference between showing up for my workouts consistently or taking a week off, only to feel like I was starting at the beginning again.
It's in the consistency of pushing your boundaries, being willing to be uncomfortable, and taking intentional action that you grow your skill set. This approach increases your mental toughness and makes it easier for you to handle the ups and downs of sales. Discipline gives you the power of process, so there's always something meaningful to do whenever an unexpected stressor hits.
5. Learn To Win & Lose Properly
In sales, you'll often hear about overcoming objections or turning a "no" into a "yes." This advice is a little different. If a prospect gives you a genuine "no," you have to learn how to take that loss as a good sport. Their answer does not automatically mean you did something bad or wrong, nor is it a reflection on how they feel about you as a person. Sometimes, an offer will not fit the needs of a prospect or for some reason, they're not ready to move forward.
Keep in mind that every interaction you have with a prospect is either a relationship-building experience or a relationship-detracting experience, and healthy relationships require you to know how to win and lose with grace.
Where Will You Start?
Your sales journey is going to be full of hills and valleys. There will be moments where you feel like you're treading water and moments where you feel invincible. The key to making that ratio more wins than losses is in how you approach your sales game.
Which of the above lessons will you focus on first to improve your sales game? Share your thoughts with us in the comments!
Which of the above lessons will you focus on first to improve your sales game? Share your thoughts with us in the comments!
Disclaimer
Lansing Street Advisors is a registered investment adviser with the State of Pennsylvania..
To the extent that content includes references to securities, those references do not constitute an offer or solicitation to buy, sell or hold such security as information is provided for educational purposes only. Articles should not be considered investment advice and the information contain within should not be relied upon in assessing whether or not to invest in any securities or asset classes mentioned. Articles have been prepared without regard to the individual financial circumstances and objectives of persons who receive it. Securities discussed may not be suitable for all investors. Please keep in mind that a company's past financial performance, including the performance of its share price, does not guarantee future results.
Material compiled by Lansing Street Advisors is based on publically available data at the time of compilation. Lansing Street Advisors makes no warranties or representation of any kind relating to the accuracy, completeness or timeliness of the data and shall not have liability for any damages of any kind relating to the use such data.
Material for market review represents an assessment of the market environment at a specific point in time and is not intended to be a forecast of future events, or a guarantee of future results.
Indices that may be included herein are unmanaged indices and one cannot directly invest in an index. Index returns do not reflect the impact of any management fees, transaction costs or expenses. The index information included herein is for illustrative purposes only