1. Tech Strength Vs. Broader Index Close to 2000 Highs
Dave Lutz Jones Trading
"The Nasdaq Composite is poised to close at a record, while the S&P 500 is poised to close about 7% below its own record – That's the largest spread between SPX and its own high w/ the Nasdaq Comp at a record since Feb. 2000. Before that, Jan. 1980″ – Callie Cox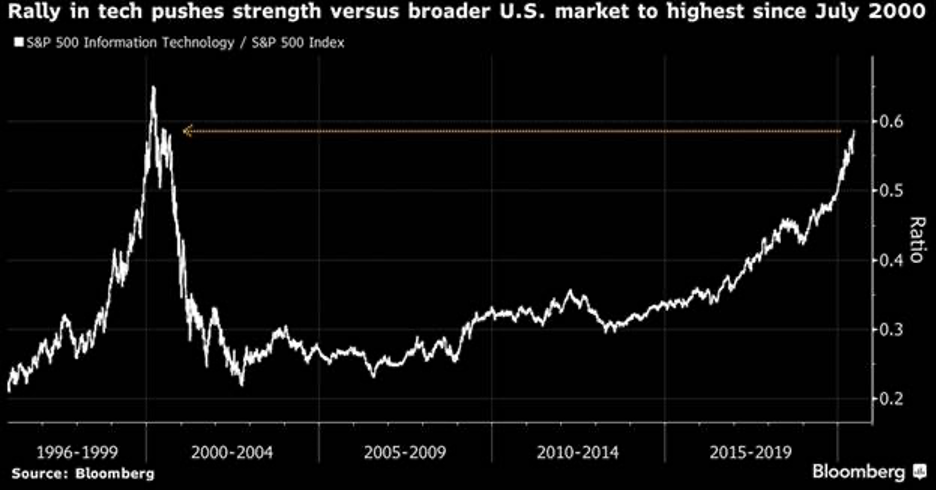 2. If GDP plunges 30%-40% in the 2Q, and then rebounds 23.5% in the 3Q as the CBO predicts, we are nowhere back to where we were
This explains why many businesses are not reopening even though they legally can. Others are reopening but fear they cannot hold out for long. And the many millions of workers in America's vast services sector are realizing that their jobs are simply not essential. This is yet another reason why the economy is not going to come roaring back just ahead.
Let me be clear: I'm not saying there will not be an economic rebound just ahead. There will be, of course, following the worst contraction (-30%-40% in 2Q GDP), but the rebound is almost certain to disappoint. Think of it this way: If GDP plunges 30%-40% in the 2Q, and then rebounds 23.5% in the 3Q as the CBO predicts, we are nowhere back to where we were.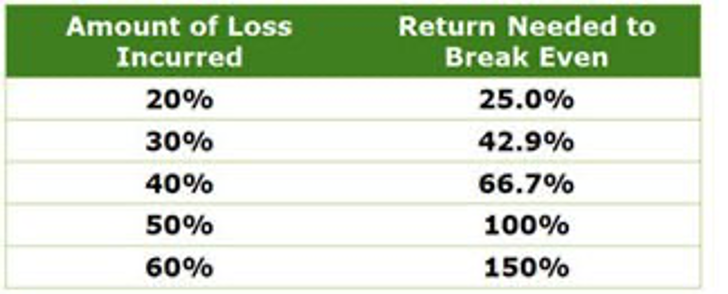 For example, let's say the economy contracts by 35% in the 2Q. To recover from a 35% drawdown, the economy has to surge by 53.8% going forward to get back to breakeven. Some forecasters believe that is possible in the second half of this year, but I highly doubt it.
That would require the fastest economic recovery in modern history, and I don't see any way consumer spending can ramp up that dramatically in the second half of this year. I will be very happy if I am proven wrong, but I just don't see it.
Predictions of Strong Economic Rebound Are Too Optimistic by Gary Halbert of Halbert Wealth Management, 6/24/20
https://www.advisorperspectives.com/commentaries/2020/06/24/predictions-of-strong-economic-rebound-are-too-optimistic
3. Best Places to Invest if Dollar Weakens
These bearish forecasts have prompted me to slice and dice the historical record to see which assets would likely perform the best in the event of a dollar plunge. You might think gold is the most obvious candidate, but the data don't support you. For a U.S.-based investor, foreign stocks have done a better job hedging the U.S. dollar over the past 50 years.
I reached this conclusion upon measuring the correlation between trailing 12-month changes in the U.S. Dollar Index and of various asset classes such as domestic and international stocks as well as gold. The table below reports a statistic known as the "r-squared," which would be 100% if the dollar index completely explained variations in an asset class's return—and 0% if it explained none.
Blame It on the Dollar
How much the U.S. Dollar Index predicts the trailing 12-month changes of…
| | |
| --- | --- |
| | R-Squared |
| Domestic Stocks (S&P 500) | 1.3% |
| International Stocks (MSCI EAFE index in US dollar terms) | 26.6 |
| Gold | 12.4 |
Source: HulbertRatings.com
What's the Best Place to Invest Before the U.S. Dollar Plunges? Hint: It Isn't Gold. By Mark Hulbert
https://www.barrons.com/articles/the-best-place-to-invest-before-the-u-s-dollar-plunges-isnt-gold-51592994601?mod=hp_LEAD_1_B_1
4. The Future for Autonomous Checkout Stores
Business Insider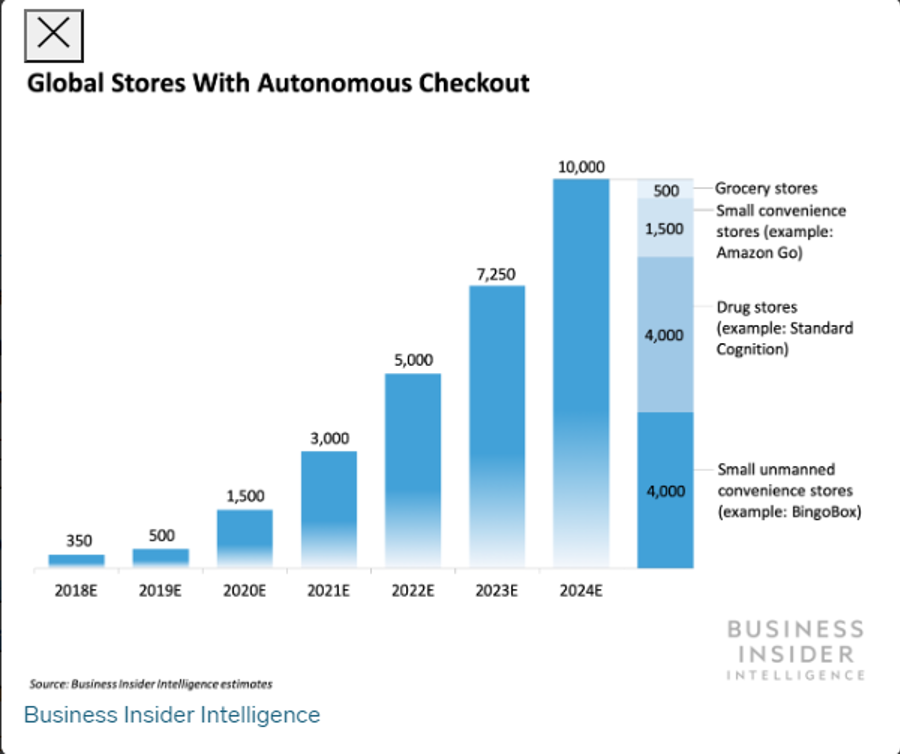 Here are some of the key takeaways from the report:
-The number of stores with autonomous checkout is set to rise from 350 in 2018 to 10,000 by 2024, with their payment volume positioned to jump from under $70 million to over $20 billion — and that's just the tip of the iceberg.
-Adoption of the technology will be driven by the convenience it offers consumers, the savings and revenue it brings retailers, and the technology's eventual ability to scale.
-Payments companies should invest in autonomous checkout now — by developing their own solution, partnering with a third-party provider, or acquiring an established player — to entrench themselves in the emerging industry.
-When evaluating which companies to work with, and how, payments firms should consider each prospect's shopping experience, accepted payment methods, expansion plans, and more.
No matter how payments companies enter the space or which providers they choose to work with, they'll need to move quickly and emphasize the importance of communication between all parties involved.
https://www.businessinsider.com/in-store-checkout-report
5. Why Are Credit Card Interest Rates So High?
Posted June 23, 2020 by Ben Carlson
Basically every interest rate you can think of has fallen except for one — credit cards: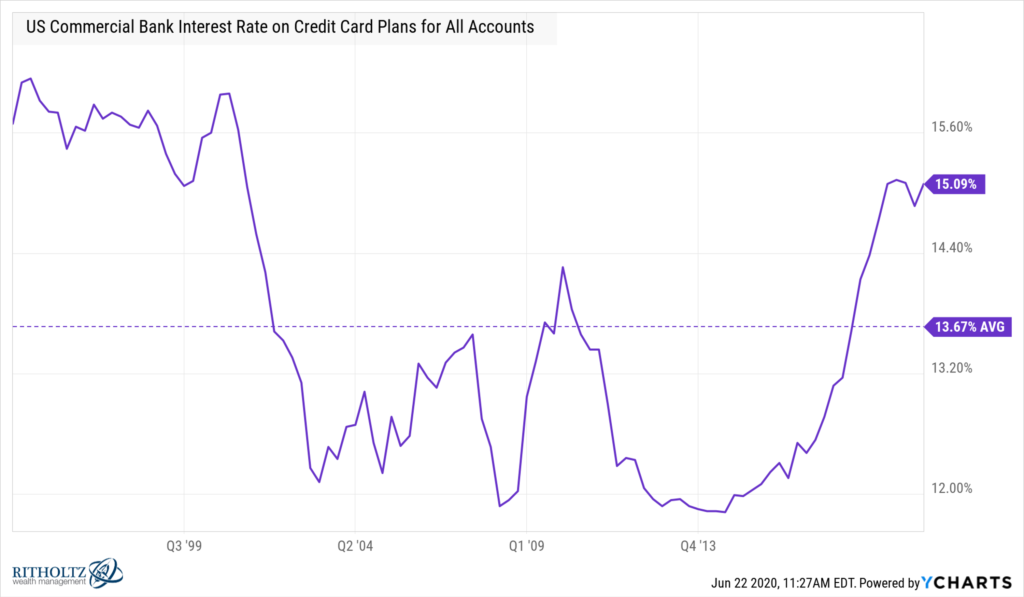 There have been some slight dips over time but credit card borrowing rates remain firmly entrenched at double-digit levels. And while interest rates have been falling around the globe in recent years, credit card borrowing rates have risen.
There are a number of reasons people point to for the stickiness of credit card rates:
Lending standards are much lower for credit cards
The loans are unsecured
Consumers have all of the power in terms of when and how to use their allotted credit
There is a higher chance of delinquency in credit cards than other loans
I understand all of these reasons and the fact that its unsecured debt is the one that makes the most sense. But this doesn't tell the whole story. For one thing, the delinquency rates of credit card loans have actually come down a lot in recent years as consumers fixed their balance sheets following the financial crisis:

https://awealthofcommonsense.com/2020/06/why-are-credit-card-interest-rates-so-high/
6. Will FED Extend $600 Additional Unemployment Benefit and 26 Week Unemployment Time Frame?
There are two fiscal cliffs coming up for US consumers. On July 31, the additional $600 unemployment benefit per week included in the CARES act will run out. And with unemployment benefits normally lasting 26 weeks, workers who lost their job in March will exhaust all their UI benefits in September. In other words, with a slow recovery and elevated unemployment rate ahead, if we don't get more fiscal support to households, the risks are rising that we will see serious solvency problems in the household sector, see chart below and here.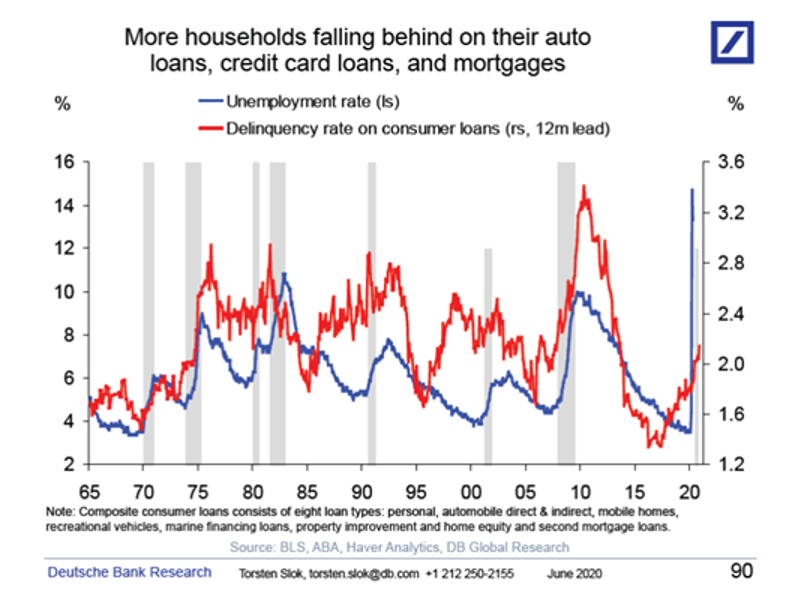 Let us know if you would like to add a colleague to this distribution list.
Torsten Sløk, Ph.D.p, Chief Economist, Managing Director
7. Nearly 48% of all positive cases have been among people between the ages of 22-44, the paper reported
https://www.arcgis.com/apps/opsdashboard/index.html#/bda7594740fd40299423467b48e9ecf6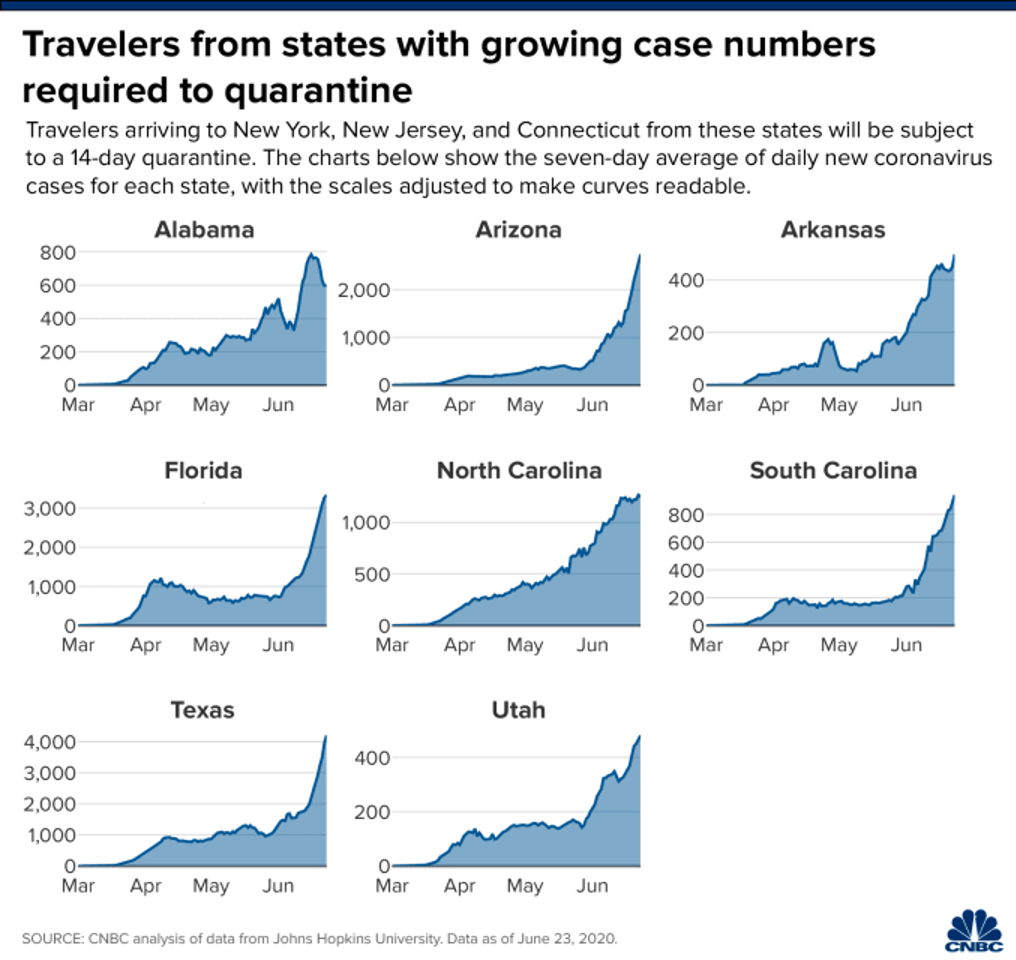 Here are the 8 states that trigger coronavirus quarantines for travelers going to New York
PUBLISHED WED, JUN 24 20205:39 PM EDTUPDATED WED, JUN 24 20207:41 PM EDT
William Feuer@WILLFOIA https://www.cnbc.com/2020/06/24/here-are-the-8-states-that-trigger-coronavirus-quarantines-for-travelers-going-to-new-york.html
8. Trends in New Covid Testing….Scott Gottlieb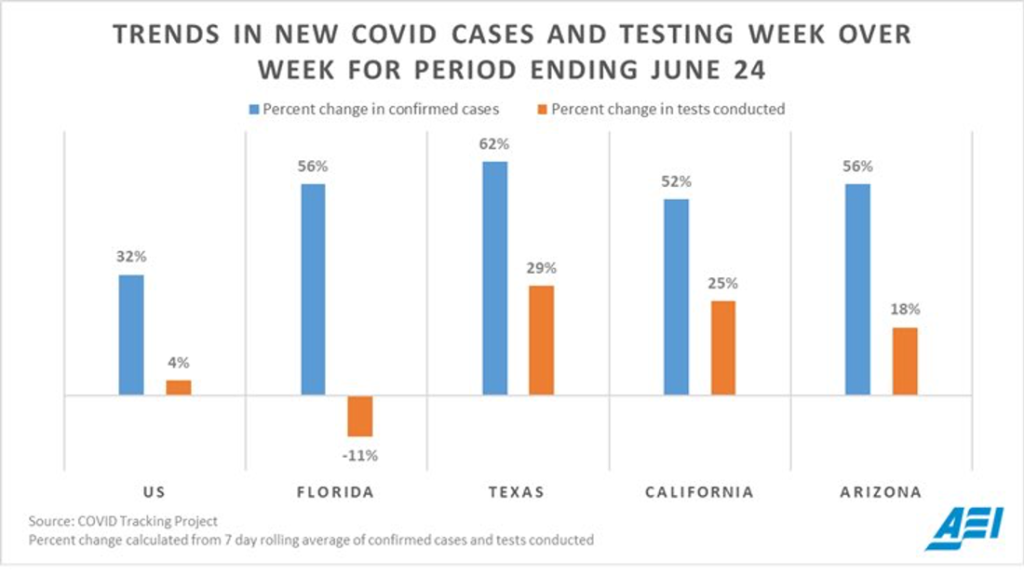 https://twitter.com/ScottGottliebM D
9. Fact and Fiction on Protecting Your Immune System

10. If You Can Honestly Say Yes to These 5 Questions, Your Emotional Intelligence Is Pretty Low
Avoiding emotional matters at work can be a recipe for disaster.
BY MARCEL SCHWANTES, FOUNDER AND CHIEF HUMAN OFFICER, LEADERSHIP FROM THE CORE@MARCELSCHWANTES
What do emotional intelligence (EQ) and leadership have in common? Everything. In its most stripped-down form, being emotionally intelligent means being an exceptional leader.
Yet emotional intelligence may not come naturally for many. Sometimes it's easier to not deal with emotional matters at work, as confrontations can get ugly and dramatic. It's so much more convenient to sweep things under the rug. But this approach is also a recipe for disaster because it leads to more drama and more conflict.
The most effective and results-oriented leaders leverage the strength of EQ for business outcomes. This is why soft skills are so crucial to develop in business. To put it another way, it's why "soft is the new hard."
How Managing Through Crises Changed This CEO's Leadership
But the good news is that EQ is learnable. Like anything else, to raise yours will require a commitment to personal development, hard work, and lots of practice.
5 questions to ask
If you're up for the journey, there are some honest, hold-up-the-mirror questions you first must ask yourself to determine your current level of emotional intelligence. If you answer these questions with a yes, consider this as a good opportunity for you to develop your emotional intelligence:
Do I hide who I truly am in the workplace?
Leaders exhibiting high EQ don't wear masks. I say this because a common tendency of people in management roles is to put on a mask that hides who they truly are; maybe through how they order people around, or how they forcefully command attention with a false charisma. An emotionally intelligent leader shows up with her best self — with integrity, emotional honesty (vulnerability), and authenticity.
Do I tend to run away from conflict?
Let's accept that conflict in the workplace is unavoidable. Unfortunately, it's also very human of us to create distance, not speak up, or stone-wall — all horrifically bad, passive-aggressive ways to deal with conflict. On the flip side, being assertive and speaking up when we have to, to make things right is the way to conflict management. What leaders with high EQ do is courageously run toward the eye of the storm because they know that cutting through conflict to resolve a problem with respect, dignity, and listening to understand is easier than the negative consequences of running away from conflict.
Do I tend to make decisions without soliciting differing perspectives?
Leaders with high EQ take in the whole view of the problem. They look at all sides of the issue and tap into their feelings and those of others to choose a different, and better, outcome. They seek out varied perspectives and solicit opinions of others before acting. They talk to several people cross-functionally, up and even down reporting levels to get clarity and determine a course of action. To put it simply: They are self-aware.
Do I tend to brush off other people's feelings?
Let's face it, in a pandemic people are naturally scared. To help alleviate suffering, exercising your EQ helps you understand or feel what another person is experiencing from within his or her frame of reference, whether a customer or fellow employee. This is what leaders with EQ do — they empathize with someone else's experience or challenge, which is key for uniting teams and banding together as we face new realities together.
Do I lack patience?
Leaders with a high degree of emotional intelligence use their patience for advantage. They have the learned capacity to process a situation about to go south, get perspective, listen to someone they disagree with without judgment, and hold back from reacting head-on. In practicing the virtue of patience, it may mean making the decision to sit on your decision. By thinking it over things with a rational and level-headed mind, you'll eventually arrive at another, more sane conclusion.
JUN 19, 2020
Like this column? Sign up to subscribe to email alerts and you'll never miss a post.
The opinions expressed here by Inc.com columnists are their own, not those of Inc.com.
https://www.inc.com/marcel-schwantes/emotional-intelligence-workplace-conflict.html?cid=sf01002&cid=sf01003
Disclaimer
Lansing Street Advisors is a registered investment adviser with the State of Pennsylvania..
To the extent that content includes references to securities, those references do not constitute an offer or solicitation to buy, sell or hold such security as information is provided for educational purposes only. Articles should not be considered investment advice and the information contain within should not be relied upon in assessing whether or not to invest in any securities or asset classes mentioned. Articles have been prepared without regard to the individual financial circumstances and objectives of persons who receive it. Securities discussed may not be suitable for all investors. Please keep in mind that a company's past financial performance, including the performance of its share price, does not guarantee future results.
Material compiled by Lansing Street Advisors is based on publically available data at the time of compilation. Lansing Street Advisors makes no warranties or representation of any kind relating to the accuracy, completeness or timeliness of the data and shall not have liability for any damages of any kind relating to the use such data.
Material for market review represents an assessment of the market environment at a specific point in time and is not intended to be a forecast of future events, or a guarantee of future results.
Indices that may be included herein are unmanaged indices and one cannot directly invest in an index. Index returns do not reflect the impact of any management fees, transaction costs or expenses. The index information included herein is for illustrative purposes only