1. Leading Indicators Trucking and Housing.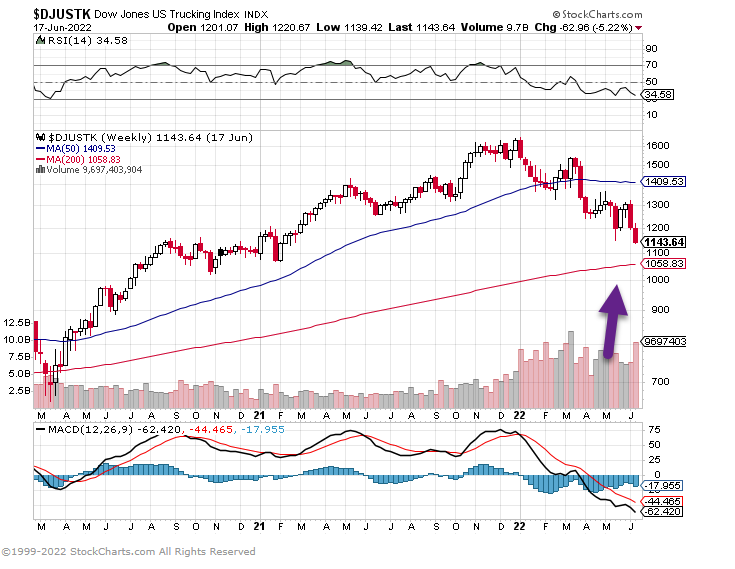 Homebuilders -33% from High…Clean close below 200 week moving average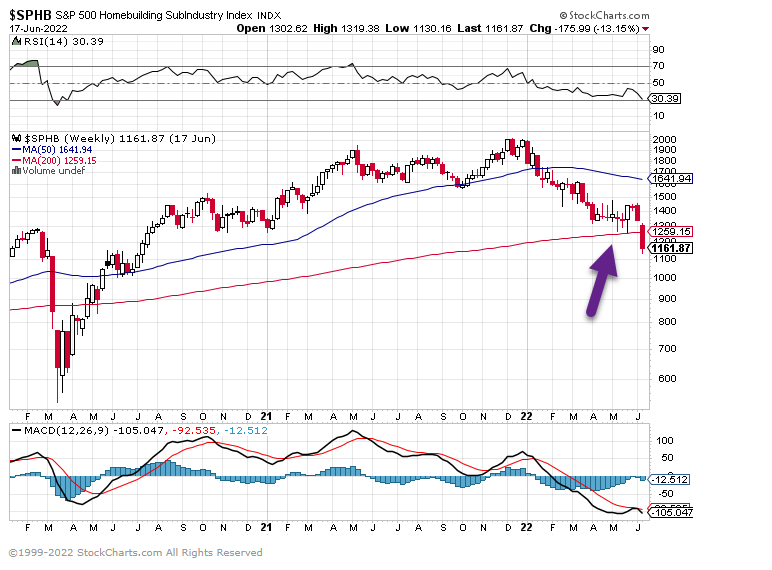 ---
2. Another 200 Day at Risk…Vanguard Total World Stock Index Right on 200 Week Moving Average.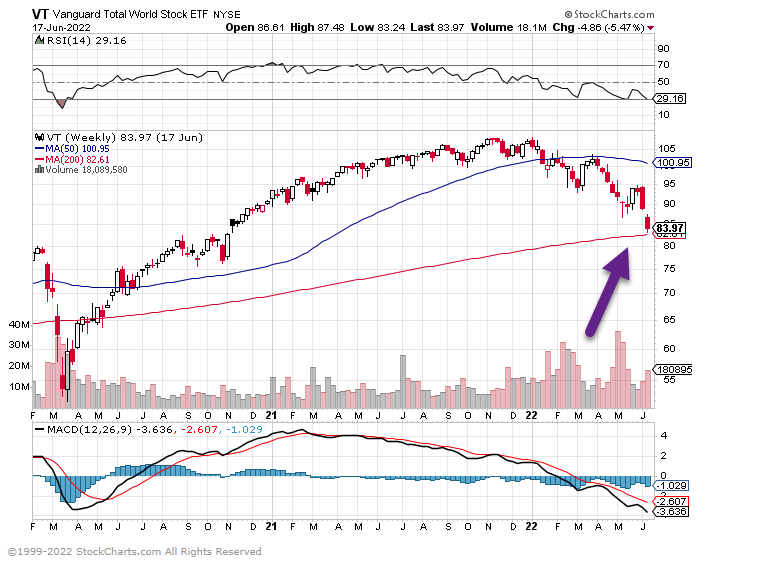 ---
3. Cash was at Record Levels Before Last Week's Sell Off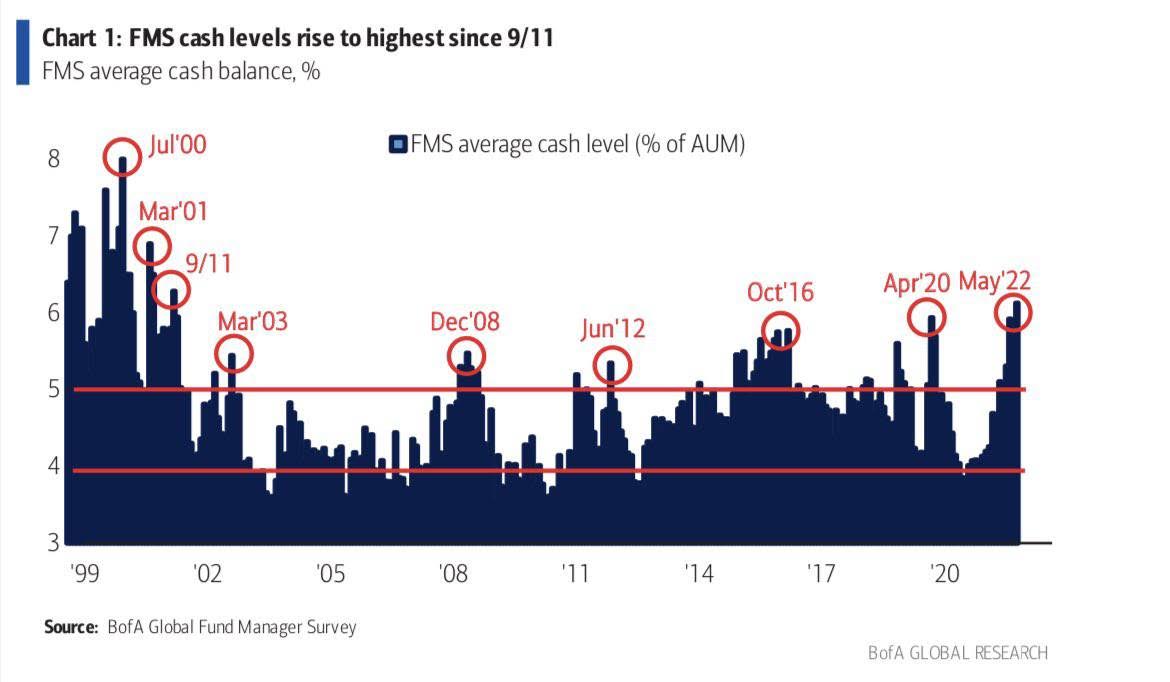 https://biztoc.com/p/qmbsuxi8
---
4. When Do Stocks Bottom?
Ben Carlson looked at the historical records and found some interesting results. Some bear markets were over as soon as they began, like 1948 and 1957. Others took a while, like 73-74 and the dotcom bust. The past isn't much help with figuring out the future, but I did find this data point to be interesting: Seven out of the last twelve bear markets have bottomed in 46 days or less once the -20% level was breached.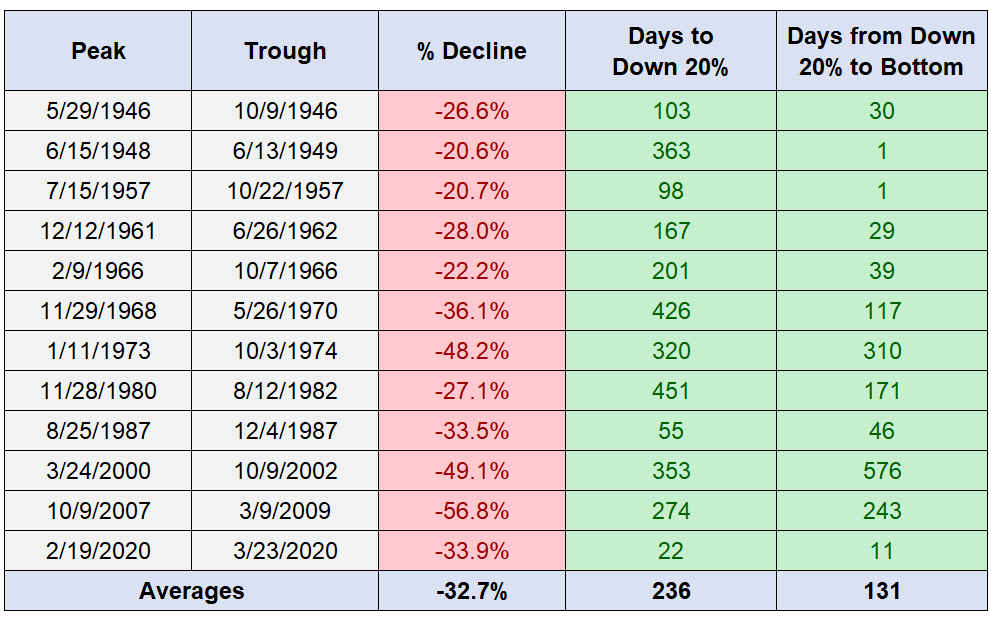 When Do Stocks Bottom? – The Irrelevant Investor
---
5. Small Cap Energy -25% Correction
PSCE small cap energy ETF
---
6. Wealth Destruction Even Bigger than Many Past Bubbles….Due to Stocks, Crypto, and Bonds Going Down Together.
The Daily Shot The United States: Wealth destruction has been massive in this cycle, which is likely to create a drag on consumption.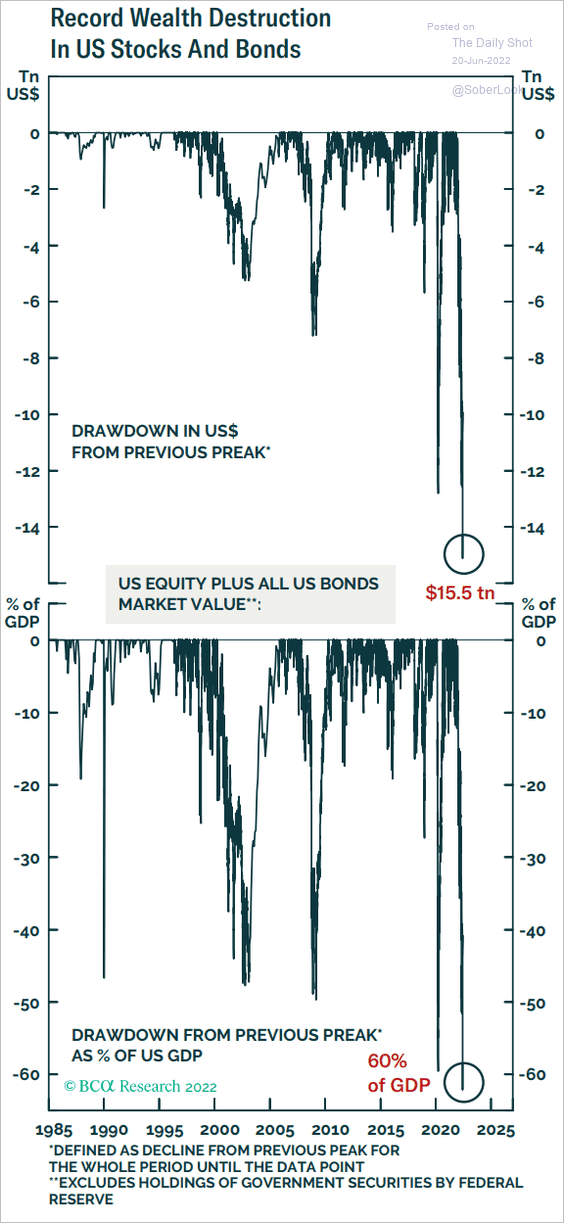 Source: BCA Research
https://dailyshotbrief.com/the-daily-shot-brief-june-20th-2022/
---
7. $800 Increase in Average Mortgage Payment
Redfin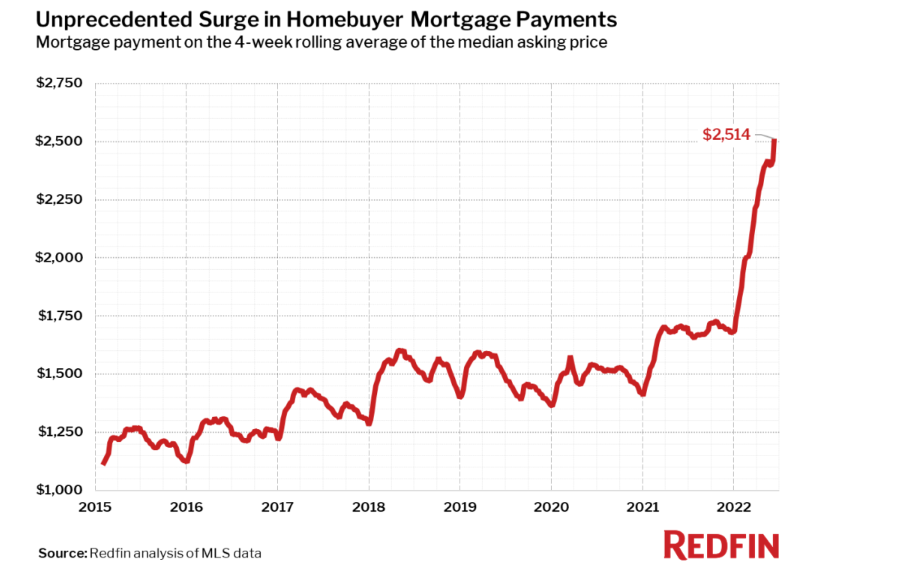 Housing Market Update: Share of Homes with Price Drops Reaches New High (redfin.com)
---
8. Gun Background Checks…2000 8.5m…2021 38.5m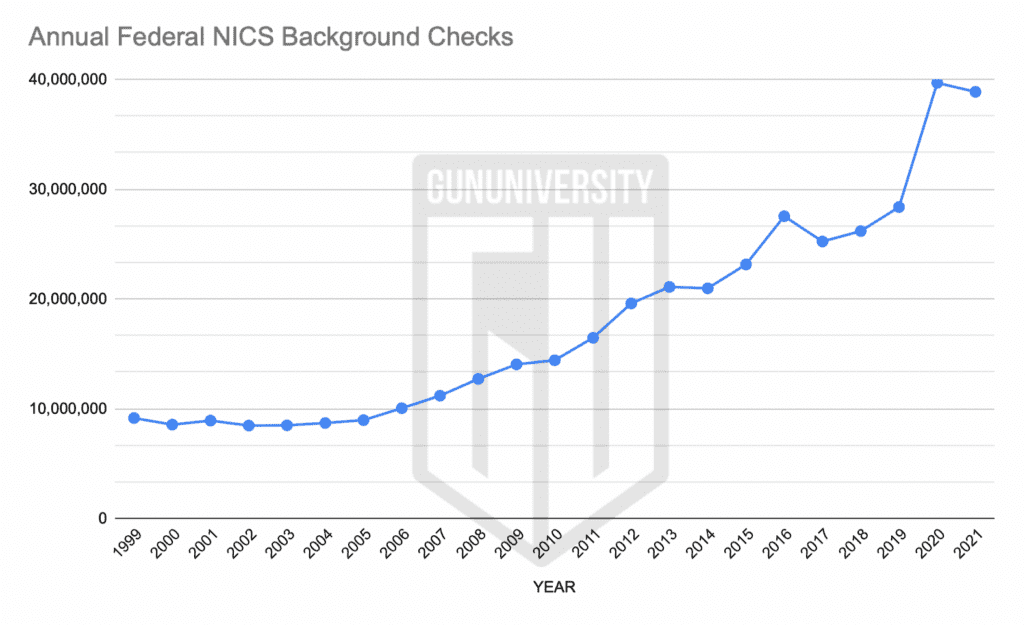 Gun Background checks 8.5m 2000 to 38.9m 2022  https://gununiversity.com/gun-sales-stats/
---
9. The United States is installing less solar today than at peak of coronavirus pandemic
By Kelly Pickerel | June 7, 2022
The U.S. solar industry had its lowest quarter of installations since the start of the coronavirus pandemic, according to the "U.S. Solar Market Insight" report released today by the Solar Energy Industries Association (SEIA) and Wood Mackenzie, a Verisk business. In Q1 2022, price increases and supply chain constraints continued to suppress the solar market as the industry installed 24% less solar capacity than Q1 2021.
The White House's executive action this week to provide a two-year suspension of any new solar tariffs gives businesses certainty to accelerate projects delayed by the Department of Commerce's anti-circumvention investigation. Without this action, massive project delays and cancelations would have continued throughout 2022, putting President Biden's climate goals at risk.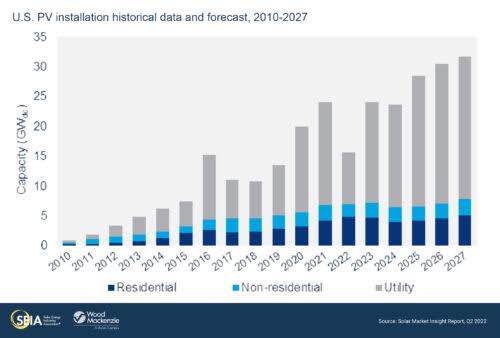 Since the case was initiated in March, most solar module manufacturers have halted shipments to the United States, causing an industry-wide module shortage. These supply constraints are expected to ease as manufacturers ramp up shipments to the U.S. in the coming months.
"The solar industry is facing multiple challenges that are slowing America's clean energy progress, but this week's action from the Biden administration provides a jolt of certainty businesses need to keep projects moving and create jobs," said SEIA president and CEO Abigail Ross Hopper. "President Biden has clearly taken notice of how drags on the industry are hampering grid resiliency. By acting decisively, this administration is breathing new life into the clean energy sector, while positioning the U.S. to be a global solar manufacturing leader."
Over the last nine months, 2022 forecasts have been cut in half due to continued supply chain challenges and the anti-circumvention inquiry.
"The White House's executive action brings relief to the U.S. solar industry, which has been steeped in uncertainty regarding the anti-circumvention investigation initiated by the Department of Commerce in late March following a petition filed by Auxin Solar, a domestic module manufacturer," said Michelle Davis, Wood Mackenzie's principal analyst. "Despite this, this announcement is expected to create approximately 2 to 3 GW of upside potential to Wood Mackenzie's 2022 base case outlook, assuming the global market resumes normal operations."
The down numbers are due to the utility-scale market seeing its lowest quarter since Q3 2019 with 2,173 MWdc installed, a 41% decrease from Q1 2021 and a 64% decrease from Q4 2021. The utility-scale market is seeing the lowest number of new projects added to the pipeline since 2017.
The commercial market is also down: installing just 317 MWdc, down 11% year-over-year and down 28% quarter-over-quarter. Community solar installed 197 MWdc, up 16% year-over-year but down 59% quarter-over-quarter.
Residential solar, in comparison, had its largest quarter in history with 1,200 MWdc installed, a 30% increase over Q1 2021 and a 5% increase over Q4 2021, demonstrating the robust strength of the residential segment — a market less suspectable to price fluctuations.
With trade certainty in place, the solar market is eying the fate of clean energy policies in a federal reconciliation bill. Long-term tax credits, manufacturing incentives, and other provisions will significantly boost solar and storage deployment and help keep pace with President Biden's clean energy goals.
News item from SEIA
https://www.solarpowerworldonline.com/2022/06/the-united-states-is-installing-less-solar-today-than-at-peak-of-coronavirus-pandemic/
---
10. 5 Tips to Handle Conflict When You're Working with Your Polar Opposite
Success.com By Jennifer B. Kahnweiler 
Extroverts and introverts are profoundly different. Extroverts become charged by being around other people while introverts find socialization draining and regain their energy with alone time. These differences can drive some pairs crazy, but for those that are able to work together, their combined strengths can achieve incredible results—ones they could never get to on their own.
Successful opposites acknowledge their differences, using them to challenge each other. They accept that decisions come with conflict and that conflict is normal, natural and necessary—they know that disagreements open up the path to a successful outcome. These opposites understand that avoiding conflict, on the other hand, creates tension and prevents them from achieving innovative and creative solutions.
Biologist Francis Crick said it well: "The death knell to real collaboration is politeness."
When working together, introvert and extrovert opposites can do extraordinary things by pulling out the best thinking from each other, like blending two brains into one. But they have to be willing to "bring on the battles" for the world to benefit from the results of their genius.
Jennifer B. Kahnweiler, author of The Genius of Opposites, shares these six strategies to work through conflict and manage disagreements with your opposite:
1. Remember energy differences.
Accept that your partner's introverted energy may wane from too much people time or your extroverted colleague might get too hyped-up during conflict. During conflict and stress we exaggerate our strengths; for example, we might talk loudly and more often as an extrovert or retreat into ourselves as an introvert. Resist the tendency to amplify your natural traits. Sometimes a time-out is the best workaround to help you regroup and reconvene, ready to engage with a clear head. Factor in breaks or a few moments of quiet to keep moving toward a resolution.
2. Tell 'em what you need.
You can set the foundation for clear communication when you "bring on the battles." Let your partner know specifically what you want and what you need to avoid emotional flare-ups. If you need to find a private space to work, then tell them. If you need to spill out your thoughts, say so. Mind reading doesn't work here.
3. Manage crises together.
When an inevitable crisis occurs, put your heads together and figure out a way through. That often means drawing on the partner in the pair who is better suited to meet the problem at hand. Figuring out the logical solution may be your strong suit, while your opposite's strength might be going to the source and diffusing the situation.
4. Bring in a third party.
Sometimes when you reach an impasse, no amount of discussion will work. The best action you can take is to bring in a neutral party, an objective outsider, to break through the tension, help you get unstuck and find a win-win way forward.
5. Walk and talk.
Consider moving your conversation outside the doors of your office. Talking out their ideas may help extroverts, while walking around might help them gain clarity about their positions. Introverts are likely to respond to the relaxed pace. They are also likely to conserve energy by not having to concentrate on making eye contact and other in-your-face listening behaviors. When you let the juices flow by getting up and moving, new ideas spring up and you will see solutions together.
The more high-stakes the situation, the more important it is for opposites to "bring on the battles" as an outcome-focused team.
This article was published in November 2015 and has been updated. Photo by fizkes/Shutterstock
https://www.success.com/5-tips-to-handle-conflict-when-youre-working-with-your-polar-opposite/