1. FAANMG Premium Valuation vs. Tech Gone
Snippet Finance
Found at Abnormal Returns Blog www.abnormalreturns.com
2. Last 12 Months Investors NET -108B Stocks vs. $785 Billion Positive Flow into Taxable Bonds
Bloomberg-Over the last 12 months, investors have pulled a net $108 billion from mutual funds and ETFs investing in U.S. stocks, while putting an astonishing $785 billion into U.S. taxable bond funds, according to Morningstar Inc. Bear in mind that over the 12 months to the end of May, the most popular stock ETF (SPY) outperformed the best-known bond ETF (TLT) by 62%, so this doesn't look like great market timing:
Robots Are Making Us All Buy Overvalued Bonds By John Authers https://www.bloomberg.com/opinion/articles/2021-06-16/pension-fund-robots-are-making-us-all-buy-overvalued-bonds?sref=GGda9y2L
3. Restaurant Sales Eclipse Grocery Sales First Time Since March of Last Year.
ECONOMYThe Experience Economy Is BackRetail sales fell 1.3% in May, which may not seem that important or interesting until you consider how it reflects major changes in the post-Covid economy.What's going on: People are paying less for things, like sweatpants, and more for experiences, like things you shouldn't do in sweatpants. This is the opposite of what happened during the pandemic, when people could really only buy…things. To illustrate the point, restaurant sales have eclipsed grocery sales for the first time since March of last year.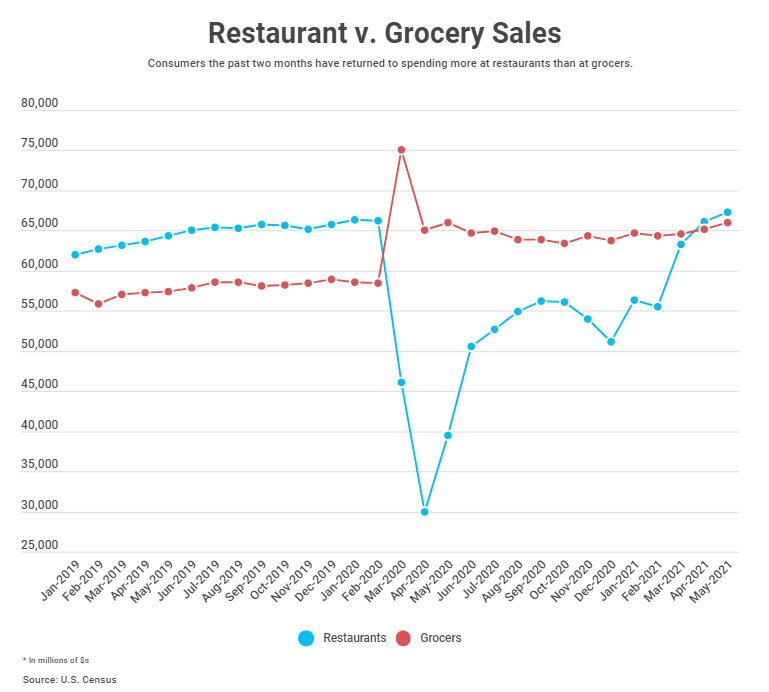 Restaurant BusinessLess spending on goods and more spending on services could bring better balance to the off-kilter economy. The surge in demand for physical products last year caused supply chains to become more tangled than your headphones, sending consumer prices higher. Along with alleviating pressure on supply chains, more services spending means people are finally enjoying experiences they couldn't during the pandemic, like vacations and live music. Bottom line: Consumer spending has rebounded from the 2020 recession, but stimulus payments, supply chain bottlenecks, and business reopenings are clouding the long-term picture.
https://www.morningbrew.com/daily
4. Market Cap Breakdowns…Bottom Half of Companies Not Even Equal to Single Largest Market Cap Stock.
The Russell 3000 almost fits in the top half
As a starting point, we rank all of the listed companies by market capitalization and then divide them into quartiles (four equal groups, first column in Chart 1).
With more than 5,600 listed companies, almost all of the Russell 3000 companies fit in the top half of the market (blue and green). That leaves a lot of companies that are only included in total market indexes.
But the bottom half of the market is small
However, as the second column in Chart 1 shows, the companies in the bottom half of the market add to a total market cap of less than $800 billion. That's smaller than our single largest company (and a few other Nasdaq-listed companies below that)!
The smallest quartile (brown color), comprising more than 1,400 companies, doesn't even show up on this chart, adding to just over $150 billion in market capitalization (Table 1)
Phil Mackintosh Nasdaq
Four Ways of Looking at Market Share | Nasdaq
5. Best and Worst Russell 1000 Stocks So Far in June
Bespoke-Right at the midpoint of June, Biogen (BIIB) has been the top-performing Russell 1,000 stock month to date. BIIB has rallied 48.08% thanks to a huge move higher earlier in the month when the company received the first approval from the FDA for their Alzheimer's treatment. With only a couple of weeks since that massive move higher, the stock has pulled back from its highs but remains extremely extended above its 50-DMA. Looking across the other top 20 best-performing stocks in the index, BIIB is far from being the only Health Care stock. In fact, most of the best performers so far in June come from the Health Care, Tech, or Energy sectors. Additionally, many of these other stocks have also soared well above their 50-day moving averages, although there are a couple of exceptions.

One of those is the second-best performer in the index: Iovance (IOVA). IOVA is another Health Care stock that has experienced huge swings on news surrounding regulatory concerns. In May, the FDA requested additional potency data from the company which was followed by an announcement that the CEO would be stepping down. That sent the stock collapsing almost 40% on May 19th. After a bit of sideways movement through the second half of May and into June, IOVA has nearly recovered those losses, but that still leaves the stock well below its 50-DMA and nearly cut in half YTD. Fastly (FLSY) and Rocket Cos (RKT), and NRG Energy (NRG) are the only other best performers that are also either below or within single-digit percentage points of their 50-DMAs even after the huge gains this month.

Looking at the other end of the performance spectrum, the 20 worst-performing stocks in the index, there are 11 that have fallen double digits in June. The worst of these is Upstart (UPST) which has fallen 17%. This month's decline has brought UPST right back down to its 50-DMA whereas most of the other worst-performing stocks have fallen much further below their 50-DMAs. Granted, UPST is also the top-performing Russell 1,000 stock year to date having rallied over 200%, and it is up even more, 441.51%, since its first day of trading in mid-December. Most of the other worst performers are also still up on the year, but not nearly to the same extent.


https://www.bespokepremium.com/interactive/posts/think-big-blog/best-and-worst-russell-1000-stocks-so-far-in-june
6. U.S. Export Prices Jump the Highest on Record.
Charlie Bilello, @charliebilello
US Export Prices increased 17.4% over the last year, the highest increase on record. Charting via
7. Dollar Jump Post Fed Meeting.
8. Disney Theme Parks Alone Bigger Than Netflix Entire Company
9. Kim Kardashian West and other influencers are being paid to advertise cryptocurrency on social media
As cryptocurrency has become more mainstream this year, it has reached the influencer world. Influencers, such as the D'Amelio family and Tana Mongeau, have started to post paid advertisements on their social media platforms for different digital coins and exchanges.
Even Kim Kardashian West posted an ad for ethereummax on her Instagram story on Sunday to her 228 million followers.
Followed by a short clip of her speaking to her camera about ethereummax with "#ad" written at the bottom of the screen, Kardashian West posted text: "Are you guys into crypto???"
"This is not financial advice but sharing what my friends told me about the ethereum max token!" the post read. She again added different hashtags, including #ad, which is required to reveal that her post is paid for, along with #emax and #disrupthistory.
Other celebrities, including Floyd Mayweather, have endorsed ethereummax as well. Mayweather brought up the altcoin during the Bitcoin 2021 Conference earlier this month and was, in turn, booed off stage. Ethereummax was also accepted as payment for tickets to Mayweather's recent fight with YouTuber Logan Paul.
Ethereummax is an altcoin that redistributes a small percentage of transactions to its token holders. It launched in May with a total supply of 2 quadrillion.
However, despite its star-studded partnerships, ethereummax is viewed as a more risky cryptocurrency to some in the crypto world. As Decrypt points out, it's "mostly just a marketing campaign."⁠ Ethereummax doesn't have a white paper as other crypto projects do, and only a few details about its developers are known. (The ethereummax team did not immediately respond to CNBC Make It's request for comment.)
Though it's unknown how much Kardashian West was paid for the advertisement, a 2019 court filing revealed that she can reportedly earn between $300,000 and $500,000 for a single Instagram post. For long-term social media deals, she can sometimes earn millions of dollars. (Kardashian West did not immediately respond to CNBC Make It's request for comment.)
Younger influencers are getting into crypto too
Gen Z and young millennial influencers — many of which primarily have young followers — have posted paid ads for cryptocurrencies and exchanges recently as well.
The family account of TikTok stars Charli, 17, and Dixie D'Amelio, 19, posted their partnership with cryptocurrency exchange Gemini on Instagram in May, Insider reported.
"We are learning more about cryptocurrency as a family, thank you @gemini for Charli's birthday gift. #GeminiPartner," the post read, though Gemini has an age requirement of 18 or older.
The family's account has over 934,000 followers on Instagram, but Charli and Dixie have even larger followings themselves. Charli has over 117 million followers on TikTok and over 42 million on Instagram. Dixie has over 52 million followers on TikTok and over 24 million on Instagram.
"We believe it's important to provide financial literacy and access to educational resources about cryptocurrency through various channels," a spokesperson for Gemini tells CNBC Make It. "Gemini also works with influencers … to help educate their followers about cryptocurrencies and raise awareness about the Gemini brand."
Along with the D'Amelio family, YouTubers like Paul and Loren Gray have posted endorsements for different cryptocurrencies and exchanges to their millions of followers. Even Matt James, known as the first Black male lead on ABC's "The Bachelor," has posted on his social media about his partnership with crypto financial services company BlockFi.
Why it matters
Though all cryptocurrency is considered to be a risky, volatile investment, the altcoins being pushed out by these influencers, like ethereummax, require even more caution, experts warn. Especially when advertised to younger audiences.
This kind of endorsement can be extra problematic when it isn't made clear that the influencer has been paid to post, James Ledbetter, editor of fintech newsletter FIN and CNBC contributor​, tells CNBC Make It.
"As with many other products and services these days, a cryptocurrency or exchange paying social media influencers can be an effective way to get the word out," he says.
However, "I'd be concerned that at least some of that audience is both financially unsophisticated and has limited access to funds, which is why this has for years been an area of regulatory action."
Investors should always do their own research before deciding where to put their money. As the SEC warned in 2017, "it is never a good idea to make an investment decision just because someone famous says a product or service is a good investment."
"These types of arrangements could potentially harm investors, as well as attract regulatory scrutiny for the crypto companies," Ledbetter says.
But after seeing the effect that Tesla and SpaceX CEO Elon Musk's tweets have had on cryptocurrencies and stocks, it shouldn't be surprising that companies in the space are trying to find more players to do the same, Ledbetter says.
"Through crypto-memes and Elon Musk, my sense is that a good portion of [young investors have] already been exposed to cryptocurrency," Ledbetter says. "But it's conceivable that influencers might accelerate that trend."
https://www.cnbc.com/2021/06/15/kim-kardashian-west-charli-damelio-jake-paul-posting-paid-crypto-ads.html
10. 8 Types of Intelligence-Howard Gardner's Theory of Multiple Intelligences
Credit: Kumar Mehta, CNBC Make It
https://www.cnbc.com/2021/03/10/harvard-psychologist-types-of-intelligence-where-do-you-score-highest-in.html?utm_content=Main&utm_medium=Social&utm_source=Twitter#Echobox=1623853698
Disclosure
Indices that may be included herein are unmanaged indices and one cannot directly invest in an index. Index returns do not reflect the impact of any management fees, transaction costs or expenses. The index information included herein is for illustrative purposes only.
Material for market review represents an assessment of the market environment at a specific point in time and is not intended to be a forecast of future events, or a guarantee of future results.
Material compiled by Lansing Street Advisors is based on publicly available data at the time of compilation. Lansing Street Advisors makes no warranties or representation of any kind relating to the accuracy, completeness or timeliness of the data and shall not have liability for any damages of any kind relating to the use such data.
To the extent that content includes references to securities, those references do not constitute an offer or solicitation to buy, sell or hold such security as information is provided for educational purposes only. Articles should not be considered investment advice and the information contain within should not be relied upon in assessing whether or not to invest in any securities or asset classes mentioned. Articles have been prepared without regard to the individual financial circumstances and objectives of persons who receive it. Securities discussed may not be suitable for all investors. Please keep in mind that a company's past financial performance, including the performance of its share price, does not guarantee future results.