1. Record 78% of Investors Say Market in Overvalued.
Dave Lutz Jones Trading
Pain trade is still up: Record net 78% of investors say stock market is "overvalued." Most since start of the series in 1998. On the market rally, 37% say it's a bull market while 53% say it's a bear market rally
Among surveyed investors, 18% expect a V-shaped recovery and 64% expect a U- or W-shaped bounce – Second wave of Covid-19 remains biggest tail risk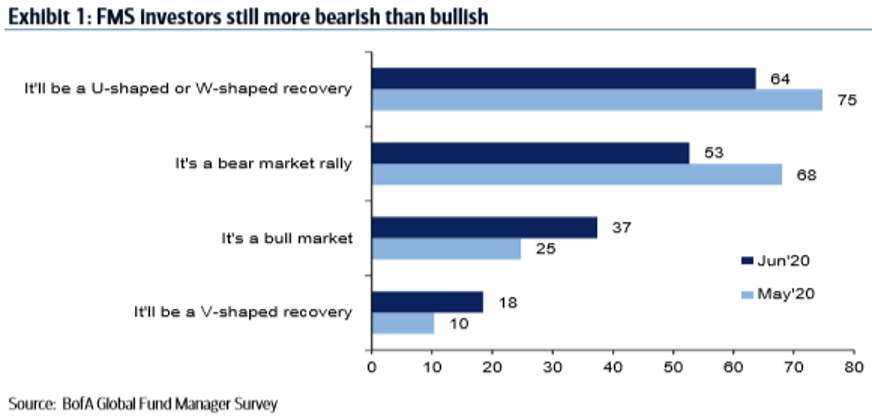 2. Banks Cutting Shale Drillers Credit.
Drillers Dropped Two-Thirds of Rigs in 2020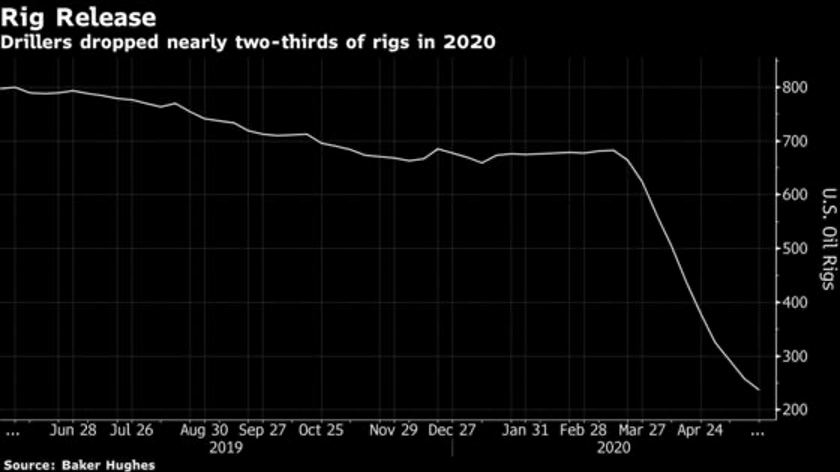 https://www.bloombergquint.com/business/america-s-shale-drillers-extend-their-retreat-for-a-10th-week
WSJ-If U.S. oil prices average about $30 this year, around 73 oil and gas producers in the U.S. may have to file for bankruptcy protection, with 170 more following in 2021, data analytics firm Rystad Energy estimates.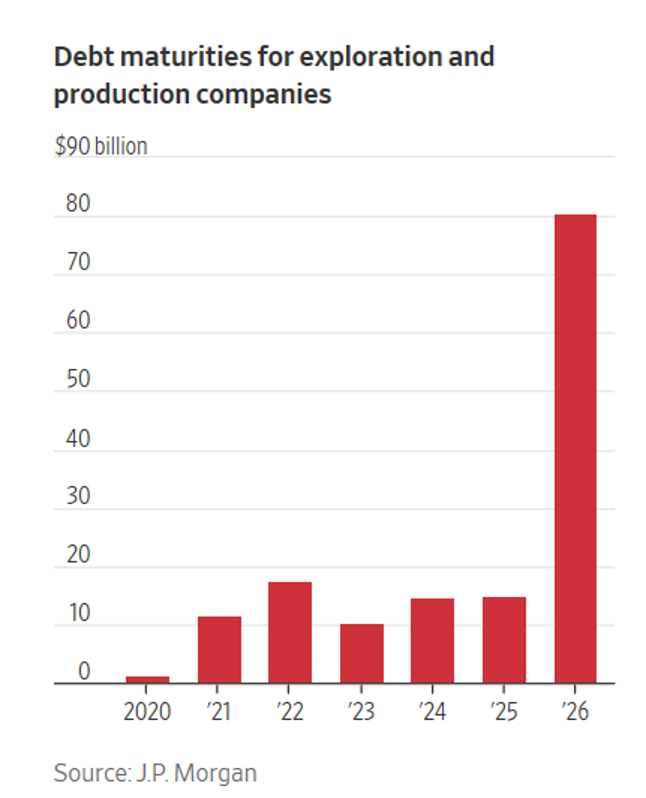 Banks Cut Shale Drillers' Lifelines as Losses Mount–Lenders are pulling back on reserve-backed loans as the shale industry faces a liquidity crunch
https://www.wsj.com/articles/banks-cut-shale-drillers-lifelines-as-losses-mount-11592217000?mod=itp_wsj&ru=yahoo
3. Texas Rig Count 114 Rigs vs. Peak 958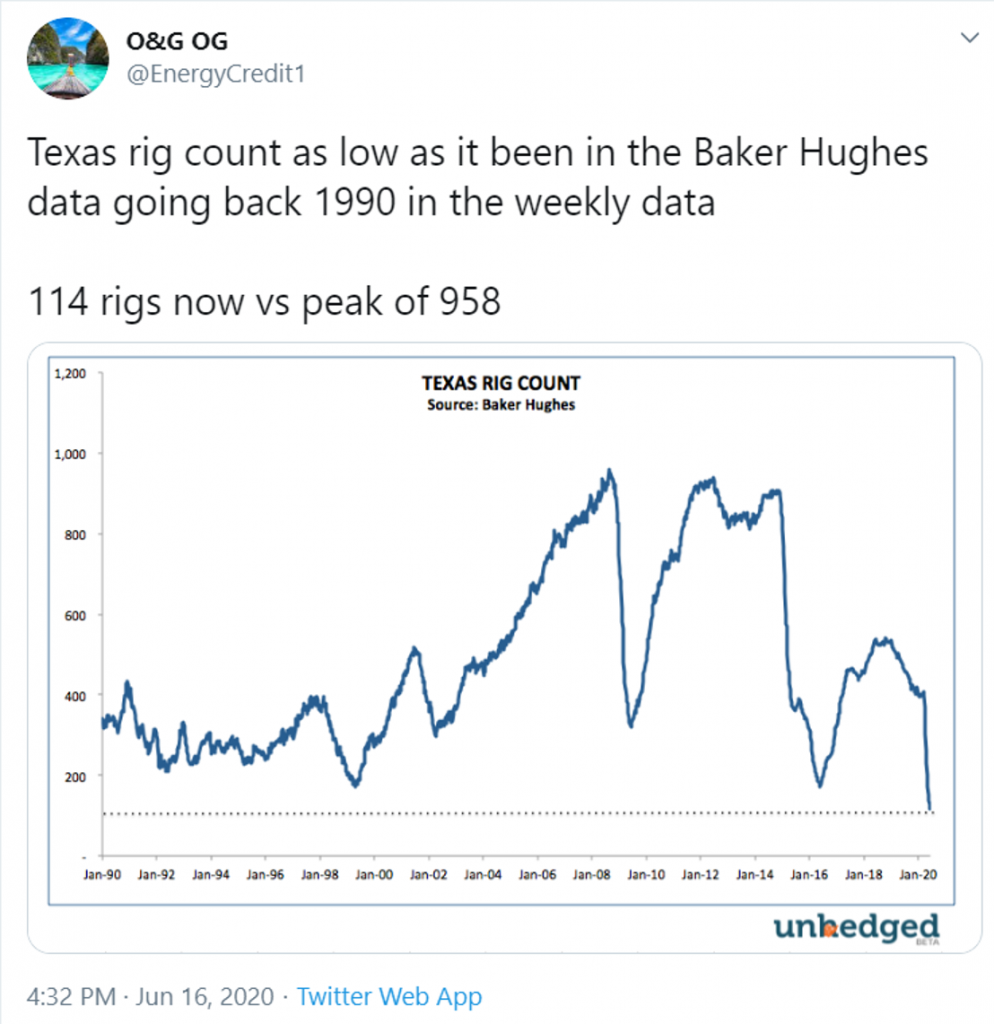 www.twitter.com/energycredit1
4. Infrastructure ETF Pops 15% in One Day.
IFRA-IShares Infrastructure.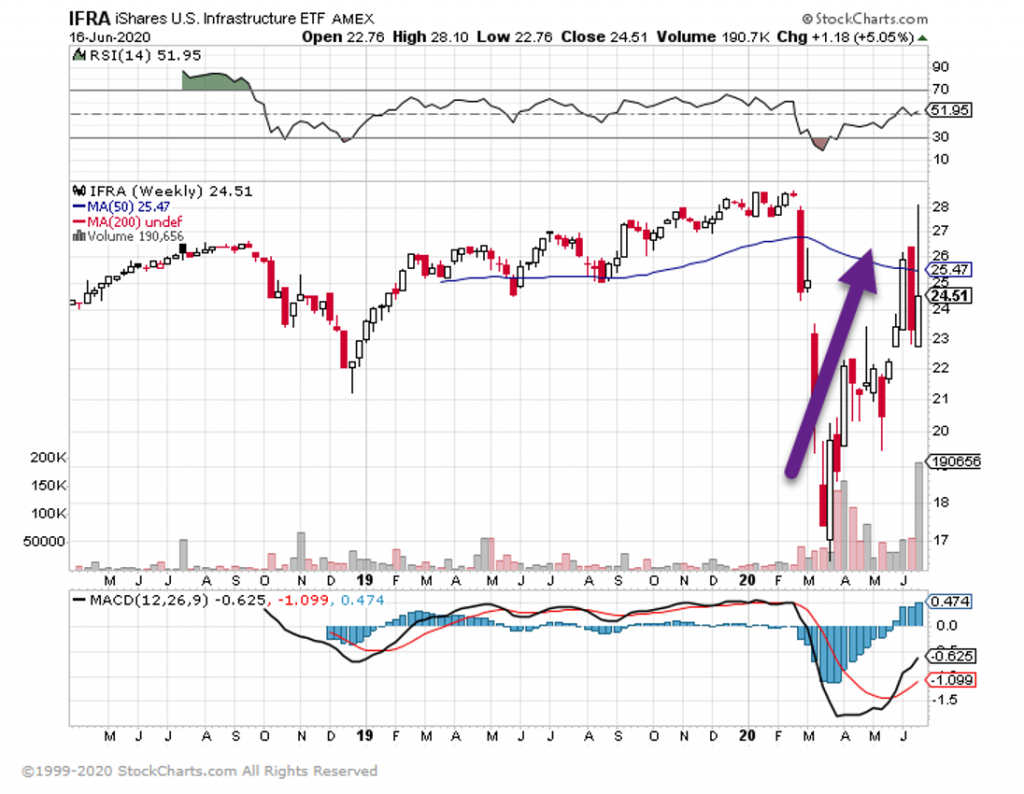 Construction material stocks are surging on reports that President Trump's administration is preparing a $1 trillion infrastructure proposal
On Tuesday, Bloomberg reported that President Trump's administration is eyeing a $1 trillion infrastructure proposal.
Shares of construction materials companies surged Tuesday, with some posting gains upward of 10%.
The iShares US Infrastructure ETF jumped as much as 15% in early trading Tuesday, before paring some gains. It traded up about 4% later in the day.
---
Shares of construction materials companies are surging Tuesday on reports that the Trump administration is readying a $1 trillion infrastructure proposal.
The proposal from President Donald Trump's administration is part of a push to provide stimulus to the US economy following the shock of the coronavirus pandemic, Bloomberg reported Tuesday. The Department of Transportation is preparing a preliminary version, according to the report.
Most of the $1 trillion would be reserved for traditional infrastructure work including roads and bridges. The proposal would also include money for 5G wireless infrastructure and rural broadband, according to the report.
At the start of trading Tuesday, the iShares US Infrastructure ETF popped as much as 15% to $27.46. Later in the day, the exchange-traded fund paired some gains, but remained more than 4% higher.
A number of construction materials companies also posted big gains on Tuesday, including:
Even with today's gains, the iShares US Infrastructure ETF has shed roughly 14% year-to-date.
https://markets.businessinsider.com/news/stocks/infrastructure-stocks-surging-trillion-dollar-trump-administration-proposal-construction-materials-2020-6-1029314758
5. Corporate Bond Flows in May.
Corporate credit (investment grade and high yield), as a combined unit, fueled the record haul for the broader bond ETF category. The $6.2 billion of inflows into high yield in May is just $100 million less than the record tallied in April. Meanwhile, the $9.3 billion of inflows into investment grade did surpass its own April record, and it did so by a wide margin – taking in nearly $2 billion more. These are two more segments that now have the greatest two-month flow totals ever.
The flow trends for investment-grade and high yield ETFs took off once the Fed announced its lending facilities on March 23. As of the most recent report,4 the Fed has purchased roughly $1.3 billion of ETFs, resulting in $27 billion of the year-to-date credit inflows coming from actual investors. And all of that makes sense ─ the Fed's new lending programs have transformed once-risky bonds such as corporates, fallen angels and even junk bond ETFs into risky bonds that are now explicitly and implicitly backed by the Fed.
The chart below depicts investors running the "Don't Fight the Fed"5 playbook in order to hunt for yield in a low-rate environment where the US 10-Year Yield is below 0.70%.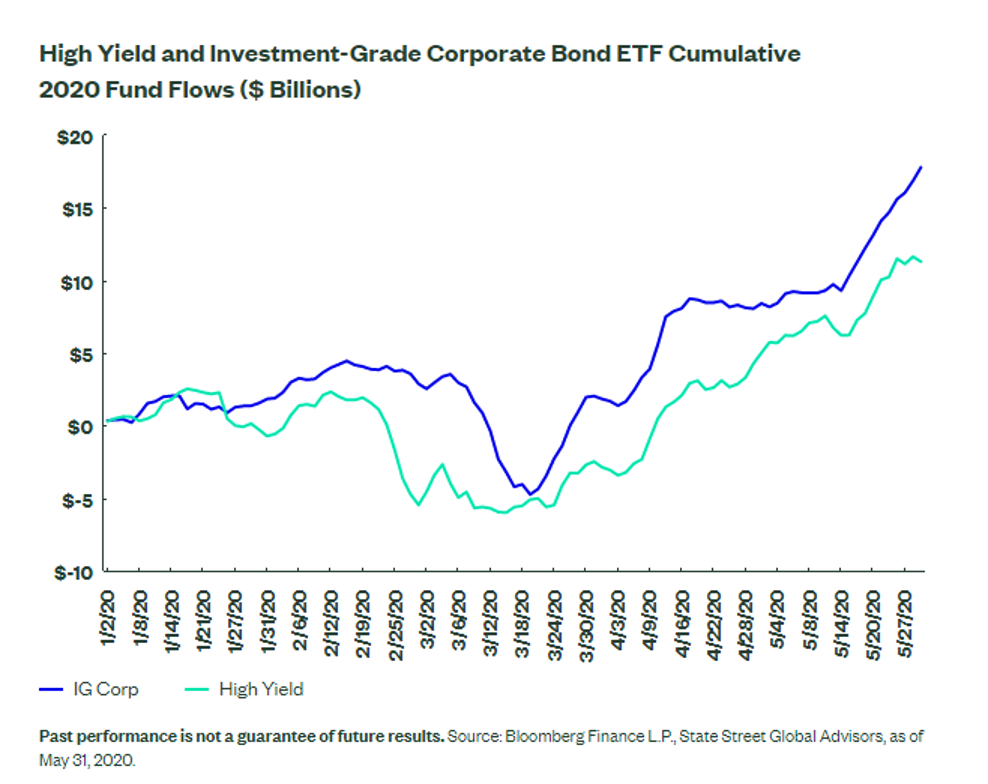 May ETF Flows: Welcome Back, T.I.N.A.
https://www.ssga.com/us/en/intermediary/etfs/insights/may-etf-flows-welcome-back-tina?WT.mc_id=social_gen_bau_us_lkdin_text_n_n_flows_jun20
6. History of Pullbacks and Big Months
LPL BLOG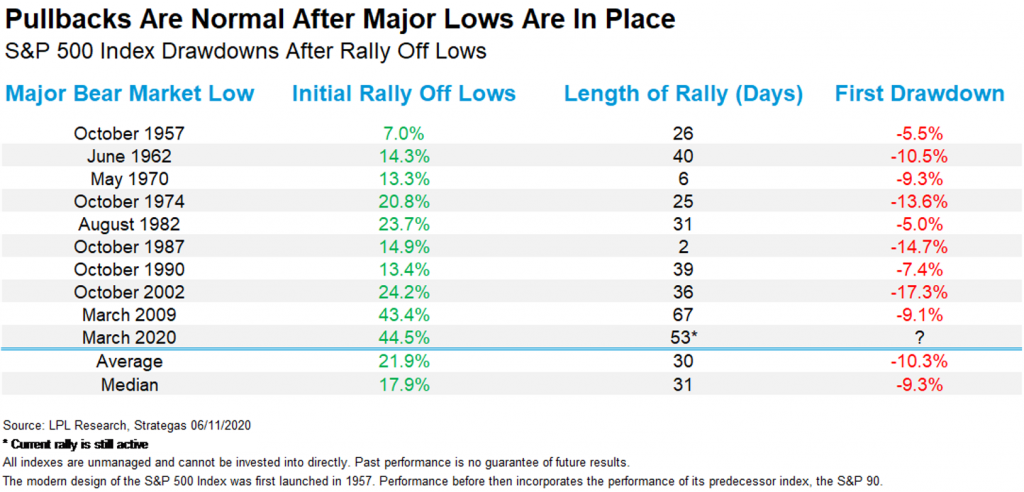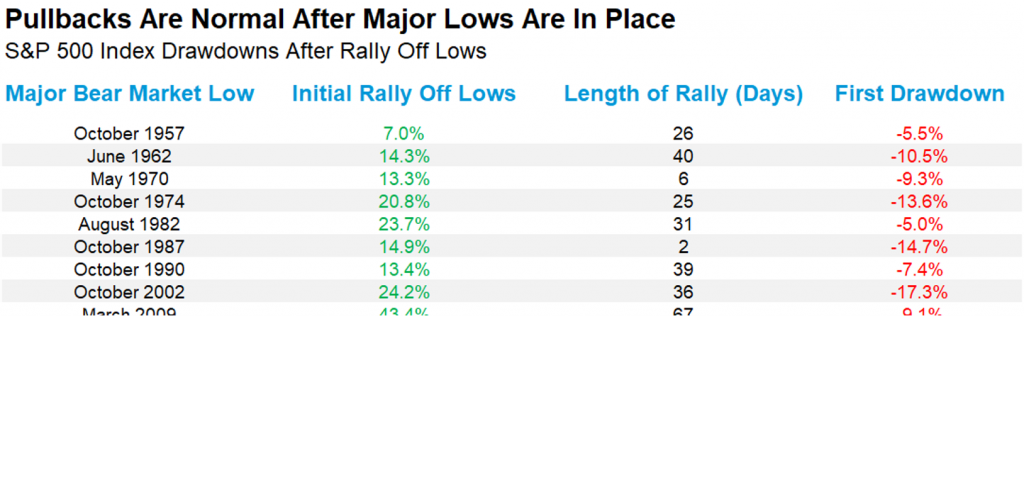 Is This The Start Of A New Bear Market?
Posted by lplresearch
7. Restaurant Bookings Hook Back Down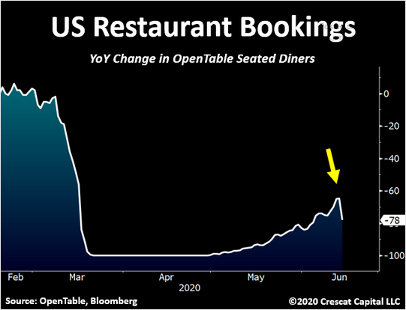 The Daily Shot https://blogs.wsj.com/dailyshot/2020/06/16/the-daily-shot-eyebrow-raising-aggressiveness-of-retail-traders/
8. 7 Day Rolling Average of Covid Testing Progress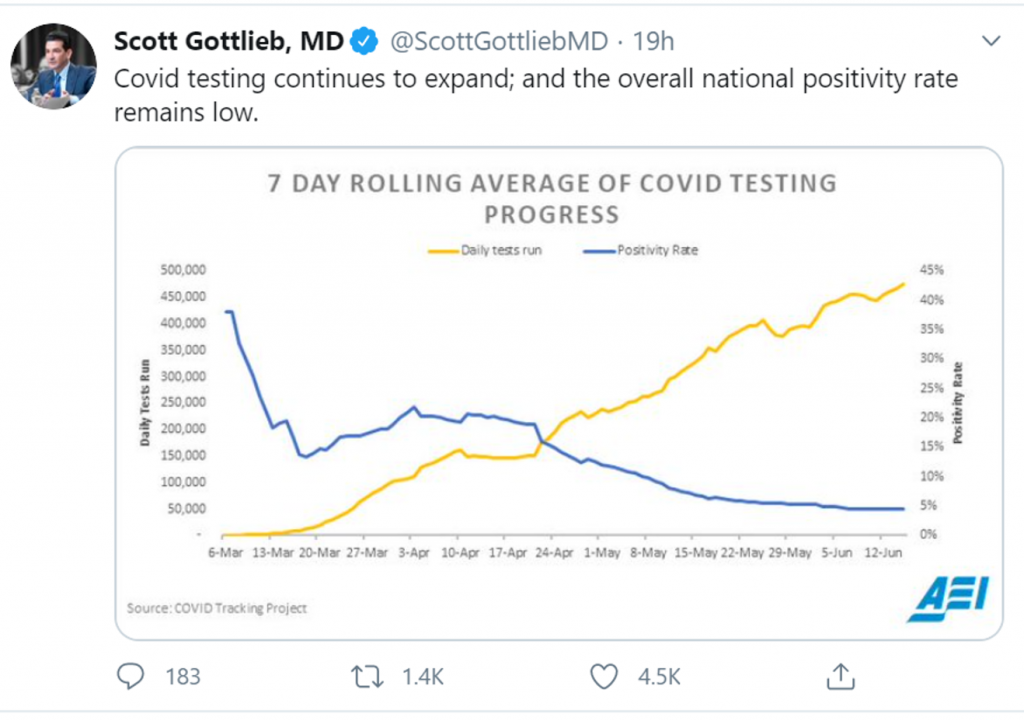 twitter.com/scottgottlieb md
9. No More Skimming the Skim….Cash Could Be Gone at Casinos.
Coronavirus may sway regulators to allow casinos to say good-bye to cash
Contessa Brewer@CONTESSABREWER
KEY POINTS-No states currently allow cashless payments on casino floors.
-The CDC recommends mobile payments to limit the handling of cash, and therefore, risk of Covid-19 exposure.
-More than half of casino customers say they are less likely to use cash in their everyday lives because of the Covid-19 pandemic, according to a report released Tuesday by the American Gaming Association.
Critics argue that mobile payments create an easy pathway for problem gambling. But the AGA argues in its report: "Digital payments provide customers with more options to wager responsibly throughout their gaming experience. This starts with limit setting — on how much they wager and how long to play — as part of account initiation."
In addition, AGA said mobile pay could help combat money-laundering.
"Creating new payment options for customers provides law enforcement additional insights into sources of funds and customer backgrounds," the report said.
States starved of tax revenue by the coronavirus closures may be more motivated to permit both mobile and sports betting as well as mobile payments, which are typically taxed at higher rates than general trade, goods and services.
Casino Movie Clip The Most Sacred Room in the Casino…The Counting Room
10. Learn How to Focus
Lesson 3: Get out of the fog.
How attentive are you? One way to check is to run this little thought experiment: Sit quietly in a chair, with a second-hand watch or clock nearby, close your eyes, and check to see how long you can go without thinking of anything. If you can go more than five seconds without any thought, that is far better than average.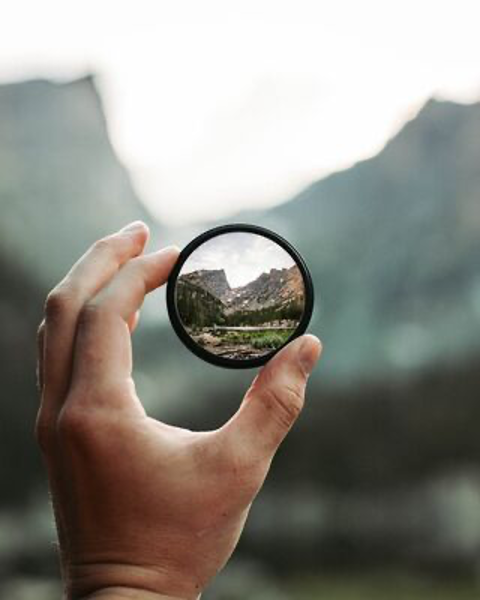 What does this little test say about attention? Actually, you are not paying attention as such, you are paying attention to not paying attention. In other words, you just measured your limited capacity to resist distraction. Resisting distraction is the other side of the focus coin. If you can resist distraction, you can focus on any object of thought without being distracted. So what? Being able to focus is a skill that is crucially important to developing your ability to remember. It also empowers your thinking.
There are ways to develop the ability to focus. Before I get into that, however, let me illustrate a related point. You perhaps have heard the instruction: "Do not think about pink elephants." I tell you now, "Do not think about pink elephants." Were you able to not think about pink elephants? Unlikely. Real elephants are not pink. A pink elephant is such a compelling image so that you are hard pressed to not see it in your mind's eye.
Make Memory Targets Compelling
This makes a point about focus. If the target of focus is compelling, it is hard not to focus on it. Thus, whatever you need and want to focus on is easier to attend if you make it compelling. If a target of focus is compelling, it becomes encoded more strongly. You learned in Lesson 1 that encoding is the first crucial step in the memorization process cycle. One of the best ways for a compelling focus of attention is to make a target of attention a mental image, either a literal simulation of the actual target or a metaphorical representation of it. Generally, the most robust images are not literal but those that are ridiculously exaggerated (like pink elephants). This tactic is the basis used by "memory athletes" who compete in international contests to see who can memorize the most material in the shortest amount of time. I will say much more about specific mental imagery tactics in Lesson 9 where mnemonics are explained.
The other obvious way to make compelling memory targets is to motivate yourself to remember. As I explained in my book on The Learning Skills Cycle, the centerpiece hub of the cycle is motivation to learn. Approach learning tasks with a zeal that drives you to do all things needed to memorize and the success in learning then strengthens the motivation to learn more. As I explained in the story about my "conversion" in the 7th grade, once I learned how to get to the top of the class and how good that felt, I was motivated to achieve that standing every year.
Avoiding Distraction
While it is true that the brain processes information in parallel, conscious memorization operates serially. That is, you consciously attend one thing at a time, switching at high speeds from one targets of attention to another. Any time you switch targets, you disrupt the processes of encoding and initiation of consolidation. This explains why multi-tasking greatly impairs memorization.
article continues after advertisement
School environments are notorious for creating distractions. Students in a classroom have to make special effort to stay focused on instructional material.
Learning to Focus
Conscious focus of attention is a skill that can be learned through deliberate practice. The best proof comes from Hindu ascetics who do such astonishing things as voluntarily regulating their heart rate and blood pressure or lying on a bed of nails. The Buddhist meditation practices provide a practical way for anybody to train their brains to focus—you don't have to be a Buddhist. The technique that works for me is called "mindfulness meditation." The objective is to be mindful of what you are thinking and to force yourself to think of only one thing, usually slow, deep breathing. All extraneous silent mental chatter and images are pushed out of consciousness. You will be training your brain to live in the now.
See how long you can sustain sole focus on your breathing and keep out all intruding thoughts. Notice all things associated with the breathing, but nothing else. At first, you may feel aches and pains you have not been attending because you were thinking of other things. Ignoring these aches consciously during meditation adds to the value of the exercise. Hear the sound of the moving air with each breath. Feel the pulse in your neck. If you don't feel it, crook your neck or lie down to feel it in your back or hear it by turning your ear to a pillow. Notice the rhythm and the gradual slowing of breathing. Feel your clothes shifting position and the tension flowing out of your muscles, first in the jaw, then back and legs. The first time you try it, you likely will lose focus within a couple of seconds. But after a few days of 15-minute sessions, you will realize your brain has learned how to focus for several minutes or more. Not only does this kind of meditation teach your brain how to concentrate, it also lowers blood pressure, reduces memory-impairing stress, and contributes to peace of mind.
As you develop the capacity to focus, reinforce the training by being more attentive to every target of attention that you are trying to memorize. Also, notice what is associated with the information you are trying to memorize. If you are learning about an historical event, like the First Continental Congress, notice what is going on in the meeting hall, where it took place, why that place was chosen, what prompted the meeting, who stood out in the meeting, and so on. In short, notice the context in which things exist. Paying attention to such details at the time of initial encoding provides huge numbers of cues that strengthen the encoding and can serve as handles to help you retrieve the information in the future. The context obviously aids in understanding as well. Sometimes, just the understanding helps you figure out something you actually failed to remember.
Summary:
1. To strengthen encoding and the initial stages of memory consolidation, make memory targets compelling. The best way is to represent the targets as mental images.
2. Do not multi-task. Alter you learning environment as best you can to reduce distracting stimuli and thoughts.
3. Train your brain to focus like a laser. Make time for a 15-minute mindfulness meditation session every day and try to focus on your every experience throughout the day.
article continues after advertisement
4. Don't go around in a mental fog. Notice things. Be consciously aware of everything.
Next Lesson: Week 4. Think and Get Smart
https://www.psychologytoday.com/us/blog/memory-medic/202006/learn-how-focus
Disclaimer
Lansing Street Advisors is a registered investment adviser with the State of Pennsylvania..
To the extent that content includes references to securities, those references do not constitute an offer or solicitation to buy, sell or hold such security as information is provided for educational purposes only. Articles should not be considered investment advice and the information contain within should not be relied upon in assessing whether or not to invest in any securities or asset classes mentioned. Articles have been prepared without regard to the individual financial circumstances and objectives of persons who receive it. Securities discussed may not be suitable for all investors. Please keep in mind that a company's past financial performance, including the performance of its share price, does not guarantee future results.
Material compiled by Lansing Street Advisors is based on publically available data at the time of compilation. Lansing Street Advisors makes no warranties or representation of any kind relating to the accuracy, completeness or timeliness of the data and shall not have liability for any damages of any kind relating to the use such data.
Material for market review represents an assessment of the market environment at a specific point in time and is not intended to be a forecast of future events, or a guarantee of future results.
Indices that may be included herein are unmanaged indices and one cannot directly invest in an index. Index returns do not reflect the impact of any management fees, transaction costs or expenses. The index information included herein is for illustrative purposes only