1. Dow Utilities, Industrials and Transports Still Below Highs.
Utilities -15% from highs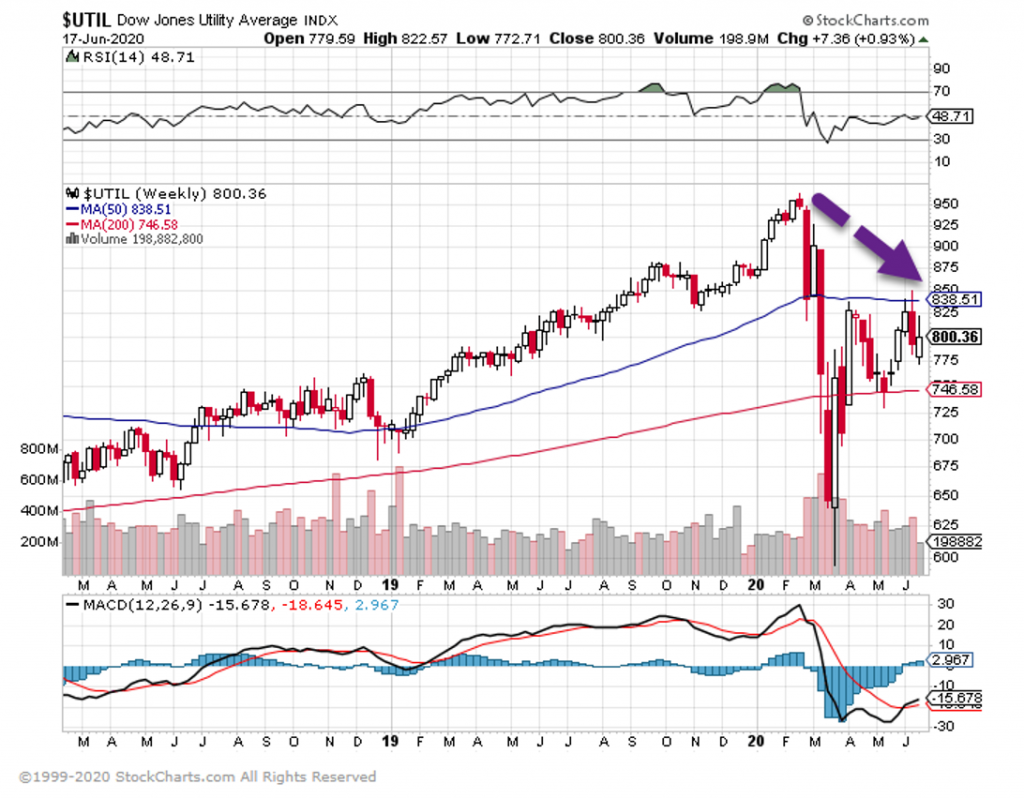 Industrials -10% from highs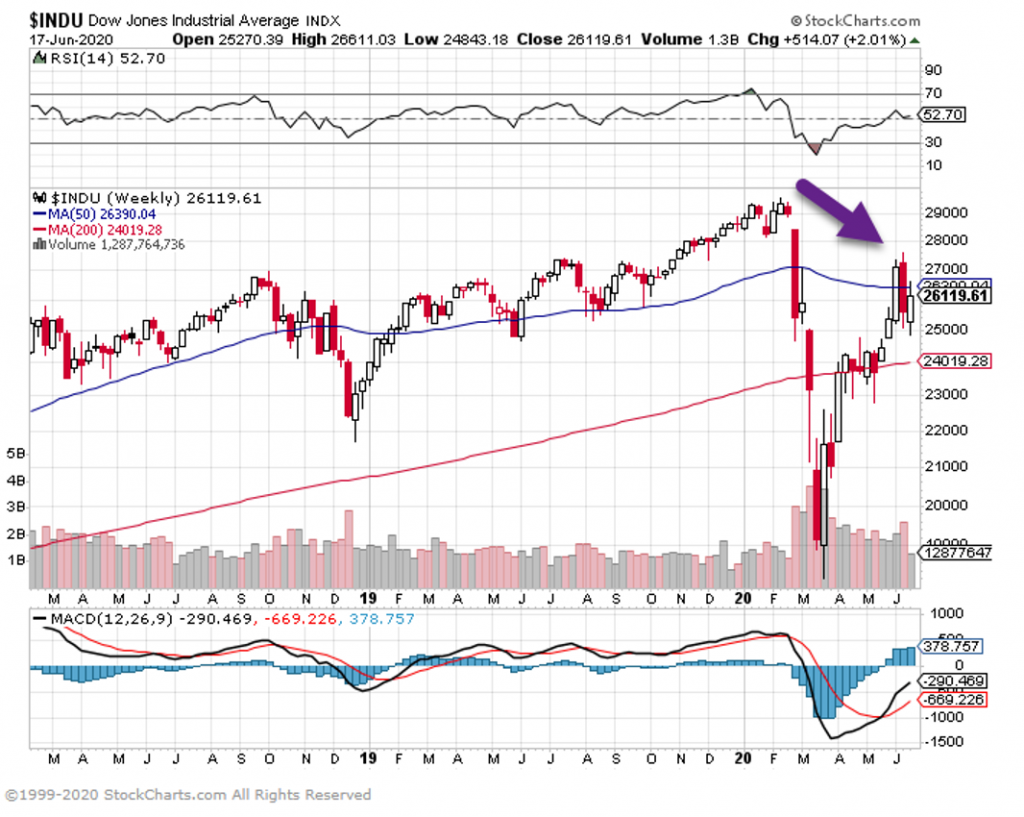 Transports Never Got Above 2018 Highs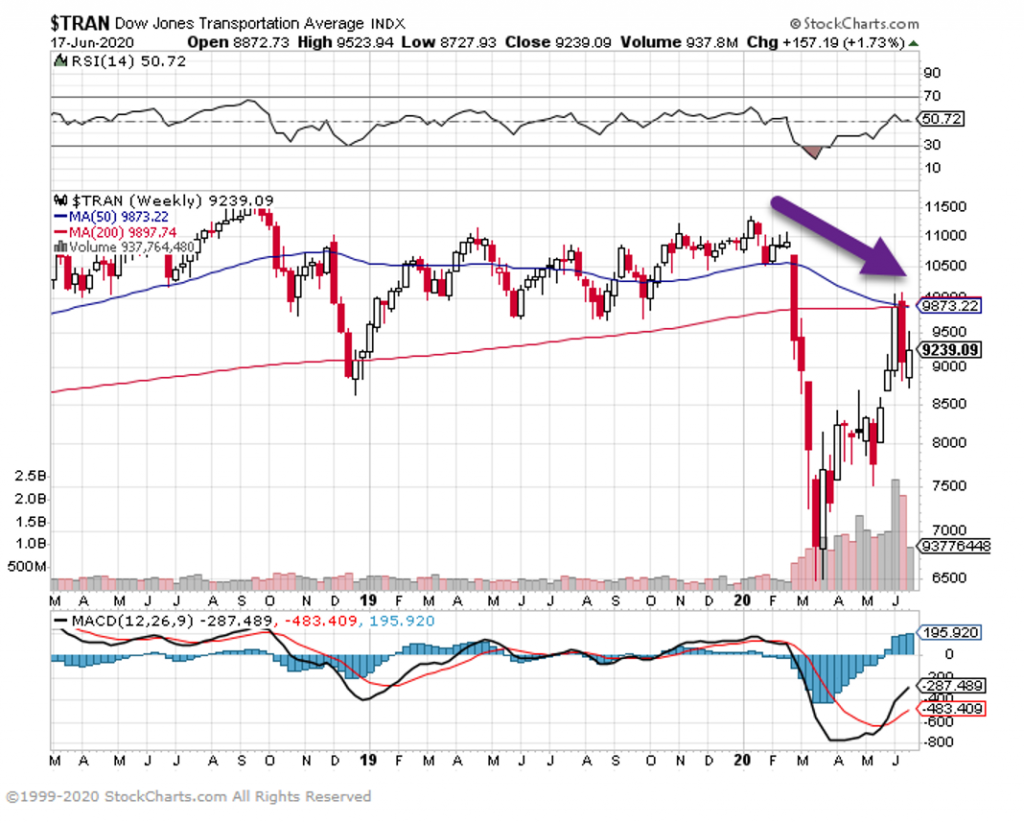 2. Solar vs. Big Oil Update
TAN (solar ETF) +10% vs. XLE -31% (large cap oil) YTD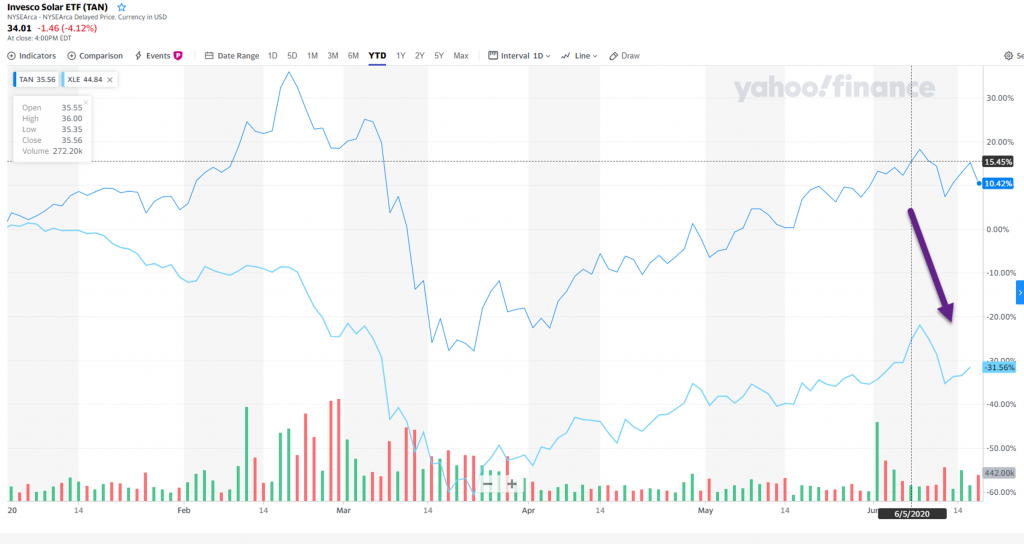 2 Year Tan +46% vs XLE -45%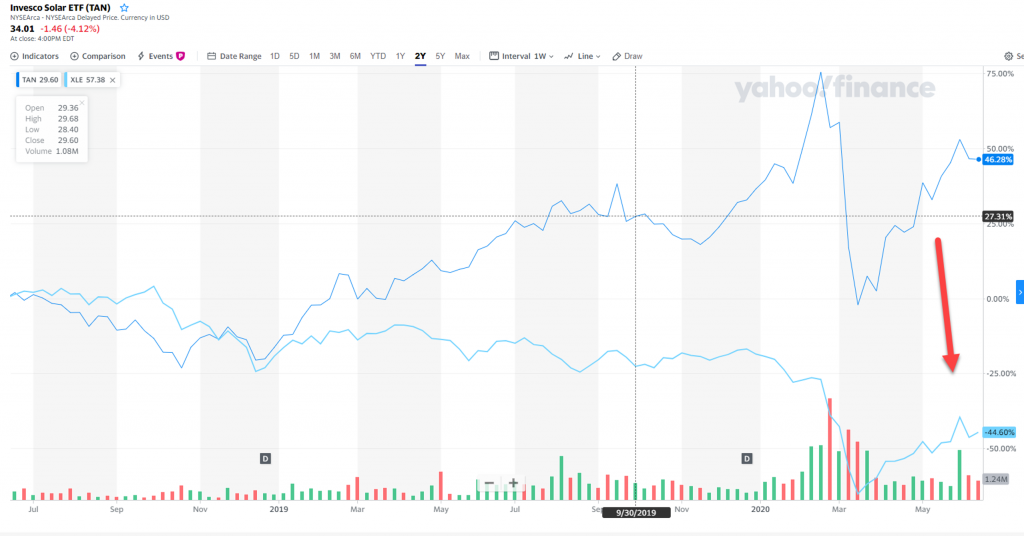 3. Assets in Money Market Funds Highest Level Ever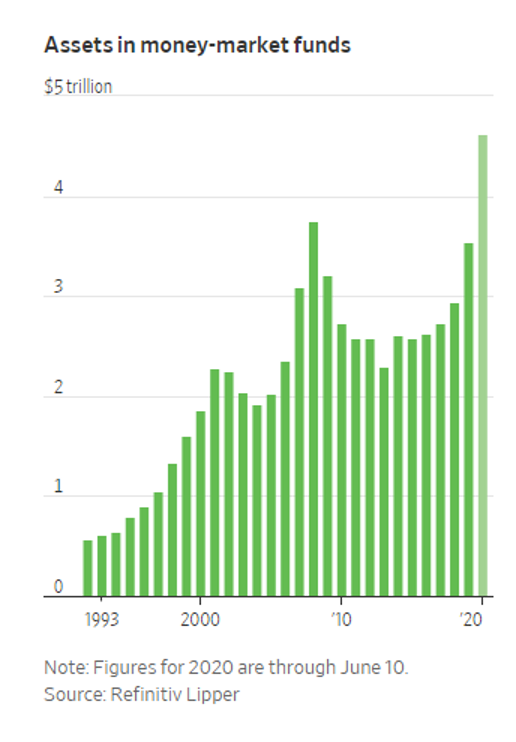 Investors Are Sitting on the Biggest Pile of Cash Ever-Amid head-spinning economic uncertainty and stock-market volatility, many investors have rushed into money-market funds
https://www.wsj.com/articles/investors-are-sitting-on-the-biggest-pile-of-cash-ever-11592299801?mod=itp_wsj&ru=yahoo
Money Market Mutual Fund Cash Levels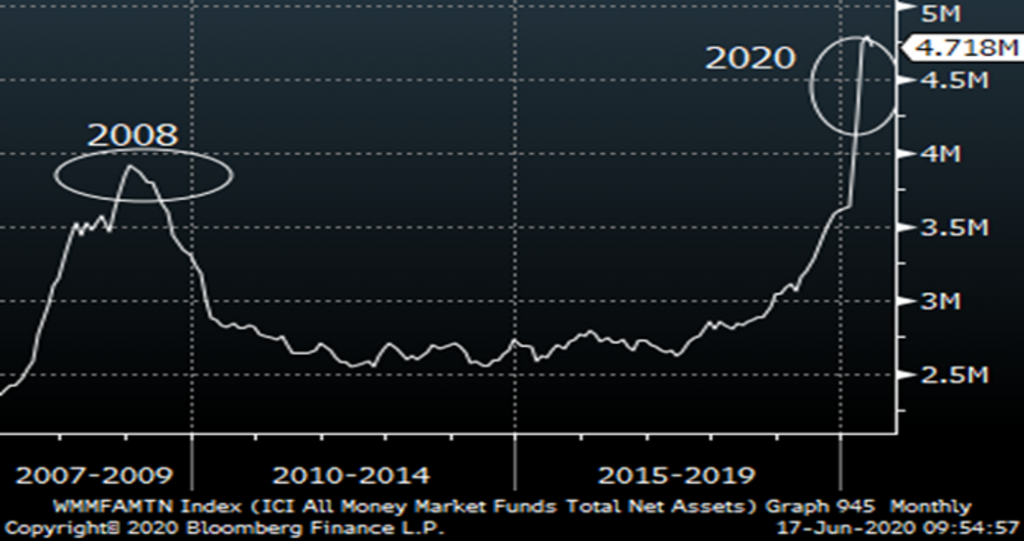 4. Combined Balance Sheets FED, BOJ, ECB…..$5 Trillion into Markets Since March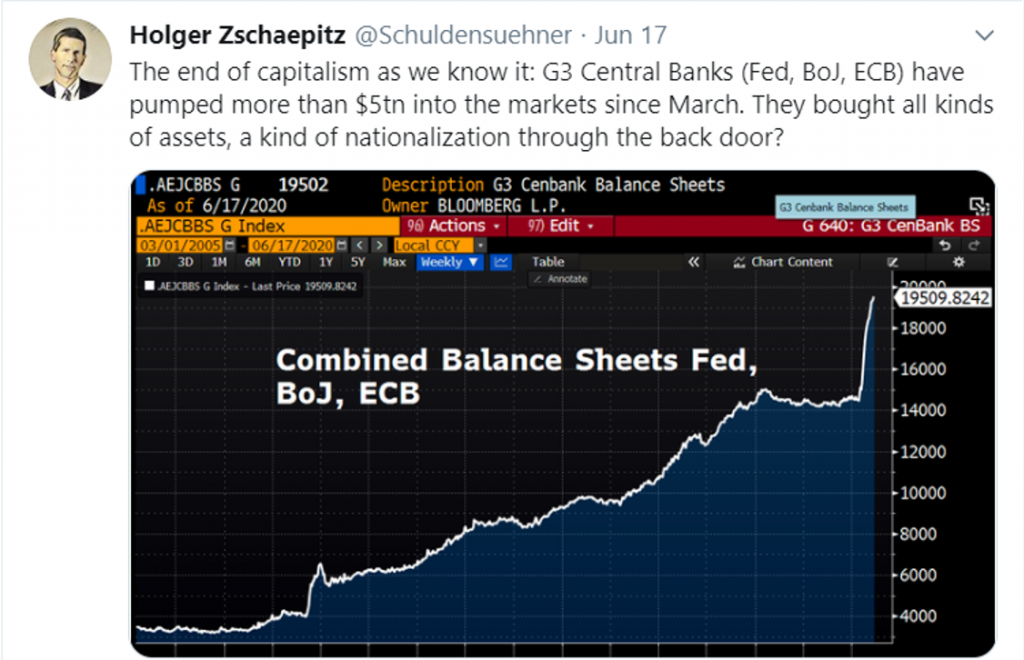 https://twitter.com/ Schuldensuehner
5. Revolving Credit (cards) Fell in April by 5.5%….Biggest Monthly Drop on Record
Other consumers have been using funds to pay off credit-card debt. Revolving consumer credit outstanding—mainly credit cards—fell in April by $56 billion, or 5.5%, the biggest monthly drop on record, according to government data.
https://www.wsj.com/articles/boats-pools-and-home-furnishings-how-the-lockdown-transformed-our-spending-habits-11592323923?mod=itp_wsj&ru=yahoo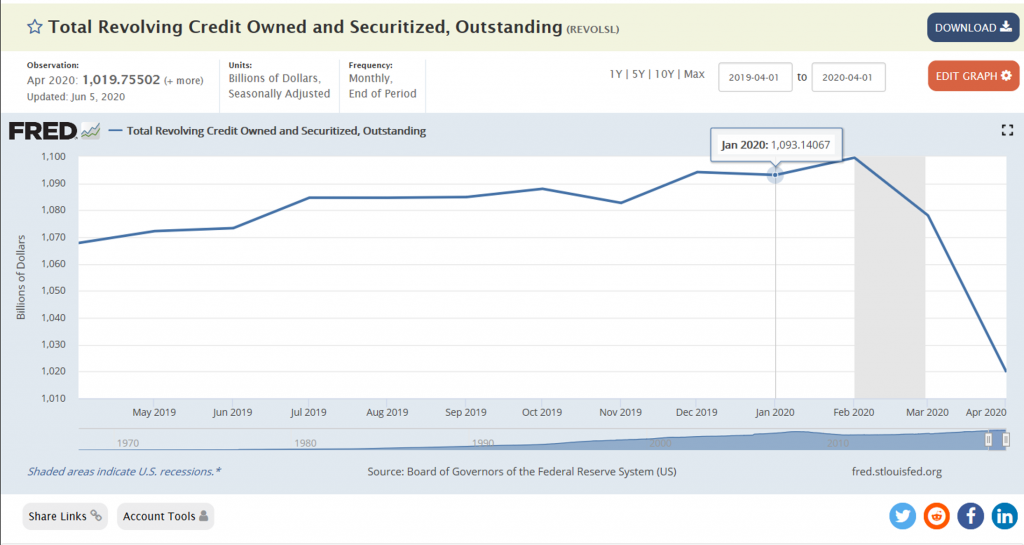 https://fred.stlouisfed.org/series/REVOLSL
6. Updated ETF Industry Market Share….Blackrock, Vanguard, State Street 81% Combined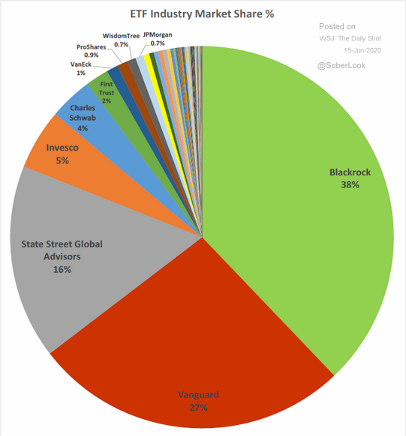 WSJ The Daily Shot
https://blogs.wsj.com/dailyshot/2020/06/15/the-daily-shot-risk-off-sentiment-is-back-as-concerns-about-covid-19-progress-resurface/
7. U.S. Home Purchases UP 20% Year Over Year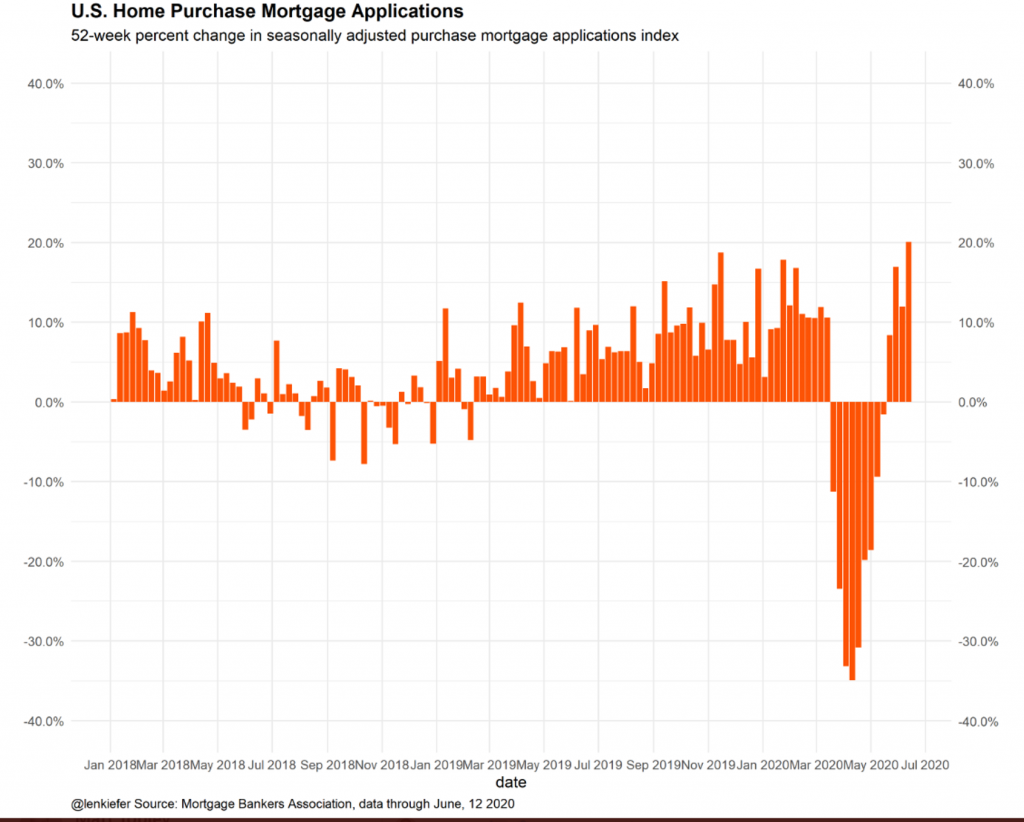 Len Kiefer Twitter
https://twitter.com/search?q=len%20kiefer&src=typed_query
8. Banks Increase Loan Loss Reserved by 280%
U.S. bank profits plunge 70% on coronavirus loss provisioning
WASHINGTON (Reuters) – U.S. bank profits fell by 69.6% to $18.5 billion in the first quarter of 2020 from the year prior as banks felt the economic impact of the novel coronavirus pandemic, according to data from a banking regulator.
The Federal Deposit Insurance Corporation reported that "deteriorating economic activity" caused lenders to write off delinquent debt and set aside billions of dollars to guard against future losses. Over half of all banks reported a profit decline, and 7.3% of lenders were unprofitable.
The new report, the first government survey of the industry since the pandemic shut down large parts of the economy, shows banks set aside $38.8 billion to cover potential loan losses in the future, up nearly 280% from the year prior. The amount of loans banks charged off as delinquent was up nearly 15%, driven by an 87% increase in charge-offs for commercial and industrial loans.
The amount of non-current loans rose 7.3% from the previous quarter, the biggest increase since 2010.
Despite the setbacks, FDIC Chairman Jelena McWilliams said banks had been able to effectively serve clients in the downturn, and were a "source of strength for the economy."
"The FDIC was born out of a crisis, and we now find ourselves in the midst of another unprecedented period," she told reporters.
As many investors cashed out of the stock market, banks saw a $1.2 trillion, or 8.5%, spike in deposits from the previous quarter.
Loan balances also jumped as companies tapped credit lines with banks, led by a 15.4% increase in commercial and industrial loans.
The total number of "problem banks" monitored by the FDIC increased for the first time since 2011, growing from 51 to 54 firms in the first quarter.
Reporting by Pete Schroeder; Editing by Chizu Nomiyama, Jonathan Oatis and Nick Zieminski
Our Standards:The Thomson Reuters Trust Principles.
https://www.reuters.com/article/us-usa-fdic-results/u-s-bank-profits-plunge-70-on-coronavirus-loss-provisioning-idUSKBN23N2GT?utm_source=morning_brew
9. Washington's rush to smash tech's liability protection
Scott Rosenberg, Margaret Harding McGill
Illustration: Aïda Amer/Axios
A new Justice Department proposal Wednesday accelerates a headlong charge in Washington to rewrite a law that protects online services from being sued over user-created content.
Why it matters: If Congress approves any of the bills in play, every dispute over content moderation on platforms like Facebook, Google and Twitter could turn into a court case — while the government could find itself with a big new job deciding whether companies like Facebook and Twitter are acting neutrally and "in good faith."
Driving the news: The Justice Department is urging Congress to revise Section 230 of the 1996 Communications Decency Act. That law lets online services post content from users without assuming legal liability for it, as traditional publishers do. The DOJ's proposal would remove that protection if those services…
…purposefully facilitate or solicit third-party content that violates federal law.
…fail to apply "good faith" in content moderation, meaning they consistently apply their own terms of service and provide "reasonable" explanations of enforcement actions.
…"purposefully blind themselves and law enforcement to illicit material." That's a reference to platforms that encrypt users' communications without giving the government access.
The big picture: The DOJ proposals join a raft of other plans to modify Section 230.
President Trump's May 28 "Executive Order on Preventing Online Censorship" called for narrowing the scope of the law and ordered the Commerce Department to petition the Federal Communications Commission to craft and enforce rules that would narrow the law.
A bill proposed Wednesday by Sen. Josh Hawley (R-Mo.) would require online platforms to include in their terms of service a pledge of "good faith" and all details of their content moderation policies, then let users who feel wronged sue the firms.
The EARN IT Act, an earlier bipartisan proposal in the Senate, took aim at child sexual exploitation online and threatened platforms with losing their immunity under Section 230 if they failed to meet government-set standards for preventing abuse.
Between the lines: Most of these proposals are fueled by conservatives' anger at what they view as bias and censorship by the platforms, most prominently Twitter's move to police two of Trump's tweets.
Perception of such bias is widespread on the right, but evidence remains scarce.
What they're saying:
"The era of self-regulation for Silicon Valley is over," said Sen. Marsha Blackburn (R-Tenn.). "No longer will we let Big Tech hide behind these liability protections as a pretense to bully competitors or to suppress free speech."
"The practical effects of the recommendations are to repeal Section 230 because they allow completely unfounded litigation to get past early dismissal," said Neil Chilson, senior research fellow with the Charles Koch Institute and former chief technologist at the Federal Trade Commission. "Given that Section 230 never immunized platforms from federal crimes, the biggest effect is to enable trial lawyers to bring a wide range of cases that they couldn't before."
The DOJ proposals "would seriously curtail platforms' ability to moderate content and respond quickly to emerging problems — like new kinds of abusive online behavior, which internet users are endlessly inventive in coming up with," said Daphne Keller, director of the program on platform regulation at Stanford's Cyber Policy Center.
A Facebook spokesperson: "The Trump administration has said we have censored too much content and Democrats and civil rights groups are saying that we aren't taking down enough. Section 230 allows us to focus on what matters most: fighting harmful content while protecting political speech."
Our thought bubble: Aggrieved users have been demanding "good faith" and consistency from content moderators for as long as we've been online — from today's social networks to blogging platforms, comment sections to discussion forums, bulletin boards to USENET.
Handing responsibility for resolving these endless queues of contention to the legal system might benefit lawyers and judges, but it's unlikely to satisfy anyone else.
"It is definitely a full employment act for lawyers. We can litigate this endlessly and still not know for sure what the standards for things like 'good faith' are." Keller says.
The bottom line: The odds aren't good for any of these bills to pass a Congress where each party controls one house. But some of the promoters of rewriting Section 230 may be less interested in enacting a law than in intimidating tech companies.
https://www.axios.com/washingtons-rush-to-smash-techs-liability-protection-deb16ceb-580a-4125-909a-ba786ab07edb.html
10. The All-Important Difference Between Effort and Effectiveness
A common misunderstanding is to confuse an effective strategy with a merely effortful one.
Effective strategies are usually effortful. It's rare that something is both effective and effortless. If you're doing the real thing, it's going to require some work.
But the real thing done slowly and patiently is still the real thing. A fake substitute done furiously is still fake activity. Intensity does not turn a bad plan into a good one.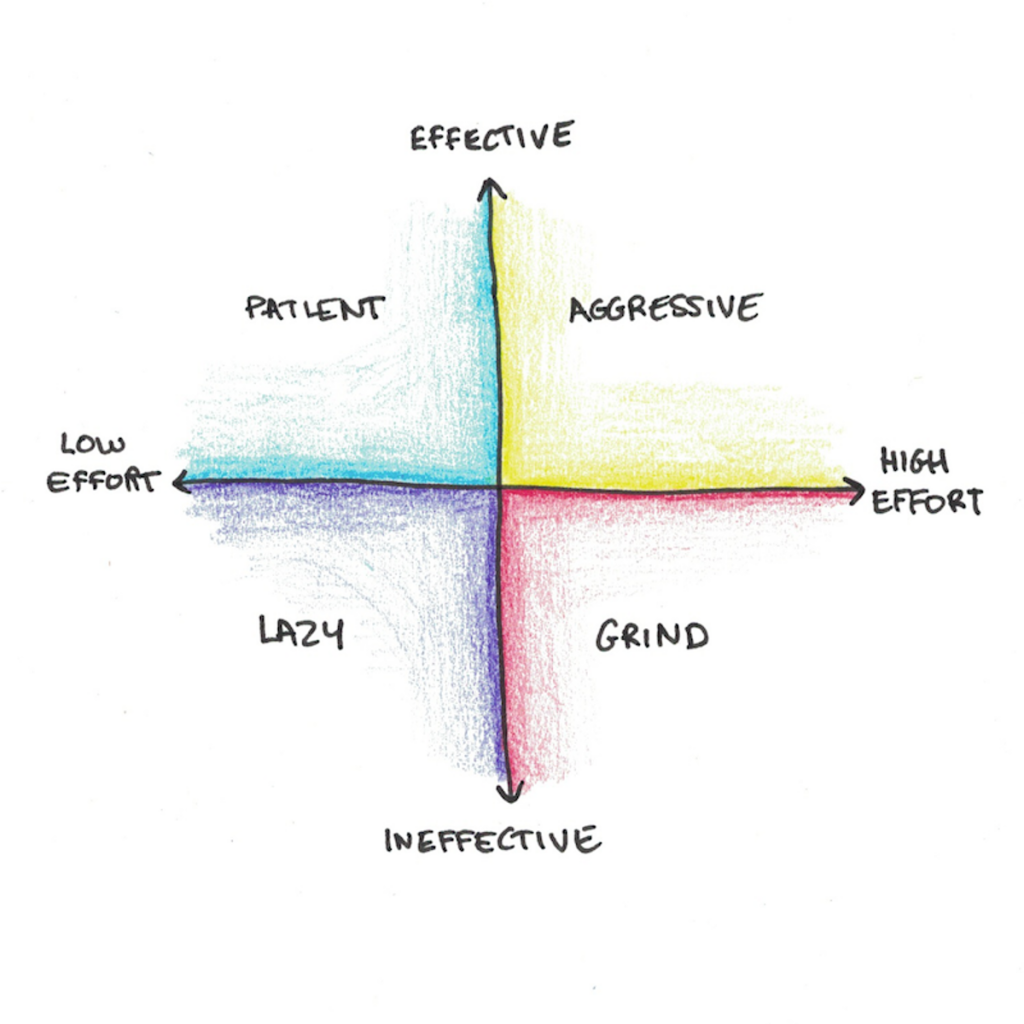 Effectiveness is What You Do. Effort is How Much.
Let's look at an example:
One of the most effective ways you can study is through active recall. This means, when you study, you close the book and try to remember. This works better than merely looking at the text over and over again.
Active recall is effortful. It's a mental strain to retrieve barely remembered information. But active recall is the real thing because it's what you need to do on the actual test. The book won't be open for you to look at. The way to get better at remembering is by practicing remembering.
Once you've chosen to study with active recall, however, the level of intensity is up to you. You could study thirty minutes a day or thirteen hours a day. Intensity may vary dramatically without changing the core strategy.
In choosing how to study, you see there are two decisions: what to do and how much. Doing the real thing is about this first decision.
How Intense is the Hard Way?
Earlier I claimed that the hardest things are often the easiest once we're fully committed to them. But this raises a question: is the hard way mostly about effectiveness or effort?
Both are important, but effectiveness is the aspect to be most careful about. The hard way can often still be trodden with a slow and patient pace. But walk a fake path and you end up going nowhere.
If a pursuit has a deadline, or steep costs to keep going, a wimpy effort won't do. A start-up only survives as long as there is cash. Going slow means death if your burn rate is high. In this case the hard way is not only steep, it must be summited at the proper pace or not at all.
However, a bootstrapped lifestyle business may be viable for years. It took me seven to start mine. Effort was always required, but patience was a more important ingredient than haste.
Patience, however, is often painted in contrast to intensity. As if the choice were between easy and long versus hard and brief. However the truth for many ambitions is that the only viable way forward is both long and hard. Patience plus obsession, and even then it might not be enough.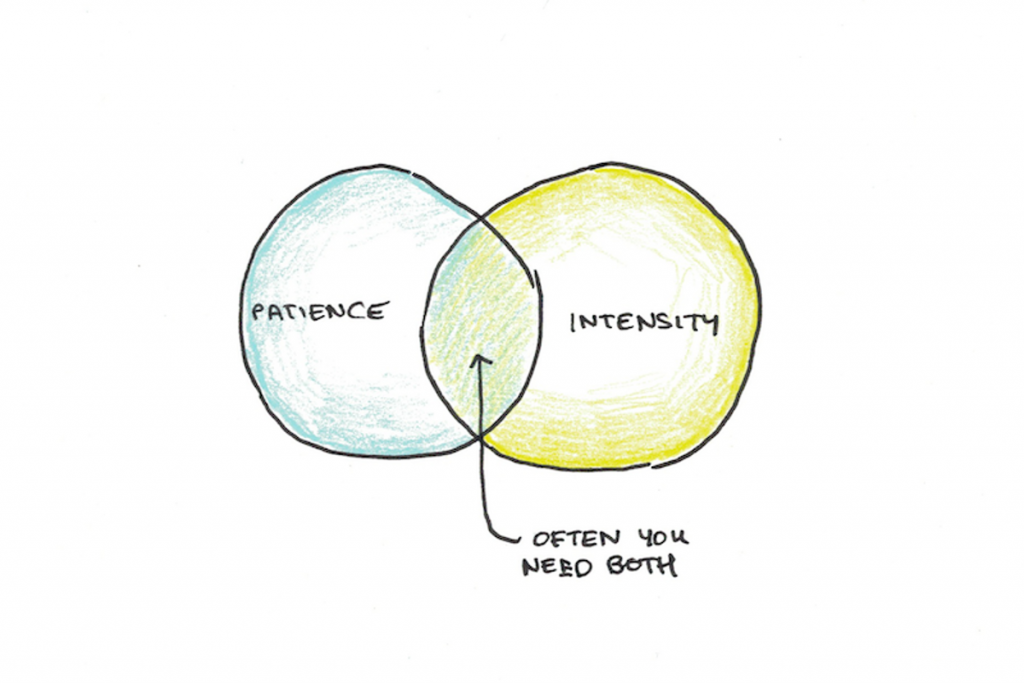 Failures of Ignorance and Irresoluteness
What works will depend on your destination. You might strive hard on a path that you only later realize is a dead-end. That's okay.
Finding the effective path is much of what makes ambitious goals difficult. You can reduce the risk by talking to people who know the terrain, reading a lot and just trying stuff out. But, if you're committed to this process it's rare you'll remain lost for long.
Irresoluteness is a different sin. You know the true path, you just ignore it. You pretend that hard things can be achieved with half efforts. This is an attitude that doesn't self-correct. Begin with a self-deception, and no amount of new knowledge can change your mind.
Side Note: This essay is my 1400th entry to this website, over 14 years of writing. Whatever your path ahead, keep at it!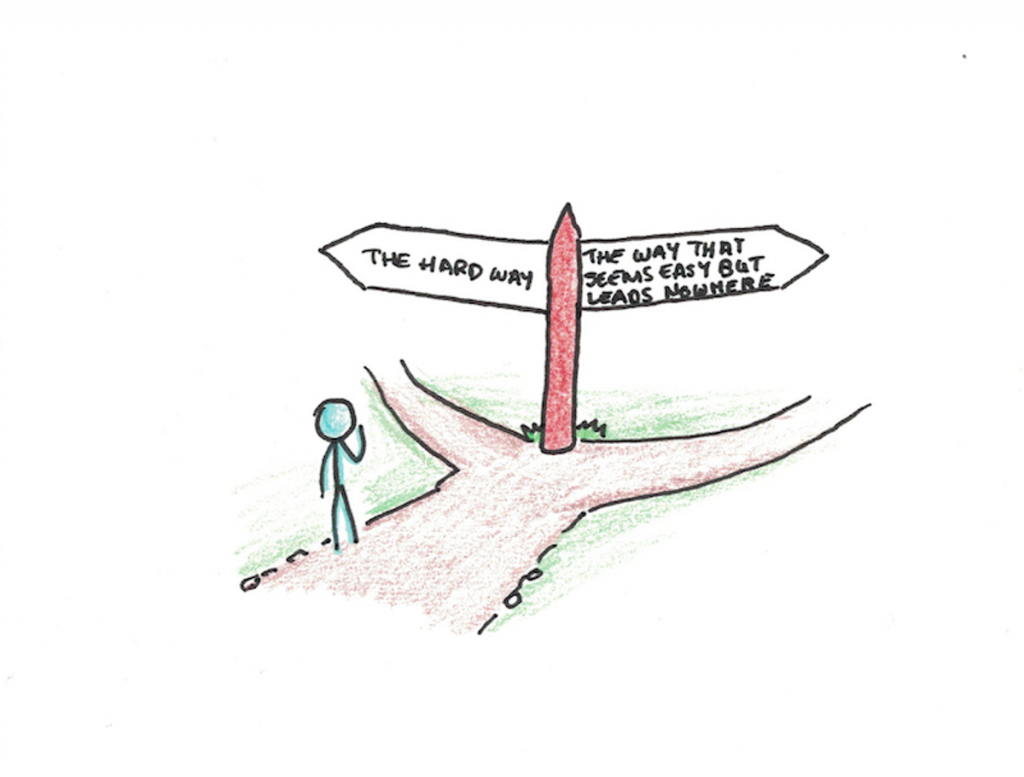 Disclaimer
Lansing Street Advisors is a registered investment adviser with the State of Pennsylvania..
To the extent that content includes references to securities, those references do not constitute an offer or solicitation to buy, sell or hold such security as information is provided for educational purposes only. Articles should not be considered investment advice and the information contain within should not be relied upon in assessing whether or not to invest in any securities or asset classes mentioned. Articles have been prepared without regard to the individual financial circumstances and objectives of persons who receive it. Securities discussed may not be suitable for all investors. Please keep in mind that a company's past financial performance, including the performance of its share price, does not guarantee future results.
Material compiled by Lansing Street Advisors is based on publically available data at the time of compilation. Lansing Street Advisors makes no warranties or representation of any kind relating to the accuracy, completeness or timeliness of the data and shall not have liability for any damages of any kind relating to the use such data.
Material for market review represents an assessment of the market environment at a specific point in time and is not intended to be a forecast of future events, or a guarantee of future results.
Indices that may be included herein are unmanaged indices and one cannot directly invest in an index. Index returns do not reflect the impact of any management fees, transaction costs or expenses. The index information included herein is for illustrative purposes only